Y'AKOTO RELEASES 'WMYT'
Y'akoto [Yah-Ko-Toe] was born in Hamburg, Germany to a political scientist mother and a celebrated Highlife musician father. Her parents' different backgrounds have influenced her music, which is both analytical and emotional. Her name, Yaa Akoto, means Thursday in Ghanaian tradition and is also the name of her paternal grandmother. Though she carries herself steadfastly and pragmatically as a "child of two worlds" due to her biracial nature, Y'akoto's music is a clear-headed celebration of her heritage and family history.
Y'akoto's music is a unique blend of spirituality and sensuality, presenting herself as an endlessly restless creative spirit, and her honeyed, totalizing voice taps into a lineage of quietly powerful vocalists from Sade to SZA.
Produced by Drake & Kanye West's collaborator Nabeyin, Y'akoto's 'WMYT' is her hottest new single, and it's all about up and leaving a toxic relationship, quitting cold turkey, and never looking back. 
"I often ask myself why women stay in relationships that hurt them for way too long. Coming from an abusive home, it's a question I've been asking myself for way too long. It turned me into a beast. A soldier for female self-preservation. I can only talk about the female perspective because I am one. On top of that, I'm black".-  Y'akoto
In this interview, Y'akoto talks about her sound, her influences, her hopes for the future, and how her upbringing and biracial identity have shaped her music and her outlook. Check it out: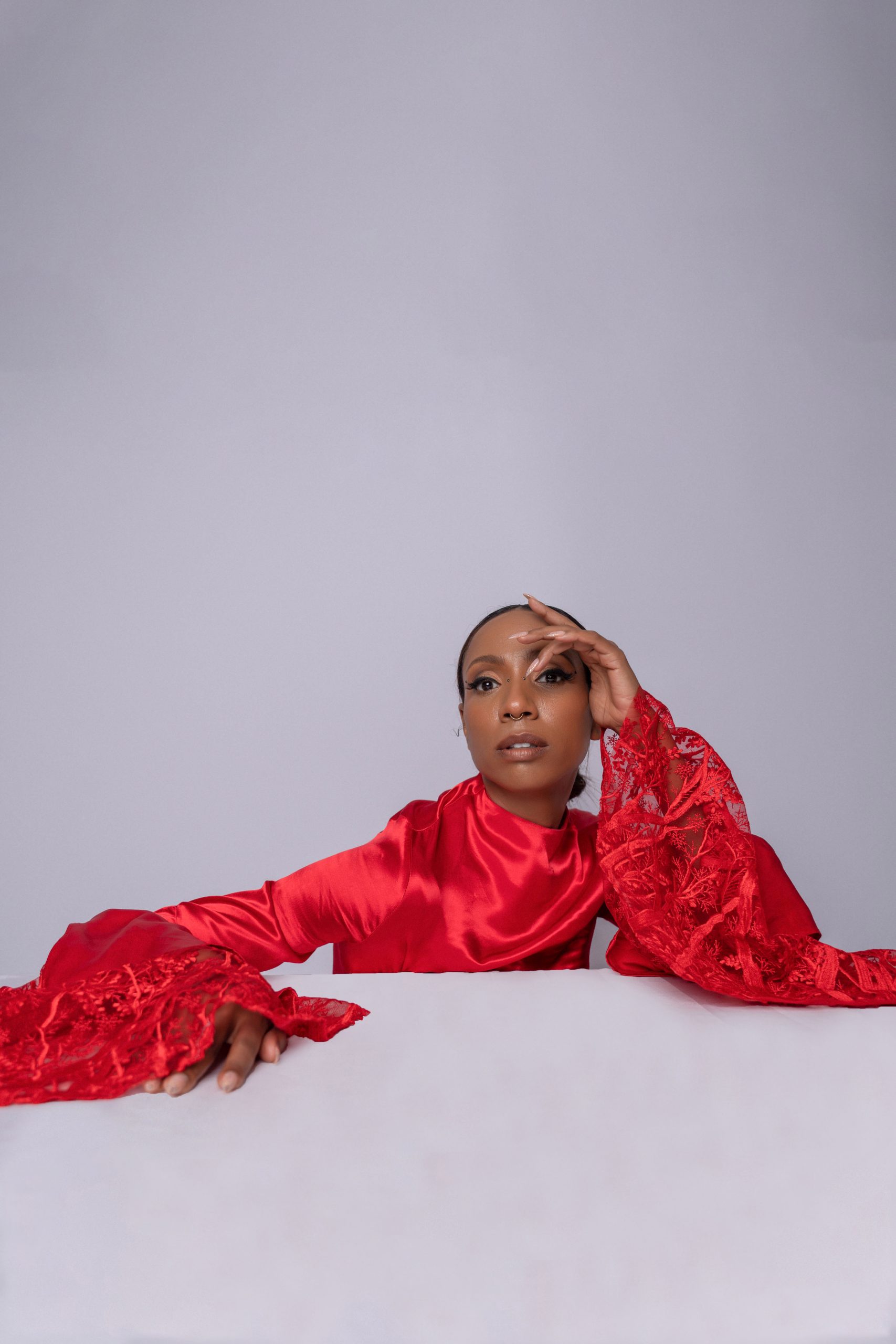 I WONDER, AS A CHILD OF GHANAIAN ROOTS AND AN EQUALLY IMPORTANT GERMAN UPBRINGING, WHERE DO THE TWO HERITAGES COME INTO PLAY WHEN IT COMES TO SOUND? DO YOU REMEMBER MUSIC FROM BOTH NATIONS IN YOUR HOUSE GROWING UP? 
The music in my house growing up couldn't have been more interesting. My mum listened, to German Rock Legend, Ina Deter, Sade (UK), and Fela Kuti (Nigeria). She loved listening to her favourite vinyls on blast when she was cooking or cleaning. She didn't ever listen to only one genre. The Ghanaian highlife music came banging from my father's rehearsal room in the garage.  
THAT SAID, YOUR FATHER BEING A MUSICIAN WAS OF COURSE A HUGE INFLUENCE, BUT LET'S TALK A BIT ABOUT WHERE YOUR MOM COMES INTO PLAY WHEN IT COMES TO YOUR CREATIVITY. WHAT DO YOU THANK HER FOR IN THAT REGARD?
Thinking about it, my mother was the main force when it came to carving my way to being shamelessly creative. She always encouraged me to dance, sing, perform, tell stories, and write. Of course, I saw my dad on stage and was like: that's cool, but it's my mother who turned me into an experimental, self-sufficient artist. She also paid for my piano lessons. I still write everything on there, unless I work with a producer from scratch.
IS 'WMYT' BASED ON A TRUE STORY? WHAT TENDS TO FUEL YOUR SONGS? 
WMYT is my most genuine approach to dealing with a toxic situation that I've managed to put into words so far. I literally drove off with my ex's car in my nighty and never looked back. In real life, he came one last time to pick up his car and I threw his keys down the balcony. I should have pushed his car off the cliff thinking about it now… 
If someone mistreats you, it messes with the way you view yourself. It takes a while to see clearly again. I've noticed that respect, worth, care, love, and value are not something people like to give out. You have to demand it from them. The song also talks about finding someone new, who gives out all these things without me having to ask for it. Listening to it, I want to be reminded that I got out and survived. The true hero is my mother. She survived being physically abused by my father, left him, and started a whole new life. I dislike how it's still taboo to talk about domestic abuse in the black community. We have to address this way more.  
HOW DO YOU DEFINE YOURSELF AS A MUSICIAN AND SONGWRITER? WHAT MAKES Y'AKOTO WELL… Y'AKOTO.
I've never really thought about what makes me, me. But let me try. I write about real life and unfabricated emotions. I operate like that in real life too. Not only in my songs. Some people love me for it, but some really don't. And that's okay. Life is way too complex to try and live up to an image that is fabricated. That's why I believe in reinvention. I love reinventing my music and style because as a real-life person, I go through different phases in my life. I'm not here to repeat past mistakes, life past lives. I'm always looking at what's next and how it feels now. A fun fact is that I look at myself on my previous projects like a good friend. Like: ohh I love that girl, we've been through so much together but we've gone separate ways. Love her for life though… LOL, I don't know if that explains it a little?  
YOU SELF-DESCRIBE AS AN "ETERNAL MISFIT" DUE TO YOUR MIXED HERITAGE, IT BROUGHT YOU BOTH GRIEF AND BLESSING AS YOU GREW UP, BUT WHERE DO YOU STAND ON IT AT THE MOMENT? HOW DOES IT FEEL FOR YOU TODAY?
Yeah, being Biracial is not as cool as people think, if they even think so. LOL 
You never truly belong because a lot of people cannot place you. Growing up in Ghana, I was perceived as too white, my white mum made me sandwiches with whole grain bread and all my black friends had chicken wings in their lunch boxes. I hated my sandwiches. Lol, They'd tease me because of how I dressed or wore my hair. I was just so used to standing out that I didn't care a lot. I used it to fuel my creative ideas. Later in Europe, the white kids were skeptical about who I was because I was listening to Nirvana and TLC. I just never picked sides. Til' this day a lot of biracial people don't talk about how they feel because they pick a side. Some go white, some go black. I go both and beyond. I couldn't care less. I understand the black perspective just as much as the white one. I'm critical of both. You will never see me completely siding with one. That can irritate some people, but for me, it's all in the spirit of love.  
My friends always tease me. Like, I do not have a type. All my exes look completely different. I've dated men of all shades of colour.  If they'd all met each other and sat at a table together it would be hilarious.  
I think it's way cooler with the kids growing up now. Don't believe it's such a thing now because the whole world is just dating out of their race, which is brilliant.  
TELL US A BIT ABOUT Y'AKOTO WHEN SHE'S NOT WRITING MUSIC TO A SICK BEAT. WHAT DO YOU ENJOY OUTSIDE THE STUDIO AND STAGE?
Y'akoto outside of the studio, loves her books, teas, crystals, and bathtubs full of sea salt. I'm a bit of a loner I guess. Really love retro movies like Kill Bill, Charlie's Angels, Pulp Fiction, Men in Black, and Matrix, the list is long. Traveling is big too. Nothing beats being in a new environment and exploring new cultures and traditions.  
MUSIC FEELS INTRINSIC TO YOU, AND FROM YOUR STORY, WE CAN TELL YOU WERE ALMOST DESTINED TO BE A MUSICIAN AND A SINGER. BUT WHAT IF THINGS HAD TURNED OUT DIFFERENTLY FOR YOU? WHERE WOULD YOU BE IF NOT BEHIND A MICROPHONE?
If I weren't a musician I don't think I would have been born. Okay honestly, I don't know what I'd be good at. But Author or Therapist come closest.  
WHAT'S THE REST OF THIS YEAR LOOK LIKE ACCORDING TO YOUR PLANS? WHAT ARE YOU WORKING TOWARDS AT THE MOMENT?
I'm back in the UK working with my band on the live aspect. I'm preparing for touring again. I can't wait! More exciting music will be released and I'm pouring all my energy into that.  
CONNECT WITH  Y'AKOTO