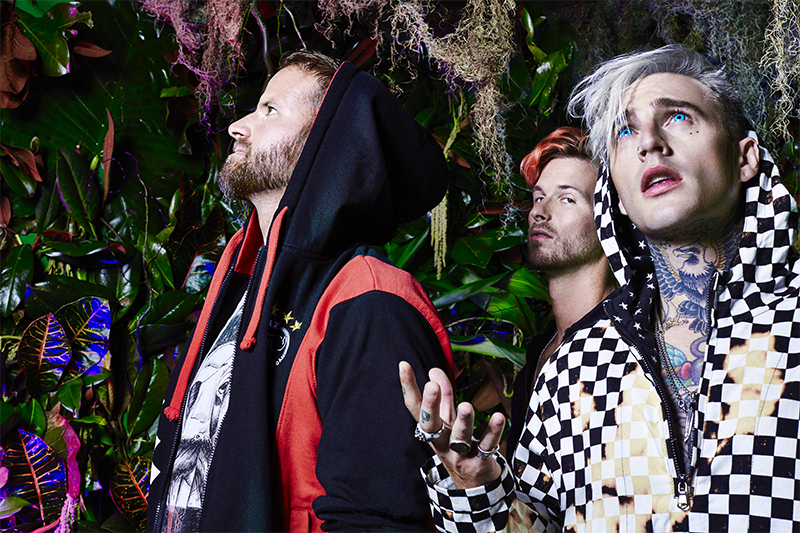 story / Koko Ntuen
photos & set design /  Maeghan Donohue
grooming /  Tommy Napoli
styling / Shandi Alexander @ The Brooks Agency
photo assistant /  Jason Dunn
retouching / Johnny Pils
"You're the first person I've spoken to today," Johnny Stevens informs me over the phone. I can hear him stretching out in his bunk on the Highly Suspect tour bus, where the lead singer of the band is just waking up. They are on the road to their next gig, somewhere on the west coast. I'm on the other side of the world in my pajamas, and Johnny is coincidentally the last interview of the day for me.
"We can be tired together," he says into the receiver. 
It makes for a nice split-second, alternate universe fantasy: I think of Johnny's Ryan Gosling circa The Place Beyond the Pines-esque tattooed face and checkered past. He draws a parallel in this sense—he's very open about his upbringing and the turbulent cycles of his life in his music. He, along with band-mates and twin brothers Rich and Ryan Meyer, grew up on the outskirts of Cape Cod, in the sleepy town of Yarmouth, Massachusetts. Since their formation in 2009, the men have played well over a thousand live shows all over the world, amassing a legion of adoring fans globally, and a very warm welcome each time they come home to their adopted city of Brooklyn. Best friends who met in high school, they bonded over music and drugs before becoming famous rock stars.
Johnny laughs when he recounts his first meeting with Ryan, telling me, "We met at a pyramid scheme style event. Basically, we were brought in by a friend to come check out this company that's like, 'If you sell two hundred phone books, we'll give you fucking 20 percent commission.' Pyramid scheme bullshit. We were all sitting there and my friend said, 'Hey, this is lame, let's go smoke a joint.' So we went out to his car. That's how Ryan and I met, over a joint, talking about music. We didn't hang out again after that for a while. But then I met his brother at a party. His brother came in on a motorcycle and had a guitar on his back, and I showed up to the party in the same way. So we were kinda feeling the same thing—let's jam, let's play a song. It turned into what it is today. Somehow, it morphed from hanging out in high school to traveling the world…"
…Then going on to be nominated in not one, but two categories for their sophomore feat, Mister Asylum, at 2015's Grammy Awards: Highly Suspect was a contender for both Best Rock Song for their hit "Lydia," as well as for Best Rock Album. That album gained a lot of traction among hardcore fans and opened doors to new adoration from music blogs, magazines and the Internet which suddenly propelled the band to new heights. Johnny acknowledges the nomination graciously.
"One of the cool things about the Grammys, one of the things that was really humbling was that the people that actually nominate the songs and the artists are industry people. And you know how crazy this fucking industry is. You know how careful you have to be when navigating it and shit. To know that there were enough people within the industry that had our backs… That was really awesome. That felt really good."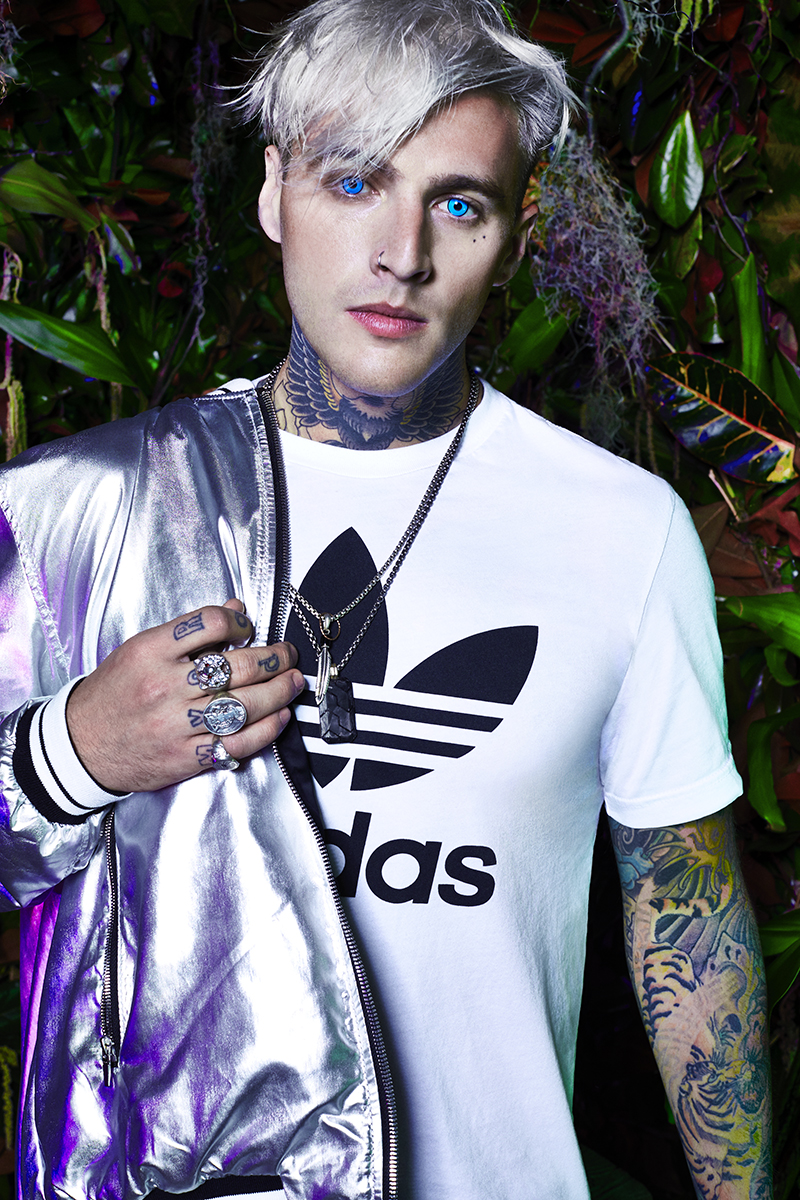 Silver Jacket, Zara. Shirt, Addidas.  Rings, Lady Grey, LHN Jewelry & Shannon Koszyk. Necklaces,  Lady Grey.
Highly Suspect is difficult to categorize in the same way Nirvana was when they first came out. Abstract and a bit strange at times, they draw influences from multiple genres in a pleasant cacophony. It's melodic grunge, punk and soul with lots of two-minute guitar riffs that sort of make you want to engage in antics of every kind. I have to admit, there is nothing more encouraging than having Johnny Stevens yell, "Dance, dance motherfucker!" through my speakers. The band is complete chaos in their delivery, their distorted guitars and Johnny's seductive vocals creating a perfect disharmony: It's for the psychopath living inside all of us.
The themes which Highly Suspect cover in their discography deal with heavy issues in a candor that is refreshingly free of overproduction or premeditated scripts. Johnny grew up without his mom; he's been through addiction and crazy breakups and he is completely transparent when he croons on songs which explore issues that are still stigmatized. Instead, he leaves them wide open for discussion—and dancing, too.
"There are real issues that a lot of people go through and are afraid to talk about," he shares. "They look for songs that talk about things that matter to them. I think it's important. It helps me get things off my chest. It's overwhelming to see how many people struggle. People will tell me how much a song has helped them and I know they're actually listening."
The singer-musician is bashful when he says this, shy even, and it's hard not to love the contrast between his hooligan-like aesthetic and the down-to-earth, good-natured gentlemen that I'm speaking with now. When I mention that I find our conversation endearing, he tells me, "There's just too many fucking tough guys in rock."
It's been years since Johnny's rocky upbringing and the angst and confusion of his twenties. He seems like he's found a nice stride through the tragedies and obstacles that have seemed to always surround him, and he came out on the winning side.
"I've settled into a really good groove," he says confidently, adding, "At this point, I recognize who I am, this career path. I recognize that fans and friends depend on this. And I'm having more fun than I've ever [had] in my life. In the past two or three years, especially in the past year, it's been getting better and better. Life has been blessed."
Although Johnny may not rely so deeply on his inner pain for material these days, there is no shortage of need for his confrontational music considering all the craziness in the world right now. And he has little reservation about confronting current politics. The band's second studio album, The Boy Who Died Wolf, will be released November 18. This is a fast, by industry standards, follow up to Mister Asylum. On this record, the guys delve deeper into life and all its complexities and adversities.
"I think it's our best work to date," Johnny says enthusiastically. "I'm so fucking excited to put that out. I don't think there's any need to wait years and years between albums."
Johnny pauses before confiding in me, "There's a song on the album we're about to put out, it's called 'Viper's Strike.' It's a super funny name, but I'm nervous to put it out, because it's directly, very transparently dealing with my hatred for racism and homophobia. The lyrics are pretty intense. One of the lyrics is, 'Oh, you're homophobic, wow, what a bitch / I almost want to blow your mind / And just go suck a dick.' Pretty intense lyrics! Another one says, 'Oh, you're racist, jeez, that's neat / Guns don't kill people, white people kill black people with guns / Is it hard to hear?.' There's no white, straight men talking about Black Lives Matter. There's no white straight men talking about the recent killings."
He pauses for another moment before he continues: "I'm very much aware that there are a lot of fans who are moved because of these issues. Anytime I dabble in anything that actually means something, like when I talk about shit on TV, there's backlash. I'm aware of that, but I'm like, 'Cool, that's the type of fame I want around.' We have this thing called M.C.I.D. ( My Crew Is Dope). Anybody's invited, just don't be racist, don't be homophobic. That's it. Don't be an asshole. That's part of our lifestyle approach, which is bigger than the band. I'm fucking excited to put out those lyrics on that album, which is maybe more poignant than the last one, and see what kind of reaction we get from it. I think, if anything, at least we'll have a better audience."
Ironically, Johnny is at his best when he is in front of a crowd. It's a relationship built on trust and respect that has been building mutually on both sides of the stage over the years. The band's dedication to touring and honest, unpretentious music has made their crowd a mosh pit they can lean on, and it's a powerful feeling.
"I can actually feel the vibe and see exactly how powerful this music is to some people," Johnny muses. "It's breathtaking. The most powerful moment is when I'm singing a song, I'll test out the waters a little and stop singing for a second, and suddenly I'll have a bunch of people singing the words back to me. That's powerful."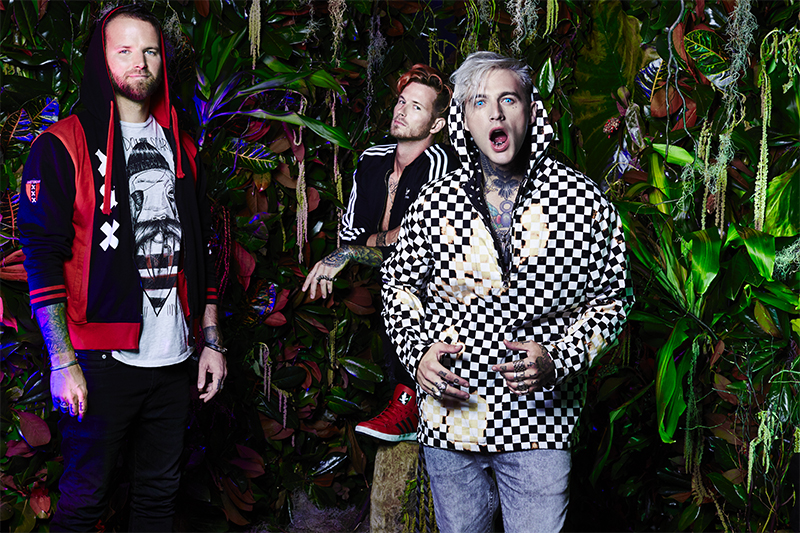 Rich:hoodie, MCID.  Johnny: Jacket, Jose Duran.  Ryan: hoodie, Herman.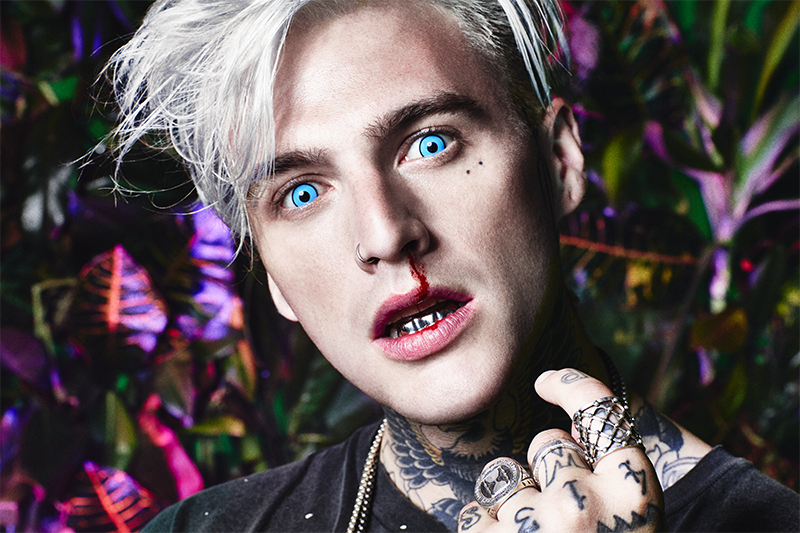 Shirt, Vintage (Stylists own).Rings, Lady Grey, LHN Jewelry & Shannon Koszyk. 
Necklaces,  Lady Grey.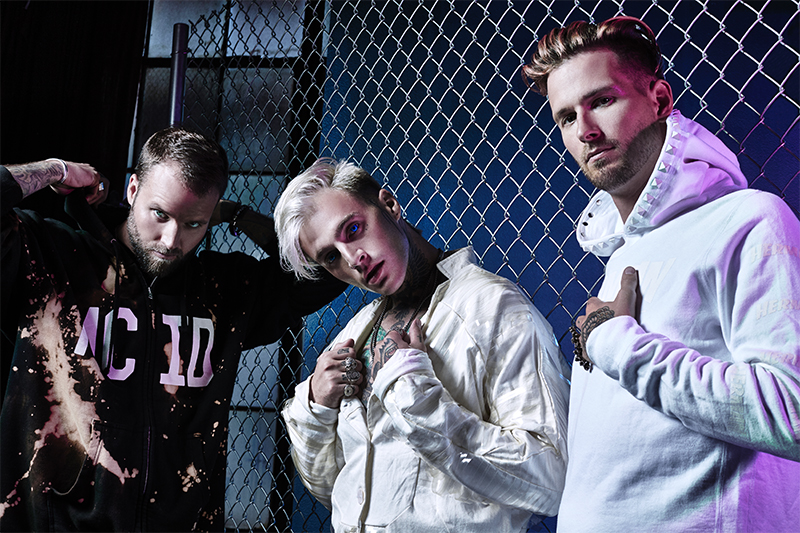 Rich, wearing MCID hoodie.  Johnny,  jacket, Adidas. Ryan, hoodie, Herman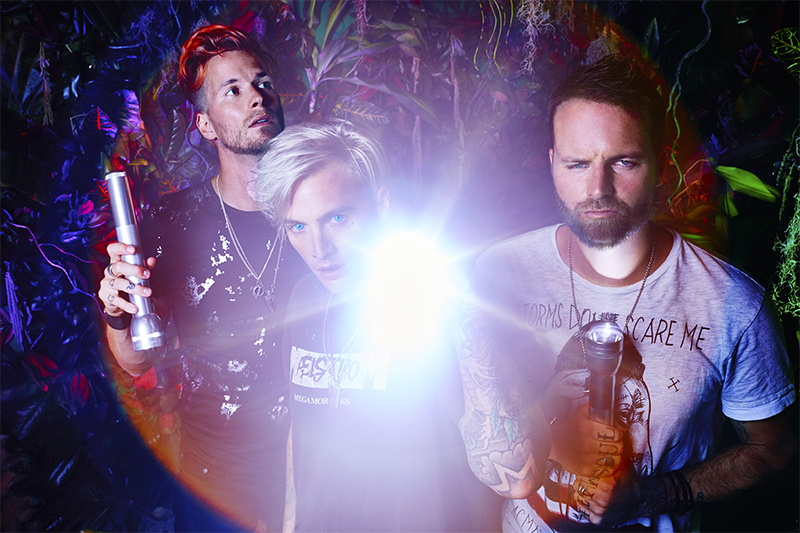 Ryan, T-shirt, Zara. Necklaces, Lady Grey. Johnny, T-shirt Stylist's Own.Necklaces,  Lady Grey. Rich wearing his own T-Shirt.