Mexico City.  A burgeoning capitol beyond its literal means as a physical landmark, but one that metaphorically serves as a global center that houses some of musics most forwardly innovative subcultured scenes. A breeding ground for the underground and inventive, there is no shortage of creativity that dwells within the historic metropolis walls and sprawls across the cities cobbled streets. Enter Girl Ultra.
A world where sultry inspired vocals à la Sade meets house inspired electronica, Girl Ultra was not only introduced onto the music scene with her first label signing in 2016, but was one of the first to begin to transform her home country's mainstream relationship and culture with R&B. Mariana de Miguel's ability to fuse together musical worlds results in an endless pool of musical possibility that has fostered the growth of the genre and its variable forms of interpretations from hidden to limelight, national to international.
Girl Ultra is now ready to divulge her newest installments of her sonically genre-bending exploration that has kept her occupied during the pandemic with leading single and video for 'Rosas.' Marking her first release since 2019's Nuevos Aires, Girl Ultra is ready to be reintroduced. No longer as a moniker with a likeness, but as a performer that seeps a truer, more honest extension of her innerself.
LADYGUNN caught up with the neo-soul artist about transforming classic Boléro through experimentation, the empowerment she found in working with a women-centric film crew and if there's anyone she'd leave roses out on the table for.
Hi! I love that your name came up as Girl Ultra. I always wonder if people with stage names are going to use their real names on zoom. 
You can change it? 
Yeah! …I learned that the hard way. How are you? Where are you located right now? 
I'm good! I'm home in la Ciudad de México right now. 
I love D.F. I was there right before the shutdown. I can't wait to go back but with everything going on, I guess I can wait. 
Yeah, it's been pretty hectic here. It hasn't really felt like it's been a pandemic. There's a lot of tourism happening and people don't wear masks sometimes. Well, a lot of tourists don't wear masks and it's quite frightening. 
Although others around you may not understand there's a pandemic, it seems you do and are at home taking precautions. How has this last year been for you?
It's had its ups and downs, you know. I have never had this much time to invest in my creative work, which was so overwhelming at first. It was like "I have so much time now! What do I do with this?" Then I decided with all this time on my hands, I was going to start investing it into different things. I started writing a spoof T.V. show, I wrote all my video treatments and I started experimenting musically and sonically with genres. So it's just been a time for experimentation.
That's quite a bit! What is something accomplished that stood out and you're really proud of? 
Actually, I'm really proud of going to therapy. It's something I don't think I ever had the time or courage to do. I started as soon as the pandemic hit and it's been pretty good. I don't feel like I'm ever going to quit going. It's been a big support with being an artist during these crazy times because it has just been so, underwhelming. Like under and overwhelming at the same time. It's a fucking rollercoaster. We've just been finding so many ways to just stay alive as creatives that talking to a neutral party like a therapist, it just centers you. 
With all this time, experimentation and new insight you've gained, you're now releasing your newest single + visuals for Rosas. What made you decide that this was the first song you wanted to release from your upcoming EP?
I started writing this song about a year ago in March. It started as a very raw Boléro inspired by what I grew up listening to with my Grandparents. All my family was a fan of listening to it. I feel like I just finally got the time to dig into listening to a lot of Boléro in that moment and like it was the right time to start paying attention to that part of my culture. It just came out so beautifully and from this very vivid gut feeling…it started developing into something else. It started as this very sultry, very textured thing. Then I was able to mix and match a lot of genres I mingled with since I was in high school. I'm also a DJ, so I really pay attention to club music, jungle and house. I really like those little details. It was just a really nice experiment in taking the Boléro to something else. I also experimented a lot with the process of my vocals. I used to play with a lot of effects and then I was like "Ok. What if the voice is going to be here (motions to symbolize the front) with no effects?"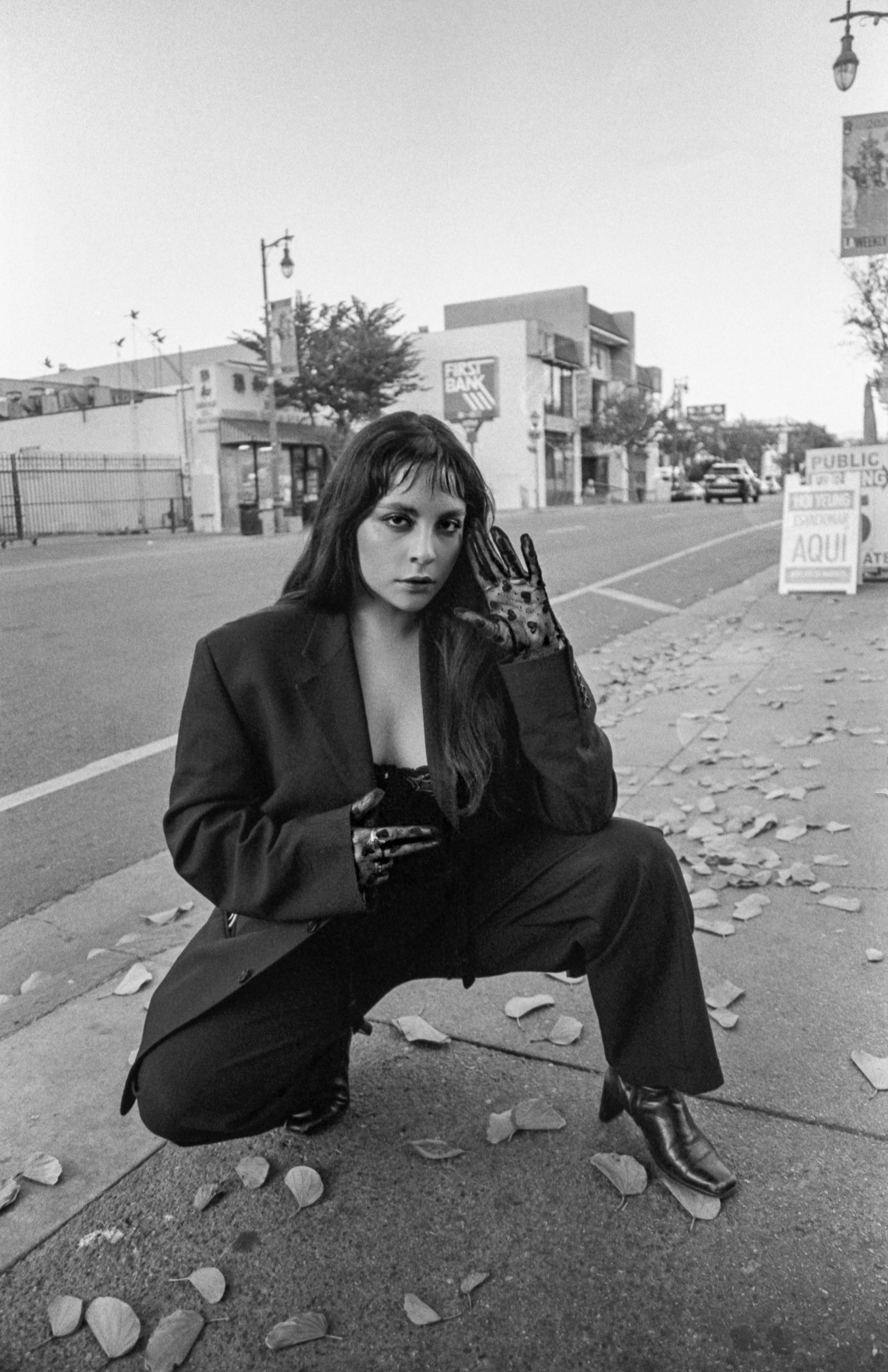 What is the message you're trying to portray on this single? 
The concept of what this song is about, is about this sense of…sentimiento de impotencia (impotent sensation). Trying to find the words to say something to someone and you don't know how and you feel fucking desperate. I tried to encapsulate that feeling. I feel like mixing and matching those genre elements just helped that idea come out beautifully on the result. 
How did those feelings translate over to the treatment you envisioned for the video? 
I usually write my videos by making a very rough treatment, that was the first approach. But then Cole Santiago, a producer and director from Los Angeles who's worked on recent projects for Bad Bunny and Rosalía, reached out to me about making a video on film. I really wanted to play with film for the first time, so I flew to LA and we worked on the treatment together. I was really excited because such an important detail to the video is that there were mostly women on the crew. I have never experienced that. Here in Mexico, the whole industry is more male based. I mean, I was topless in the video! So being able to feel comfortable around women, show off my body and feel empowered? It felt so good, you have no idea!
Overall, this in many ways seems to mark new directions and experiences for you.
I feel like Girl Ultra is an alter ego that's been attached to me, and now it's slowly starting to become a part of me. So when it came time for the video, it was like confronting this look-alike girl. It was like confronting yourself. They're at the table reading the newspaper like, "Ok. What's the news today? And what are we going to do to find the words and get through this together too?" Maybe Marianna isn't going to say what she wants, but maybe Girl Ultra is going to put it out there in a song. 
The song feels like a particularly emotional experience. Do you feel like it was inspired by personal situations or an interpretation of other people's stories? 
I'm usually very perceptive of what goes on around me for inspiration, but then it has to pass through my experience filter. I try to find the rawest, most honest part of myself and my compositions, and then it has to pass through the experience (the pain or the love or the joy) the way that I have experienced it and my perception of that. 
Being on edge of wanting to express yourself and your emotions is a very timely experience for quarantine. When you take everything away, all we're left with is communication, our emotions and this question of how do I translate them? 
I know – I find these times so crazy. It has the opportunity for us to be the most connected and to communicate more than ever before, but we're having the least conversations and not seeing people often. I mean, I have my phone all the time, and I bet my grandparents would've loved to have their phones and call their relatives so easily! Sometimes I see my messages and never reply. I don't know why! But I don't. Sorry!
I The visuals you incorporated are also as emotional as the lyrics. The video intensifies as the song does, especially when it comes to fire. 
I really wanted to feature fire somewhere, so Cole and I envisioned that together. Cole was like let's strip down the concept of the fire and let it grow into this magnificent fire. And Rosas, the roses concept, comes from the idea of giving roses to somebody. Like, this is my offering for you, this is all I have for you. There's a line "rosas sobre el mantel" which is like I just did this for you (laid it all out on the table) and you don't even notice that this is not good for me. Live giving someone this tribute and then this punk idea of burning them at the end with all the bad news that I have been reading and holding in. They just burn away with the intensity of the emotion.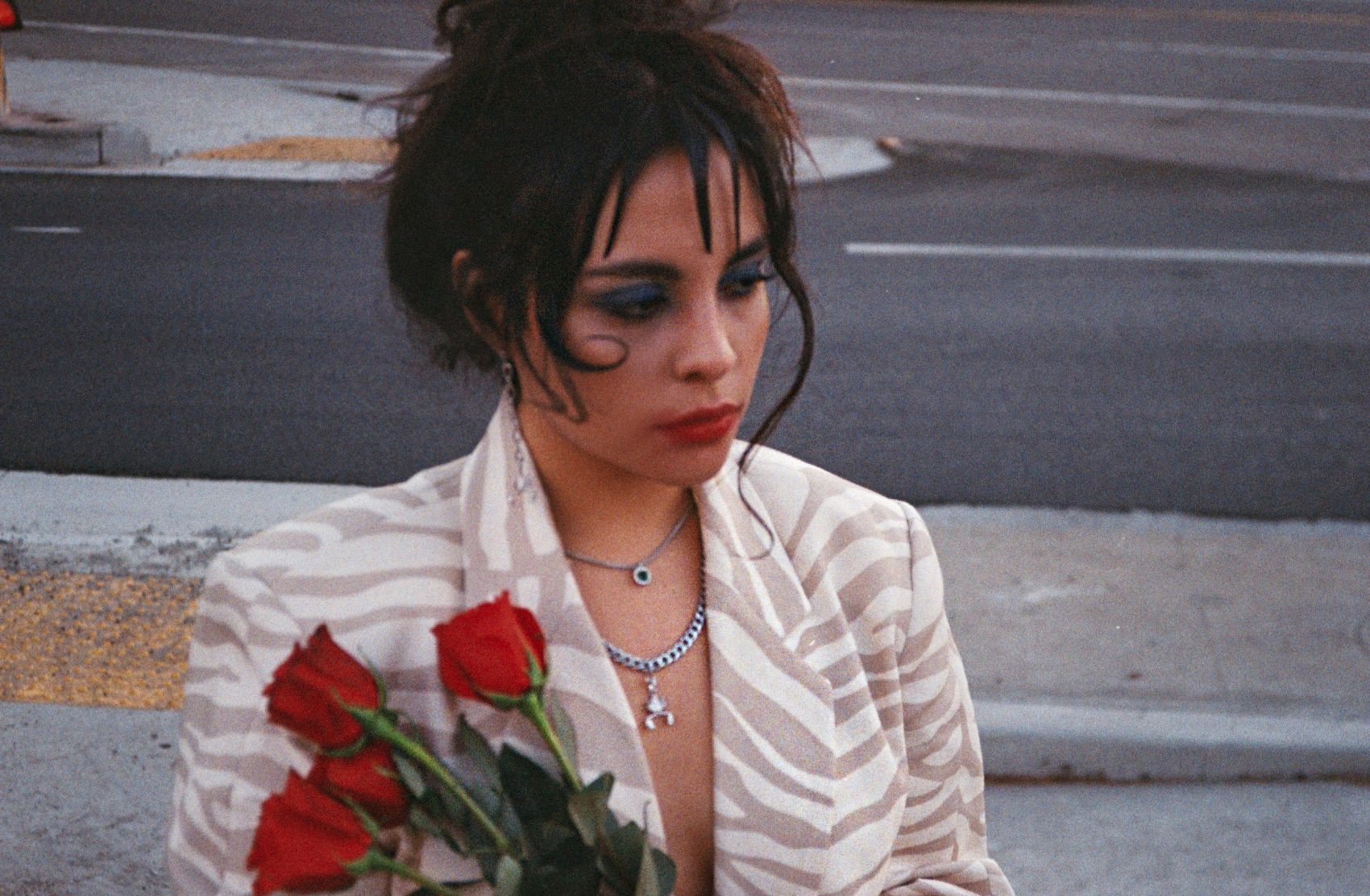 Also – can we please talk about the fashion? It's stunning. What inspired your video looks? 
I have to give recognition to the stylist, Kaitlyn Vitug. We met on set, but we clicked right away. I protect myself and what I want to do, by working with a lot of mood boards or treatments and showing them to everybody though. I'm really into the club kid scene and love the dark side of the 80s. For example, I took inspiration from Lydia Deetz from Beetlejuice for the bangs. The opening scene was inspired by a photo of Angelina Jolie where she's on the beach holding a tiger while wearing only leather pants. That image just felt so powerful, we were obsessed with that picture. And the scene with the latex gloves was very dominatrix meets Pedro Almodóvar. We just mixed a lot of references. I really love the last scene with the paper because I felt like I really looked like this 80s tia. 
Like a novela! If a secretary from that era just quit her job, left her husband and then went to the bar to think of her first plan as a new woman, it'd be this outfit.
Yeah! Like una villana! I also feel like I kind of look like Lucille Bluth from Arrested Development or Liza Minelli. I love it! I feel like all my references are maybe from that era and I like to take them to 2020 and see what happens. 
You've had a lot of room to experiment and are stepping into a new chapter. What can we expect from Girl Ultra in the near future?
To be honest, I am still working on the EP. For the near future, I'm experimenting with musical references and genres I never thought would or could be a part of my music. I'm going to be pretty experimental about this one, but with a pop factor. I've also been developing my compositions and have been writing a lot to try and find the most honest parts of that. I have a hard drive thats fucking full! I have like 200 songs and I'm just waiting to see what happens, but it will be coming out hopefully the first half of the year. I'm also working on a few other things I can't quite talk about yet, but I'm so excited for all my projects and how one will lead to the other. I'm not trying to rush anything, it's just going to come out gradually and i'm just really excited for people to hear what i've been doing during lockdown. 
Lastly – are there now any roses you're currently trying to leave out on the table for anyone? We don't need a name, but if you want to leave a message…
I'm not trying to. I've done it several times and I'm tired. So yeah, no more roses. I'm a pretty romantic person, but I'm a Scorpio so I feel like I'm always trying to find passion everywhere. So if I get bored, I just find passion somewhere else…or in something else. So i'm always going to be leaving roses for something, I don't know if somebody, but always for something. 
CONNECT WITH GIRL ULTRA
INSTAGRAM // FACEBOOK // YOUTUBE // SPOTIFY
photos / Ricardo Martinez Roa
story / Jeanette Diaz