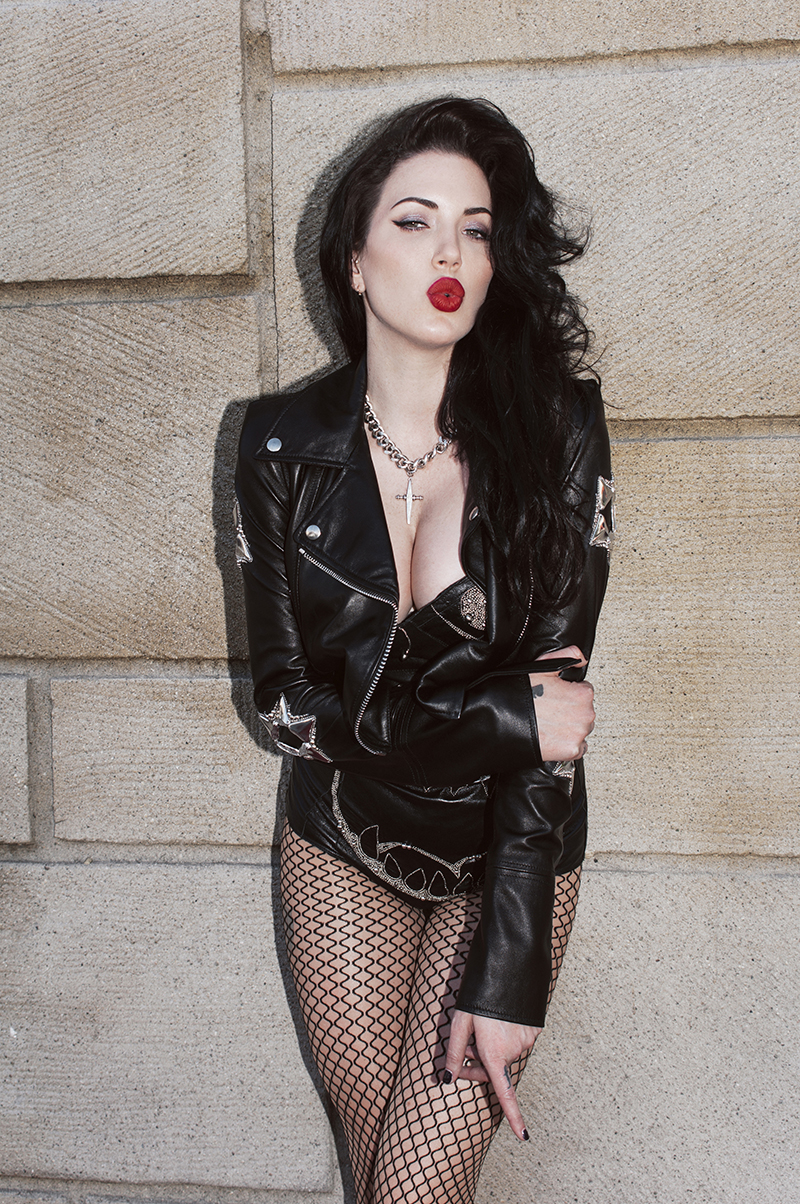 story / Koko Ntuen   
photos /  Danielle DeFoe
styling /  Mecca Cox @The Only Agency    
makeup /  Nathan Hejl @ Atelier
Hair / Sienree
When it comes to the rock n' roll myth of destruction, hellraising and heavy riffs, Dorothy Martin, with her jet black hair, raspy voice and turbulent stage presence, seems like the proper muse. Her voice, a whiskey-infused siren's call, is reminiscent of the rawness of some of the greats: Guns N' Roses, The Rolling Stones and Eartha Kitt, even. Her namesake band, DOROTHY, is comprised of drummer Dylan Howard, guitarist DJ Black and bassist Gregg Cash. Their debut album, ROCKISDEAD—a collection of dynamic, heavy-hitting songs—kicked down the door to the Billboard Rock Chart with its mind-bending rock melodies. Whether at one of their live shows or at home, with the stereo turned up to maximum volume, the record will make your body twist and turn; wherever you are, DOROTHY's music will rattle every bone in your spine.
Dorothy's arena-primed voice has been a major instrument for the band and an astounding addition to the music industry, catalyzing a rebellion against the current landscape of Top 40 pop and Ibiza DJs—music which can sometimes feel stale and boring and uninspired with its repetitive pentatonic riffs.
"When I'm listening to a lot of stuff [like that], it makes me feel a little dumb," Dorothy admits. "There's not much energy, movement; not really much going on. So my thing is, if it makes you feel something—that's the spirit of rock n' roll. It's like that punk mentality of, 'Fuck everything! We're gonna break out of a box! We're not gonna sound like the last guy. We're not gonna speak like the last guy. We're not gonna look like the last guy. We're gonna do what feels right to us.' That, I think, speaks to everybody, especially the youth of America. They can feel that oppressive control of society."
Her energy and dedication to making real music that speaks to real people has been an asset to both her fans and herself. Six years ago, Dorothy was struggling with relationships, addiction, and she didn't know where she was going to live. Through music she overcame her obstacles and was soon signed to Roc Nation when her manager, George, showed the label her band's DIY video for "After Midnight." Rihanna, of all people, quickly took interest.
"It turned into [this thing of], 'Let's give her a publishing deal and they can write together.' Rihanna ended up saying, 'No, I feel like that is a DOROTHY song.' She really respected the artist-song relationship," Dorothy reveals. "Her project turned out to be Anti. Then I met her manager and it turned into me becoming a
Roc Nation artist."
 ROCKISDEAD commands listeners to "Get Up" and "Raise Hell," literally. The band's music comes with a call to action which is expressed in such a raw way it's impossible to not get pulled in. "I have a lot of unbridled energy that I get to channel into the music," the songwriter says. "I just always go by how I feel. And I can tell when the music's not right. It's really, really satisfying to express yourself. I kind of impart that to bands at shows: always, always feel like you can express yourself. You have to. Don't do something that's killing you on the inside. Your life is too short…. You wanna be able to make a difference and help people, inspire each other. That's why we're here, right? This, to me, is such a blessing to be able to do. I'm so glad that the album turned out the way it did [and] I'm excited to see where it goes, how we evolve."
Dorothy continues, "My thing is right from the heart. There's a quote on that show, Vinyl, where the guitar player says something like, 'Just write what you feel, boys, it's not rocket science. It's not magic.' And it's true. I would second guess myself plenty and now I don't. I know when it's something emotional and real and coming from a place that's special. And I know when we're overthinking it and forcing it. There's a difference: That inspired flow of energy and creativity is very obvious. The more you do it, the better you get at it and the more you recognize where it's coming from."
DOROTHY's debut album is a loud and almost violent introduction to the band, but they do leave room for some surprising, tender moments, like the sincere ballad, "Shelter," a song that brought me to tears the first time I listened to it.
"Actually, 'Shelter' made me cry too," the singer admits. "When we were recording it, my best friend Grace came over. It was very difficult for me. Mark hadn't shown up to the studio that day. It was just me and Ian Scott, the producer. My father had passed away…I don't dwell on it, but for some reason, that song really hit home for me. When we were recording, I was drinking at the time, so Grace brought me a bottle of Jameson. I was like, 'I can't do this sober. I have too many feelings.' We actually got the song done in practically one take! It was one of those magical moments. The first couple takes we were just warming up or whatever, and then Ian pressed record and it was one of those moments where it was completely real. I think that's why it makes you cry. It makes a lot of people cry…It's something that music is lacking these days."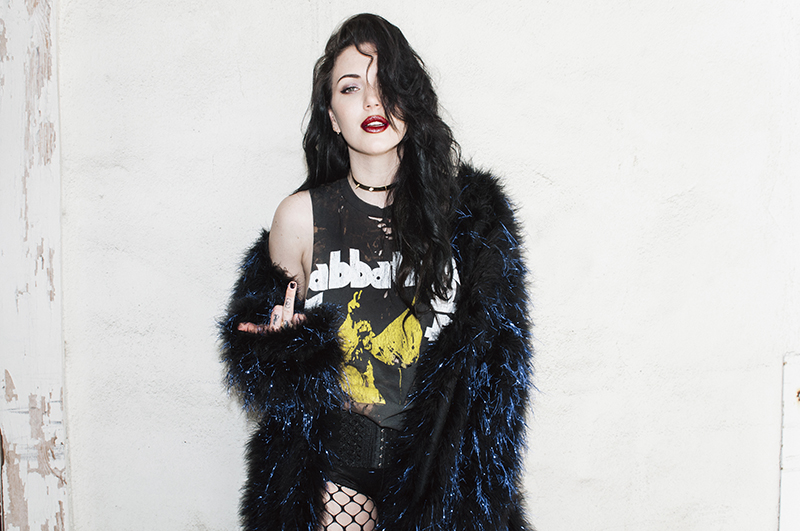 Fur Coat, MSGM. Tshirt, vintage. Choker, Dorothy's own. Tights, Wolford. Black briefs, Stylists own.
From a young age, Dorothy used her vocals as a way to break through society and find herself. Her honest approach to songwriting and strong, Olympian-like discipline have helped hone the powerhouse vocals that she possesses today.
"I took it upon myself to find different teachers and study as much as I could," she says. "I went to the Musician's Institute for Vocal Performance for summer camp. It was so expensive at the time, I couldn't afford a full year-long course, so I took their summer boot camp. I basically sought out as many different teachers as I could and tried to learn from each one. For the most part I'm self-taught [from] just listening and realizing that it's like, you're an athlete. It's like going to the gym every morning. The more you do it, the stronger you get. It's not like, 'It's not fair! How does he do that?' Well, because he worked on it. You have to train yourself." 
When she first started singing in front of people, she admits she was her own worst critic. The Dorothy we see onstage today—stomping about, rolling her shoulders like a seductive minx, mouth practically devouring the microphone—is a result of years of playing live and figuring it out on the go.
"I used to be really shy. I wasn't sure of myself, so it was a learning experience. The more shows we played and the more experiences we had, the more I grew as a performer. It's not super rehearsed. We'll rehearse the song, but I don't necessarily rehearse what I'm gonna say. It's not like I wear the same outfit every single day on tour. There's a lot of very 'rehearsed-ness' that goes into performance a lot of the time, but I feel like we're very loose. It's scary but it makes it dangerous, which makes it fun. There's a lot of room for error, but there's a lot of freedom in it."
"Here's the thing: the crowd is an equal component to the performance," she continues. "They can either suck the energy out of you or they can circulate it back and it becomes this amazing dance. It's just so much fun. We feed off each other. When crowds get really riled up, you see them crowd surfing or moshing or rioting, that's when that energy is being circulated back around to the artist. You kind of become one crazy monster."
Today, DOROTHY's shows are full of riotous performances that stir up nostalgia for the early days of '90s grunge.
"Lzzy Hale said it the best: We just plug in and play. There's no antics, no tricks," she explains. "We don't use any tracks. Not to say that tracks are bad, we might use or play around with them. But we just wanna plug in and play. The last wave of music that had this type of raw energy was the '90s. Nirvana is one that stands out in my mind a lot. They plugged in and they played—it was very real."
Of her other inspirations, she mentions that her vinyl collection contains everything from Janis Joplin to Pink Floyd to Led Zeppelin to Bob Dylan and, of course,  Michael Jackson.
"He was such a beautiful man," she gushes about the late music icon. "But If I could liken myself to anybody, it would be Steven Tyler. You can just tell that he feels one hundred percent free. It's beautiful. It's like watching an angel sing. Like, holy shit! The energy he brought to it! You can be really good and hit all the notes and be like, 'Look at me, I'm a diva…' You can do all the runs and it doesn't matter. The way he sings… that's beautiful. I don't care if I fuck up. As long as the energy's there, I'm good."
Music aside, Dorothy's Angelina Jolie-like face and sexy style have made an immediate mark on a business where women's bodies can be as big of a commodity as their albums. After all, sex sells—but for Dorothy, the only product she offers up for sale is her music.

"When someone says you're beautiful, you say thank you. I appreciate it," she says. "But if I was only selling sex with no substance behind it, there would be an issue. I don't allow myself to feel objectified and I don't allow people to objectify me. I used to. I have had some… experiences that stand out in my mind, and the realization that I got from them was, 'Wow, we're really conditioned to feel inferior to men.' We've been conditioned to the point where we don't even know we're conditioned by men and the media…"
"Women are powerful," Dorothy adds. "Women are very powerful. We bring life into the world. We're extremely emotional and intuitive. I'm extremely sensitive to energy to the point where sometimes, it gets me in trouble. It can make me sick."
Dorothy's feminist mission is helping break through the ceiling of a slowly-crumbling misogynistic society, and she is doing her part by making music sans barriers.
"You know how afraid people are of breaking the rules? And how sad that is?" she asks. "It's literally invisible red tape that doesn't exist. Maybe it's a rule or a superstition passed down from generation to generation to keep you in check, to keep you in line so you behave and so you're easier to control. It's ridiculous. Telling your child they can't be a musician because that's not a real job? That's an example of that. It is a real job."
Dorothy pauses before continuing with her mission statement: "I just want people to follow their dreams. What they really, really want to do. What is burning inside you? What do you really want to do? If you wanna bake pies and open a pie shop for a living, but your mom wants you to be a dentist, fuck that. Bake pies. You're gonna be in business anyway."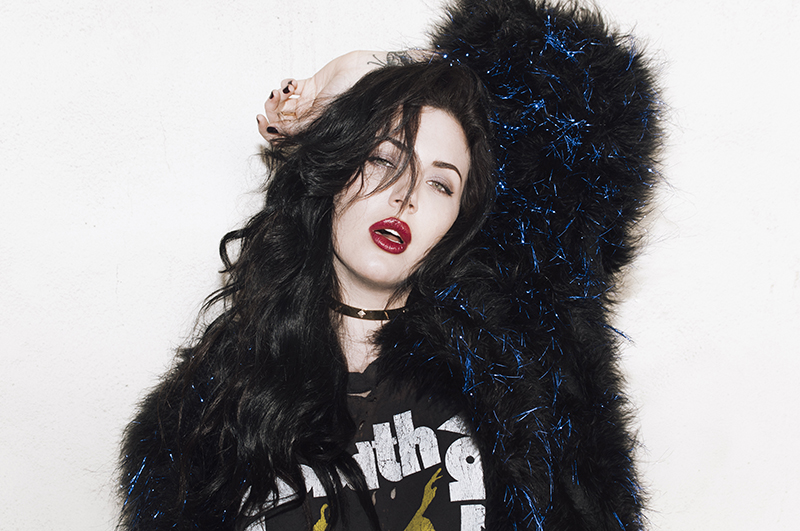 Fur cape, MSGM. Blouse, Thomas Wylde. Pants, Thomas Wylde. Belt, Luvaj.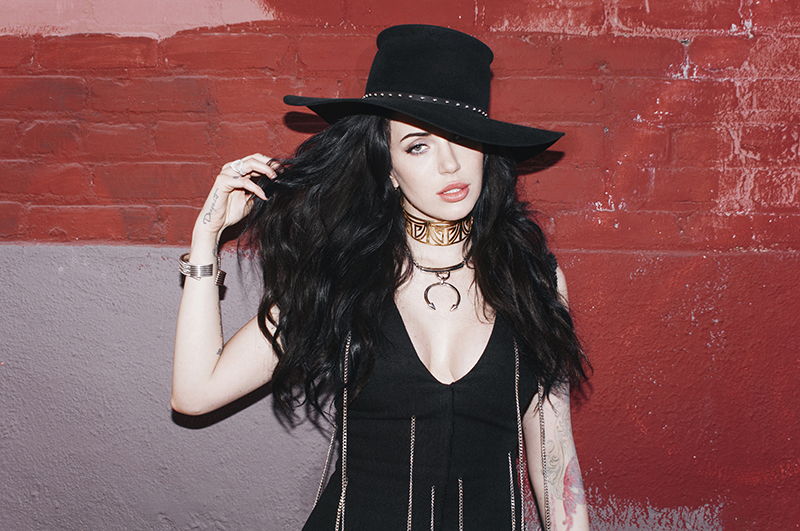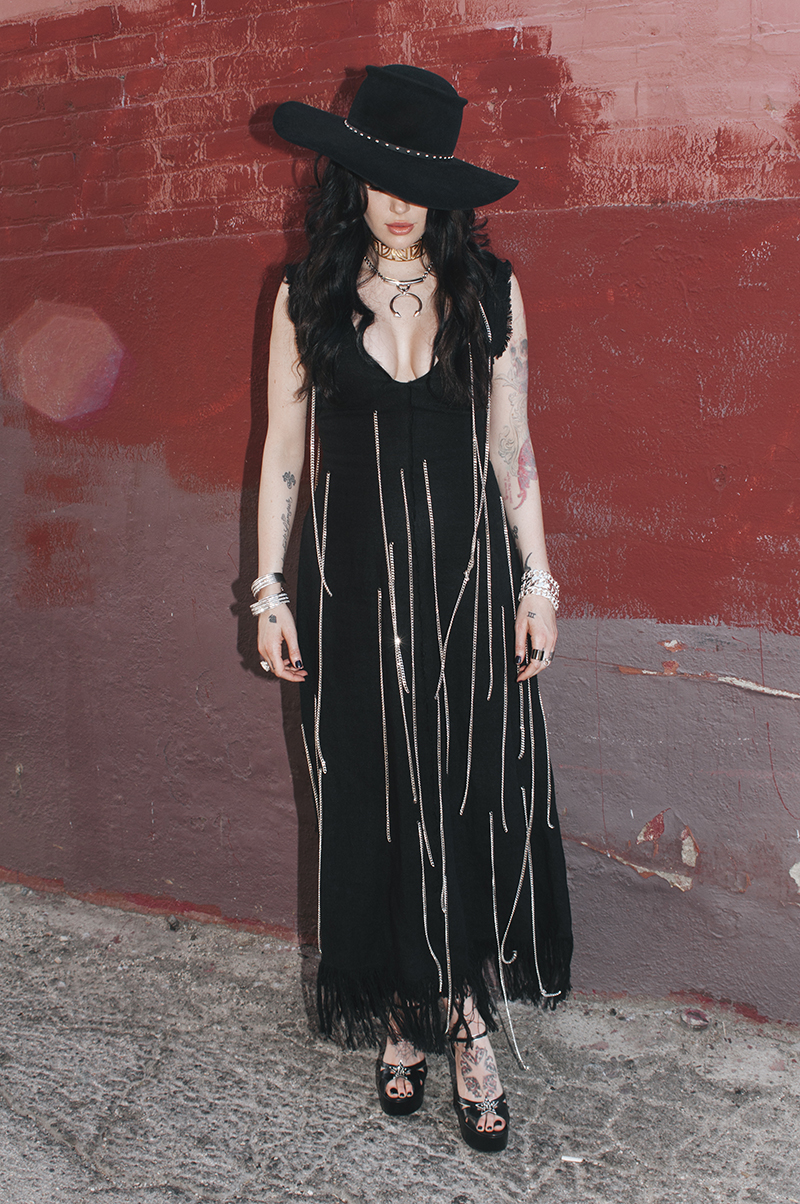 Dress, MSGM. Hat, Gladys Tamez. Shoes, Saint Laurent.Silver bracelets and necklace, Luvaj. Choker, Lillian Shalom.
First look: Moto jacket, Alessandra de Tomaso. Bodysuit, Alessandra de Tomaso. Tights, Wolford. Heels, Saint Laurent.  Necklace, Luvaj.
SEE MORE DOROTHY IN LADYGUNN'S #14 POWER TRIPPIN' ISSUE !