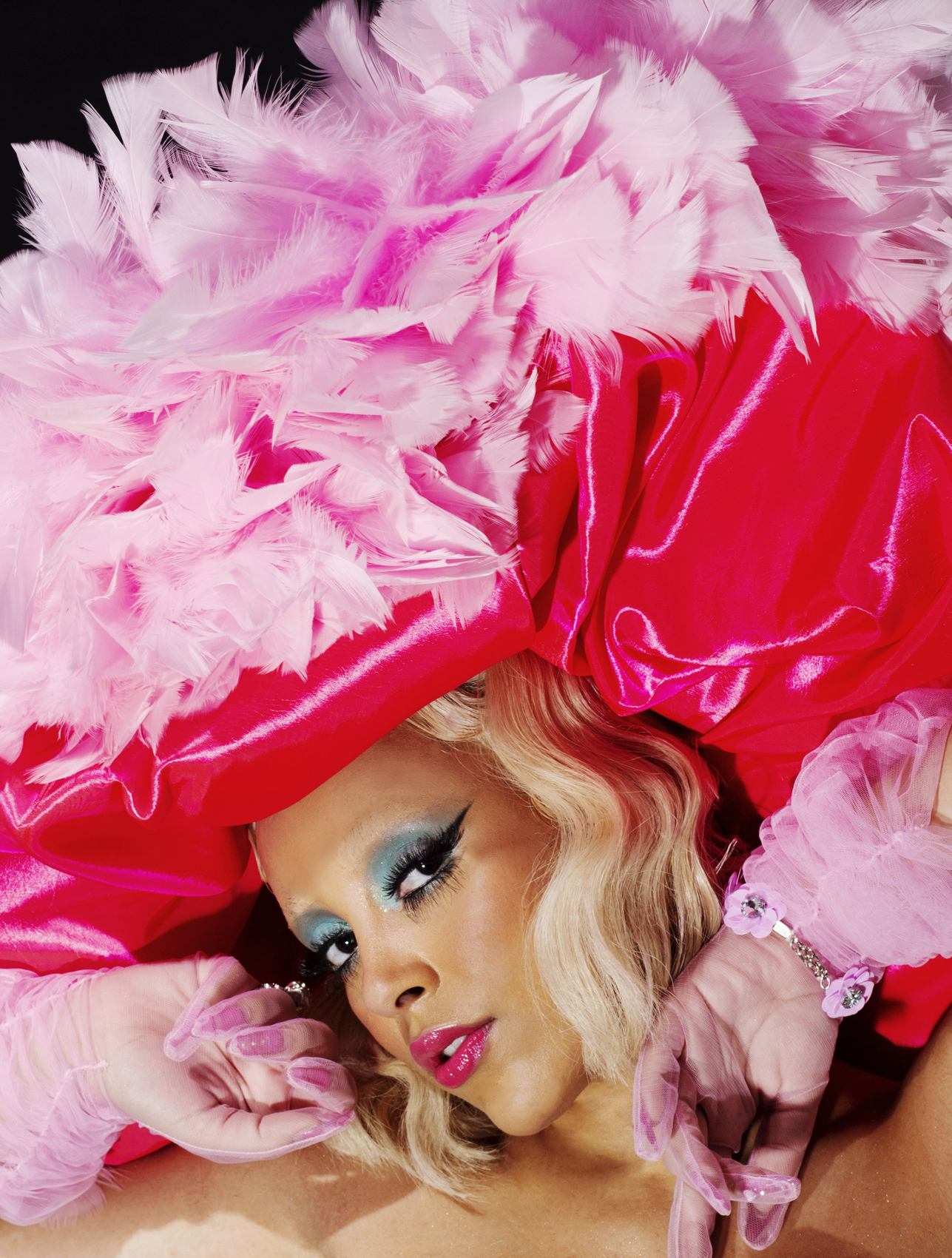 It's 5:30 PM, about half an hour before our phone conversation, and Doja Cat just posted her phone number on Instagram…where her millions of followers will see it.
"Well I'm crazy, so I do shit, you know?" the 24-year-old rapper/singer tells me, adding that in under fifteen minutes, she's received more than 5,000 text messages. "People are like, 'This is not real. This is a prank,' and I'm like, 'It's not! It's definitely not!'" 
The influx of messages is no big deal to the artist born Amala Dlamini. This connection with her fans is exactly what she wants, and she sets out to achieve it in the same way she approaches anything else: as directly as possible. When she wanted to start making music, she opened GarageBand, created a SoundCloud account, and did it. When she wanted to make a music video, she opened up Photo Booth on her MacBook and did it. When she crafted her stage name, she simply picked two words she liked and did it. She chose Doja, a slang term for marijuana because she smoked a lot of it at the time and thought the word sounded feminine ("Like 'Tatianna' and 'Clarissa', and you know, whatever with the 'a's," she reveals), and she chose Cat because, well, she just loves cats.
Even when she made "Mooo!," her first viral hit, she just did it; its video, filmed in her bedroom with a green screen, a cow-print outfit, and some french fries up her nose, has over 64 million views on YouTube at the time of our interview. "I was in my room making the song, and I thought, 'Whatever, we'll put it out for free, because I don't know if anyone's gonna give a damn about this,'" she explains. She didn't even know if she could legally sample the music of Wes Montgomery, Kelis, and Ludacris, but she just did it anyway, because that's how Doja Cat works––and it's paying off. 
Hot Pink, Doja Cat's second full-length album, has quickly propelled her to true stardom. Its lead single, a Tyga-assisted remix of "Juicy" off of her debut album Amala, became her first to hit the Billboard Hot 100 in August 2019. The groovy, upbeat "Say So" soon followed, hitting the chart after the album's November 2019 release.
The success of both tracks has been aided in part by TikTok dance trends––extremely popular TikTok trends. "Say So" has soundtracked more than 15 million videos to date, and "Juicy" has been used in nearly a million. Other tracks, like Amala's "Candy," which has appeared in more than eight million videos on the platform, have benefitted from a ripple effect of virality, proving the true internet power she holds (at least over Gen Z). 
Her no-holds-barred personality and direct artistic approach are still present on Hot Pink. "Play with my pussy, but don't play with my emotions," she raps on "Rules," co-written in part by a controversial, yet surefire collaborator: Lukasz Gottwald, a.k.a. Dr. Luke, who's credited on five of the album's tracks, including "Say So" and "Juicy." (Dr. Luke also founded her record label, Kemosabe Records.) And as for the album's production, she picks beats she likes––no matter how they're constructed. "I don't know who Chic is," she says of the sample of the band's No. 1 hit "Good Times" used for her song "Say So."
Doja Cat does what she wants, and her successes––22 million monthly Spotify listeners and 100 million-plus collective views on Hot Pink's four music videos so far––prove that to be an excellent strategy. 
I spoke with Doja Cat about Hot Pink, TikTok, and her current relationship with marijuana.
How does it feel to have Hot Pink out in the world?
I feel really happy––happier than I've felt in a long time about a project that I've done. I think the first couple of projects for me were practice, and I felt like I wasn't really fully who I wanted to be. I feel like Hot Pink is an evolved version of myself, and I'm happy to have it out and for people to listen to. The first couple of projects didn't feel that way, 'cause I felt like I needed to keep perfecting each of those individual songs on every single one. 
It's your third project and second full-length album to date. Have you been surprised by its major chart success?
Yeah, I'm shocked. I haven't really gotten, in the past, the support that I needed for my other projects. For this project, everybody on my team kind of went head first and just went straight for the jugular and wanted to push it as much as we possibly could, and we did. We're still planning a tour, and everything's looking pretty good. I'm really…I'm not…I am surprised, but I also know I worked really hard, and I see people responding to that and appreciating that, and it's really good to see it doing well. 
Back when you were getting started making music, what did you hope to explore in your career, and how has that ambition changed since you've seen success?
When I started, I didn't know how to sing as much as I knew how to make a visual experience. I was making music videos when I was thirteen on my desktop computer. I'd have to unplug it and carry it around to get different shots, and I had a built-in camera, and I did it on Photo Booth. I would do stuff like that…it was more so about the entire picture for me and not just the music, and I really wanted to explore my visually creative side when I started off…still do now.
How did you approach creating Hot Pink differently than Amala?
What's funny is this album––I would say––is a sister album to Amala with Amala being so versatile; and having different genres; and having different flavors and different moods and different voices and different aesthetics, different musical sounds––I wanted to do that. I want to keep doing that, period. Generally, I just want to never do the same thing over and over and over…that's the truth. 
What's different about it from the first album is that my voice is developed, [and] my character has developed. I have more consistency as to which voice I want to choose. People know each of my voices, and I think that's fun. I think that it's just fun to see them pop out when they do [while] listening to it.
You toured with Lizzo back in 2017. What was that experience like?
That was amazing. It was just cool to see her perform. Lizzo's very calculated, and she cares a lot when it comes to her live shows. I don't go out to concerts all the time…she inspired me a lot. She showed me a really cool aspect of having a live show, 'cause when I go out [on stage] I have no dancers, and I just…I pray to god, and I just do whatever I can do.
Did you two get to connect on the tour at all?
Yeah, it was a lot of crazy, silly goose times that we had. She put her elbow on my ass cheek and gave me this really deep tissue massage that I will never forget. (Laughs) And it hurt a lot, so yeah, we connected for sure.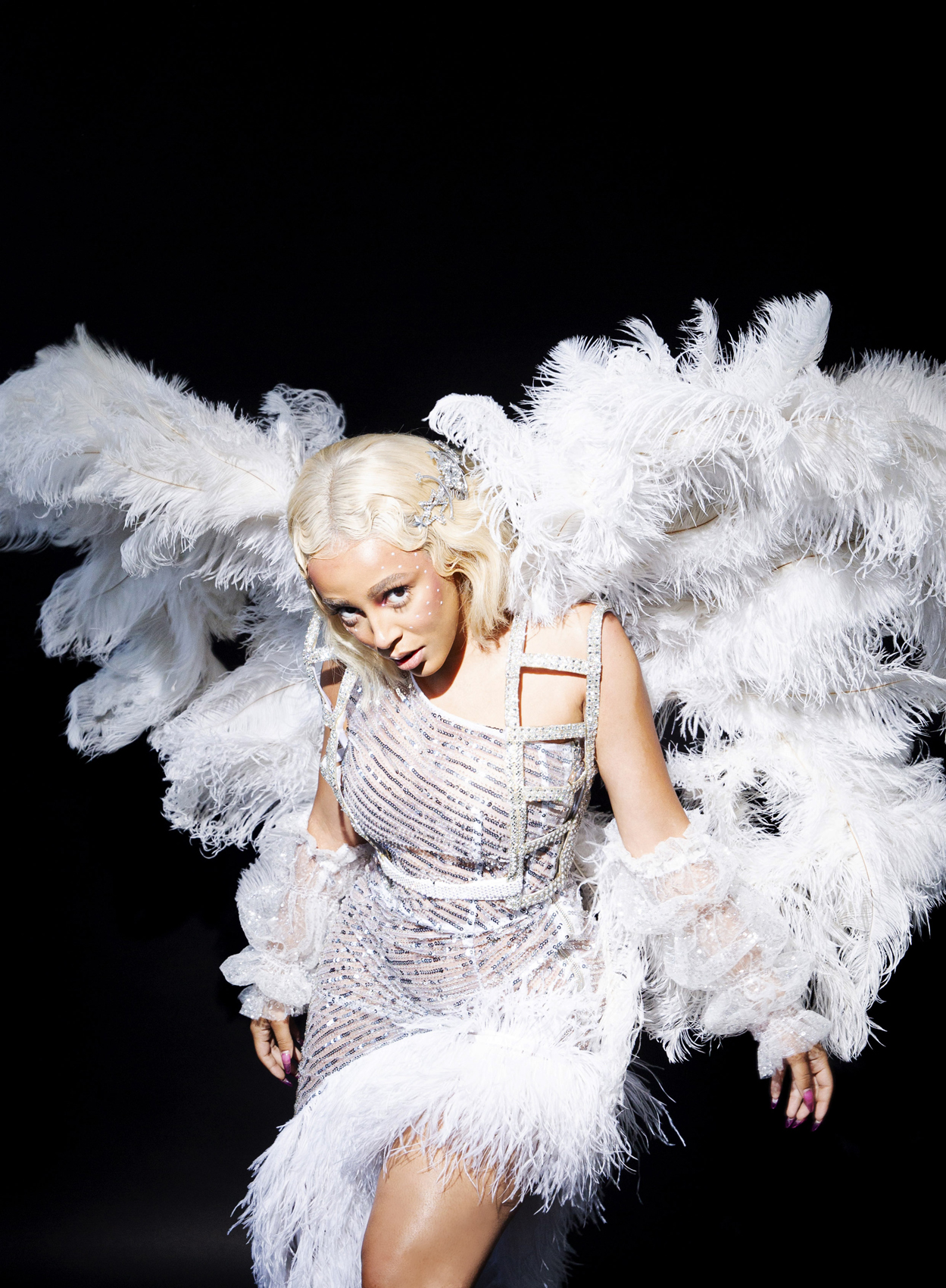 Wings: For The Stars Fashion House. Headpiece: Marianna Harutunian.Dress: Bronx and Banco. Arm Pieces: Queenie Cao. Crystal Pump: Femmes Sans Peur.
Ever since "Mooo!" went viral, it seems like every week a new song of yours is blowing up online, specifically on TikTok with a meme or dance attached to it. Do you watch the videos people make with songs like "Candy" and "Say So"?
I do! I do watch them. (Laughs) I try to avoid TikTok [compilations]. It's just one of those things that unless I feel like I need my daily cringe, dude, I do…but I don't. TikTok's great. There's some really good content on there. It's really just the second coming of Vine, and I love it for that. I don't own the app, one, but I do watch the dances people make to my songs specifically––which those are fantastic. I love them. I think they're great, very cute.
Have you learned the "Say So" TikTok dance?
I tried to. I failed miserably.
Prior to releasing this album you notably stopped smoking weed, because it was hindering your creativity, but recently on social media, it appears things may have changed. What's your relationship with weed these days?
So I smoke weed, but it's not normal weed. It's a CBD strain, so it's high CBD, low THC. I try to get the lowest form of THC, but to be honest at this point that you're asking me, for the last couple of days or so I haven't smoked any of that shit. It's not good. I've had anxiety. I'm not fuckin' with it. I got one that was too strong, and I fucked up, and now I'm not really fucking with it anymore…but it was nice when I had the right strain. 
Obviously you're still in the midst of promoting Hot Pink, but what's next for you?
I have a tour coming up––I don't know if I should be announcing that, but I know it's going to happen. I think I can say that the Hot Pink Tour is coming. I'm very excited. I'm not telling anybody where I'm going. It's a secret…what else? Lots of festival stuff coming up…possibly some TV shows, possibly some movies. I've been working on my live shows a lot more too. There's choreography, there are all types of different elements that I'm adding that I'm excited for people to see.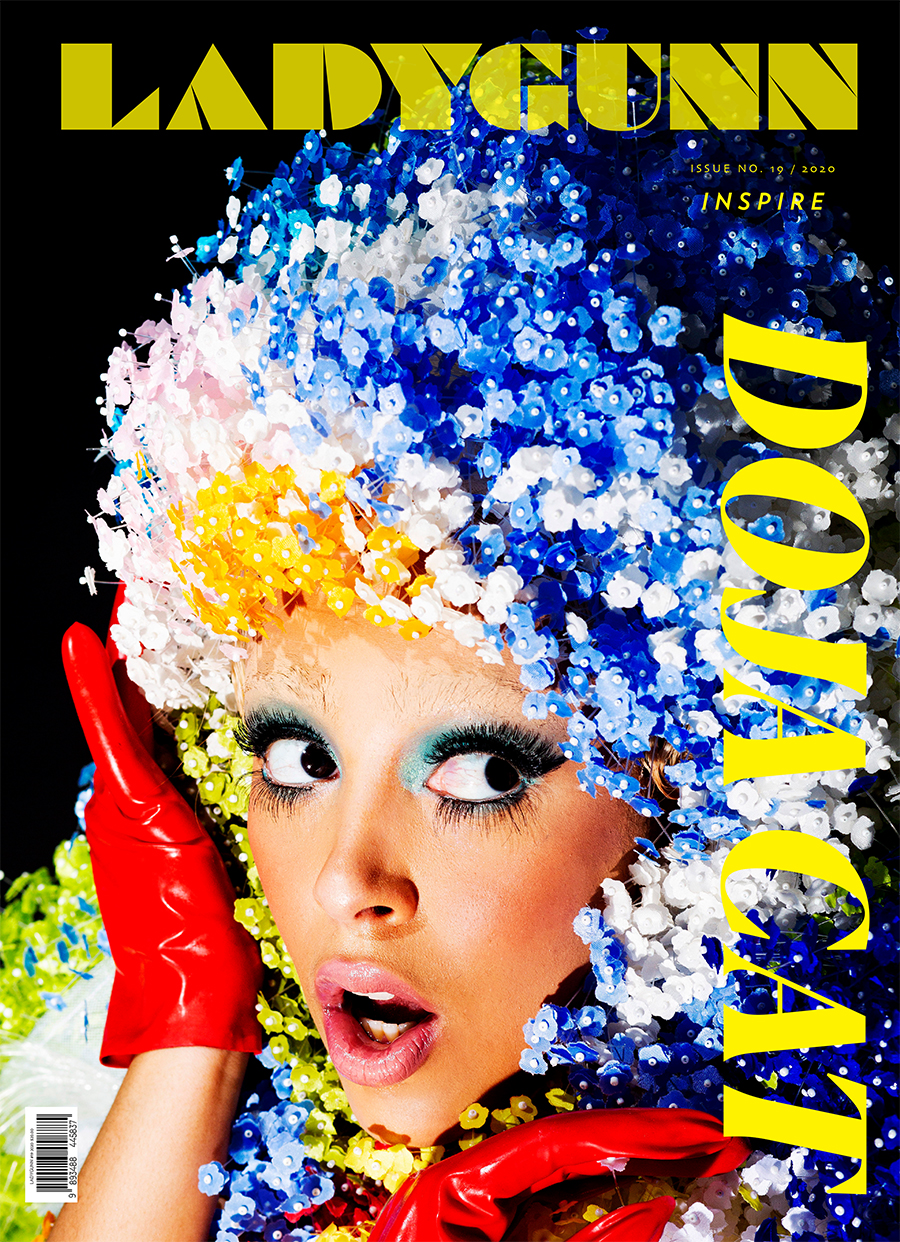 Dress: Kaimin. Bracelet: Vivienne Westwood. Pumps: Femmes Sans Peur.
Hat: Di Moda Atelier by Jesse J. Collections. Bra & Belt Zayna Bayne. Dress: Bronx & Banco.

Hat: BCALLA. Gloves & Bracelet: Kerry Parker.

Dress: BCALLA. Headpiece & Belt: Zana Bayne.
---
photos / Nikko LaMere
styling / Rio Warner
makeup / Brandy Allen
hair /  Leon Yeshua
story /  Jack Irvin