December is not yet here, but nonetheless, alternative powerhouse D'Arcy decided to close the year down with one of the best albums I've definitely heard all year. Seriously now, it's *that* good.
"The Art of Flying" is a long and challenging journey, but like all journeys worth taking, it is extremely rewarding all the way through to the very end. From the technical aspects right down to the nitty-gritty subjective side of things, where your personal experiences and sensibilities come to play with D'Arcy's perspective, you'll be constantly wowed by the truly great piece of music that this young artist has crafted, especially when you look at the entirety of the work. This release was not haphazardly thrown together piecemeal, but in the background of its creation there was an unconscious force working with a trajectory and final intent; the result is nothing short of stunning and well worth the praise it's getting today.
"The Art of Flying encapsulates a journey of love, loss, and rebirth. The album contains an amalgamation of sounds, some electronic and some acoustic. Some of the songs were recorded in a hotel room in the middle of the tour at 3am, some were recorded in a studio; some of the songs I wrote years ago, some are recent.  Ultimately, The Art of Flying is about learning to overcome struggle by making the choice to find beauty in pain. I hope it resonates."
In light of this fantastic release, which we believe you'll no doubt love. We had the opportunity to get in deep with D'Arcy herself and get her thoughts regarding the album, the process of its making, and a couple of other things, please enjoy.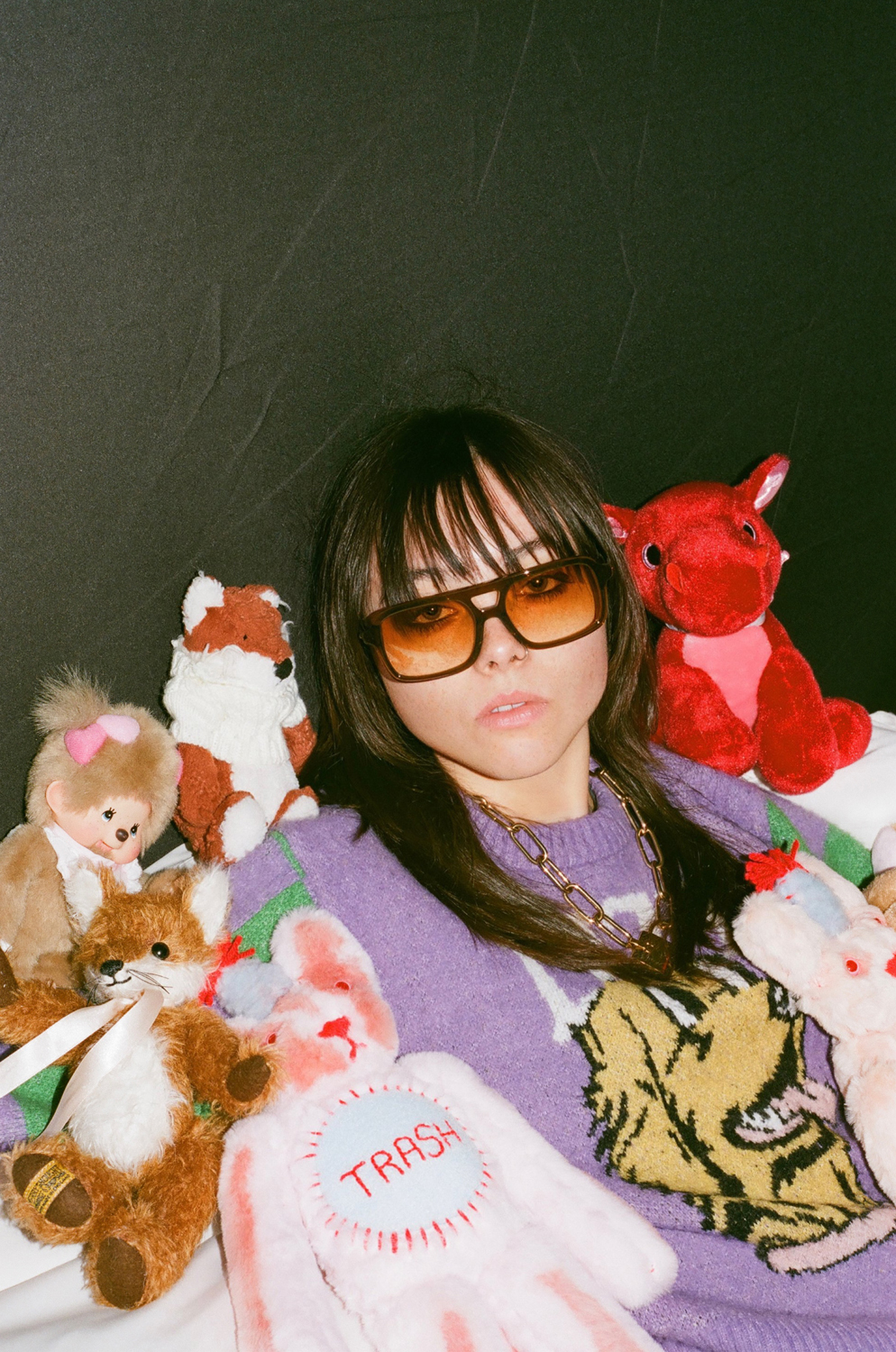 I feel like the album title is rather self-explanatory, but why don't you tell us how you envision it nonetheless?
The album as a whole, which I feel the title reflects, is about overcoming pain and suffering by transmuting it into beauty and freedom. "Flying" serves as a metaphor for overcoming suffering and growing into the best, truest version of one's self.
There's a definite Curve (or is it an Arc?) to the album, where it starts out very cold and electronic and then starts to develop into a warmer sound with more traditional rock instruments. Can you tell us a bit about this trajectory?
I wrote all of the songs on my own, but they got differing treatments depending when exactly they were made and who laid their hands on them. Some of the songs I did entirely on my computer with just my synthesizer and microphone, and some of the songs I went to a studio to record and collaborated with other musicians. I like that some songs sound quite different from each other; the album was written over such a long period of time that it feels only natural that the production would vary as well. In terms of the arc to the album, I spent some time with the collection of songs and tried out different orders. Since my live show and overall sound is more electronic, I wanted to open with some electronic leaning songs like Fear of God and Lover, and then work my way down into some of the more acoustic songs like 360, and bridge the gap with songs that share both electronic and acoustic elements.
What was the road to making this album like? Have you been brewing some of these songs for some time prior to realizing there was an album there, or…?
This album feels like an emotional catalogue of sorts for me from the past decade. 360 and Cowboy I wrote when I was eighteen and had my first real heartbreak. Fantasy, Anxiety, and The Art of Flying I made by myself on tour last year in hotel rooms all over the country. Delirium is based off of an old demo I made on GarageBand that I dug up on my computer. It was like 45 seconds long but there was something about it that I knew would make for a really interesting piece of music so I followed my gut and went to the studio to record it.
Something Beautiful I wrote after a more recent break up, and The Best of Me came to me in a dream, fully realized. So really, I feel like I've been working on this album every day for the past decade, whether that meant having experiences that would inform the record, or actively writing.
The past year or so I have really been piecing together which songs fit into an album. I was writing a lot of electric guitar driven punk/rock music too and I wasn't sure what was going to make the final cut. But, with the addition of the last few songs, it became clear what belonged on "The Art of Flying" to tell this story, both lyrically and sonically. Maybe some of the leftover songs will be on my next record or be part of a side project, who knows.
"The Art Of Flying" deals with a lot of grief and loss, but there's also hope and love in there. Was there a song that was particularly difficult to write or was it all very cathartic?
None of the songs felt especially difficult to write. Whenever I am really pushing myself and the songwriting process does not flow naturally, for whatever reason, that's usually a sign to take a break from writing altogether. I cried pretty much the whole time I wrote Something Beautiful, but not because it was difficult to write. It was extremely cathartic to write that song, because I felt like I was finally saying what I had been trying to say for a while. I immediately knew exactly how I wanted to produce the song. When I finished recording Something Beautiful, I felt this massive wave of relief, because I finally had in my hands what I had been struggling to articulate for so long.
I do find it hard to listen to some of the heavier songs; they were very cathartic to create but sometimes I find that the creation is enough of an emotional release, and I don't need to keep listening to them. Some songs, though, I enjoy precisely because of the sadness or weight they carry. So it just depends, and I'm sure my relationship with each song and the album as a whole will change as time goes on and I am able to gain perspective.
Is there such a thing as a favorite song for you in this album? Or at least a song you feel especially proud or attached to?
Something Beautiful is the song I am most proud of and the song that I feel embodies what the record is about. Delirium is my favorite song to listen to because it is so fun and trippy. It was really, really fun to record; I felt like a kid in a candy shop because it does not adhere to a traditional song format. When I produced Delirium, I did not place any limitations on myself or anyone else involved. For Marty (O'Brien), on the bass, and Brendan (Buckley) on the drums, my instructions were, basically, to go nuts. They would do a take and I would
say, "That was awesome, but go even CRAZIER!" It was very liberating to feel like the song didn't have to be any specific length or have a chorus or a bridge or a hook or anything like that. And I think because I let myself run wild with it, it turned out even better than I could have imagined, which feels very rewarding.
I don't really think D'Arcy sounds like anyone other than D'Arcy Herself. But who today do you feel a musical kinship with?
I appreciate that. I definitely am trying to carve out my own sound.
These days, 070 Shake and Nicolas Jaar. Always Fiona Apple.
Of these songs that you've had the opportunity to play live, has there been one or more that you feel the audiences have engaged the most with?
I generally open my set with Fantasy right into Delirium, and then I trigger a hard beat underneath that leads into a song called Mother which will be on my next record. I've gotten really good feedback on those three and I think it crafts a nice opening and build to the set. I've been closing my set with Anxiety which sounds pretty much exactly like it does on the record, but I add a beat underneath it and extend it a little, so that creates a closing to the set that feels quite hypnotic. People seem to appreciate the hypnotic nature of my live performance.
You've been touring with She Wants Revenge for a while now, what has that experience been like?
It has been the most incredible experience. Not only are the guys in the band so kind and accommodating, but their fans have been very receptive to me, which has been so special. I have to pinch myself sometimes before or after a show, because this is everything I have always wanted playing out in real time. It's pretty crazy. I have been learning so much on tour and I try to absorb as much as I can. Some days it's literally just survival mode because we've had to drive 8 hours to the venue and got no sleep and haven't had anything to eat etc. But I try to keep my eyes open as wide as I can and take in everything that's going on around me. I have learned so much from She Wants Revenge and also The Chameleons, who were just out on tour with us as well. I have become such a huge fan of SWR's music, so getting to watch them perform night after night is not something I take for granted. I will be very sad when this tour is over.
2022 is rapidly coming to a close. Will you be touring "The Art Of Flying" next year or will you be focusing on something else?
Both! I will definitely be playing some shows around "The Art of Flying" but I am also looking forward to moving onto new material. Touring with She Wants Revenge has definitely inspired me to write new material and I can't wait to start recording again when I'm home from tour, especially making use of some of the equipment I use to perform. There will certainly be a second D'Arcy record in 2023.
Story: LADYGUNN
Photos: Courtesy of the artist
CONNECT WITH D'ARCY