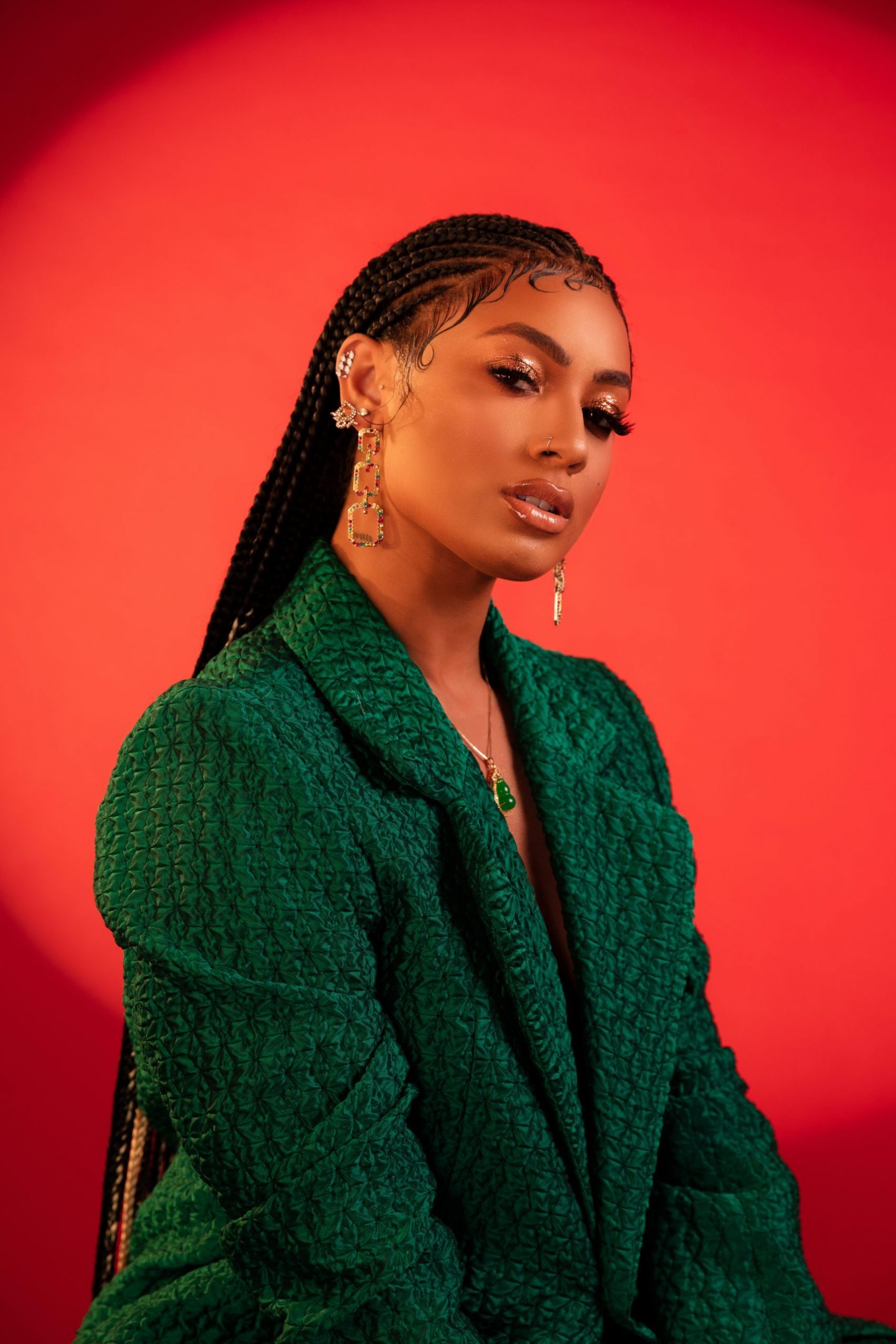 DaniLeigh is the self-proclaimed "Dominican Mami" out of Miami who's taking over the music industry one track at a time. Since she stepped on the scene in 2017 with first project Summer With Friends,, the "Lil' Bebe" singer has proven that her talents are meant to be center-stage with a bigger audience than YouTube covers.
From a young age, the R&B newcomer, born Danielle Curiel, had a knack for stage presence as a dancer for Nelly Furtado, Pharrell, and other music heavyweights. Years later, working with Prince guided the "Lurkin'" songstress in the direction of mainstream fame and led to  collaborating on her hits "Lil' Bebe" with Lil' Baby and "Easy" with Chris Brown. DaniLeigh would seek counsel from The Purple One himself about signing to labels, cover music and her overall creativity and professionalism as an artist. Who would have thought that a legendary mentorship and background dancing would lead to a record deal, a forthcoming visual album and her first sold out tour?
After unleashing her hip-hop and R&B infused debut The Plan, via Def Jam Recordings two years ago, DaniLeigh is preparing to release her sophomore album. She spoke to LADYGUNN about her latest single, "Monique," what working with Prince taught her as an artist and her growth since her debut album.
TAKE ME BACK TO YOUNG DANI. WHEN DID YOU FIRST BECOME INTERESTED IN DANCING AND WHAT HAS DANCE DONE FOR YOU AS AN ARTIST?
My first time ever learning choreo was when I was ten years old. My mom put me in an authentic Indian dance class. I was the only little Spanish girl in there, but I kinda blended in with everybody. At 12-years-old, my mom put me in this school where the choreo was all hip-hop and somewhat modern. At 14, I started training in ballet and jazz. I'm very grateful for dance because I've been training for so long. When I moved out to L.A. at sixteen as a professional dancer, I got to see behind-the-scenes of artists' lives. 
YOU WORKED VERY CLOSELY WITH PRINCE ON "BREAKFAST CAN WAIT" AS A LEADING LADY AND CHOREOGRAPHER. HOW WAS THE EXPERIENCE AND WHAT DID WORKING WITH HIM TEACH YOU ABOUT YOURSELF?
It was crazy. I was only eighteen at the time and fairly new to the industry. It was a big moment in my career and I was like, "Wow, this is insane. Who can say they got to work with Prince at this young age?" He saw so much talent in me: my look, my personality, everything. He taught me to be confident in who I am. He was very gung-ho about not signing things because obviously he's been through things himself. I would confide in him [and] I would get advice from him when it comes to the industry. I remember doing a cover and I sent it to him. He said, "This is incredible. Did you write this?," and I was like, "No, this is somebody else's song," then he said, "Well, you'd better make sure your music is just as good." He definitely made me work and be great.
HOW DO YOUR DOMINICAN ROOTS PLAY A ROLE IN YOUR FASHION AESTHETIC AND MUSICAL STYLE?
I have the flavor when it comes to my style with the lip gloss and lip liner. My music has attitude and confidence, and Latina women are super confident. That's something that definitely comes from my Dominican heritage. With dancing, Dominicans can dance for real without training or anything. 
WHY IS IT IMPORTANT FOR YOU TO INCORPORATE YOUR HERITAGE AND DOMINICAN PRIDE IN YOUR PRESENCE IN THE MUSIC INDUSTRY?
There aren't a lot of Dominicans in the game, so I'm very proud to be Dominican. I love to be proud about it just 'cause that's who I am and that's in my blood. Both of my parents are Dominican and it's my staple when people go, "that's the Dominican Mami." Yesterday at the airport, this guy said, "You look like this Dominican singer. She's the Dominican Mami," and I'm like, "That's me!". It's lit, that's my little stamp and I like that.
CAN YOU SPEAK TO THE RISE OF "LATIN MUSIC MUSIC IN THE MAINSTREAM AND THE MERGING OF REGGAETON BEATS  INTO POP? 
You see it all the time now. You see Tyga working with one of the biggest Dominican artists. Bad Bunny has a sound where he could be hip-hop or R&B. I'm just kind of tapping into it right now. I'm about to drop a song with Tainy, who's one of the biggest producers in the Latin game, and Chris Floyd. I wrote it during Superbowl season  last year, I was in my feelings and it's one of my songs that sounds like one of my English songs but in Spanish. I'm proud about that because when I started doing Latin music, it was very typical and I really wanted my Spanish music to sound like my sound. I hope it is!
DID YOU EXPECT THE PLAN  TO BLOW UP AS MUCH AS IT DID, ESPECIALLY "LIL' BEBE"?
No, I don't expect anything. I put my hard work into it, advertising and marketing things, and hopefully it does what it has to do. I had no idea "Lil' Bebe" would be the record. I had no idea "Easy" would be the record. I knew those songs were strong though. It was my first album with a major label  so I was hoping it'd do a little somethin' somethin'—and it did.
WHEN YOU FIRST CAME INTO THE GAME AS A NEW SIGNEE, DID YOU SUFFER FROM ANY INSECURITIES?
As an artist, I think everybody has that scare going in. Being a female in the industry is so much harder than being a male. You have so many expectations. You, from the jump, have haters just because it's easier to hate on a female. I definitely had my insecurities, but I'm also a very positive person. I just let things go and I don't really look at things negatively. I think my music is  good, so it has to do good.
HOW'VE YOU EVOLVED AS AN ARTIST SINCE THE PLAN?
I was 23 when I did The Plan two years ago and I'm gonna be 26 in December. I've gone through life, I've grown up and I have a different mindset. I'm a big lover, so when it comes to love, where I was with The Plan isn't where I am now with this album. You'll see a transition into different relationships and different inspiration.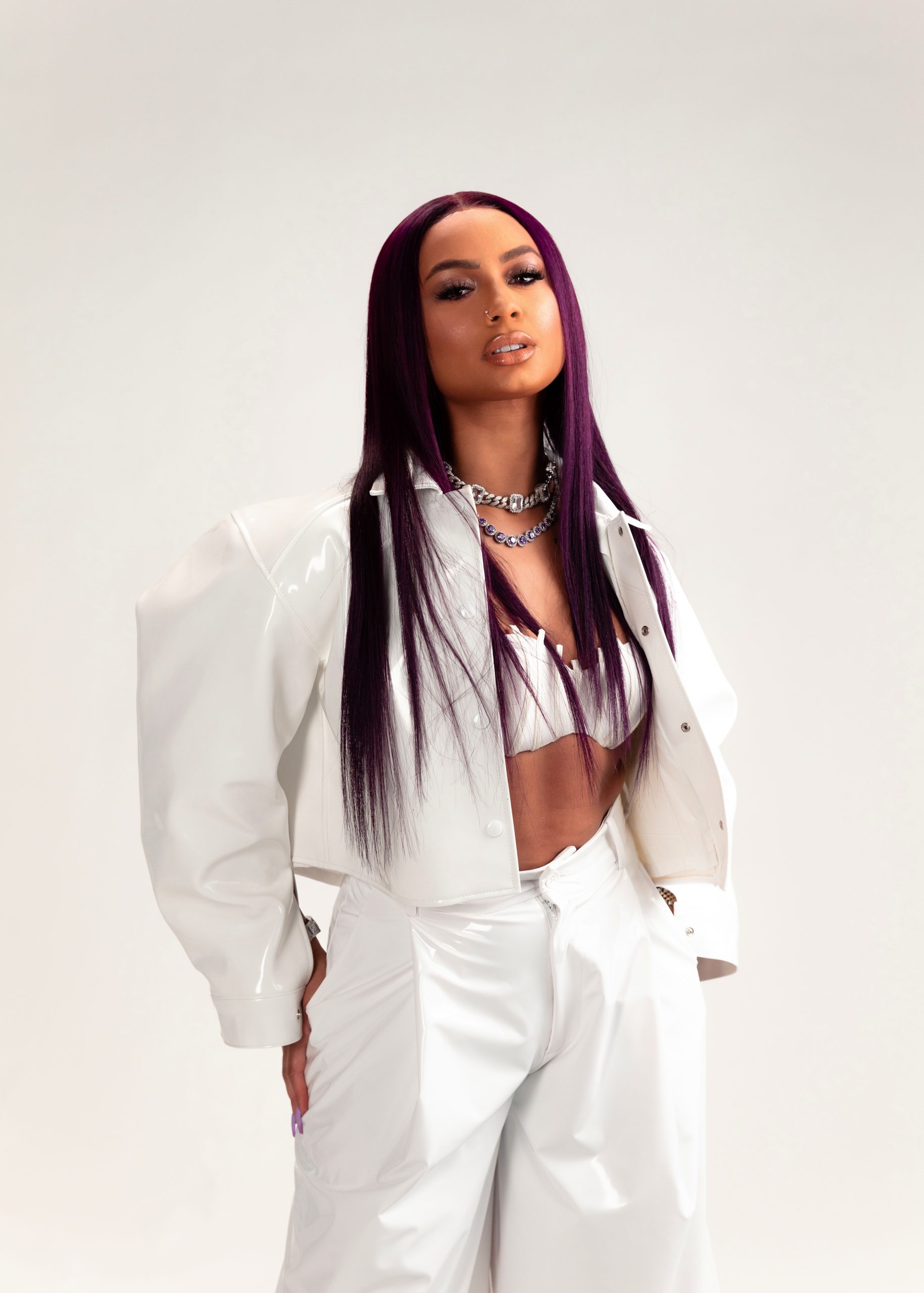 LET'S TALK BODY POSITIVITY. HOW DID YOU GET TO THIS PLACE OF CONFIDENCE AND HOW YOU FEEL ABOUT EXUDING YOUR SEXUALITY?
I got signed to Savage x FENTY so that's a place where I feel like I can show more of the sexiness that I have to offer. I just love to be confident and I work hard for my body. I work out every other day and when you work hard for something, you just want to flaunt it. It's something I feel proud about. 
WHAT INSPIRED "MONIQUE" AND HOW DID IT FEEL RECORDING IT?
Oh my God, that was such a dope ass day. As soon as my boy Retro played the beat, I was like, "Oh my God, that's crazy!" right away. It was my first time working with this writer Rayvon [Deray Welch] and we were just vibing. That's how I am when it comes to being cocky and shit, I love making records like that. I always get tweets like, "DaniLeigh makes music for bad bitches," and I love that feeling. 
HAS QUARANTINE FUCKED UP ANY OF YOUR CREATIVE VIBES OR HAS IT HELPED YOU?
It definitely helped me. It's given me time to sit down and be more creative. My whole album is a movie, so I had time to shoot that. I would've just been on tour, probably would've dropped the album and shot a couple of music videos. I was very excited that I had a chance to do this. With live performances, you get more of a chance to showcase who you are because you can have dancers and you have visuals so you have to work hard. I obviously miss live shows and people and I honestly can't wait for it to go back, but I'm glad this year gave me time to focus on my development.
CONNECT WITH DANILEIGH
INSTAGRAM // SPOTIFY // TWITTER
photos / Adi Muhtarevic
editor / E.R. Pulgar
story / D'Shonda Brown