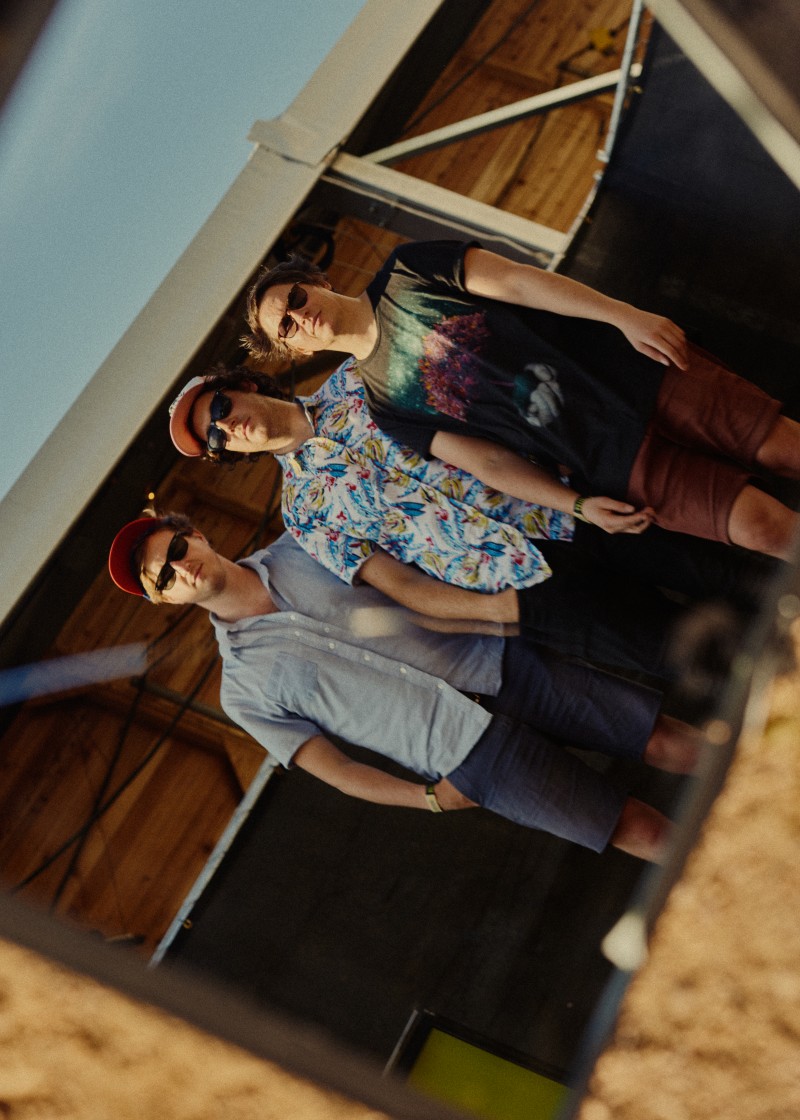 On the radio, The Wombats, comprised of drummer Dan Haggis, bassist, Tord Øverland Knudsen, and lead singer, Matthew Murphy, may come off like any other sing-along inducing indie band, but seeing them live is witnessing kinetic electricity in human form.
That's why I took the half hour break sandwiched between two of my Austin City Limit interviews to dart to their stage just to catch a few minutes of their set. The first thing I noticed was that the unmerciful Texas sun was beating and beaming down on not only the fans but the stage – a consequence of being slotted for a one o'clock set time. The second thing I noticed was how large of a crowd they had drawn for that time of the day, and how enthusiastic the crowd was, the south-west sun be damned.
As I navigated the back of the crowd, I heard familiar songs, punctuated by on-stage chatter and jokes that the sun was going to drive them to heat stroke.  Drummer Dan Haggis commented "I think we're going to be carried off stage in urns: three buckets of ash formerly known as The Wombats."
Luckily The Wombats survived and I had the chance to ask Dan and Tord about the perks of early festival slots, touring their third studio album, Glitterbug, and whether or not I should ever jump out of an airplane.
Today's show was awesome, even though that heat seemed to be getting to you a little bit up there.
Dan: I realized there were cameras halfway through and I thought fucking hell some of the images from the front are just going to be us dripping with sweat just like pulling the weirdest faces.
They're probably good photos. I mean you want the good weird original photos. So how did it feel to be back at Austin City Limits, because this is your second ACL right?
Tord: We did it four years ago. We were the first band on in 2012, and now we were the second band on so we're moving up in the world.
Your crowd was huge, I think you may have needed to be on a little later in the day.
Tord: That's kind of how we do things at festivals in America it seems like. The same with Lollapalooza. We were the first band on and we had the biggest crowd for that stage.
Dan: Maybe we need to convince promoters in the states?
They need to know. You're not playing around.
Dan: To be honest we're just happy to play any festival. If it worked out for the promoters that we played early. The crowd was great, even though it was early on they seemed to get behind it and we felt like, one o'clock, fuck it's going to be tricky to get people up for it, but I mean, crowd surfers and mosh pits at one in the afternoon.
Do you have a preference for small shows or festival shows?
Tord: I like both for different reasons. Smaller shows are always a headline show most of the time so you know the people there will know all the songs. With a festival, it's a lot bigger. The crowds are well bigger and there's a lot of people who are not necessarily there to see you so you have to convince them. I like that challenge of trying to make everyone have a good time by the end of it.
Dan: Whether they know one song or ten songs. Another thing about festivals is there are no inhibitions and people are there to have a good time.
Tord: People are on holiday in a way.
Dan: I mean, on what day do people start drinking and partying at like midday? Today. You know what I mean. Plus I mean it's that different vibe that's really fun.
How would you compare US festivals, because you've been to Lollapalooza you've been to Firefly?
Dan: Firefly was awesome.
Tord: We were first on at Firefly as well.  
Again? I'm going to have to talk to someone.
Tord: Someone is underselling us, I think.
Dan: But that first one at Firefly was actually at like two or three in the afternoon the stages were just starting, but that was another one that we were just like, what the?
How do they compare to UK festivals?
Tord: They're kind of similar at this stage. Festivals in the states are kind of a new thing, right?
This is a big festival for us, ACL, and it's 15 years old, and that's a really long time.
Tord: It seems like they're are a lot more festivals going on. It's quite similar, it's just like a lot hotter.
Dan: I guess for us we're sort of at a different stage in our careers in a way. So over here we're still trying to convince everyone, but in the UK there are a bit more people singing along. We still obviously give it everything, but we don't have to work quite as hard to get everyone to sing along. So the goal is to get America to that same place.
Have you had a chance to check out any other bands today or do you plan on checking out any other bands?
Tord: We're seeing M83. We've been to see Radiohead at a festival this summer, Outside Lands. I want to see them again I think. That was really good. I've seen them before in 2005 at Manchester Evening News.
It seems like a lot of the bands I've interviewed today have talked about how big an influence Radiohead has been for their careers.
Dan: Most musicians cannot help but be inspired by them, because they've changed from album to album, they've always pushed themselves in different directions, they've never done what you expect them to.
Tord: They kind of have a dream career. Most bands want to have that. To do whatever they want musically without having to compromise, that's what Radiohead has been doing. Maybe not from the word go, but eventually that's what they've done. And always changing the style or their experimenting whether it's sonics or whether it's melodies or whatever it may be.
Dan: Literally the band's OK Computer, Kid A, In Rainbows, even Hail to The Chief I know it didn't get critically reviewed that well, but it was amazing. Like four or five albums that to me are basically classics. When you're a fan you dream of that.
What do you want to leave your fans with?
Dan: Thanks so much for getting up early and coming and seeing us.
Tord:  And just for the whole summer, really to the people that have been coming. We're finishing in Houston tomorrow and that's the last show of this campaign. And that's it. I'm gonna go back home for a little while to spend some time off then start writing the new album next year. Thanks to coming to all of our shows.
Dan: Your support is much appreciated.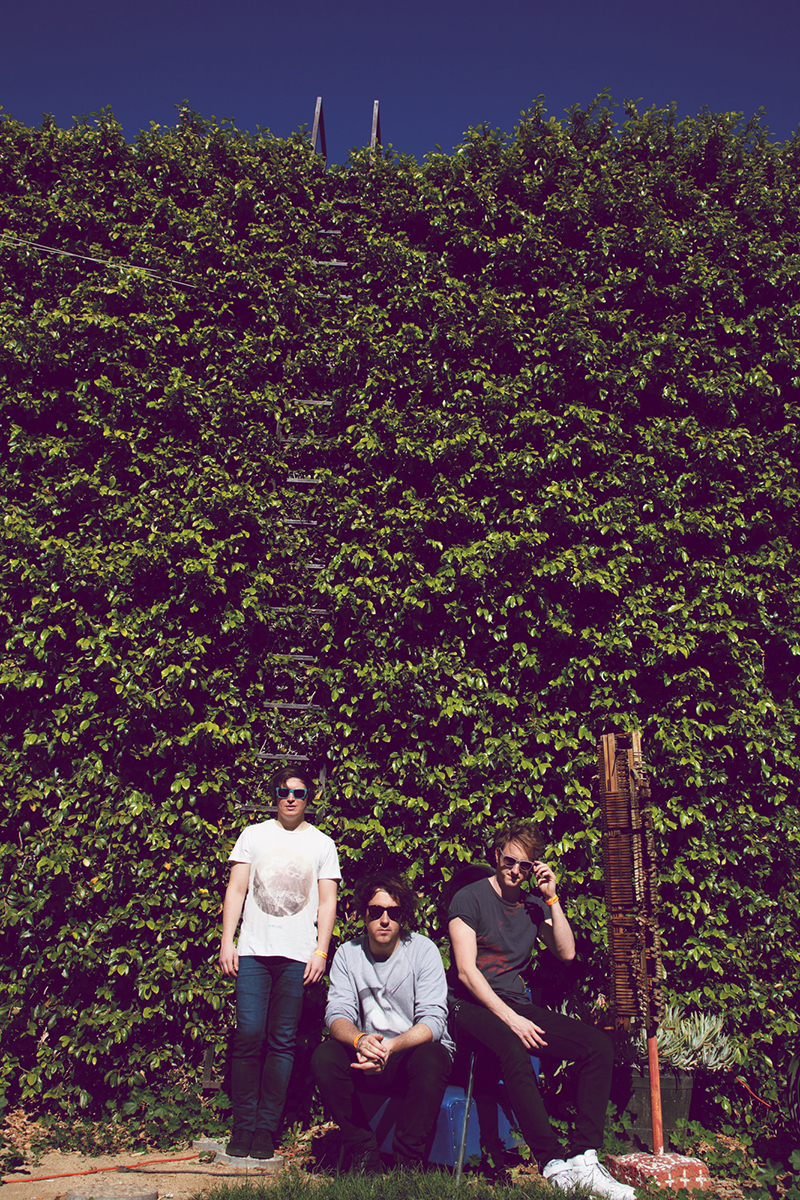 photos / Katy Pritchett
story /  Erica Hawkins