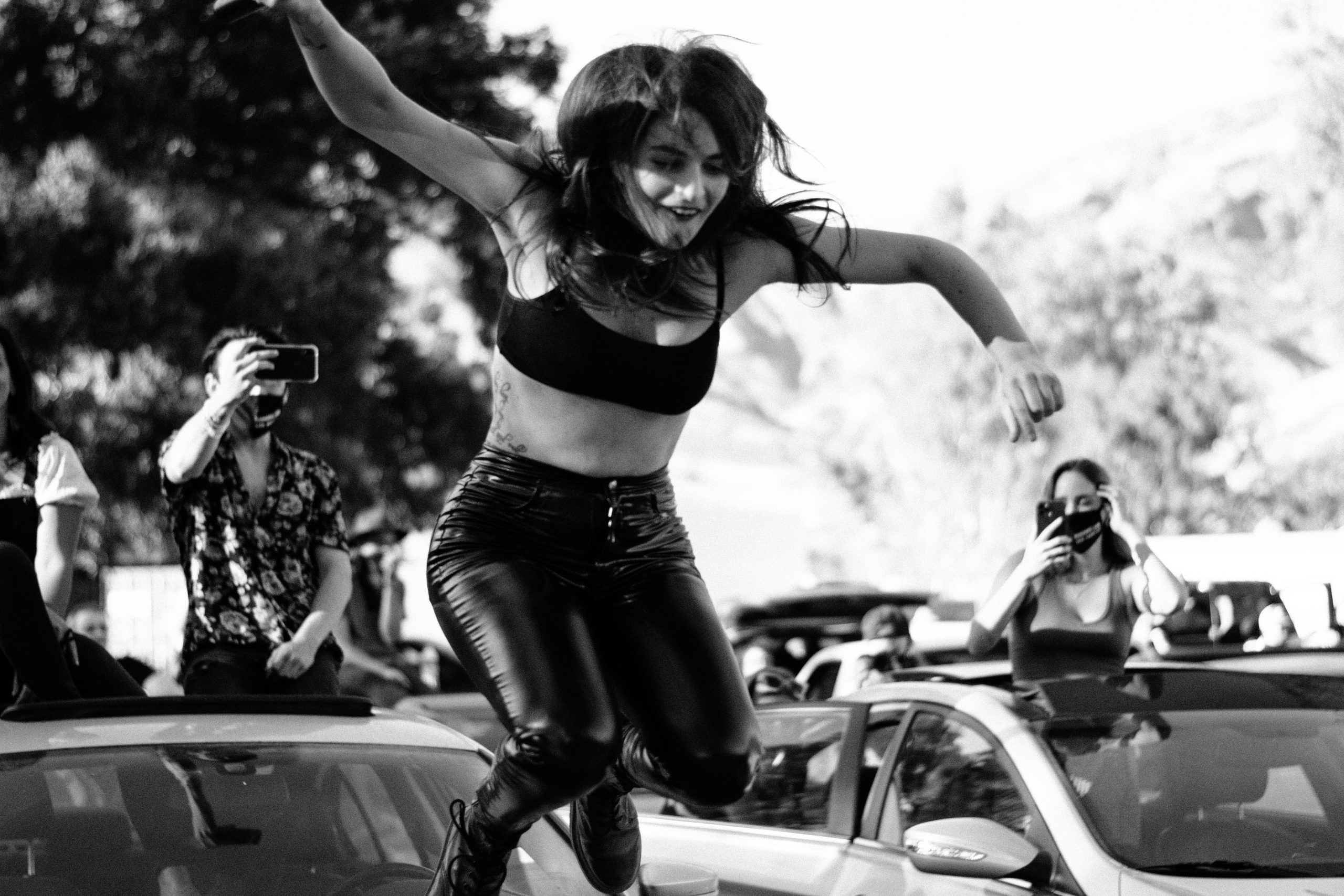 Every day we are bombarded with innovative, useful technology to connect with one another during COVID19: communication, venues, and work all live inside our devices. But the Annabel Lee Drive-In Concert, staged in the valley of Los Angeles, felt entirely and refreshingly old school. It started with 98.5 FM radio and ended with Annabel rolling around in the canyon dirt. Oh, and there were water balloons. 
It's hard to explain just how good it feels to listen to a live concert after months of sequestering. Outside of our daily portal, we experienced the real, gut feeling of a true artist whose visceral performances translated through our masks and windshields, and who, for a solid few hours, transported us back to January 2020.
Just off Kanan Road in the mountains above Malibu sits The Flying Hero Club, started by stunt coordinator Jim Churchman to help pediatric patients experience the thrill of flight. It sports an empty lot with a stage and several goats and chickens who escorted me down the pebbled road and into the parking lot where volunteers offered masks with giant grabbers. I could tell that behind their masks, everyone was beaming.
Los Angeles-based rock musician, Annabel Lee, released her timely song "Los Angeles"  last week. An acoustic guitar accompanies Annabel's honest voice in a live, one-take version. On writing the song, Annabel shares:
"Los Angeles" was a song I wrote during the darkest period I've ever had in my life. Going through a breakup from an 8 year relationship, succumbing to all of my vices. Self-medicating…hurting myself and others – a time I didn't really see myself surviving. But very proud of the song and glad I'm still here in a completely different state of mind." 
The singer weaved between cars, waving to friends through windshields and doing her classic "shuffle, shimmy, and shout" jig.  She launched herself off of a hood as someone shouted "We're on in five!"
Behind me were a couple gals parked in reverse sitting in the trunk and in a couple of fold-out chairs. One told what seemed to be a wild story through heart-shaped glasses while another puffed on a joint. The whole scene reminded me of Coachella for a moment.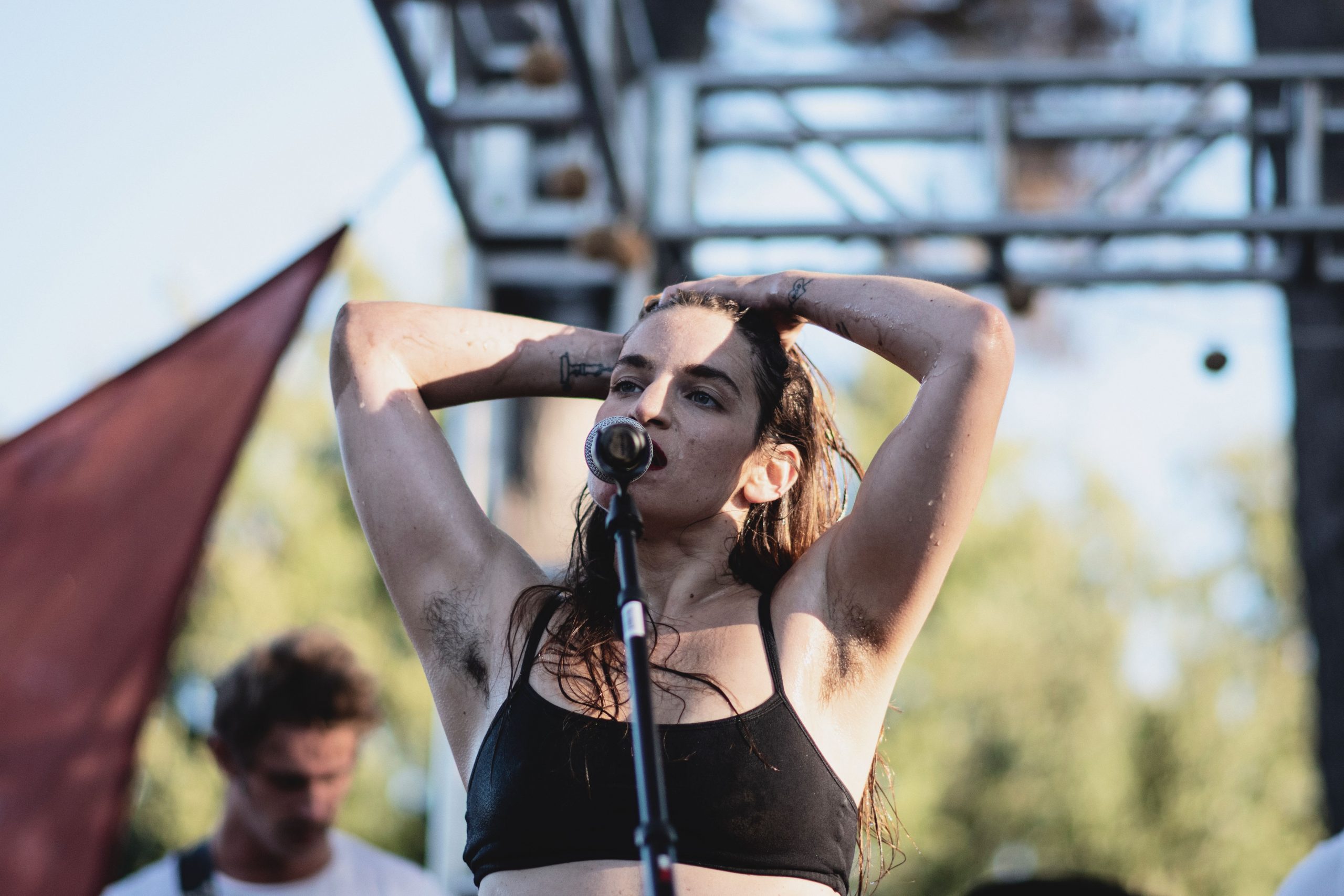 The last time Annabel sang on stage was actually here at Flying Hero Club, and before that, at School Night in LA more than four months ago. Hungry to get on stage again, Annabel teamed up with an artist advocacy company, Ari's Take, to celebrate the song's release. They had a contract two months ago with a downtown venue for the show until one of the partners there got COVID. Just five days before the gig, Ari called Churchman and asked if they'd consider another drive-in concert. He said absolutely!
"One, two, five, hello?" Annabel taps the mic. "Everybody please turn your radios to 98.5 to enjoy the show. Please refrain from blowing your horn, tho I know you want to. There are neighbors who don't want you to." 
People watched from their roofs now, and I could hear the kick drum testing in my car speakers. Guitarist Zach Pannell smoked a cigarette while he tuned, and pianist Priscilla Perry sound checked with Chopin.
Effortlessly, the classical piece faded into a heavy kick drum beginning Annabel's female power anthem, 'Go Girl.' Annabel walked up with a scream and a march in her step. 
"Be a lady, be a doll." She grabbed her butt as she sang, "keep your dreams nice and small." 
Annabel was sweating by the end of the first song, and the crowd went wild. It had clearly been a while for them, too. Perry's skills were on fire, adding a blues flair to the punk while Zach added a distorted grunge.
"I just wanted to make out!" Annabel hopped on the keys for a killer solo with one hand, her mic in other, all the while swiveling her hips. Every song showcased a new trick up her sleeve, whether it was a ska ready scream or riffing in octaves with the guitar. The band rehearses weekly, and they're clearly like family. 
"This next one is a song for shaking your butt and stuff! Yeah, start your engine." Annabel threw a water balloon on someone in the front row as a car behind me honked their horn. There's a reckless, flirtatious energy and everyone is all about it.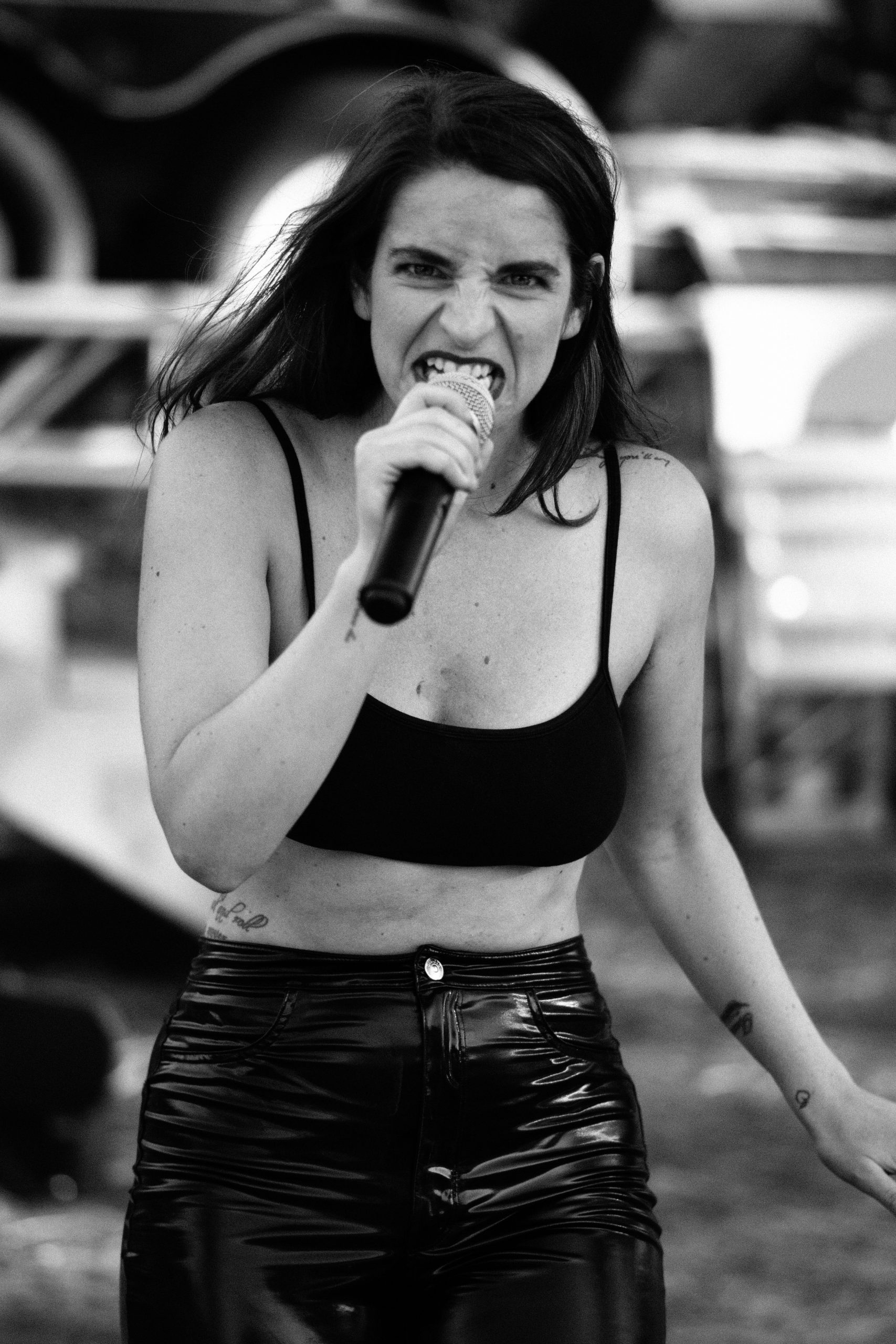 Trading the band for an acoustic guitar, Annabel played her single "Los Angeles" alone. Her voice was shaking almost in rhythm. Gliding atop a pristine, technical skill, she allowed imperfection to slip in and out. It's emotional, and she let us hear it. 
After the audience begged for one more song, Annabel nodded to the band. "Alright, we're gonna do a cover. It's a poignant song because we have such a great economy and…" 
Zach responded with the beginning of the national anthem, then launched into "Problem" by the Sex Pistols. Annabel crouched down and disappeared from sight until we noticed her crawling around between cars. With smeared lipstick, she breathed out one more song for us. 
Despite maintaining social distance, communal energy dispersed through the audience that day. Bringing the Los Angeles community back together, Annabel was only just getting started.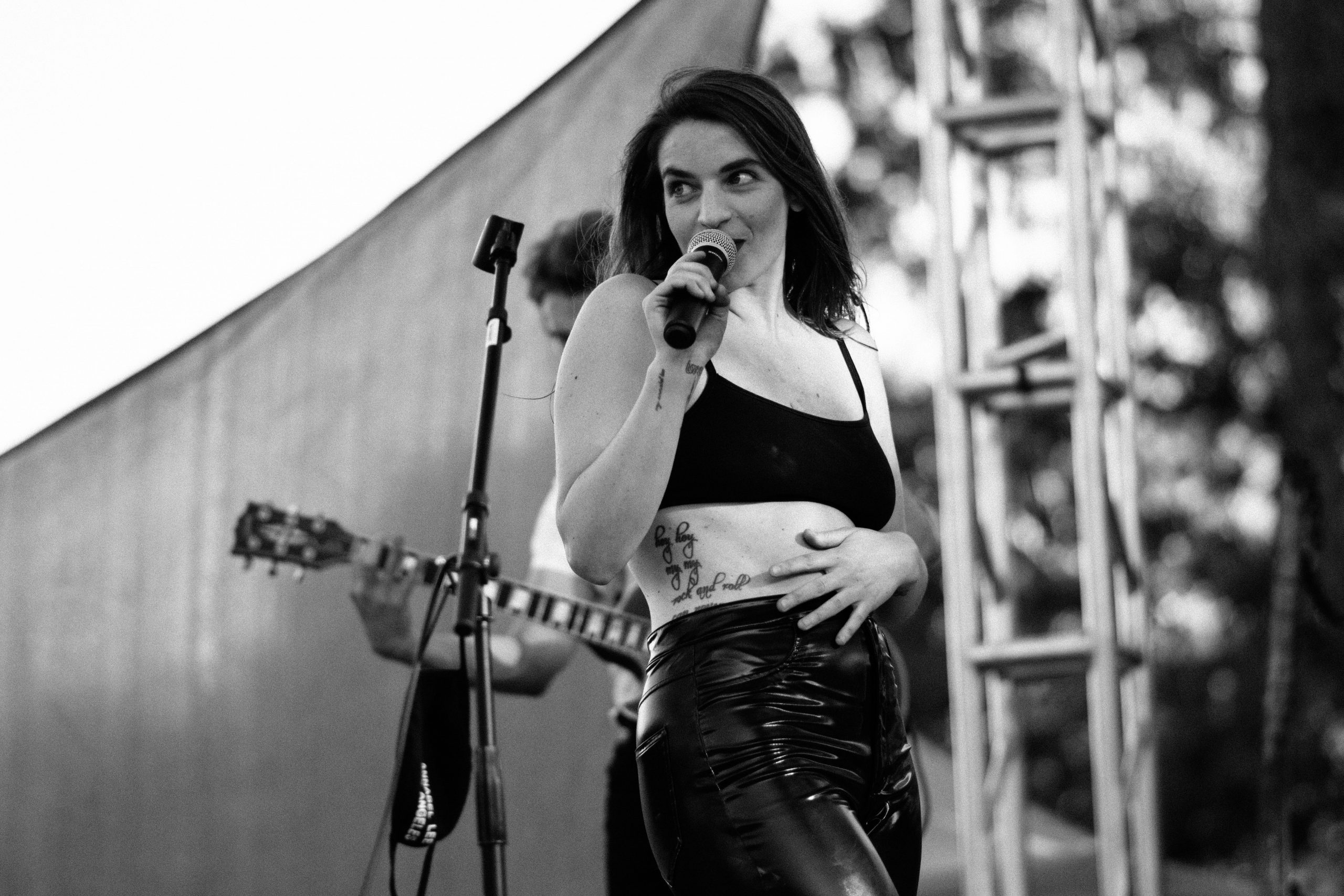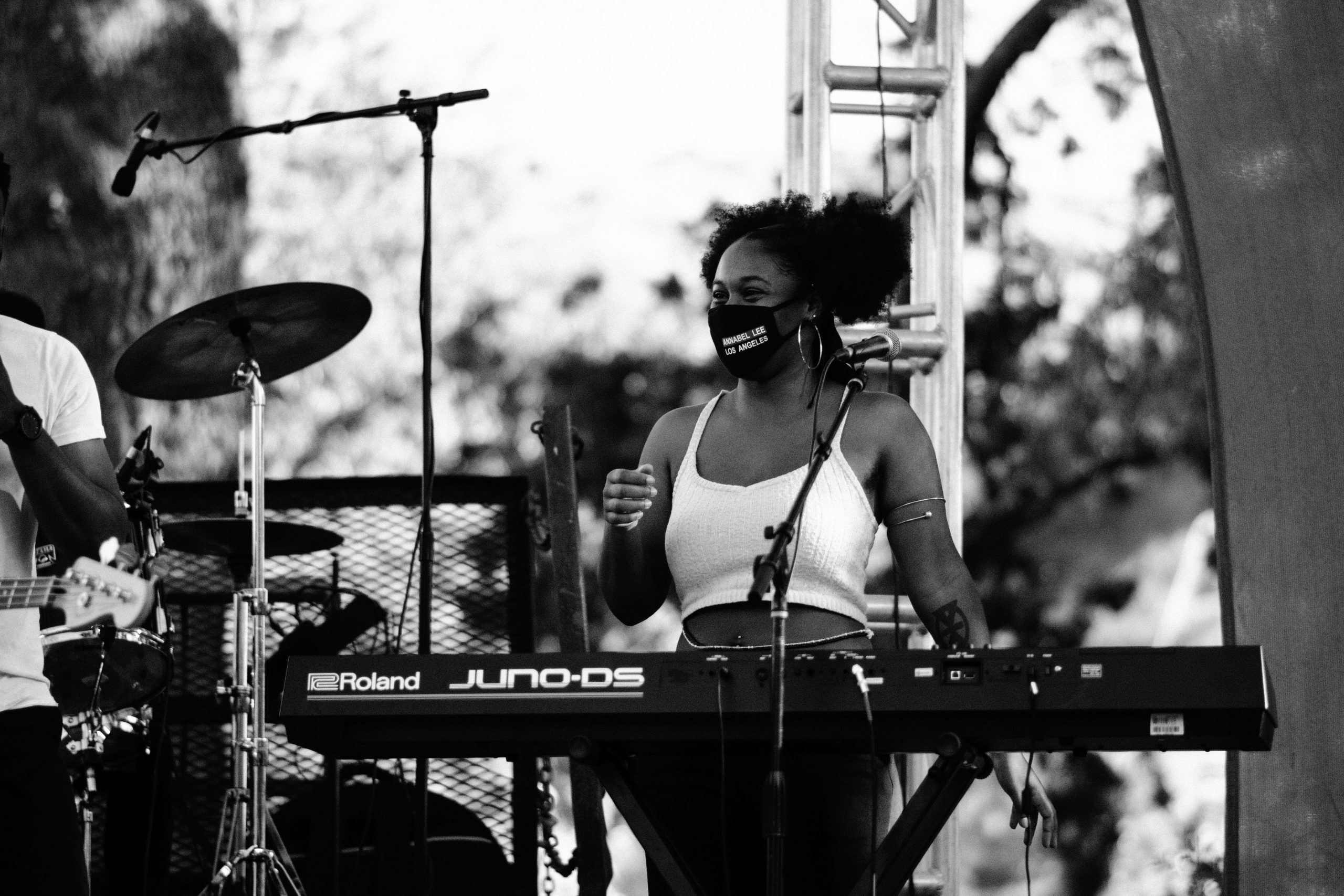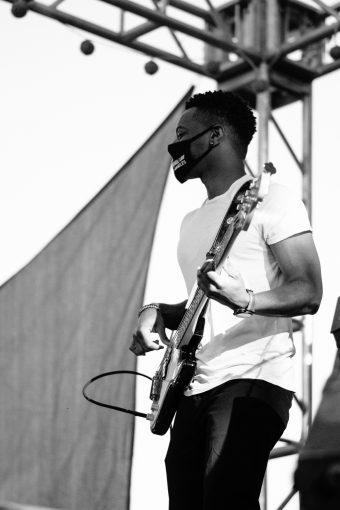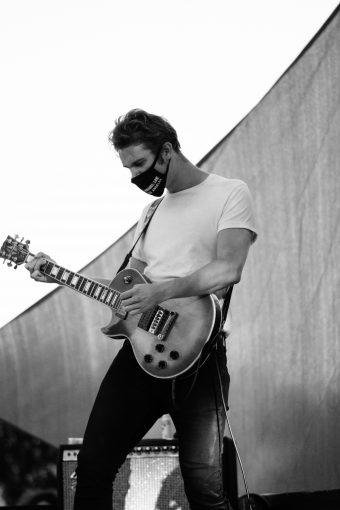 CONNECT WITH ANNABEL LEE
INSTAGRAM // YOUTUBE // SPOTIFY
photos / Ashley Maietta
story / Ariana Tibi