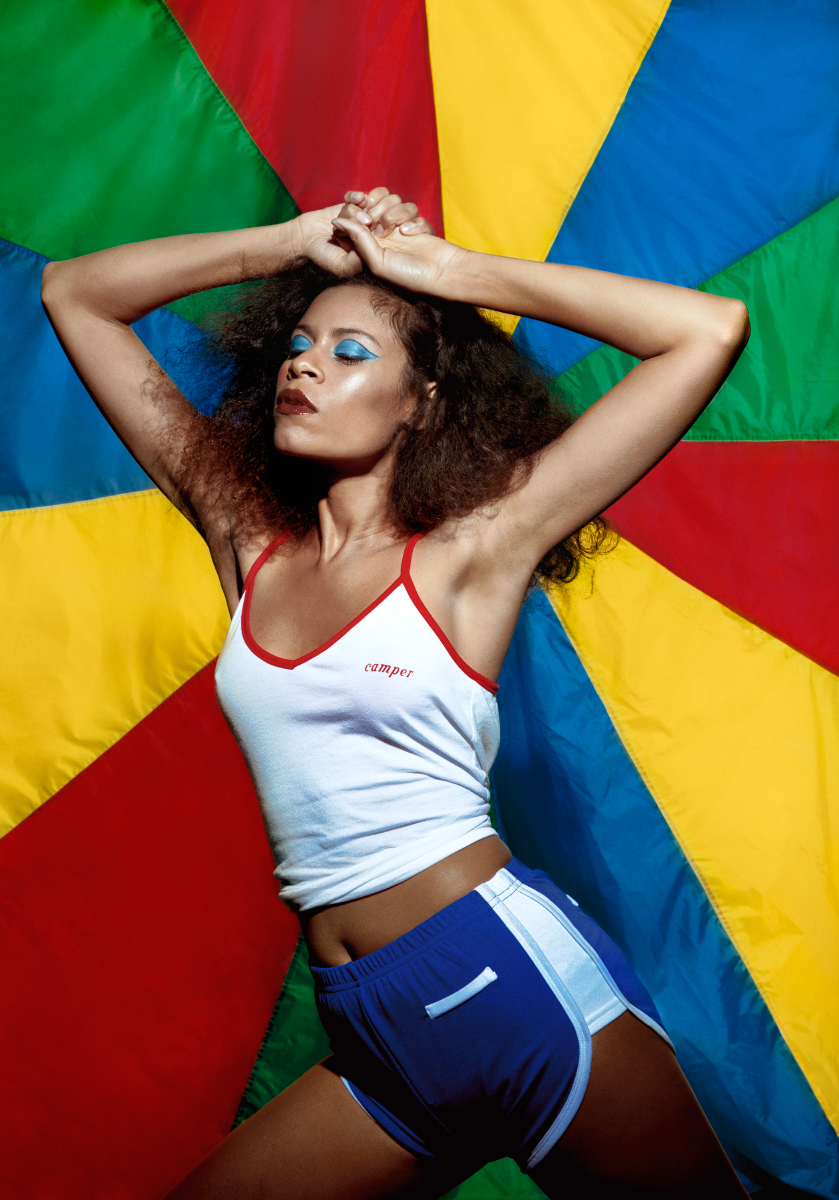 interview / Jay Loyola
photos / Daniel Scott
makeup / Marygene
hair / Andres Copeland
styling / Lisa Katnic
photographed @ The Well Los Angeles

Although Drake, Calvin Harris and Rihanna are top contenders for the coveted title of 2016's best summer anthem ("One Dance" and "This Is What You Came For," respectively ) there's one banger that most definitely deserves a spot on that much-lauded list: "I'm In Control" by English dance-pop duo AlunaGeorge. Over a summer filled with moody slow jams, this electro-Caribbean dance cut featuring Jamaican dancehall artist Popcaan came in, as Miley might say, like a wrecking ball. Even if you never heard of the AlunaGeorge before, chances are you've heard the song.
Now, with the release of their brand new album I Remember, we talk to one-half of the duo, Aluna Francis, about their hit summer smash, touring with Sia and the emotional meaning behind the album title.
The album's title track was co-produced with Flume. How did that collaboration begin?
Me and George [Reed] wrote the song before we sent it to Flume to do some extra production on it. But we worked in the studio previously quite a number of times, so we got to know each other very well. I felt like I could trust him to do the right thing with my voice and with the track.
"I Remember" is such a beautiful, intimate ballad. Was it written from personal experience?
In my past there have definitely been people that I think I'm completely over and I'm looking around, feeling pretty pleased with myself, thinking yeah, I've moved on [and] oh, I haven't thought about that guy in ages, I'm so well adjusted now… But then, I'll bump into that person and literally be flooded in memories—not back to square one, but not as strongly detached as I thought I was. And then, you know, I realized that maybe you never really leave people behind. It's a little bit about that.
I Remember is also a very nostalgic title for an album. Is there a secondary meaning behind those words?
I pulled together some inspiration from the idea of remembering some older songs and [how] they're born from the need to remember something at the time; and for me, I can be in a situation where my mind goes blank and I forget to have strength or power or control over myself and my own mind, to what I want and what I think and what I can do. And so some of the songs I wrote were with the hope that I might remember next time, having, you know, written a whole song about it! Also singing "I'm in Control…" The power of having a really good mantra like that can really get you through a situation.
How would you describe the sound of the new record? Is it more in line with the electro R&B groove of "I Remember" or on the dancehall side of "I'm In Control'?"
There are one or two tracks that have more of the vibe of "I'm in Control" but what me and George always do on an album is create something that has a lot of different aspects to it. We don't like to just make an album where all of the songs are made to sound a little bit similar to the most popular songs, sort of like a repetition of the same thing that was successful [before]. So every song has its own vibe and has its own place in the album. It's really quite varied. We've always been like that; we're not very contrived in the way that we build an album because it kinda feels like we're restricting our creative expression by saying, right, all these songs have to fit in this theme and this sound. The AlunaGeorge sound does come quite naturally anyway without us putting restrictions on ourselves.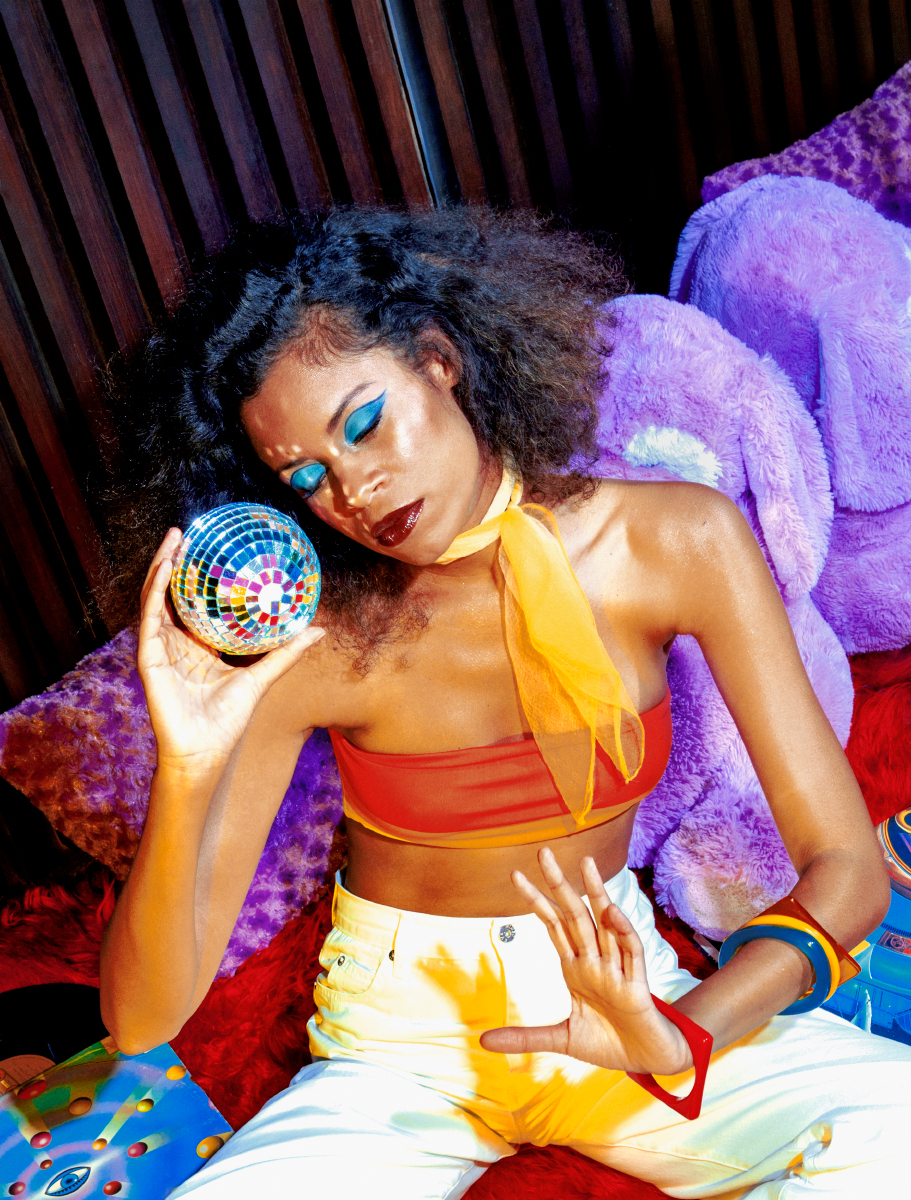 What would you say is the difference between your debut, Body Music, and the new album?
I think that sonically, if I do get a chance to listen to them side by side I'd imagine that this album has a more ambitious sound. We've been a little bit freer with the variety of moods that we've allowed to go in with the album without upsetting people. [Laughs] So yeah, a little bit more ambitious. Also, some of these stories that I'm telling on this album are much, more personal to me.
Some artists in the past have said that a sophomore album can be as equally, or perhaps even more important than their first record. Have you found yourselves pressured to match the success of your debut album?
Well it's funny because I think as an artist you can be quite pessimistic and negative in looking at your own "successes." So there is a definite pressure for this second album to be better. I think that's very natural to think that; as you go through life, you do things better and better, not the same or worse. I don't think that's anything special but I also don't personally think that our debut album was designed to be some kind of huge success. We were trying to create something new, maybe slightly ahead of its time so we made peace with the fact that we were doing something that people didn't really understand that well, and that it wouldn't be immediately digested by the mainstream market. And we were happy with that because we wanted to make what we wanted to make, and now I think on the second album that style of music isn't so weird to everyone, which is really nice. We get to pretty much do the same thing that we're doing, just developed things a bit further because we've always had a desire to create a timeless classic pop song.
Other than Flume, will the new record contain any more collaborations?
Yes, it will. We have been writing with some really cool up-and-coming artists: Dreezy, Leikeli47, Pell and then obviously with Flume, Zhu, and Popcaan that you know about already.
Will Diplo and/or Skrillex make any guest appearances on the album?
We did work on some tracks but we didn't finish them. We didn't have the time to get them on this album. They may come out at some point, though.
Along with Miguel, you're supporting Sia in her Nostalgic For the Present Tour. How did this massive gig came about?
Katy Perry put on a really fun party during the Grammys and it was for artists only, so everyone there was really relaxed and friendly. We both performed—I performed and Sia performed—so we got to meet. I think she liked that fact that she could see me singing along to "Chandelier!" I felt very honored to be allowed to support her on tour because it's actually kind of quite rare that women allow other women to be their support act. From what I've experienced myself; I've never been offered to support on tour for a woman other than Katy or Sia, so that was just really exciting. Every night is just going to be wild. I think Sia and Miguel and us, we work really hard on our lyrics and our songwriting so it should be a night for the songs.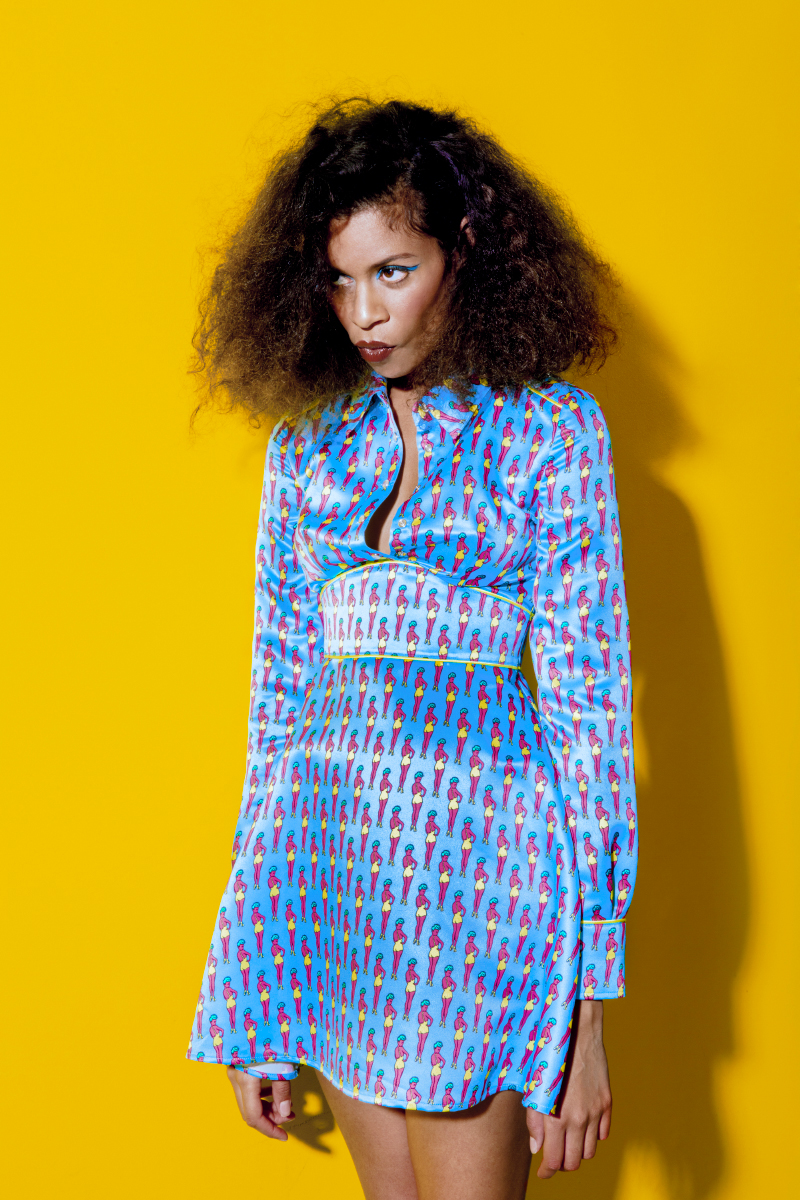 dress, Jeremy Scott. shoes, vintage.
When you're on tour how do you balance work and having a personal life?
One of the things I do is I make sure that my team is made up of people that if we weren't working together we would hang-out with. Everyone really, really gets along very well and loves each other. There's not so much a divide between feeling like I'm at work and feeling like I'm hanging out with friends, so it actually really helps.
Did you always have musical inclinations while growing up?
It was definitely a feature, but I didn't really think of singing as something you can do as career. It was just too far-fetched I think, until my mum suggested it! She can't even remember this now but she would say, while I was on my way to get a job at a supermarket, "Do you actually wanna work at a supermarket?" And I would say no. "So what do you wanna do?" And I was like, I wanna do music. She would say, "Well, why don't you go do it?" I took her deadly serious and got to work straight away. She regretted it for a good long time cause, you know, I was home and then away and stuff.
So your mom was a big supporter of your career in music?
Absolutely. I think she's a free spirit inside of the body of a mother and somebody who's worked to lift up her child. I think those elements tend to make parents forget how free spirited they actually are but they transfer that into their children and [then they] wonder why their children are wandering off trying to be musicians!
What would you like your fans to know about the new album?
I think that lyrically, this is really for them. I try to take some of my experiences and create songs that [reflect experiences] other people have been through. Maybe in some type of reflective way or in times of a breakup, these songs will become a part of [their] lives.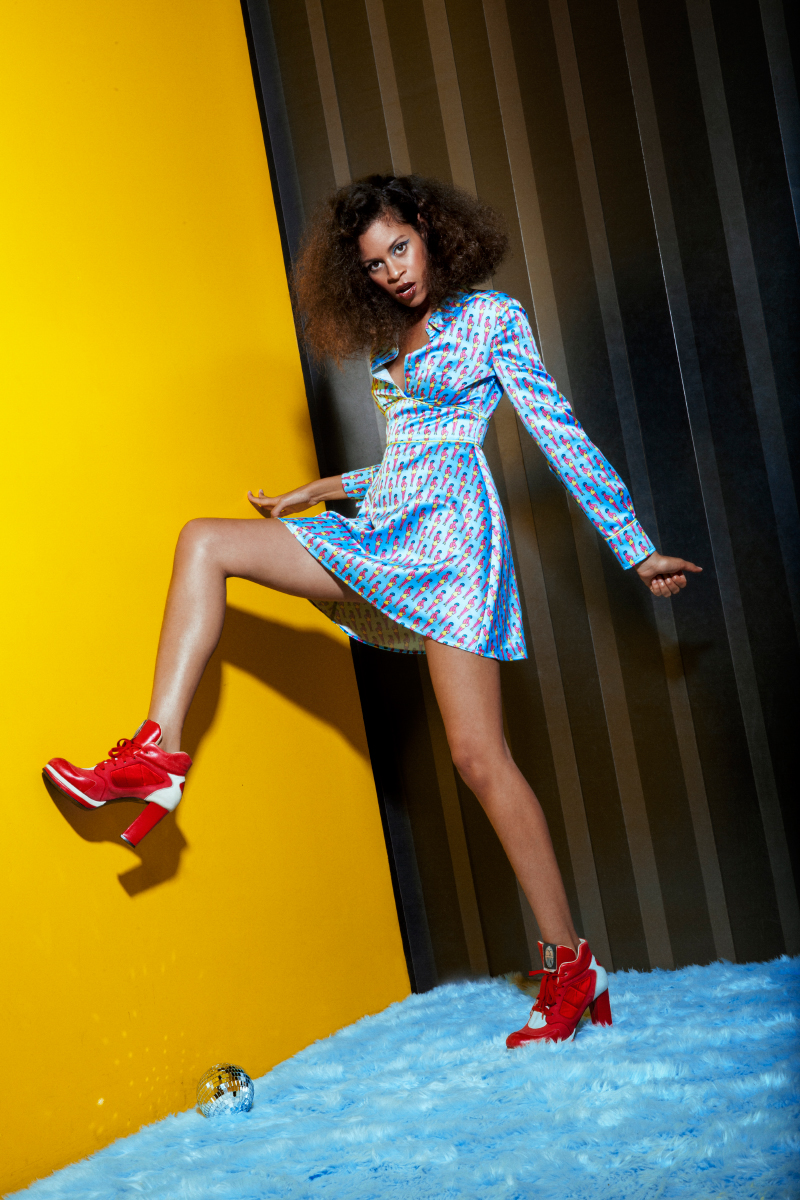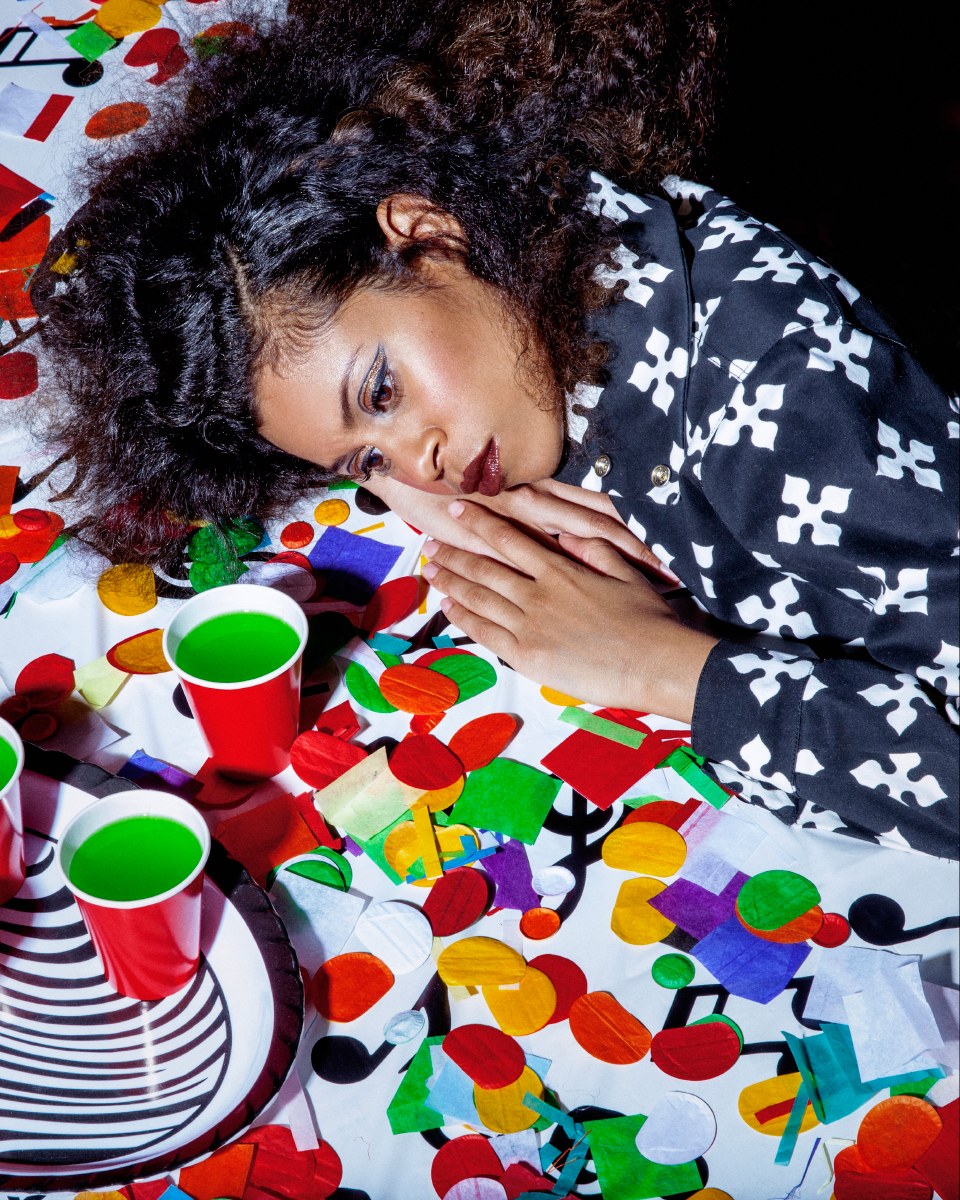 black and white jacket, Experts Disagree.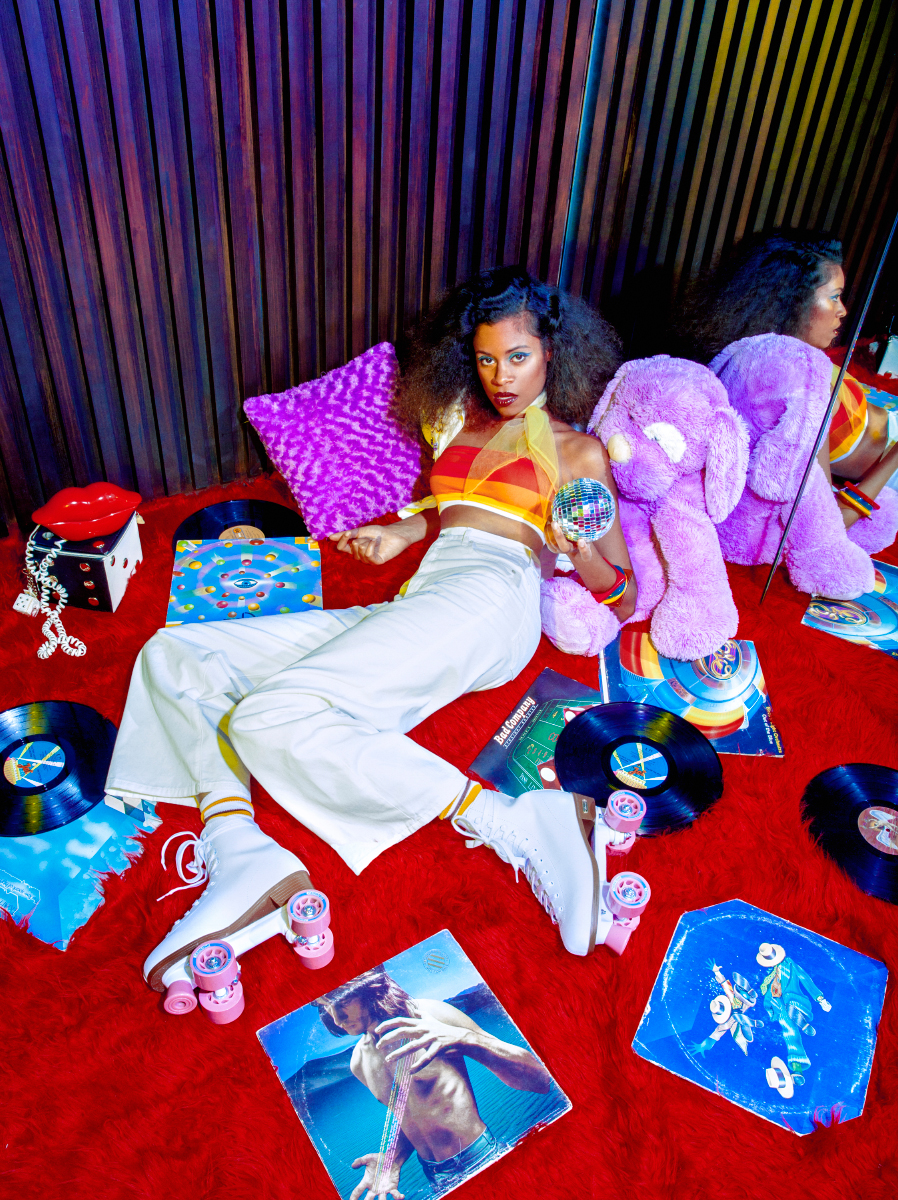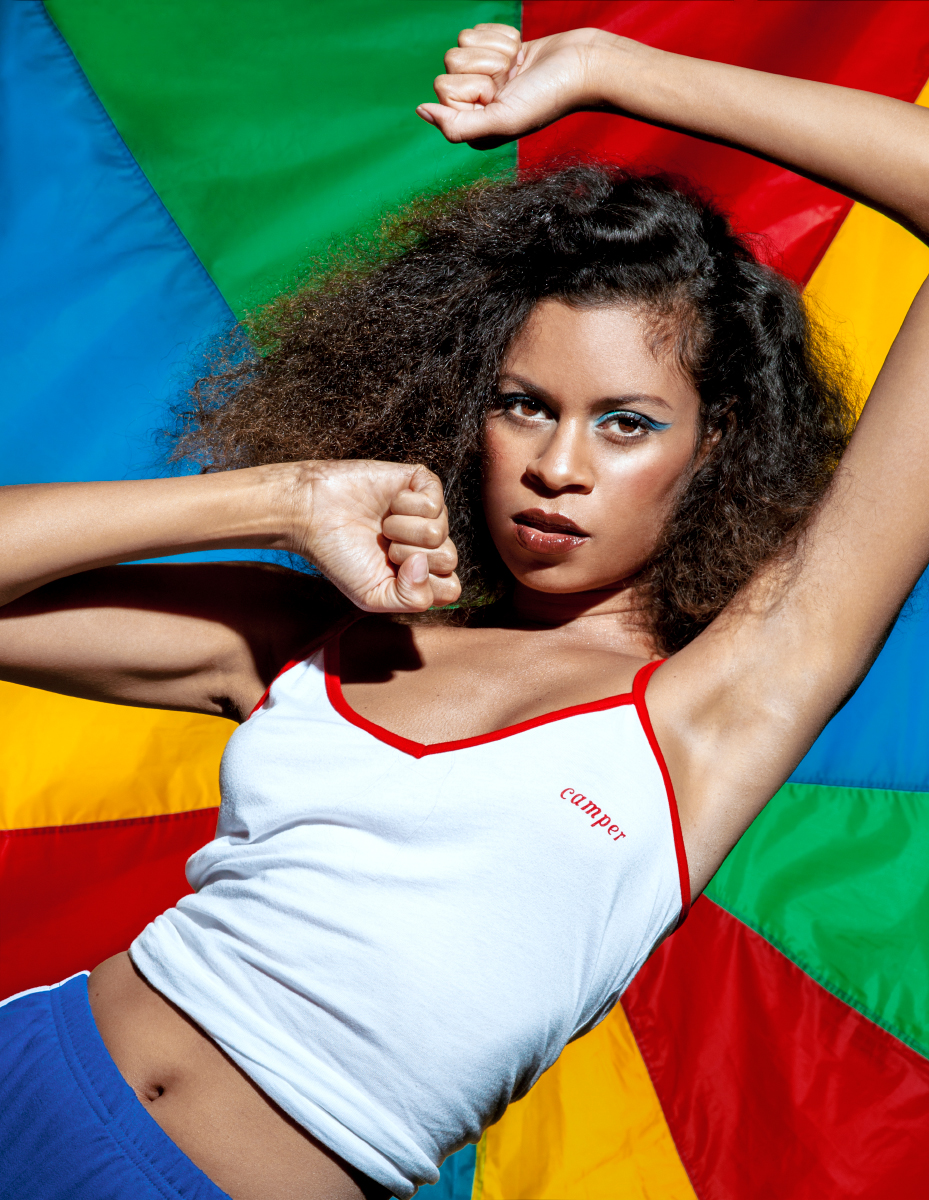 Tank top and shorts ,CAMP collection.