When people think of fashion design, Detroit might not be the first place which springs to mind. But sisters Cassidy and Kelsey Tucker are on a mission to change that; as the forces behind Detroit-based, genderless fashion label Deviate—a brand with garments more like wearable art than anything else—they're proving Detroiters really are chic.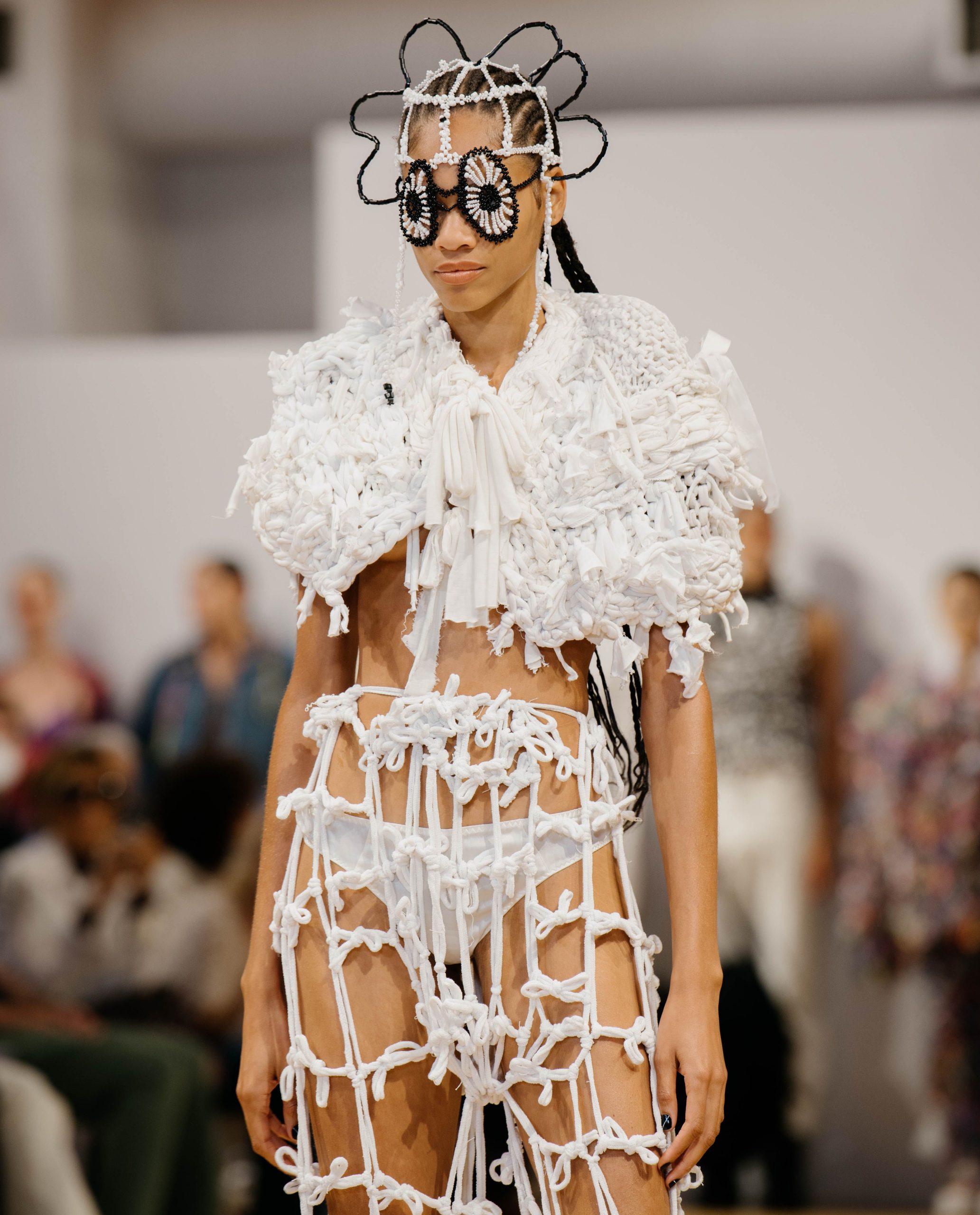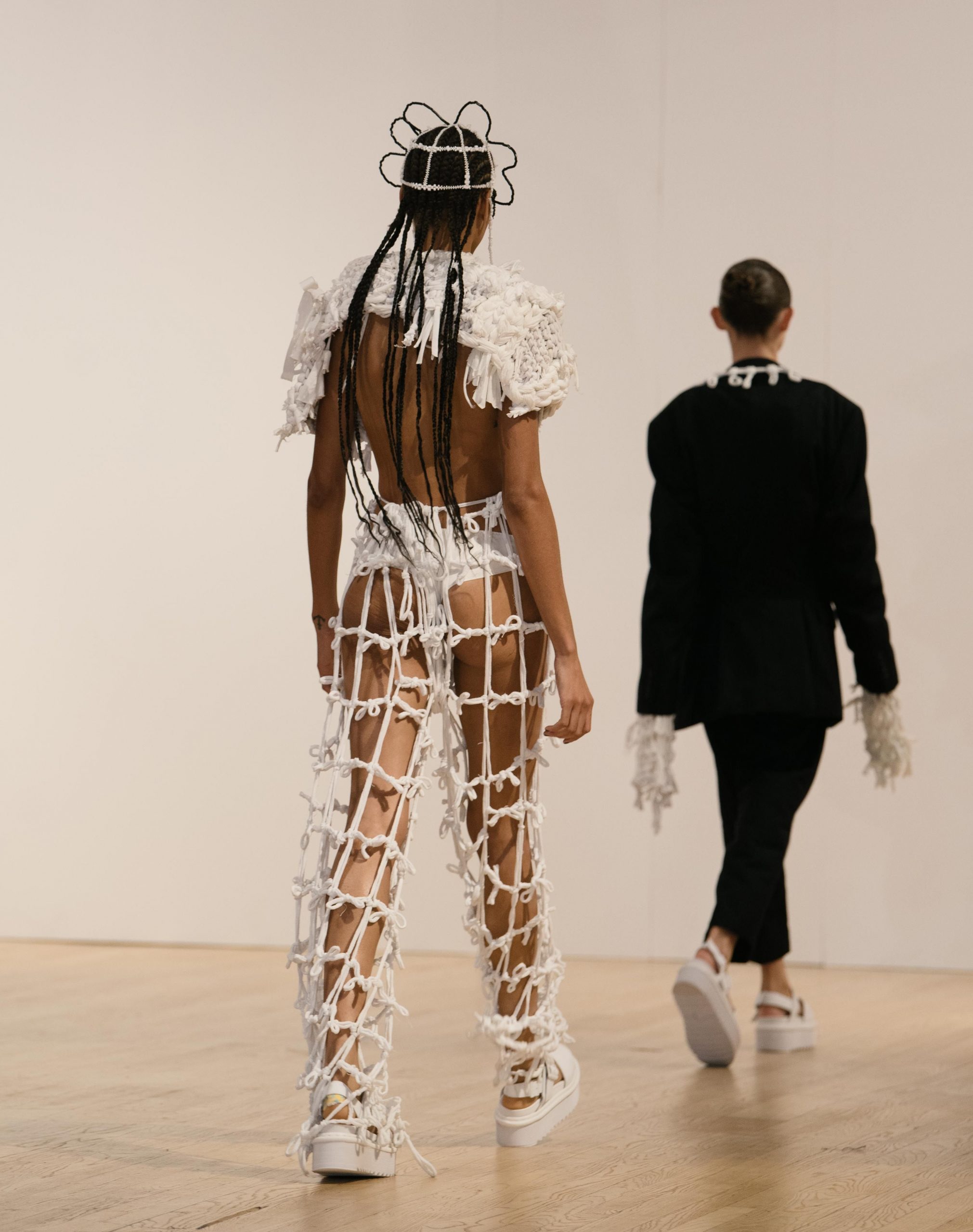 Deviate recently held their private runway show during New York Fashion Week, at an off-site space whose location was known only to invitees. The collection was inspired by the imaginary worlds they created as kids and the juxtaposition between doubt and dreams. The sisters grew up watching Tim Burton movies and reading every Dr. Seuss book. They say those, along with German expressionism, heavily inspire their aesthetic today. 
Some simpler pieces included a black and white striped turtleneck maxi dress with uneven stripes playing on the Dr. Seuss aesthetics, while other pieces, like deconstructed net capelets, played on their love for the goth-core aesthetic.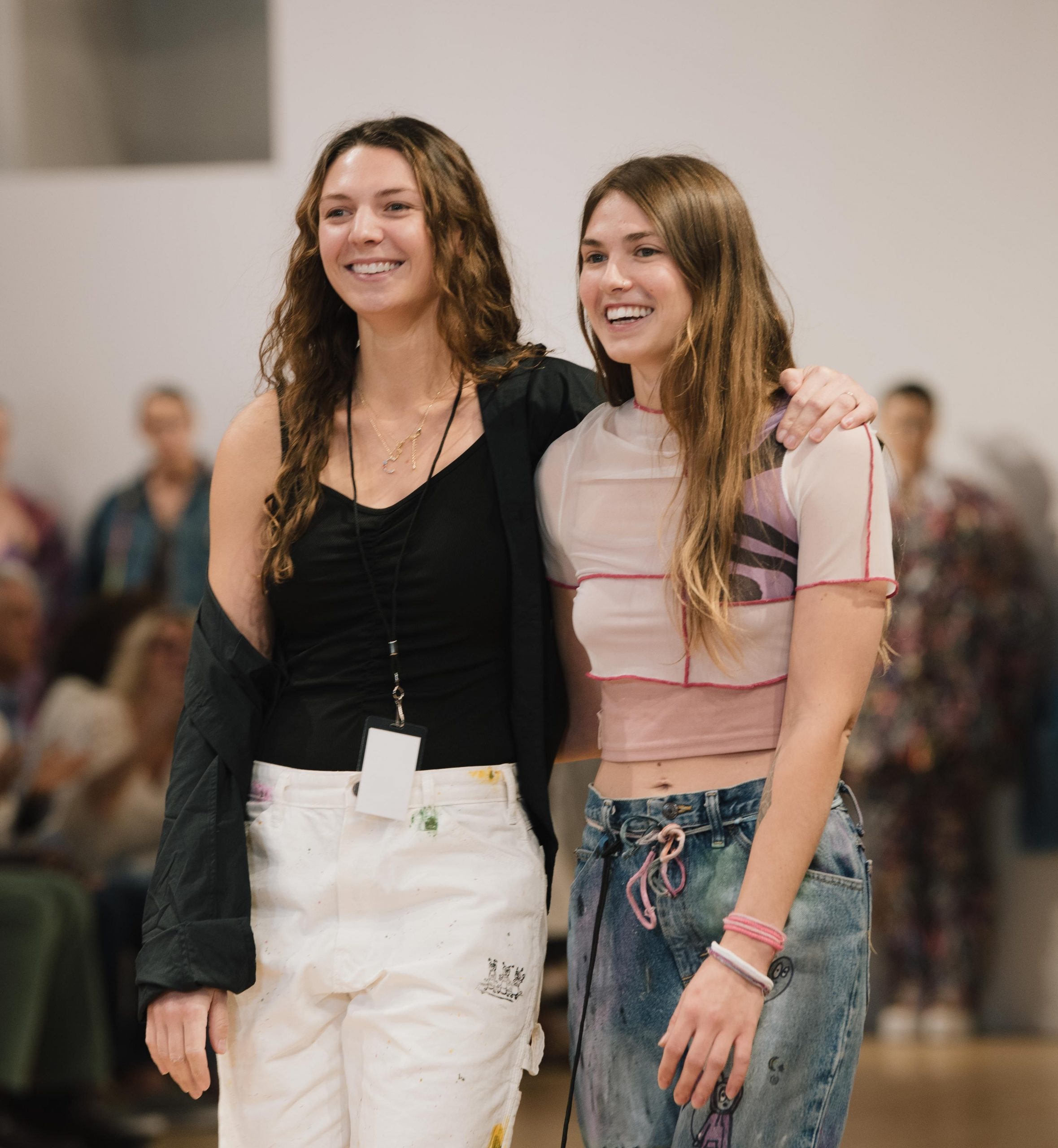 The shift to a runway show is new for the Deviate sisters. The last time they were in New York, they showed a presentation in a museum-style exhibit where they constructed an entire world for viewers to engage in. This time around, the clothes were left alone to tell the story.
"This was the first collection where we were focused on telling the story through the collection and the techniques we use," Cassidy tells LADYGUNN. "We wanted to show this interconnectedness through things like the use of crochet and voluminous silhouettes playing on this idea of being torn down and then building yourself back up."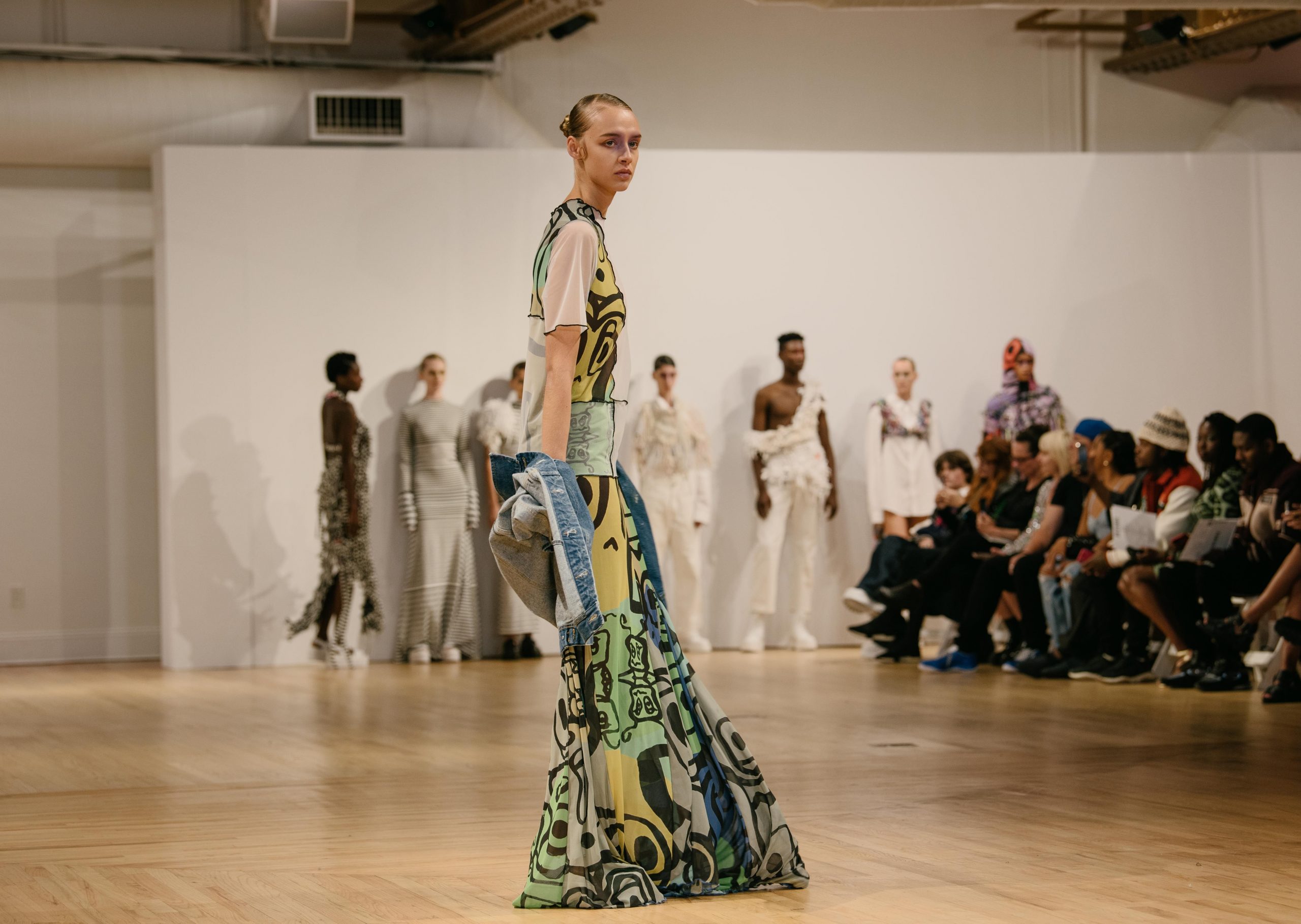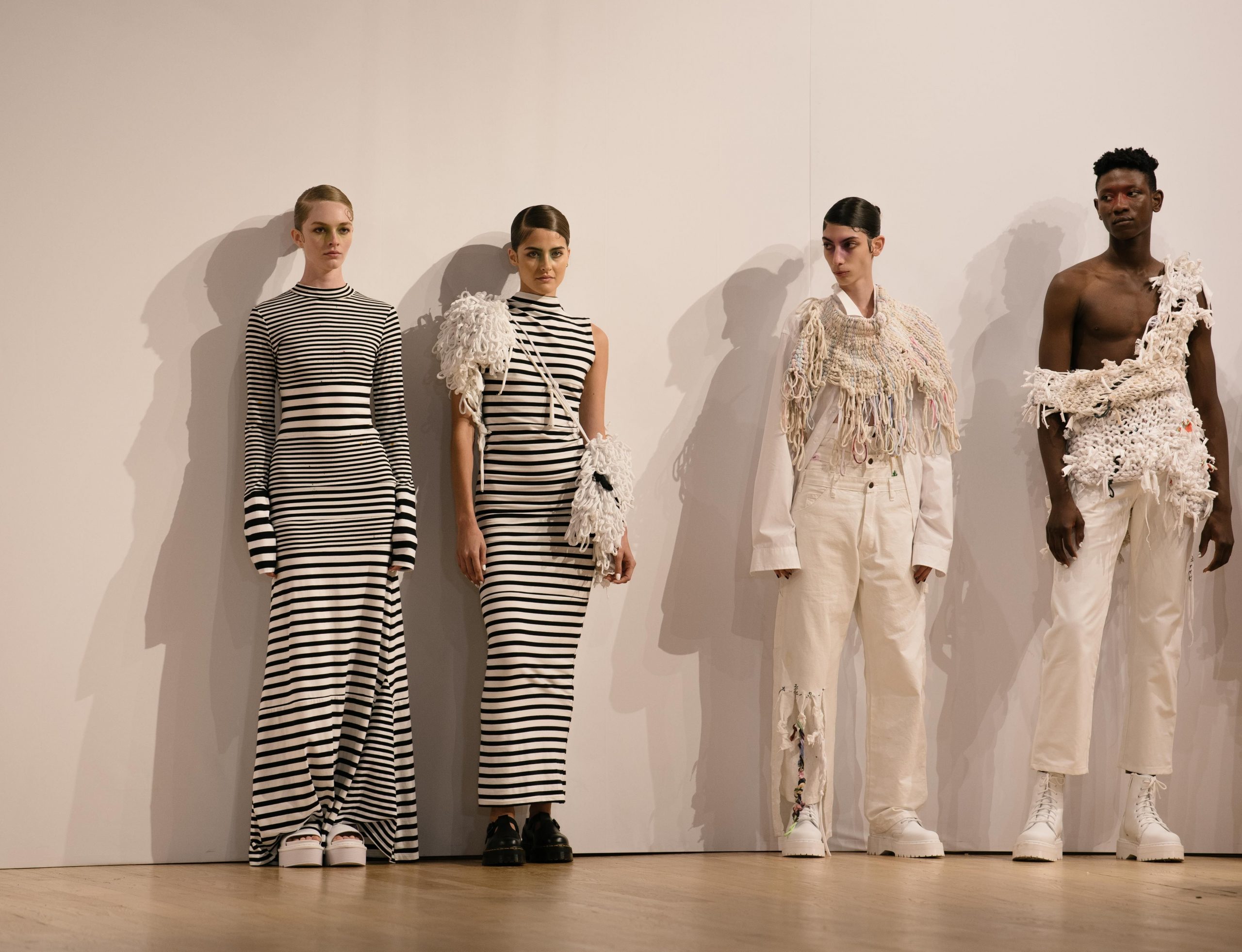 Model casting was also a very intense process for Deviate, as they wanted each model to have their own personality through what they described as "The Land of Nowhere." 
After last winter attending New York Fashion Week, the designers had the opportunity to work with over 50 artists. This fueled their creative energy, as seen in new attempts like sailor knot crocheting, which was heavily featured in the collection after one of Kelsey's friends, a U.S. Marine, taught her how to do one. Although Kelsey did study textile design, many of her techniques are self-taught. She's even developed her own knitting technique, called "the looper," where she uses her arms as the needles to create certain patterns that have large, open spaces.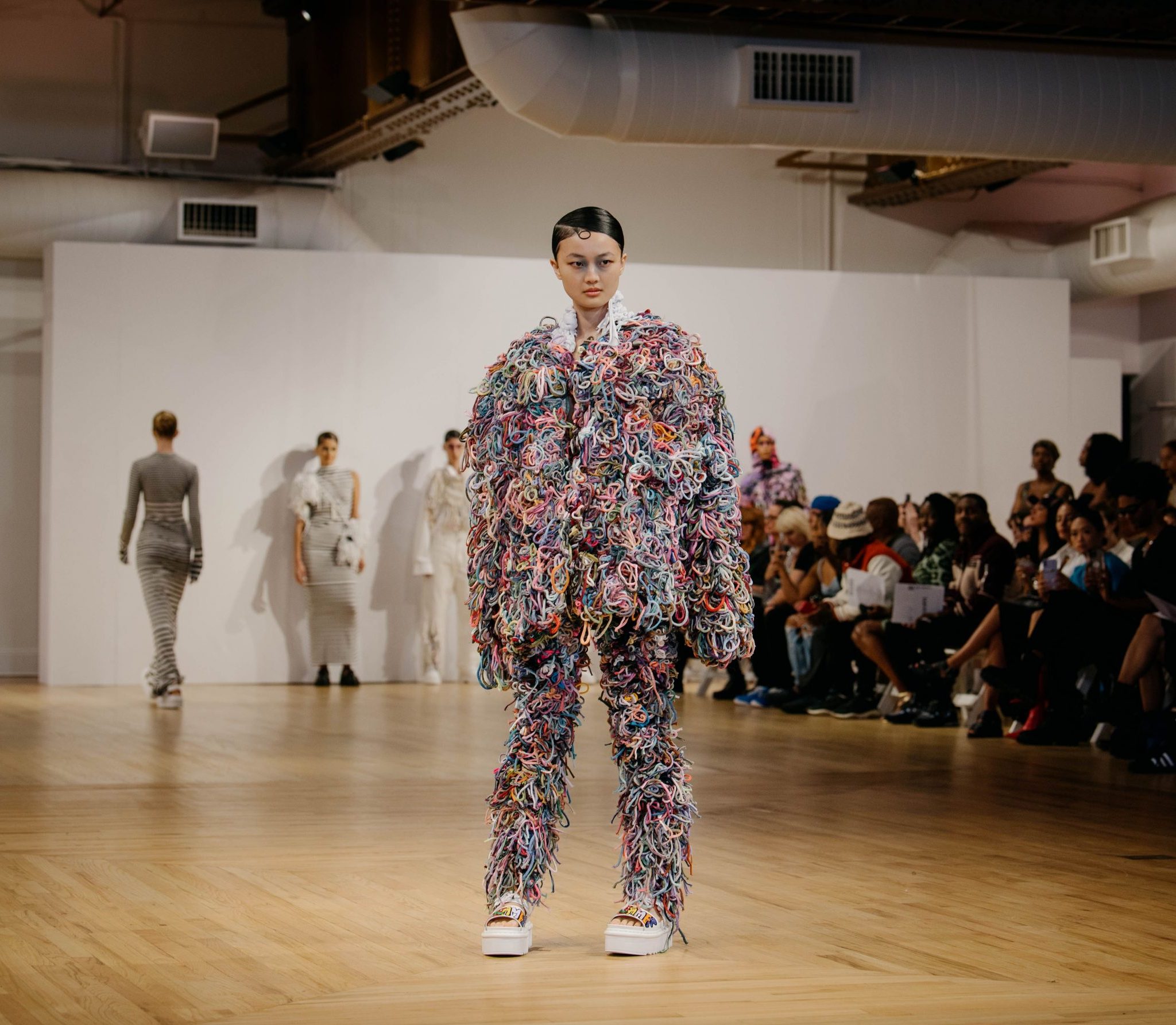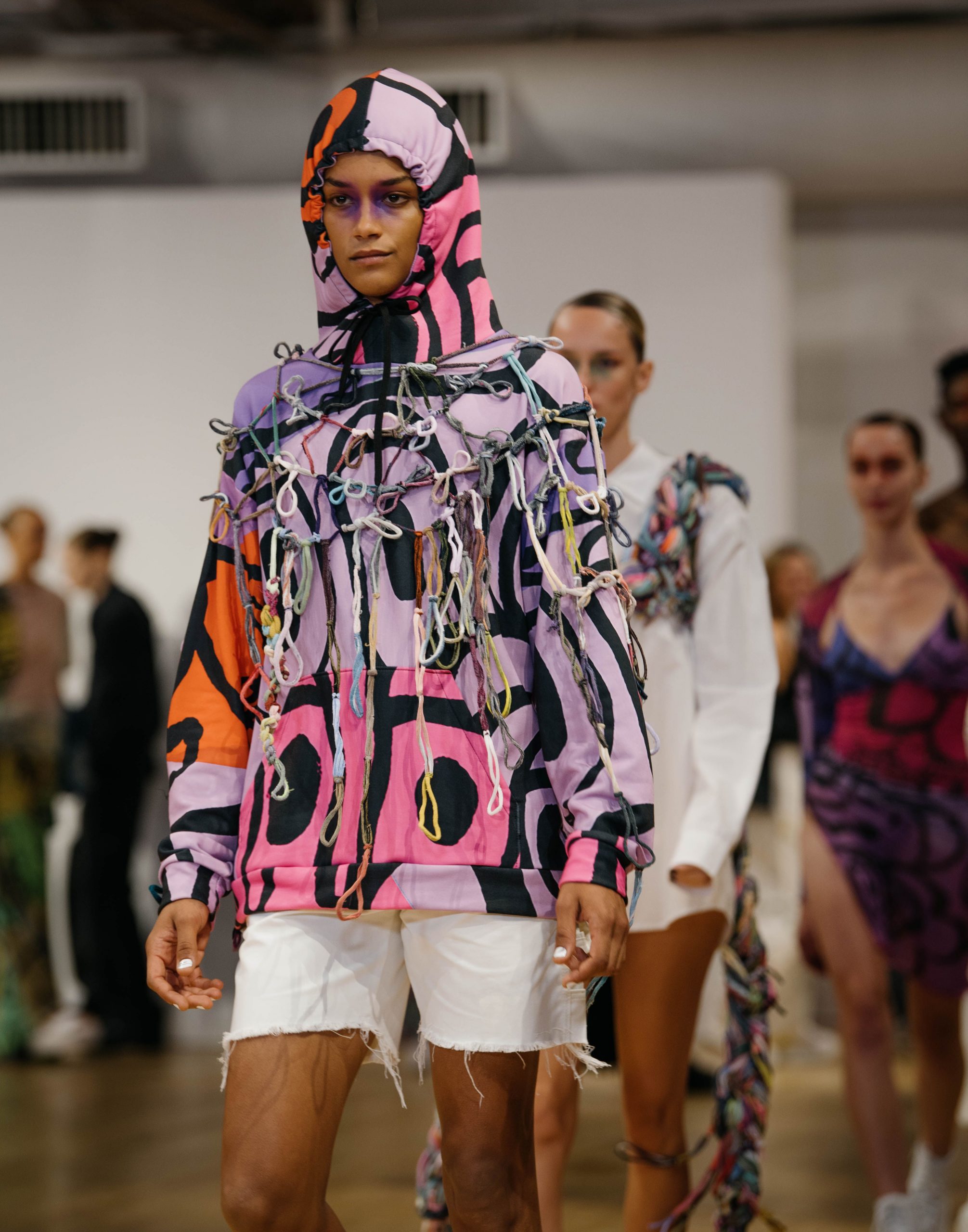 The Deviate runway collection focused heavily on editorial pieces and creating a showy moment. But along the way, the designers worked on developing their core products and prints for more commercial use and sale. Select pieces from the collection were also see-now-buy-now and available for purchase right after the runway show. 
Although see-now-buy-now can be challenging for smaller brands, Kelsey said that after their last presentation in New York, they saw it as a missed opportunity with so many people asking for their clothes. 
"There was a huge spike in traffic on our website after we showed in New York in winter," Kelsey explains. "We had nothing to allow people to buy into the world we created at the time, so this time around we wanted to offer that on our e-commerce platform. Most of our pieces are created in Detroit, so that makes managing production easy. We can create things on a rolling fluid basis and have confidence in how they'll perform."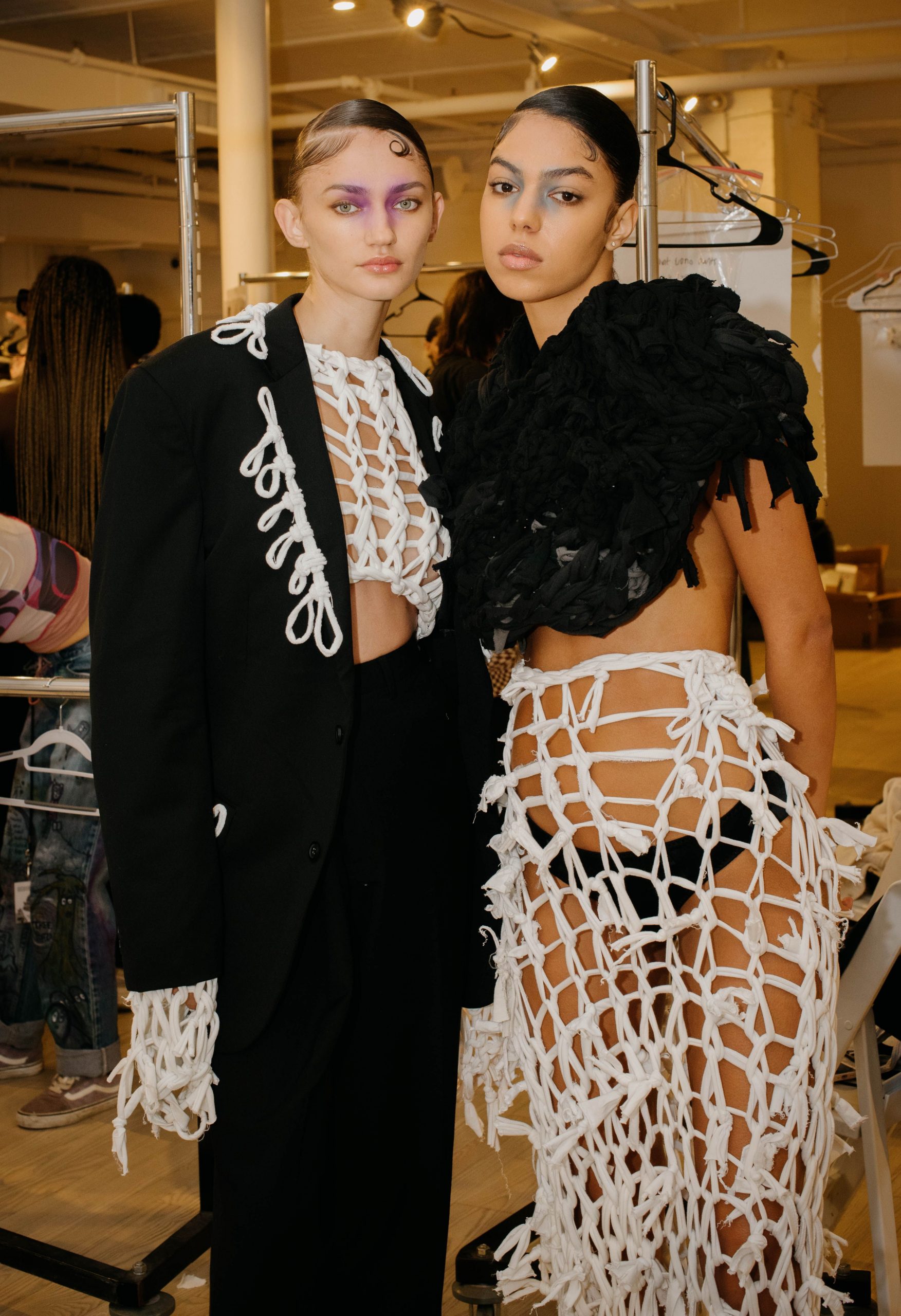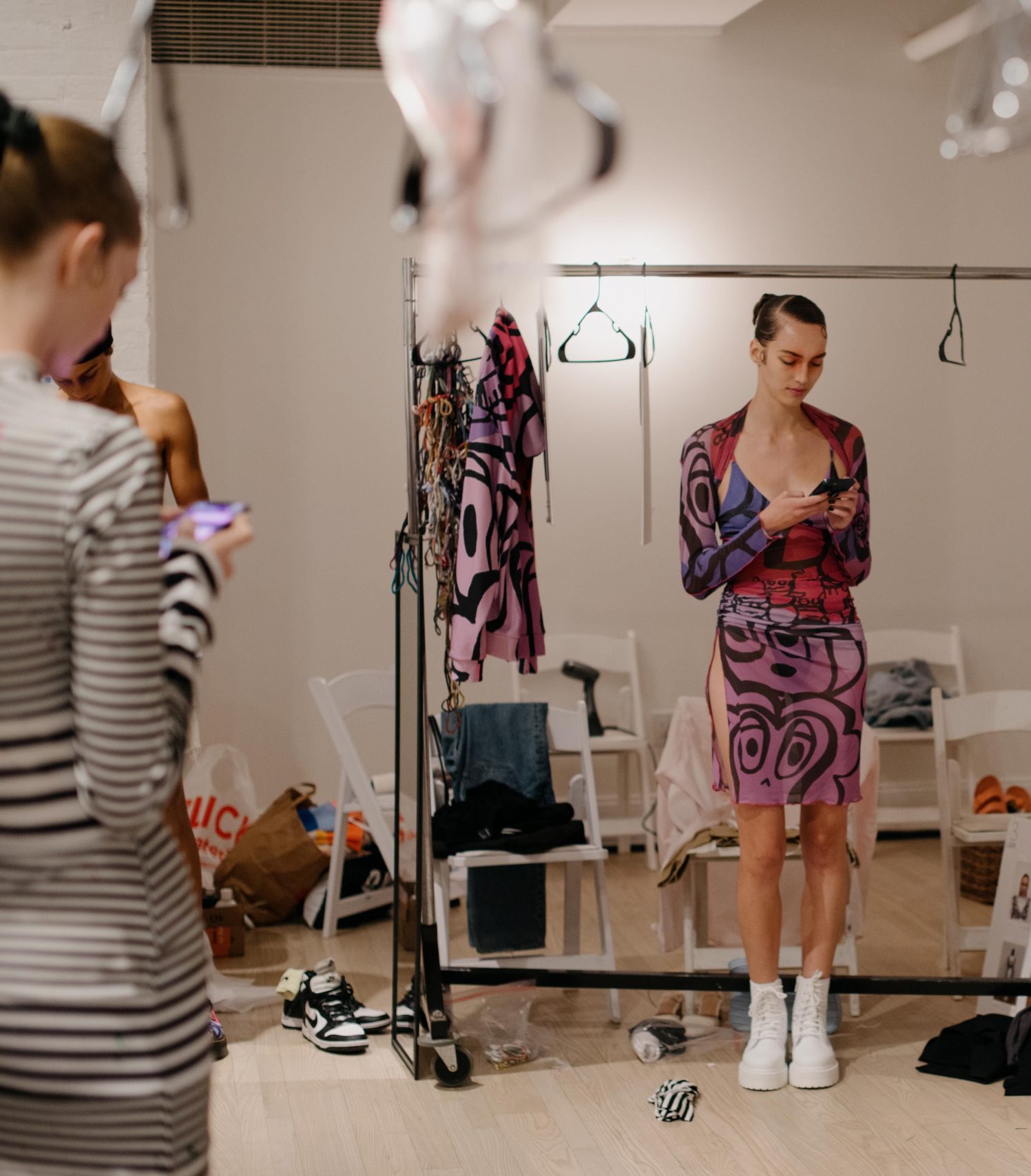 Some pieces were made-to-order due to the techniques needed to create them, but fortunately they had many of the pieces in stock before the show happened. The sisters have a small design team under them helping all the gears turn for their business, many of whom are trained in the same techniques. 
As they prepare for their next collection, they are learning to enjoy the process, and as Cassidy describes it, "The song 'Bittersweet Symphony' would sum up our process the best. You think you're going to get to this place and you zone in so hard to get there, you miss the ride to get there. We've been focusing more on the ride to get there with these quick turnarounds. There's so much emotion in each collection, but then It's on to the next thing."
While the duo works to put Detroit's fashion scene on the map, they say being located there is both their greatest strength and greatest obstacle. "Being based in Detroit inspires so much of the brand and Deviate charting its own course," Kelsey says. "Detroit helps us stand out and differentiate ourselves from other brands because they aren't a ton of Detroit-based brands in the fashion industry. Detroit also has a huge art scene that's developing. We still have geographic challenges, like being further away from where things are happening. We have to overnight pieces to stylists in New York, and that would be easier if we were there, but with how digital the world is, everything is getting easier."
But after all is said and done, Kelsey says, "We'll always be a Detroit-based brand, that will never change."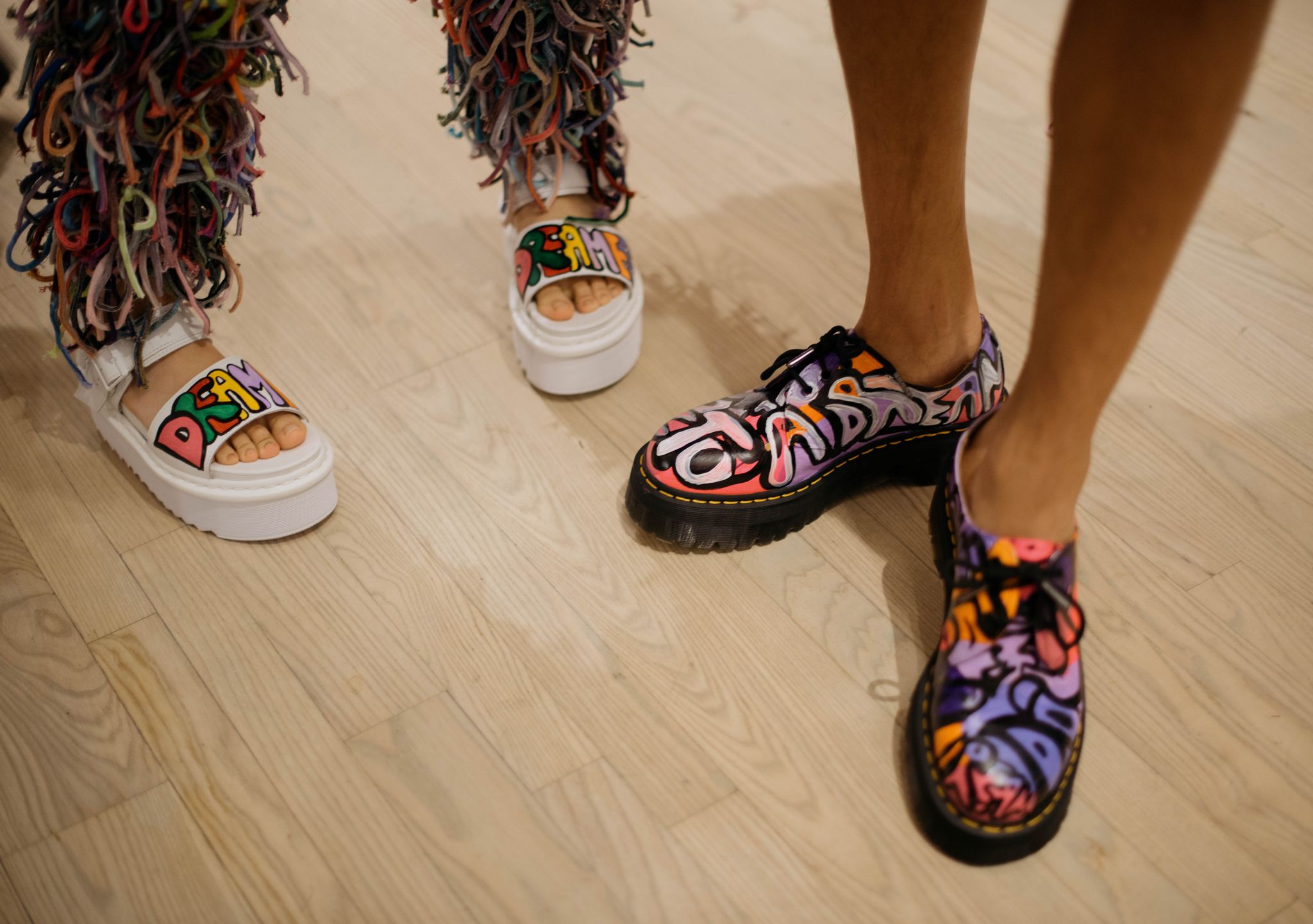 Photography / Oliver Halfin
Story / Kristopher Fraser
Editor / Alex Blynn