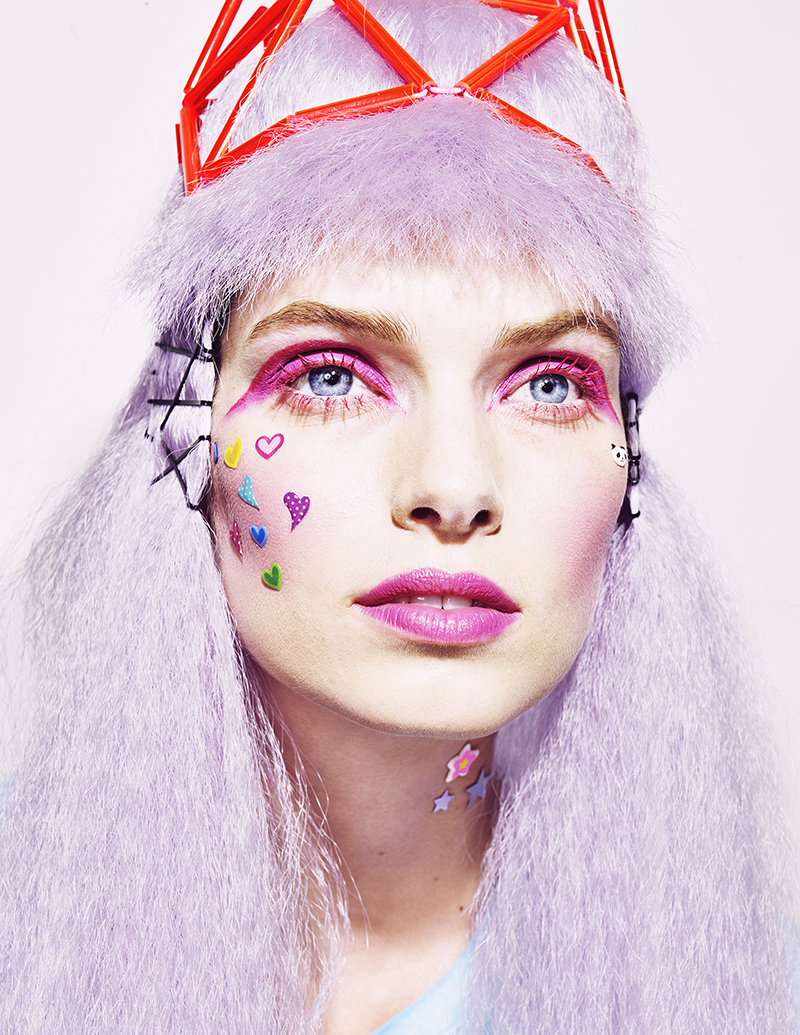 story / Tiffany Diane Tso
photos / Blessing Marie
model / Bree Smith
jewelry designer / Laura Wass
styling / Tiffani Williams
hair / Marcel Dagenais Using Oribe Hair Care
makeup / Stephanie Peterson @ Art Department using Makeup Forever
manicurist / Mei Kawajiri @ Nails by Mei

Jewelry designer Laura Wass walked up to her boss in 2011 and told him she wanted to move from technical to creative design, and his response ended up fulfilling much more than her initial request. "Why don't we launch your brand?" she remembers him asking, sparking the birth of NYC-based jewelry brand WXYZ.
This was not a hand-out. Wass has worked toward this dream for a long time, laying down the groundwork, brick by brick, to make it achievable. From when she learned how to solder at 13 to training in industrial scale manufacturing at Metal Dynamics, WXYZ was built on knowledge, structure and an innate drive for success, as much as it was built on creativity and passion. From a meticulous and thoughtful mind sprung textural and geometric jewelry and accessories impossible to ignore.
Fast-forward to today, WXYZ pieces have been donned by queens, including Beyonce, Nicki Minaj and Erykah Badu. Regardless of whether or not you are a fan of math, Wass has devised a way to draw you in by "building structures through repeated elements." Wass elaborates, "aesthetically, I wanted to create an alternative to the prominent aesthetic of the DIY and organic vibe that dominated jewelry design. I was designing strong shapes, based on mathematical structures ranging from biology to architecture." Pairing metal with unconventional materials, such as rubber balls manufactured in a sex factory, each line has its own distinct pattern.

Debuting this season, The Neon Collection clearly wields the motif of sacred geometry patterns. "Bright and sweet like candy, but also so badass," Wass describes, "the collection was designed with nightlife in mind, and it glows under a blacklight… I like to think of these pieces as externalizing one's inner light." Wass hopes to empower those who wear WXYZ to stand out from the crowd.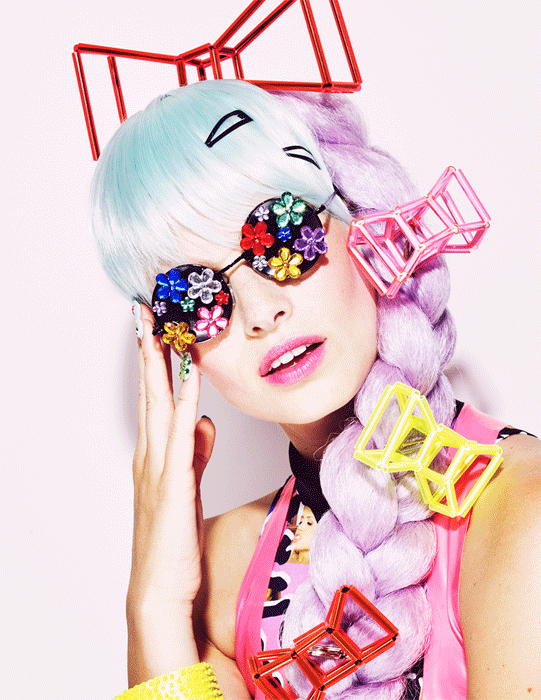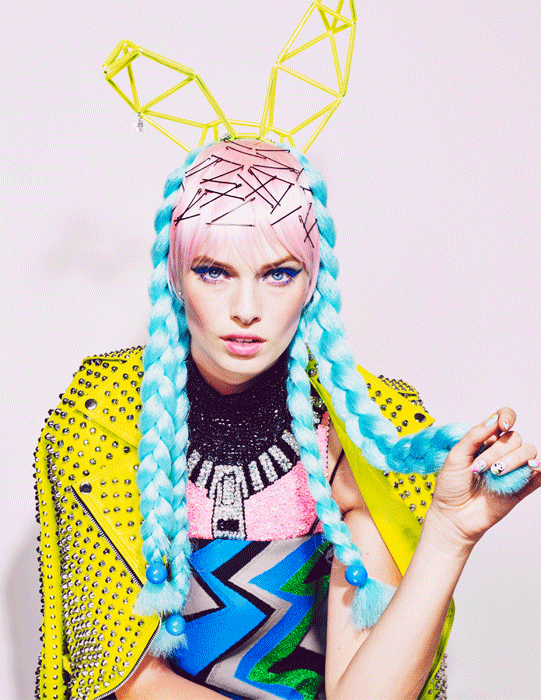 What inspired WXYZ?
WXYZ is inspired by sacred geometry and building structures through repeated elements.  Aesthetically, I wanted to create an alternative to the prominent aesthetic of  the DIY and organic vibe that dominated jewelry design.  I was designing strong shapes, based on mathematical structures ranging from biology to architecture. In action, WXYZ is an evolving exploration of how aesthetics intersect with handmade and mechanized manufacturing.  

How did you start designing?
From childhood, I had an irresistible impulse to create art and touchable, wearable things.  At 13, I learned to solder (conjoining metal with fire) and I was smitten. I went on to train in goldsmithing and silversmithing first at my local art center in high school, and then during my weekends and summer breaks at University of Pennsylvania at amazing metals programs at SUNY New Paltz, UArts and Alchimia in Florence.
What were you doing before launching WXYZ?
After college, I decided to follow my creative passion for design and jewelry, having fallen in love with metal and the idea of creating sculpture for the body.  I knew I wanted to work in fashion to learn as much about the industry as possible, including business, marketing, product development and manufacturing.  I was super lucky to land my first job out of school with cult favorite designer Philip Crangi and CEO Courtney Crangi with their collection Giles & Brother, managing collaborations and consulting for big brands like Coach, Reed Krakoff, DVF, Phillip Lim, and Atelier Swarovski.  From there, I went on to work under Bob Adelstein, founder and engineering mastermind at Metal Dynamics.  They make handbag hardware, jewelry and perfume bottles for global luxury brands.  I was trained in industrial scale manufacturing, and worked onsite with the factories in China, and with our clients back here in the states.  
How did you choose the materials you work with?
I knew I wanted to work with both metals and unconventional materials, but one of the biggest challenges facing a small brand is scale and inventory.  Basically what I mean is that you aren't producing enough pieces to benefit from economies of scale if you just create piece by piece, and it you make a big inventory, well then you have to deal with the cost and liability of that.
So I devised a system where we have a fixed set of custom components (tubes, rods, Jax, seamless rings, rubber cord, neoprene, lucite etc) that we then build into different designs.  Almost like an erector set for jewelry and accessories.  I'm a big fan of parameters, and these have allowed us to get super creative with infinite designs, while living within pretty strict 'rules.'  It has also allowed us to keep the vast majority of our manufacturing here in the states.  Everything is hand-woven and constructed in our Brooklyn studio, and we work with super specialized factories for each of the components.   For example, our silicon rubber beads are cast in a sex toy factory because they really have a handle on that material. I mean, they'd better. 😉
How did the format/structure of the pieces end up materializing?
My pieces are structures built from repeated elements; they follow logic, but they're also experimental — breaking rules and indulging in abstractions. Connectivity is a core concept for WXYZ designs. All systems are composed of interdependent units that depend on sequences. Take the alphabet for example:
The last four letters WXYZ have to be either uttered or represented in order to begin again with ABCD. Catagenesis is a term the Greeks used to describe the creation inherent in destruction — the new beginning engendered by the end — and that's an important concept for WXYZ because the pieces do challenge a traditional notion of fashion jewelry (destruction) while they build something new from existing elements (creation). It's a cycle that results from subjecting existing elements to new forces.
Who is the WXYZ wearer?
Badass Bosses who are over-achievers who make things happen and have impeccable taste. They're out there winning the hearts and minds and influencing style.

Mystical Mavens who are deep feelers who value community and oneness. They charm everyone at their art openings and book launches with their wit and original style.

Scene Queens who never miss a Bushwick dance party (or a Snapchat story worthy moment).
What they have in common is that they're all killin' it at whatever they do, and they want their accessories to stand out and spread good vibes.
Who do you create WXYZ for?
Imagine an all-ages urban tribe called WXYZ. They're creative, multicultural, hardworking, and charismatic. They're connected to their individual dreams and fantasies, and they're just as deeply connected to their friends and family. They are citizens of a borderless world.
How do you hope your pieces affect the lives of the wearers?
I want WXYZ to empower people to stand out in the crowd. That's why pieces like the cat ears and crowns are such a hit at music festivals and parties. They start conversations and ignite friendships. They connect people. The designs make powerful statements, too. The necklaces and bracelets have so much presence. They're sleek and elegant, but they also DGAF about blending in.
In your opinion, what is WXYZ's biggest accomplishment?
We embodied the spirit of a community that craves adventure and connection: that same energy that makes people want to travel, meet new friends, and reach a higher consciousness… To be embraced by musical artists like Beyonce, who wore our geodesic cap in her 7-11 video, or Nicki Minaj, who has her dancers wearing WXYZ on tour, or on the exuberantly expressive arms of Erykah Badu while she performs. The real gift is to be embraced by the people who get it, who feel empowered by wearing it. My customers have said they feel like risk-takers and even celebrities when they wear their pieces to parties. People see themselves and their potential in the jewelry. When I was told by a customer that WXYZ motivated them to study design, my heart melted.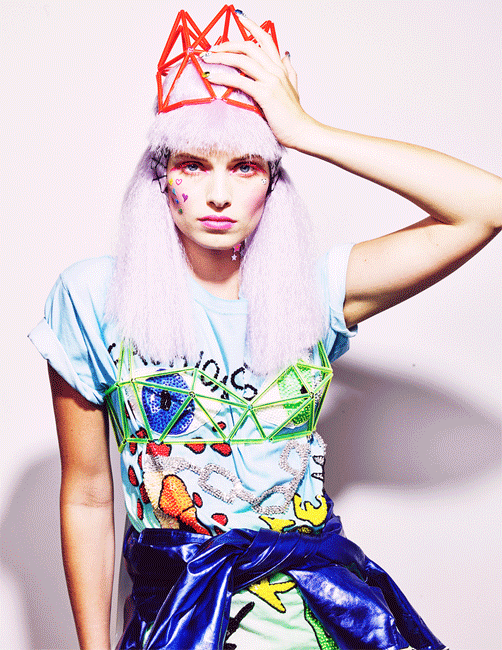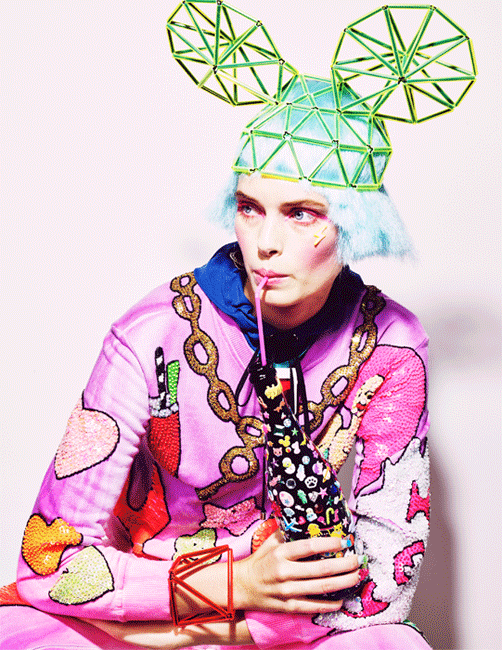 How do people respond to WXYZ?
So many people recognize the brand now, and I'm always amazed how it's become a mainstay. The best is when I hear stories from customers about wearing WXYZ — the reactions and questions they get. Someone told me that when they wore their geodesic hat to Miami Art Basel last year, everyone wanted to touch it. Flattered but getting kind of annoyed by the excessive attention, she took it off and carried it by her side for a while. Then everyone was telling her how much they liked her BAG and wanting to touch it!  It has a certain magnetism that's hard to explain.  
What new products are you excited about?
The Neon Collection, (which will be available on the website soon) is bright and sweet like candy, but also so badass. The collection was designed with nightlife in mind, and it glows under a blacklight. It makes the wearer literally glow. Under black lights at parties, people can broadcast their luminous personalities. I like to think of these pieces as externalizing one's inner light.
If you were to expand to other kinds of garments/accessories, what would you want to foray into?
WXYZ is wearable sculpture, and I want to expand further into the sculpture aspect of it. I'd like to explore the full scale of the designs and the potentialities of the core materials in a bigger spacial sense. Window design is a great example of a site-specific installation. When I designed a window for Bergdorf Goodman x Grey Area, I made a tumbling geodesic landscape using the core material of metal tubes in oil slick rainbow colors. It supported the mannequins and it also adorned them. The geodesic structures enveloped them in clouds of color and geometry.
I love creating experiences for people, whether it be with full body sculpture (already in the works), large scale sculpture (dreaming of my next 50 foot pyramid project), set design (would love to work on music videos and performance sets)…the possibilities are endless.
WXYZ retails internationally and can be found online at wxyzjewelry.com.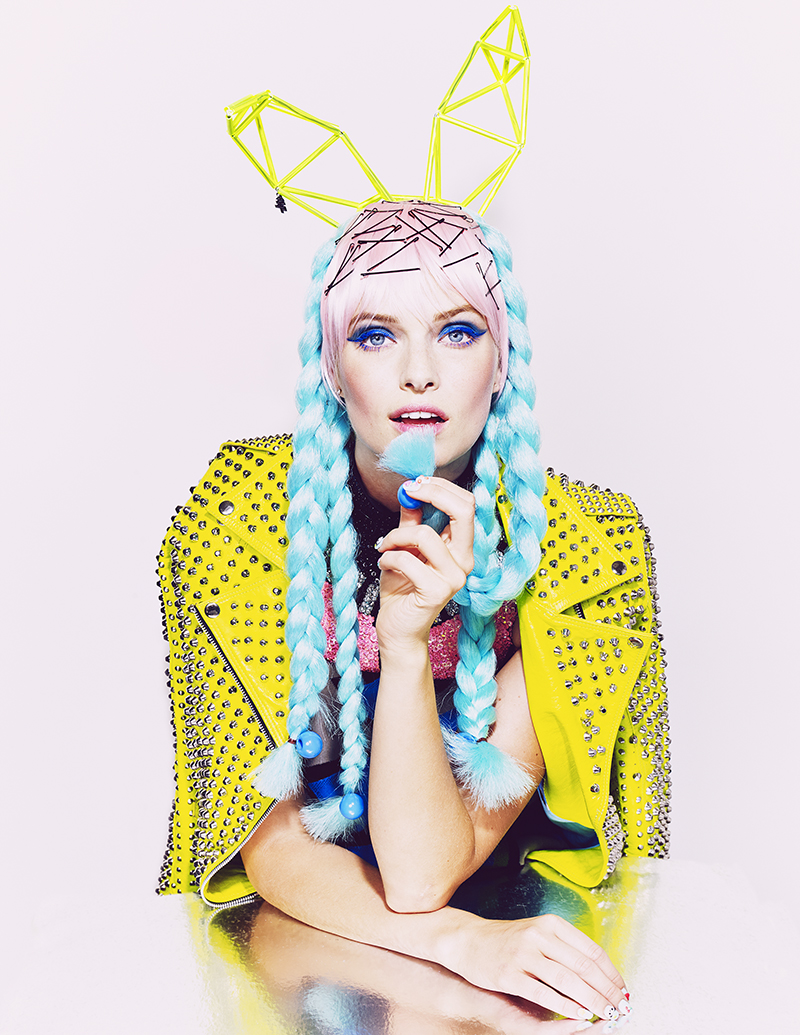 SEE MORE WXYZ  IN LADYGUNN'S #14 POWER TRIPPIN' ISSUE !