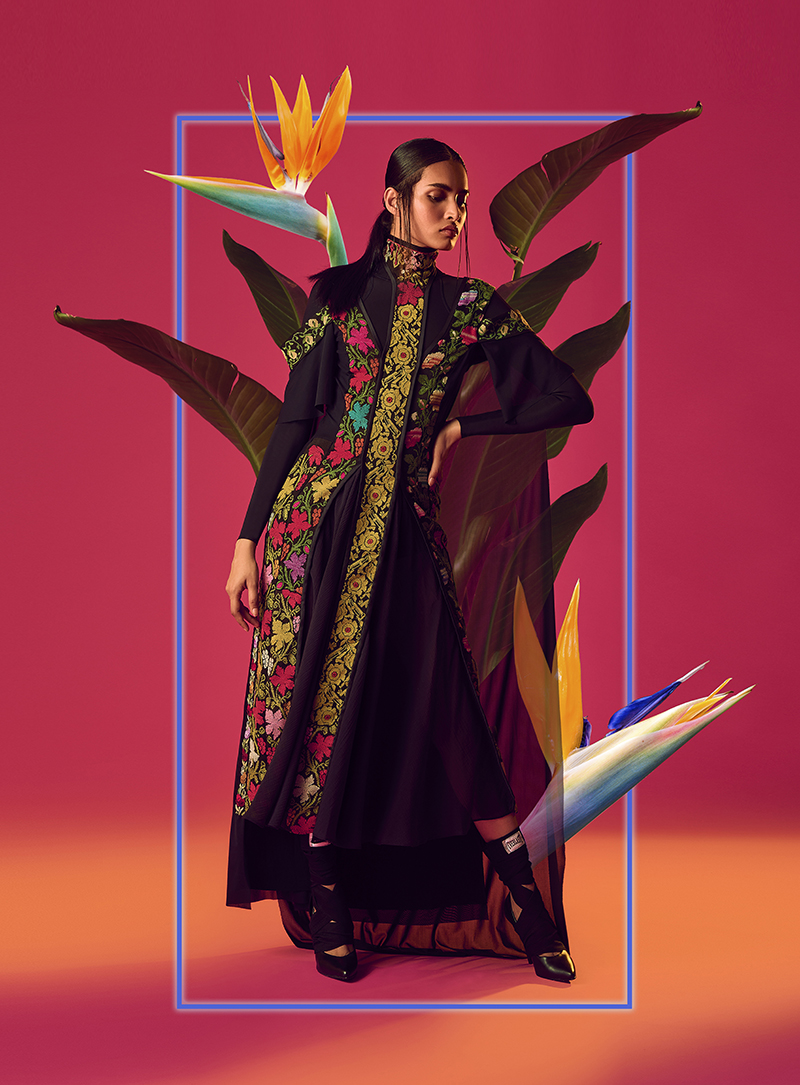 New York is a dichotomous wonder. Just sitting at a bar, the contrast of aesthetics, conversation, and people is immense. New Year's Day was no exception to this as Suzy Tamimi and I were seated next to a pack of bellowing hipsters still drunk from New Year's Eve. It was the biggest brunch day of the year, and there we were having a drink and attempting to conduct an interview. The screaming 20-something next to us discussed hooks ups and pop music, while we conversed about fashion and Palestine, two things I hadn't found synonymous. As we sat and drank our Bloodies (I had a Mary, Suzy had Maria) she and I got down to business.
Being a first generation Palestinian/American, were you exposed to the turmoil in Palestine? How did your Palestinian upbringing influence Freedom Fighter? 
Well I was born and raised in Northern California so I wasn't exposed to it personally. I was told of stories by my mother, of her hiding underground from the Israeli military in 1967 during the "Six Day War."  I don't think it was ever easy for her to go into more detail. It wasn't until I furthered my own research that I became aware of my culture, the oppression, the apartheid, all of the ethnic cleansing that is happening as we speak – and for the past 70 + years. My first trip to Palestine was at 10 years old and I can remember the Israeli soldiers roaming the streets with an intimidating and authoritative presence.  These memories are always with me and have become a source of inspiration in my work.   I'm now trying to bridge the gap between the east and west so that people become informed and intrigued about what I'm doing. There is so much beauty in my culture that is overshadowed by the constant turmoil.  
At this point I was fully engaged. I consider myself a cultured New Yorker but still I had slim knowledge of Palestinian culture. I was captivated as Suzy spoke with such a vibrant tone.  
Can you tell me about your title to your editorial "Freedom Fighter"?
Arab culture has been demonized so much by our western media and I want to shine a different light on it. At first my colleagues were unsure about the title.  That it may be aggressive, that it may elicit violence.  For me it notes determination and the ability to never back down. That one should fight for truth. At my core I'm a humanitarian and the title "freedom fighter"got me thinking about boxing and the fashion associated with it.  I love how streetwear can be fearless and rebellious and I wanted to fuse that strength with some beautiful elements of my culture.  
Well it's interesting because many westerners associate the words "freedom fighter" with "terrorism," so the name inherently is thought provoking. 
Exactly. When Arabs are fighting for a cause immediately its associated with terrorism. Anytime the underdog is fighting for freedom, justice etc., it has twisted into them being barbaric, and they are demonized. This speaks to Native American Indians, African Americans and any other people that have been persecuted while their fundamental human rights are stripped from them.
I think a lot of people would agree with you. Now tell me, I want to know more about the fabrics. 
It is all hand, cross-stitched, traditional embroidery. No machines. The motifs are floral and geometric in detail. Some of the shawls that I purchased took months to create. The trims and details I used for my pieces are traditional Palestinian embroidery made by female refugees in Gaza. You'll see in the editorial, my use of these trims.  Along the arms or down the side of pant legs. Something reminiscent of the placement of Adidas stripes. They're fun, ready- to wear pieces.  
That's major! I love how you're repurposing those pieces. Have you been to Palestine to retrieve these fabrics? What's the story you're telling by including them in your work-and the women who create these elaborate embroideries?
I travelled to Palestine in 2014 and connected with a woman working for UNRWA (United Nations Relief and Work Agency for Palestine) in Gaza.  We had corresponded eight months prior in hopes of me purchasing these hand-embroidered shawls. Ultimately, she was able to meet me with a two hour window to hop in a van and meet in Ramallah. It was such a surreal experience. I could not believe this woman who lived in such horrible conditions without many freedoms made an effort to meet me. She teaches refugees in Gaza to embroider. It's a way for women to come together and bond, an outlet for them to deal with all of the injustices. I'm so grateful that I've been able to give them a voice. I was so proud to see their work on display at the U.N. here in NY for an exhibit called "Palestinian Embroidery: Threads of Continuity, Identity and Empowerment".   I also designed a gown fused with repurposed vintage embroidery that stood alongside their beautiful creations. We had a stage there, the Palestinian flag was up and I stood in front, tears running down my face. I felt recognized. 
This is all so incredible! What does the future look like for you?
I'm getting a great response from my printed t shirts and hoodies and I'm excited to see people from around the world wearing them.  You truly get to see the power of message-oriented fashion. I hope to design for the red carpet to reach an even bigger audience as well. With a portion of the profits being dedicated to Palestinian Humanitarian issues.  
I can't wait to see where you take it! So much love 
Thanks to you and Lady Gunn Magazine for giving me the opportunity to share what is so close to me and my heart. Shukran habibti!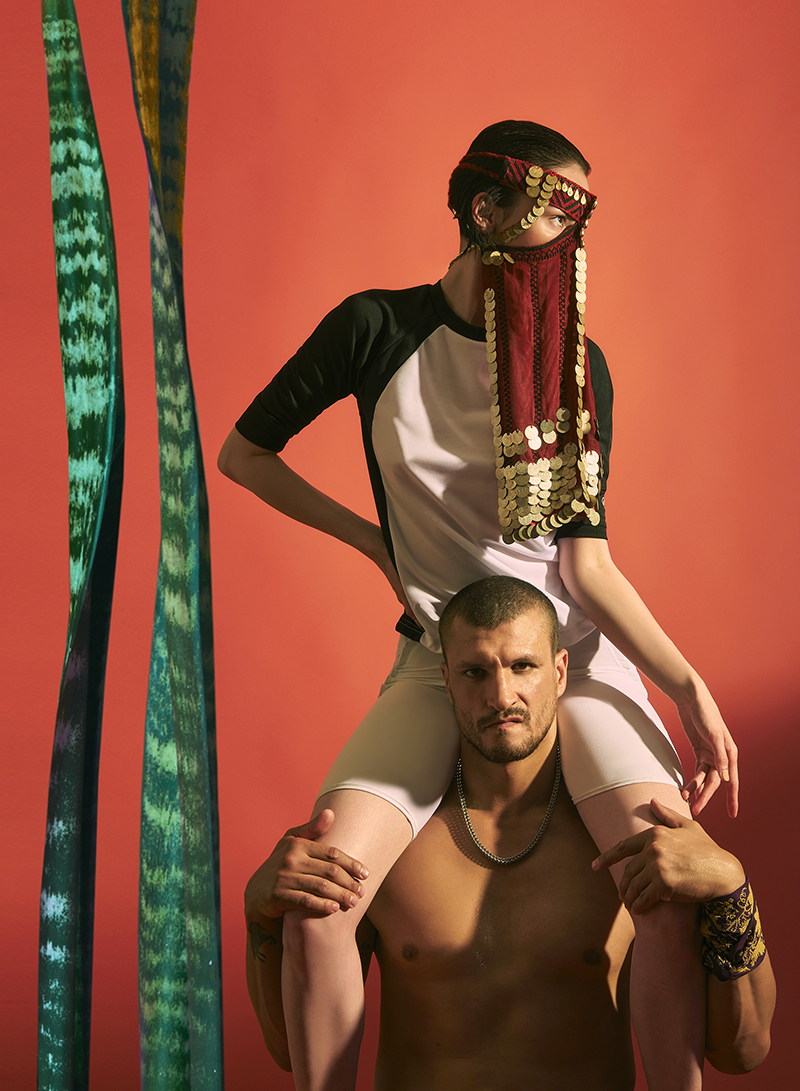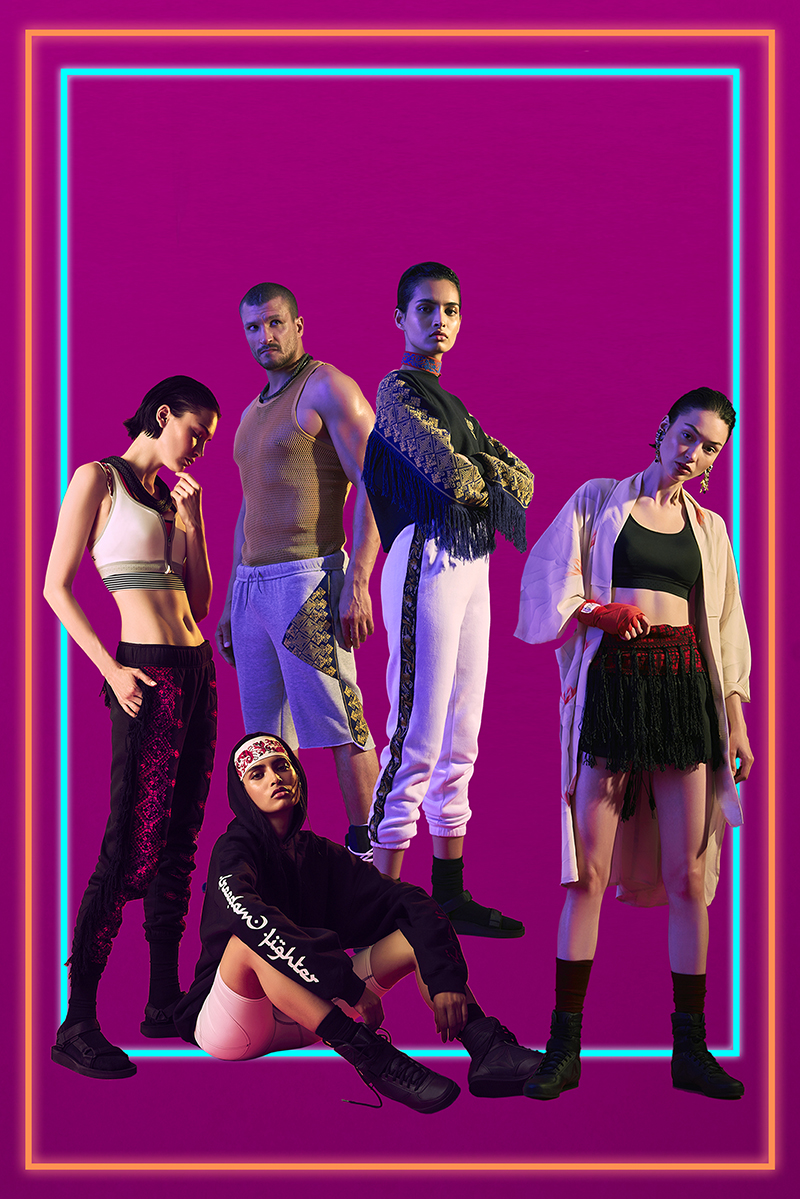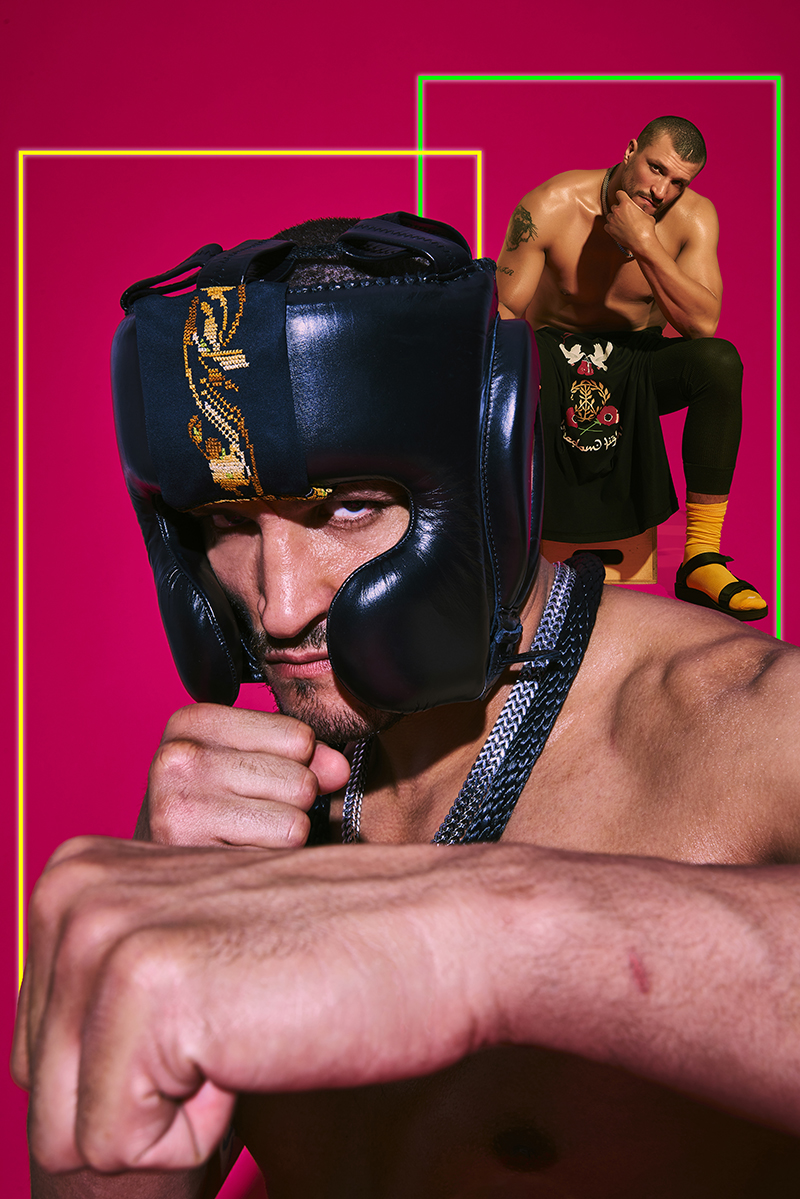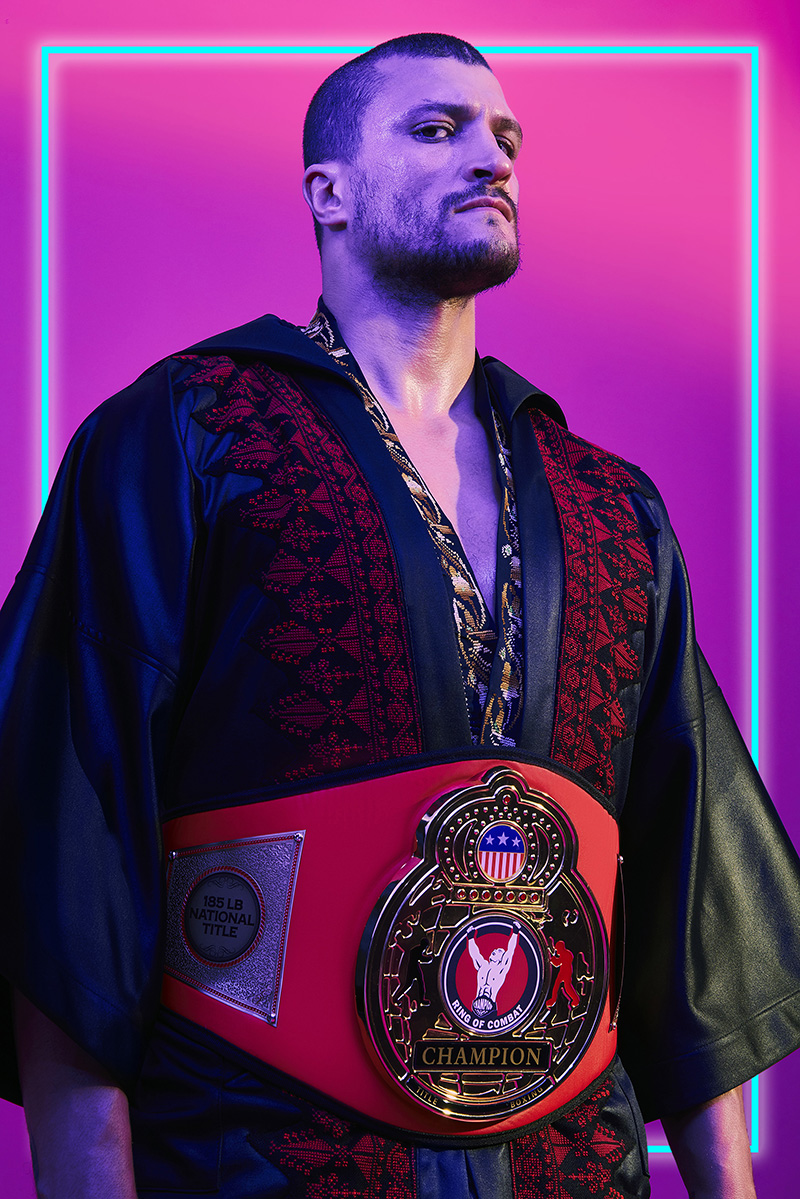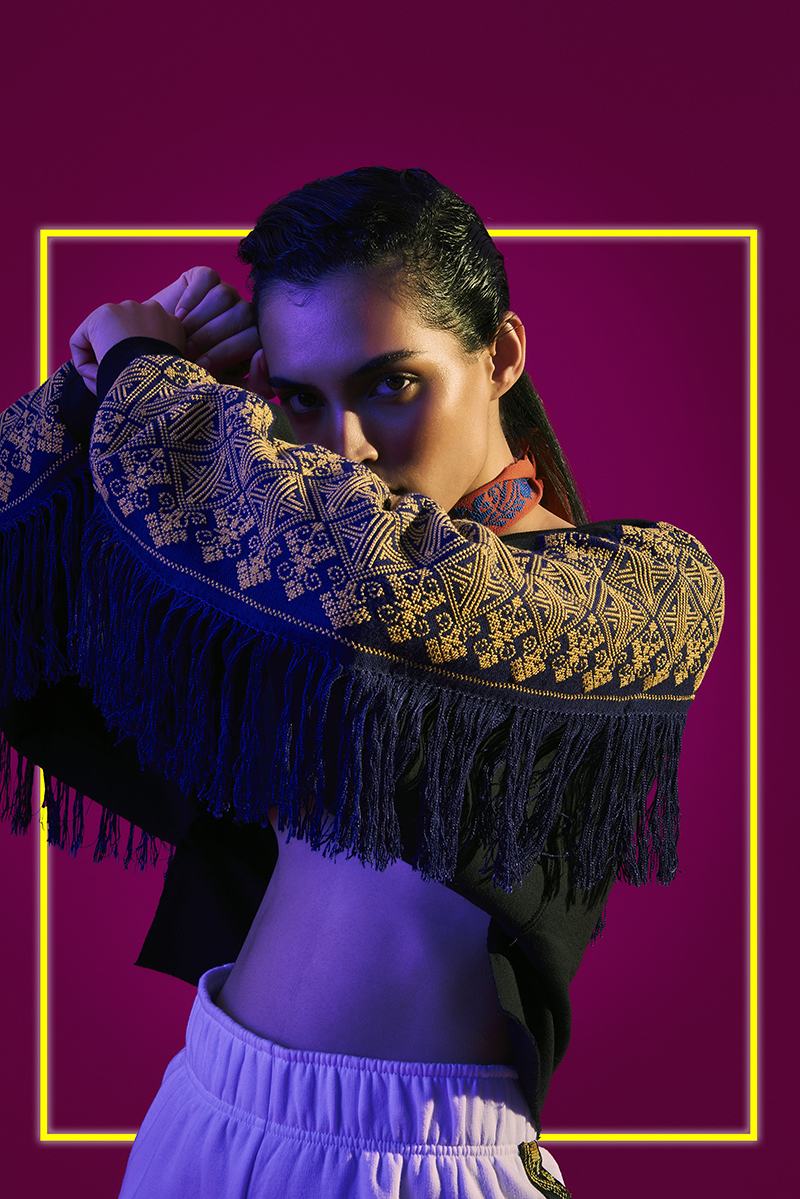 CREATIVE DIRECTION & PRODUCTION /Mike Fernandez / @ojosexo
INTERVIEW /  Kat Lloyd
PHOTOGRAPHERS / Diego Ramos and Paul Barcena / @sentence.world
STYLIST / Michelle Hellene / @mh_michellehelene
MAKEUP / 
Marco Castro @
theonly.gency
  @maromakeup / Using One Ocean Beauty + Fenty Beauty
HAIR / Javier Puga Jr. / @houseof_puga
WRITER / Kat Loyd Contributing writer for Salty.net / @katlloydnyc
DESIGNER / Suzy Tamimi / @suzytamimi
MODEL1  BOXER / Ahmed Samir / @sultan_samir
MODEL2  Rasika Navare  at Wilhelmina / @rasikanavare
MODEL3  

Saida Valieva 🙂 at Wilhelmina / @as.the.deer
Neon Lights / Graphc Art by Shabnam Q. at Qreative Q. / @lovemissq
CONNECT WITH DESIGNER SUZY TAMIMI: