The coolest people in the room all seem to be in a cult of some kind… the Cult of Individuality. 
Cult of Individuality, or simply "Cult" as so many insiders call it, is an independent fashion brand and design hub based in NYC which makes the kind of streetwear you would actually want to buy and wear; things like a deep orange puffer jacket with black graffiti covered in lightweight reflective vinyl, or stretchy-yet-strong ripped denim jeans with hand-done multi-color metallic paint splotches. Or maybe you're into heavy-duty leather jackets with all-over steel stud appliques, or you need enough graphic t-shirts in fancy materials with cunningly sexy images on them to last you a lifetime. Well, Cult's got you.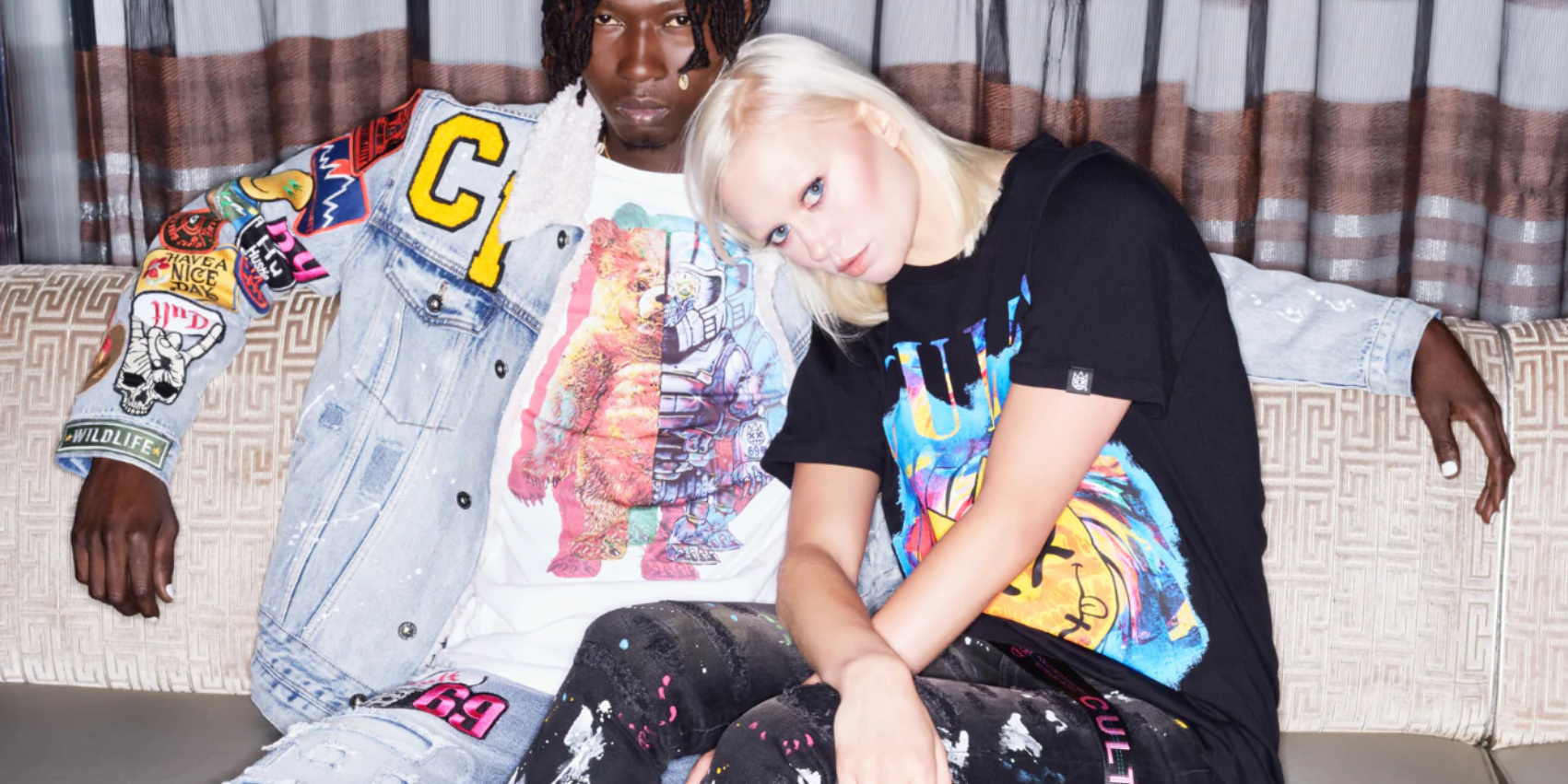 Since 2009, Cult has been one of the best kept industry secrets, a go-to for street-ready and stage-ready fits, for people of all genders and sizes and professions (but mainly those rocking ones). Known as the place for "jean junkies" to get their denim, it's attracted some of the coolest collaborators out there, like its capsules with the Bob Marley foundation, Mötley Crüe, and the Sex Pistols. Cult's clientele includes some of the biggest names in music, spanning genres like Hip-Hop, Rap, Rock n Roll, Country, and Pop. From Tommy Lee and Slash to LL Cool J, Hailey Baldwin, and Rihanna, Cult is where it's at.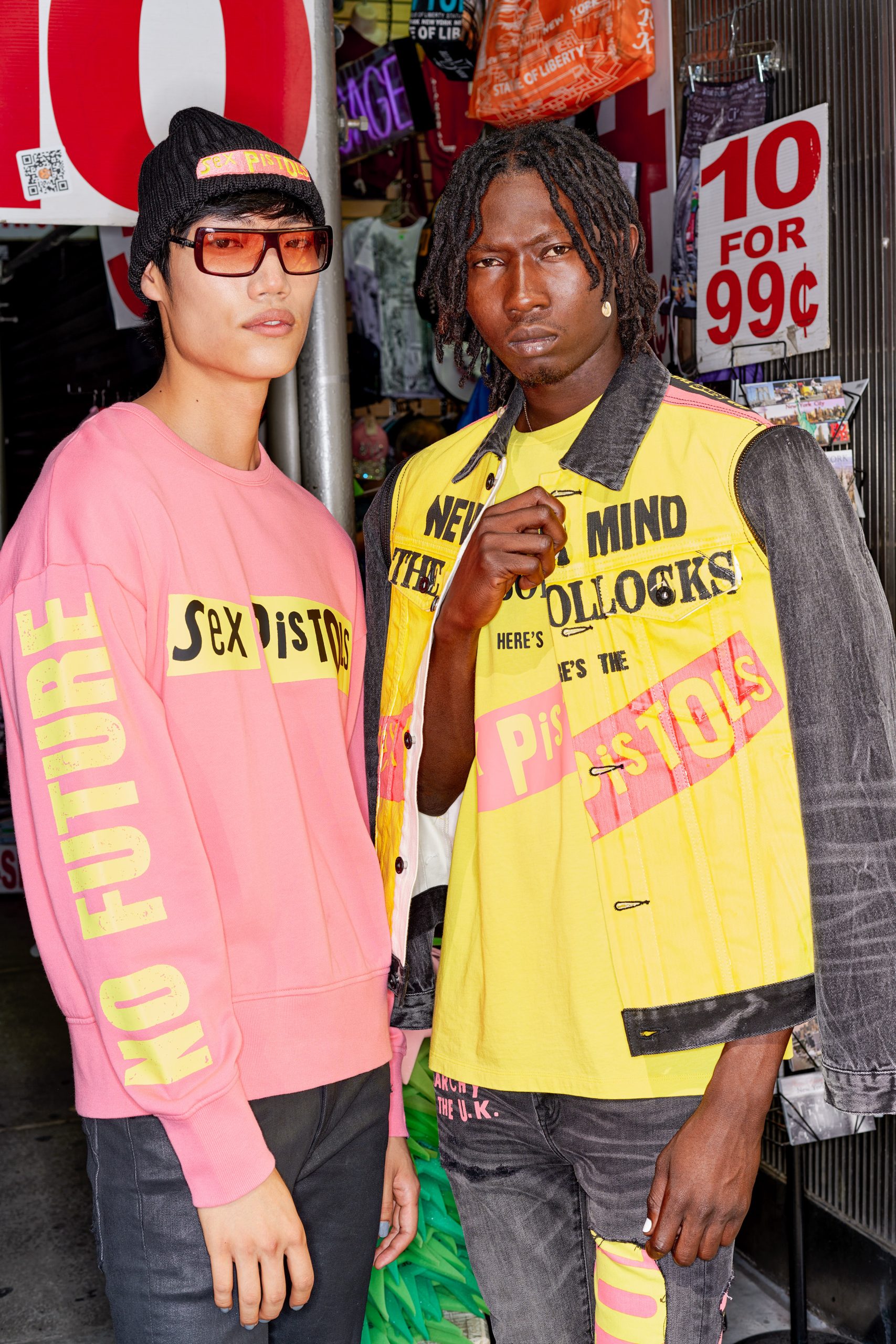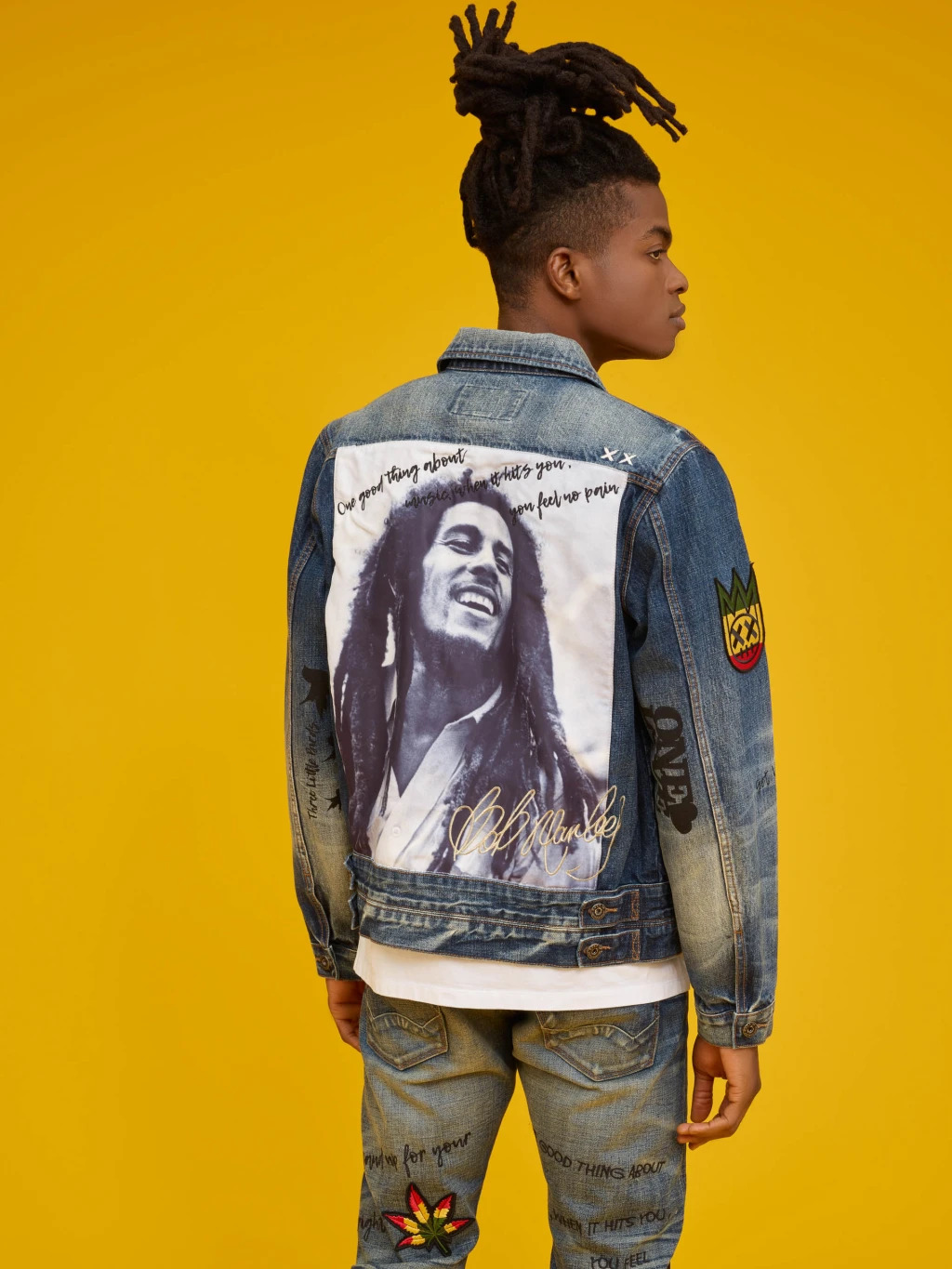 The brand's design ethos is mostly male-of-center to gender-neutral, meaning Carrie Underwood and Fergie enjoy Cult just as much as 50 Cent or Gavin Rossdale do. And although Cult is luxe–often made with premium materials sourced ethically and carefully–the entire line is still priced fairly, and is widely available in national chains like Saks and Nordstrom, making it obtainable and cool for both celebs and fashion aficionados alike.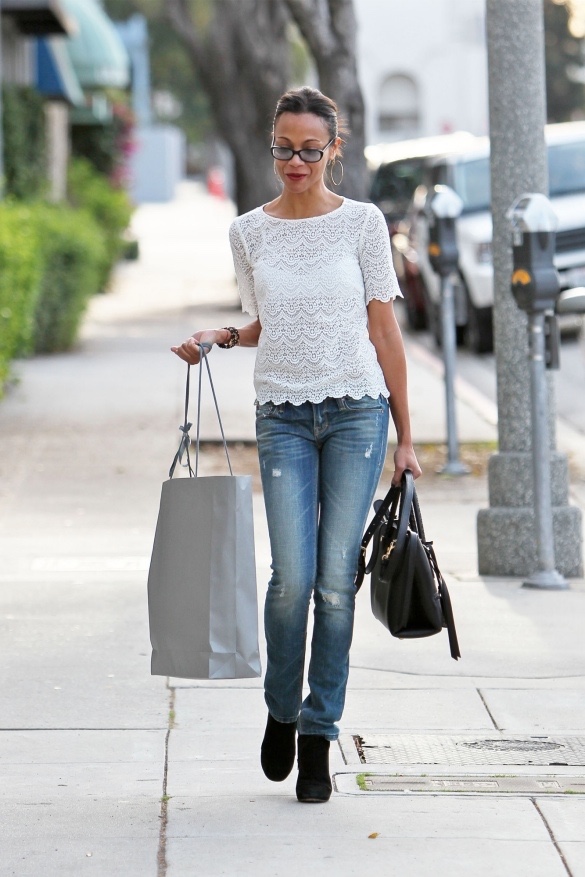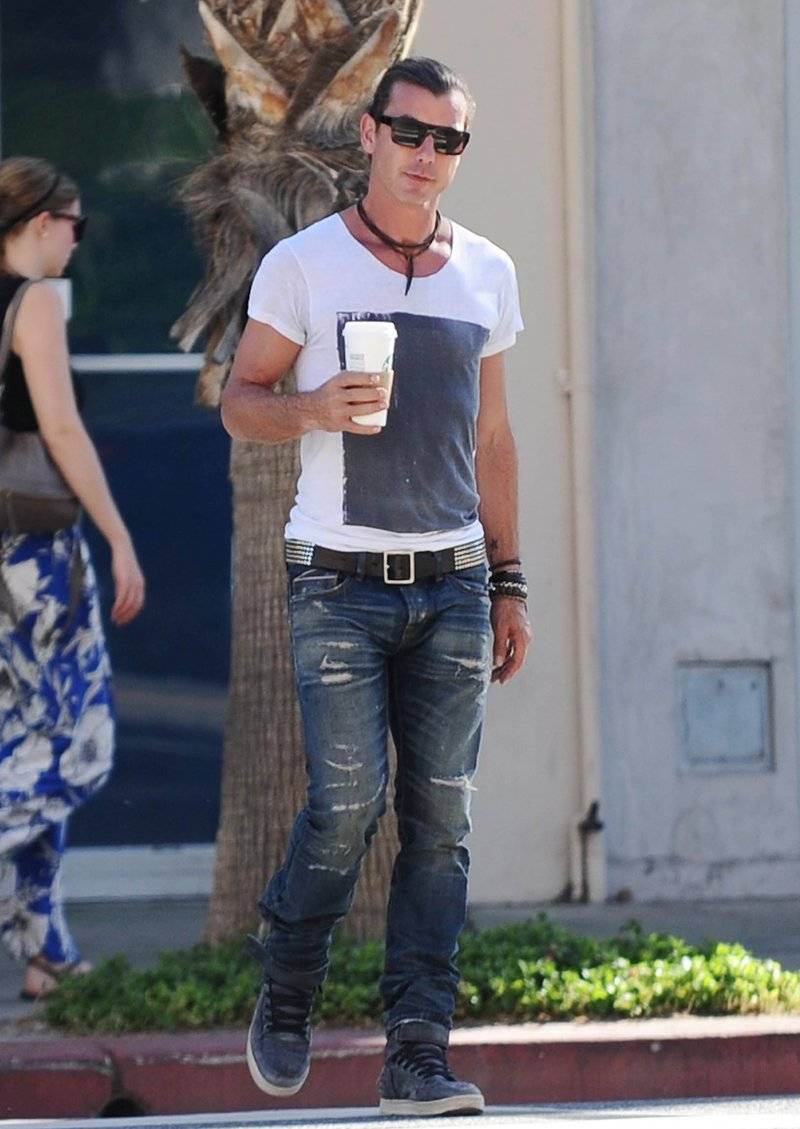 And the man behind the brand–you might say their Cult leader–is New England-native Ron Poisson, whose long blond hair, ever-present scruff, distinctive thick-rimmed glasses, and penchant for heavy studded leather certainly lends itself to the downtown NYC aesthetic of the brand. He looks like someone who needs expertly woven graphic denim jeans and matching jackets. He looks like a rocker.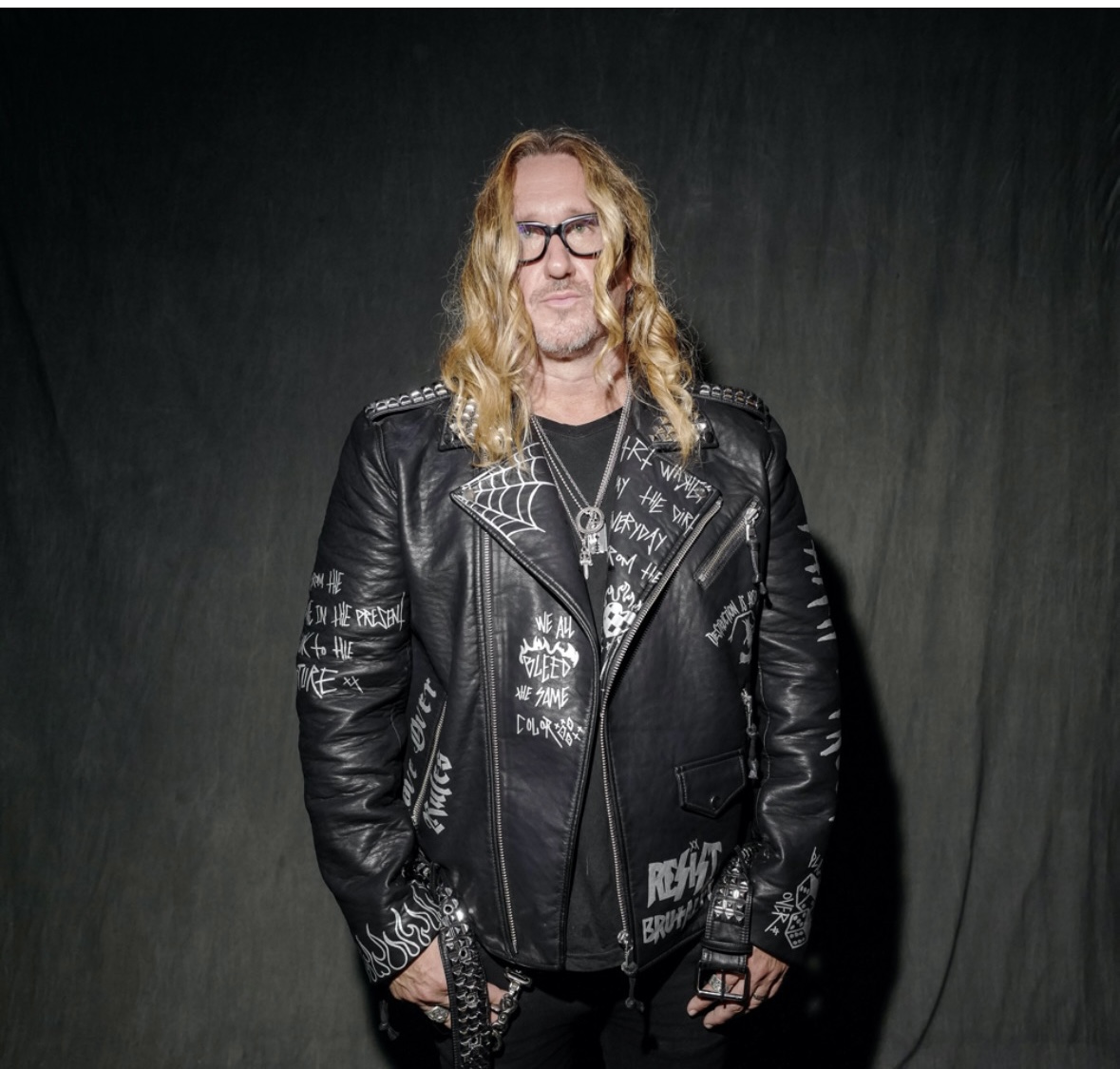 Poisson (while also indeed having a band of his own), however, is really a retail industry veteran with multiple design-residencies under his belt… and that's good for him, as he's been the galvanizing force behind Cult's punk-rock glitter and glam, steering the brand through the ups and downs of a tumultuous decade and a half.
LADYGUNN caught up with Poisson to chat about his road to success as a designer, the staying power of denim, creating an event space out of his showroom, and what's next for the Cult.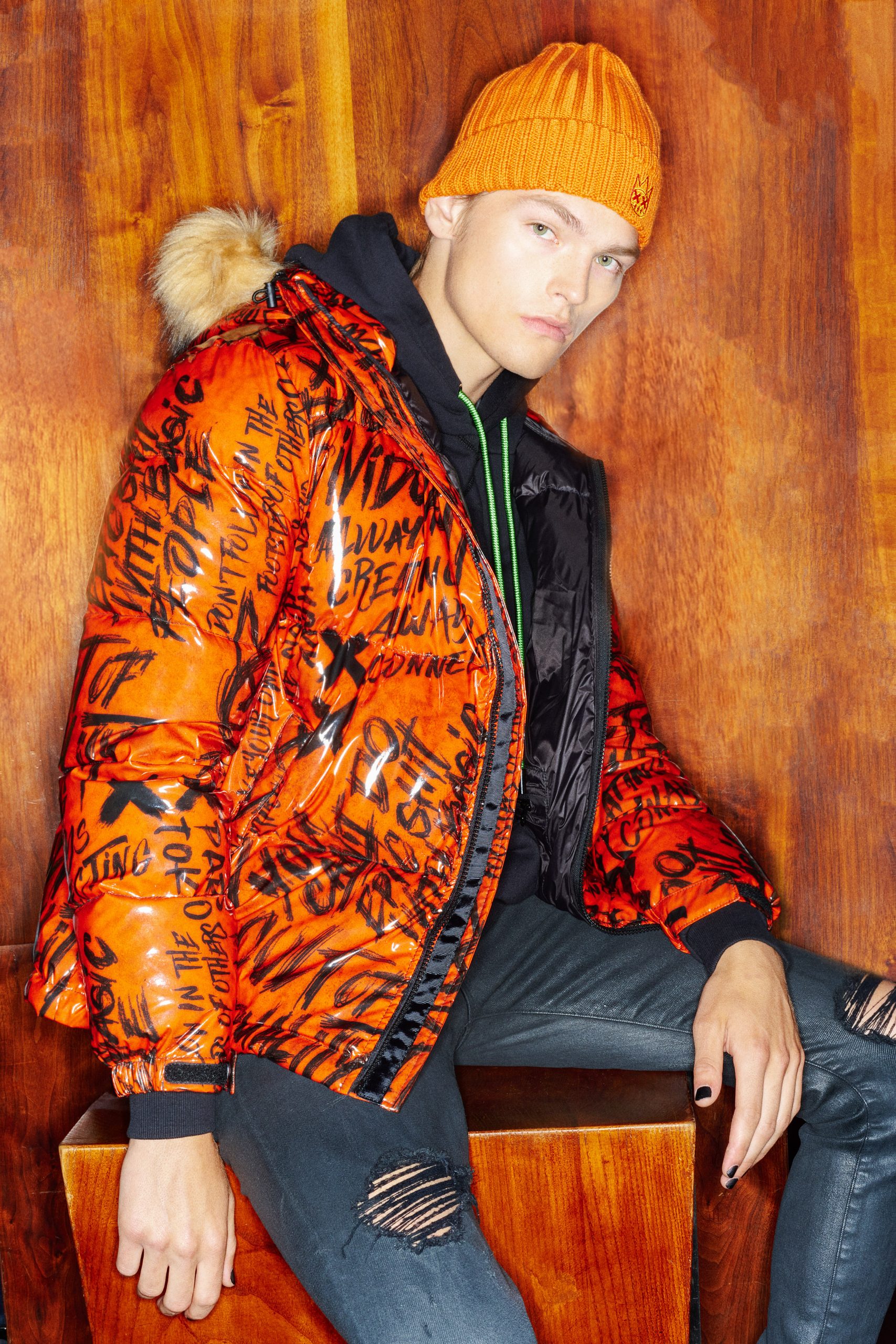 This conversation has been edited and condensed for clarity and readability.
We wrongly assumed you went to RISD (the Rhode Island School of Design), but that's not right, is it?
Nope! I was accepted at RISD, but truth be told, I didn't want to be an artist originally. My parents were disappointed. I was lucky, and they were pretty open, cool parents. But they were probably also thankful because it was very expensive. Still is. So I ended up going to the University of Rhode Island instead.
What did you study?
Marine biology, if you can believe it. But I had a design professor who told me to switch and he became my artistic mentor. I didn't know if I was ever going to make money as an artist… so I figured I should combine business with art, and got myself a marketing degree along with a graphic art degree. While I was in school, I started my own t-shirt brand, and we served all the social clubs and Greek life on campus, creating branded apparel for their events. So I had my own little business going there. 
And then what did you do once you graduated?
Back then I was a surfer. People don't realize that Rhode Island is a huge surfer state along the coast. Back then, we're talking about the early 90s', the Ocean Pacific Apparel Corporation, or OP, was like the brand for surfers, and I ended up getting a job with them in sales right after college. I learned the business from the street level, talking with retailers, talking with customers, getting a better understanding. Once OP execs found out that I was artistic and had a good eye and was more than a salesperson, my boss started getting me involved in merchandising. He eventually took me with him to work at a company called Fleet Street, a women's outerwear company. They had mostly women's clothing, and we started a brand for them called ZeroXposur, which was specialized rough-weather clothing for women. Then I left there for Mossimo, which was on fire back in the nineties, but they eventually ended up having to file for Chapter 11 before they sold themselves to Target. So I was out of a job for a time, and looking for something new, when I applied to an ad in the Village Voice. It was a Soho-based fashion company called VarCity which was looking for a national director of sales.
What did VarCity actually sell?
Mostly licensed "Fat Albert" t-shirts.
Wow, you've really been all over the industry!
Yep. I ended up taking the job for a fraction of what I was making at Mossimo, but I did about seven million dollars worth of those Fat Albert t-shirts in a year. Believe it or not, I sold it to every major department store and retail chain at the time. 
So when did Cult come about?
After a couple more stints at other apparel companies, I decided to use all that work experience and formally launch my own brand. Unfortunately, that was in 2008, and we started shipping out our first orders in 2009, right when the shit really hit the fan financially in America. 
And where did the name come from?
Denim is such a cult phenomenon, but it's also a way that a lot of people show individual expression of who they are. And it's an oxymoron because you cannot be in a cult and also be an individual. I like that.
Well, we're glad you're still around. Speaking of, how have you kept Cult alive this whole time, through the recession and the advent of online retail and then COVID?
I'm from sales, ya know? So me and my ace sales team, we like to treat our business a little differently. These guys go door to door and visit colleagues and build relationships. So many brands and showrooms have people that just email and email and email and email. And I think part of the reason why we've been able to last as long as we have is because we are more personable with our relationships. And the reality is we don't sling it out to just anyone anyway. We'd rather work with our retailers and build within them than to just say, you have a pulse, you should buy a shirt. We don't work that way. There are a lot of larger retailers that I've turned away who probably could have taken my brand from here to there. But at the same time, I feel I've stayed true to my ethics and to the brand. I could not be here now. So we believe less is more when it comes to business.
Cult doesn't really do runway shows, even though it's a high-end brand based in Soho. Why is that?
I've honestly just never been the kind of person who felt like I had to do a runway show to keep up with appearances, ya know? But recently, we've started doing them and the response has been fantastic. Last year we had a great one and the CFDA wrote a big article about it, so that was pretty cool. It helps to be a bigger part of the party in that way.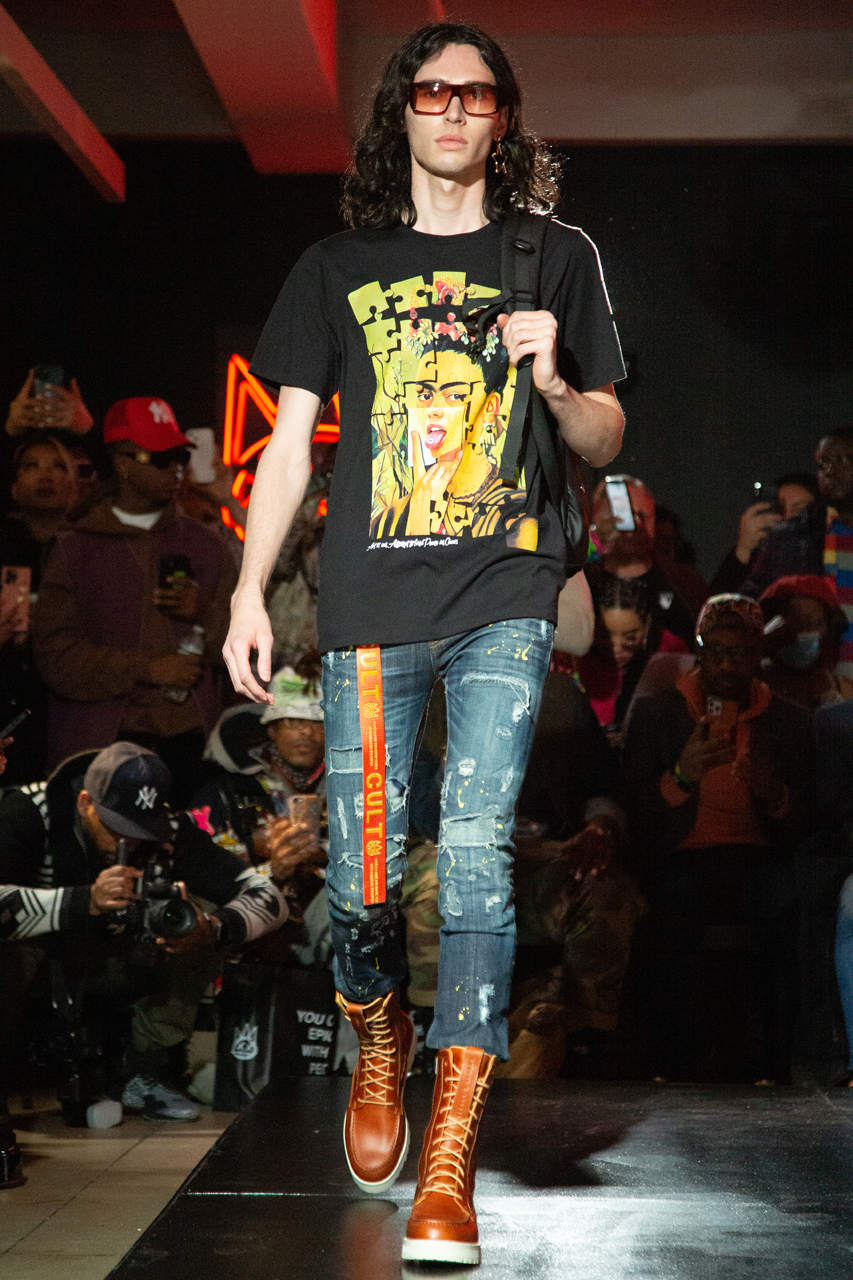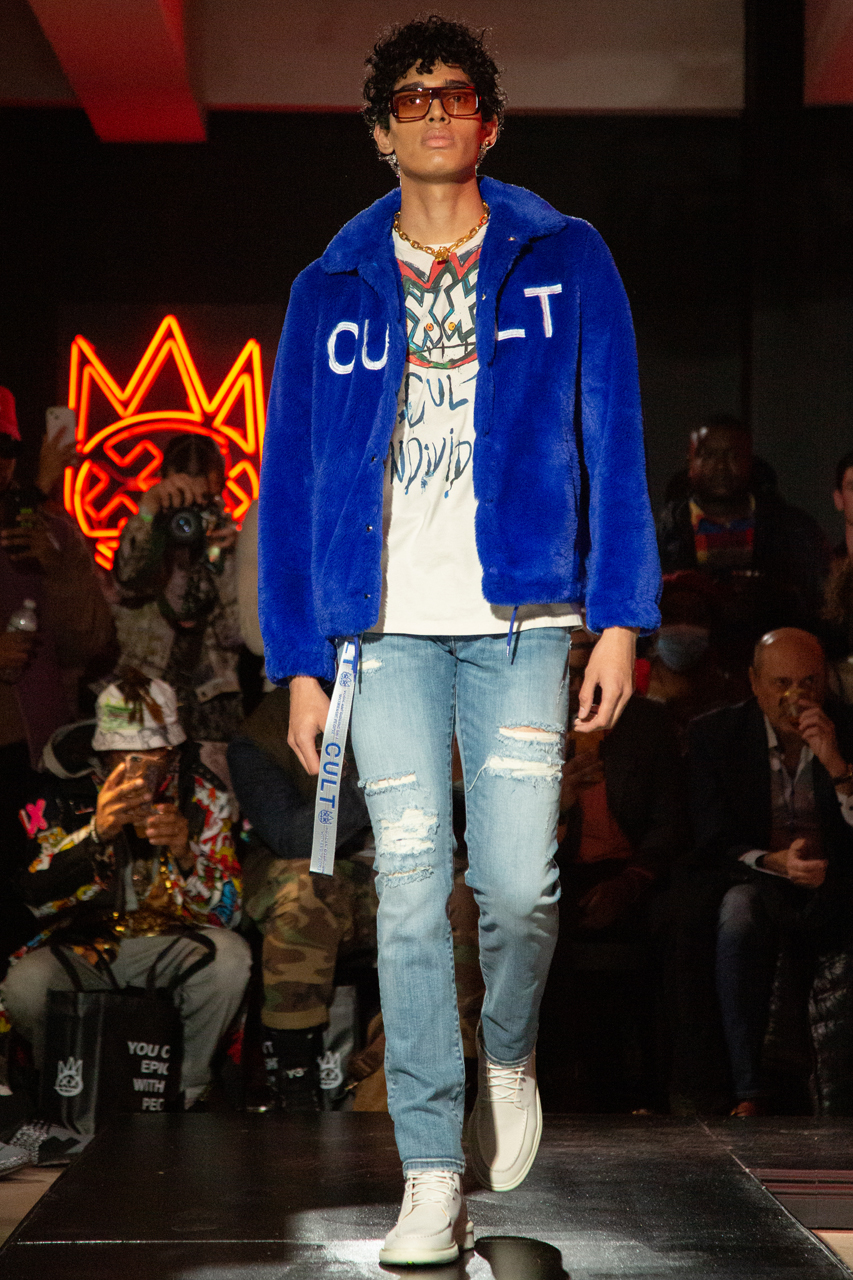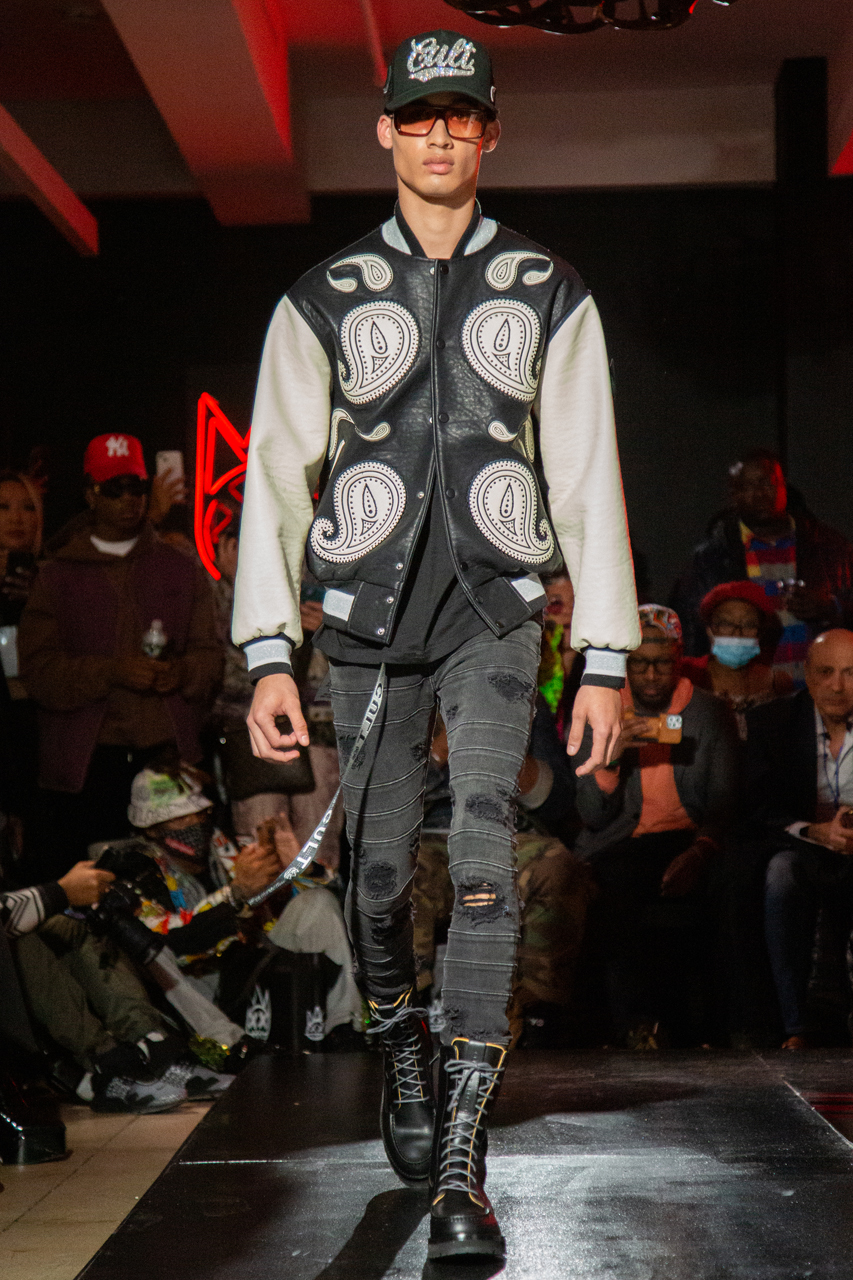 Denim is for sure a cult phenomenon, and it's also the thing which has identified Cult of Individuality as a player in fashion for years now. What's so special about denim, in your estimation?
Denim to me is the backbone of American fashion. It's been worn by literally everyone in this country. And today, denim is seen as an artist's palette. We used to use traditional stone washing and sandblasting techniques, but those aren't particularly environmentally friendly, so we've switched to using eco-friendly lasers to create the same effects. But denim is also so versatile, it can be overlaid with all different mediums of embroidery and print and wax coatings and dyes. Denim is such an amazing template to work on and such a versatile fabric to work with. 
And what sets Cult's denim apart?
Aside from the aesthetic design elements, the fabric itself is a priority type we create which is incredibly strong yet comfortable and stretchy, making it perfect for wearing all the time. It used to be that rock stars would wear skinny jeans that were created for women, since those would be the kind that would be tight enough for the look and also not made as rigidly as men's jeans, and so easier to move around in while on stage. Plus, it's safer when there's all that equipment around you to have things close to the body. But men's jeans were traditionally rigid and straight cut back then, and it was seen as kind of negatively feminine to have too much stretch in your jeans, or to have them too tight. Luckily, especially over the last decade, skinny jeans have come back, especially stretchy skinny jeans. 
Maybe you helped pioneer that comeback?
Maybe. I like to think we've helped break that stigma about skinny jeans. And it's interesting because our brand is pretty gender-neutral, and in women's fashion right now, fits are actually getting looser, meaning they can wear their boyfriend's more rigid, maybe more baggy jeans. But we have that too! We actually started out with just boot cut and relaxed fit to begin with.
And let's also talk about your showroom in Soho, which was recently renovated into a multi-use event space. 
Yes! Cult of Individuality is entrenched in the music scene and we try to work with musicians at all different levels. Building community is very important to us. We had been doing a lot of different activations in our showroom prior to COVID. We were calling them Cult Sessions, artists would come in and sing and take pictures and try on some fits. But when COVID hit, I was fortunate enough that my lease ended around the same time. And so I actually expanded, and doubled the space. We built what we call the Cult Lab, a full-on 3,500 square foot, multi-room event space with a lounge area, a full bar, a stage for performances, and a full photo studio. We've had VH1, MTV, and Sirius XM come in to use the Lab. We've had artists come in to launch their records. We've had Broadway performers come in for showcases… they even brought in a full size symphony piano! And we're recording Cult podcasts as well in the Lab, where we have artist guests of all kinds come on and chat, which keeps us connected to our community in yet another way.
What's next for the Cult?
The Lab has been a really successful and really amazing addition to the overall Cult brand experience. And we're looking forward to more music collaborations come 2023. I'm excited to see where else Cult of Individuality will go!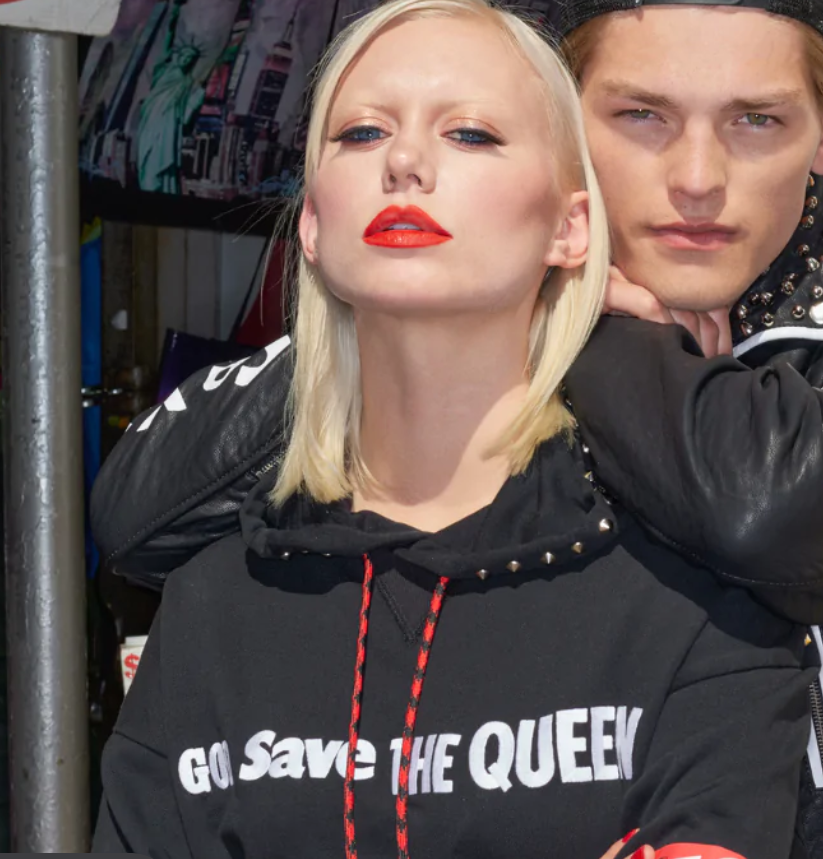 ***
Story / Alex Blynn
Photos / Courtesy of Cult of Individuality | Victoria Bruno