Story By : Mateo Palacio
When I think of Canada, a few things come to mind: Pamela Anderson, Maple Syrup, and most obviously the better fucking healthcare options for their citizens compared to over here in America.
But in all seriousness, while Niagara Falls, Falls – bbno$ just balls. 
bbno$ aka "baby no money" aka Alexander Gumuchian is the Vancouver artist who has described his own music as "oxymoronic rap" that is "ignorant but melodic".  Formerly a competitive swimmer who quite literally broke his back while stroking it … (in the pool guys) felt as though he had lost a part of himself, so what did he do? Birthed the new entity that we all know as bbno$.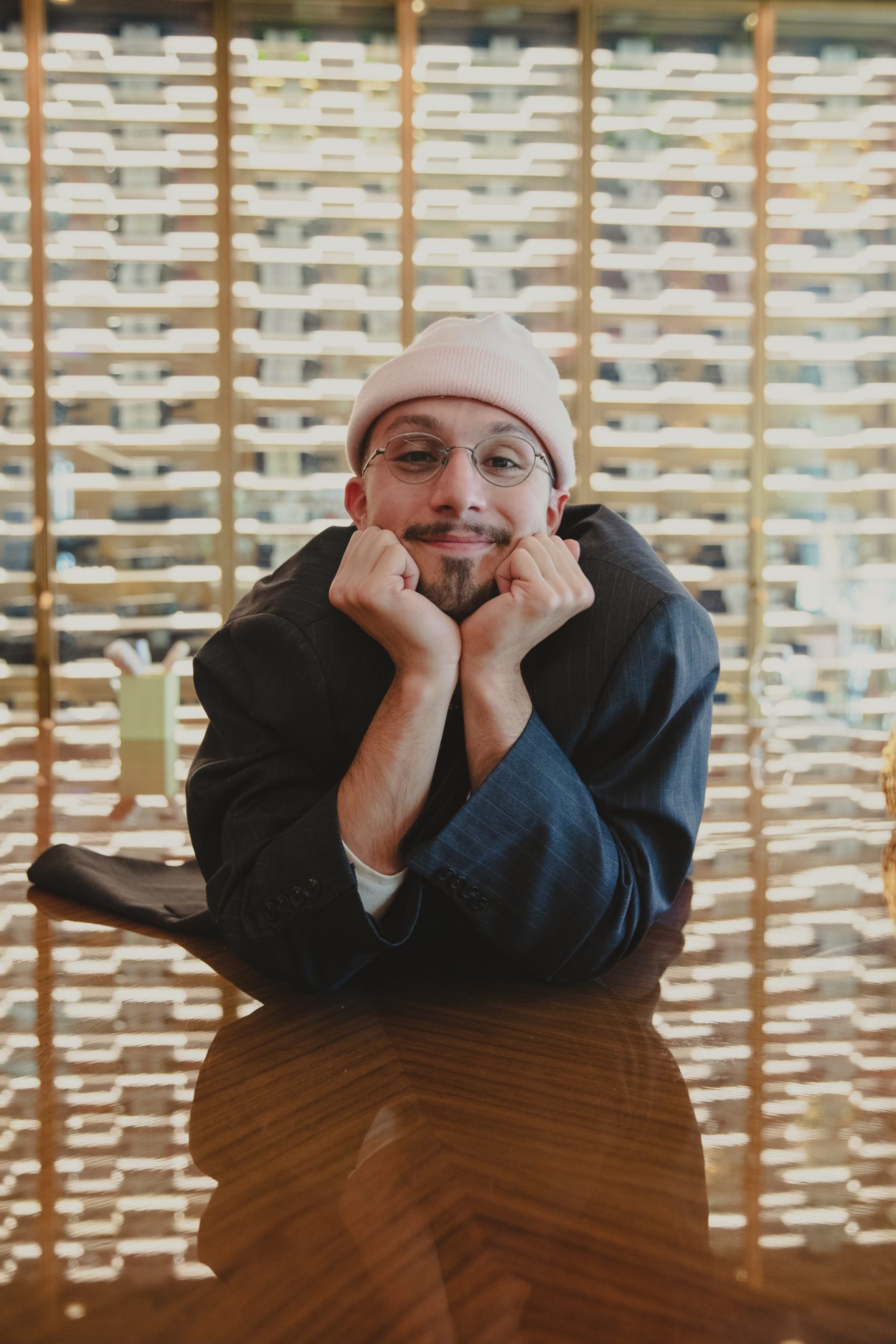 Despite the endless drip, he is proving himself as one of the most perceptive figures in the Vancouver hip hop scene, an artist who is not afraid of taking creative risks with an understanding of commercial winds than most rappers in his scene right now. While hip-hop music and rap alike have undergone so many rock-star eras with so many umbrella sub-genres evolving from it, his music feels more like melodic rap with groovy undertones while providing a new perspective on a timeless genre. The sound expresses a deep vulnerability, encompassed in catchy pop hooks and smooth vocals.
Being no stranger to what we all know as viral success, bbno$ first popped off in the digital space when dropping the track "Lalala" alongside Y2k having amassed over 1 Billion views and plenty of somewhat cringe yet, fun TikTok videos. It was a proven success that record labels couldn't naturally replicate. In the age of the digital revolution and the similar parallels of what the Rhapsody boom was to record labels, it seems like in 2022 labels are finding a new marketing tool that can either make or break an artist with apps like Tik Tok and the success it brings.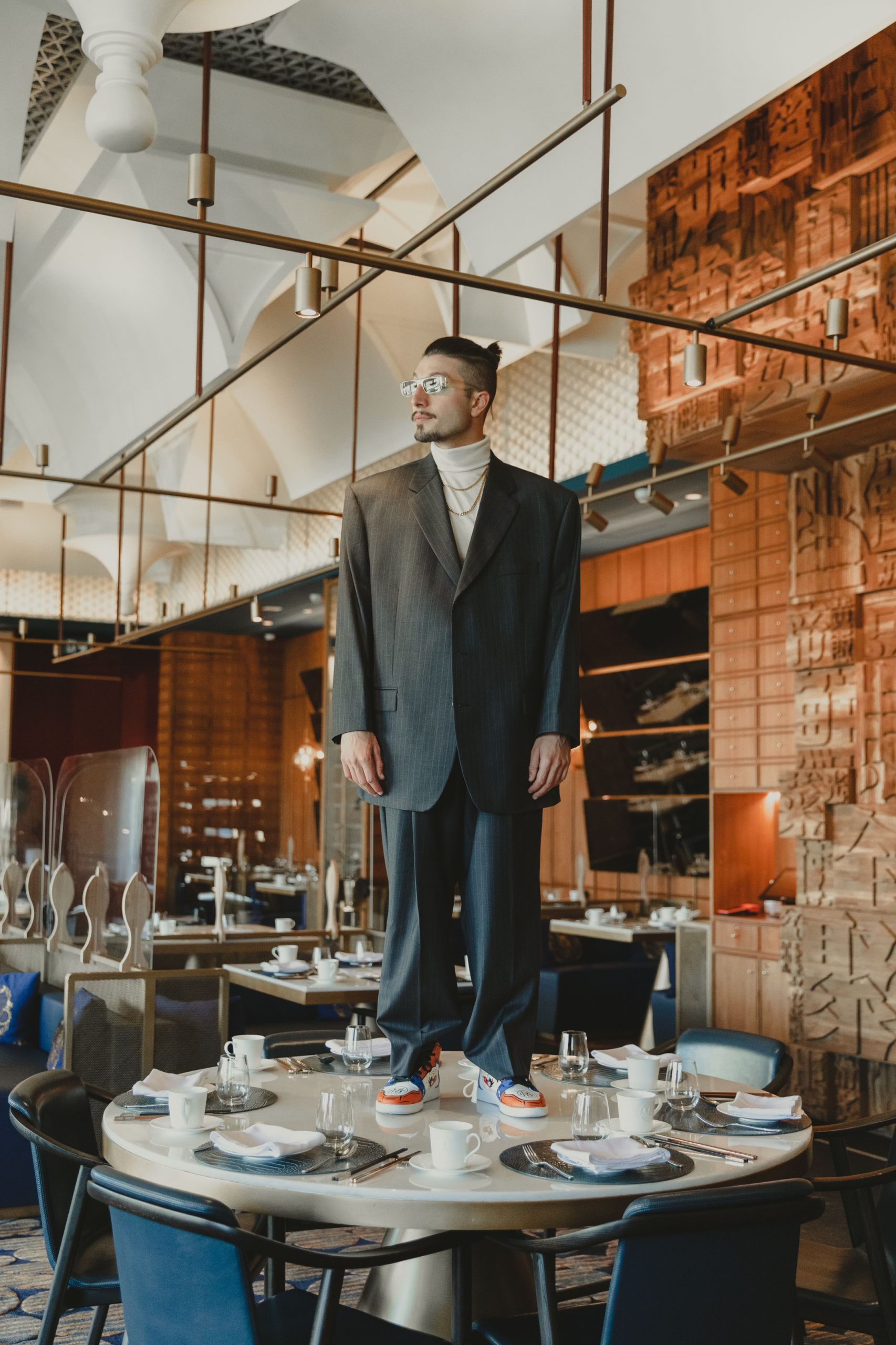 Having collaborated with other internet sensations like Rich Brian on tracks like "edamame"  and LADYGUNN babe Rebecca Black on the track "yoga". We are seeing that creating a catchy song with captivating visuals, is the new formula for how the new generation understands and consumes media.
Lately, many artists have been very vocal about how labels push them to create Tik Tok videos to undergo a viral hit, bbno$ knows how times have changed, stating:  "you either get with it or not, it's a great free tool" he says to me while we're on Zoom in a tiny dressing room right before his show in London. 
What I like the most about bbno$ is his eccentric vibe and idgaf attitude, backed by highly conceptual visuals and aesthetically pleasing art direction. In the music video for "mathematics", you see him getting a back massage from what looks like a killer clown who he later kisses, and in "piccolo" where he's surrounded by bodybuilders dripping in tanning spray. 
Bitch just do the Math!
Having recently strutted into the 2022 Juno Awards red carpet wearing a railroad carpet couture gown by designer HiJulz, the artist does not care about idealistic gender norms.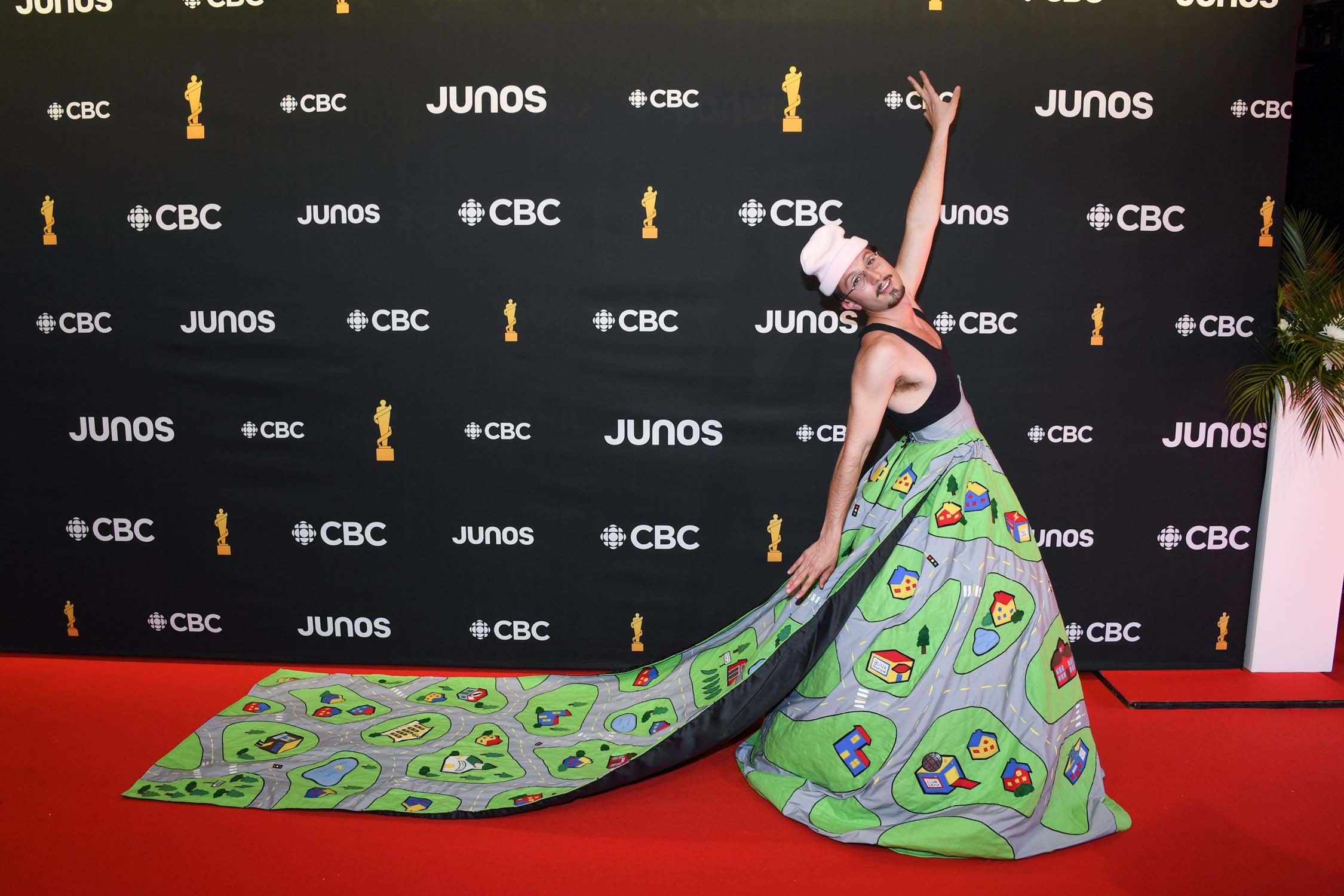 bbno$ has been in drag not once but twice, first in the video "imma" ft Canadian Drag Race Queen Jimbo where the tits and shoes are obnoxiously sexy.
In "yoga" where bbno$ and Rebecca Black are having a literal Freaky Friday moment a la Lindsey Lohan and Jamie Lee Curtis; they switch bodies and sing each other's lyrics (I couldn't tell the difference). It is both fun and enthusiastic to see a rapper play with drag just like rocking a pair of Asics sneakers.
The internet is fun but bbno$ is having more fun. I am excited to see what the future holds for him, someone who is on the verge of cutting-edge entertainment. Can we possibly see a bbno-bitcoin / metaverse takeover … well we just gotta wait and find out. 
Check out my interview with the maven himself!
M : What was the moment that everything just clicked for you?
bbno$ – broke my back and just had to change, you know? I was so incredibly depressed being unable to compete. I used to be a competitive swimmer, a relatively high level, and being stripped of the ability to continue really made me distraught. As soon as I made my first song, it was very apparent to me that music was my next passion.
M – "Lalala" was one of the first songs that really made you pop! What was the process of making that track?
bbno$ – Haha, I sat down with y2k and was like, "let's make something super easy for people to jump to at shows." Did we expect it to get that big? No way, but thank the lord it did though.
M- I hate when people say that sometimes it just happens overnight, like if it was as easy as just posting a video on TikTok with your song dubbed over it like you didn't put the work in … tell us about your viral success 
bbno$ – I mean I had a full-time career, which was paying incredibly well before "lalala" came out and I think I would only just be bigger if I were to never have had "lalala". The viral success was such a pat on my back and I am so grateful that it happened because it felt like a really long time coming, you know? The extreme validation that I am a decent songwriter was comforting. Let me sleep at night, hahaha. I'm currently on a train to Antwerp from Paris and I couldn't be happier to be doing what I am doing.
M – There is this subliminal urgency in the music industry to constantly have to be one step ahead at all times, especially with the pressures that some artists face regarding tik tok, what do you personally think about that?
bbno$ – I agree, but it's also just a massive tool to be in front of everybody constantly. So love or hate it, it's super beneficial to any artist's career. For instance, I just made a TikTok last night right before bed because it only supports my career, right? Did I have energy? No. Did I do 15 hours of press in paris? Yes. Did I only get 2 hours of sleep before getting on this train and now am currently typing this shit on my phone with a bunch of terrible sinuses hanging in by a thread and questioning my sanity every 5 minutes? Absolutely, hahaha.  
M – Now back to fashion, tell us about the gown you studded at the Juno awards.
bbno$ – Hijulz. SHE'S THE BEST, THAT'S ALL U NEED TO KNOW! Also nostalgia. Just look at that, I was snatched. 
M – It's definitely giving like you are entering your Ezra Miller / Harry Stylesesque era and I think we're all ready for it! How do you feel about gender-fluid fashion?
bbno$ – Just wear what you want to wear. Do what makes you happy, that's all you need to do. Harry Styles is also hot, so I'm about it. I don't really see Ezra Miller as much as Harry, but actually, I really do, never mind. Direct train of thought stream of consciousness, hahaha. At the end of the day, I'll reiterate the statement again about just wearing what you want because that is what matters the most. Also as long as it's comfortable. Never sacrifice comfort for aesthetics. ASICS GIVE ME A BRAND DEAL. I'VE BEEN WEARING YOUR SHOES FOR FIVE YEARS STRAIGHT.
M – You've been in drag in a few videos my favorite was when you and LADYGUNN babe Rebecca Black had a Freaky Friday moment where she was you and you were here, how was it working together? 
bbno$ – Rebecca is a super legend. I am a huge fan of hers. She's also just a good person. I am happy to have made that song with her. We went to this restaurant called The Acorn, a very prestigious vegan restaurant in Vancouver, with her manager and my girlfriend of the time and we ordered everything on the menu. It was a fabulous dining experience and I would recommend the restaurant to anybody who were to travel and have a vacation in Vancouver. Back to doing drag, it's an amazing experience and incredibly fulfilling. I wish everyone the opportunity.
M – You just dropped the video for piccolo, which tbh is one of my favs. The bodybuilder smash-up was insane how was it working on that project?
bbno$ – I was so insecure around the muscles. I used to work out, but goodness gracious I felt so small, haha. It was intimidating, to be honest.
M: I love your art direction and concepts for all your videos what would you say was the craziest, coolest one you did so far?
bbno$ – The Imma music video was undeniably my favorite time. Jimbo really showed me how to tap into my inner crazy. I also was very stoked when I shot the music video for Edamame with Rich Brian. He was very willing to dress up as a knight in shining armor and willing to do anything. It just made me kinda happy, haha.
M – Alright vibe check: if you were a pizza topping what would you be and why?
bbno$  – Screw a topping, I'm the whole pie. 
M – Tell us about any exciting projects that you have coming up! 
bbno$  –  BAG OR DIE which is out on September 9th. I am also touring a bunch.. I don't know, haha, that's really about it.
CONNECT WITH bbno$
Story/Interview: Mateo Palacio