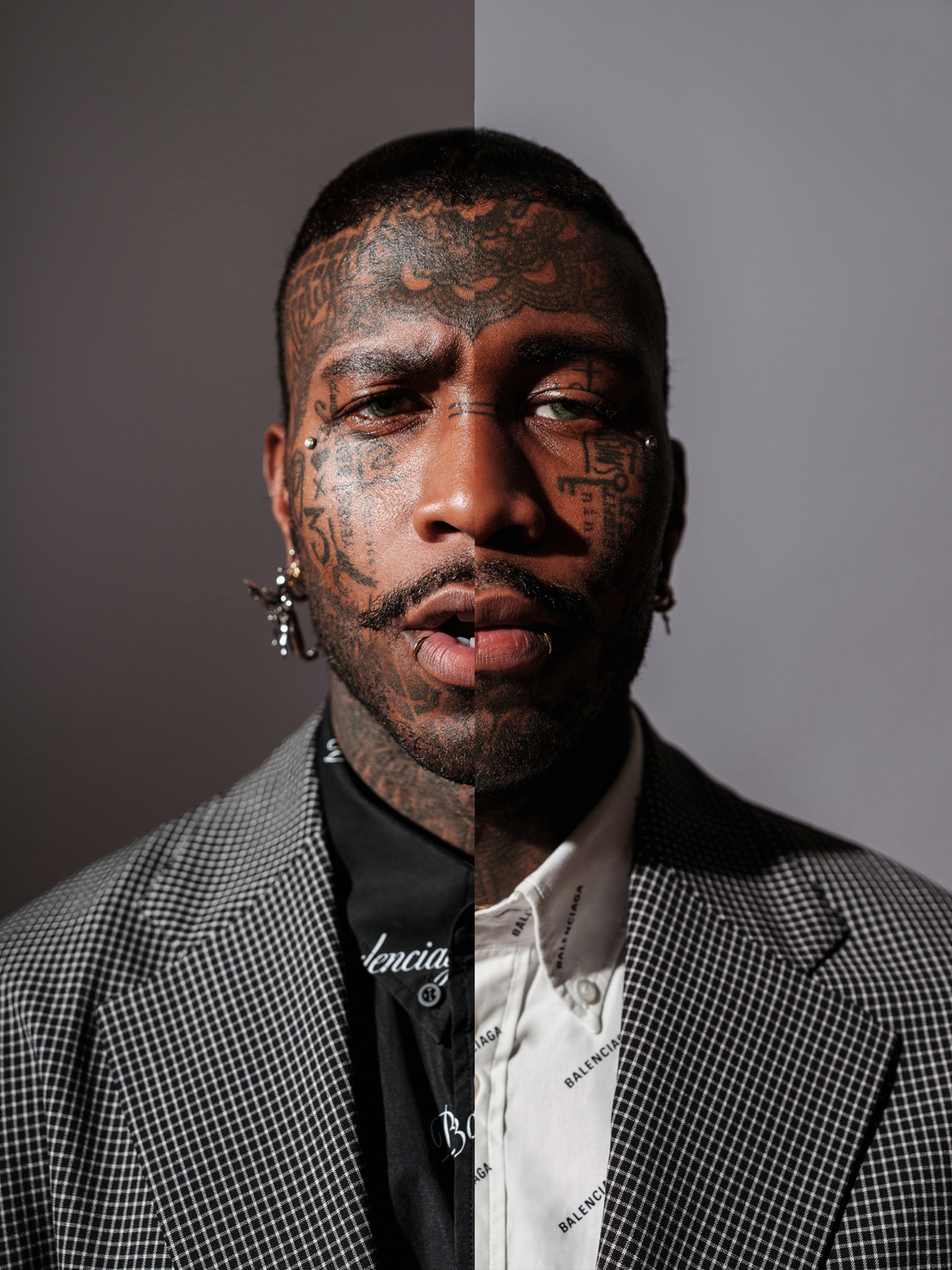 Full Look – Balenciaga Jewelry – Chris Habana & Talent's Own
There's so much more to this interview and how it came to be, this conversation, this universal converging of me the writer Eve, and Yves the multi-faceted, abundantly talented, pitbull rescuing jet-setting model, who also is a valiant front line protester and activist for Black, LGTBQ and Trans lives. Did I mention he's also a joyous and brilliant R&B artist with a sound and flair like no other? There's so much more to his story that it's going to get a part two, so stay tuned for that in the upcoming issue 21. In the meantime… take a glimpse and a serious listen to the fast-paced life and mind and spirit that is Yves Mathieu. 
Seriously, how do you do it all?
I have moments where I look back and wonder how I survived… There are times where I'm training two Pitbulls at once, and I have two campaigns that week, and I have to fly to another state to meet with some LGTBQ kids and figure out how to get them wigs and makeup for their next ball—and this is all in the span of one week. I pray and drink a lot of water…
You put out a TON of music in 2020—numerous singles and an album. Say more about your creative process.
Yeah, so first and foremost before anything else, I'm a writer. I write and I journal every single day. I write about people I meet, I probably will write about this interview we're having. It's kind of a way for me to confide in myself by getting my thoughts out on paper, I like the idea of putting pen to paper. So I was writing a lot more than I usually do, it was the longest I've ever been in my apartment without flying and having to travel somewhere. So I had more time not only to write, but also to record and play my piano and put things together, and to interact with people online. Two months into quarantine I made this post saying if anyone needs help with groceries or anything to comment their Cash app or Venmo. I had just received a royalty check from one of my songs that I put out two years ago. I was like I'm not flying, I'm not traveling, I don't really need this money right now. And I know someone else could use it. I sent as many $50's as I could until the bank called me about suspicious activity. The next day, I asked if anyone was feeling suicidal or if people were unable to make AA meetings. The DMs that I got were heartbreaking. So I wrote a song called "Listening to Broken Hearts" about me staying up really late and missing out on sleep because I was so worried that if I didn't respond to every single one of those messages that one of these kids was going to die. Which is an unnecessary weight that I put on myself. 
And then come summer, I was like, I'm gonna put an album out. I decided to pack my things and start traveling to these different cities and towns that were having protests. And while I was doing this, I was still writing music, in my hotel rooms, people's couches, Airbnb's, airports. I also went to jail a number of times. And while I was in jail, I was still writing. Even though I didn't know what I was writing was going to turn into, I knew that it was going to be something…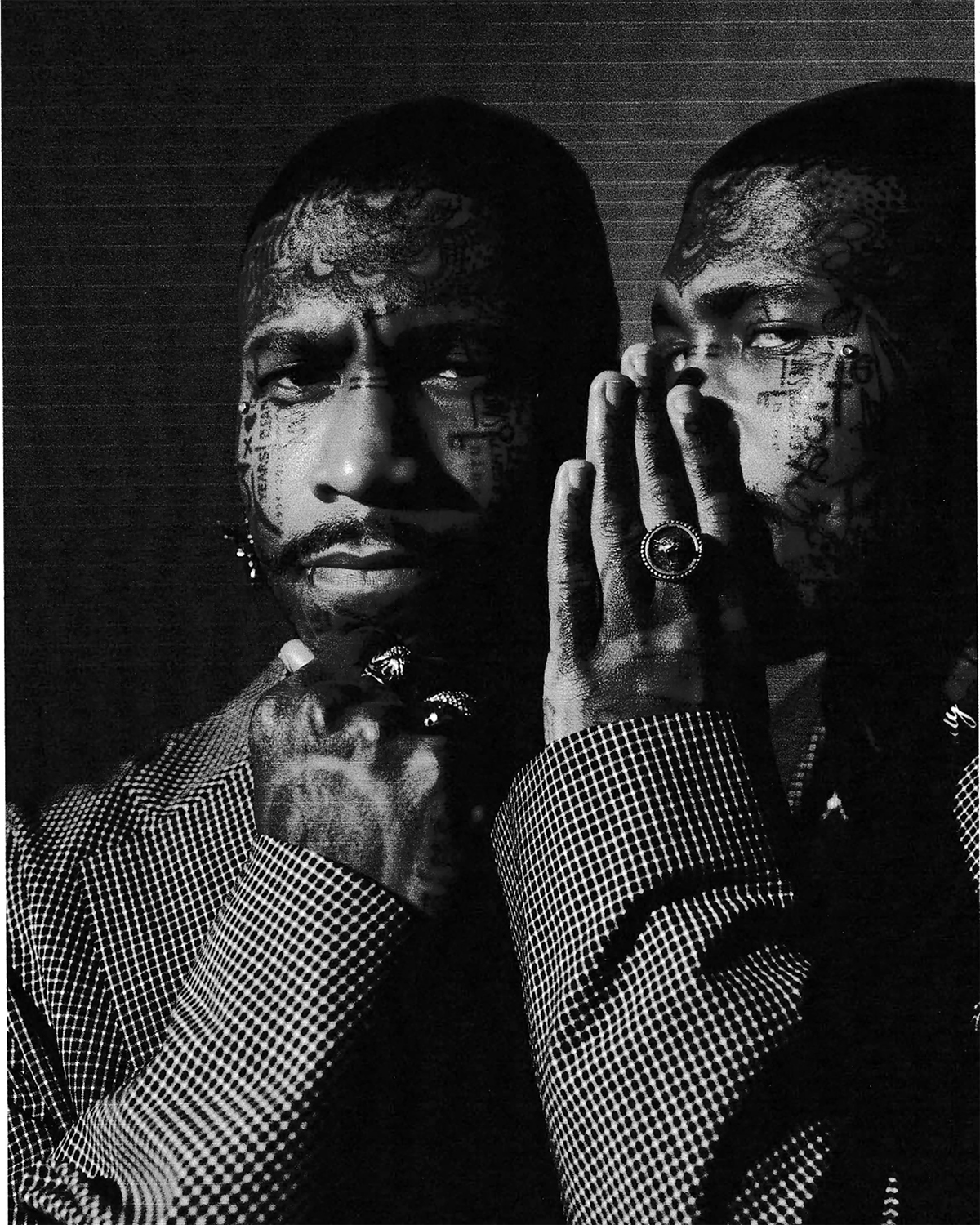 Your album cover… the black eye was very real, yes?
In November I got the shit beaten out of me by the NYPD in Washington Square Park and I was taken to jail. When I was released my eye was fucked up, and I was like, you know what? The album is coming out now. So we took the cover image of me and my black eye, mapped out 13 music videos for the 13 songs I had written, filmed all of them, and put the album out in December. I'm so proud of it—I love it so much. There is absolutely nothing wrong with being proud of what you do, loving your art, and thinking that what you do is cool. My music makes me so happy. Just to know that something went from my mind to my room to your life—there's nothing like it. When it's that deep, it transcends music. It's so much more than a song when something I was writing in a jail cell is now something that you play in the car with your mom because it makes you feel seen. That makes me feel so important, that is enough for me… 
What's your favorite song you put out in 2020?
OOooooohhhh can I do a favorite single and favorite from the album?
YES!
Ok, so my favorite single is "I'm Not Going to Kill Myself Today". I wish people would open the dialogue more about suicide. When I wrote that song, there was an overwhelming feeling of… if I just say this to myself today, I can make it to tomorrow. If you can at least make it through the day, that can show strength beyond what you imagine. 
My favorite song on the record has to be "Melanin 5000". The idea of this song is to celebrate the fact that I have more melanin in my skin than the other person and I'm allowing myself to be transported into this world where I can live freely amongst people who get it, who understand. There's a verse in the song "My pretty black ass and my pretty black clothes // my pretty black nose and my pretty black pose." It's me taking the time to celebrate the fact that I have a beautiful black nose. I'm proud of my beautiful Black self, being in my skin, and being myself. 
Talent-wise, who tops your list? 
There's an artist I just love from the 80s: Alexander O'Neal. And my favorite band of all time is Def Leppard. They just have so many good songs. I love watching live performances from the 70s and 80s, even on YouTube. Just put the music up really loud, turn down the lights—it's almost like I'm there. I love watching the crowd react to the music and the music react to the crowd. I also really love psychedelic music.  
Most recent movie or show that you've indulged in?
Okay, so I just watched the Tina Turner documentary on HBO Max. So good. I've watched it six times now. Also 'Black Power Mixtape' on Amazon. It has footage and interviews from Angela Davis while she was in prison. And it's just… unreal. To see the way that they handled their community and their governor. And we're still in the same government right now. Which is just nuts. 
What's your current call to action you want people to hear?
Protecting trans people means respecting trans people. Protecting someone, and standing in front of them means nothing if you don't call them by their proper pronouns.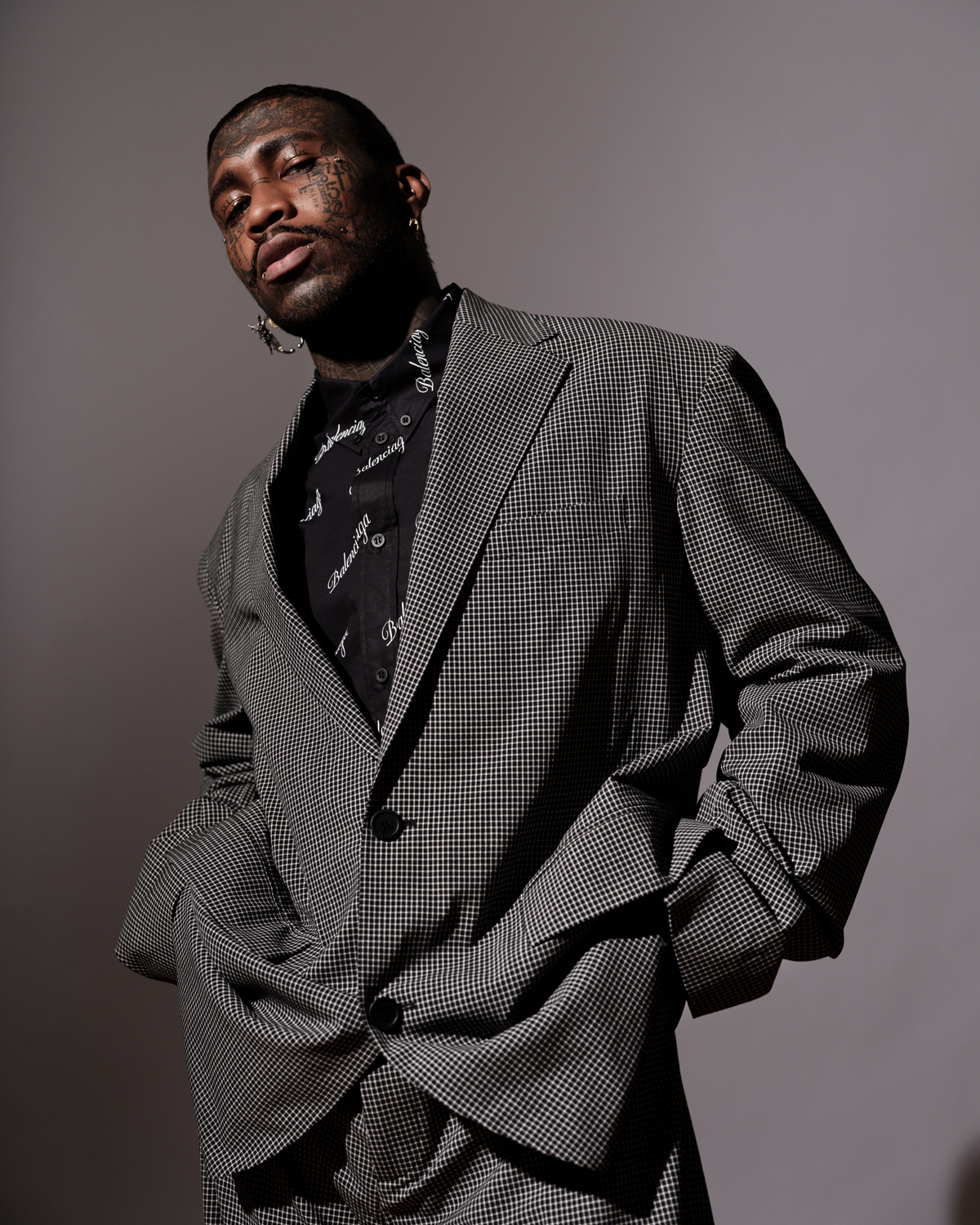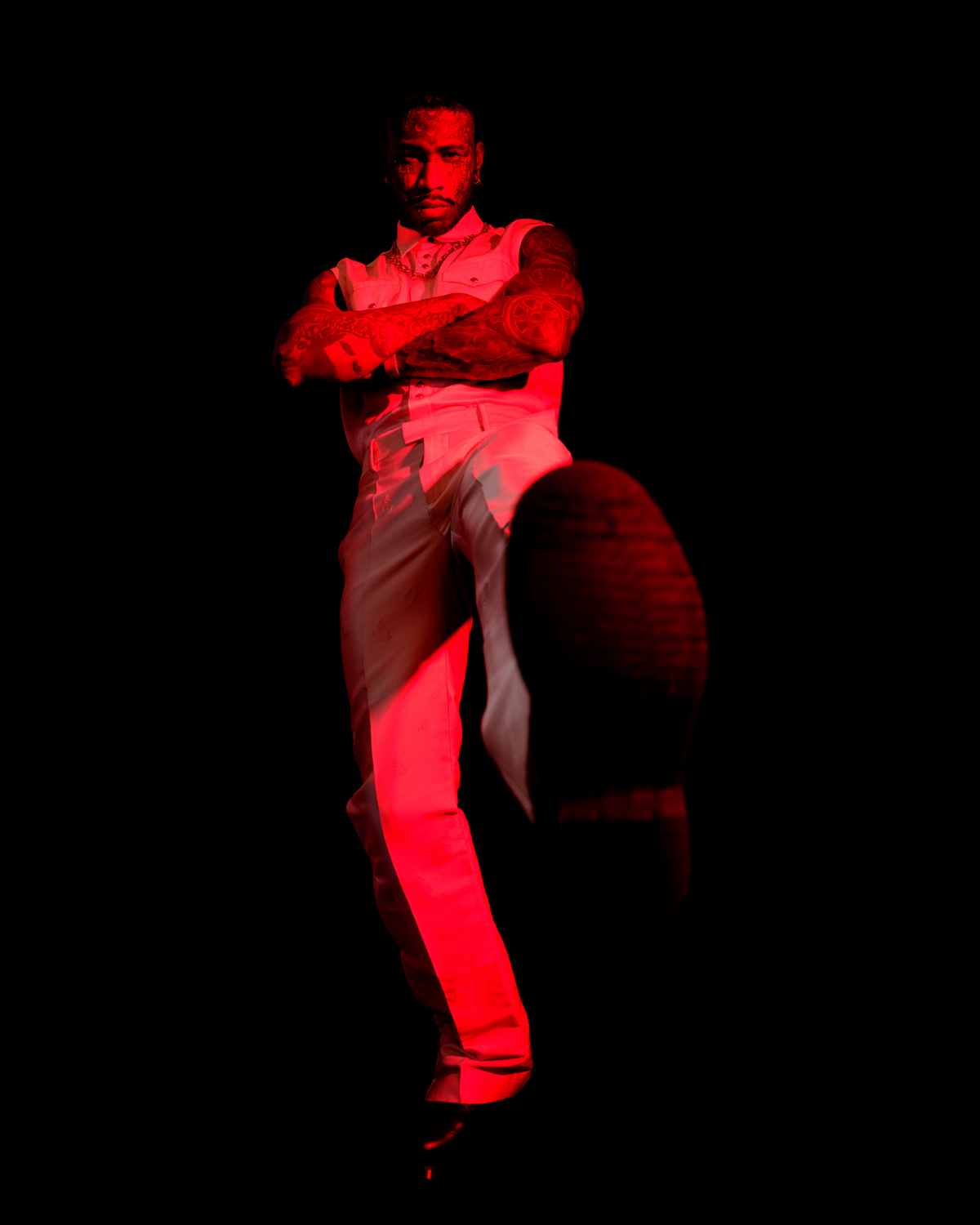 Full Look – Off White Jewelry – Chris Habana & Talent's Own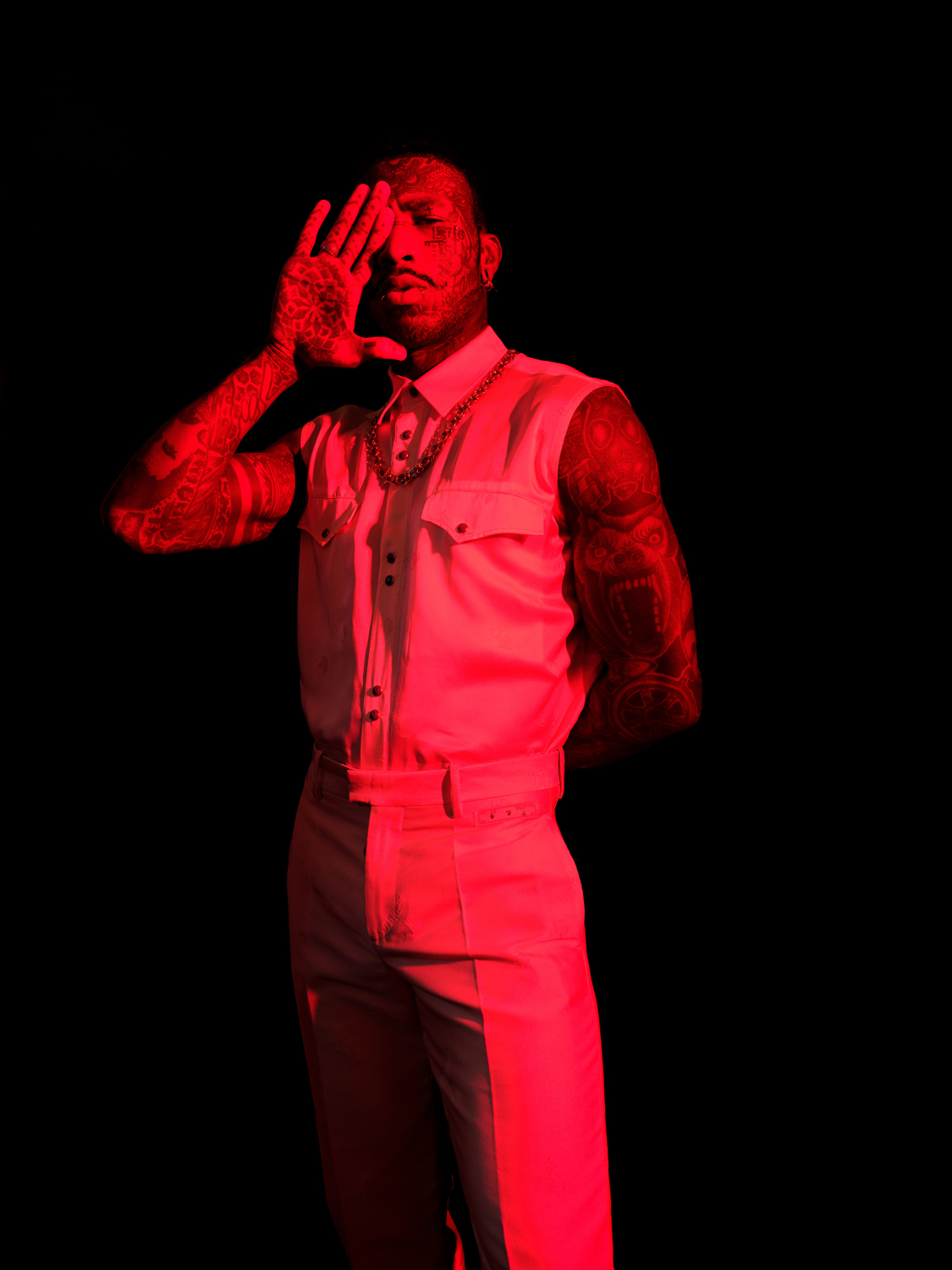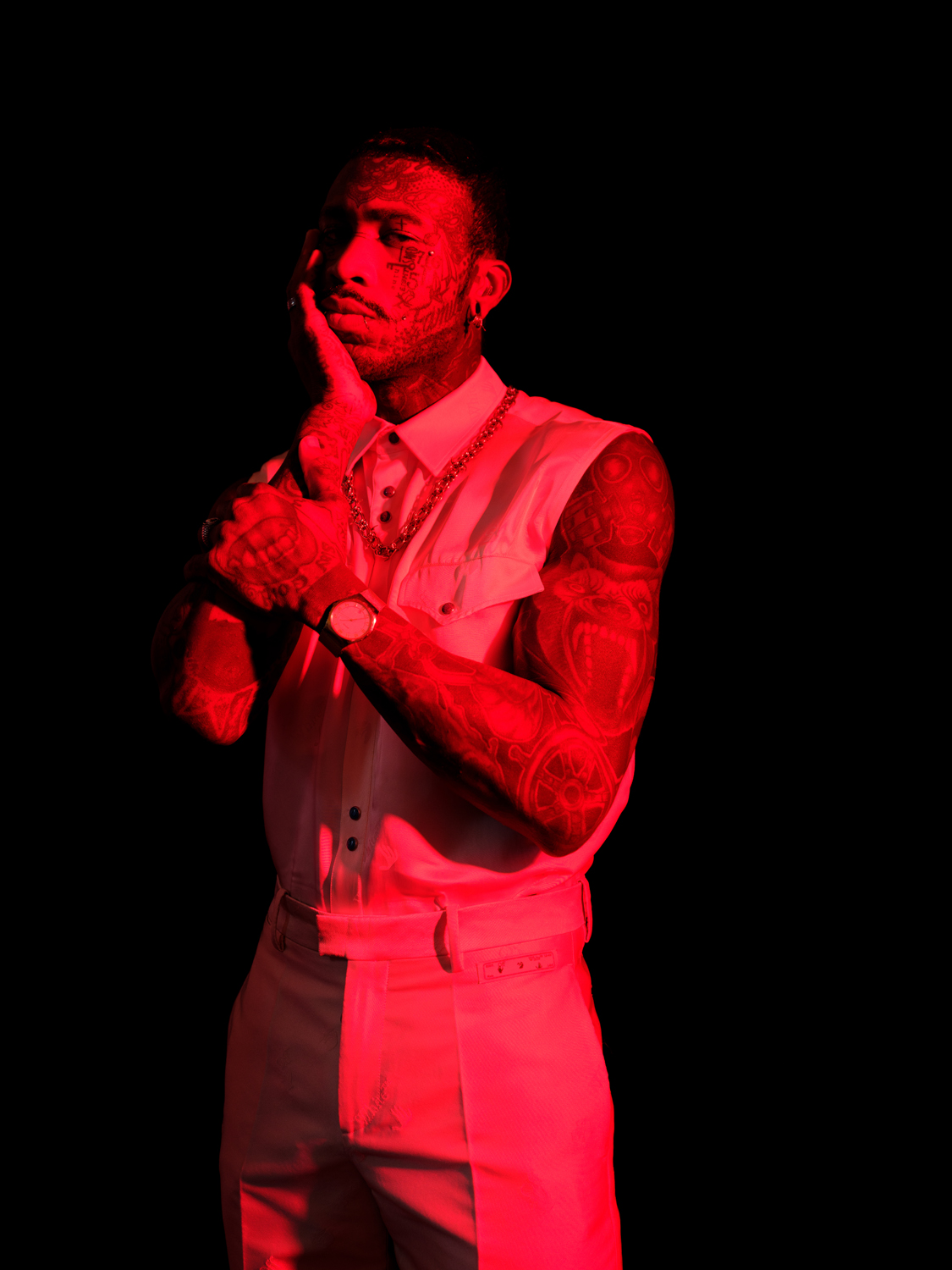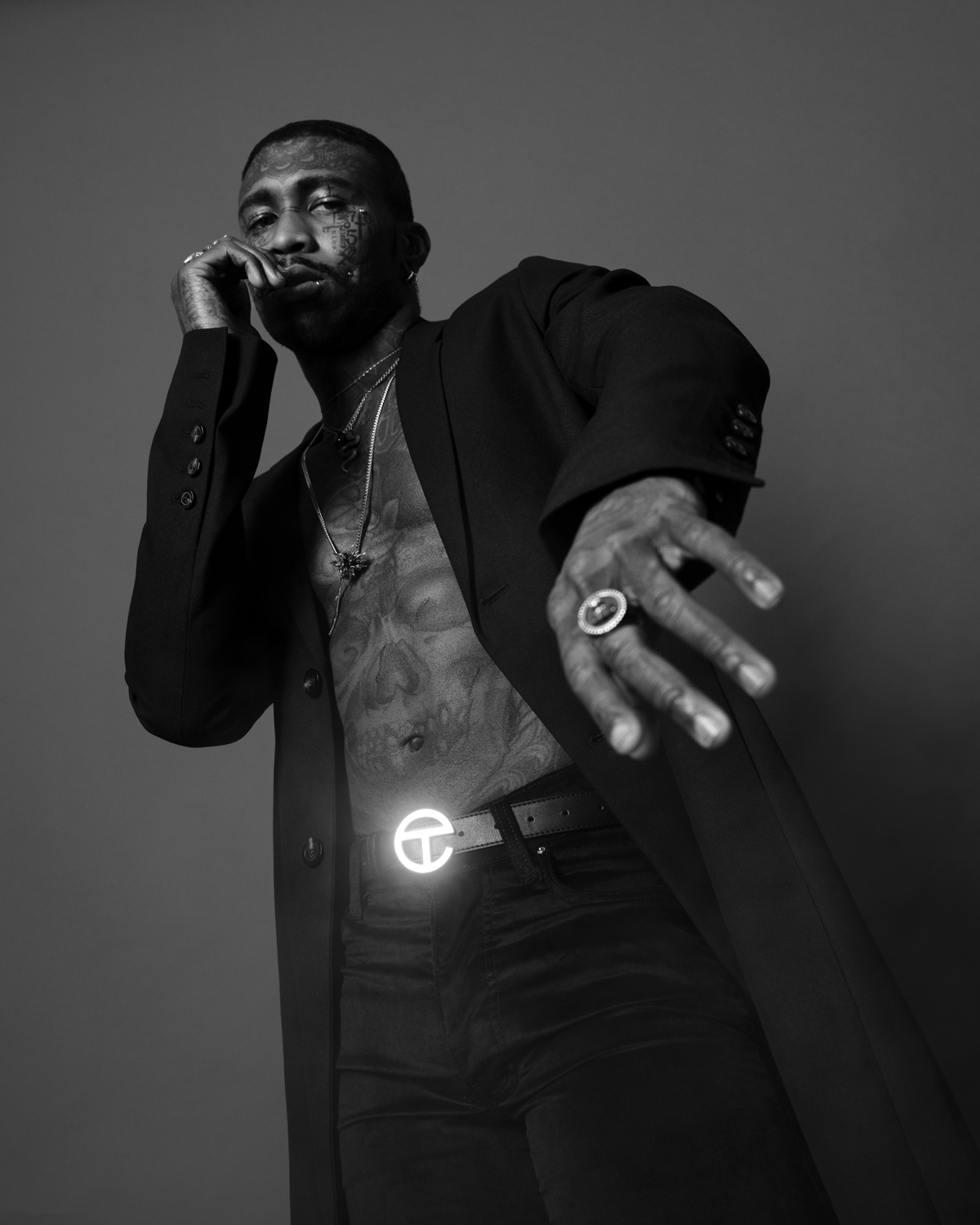 Jacket – Rick Owens Pants – Amiri Boots – Florsheim Belt – Telfar Jewelry – Chris Habana & Bond Hardware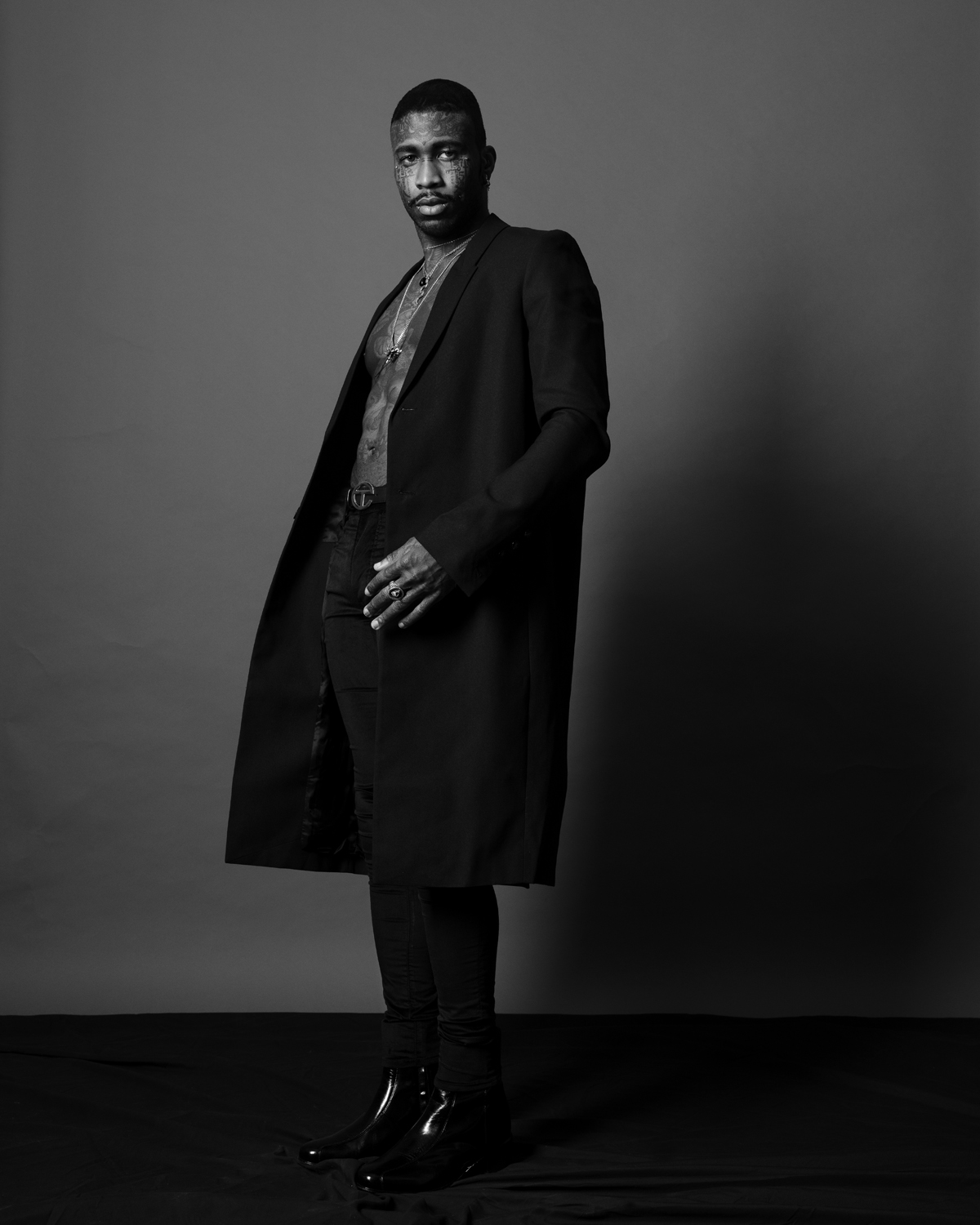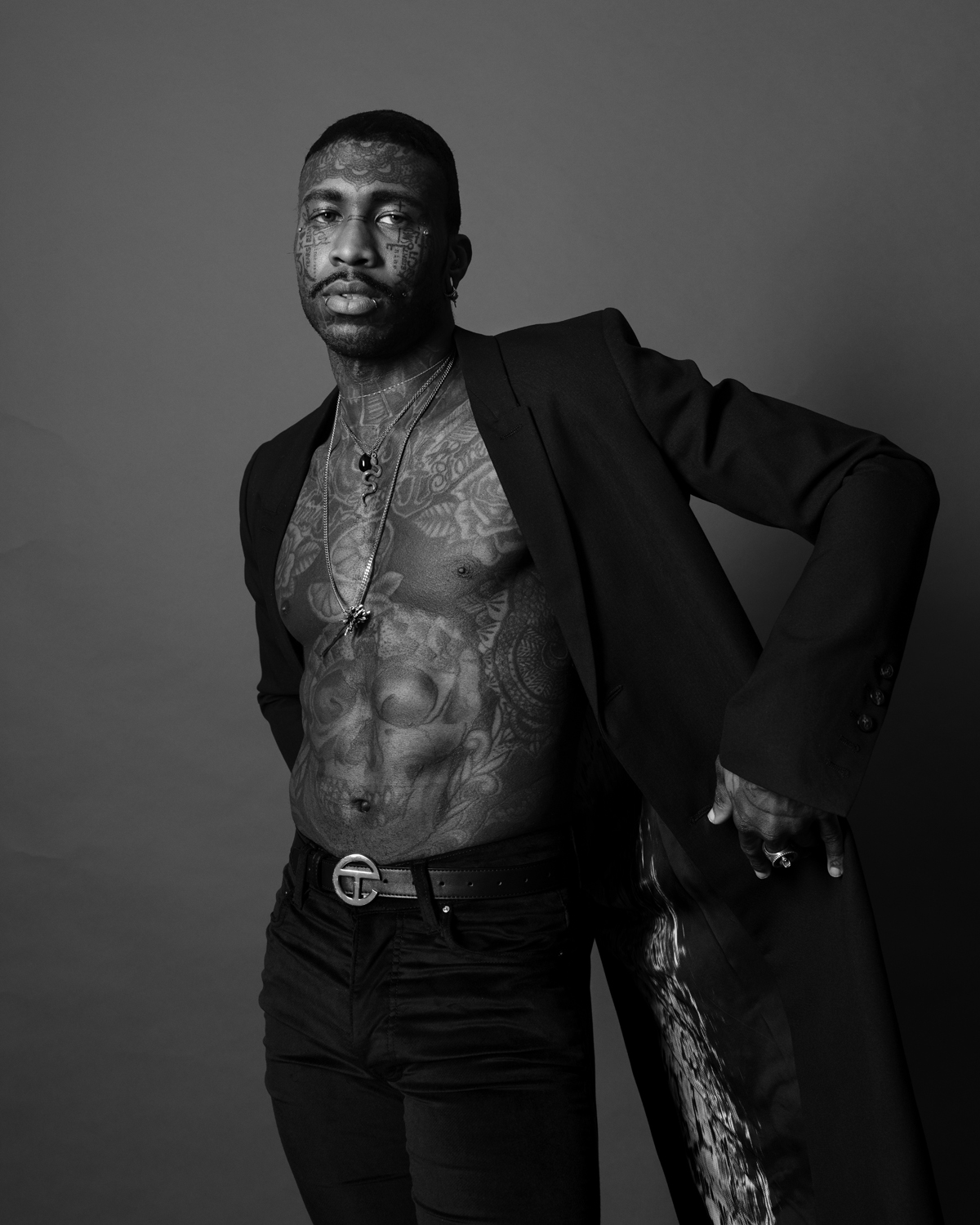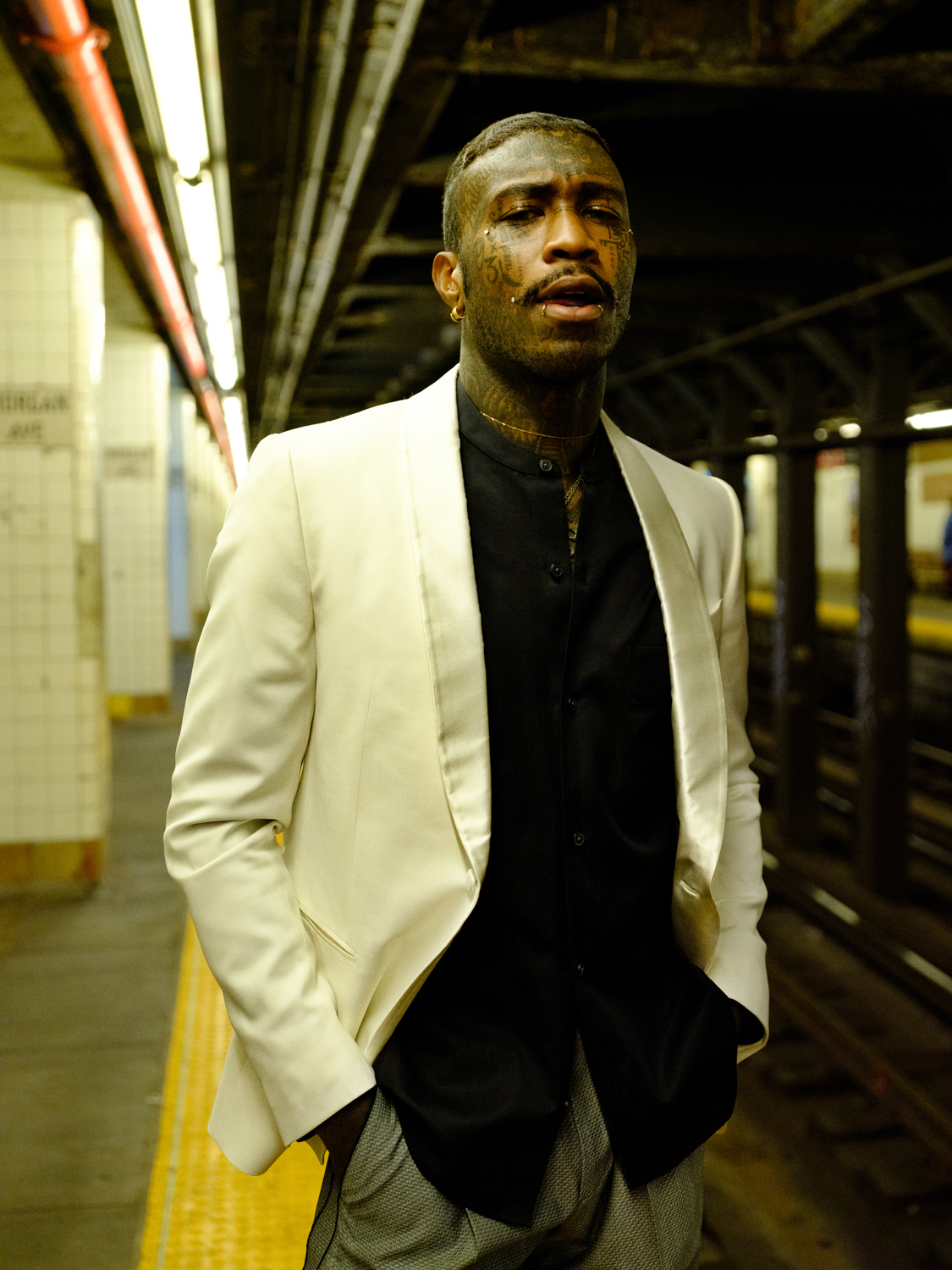 Full Look – Z Zegna Boots – Florsheim Jewelry – Chris Habana, Bond Hardware + Talent's Own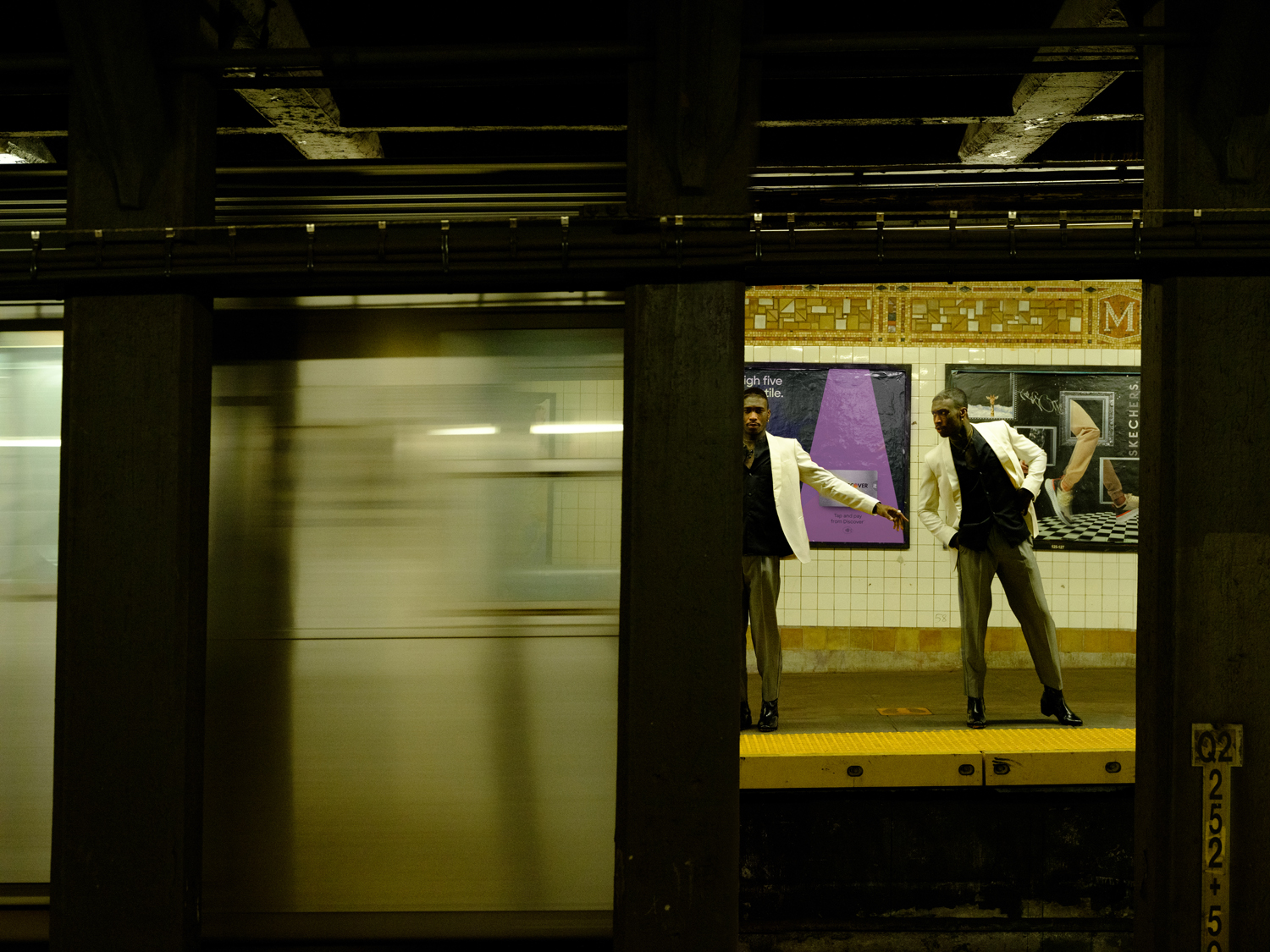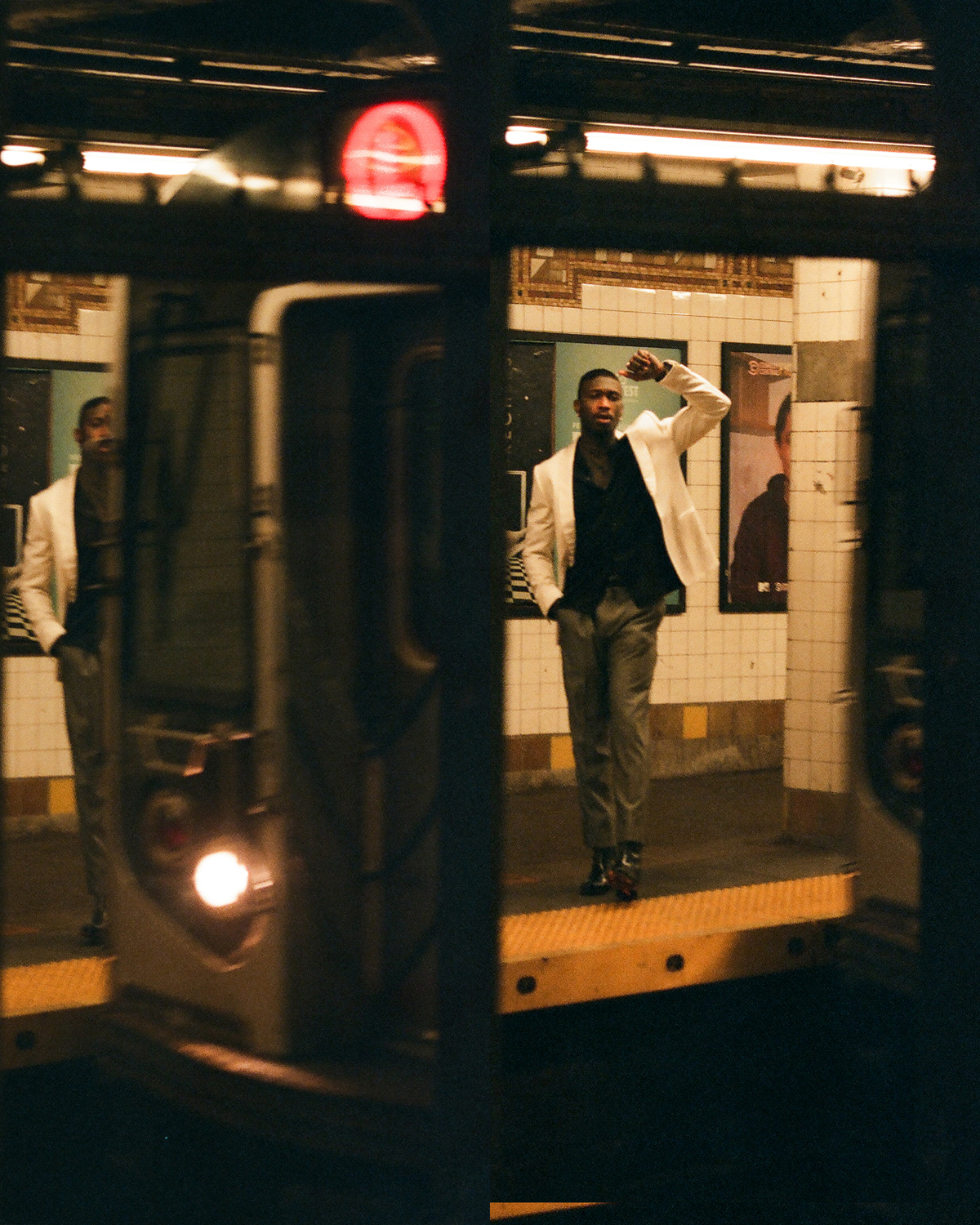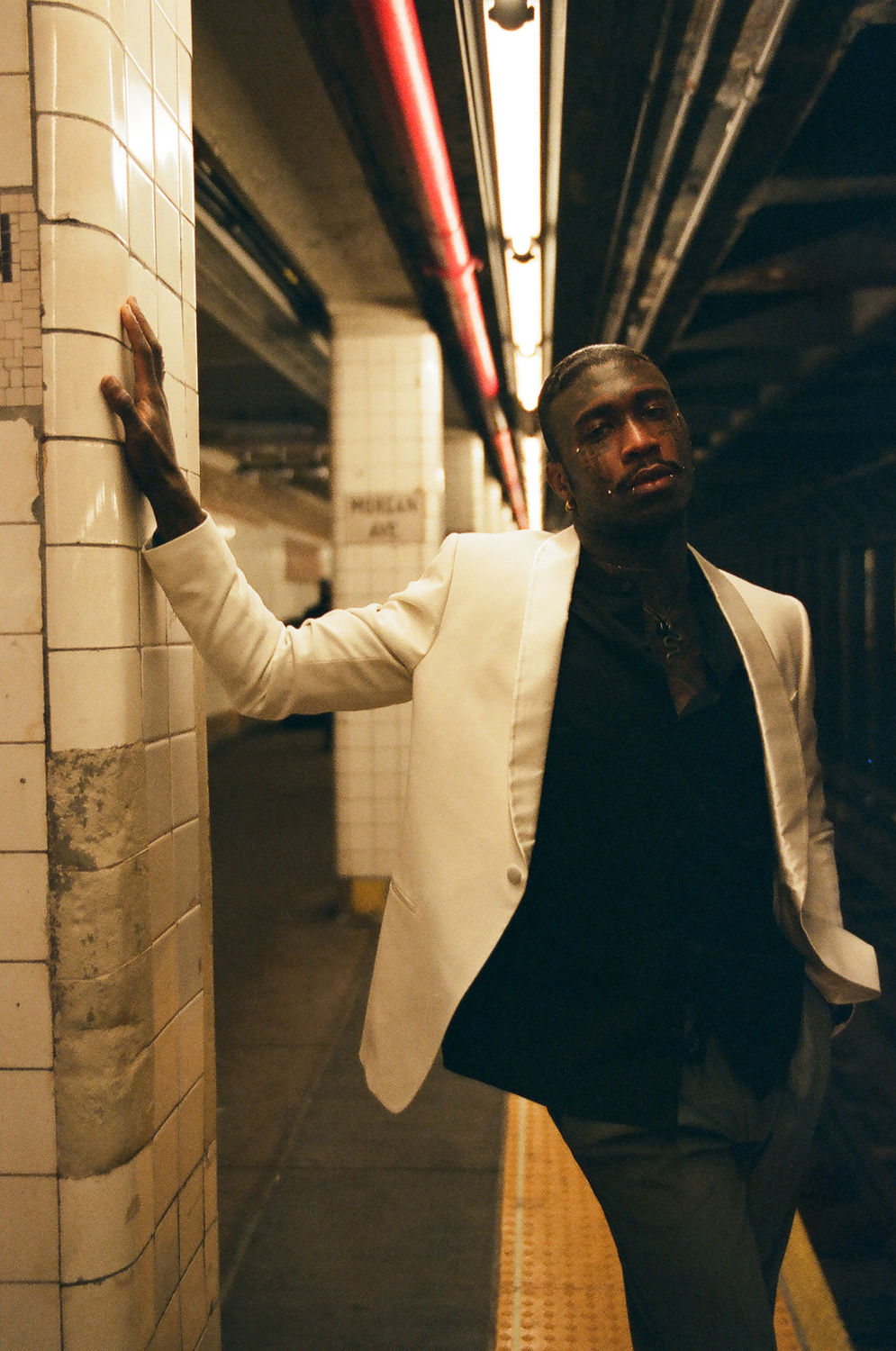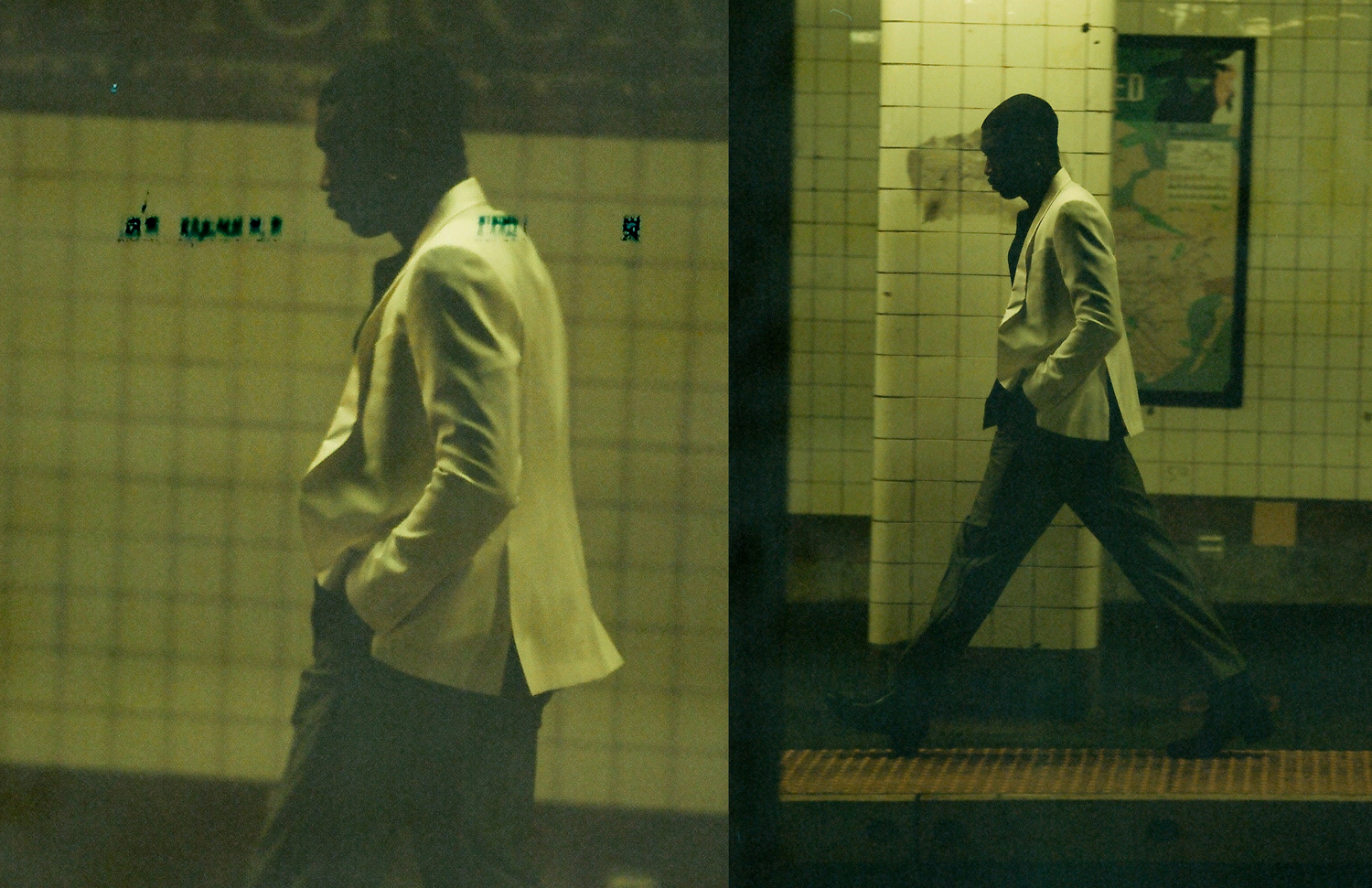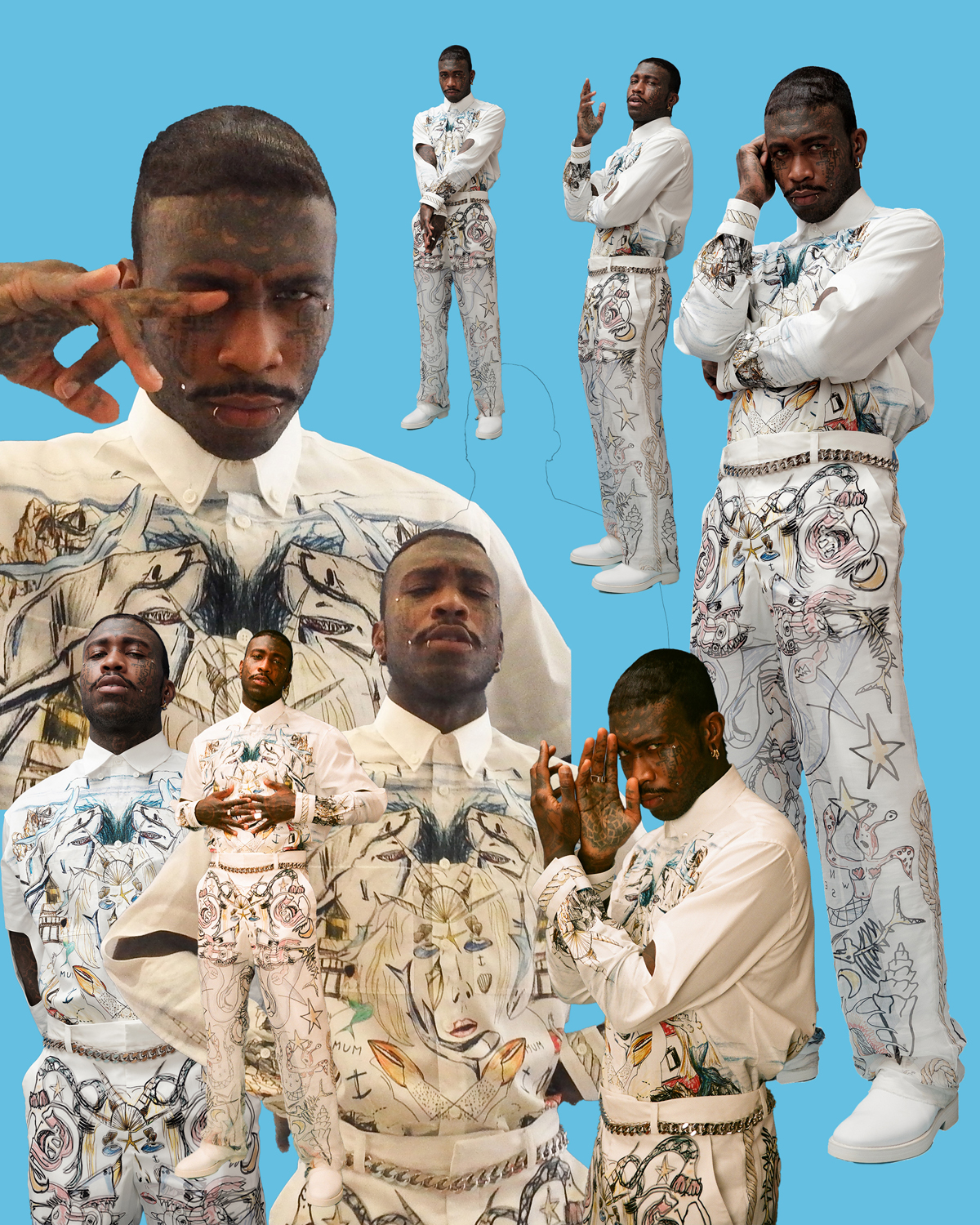 Full Look – Burberry Jewelry – Bond Hardware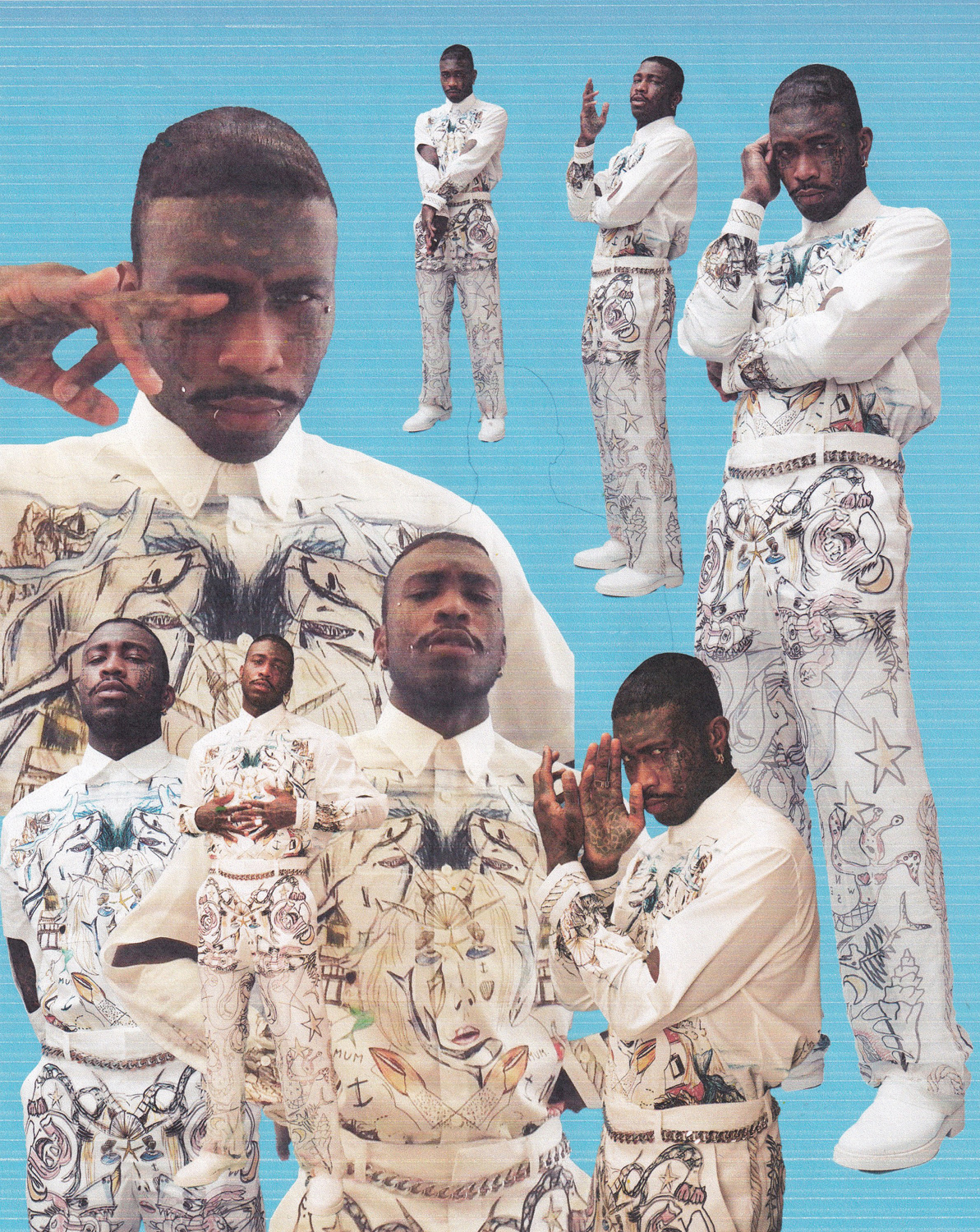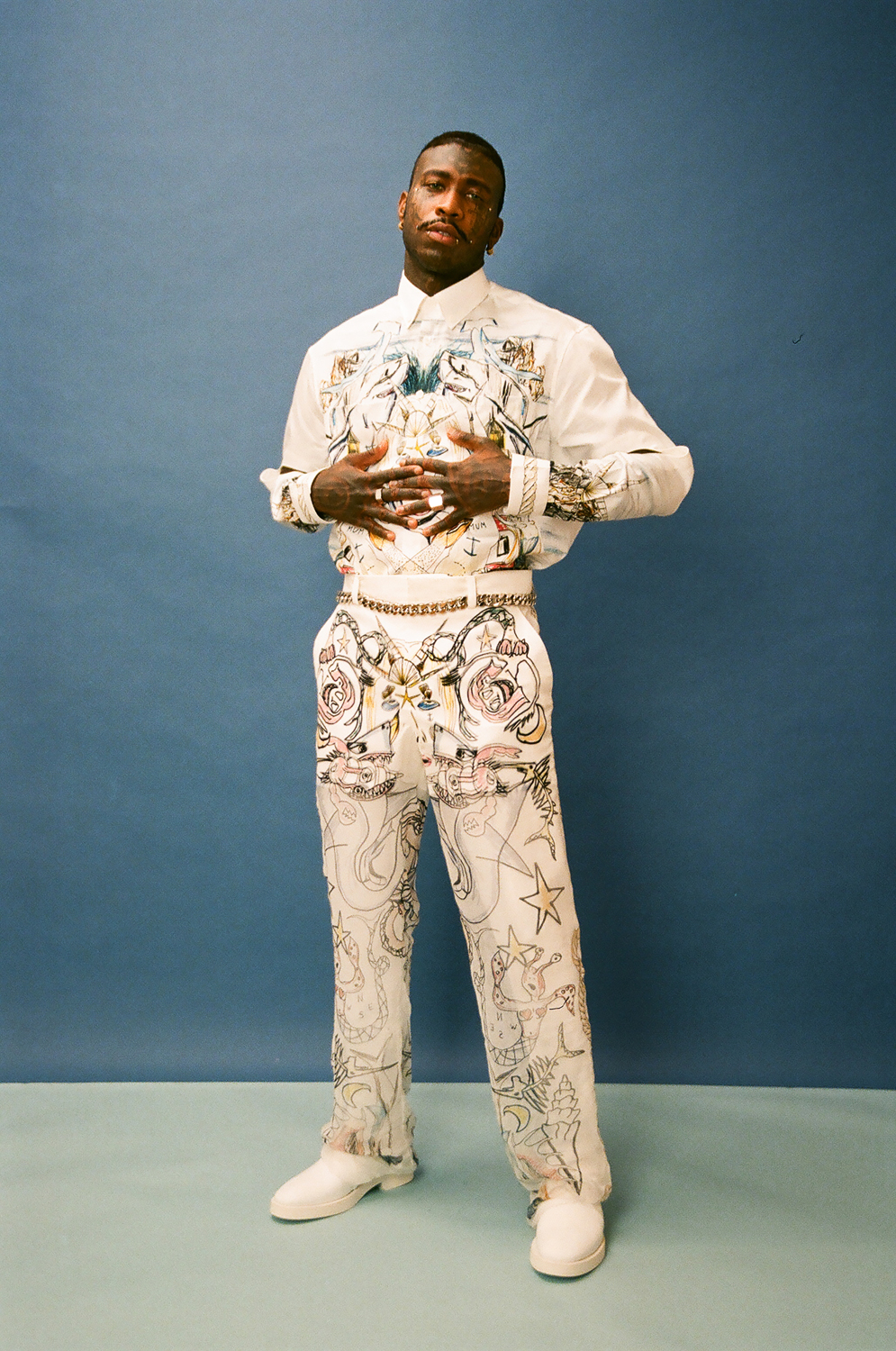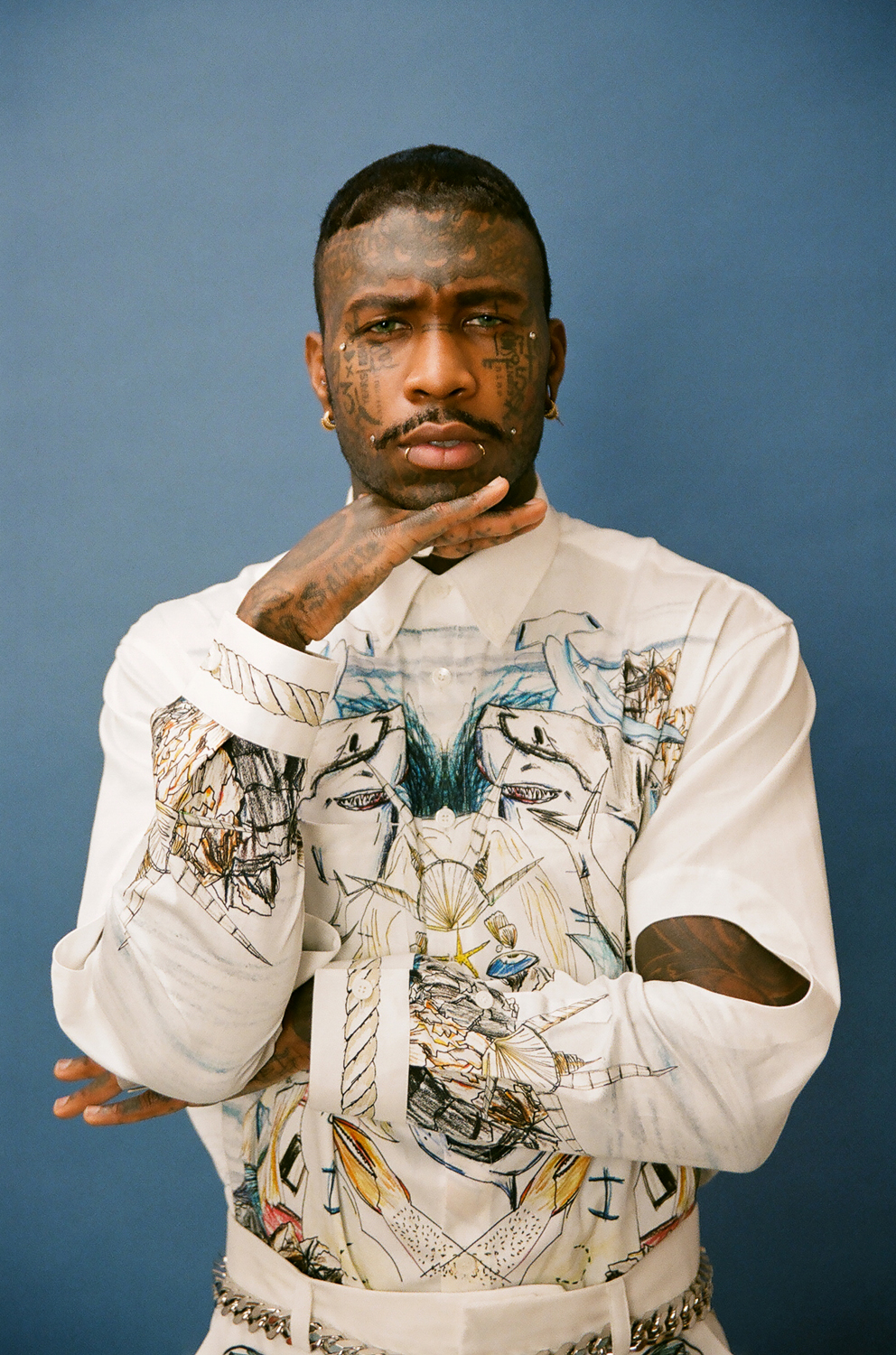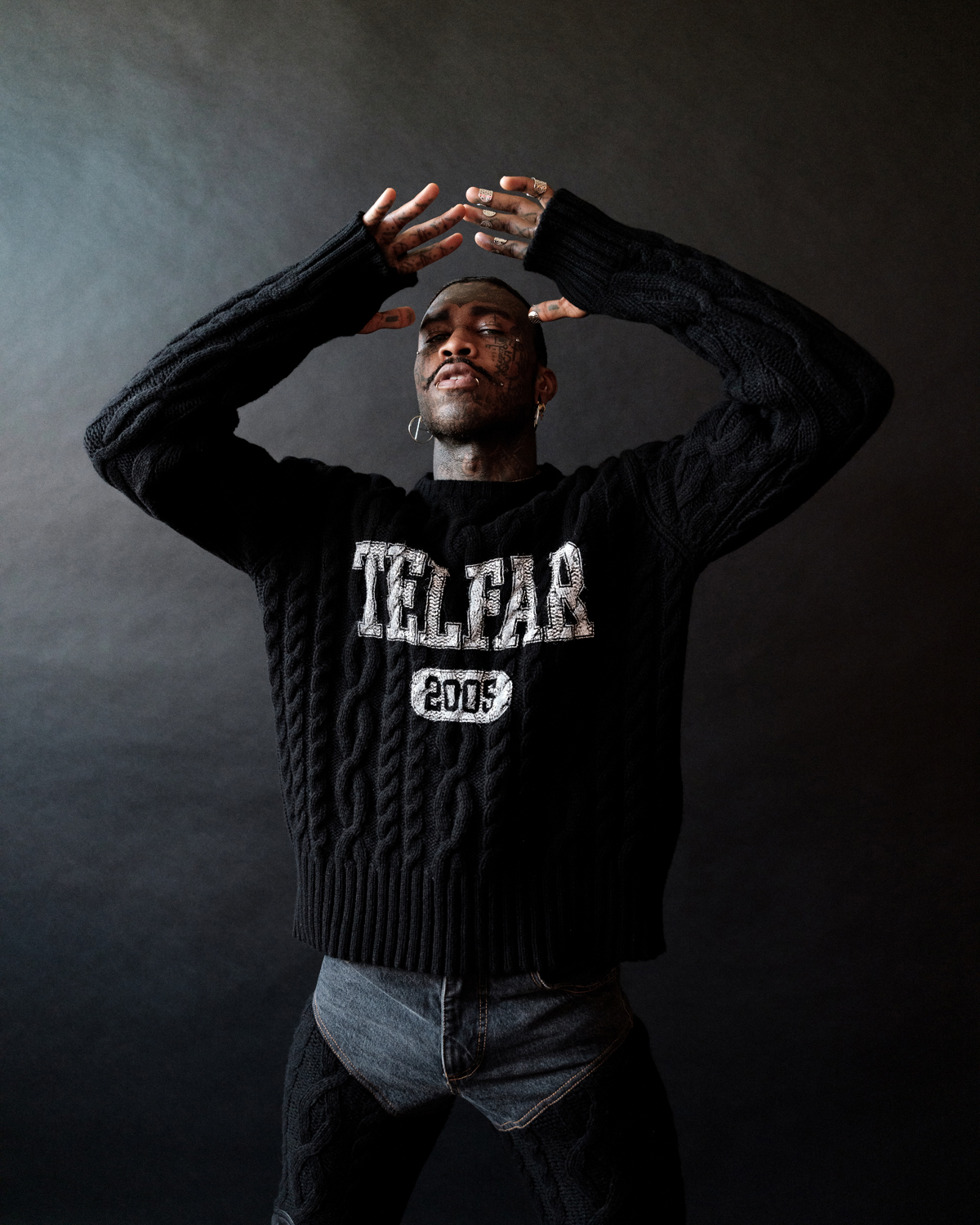 Full Look – Telfar Jewelry – Chris Habana, Bond Hardware + Talent's Own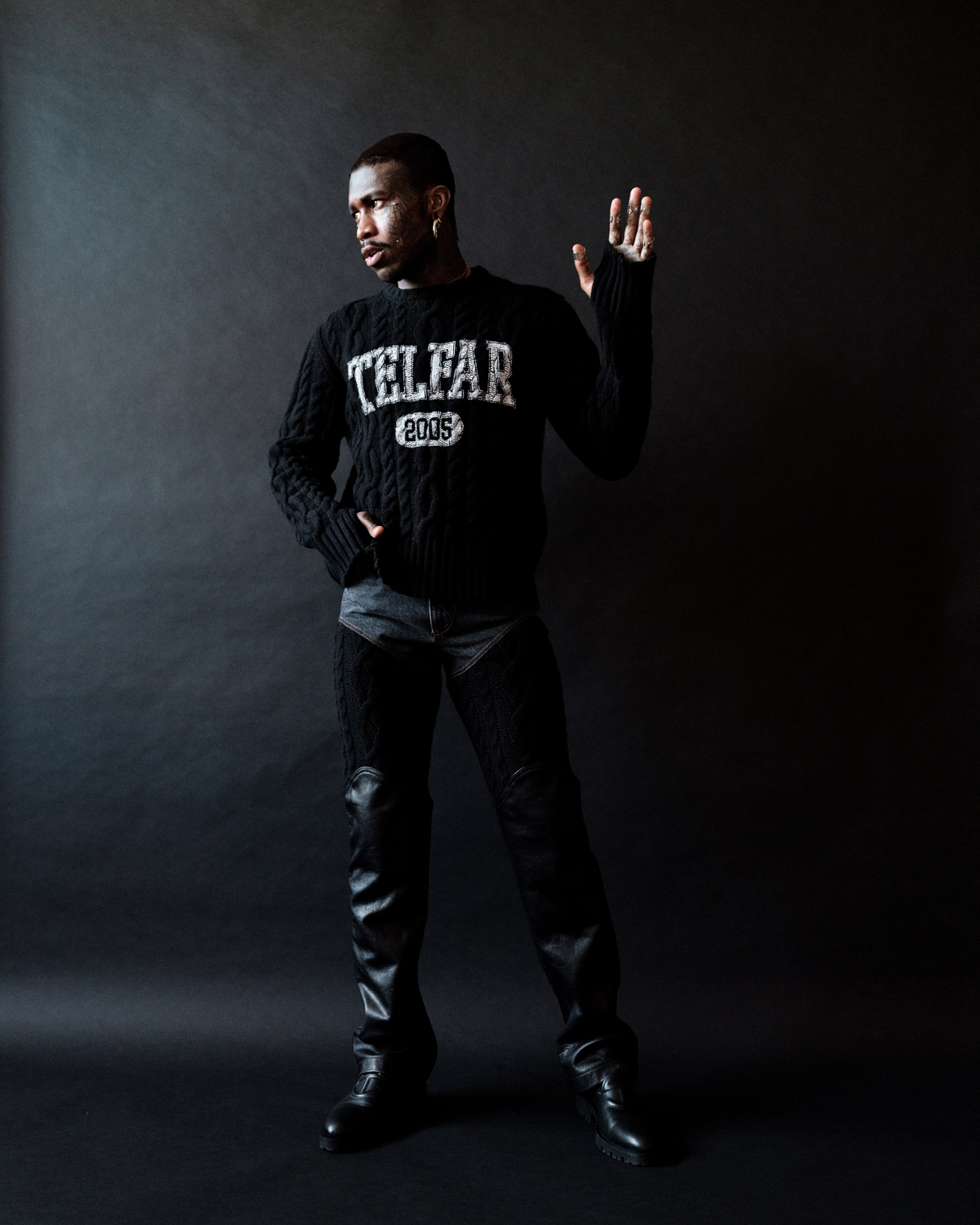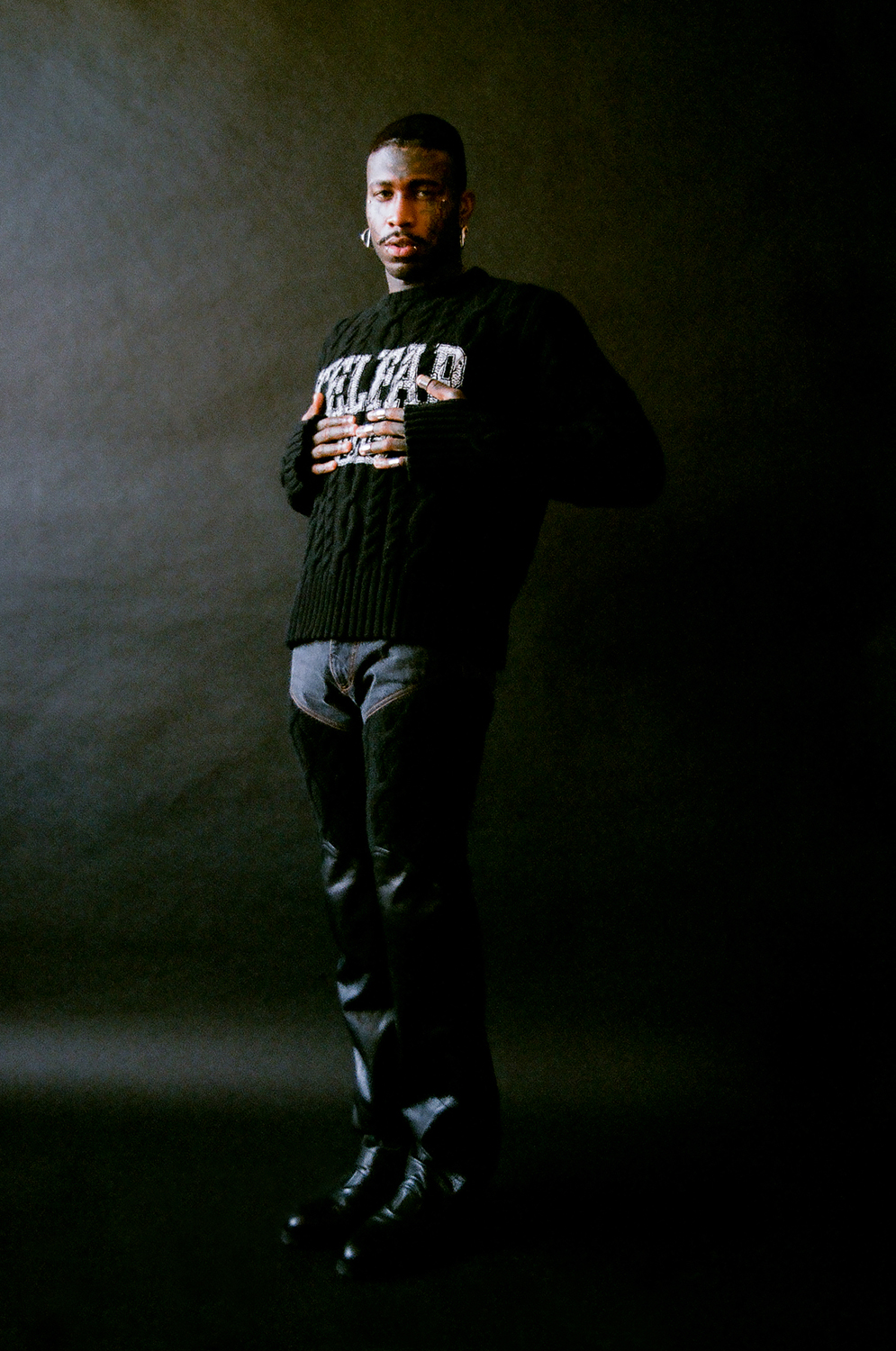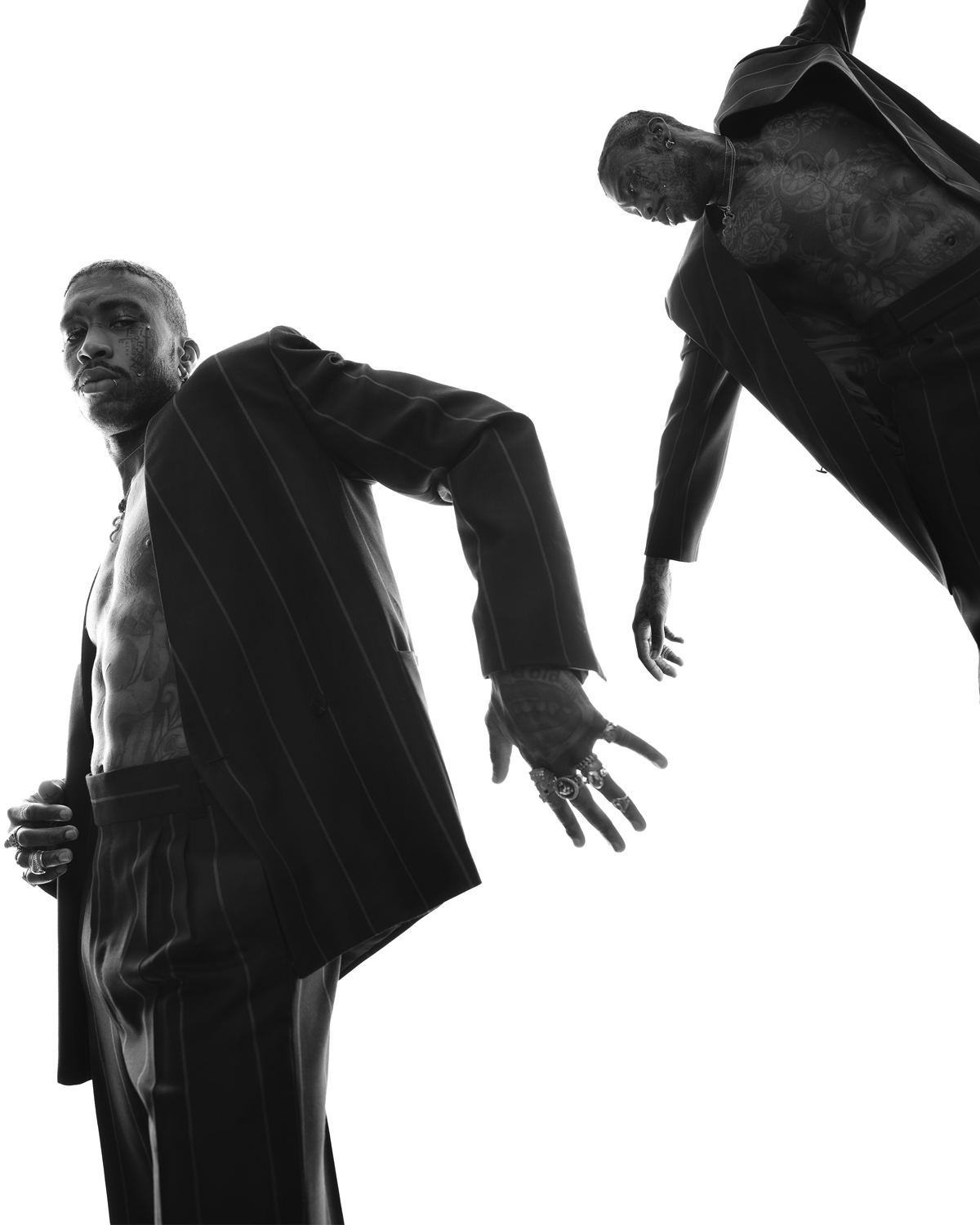 Full Look – Fear of God x Zegna Jewelry – Martine Ali + Talent's Own
CONNECT WITH YVES:
INSTAGRAM // YOUTUBE // SPOTIFY
Photos: Andrew Morales @LifeInReverie
Styling/  Marissa Pelly @Marissa_Pelly
Digital Tech / Dante Corbett @DLCore
Styling Assistant/ Taylor Wood @TWoodStyling