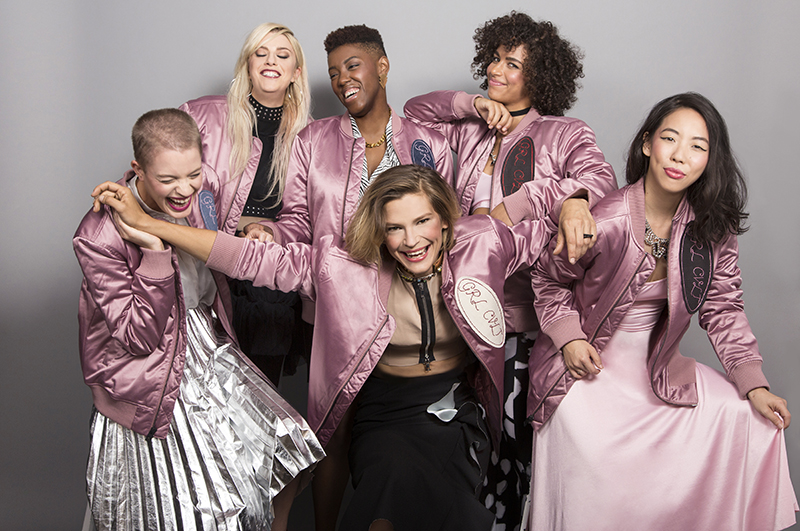 story /  Tiffany Diane Tso
photos /  Jena Cumbo
styling /  Shea Daspin
styling assistant /  Caroline Stinger
makeup /  Laura Mitchell
hair /  Anike Rabiu
featuring / Tara Daniels, Alexz Graves, Ashley Hefnawy
Lane Moore, Tiffany Diane Tso, Remy Holwick
On February 1, 2015, I was inducted into a secret society. Well, to be honest, I wasn't sure what it was when I was added to its private Facebook group. At first, the notifications of strangers posting to the group's feed were no more than additional Internet noise, until one day I decided to read a post or two.
What I found was fascinating.
Here, in this private Facebook group, ladies* warned others about potential sex offenders or Tinder trolls, divulged their deepest struggles, boosted each other's body image through (sometimes nude) selfie chains, discussed current events and their social implications and everything else under the sun. My inner voyeur was instantly stimulated, but even more so the feminist warrior that lives somewhere within me.
Who were these strangers with whom I felt this odd sense of kinship? Scanning through, as diverse as they are — producers, students, designers, writers, business owners, bread bakers, baristas — each member shares one common denominator: the desire to dismantle the patriarchy. Now with a network spanning over 5,000 members across a few different location-based branches, the group has developed beyond the purpose of providing friendship, selfies and relationship advice. They have become a force for social change.
Most notably, GRLCVLT joined the cause launched by Stanford law professor Michele Dauber in an effort to recall Judge Aaron Persky, the lax Santa Clara County Superior Court judge who sentenced rapist Brock Turner to a lenient six months in county jail. GRLCVLT organized a series of events, blatantly titled FUCK RAPE CULTURE, activating the community and its allies to join the campaign by writing letters, raising funds and raising awareness through extensive press coverage.
I watched this story unfold via the press along with the rest of the nation. At the same time, I read reactions of horror amongst my peers in the group. Some shared their own encounters with rape and sexual assault, feeling deeply and personally affected by this trial. I watched the group spring quickly into action as soon Turner's punishment was doled. I watched photographer and model Remy Holwick, the GRLCVLT admin responsible for forming the New York branch, send out a bat signal to the group. Then, I watched as members of the community jumped in to contribute in any way possible, from donating a venue to promising press coverage from the outlets they contribute to.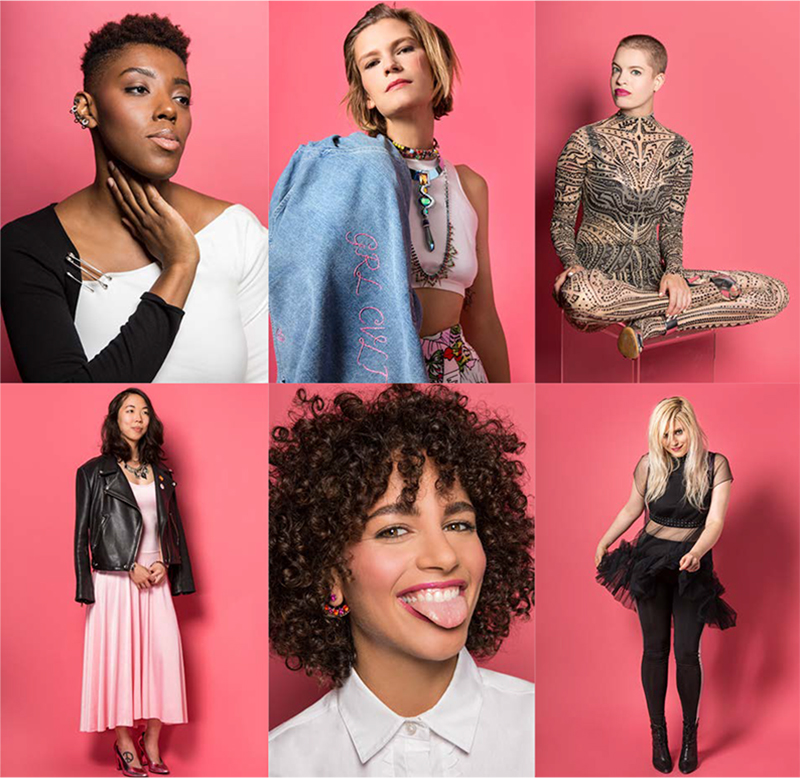 featuring from left /

 

Tara Daniels, Remy Holwick, Alexz Graves, Tiffany Tso, Ashley Hefnawy,

 

Lane Moore. On Tara: dress, IiJin. earrings,

 

Joanna Laura Constantine. On Remy: Personalized denim jacket, RAGING BUSH. skirt, Mary Katranzou. Choker, bracelets and necklaces, Joomi Lim. rainbow chrome necklace, Swarovski. On Alex: bodysuit, Tadashi Shoji. Shoes, Isabel Marant Etoile. On Tiffany: leather jacket, The Reformation. Crystal necklace, Joomi Lim. dress, Screaming Mimi's. Heels, Alexis Gamblin. On Ashley: earrings, Joomi Lim. top, Kaelen. On Lane: black dress, Kelsey Randall. Leggings, Norma Kamali. Crop top, Topshop. Hoop earrings, R.J. Graziano. Booties, Marskinryyppy. on remy: Skirt, Kaelen. Shoes, Remi's Own. top, Marna Ro.silver choker with gems,

 

Joomi Lim. gold choker, Vita Fede.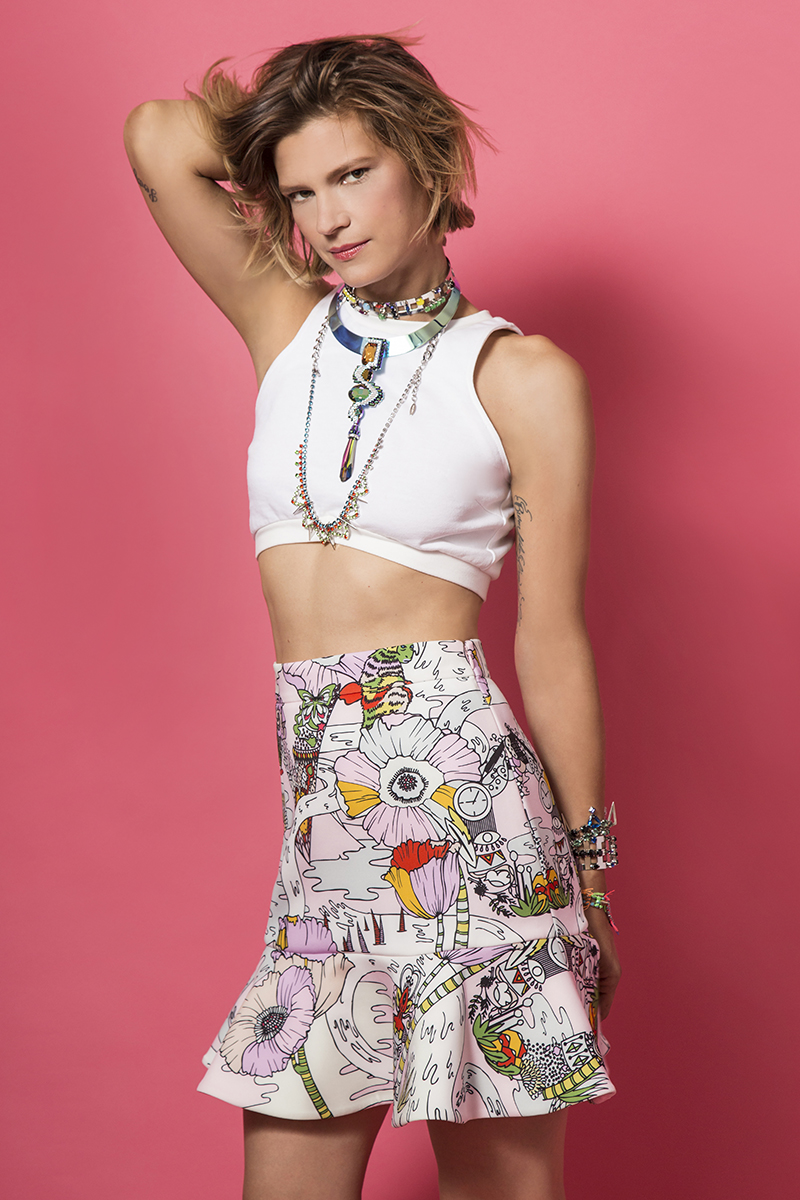 The battle against rape culture rages on, and GRLCVLT doesn't seem to be easing up on their efforts. This is not the only social change the group seeks. From police brutality to LGBTQ rights, the organization operates on the core philosophies of intersectional feminism and progress. "GRLCVLT is body positive, career positive, in support of self-identified gender pronouns, and sex positive," reads an official statement.
Originally founded in Los Angeles by Annaliese Nielsen, the secret group is meant to act as a safe space, at least for those who can agree to the group's fundamental purposes. Members offer "TW" (trigger warnings) when talking about touchier subjects, which can span from relationship issues to sexual assault. Specialized splinter groups have spun off with even more niche purposes: for women of color, women in business, and so on.
"Online communities are not new to me," says Ashley Hefnawy, a 25-year-old freelance copywriter and journalist who joined at the beginning of 2015. "I've been all about them since I was young: MySpace, LiveJournal, even Neopets." The difference between this community and those others, besides its private nature, is the closeness and commonality its members are able to find within it.
Rules against slut-shaming, body-shaming and use of derogatory or racist terms exist in order to protect the space. The fact that patriarchy exists and that marginalized groups deserve a voice are also general understandings shared members of the community. When asked how the group has impacted her, 27-year-old producer Alexz Graves says, "I think understanding what intersectionality means and what it involves has been my biggest growth."
"It's made me a better feminist and a better person," Holwick says of the group. "It's made me more patient and less lonely."
Almost every member of the group would echo similar sentiments. "There are so many good-hearted people in the world who want to make it safer and better for every person on this earth, and I feel so fortunate every time I meet one of them," shares Lane Moore, a comedian and writer who fronts the band It Was Romance. "It's like meeting a kindred spirit, but instead of one person, it's 2,000."
Admin Tara Daniels, a 29-year-old program coordinator at an arts education nonprofit, was inducted to the group more recently (January 2016). "For me, it's not only connected me to a lot of new people," Daniels explains, "but reconnected me to parts of myself I neglected over the years.
"I have been able to be more of a confident me, because I have a space where I can be truthful about me as a whole."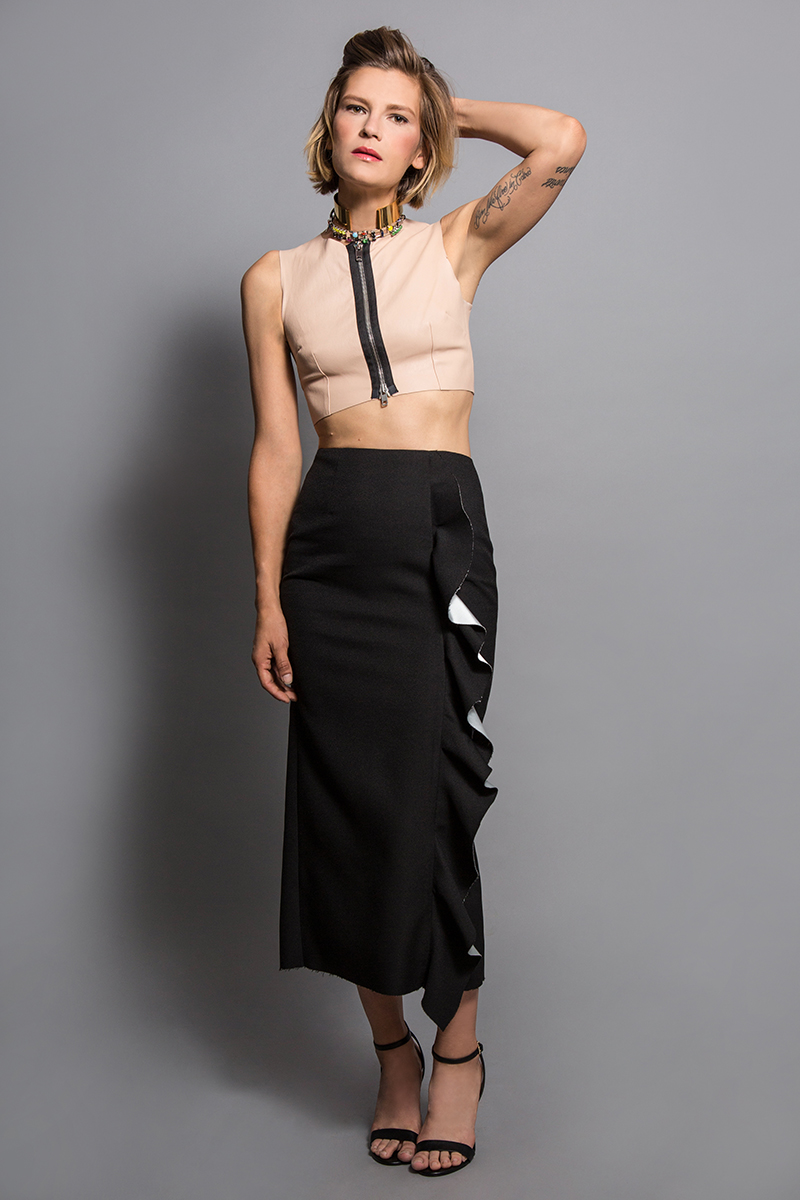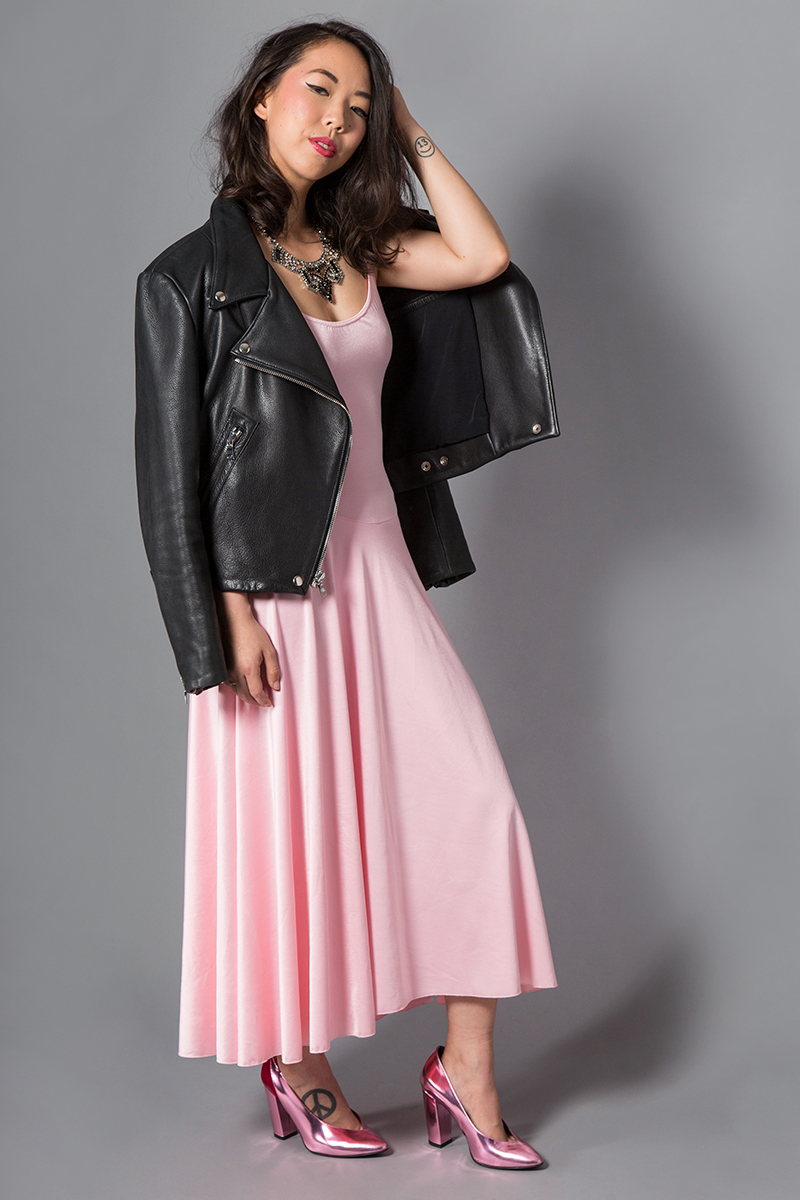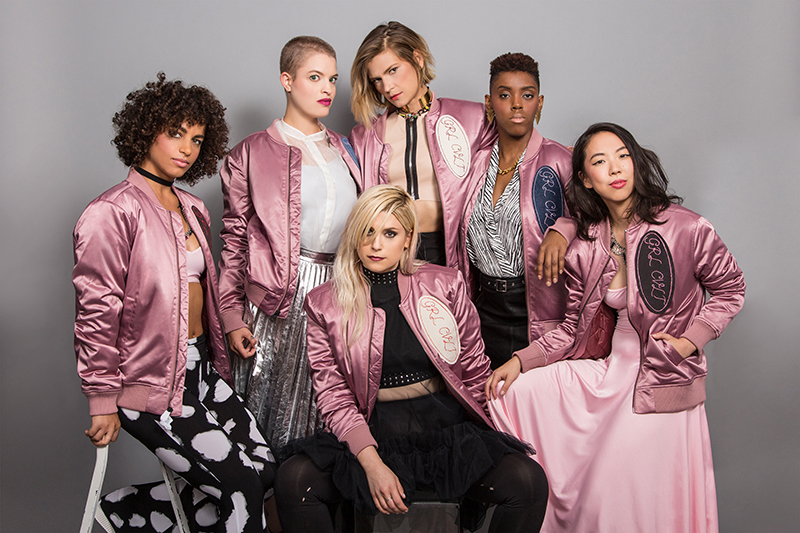 All jackets and customized "GRL CVLT" patches, RAGING BUSH.

 

On Alexz: top, Noon by Noor.

 

skirt, Zara. necklace, Joanna Laura Constantine. On Lane:

 

black dress, Kelsey Randall. Leggings, Norma Kamali. Crop top, Topshop. Hoop earrings, R.J.Graziano. Booties, Marskinryyppy. On Tara: skirt, Topshop. vest & bodysuit, Tara's Own. shoes, TBD.

 

necklace, Vita Fede. On Ashley: black choker, Ashley's Own. crystal necklace, Joomi Lim. crop top,

 

Under Armour. Pants, Norma Kamali: shoes,

 

IiJin.On Tiffany: Crystal necklace, Joomi Lim. dress, Screaming Mimi's. Heels, Alexis Gamblin.
*It is important to note that not all GRLCVLT members identify as female.