photos / Jena Cumbo

   
styling / Jessette

   
makeup / Shannon Rodriguez 
hair / Laura Mitchell

   
props / Rosemary Gonzalez
When mainstream feminism in the age of Trump didn't represent them, the Asian American Feminist Collective decided to build their own movement. "In the groundswell of feminist resistance that launched the Women's March in 2017, we yet again saw the exclusion and tokenization of women of color," their manifesto reads. "It became imperative to revive Asian American feminism and activism to ensure political resistance also adequately represented the needs of Asian American women, girls, and gender non-binary people." Rather than demand inclusion into mainstream feminism, the collective's leaders, Julie Ae Kim, Rachel Kuo, Senti Sojwal and Tiffany Diane Tso, wanted to create a platform that spoke to their own politics and various intersecting identities — so that's exactly what they did.
Coming from different professional fields — government, academia, non-profit and journalism, respectively — they each bring their own strengths and expertise into their advocacy work. LADYGUNN was able to sit them down for a roundtable discussion on why Asian American feminism is needed in this present moment.
What was the driving force behind the Asian American Feminist Collective?
JAK: After the election, there was a feeling of unrest and fear on what would happen — to us, to women, to queer/trans people, to immigrants. I was part of a working group that formed after the election consisting of mainly Asian Americans that wanted to focus on racial and gender justice. However, the conversations turned into realizations that there was a lack of space and inclusion of Asian American feminists, not just in society at large but even within our own communities.
The collective formed to make sure there was a space where Asian American voices could explicitly inform feminist politics. Asian Americans voices are not generally included in the landscape of feminist activism that is currently happening. But we are here, with our own lived experiences, raising our voices for a more just world.
How did you guys meet?
TDT: All of us worked in various capacities on the original "Asian American Feminism" event series in 2017 that sprung from these conversations that Julie mentioned, with other Asian scholars, activists and artists. I worked on one of the earlier events in the series, "Asian American Feminist Organizing in New York City," which was where I met Julie and Senti. I met Rachel during the planning process of "Asian American Feminism x Politics," where we invited elected officials to speak on the ways their identities as Asian women shape their politics.
Why did you guys feel this collective was needed?
RK: I think it's important to have spaces to navigate both the shifting meanings of feminist politics from Asian American perspectives — how that enables us to think and act critically in relation to people in our communities to pursue a vision of collective liberation. We create events and resources geared at community building and political education using different media and a variety of discussion-based formats to bring together different frameworks and perspectives oriented towards movement building and intersectional feminist analysis.
TDT: Being born and raised in suburban Texas, it took me an embarrassingly long time to find my radical Asian feminist community. I always had Asian friends, and I even took some Asian American Studies courses in college, but I didn't realize that there was something so evidently missing from my life and my understanding of my own identity until I began volunteering for these events. I wasn't alone in this — pretty much every event sold out quickly; there was clearly a need for more of these spaces and conversations in our community. Because of the demand, forming this collective came super organically.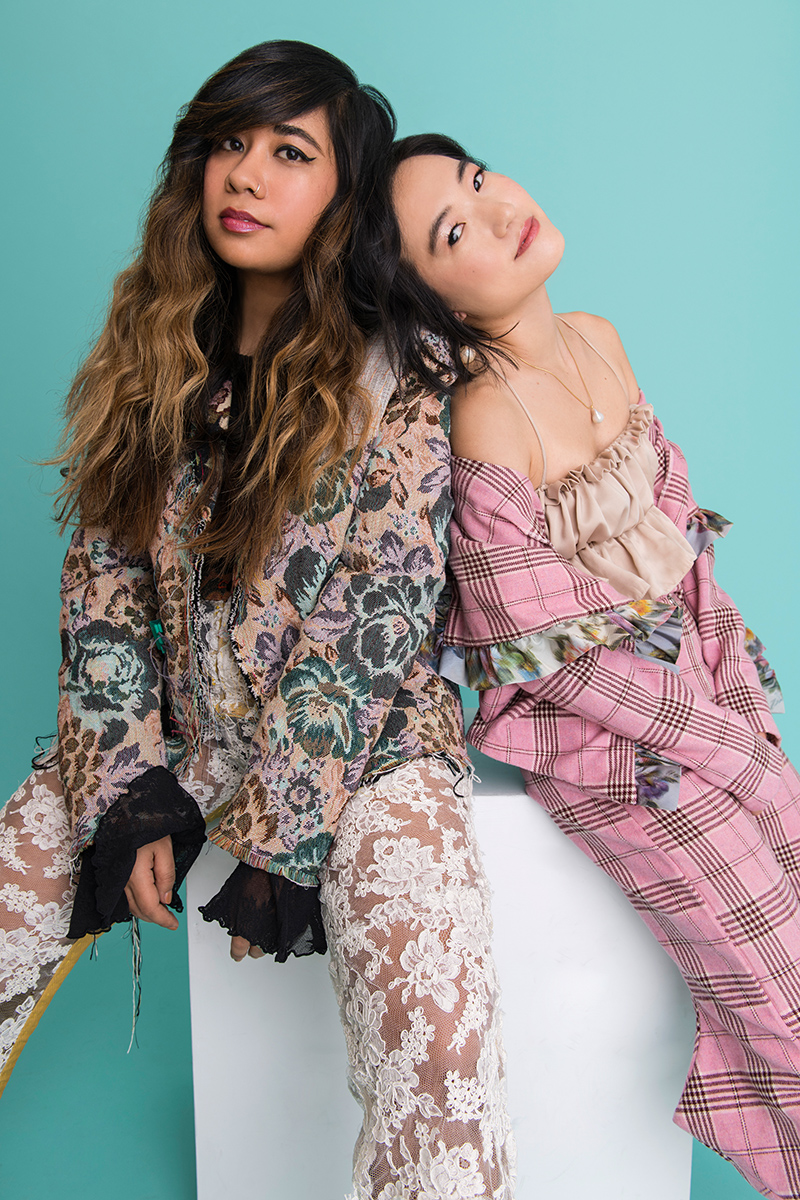 What voice do you feel like you are offering to the Asian American feminist experience?
SS: It also took a long time for me to find my experiences represented in feminist discourse and history. Digital media has hugely impacted my experiences navigating feminist and social justice spaces and finding communities that speak to my values. I think our role is to bring our whole selves to our work and our participation in cultural conversations and movements dedicated to gender justice and liberation. We bring with us a desire to decolonize feminist spaces, decenter whiteness, amplify the needs of our communities, illustrate the multiplicity of our experiences and utilize that for political mobilization, and be the voices we needed when we were younger.
What are your bigger missions and goals?
JAK: Our vision is to utilize feminist politics to build solidarities among women, marginalized genders, across borders, class, race, manufactured boundaries. Building our resistance and community here, in NYC, in the US but connecting that to larger movements abroad is important to us. In addition, politicizing our immediate Asian American community through workshops and community events is an important goal for us.   
What is the most jarring thing in our current media's depiction of Asian American feminism?
SS: The problem is that there isn't one, at least not in mainstream media. Something that continually troubles me is the lack of racial, ethnic, and religious diversity in cultural conversations about Asian Americans; the general idea is that this is a monolithic community. Surprise — we are brown, Muslim, multi-racial, East, South, and Southeast Asian, and our experiences contain multitudes.
Sure, I love Ali Wong, Mindy Kaling, and Awkwafina, but I wish for greater, more varied representation of our communities that actually reflect our multifaceted identities. I do also want to say, though, that representation is by no means always analogous to activism and the concepts are often conflated. I see opening up a conversation about the vast diversity of Asian American feminism and identity, as well as building a pan-Asian movement that simultaneously recognizes our differences and builds towards solidarity, as a central component of our work within both media and our activism.
RK: I think often the existence or creation of feminist spaces outside of mainstream feminism (read: predominantly white and middle class, liberal women's empowerment lean-in politics) is seen as divisive or not conducive to building power. These spaces are necessary for people to build more intimately with each other, grow together, and imagine alternate possibilities.
Generally, there's always the misperception that feminism is "anti-men." In our current digital media landscape, there's also a huge issue with the backlash against Asian women and femmes doing radical political work by some "men's rights" Asian men. Instead of divesting from whiteness, from toxic systems of sexism and misogyny, they bully and intimidate women, femmes, TGNC folks in online spaces. Overall, I'm often stunned by the tactics used by some to access whiteness or hold onto power in the name of self-interest.


RACHEL: Earrings, Oscar de la Renta. Choker, Dior. Jacket, Ex Mermaid. Dress and Shoes, Sara Teator. JULIE:. Earrings, Haarstick Jewelry. Necklace, Wendy Faye Jewelry. Top, Onarin. Pant, Ex MermaiD. Shoes, Nina Flanders TIFFANY: Top & bottom, Onarin. Collar with Black Pearls, Ayaka Nishi. Shoes, Talent's OwnSENTI: Carrot Earrings, Woll Jewelry. Bee Ring, Dior Blazer and Pant, Jeremy Wood. Black Lace Top and Shoes, Talent's Own
How have you reclaimed your voices?
SS: We never lost them. Throughout history, Asians and Asian American activists have been speaking out, fighting for justice, and doing the work to liberate their communities. Structural oppression and systems of white supremacy dictate whose voice is heard, how, and when. I don't think we are so much reclaiming our voices as doing away with trying to force our inclusion into mechanisms that were never made for us to thrive in. We want to do the work on our own terms, for our own futures, for our own movements.
Who are some heroes that you guys look up to?
TDT: As a journalist, I can't help but look up to Helen Zia, a Chinese-American activist and journalist whose writing following the murder of Vincent Chin helped galvanize the once-disjointed Asian American community to demand justice. Read her book, Asian American Dreams, if you want to learn a little bit about our history in this country.
SS: I love Indo-Canadian trans artist and writer Vivek Shraya, whose latest book, I'm Afraid of Men, is a beautifully complex rumination on gender, power, and dismantling toxic masculinity. Electro artist Madame Gandhi uses her platform to talk about intersectional feminism in ways that inspire me. Queer, disabled femme poet and writer Leah Lakshmi Piepzna-Samarasinha kills me every time — check out her books Bodymap and Dirty River.
JAK: The Unbound Feet Collective established in 1981 was a queer, feminist Asian-American literary and performance collective that tackled topics around gender, identity, and feminism. Nellie Wong, Kitty Tsui, and Merle Woo who were a part of this collective are some of the people that inspire me and the work that the collective does today.
What do you say to marginalized groups who want to have a voice? Where do you start?
TDT: If nobody will make space for you, create your own spaces. Understandably, there are issues of access and resources when it comes to "creating spaces," but finding and building community can be as simple as holding meetings in homes, having potluck dinners and sharing grievances and triumphs. Once you find your people within your own community, there's no doubt that there are others out there, across the country or globe, like you. Find those people, too! Build your chorus, and your voices can no longer be drowned out.
What message would you like to say to the world?
SS: The world is ours — and with tenderness, heart, dedication, and spirit we can create the future and our liberation in our own vision. Also, fuck Donald Trump.
TDT: If your feminism excludes gender-nonconforming and trans folks, people of color, immigrants, sex workers, disabled, poor and/or incarcerated people, it's not feminism. Also, fuck Bill Maher!
JAK: Being in this world is not easy, especially when structures and systems are not made with us in mind. But we are still here, in solidarity with feminists all over the globe.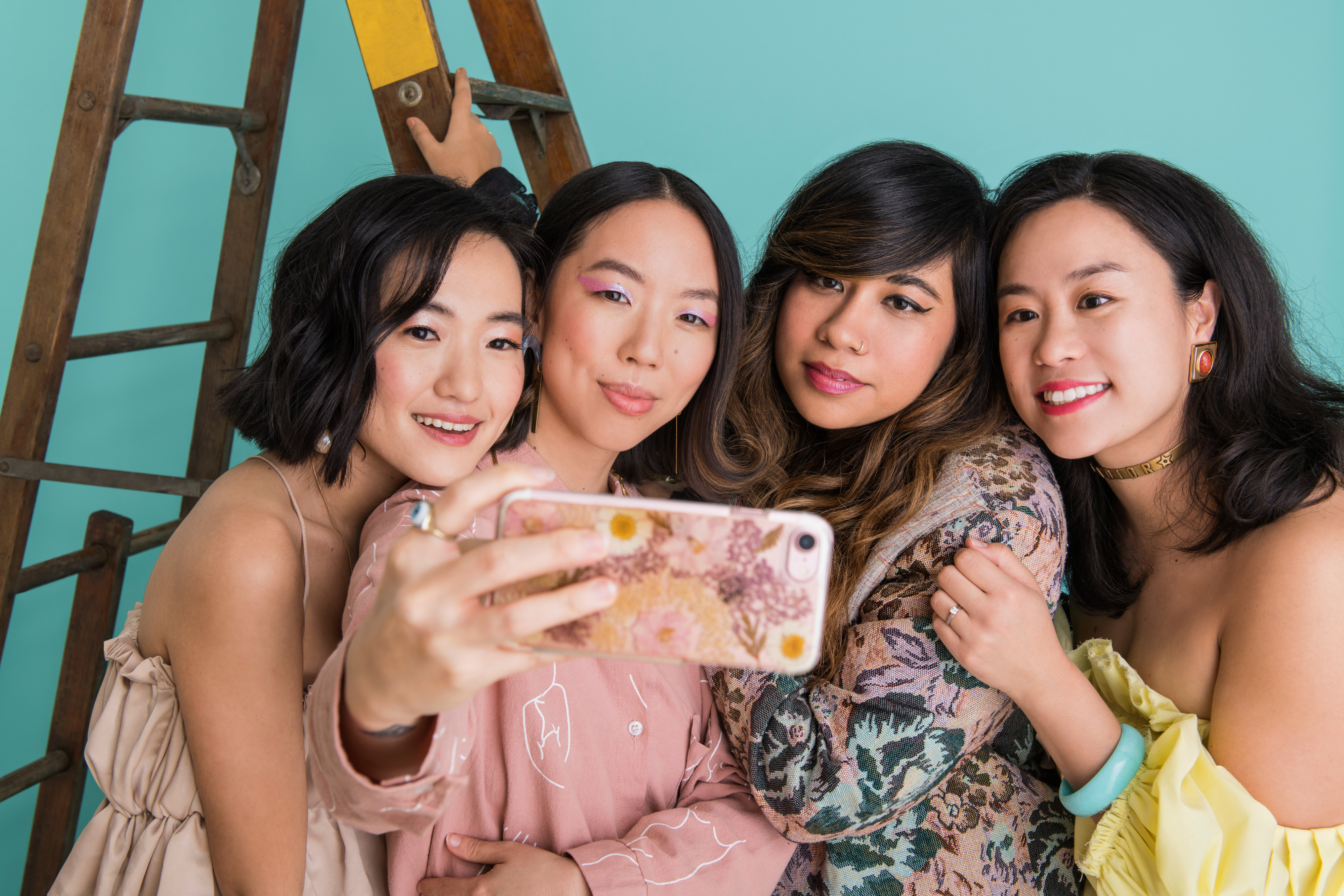 on SENTI S: Earrings, Rainbow Unicorn Birthday Surprise. Top, Jeremy Wood on julie:Earrings, Rainbow Unicorn Birthday Surprise. Top, Jeremy Woodon rachel:Earrings, Oscar de la Renta.

 

Sweater, Onarin. Gold YSL Ring, Saint Laurent. Sunglasses, Wildfox. on TIFFANY:Black Mesh Shirt, Rainbow Unicorn Birthday Surprise

 

Dress, Onarin. Earrings, Oscar de la Renta. Spider Ring, Ayaka Nishi.
CONNECT WITH AAFC:
FACEBOOK // INSTAGRAM // TWITTER // NEWSLETTER