Story By : Mateo Palacio 
Galaxies! Space! Laser Beams! Lip Gloss, Mascara, and Eyeshadows! It's the new planet of the legendary Motha of makeup, Pat McGrath. Pat McGrath Labs and the nostalgic film and merchandise franchise Star Wars are teaming up for the second time on a limited-edition cosmic makeup collection!
One of the most famous and recognized makeup artists in the fashion industry, Pat McGrath oversees the makeup for runway shows all over the world, creating some of the most iconic makeup looks of the century that will forever be referenced darling! She has worked with all the greatest fashion houses in the world Including designers like Alexander McQueen, Versace, and John Galliano. She is known for her distinctive, daring, and out of this world (pun not intended) makeup techniques and frequently uses her hands rather than brushes, something I personally got to witness.
I had the wonderful opportunity to attend a super cute press event where the legend was present to unveil the new collaboration and of course let us play with some makeup! Upon arriving at the Edition Hotel Downtown I was met with all the top editors, influencers, and shakers in the industry! After walking around completely mesmerized by the product design and art direction of the merchandise. Pat walks in and asks moi, if I wanted to get my makeup done! I mean … I was gagged! 
I sat down in the very VIP makeup chair and was greeted by one of Pat's top artists and a LADYGUNN favorite Ryan Burke. He began by applying The Divine Droid Star Wars eyeshadow palette on my eyelids, Ryan Burke tells me :
" The new Star Wars Collection offers a chic color story that anyone can use to elevate their look. Having tested these palettes out on all types of faces I can say that they are incredibly versatile and the quality is unmatched. I've loved working with Pat's brand from the beginning as her products are always innovative and fun and she continues to be one of the most inspiring makeup artists of all time.–"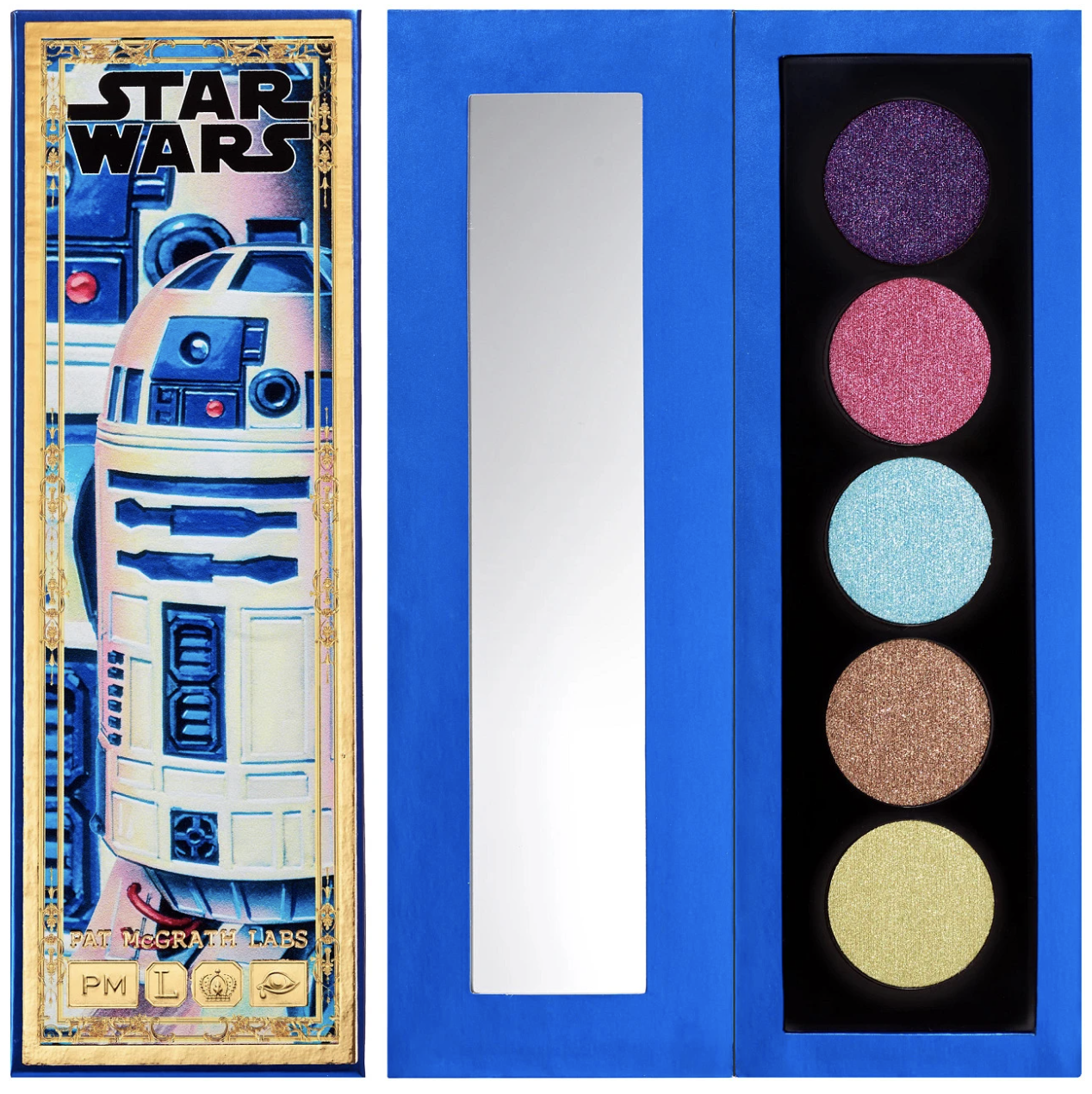 COURTESY OF PAT M CGRATH X STAR WARS
Clearly, nobody does glitter eye shadow like Pat McGrath. I fell in love with The Divine Droid Star Wars, a little dark neon shimmer for a sugar alien vibe! After my galactic makeup look was complete I was ready to beam up to space. Pat comes over and brings me in to do photos with her followed by a dab of makeup on my cheek to spread the highlight! Fourteen year old me would have never believed it!
The event was thrilling and very glamorous, after a slither of champagne and a few hors d'oeuvres we received goodie bags with some makeup. 
Now … I have got to let spill the tea about the Dark Star Mascara that was in the goodie bag out of all the products given.
I will never forget the vibe this mascara gave me. Isn't that name just perfectly mysterious?
Anyway….
I'm going to be totally honest with you and say that I didn't expect to be so excited about this product. The price point made me question what was inside of it that made it work so well. I thought to myself, "There's no way that a mascara can be worth this much. All mascaras are pretty much the same." I made sure to go home and play with some more makeup because come on now the night was young, lol.
Babes… I was so shocked when 1 coat left my lashes lifted, evenly coated, and voluminous. My lashes are naturally long and curled but this took the drama to another level! I usually do 2/3 ½  coats of the MAC mascara I currently own, which I also apply on my eyebrows to go for a full brow look and with the Xtreme black I just need one stroke.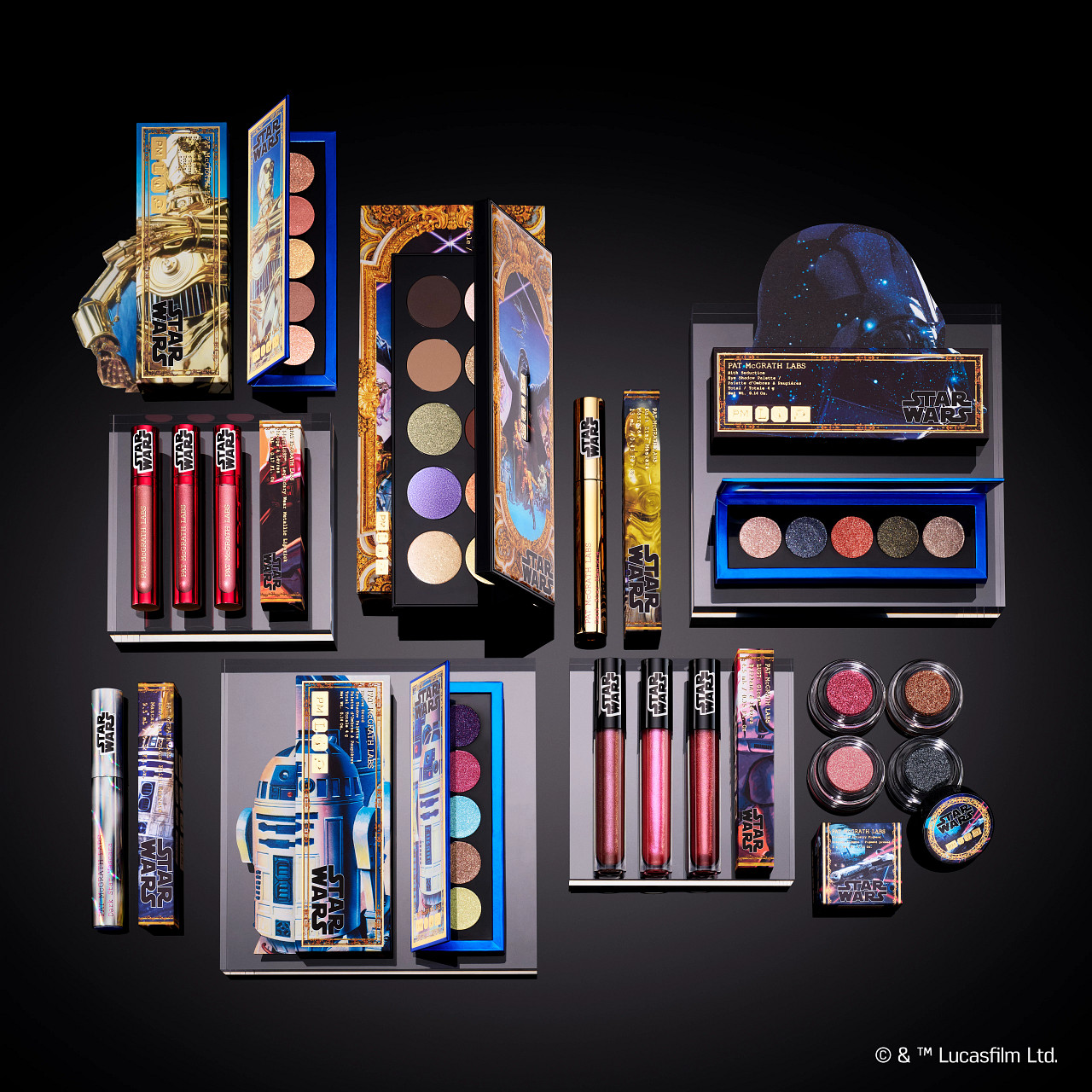 COURTESY OF PAT M CGRATH X STAR WARS
Earlier this month, Pat McGrath Labs unveiled a new makeup collection celebrating Lunar New Year, the limited-edition collection comes with an eye shadow palette, lipstick, and under-eye powder that was inspired by the occasion.
The goods can be purchased both alone and as a set of kits. The Venus in Fleurs Luxe Quad: Voyeuristic Vixen palette, the Rouge 8 MatteTrance Lipstick ($39), and the Skin Fetish: Sublime Perfection Blurring Under-Eye Powder ($32) are all included in the Lunar New Year Everything Kit ($115).
I encourage everyone to check out Pat McGrath makeup products. At the end of the day it's all about quality so buy less and choose well, these products are literally out of this world, galaxy, space and time!