It's been just 53 years since Loving V. Virginia made interracial marriage legal across all 50 states. With the topic of race abuzz in the US, as well as the dialogue of privilege, online dating is an area where the aforementioned should not be forgotten. Thanks to the creation of convenient app dating, lovers today can rely more on phones than pheromones. This means the dating process has been made less primitive, but have societal preferences also evolved? 
A new wave of dating apps in 2020 focus on the benefits of digital blind dating, aiming to swipe left on heterosexuality and cissexism. While Tinder, Bumble, and Hinge put looks on blast, queer-creations like Lex and S'more aim to squash the marginalization and fetishization that comes with online dating platforms. 
Psychologist Dr. Steph Anderson recognizes the prejudices that can lie subconsciously within all of us. "Racial preferences can reflect societal inequality, that, unless (and this is true for just about all racial attitudes), unless people are actively intervening in their preconceived notions of attraction, they're likely to sort of continue on that route…," Dr. Anderson says. "[It's] like the same way that privilege works, when, unless you're swimming against it, you're going along with it…"  It is not necessarily any individual's fault (though blatantly racist folks certainly do exist) but rather a result of the societal messages we receive, especially in the States.
While diversity in media has seen recent spikes, the subtext of media as long as many of us can remember has exerted whiteness as "more socially desirable." It is oversimplified to say that everybody likes what they like, as "our attractions never occur in a vacuum…If you take it on an individual level, and the individual says, 'well, that's just my preference, that's just who I am,' okay maybe we could say that that's true. But when you look, societally speaking, when you look at trends of who's rated in psychological research as 'More attractive™' and what features are considered 'More attractive™'  then you start to see systemic racism rearing its head," Dr. Anderson says. 
Enter Lex: an anonymous, queer, dating, friends, and community app, that utilizes a digital bulletin board format to liberate its queer user base. The app, "formerly known as "PERSONALS," is the descendant of the personal ads in " 'On Our Backs,'  a women-run erotica magazine of the '80s and '90s" according to their site. Lex manifests in 2020 as a text-only safe space for queer, womxn-identifying people.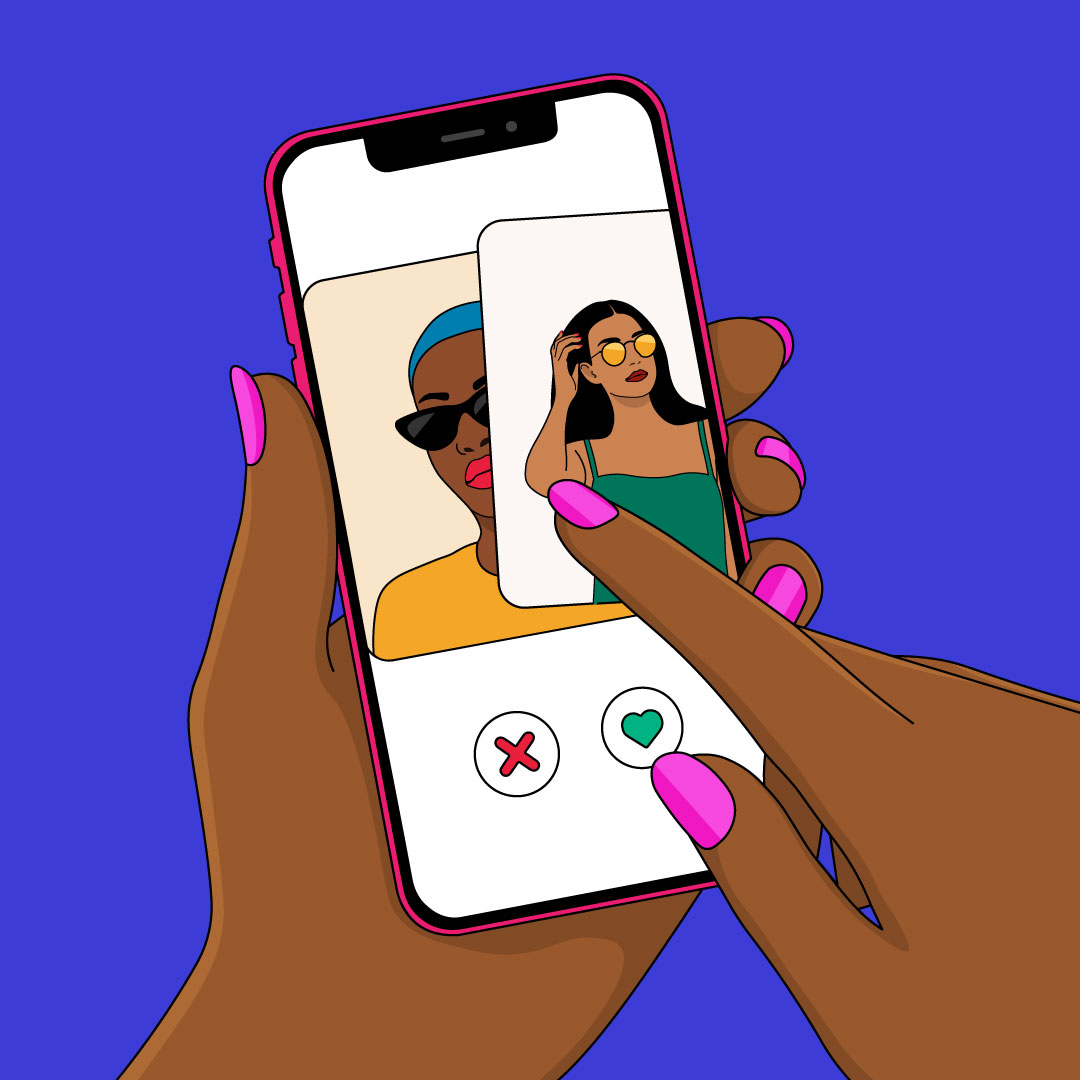 Emily* is a pansexual womxn of East Asian descent and a user of Lex. She says when she's "interacting with cis men on dating apps," that she is "constantly worried about being fetishized and tokenized. Every single time I download an app, I've gotten some weird, nasty or degrading comment about my race." 
Apart from Lex, Emily has used the big three dating apps, but regardless of whether it's "Bumble, Tinder, Hinge- all of them have resulted in some weird messages, but Bumble has a better filter than the other two in terms of blocking."  While she is new to Lex, many of her immediate anxieties are eased by a more queer and POC-positive platform.
Still, app design alone does not immediately create a safe space. For Cyn*, a black, queer womxn-identifying user of Lex, there is ostracization even within the queer community for the way she chooses to present herself. "I have days where I wear 'female' representing attire, and 'male' representing attire, or a little bit of both. Some women in the queer community feel like I should be one or the other. My way of feeling is: sometimes I feel boyish, and other times I feel girlish. What's wrong with that?" Cyn also mentioned how people openly make remarks about her cultural appearance. "Not only that, my darkness…I know I'm brown, but what does that have to do with dating me?" 
While Lex relies on text, S'more uses blurred photos and video chat to keep its users honest. According to the app's CEO, Adam Cohen-Aslatei (former CEO of Chappy, Bumble's gay dating app)  a huge part of S'more's social innovation is its encouragement of diversity, as racial judgments in dating apps can happen without much thought.  
"One of our first success stories came from a woman of color," he says. "She would only date black men and would filter out for race, weight, height, job, and location." The woman had spent 5 years on dating apps, "…until she connected with an unlikely guy on S'More…they connected over their love of music and travel…this is the first time she has ever dated outside her own race…"  The aforementioned woman found herself a successful partner she would have otherwise filtered out due to race, and her current partner is of Asian descent. This is an example of the app working its magic, but still only under quite idealized conditions. 
S'More originally launched in New York City, Washington D.C., Chicago, and Boston, and made its platform available in Los Angeles at the end of summer 2020. Cohen-Aslatei's deep knowledge of the gay dating app experience inspired him to deconstruct the typical gay dating app with the creation of S'more. "Speaking as a member of the LGBTQ+ community, most dating/app experiences are highly sexualized and are based on very superficial criteria," Cohen-Aslatei says. S'More, open to all genders and sexual orientations, challenges users by requiring they engage in a 2-minute blurred video before their respective appearances can be revealed. 
In the interim, detailed profiles that include voice memos and personality outlines are aimed at users getting to know each other. Cohen-Aslatei acknowledges the harsh racial environment online dating sees. "The stereotypical 'American Woman' gets outsized attention, and often receives crazy volumes of rude and sometimes nasty messages. People tend to have very poor behavior, because the barrier to entry is so low, and there are few repercussions."
Whether these apps provide true technological aid to prejudice is another concern. "I think, as humans, anonymity can give us a format that focuses more on the personality rather than appearance," queer Lex user Morgan M.* says. "…although a text format can keep [prejudices] at bay and encourage connections between a wider range of people, it does not completely get rid of shallowness, since it may come up in future interactions."
Apps cannot do our human growth work, nor can they cure the racism virus. "Often people like to talk about attraction as an individual phenomenon, and I'm arguing that maybe for the person in their own understanding it's individual but when you zoom out and look at trends across people, it's not necessarily benign," Dr. Anderson says. "Systemic racism and ideologies of white supremacy are present just if you look at people as a whole…we're always negotiating ideologies that exist."
*First names only used to protect anonymity
story / Tatiana Louder
graphic / Anneke Lada