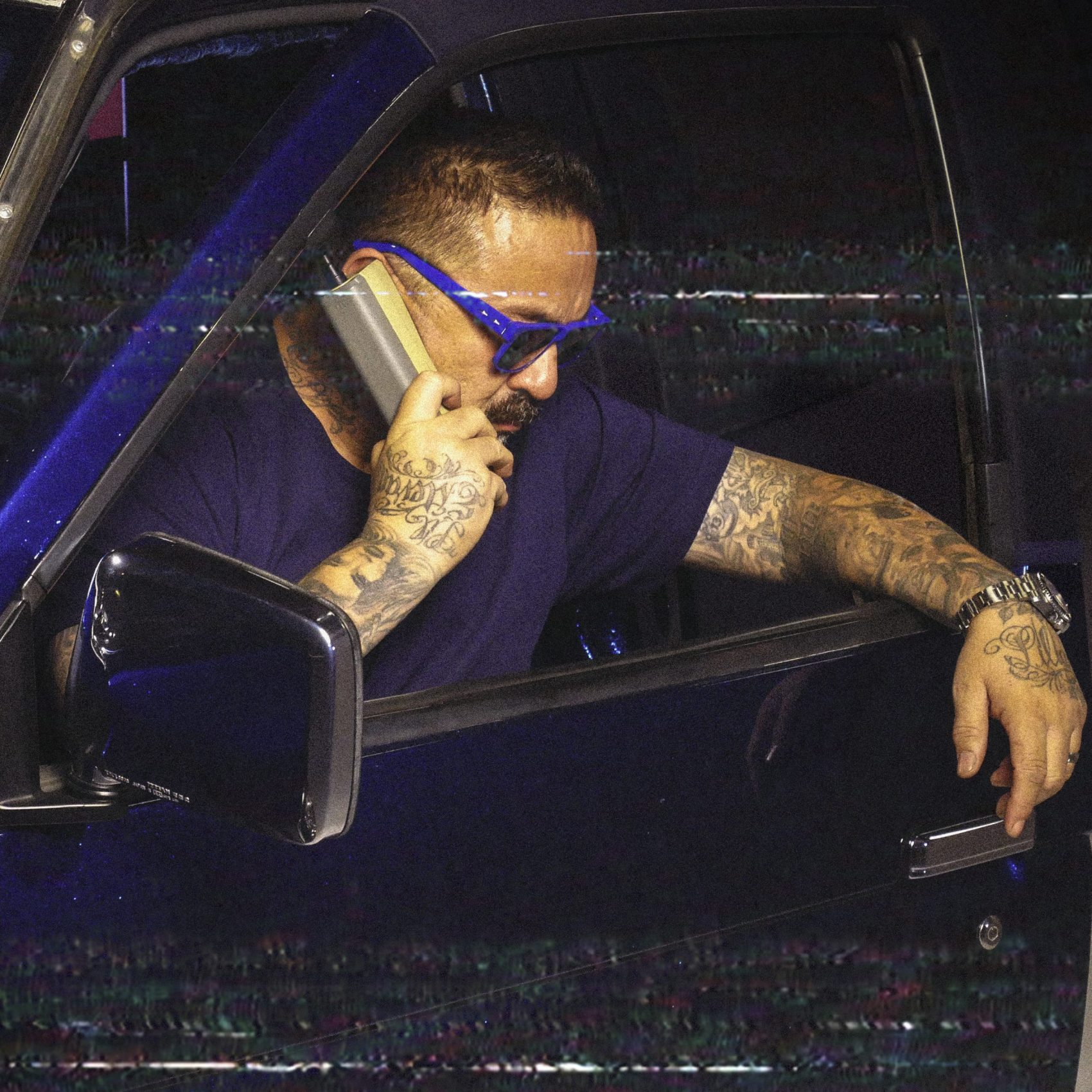 Los Angeles in the 1980s found itself simultaneously unraveling at the hems of social unrest and flourishing in amorphous creative prosperity. A teen at the time, Mark Machado expended his curiosity on absorbing the nuances of his altering surroundings. The result: a keen eye and an itch to tell the story of the L.A. underground. His vehicle of choice? Art.
Beginning as a young graffiti artist bombing the blank canvases of the concrete jungle, it was with fine black-and-grey lines that Machado would ultimately color the world of street art. His signature style culminates in a fusion of East Coast Graffiti with intricate line work that salutes prison art. At its subject center, prominent themes of gang culture, drug use and rampant homelessness. Through his personal transformation, Machado developed into his alter ego, Mister Cartoon, a godfather to what the world would come to know as East L.A. Chicano aesthetic.
Three decades into his career, his pioneering legacy is found in every crevice of L.A. and street art culture. It shimmers in the gloss-coated candy paint of low-riders. It's permeated in the inked dermal layers of athlete and celebrity clientele. It graces notable album covers in modern music history. It's embossed on the fabric of curated street wear. It's sprayed across freeways by aspiring young urbanites who also seek to leave their lasting mark on the city.
Mister Cartoon is both an insulator and conductor of the energy that radiates from the city that raised him, an iconic cultural purveyor who has Los Angeles running through his veins. What he never anticipated, was that one day his legacy would become the transfused bloodline that would keep the city's' creative vibrancy alive.
LADYGUNN spoke to Mister Cartoon regarding his artistic trajectory, giving away his dream car and the multi-hyphenates next trailblazing venture.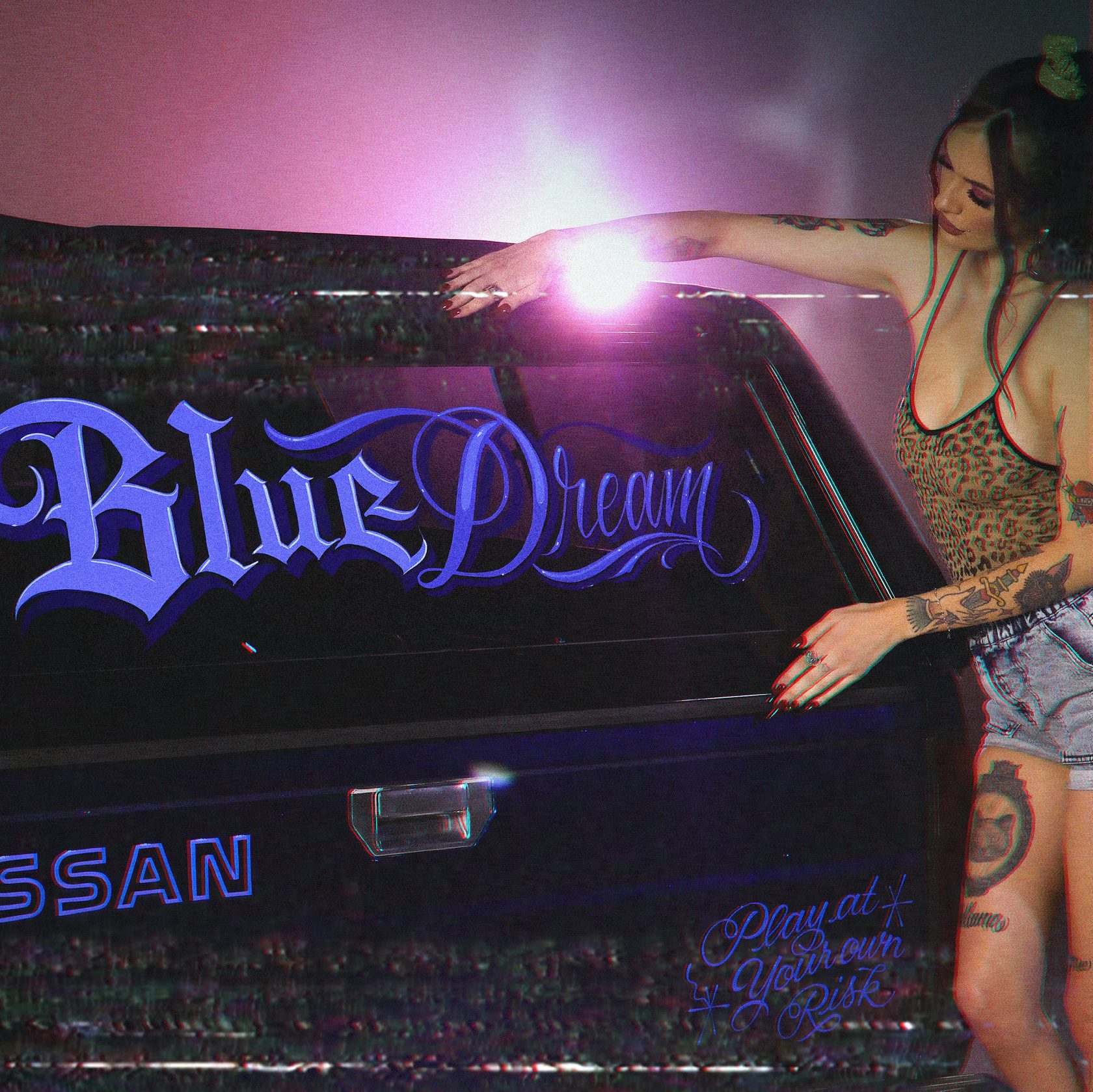 WHAT DID THE BEGINNING OF YOUR ARTISTIC JOURNEY LOOK LIKE?
When I was a kid, I was very shy, but I was also always drawing. I just wanted to fit in, so I eventually learned to draw my way in and out of every situation. It became my way to express myself and be part of something from a very young age. In my teenage years, everything was more innocent as far as technology goes but more violent on the streets. I was always attracted to that and the birth of hip-hop. I wanted to find my part in it somehow. I wasn't a DJ or a rapper but I could draw, so I felt I better stick with that.
HOW DID YOU FOSTER YOUR PASSION INTO A MULTI-HYPHENATE CAREER SO EARLY?
There was no real aspiration to do this, because we didn't know what this really was. Artists didn't really have that lane back then. I was doing graff and airbrushing t-shirts, which was like my own streetwear brand, I just didn't know it at the time. I think I just learned to use art to fill the potholes on the road as you're walking through it. When New York graffiti writers finally opened up space for street art, I was prepared when people looked West.
DECADES INTO A RENOWNED CAREER, HOW DOES YOUR CURRENT ROLE AS AN ARTIST COMPARE TO WHERE YOU STARTED?
I've learned the longer you stay in this business, the more you're expected to just be you. Sometimes that becomes a job and it gets kinda weird. Around my kids, I am just dad. Then I leave that environment, put on my cap and dim the light to enter this zone of a vandal graffiti writer that just climbed the fence and tore my jeans with sirens in the background. I still read the walls when I ride down the freeway and see the trash around the city. My eyes are magnets for homeless people in encampments, drug addicts in the streets, scams going down. It all still fuels me. I may have been through different forms of being an artist, but the central vision is the same—I'm still an artist.
YOU'RE NOW COLLABORATING WITH BEYOND THE STREETS, A PLATFORM THAT SHOWCASES POP-UP GALLERIES THAT MAKE THE WORLD OF STREET ART PUBLICALLY ACCESSIBLE.
Yeah! My collaboration allows me to revisit the 80s and bring the era to life at the exhibit, while most of the world will be experiencing it for the first time.
THIS YEAR, THE EXHIBIT GOES VIRTUAL EXCLUSIVELY ON THE NTWRK APP. WILL THIS CHANGE THE EXPERIENCE?
First off, we have to be safe. It's fragile with people's health at risk. We all have to do our part in contributing and supporting each other, especially with art. Art needs these conversations, and I think as long as your work is dope, it can be put in any situation and it'll be okay.
AS A PIONEER OF WEST COAST GRAFFITI, HOW DOES IT FEEL TO SEE STREET ART GO FROM PUBLIC SPACE TO EXHIBIT AND MUSEUM WALLS?
I feel museums in the past were only highlighting street art behind closed doors and trying too hard to sell it as real art. Exhibits like Beyond The Streets aren't trying to sell you, it's more about recreating an experience. You get to see people like RETNA, RISK or Estevan [Oriol], all together in one place. You only get that in this kind of curated situation. Beyond The Streets is centered around understanding the importance of letting street artists stay true to themselves. They really care about their artists and allow them to develop their different strengths. It's unifying to provide a space for friendly competition because everyone's there together and everyone's a graff head. As long as my work looks dope and people have access to it, that's all that's important.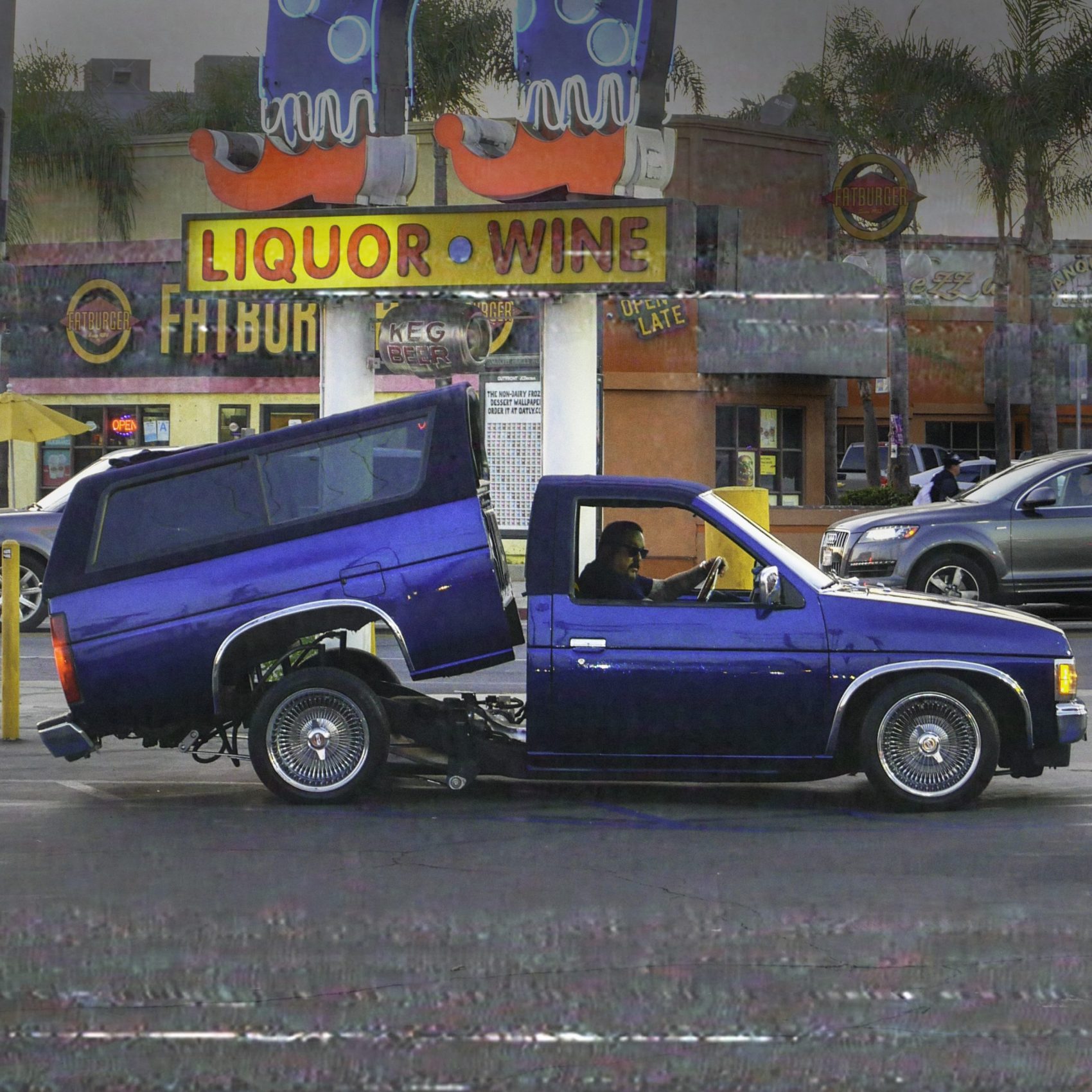 AT THIS YEARS ART FAIR, SOMEONE HAS A CHANCE TO WIN A REAL ONCE-IN-A-LIFETIME DEAL. CAN YOU TELL US A BIT MORE ABOUT THE GIVEAWAY?
The winner will get my Nissan truck with a custom mural and a freehand tattoo session. A tattoo these days is pretty rare, as I'm not tattooing as much to focus on other projects. But with the session we hang out for like 5 hours, order food, make a whole day of it. We want our client to have one of the best experiences because it's also very personal. Its one of the most hardcore of all art forms because you're putting it in someone's flesh and every person's skin is a different canvas.
IS IT TRUE THE '88 CANDY BLUE NISSAN HARDBODY TRUCK WAS YOUR DREAM CAR?
It was a brand new truck, when I graduated high school. Mini trucks were on the rise because of how easy they were to customize. I always wanted one, but never thought I would because they were so expensive. I finally bought Blue Dream in 2010. It was like finding an Easter egg. I went with the mini truck for the giveaway because it was era specific to the exhibit. That era was all about cruising. Cruising was like a nightclub on the street that happened every weekend. There's nothing that really compares to it now. That's really what's really behind this. It's a generation that didn't get documented. It's a generation missed.
WHAT OTHER CUSTOMIZATIONS HAS THE '88 CANDY BLUE NISSAN HARDBODY RECEIVED?
It has a blue candy paint job with a custom mural. It has hydraulics all the way around it and in the bed, it has a retro Mitsubishi cellphone, a Nardi steering wheel and shifter made for luxury cars, but we put it in a Nissan truck! One of the most important details are the Dayton wire-casted wheels. They're nicknamed "killer dayts" because in the 80s people would actually get murdered over them in car jackings. If you saw someone drive them down the street, you knew they'd be packing. The only way to be able to get original ones now is if you jumped in a time machine. The details are so important in understanding the real value goes beyond the physical. It's hard to let go, but excited for someone to create new memories with it.
YOU'VE SUCCESSFULLY TRAILBLAZED MANY ART FORMS WITHOUT COMPROMISING YOUR IDENTITY OR VISION. WHAT'S NEXT FOR MISTER CARTOON?
I feel like I'm just coming into my prime. We've come up with some great collabs, but I still have some work left to put in. So I'm really pushing my own envelope as far as it can go and I'm now working on moving my art into animation.
WHAT ADVICE WOULD YOU GIVE TO AN ASPIRING ARTIST?
Whatever you're obsessed with, just do it. If you love music, submerse yourself in it. If you love sports, submerse yourself in it. Will you be an athlete? Maybe not, but maybe you'll design their jerseys or become an agent or someone who installs a stereo in a ballplayer's car. Just be dope and stick to good things that contribute to your community. Wherever you work, be that person that cares and is going to help people. Maximize yourself and surround yourself with like minded people that want to see you win.
The BEYOND THE STREETS exhibit will take place December 5 & 6. The two-day virtual Art Fair and Mister Cartoon giveaway will be accessible exclusively on the #NTWRK app.
CONNECT WITH MISTER CARTOON
INSTAGRAM // TWITTER // WEBSITE
photos / Steve Zeitzoff
editor / E.R. Pulgar
story / Jeanette Diaz