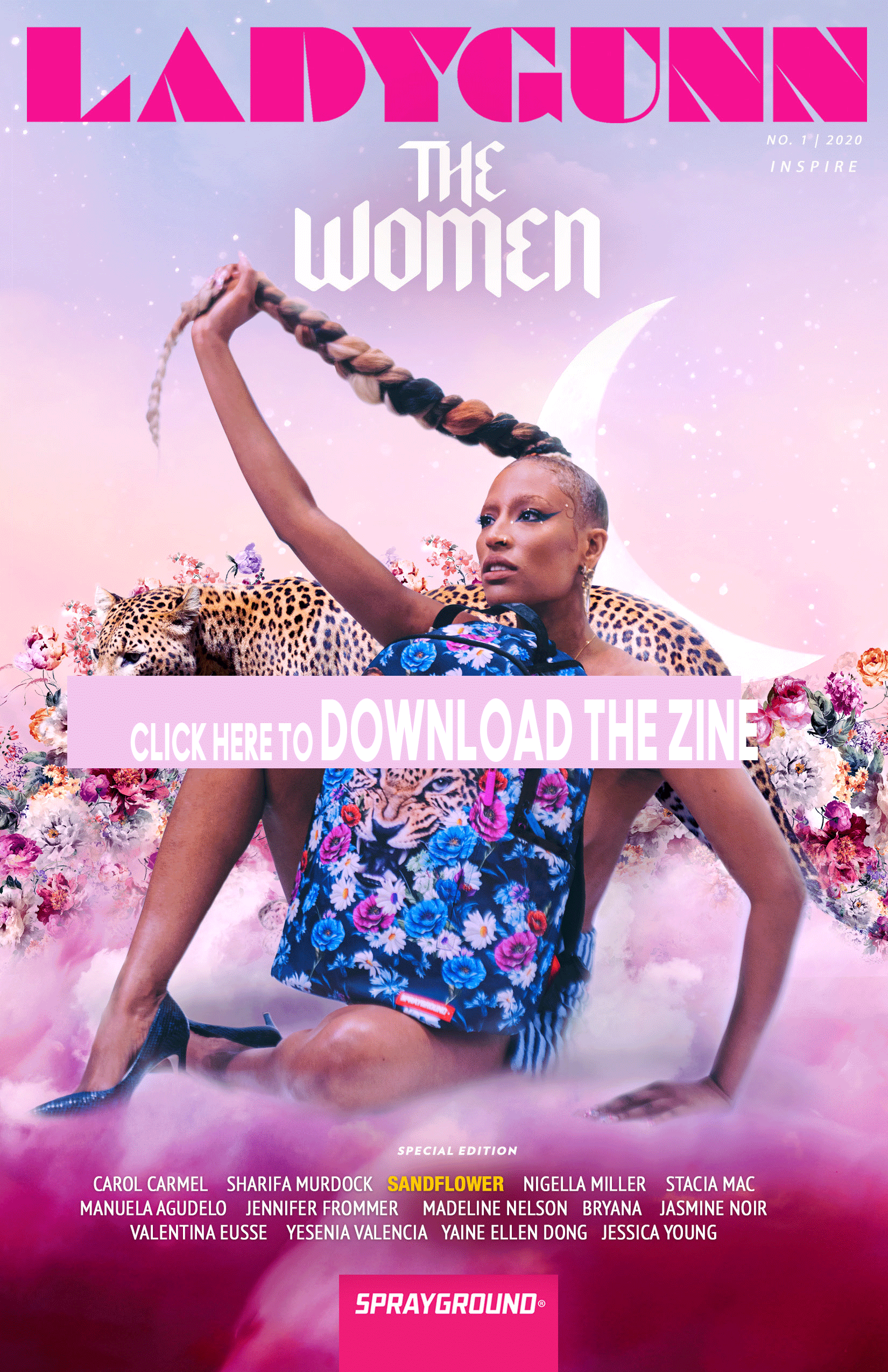 Through art, sculpture, photography, and film, men have created the common narrative that women are to be shown off, yet shall never be the ones showing off. But…what happens when a woman throws her own celebration? What happens when the woman sculpts her own life and captures her power through her own lens? Thankfully, as we circle the sun each and every year, the answers to these questions begin to shine brighter and brighter. As we dive into this new decade, we have become diligent and dedicated to celebrating women as the creator of their own art. From CEO's to choreographers to creative directors to daughters, women in every role of every industry are using their experience of oppression as tools to inspire others. In this Women's Month of 2020, women are the subject on the canvas, the artist, and the one getting paid for it all.
To honor the movement toward universal female empowerment, LADYGUNN has teamed up with Sprayground, the world's most innovative accessory and backpack brand, to unzip the truth of what life as a woman is all about. For the fourteen women we interviewed, the weight they carry in their backpack of knowledge is heavy on their shoulders, as they feel they must foster self-love and liberation within all of the women that their work may touch. We asked them about women's rights in the here and now and what they're carrying in their toolkit of tenacity. Some spoke to the unjust fate of a woman in the workplace, and some spoke about the unparalleled feeling of self-made power. That said, one thing stood out as a common thread throughout all of the insight gathered from these badass women: they all have a love for themselves. When women are not afraid to speak out about the successes of their lives that make them genuinely smile when they look in the mirror, the unified power produced is otherworldly.
Maybe men were right in one thing: women ARE a prize. No, not a prize to be objectified and unwrapped like a gift that is only meant to gaze at. Women are a prize for themselves and other women. They each innately own golden trophies that celebrate the power that they had to prove purely because they live life as a woman. As we interviewed totally different personalities, all united in their self professed pussy power, we uncovered cosmic energy that is seemingly reserved only for entrepreneurial women.
This month, we celebrate the creativity, connectivity, and capability that makes women a wonderful breed of their own. As we explored the lives of
Sandflower, Jessica Young, Nigella Miller, Madeline Nelson-Small, Yaine Ellen Dong, Bryanna, Jennifer Frommer, Manuela Agudelo, Jasmine Noir, Stacia Mac, Sharifa Murdock, Yesenia Valencia, Valentina Eusse and Carol Carmel
,
we see that women do not need a common ground of industry or office to be so very intertwined. With this interview series, we wish everyone a wonderful Women's Month, and we remind you all to accessorize with self-love, community connectedness and a backpack filled with tools to break the glass ceiling and see the sun shining through on the other side.
WHAT'S IN YOUR BAG?: SANDFLOWER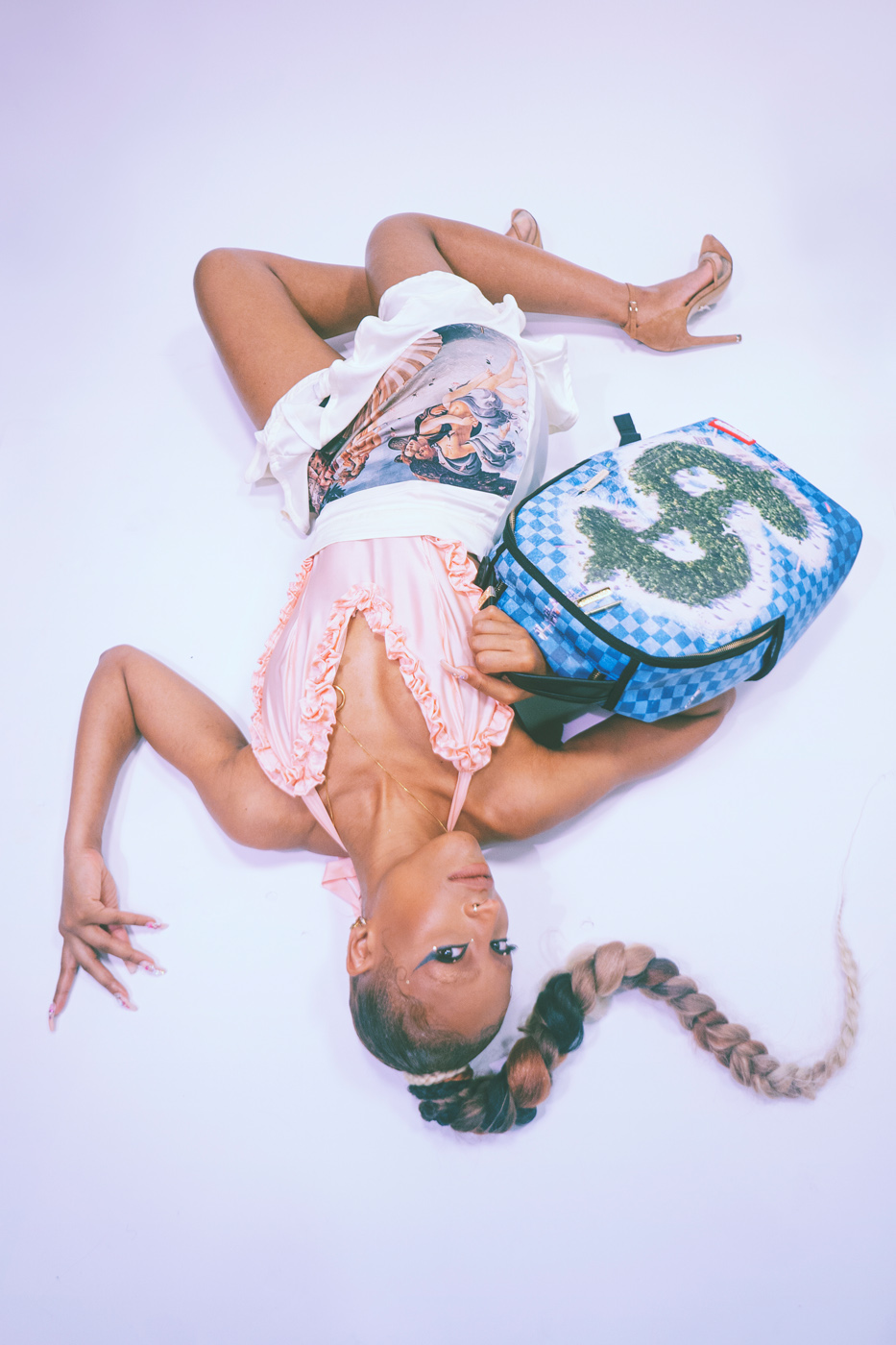 WHAT DOES BEING EMPOWERED MEAN TO YOU?
Empowerment to me = harnessing the gifts you have inside and giving them to the world without fear.
Empowerment is knowing what you want to achieve is not only possible but necessary. Empowerment is unapologetic love and belief in yourself.
WHAT IS YOUR DEFINITION OF WOMEN'S RIGHTS?
My definition of Women's rights hasn't happened yet – but to me it's when we don't need a fight for and categorize our rights because it will be ingrained not only in our culture and government – but also in our collective psyche that we are equal beings.
WHAT IS SOMETHING IN YOUR LIFE THAT HAS HAPPENED TO CHANGE YOUR PERSPECTIVE ON WOMEN'S RIGHTS IN THE WORLD?
I grew up in a household where I saw my mother being hit by my biological father. Witnessing domestic violence and being a survivor of that situation shaped my view on Women's Rights when I saw my mother fighting in the courts for legal protection and not getting it. Seeing my mother survive that situation and then watching her use her music and skills to become a champion for other victims of domestic violence shows me that we are not only fighting for ourselves. We are fighting for our sisters.
WHAT DO YOU LOVE ABOUT YOURSELF?
I love that I don't give up! My grandmother used to say I was hard-headed little kid but sometimes that's a good thing. Being able to tune out other people's opinions of your life is a skill. I didn't realize I had that skill until I found my journal from summer camp and saw that I had decided I would be a multidisciplinary artist that makes music, visual art, and meaningful content when I was ten – and that's what I am doing now.
WHY DO YOU DO WHAT YOU DO?
I do what I do because I don't want to do anything else. All I want to do is to tap into creativity and share that spirit in every way I can to everyone I can. Music, fashion, art… whatever the medium I have something to say and it's my purpose on the planet to use my skills to bring good energy into the world.
WHAT IS IN YOUR LIFE TOOLKIT THAT YOU WANT EVERY WOMAN TO HAVE?
I want every woman to have the ability to tune into their inner voice. I'm lucky to have been raised in a family where meditation was a requirement as far back as I can remember. Being able to find that safe space within that gives you shelter from this stormy world. Tuning into your inner voice also protects your imagination and gives you the opportunity to manifest your goals.
LEAVE US WITH THREE WORDS THAT DESCRIBE WHAT BEING A WOMAN IS LIKE FOR YOU RIGHT NOW? :
Fire, Flying, Badass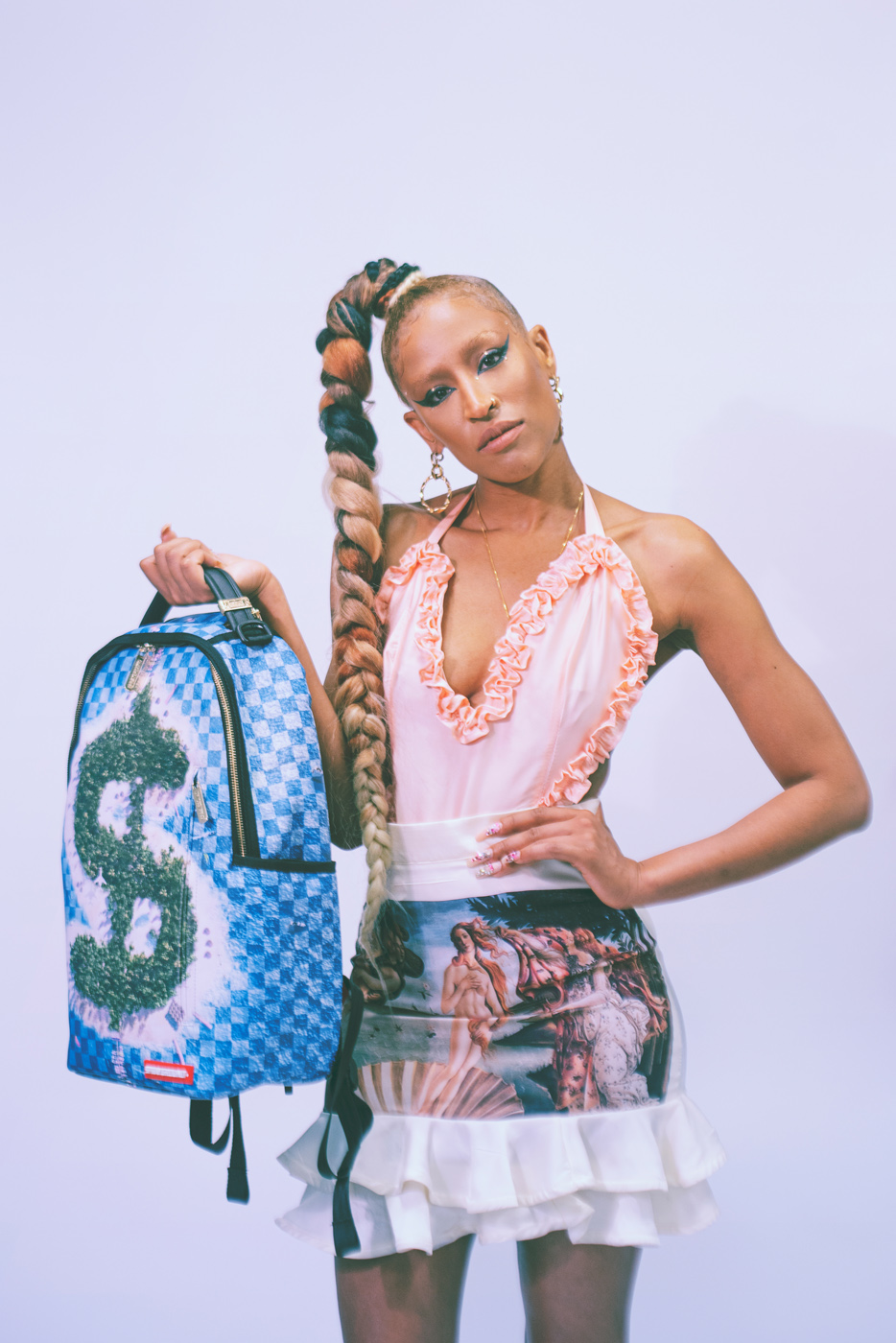 Jewelry, Third Crown. Bodysuit, Tia Adeola. Skirt, Tia Adeola. Shoes, Kenneth Cole. Bag, SPRAGROUND.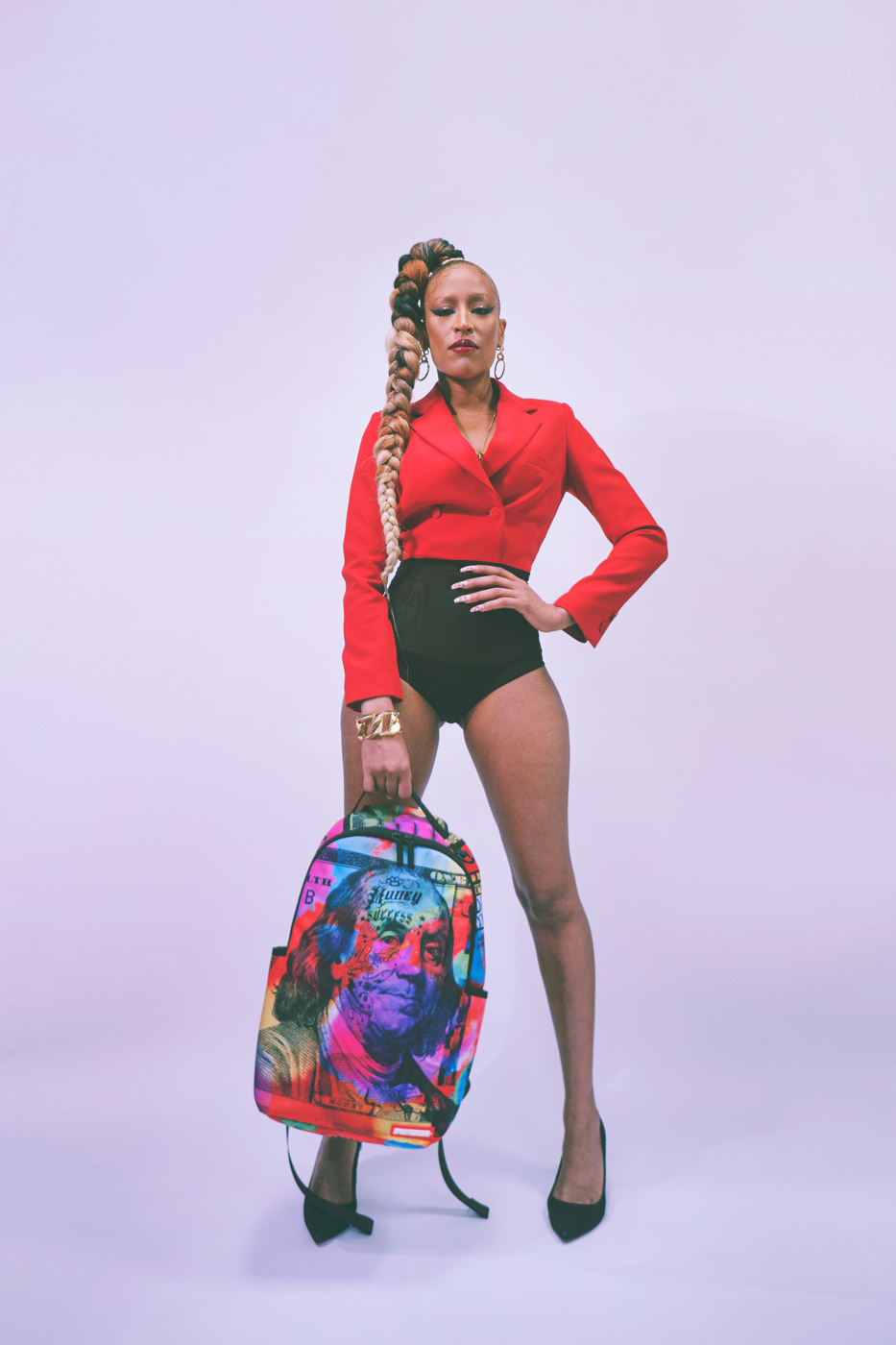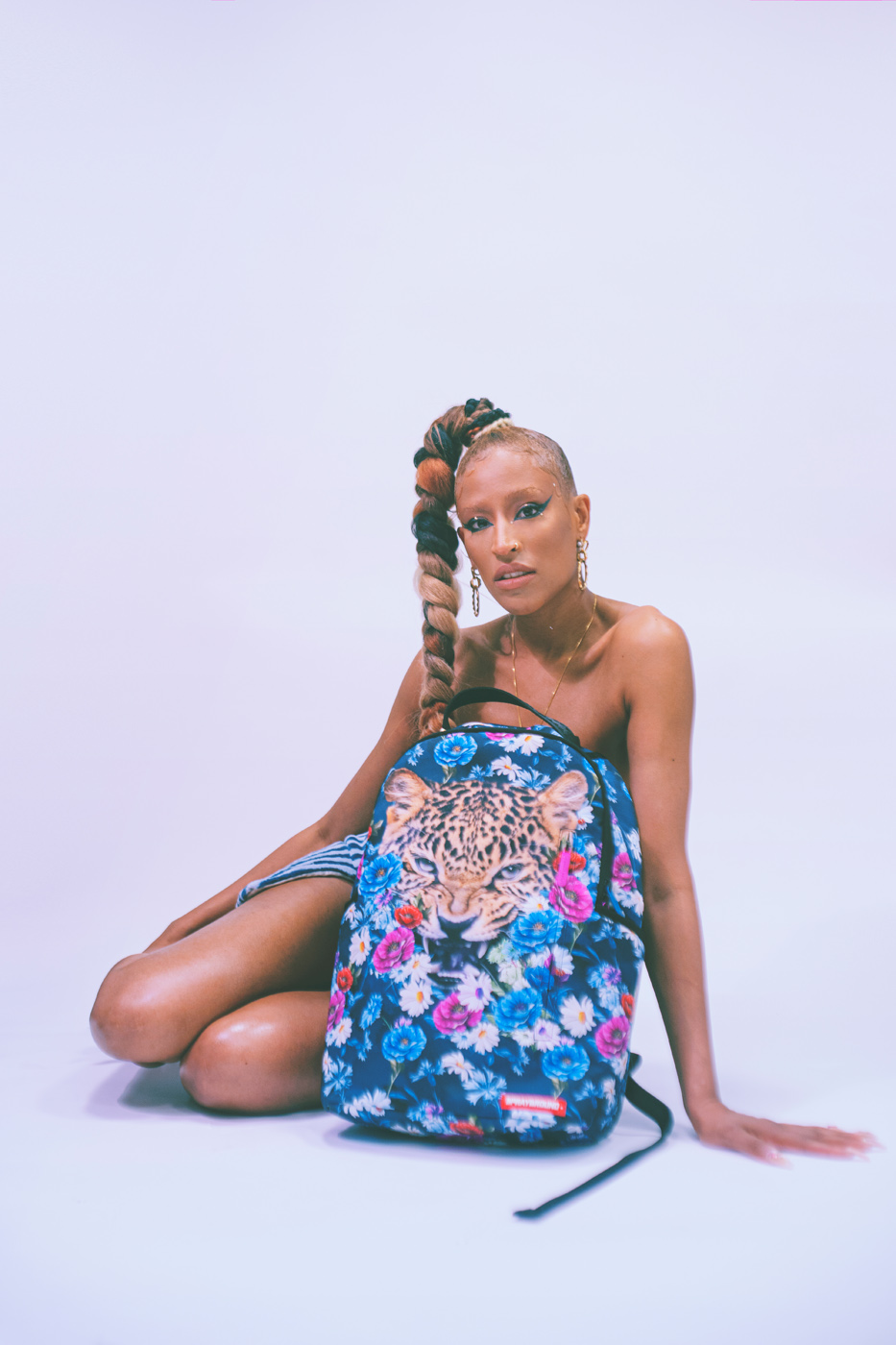 CONNECT WITH SANDFLOWER:
CONNECT WITH SPRAYGROUND
---
DIRECTOR / SANDFLOWER
STORY / PAULETTE ELY + KOKO NTUEN
PHOTOS / JENNIFER MEDINAA
STYLING / BIANCA ARIELLE BAILEY
MAKEUP / DENEY ADAM
HAIR / NIGELLA
ILLUSTRATIONS / MADDY BROOKES
GRAPHIC DESIGN / AYOBADE ADEBAYO