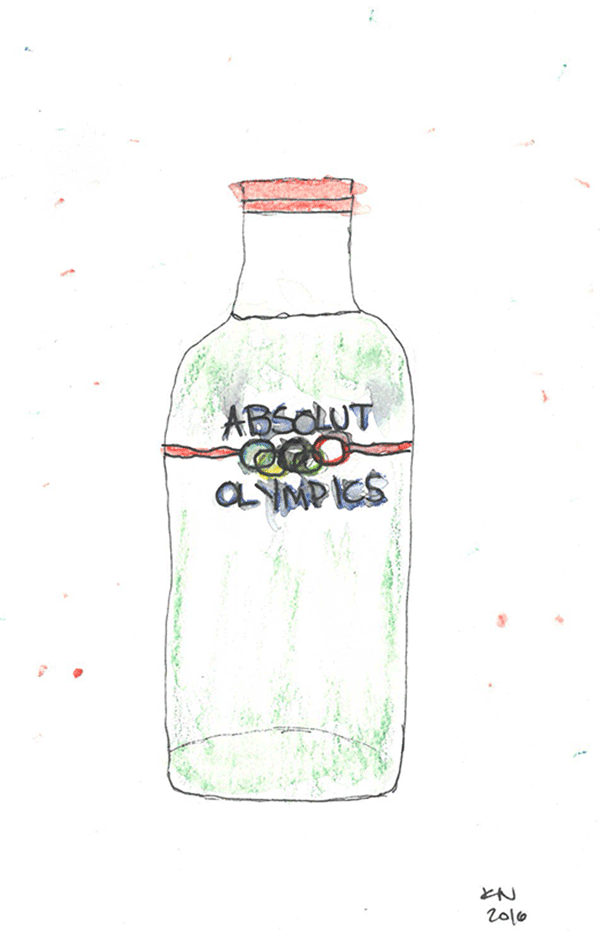 illustrations /  Koko Ntuen 
If the sexist Rio Olympics commentary is driving you to drink, you're not alone. Cry over these classic cocktails with a twist. Grab a gold-medal glass, and make it big. I'm talking some Goblet of Fire level shit, because we seem to have magically gone back in time.
Men's Drinks
You know you love a nice, hard cocktail. Grab a cup of privilege and drink up!
Old Fashioned
Just like the antiquated Olympic commentary of the 2016 Rio Games, this one hasn't changed with the times at all. The bitters are the perfect accent to your lady friend's crushed hopes; both should be muddled. Serve it on the rocks, right next to women's rights.

Peñis Colossal: "Tribune" To A Bears Wife's Story's Reporter's Flub
The reporter who wrote the Chicago Tribune article about Corey Cogdell, a medal-winning US trapshooter, referred to her as "Wife of Bears Lineman." He really made a huge dick move, or, as we like to call it, a Peñis Colossal. This cocktail is just the saliva of a commentator who has consumed a Colossal amount of pineapple juice. I'm not sure which atrocity is grosser: anti-feminism, or the struggle to figure out if this qualifies as vegan.
Black Russian
Let's be real, you probably prefer the White Russian. Learn the athletes' names, guys.
The Mansplainer's Last Word
You always have to have it, don't you?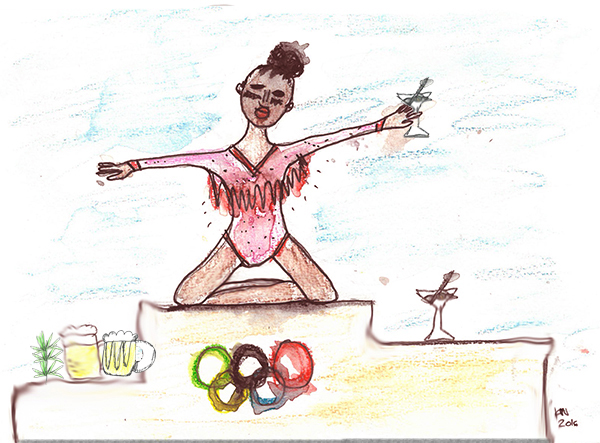 Girl's Women's Drinks
To the women out there suffering from Olympic commentary-induced frustration, these are for you. Understand the implications of these comments as well as how to recreate a drinkable version at home. It's like voodoo, but for drunk people.
Momosa
How can a woman compete athletically after having a baby or being over 20? I don't have an answer, because that's a stupid-ass question. This one's great for starting early. Make another one if someone says you look tired.
Virgin Gossipberry Daiquiri
Why watch sports when you can contemplate the sexual pursuits of girls as young as 16 and as old and crusty as (trigger warning) 43? Does she like it shaken, not stirred? Who is her chaser? Is he neat, and cooler than expected?
Serve frozen, like your Twitter account will be after you accidentally hit on a 12-year-old Chinese gymnast.
Avoid jokes about popping the cherry.

The Female Phelps Fizz
Stay away, boys! This fruity little frizz-fest is a total girl's drink. Though some bartenders will know what you mean if you order the Katie Ledecky, you'll need to go ahead and present a photo of Phelps' head on Ledecky's body, or vice versa, to clarify.
(Similar to the Michael Lite)
Oversexualized On The Beach
While men's beach volleyball uniforms are utilitarian and, um, normal, the women must wear bikinis. It's a real butt cheek fest. Take a drink every time the commentators use the word beautiful instead of athletic, and two for every tight ass shot. Enjoy the double meaning, but not too much, you sexist pig.
This one's just straight vodka, because it's as heteronormative as it is transparent, and you'll want to forget it immediately.
"The Man Responsible" Martini
When Hosszu broke the world record in the women's 400m medley, her husband slash coach was credited as "the man responsible." Add extra salt on the side of this martini to match your feelings. Lick it off, knowing it will all come out in your tears. Drink it in the amount of time Hosszu broke the record by: two seconds.
Sporty, Sweet, But Not Too Sassy Sangria
You wine and wine, but no one will listen if you're not light and sweet. This watered-down, stereotypically pink sangria will help you feel "fine" with the wage gap, demeaning comments, and blatant objectification that won't fade after the Olympics. Make it in the kitchen, where you've been forced to stay indefinitely. Cheers?
At The Mall Margarita
Just like the comment that the gold medal-winning US Women's Gymnastics team looked like they were "at the mall" when they were talking between events, this drink will leave a sour taste in your mouth.
High As Men
If Simone Biles can get as high as some of the men during her gold-medal gymnastics routine, then gee whiz, so can you!
This one's just weed. Go outside and take a bong hit just like Michael Phelps did, because, drunk or sober, this shit is ridiculous.