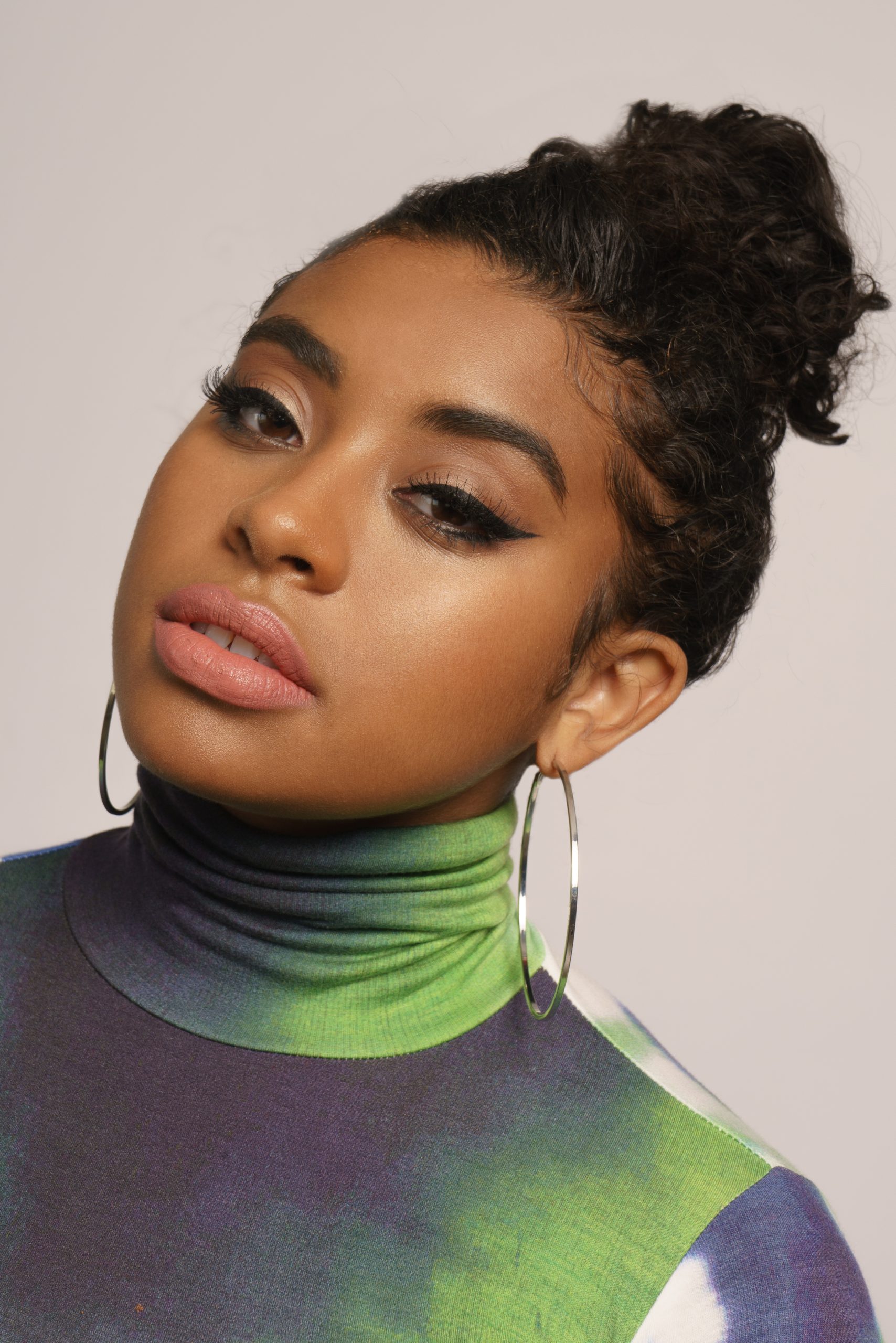 Everybody remembers watching the 1990s sitcom classic "Saved By The Bell" starring some of our all-time favorite actors and actresses from Mark-Paul Gosselaar, Lark Voorhies, and Tiffani Amber-Thiessen. Now, Bayside High School is getting a reboot and an upgrade with a more diversified cast, culturally relevant story lines and some new rising stars to keep on Hollywood's up and coming radar – including Bronx native Alycia Pascual-Peña.
Pascual-Peña portrays "Aisha," a fun-loving, athletic, ultra-competitive, boys' girl teen who caused a bit of controversy when she tried out to play football at Bayside High. While Aisha may be shaking things up at the fictional institution of education,Pascual-Peña's character is making a cultural impact off-screen as well and opens up Hollywood's floor for discussions about race, femininity, and gender equality.
LADYGUNN spoke to Pascual-Peña about her boogie-down Bronx upbringing, her Afro-Latina background integrated into her role on "Saved By The Bell," and the iconic reboot, which aired on November 25th on Peacock.
WHEN DID YOU FIRST SPARK INTEREST IN BEING AN ACTRESS?
I've known since before I could fully speak that I wanted to be an artist. My mom always has told me that I was dancing before I could speak. I have known for my entire life that I wanted to be a performer and tell stories. I have been part of plays and commercials since the age of three, but I began heavily training and auditioning at the age of nine. I have been dedicated to my craft and committed to growing as an actress for the last eleven years.  
TALK TO ME ABOUT GROWING UP IN THE BRONX. HOW DID YOUR NEW YORK UPBRINGING PLAY A ROLE IN YOUR FASHION CHOICES?
My family immigrated from the Dominican Republic to the Bronx which  shaped me in a variety of ways, including my fashion sense. The Boogie Down Bronx absolutely influences my eclectic style. I think the powerful essence of the community is reflected in our fashion choices. I have always been inspired by how bold and unapologetic the style within the Bronx is.The fact that the very inception of hip-hop took place within the Bronx explains why my own personal style is so heavily inspired by hip-hop culture. You can see components of the Bronx in my style through my kicks, door-knocker hoops and big tees.  
WHO IS AISHA AND WHAT SHOULD WE KNOW ABOUT HER?
Aisha Garcia is a confident and powerful young woman. Aisha isn't afraid to say what's on her mind or go after what she wants. She initially thinks that she isn't going to enjoy Bayside but ends up loving the school. I think audiences will enjoy watching Aisha thrive and find her way at this school she originally thought wasn't for her. Throughout the season, we get to see her really grow and become a force to be reckoned with at Bayside. 
THOUGH YOUR CHARACTER WAS ORIGINALLY WRITTEN TO BE CASTED BY A BLACK ACTRESS, IT WAS LATER CHANGED TO FIT YOUR AFRO-LATINA BACKGROUND. HOW ARE WE GOING TO SEE YOUR DOMINICAN BACKGROUND COME THROUGH YOUR CHARACTER, AND HOW WILL THE LATINX COMMUNITY EMPATHIZE WITH AISHA?
I am a Black actress. I just happen to happen to be a Latina Black actress. I am honored to be able to celebrate the intersectionality of my blackness and Latinidad in this show, especially because it is so rare to see authentic Afro Latinx representation in the media. It is important to see stories that uplift and celebrate the entire African diaspora. I am blessed to be on a show that committed themselves to creating a multidimensional young Black Latina woman that reflected my own personal Dominican heritage. The Latinx community will be able see our culture celebrated in moments when my character speaks Spanish or refers to her family. 
DID YOU WATCH 'SAVED BY THE BELL' BEFORE BOOKING YOUR DEBUT ROLE AS AISHA, OR DID YOU HAVE TO DO SOME ONGOING RESEARCH?
I grew up watching "Saved By The Bell" reruns on the weekend. I was very familiar with the show prior to auditioning for Aisha. It was so exciting stepping on to the Universal [Studios] lot and auditioning for a show that I grew up loving. When I booked the job, I revisited the episodes in order to respect the tone and aura of the original as we were filming our season. 
IN WHAT WAYS DO YOU RELATE TO AISHA? WHAT WAYS DO YOU DIFFER?
I relate to Aisha in a multitude of ways. I went to a high school that was predominately white and very affluent. I always felt out of place as a result of my race, culture and upbringing. Most of my peers in high school oozed privilege much like some of the characters at Bayside. Certain obstacles that Aisha has in the show I had in my own life, but similarly to Aisha, I boldly paved a way for myself and got involved.  I also think we're similar in being vocal and not shying away from sharing our opinions.  We're very different in how we perceive school; Aisha is much more concerned with killing it on the field than her grades, and mygrades were one of my biggest priorities in high school. Aisha definitely enjoys herself a lot more than I did in high school. She is always down to have a good time and boldly expresses herself through her fashion choices. When I was in high school, you would not catch me outside of the house unless it had to do with acting or extracurriculars.
HOW ARE WE GOING TO SEE YOUR CHARACTER DEVELOP THROUGHOUT SAVED BY THE BELL?
We see Aisha really come into her own at Bayside. She is proud of where she came from but is excited to take advantage of the new environment she is in. Aisha ends up really succeeding at Bayside. As Aisha begins to evolve, her own interpersonal relationships with her peers also begin to change. Audiences will get to see her become a star of a sports team, explore a new romance and become more perceptive. Aisha throughout the season learns a lot of lessons about herself and her friends. 
HOW DOES YOUR DOMINICAN HERITAGE FUEL YOUR PASSION TO AMPLIFY MARGINALIZED VOICES? 
As a Dominican Afro Latina woman, I have always had to be resilient and admit adversity. I have immense pride in being both Black and Latina, but for most of my life it has resulted in people around me completely disregarding the intersectionality of my identity. The oppression and racism I have faced in my own life has made me impassioned to fight for the equity and liberation of all communities, not just the ones I'm part of. It is imperative to me that I am able to uplift the Latinx and Black community in all that I do. I strive to be an advocate for all marginalized communities and an agent of change. As an artist I pray that all my work and content allows for people to feel celebrated. There is so much change yet to be achieved and I will always use any type of platform I may have to empower, enlighten and unite others.  
WHAT'S NEXT FOR YOU IN 2021?
I am excited for what's to come next year. I hope next year is a year of healing for everyone. On a personal level I am looking forward to my project Moxie premiering on Netflix in March 2021. It is a great story of unity, friendship and intersectional feminism that I am honored to be a part of. I hope I am able to explore my artistry in different ways and continue to advocate for justice throughout next year.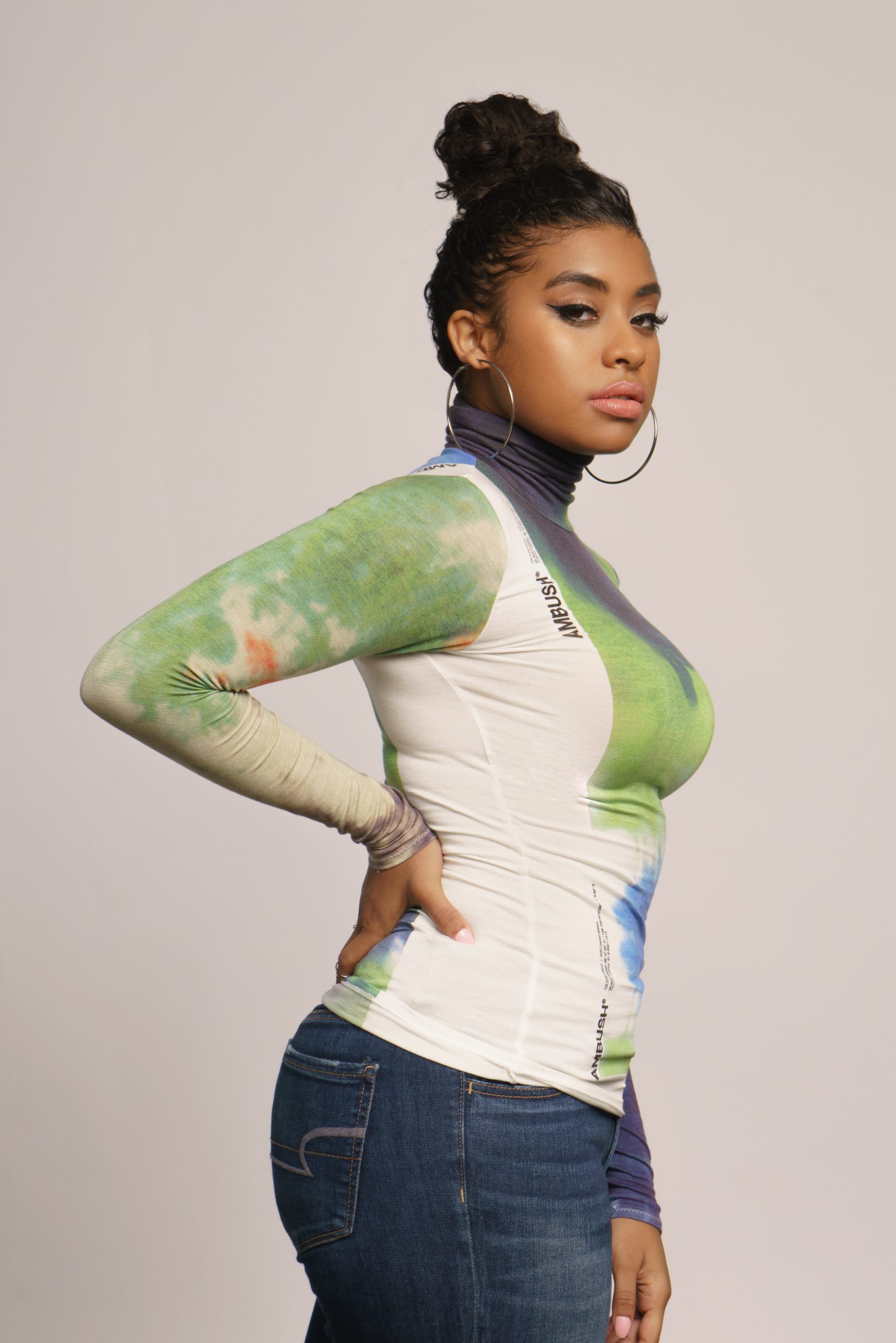 CONNECT WITH ALYCIA PASCUAL PEÑA
photos / Brandon Hicks
styling + direction / Rebecca M Gross
hair / Alexander Armand
make-up artist / Eliven Q
editor / E.R. Pulgar
story / D'Shonda Brown