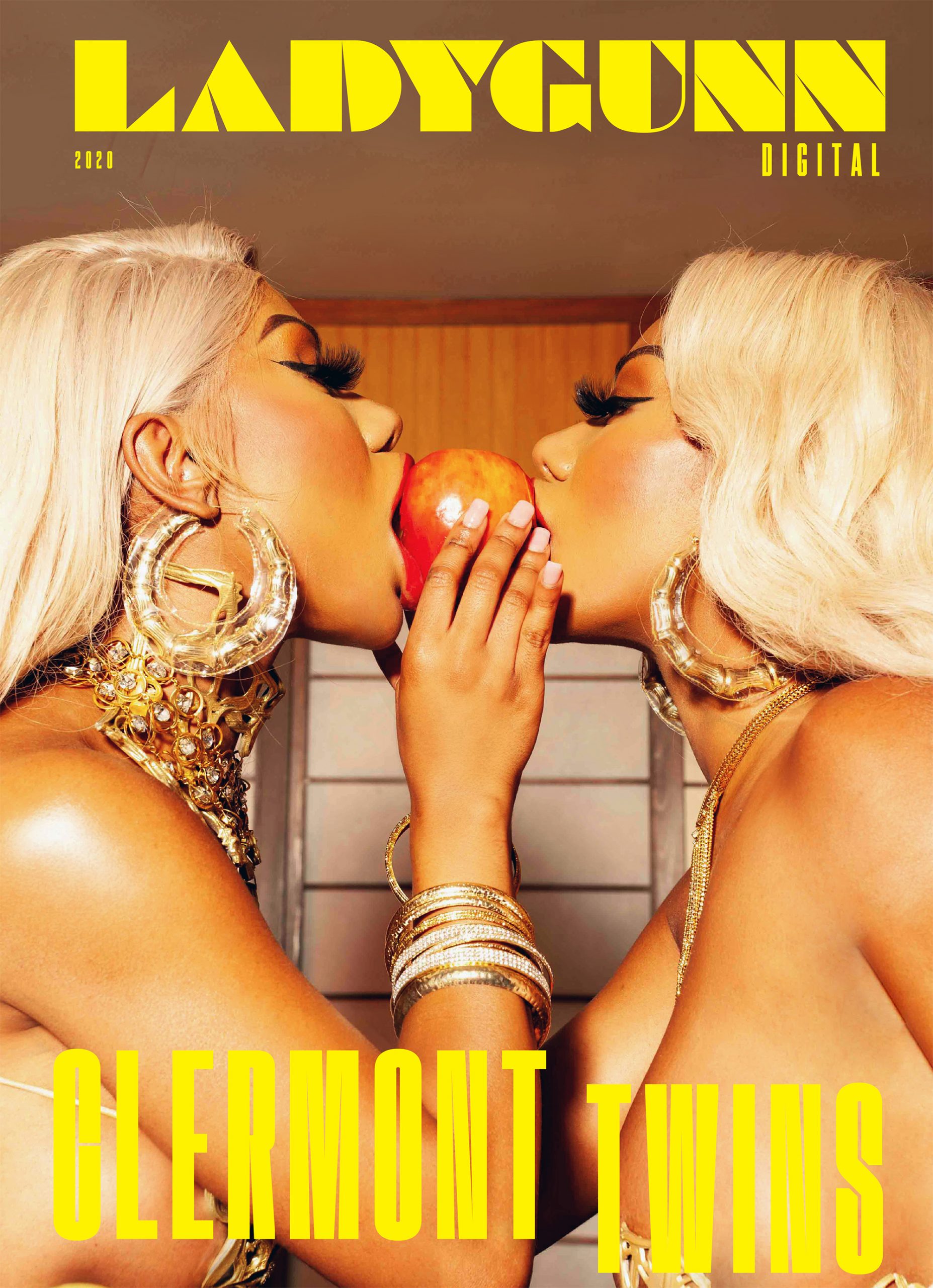 Who are you? Who are we? We are that bitch. 
I'm willing to bet that if you are familiar with  Shannon and Shannade Clermont, you will read this hearing their voices from the fourteenth season of the reality TV cult classic, Bad Girls Club. The 26-year-old fashion and television personalities were gifted with a Midas touch for the generation, granting them fashion and entertainment access to the biggest stars on the planet. The twins rub shoulders with everyone from Future to Nicki Minaj, and act as muses to Kanye West starring in paparazzi shots of Kim Kardashian-West for the Yeezy Season 6 campaign.
Their conjoined Instagram account has amassed over 1.6 million followers. Fans who heart the Clermont Twins and their don't-give-a-fuckness,  living their lives, exuding confidence, and the essence of being as close as two twins could be. Amidst public scrutiny and spending time apart, the two continue to demonstrate the tenacity, ambition and grind they've had since moving from Dallas, Georgia to the Big Apple we know as New York City.
Shannon and Shannade caught up with us over the phone in between a booked itinerary, catching flights – not feelings – and leveraging their social media to their advantage.  The budding Mont Boudoir empresses gave us a call to talk about the ups and downs of keeping it real on social media, the purity of their relationship as sisters and business partners, and how they plan to slay the holiday season.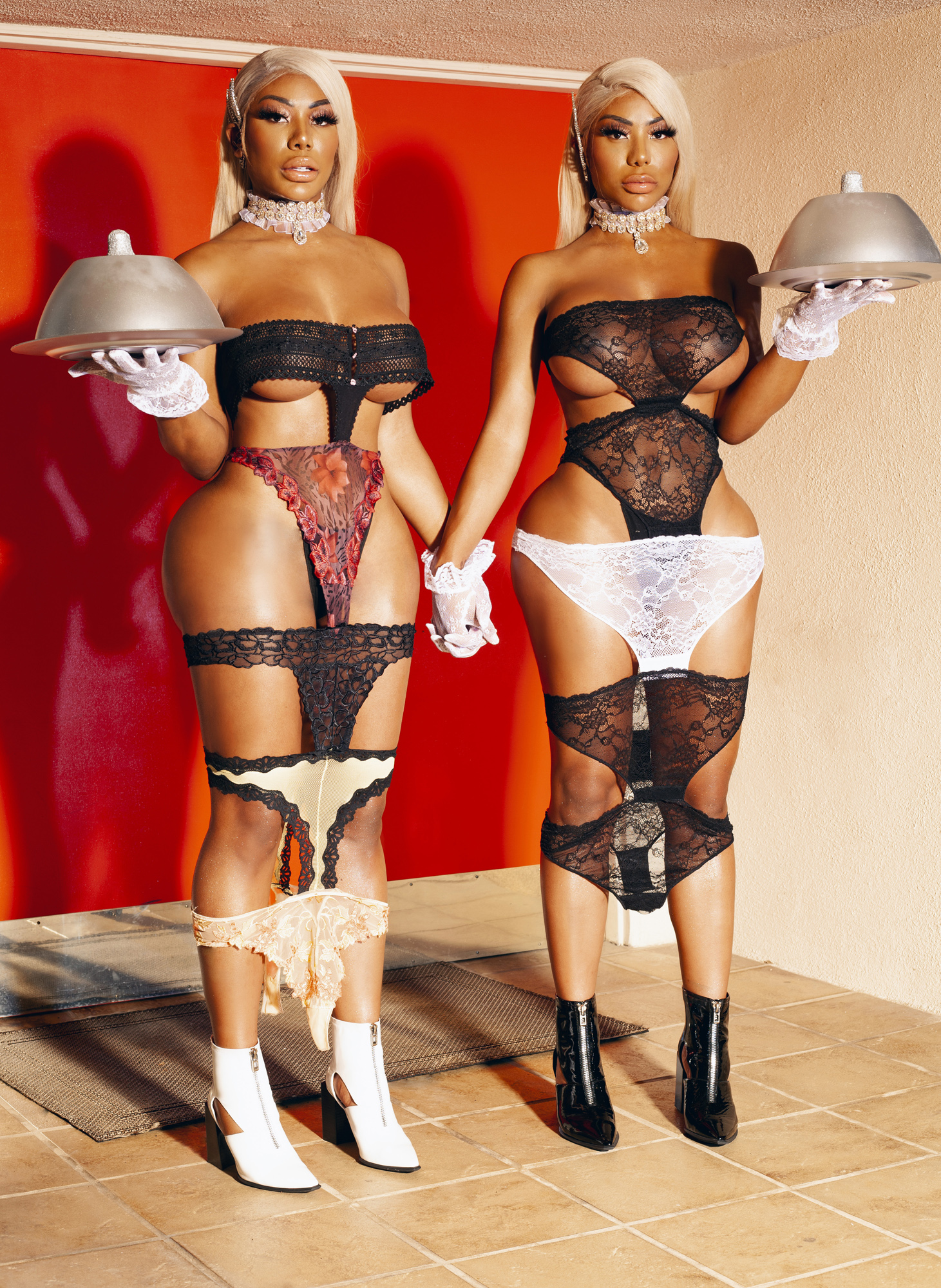 Ear cuff, ERICKSON BEAMON.
@ericksonbeamon.

Dress, MLAED.

@mlaed.

Boots, JEFFREY CAMPBELL.

@jeffreycampbell.
WHO ARE THE CLERMONT TWINS?
The Clermont Twins are unapologetic, fierce, outspoken, fashionable, wild, spontaneous – everything. [We're] go-getters, models, actresses, leaders, and a twin power duo. We're just so close with each other and we're so tight. We're undefeated and we don't let anybody hold us back. Let's not forget fashion icons!
WHAT ARE SOME OF MOST OFF-BRAND MISCONCEPTIONS OR CRAZIEST THINGS PEOPLE HAVE SAID ABOUT YOU AND YOUR RELATIONSHIP WITH EACH OTHER?
People think that we don't love ourselves. We're so full of love and we love ourselves so much. A lot of people are very close-minded on social media, they reflect their own insecurities, and people are scared to be themselves while we've grown to be more of ourselves. People are intimidated by that so they reflect that unto us a lot.
HOW DID YOUR EXPERIENCE IN GEORGIA INFLUENCE YOUR PERSONAL STYLES VERSUS WHEN YOU CAME TO NEW YORK?
We lived in Georgia and we were living in such a small town where we saw people wearing a lot of the same things. Growing up, our parents always let us be creative. Even though we're twins, they let us have our individuality and were always for us expressing ourselves; we even made our own homecoming dresses. 
Coming from New Jersey, we've always been true to ourselves and loved our own personal styles. That made us want to be in New York and be around other creative people. We lived in the suburbs [which] motivated us more to want to do what we want. We knew we had to leave out of this town and Georgia's only but so big, and we felt like we were too big to stay there. Being in such a small space made us want to branch out more.
WHEN DID YOU TWO FIRST GET INTO THE FASHION INDUSTRY? 
Everyone in our family is artistic. Our Dad can draw really nicely, our brother can too and our aunt was a fashion designer she used to bring us to New York fashion shows. I remember us having corduroy jeans that we used to cut up and make purses out of them. When it comes to fashion, it's not about labels, but it's about how you wear it and how you put things together. What makes you fashionable is when you're able to make something out of nothing. 
We knew from a young age that we wanted to go to school in New York for fashion design. I'm [Shannade] and I went to school at Parsons and Shannon went to F.I.T. because that where we wanted to be and that's where we'd end up. Going to New York from New Jersey at a really young age, then going to Georgia in a really small town, we were like, "Okay, no, this is not for us. We want to be in New York and we need to work for where we want to be."

Hat + Dress, BCALLA.
@bcallabcalla.

Necklace, UNDERPIN PR.

@underpinpr.

Shoes, JEFFREY CAMPBELL.

@jeffreycampbell.
HAVE YOU TWO ALWAYS BEEN AS CLOSE AS TWO TWIN SISTERS COULD POSSIBLY BE?
Yes, absolutely. All sisters and family bicker and fight, but it doesn't change our relationship. We've always been so close to each other so it's like having a best friend forever, someone who'll always have your back and has never had to question your intentions about you. We have twin friends who don't share similar interests, but we both share a passion for a lot of the same things and that's what made us such a great team on top of being sisters and twins. We really enjoy working with each other, uplifting each other, and doing things that we both love to do.
WHAT'S THE FUNDAMENTAL DIFFERENCE BETWEEN SHANNON AND SHANNADE? HOW CAN WE TELL YOU TWO APART?
Shannon: If you're around us a little more, you'll know that Shan's a little bit more spontaneous and adventurous, more of the social butterfly, and willing to try new things. I'm a little more laid back and a homebody. That's why we call each other Yin and Yang because we even each other out. We couldn't live without each other and we equal each other. Where we lack, the other one helps. That's how it works for us and it's always been that way.
BEING AS YOU TWO LIVE TOGETHER, HOW DOES IT HELP AND HURT YOUR RELATIONSHIP?
Shannon: I think it helps our relationship because it's always good to have someone around. We did have a moment when we lived in two separate apartments with a floor between us, but we were still always around each other. It was so pointless so we were like, "Why are we living by ourselves when we're always with each other?" We do literally everything together so it just makes sense. The only downside is as we're growing, Shan's in a relationship and we're growing into our own selves – and of course one day I want to get married and have kids.
Shannade: We do need our privacy. That's a little bit of what we're dealing with right now. Like, "Okay, we're getting older. Do we get our own space? Where do we go from here?" We're just trying to find that balance because we also work together. We have to be close enough to work together and see each other every day.
HOW DID IT FEEL TO RESURFACE YOUR BAD GIRLS CLUB DAYS FOR THE #THATBITCH CHALLENGE?
Shannade: It's so crazy and it was funny to see how Tik Tok expands something so small as a catchy phrase that we always say. When we did it at that moment on BGC, we never even thought that was something that would be aired. It was hilarious that people could now see our dynamic as twins and how we're both there to coach each other in a positive way.
Shannon: When I'm feeling down or when Shan's feeling down, it's like, "Don't forget who you are, don't let a guy treat you any kind of way, and remember that you are that bitch." We even get a lot of messages from people in high school who struggle with people talking down to them, but those moments that we had helped that. What's most important for us is to make sure there's always someone out there that can relate, feel motivated, and feel good about themselves. When you know who you are, you don't have to explain yourself to anybody. 
FOR THOSE WHO MAY NOT HAVE A TWIN, WHAT ADVICE DO YOU HAVE FOR ANYONE THAT MAY BE STRUGGLING WITH SELF-LOVE OR CONFIDENCE?
It's so good that we're twins that can always uplift each other when at least one of us is feeling down.  It's really important for people to have that support system. For anyone that has family support or not, it's important to give yourself a timeout to be there for yourself. I know it's so common to say, but it's so important because you can give so many other people attention without giving ourselves the same attention we need to feel good about ourselves. 
It's important to know that no one can make you happy but yourself. It's all in social media too because it's easy to get wrapped up in other people's lives and feel put down based on what other people put out, but people put out what they want to put out. People just see us as these sisters who don't go through anything. We go through our days too but I'm not gonna post that I'm crying today. In a way that's almost unfortunate because, on social media, people aren't as sensitive and don't realize that we're human too. It is kind of like conflicting to be more personal than we want to because it feels like someone's always gonna have something negative to say.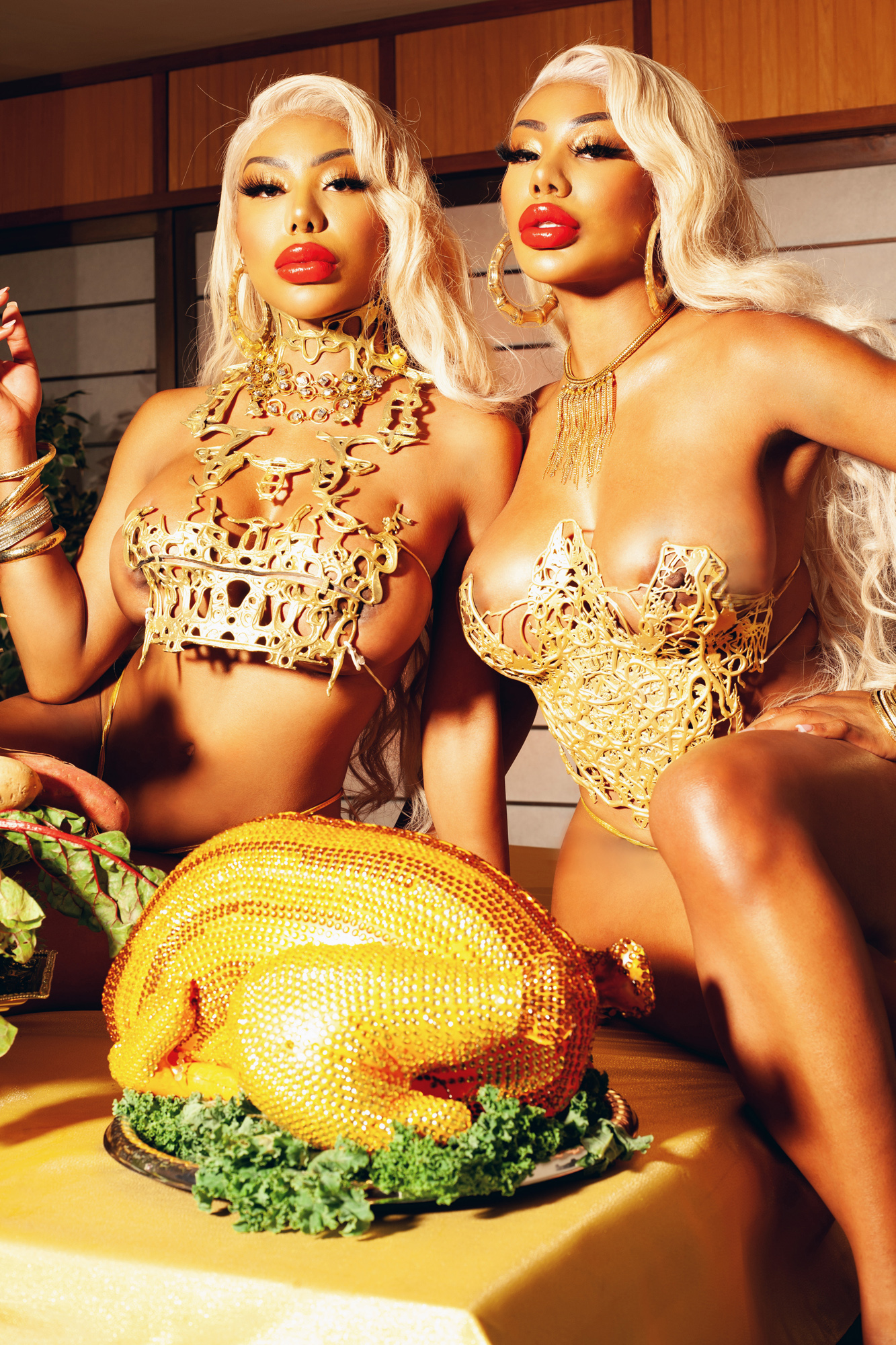 Earrings, SEVILLE MICHELLE. Necklace, ERICKSON BEAMON. Corsets, NUSI QUERO.
HAVE YOU TWO ALWAYS BEEN CONFIDENT AND COMFORTABLE WITH YOUR BODIES?
We've always been this way, but certain circumstances made us be more comfortable with ourselves. When we were going to agencies in New York, we were like thirty pounds lighter than we are now and they were telling us that we had to lose more weight. That discouraged us, but we realized that we didn't come [to New York] for no's. If I stop doing what I'm doing because of someone else, how is that gonna make me happy? If I don't believe in myself, no one else will. We thought that if people don't see us in this position, we're gonna do it anyway and we're gonna put ourselves in this position. That's why we always make sure to not limit ourselves to one thing – we do runway, we do videos, TV, web design.  If you're not gonna make room for me, we're gonna make room for ourselves. Whatever we do, we decided to do it ourselves because no one else could stop us or tell us what to do.
HOW HAS THE VISIBILITY OF BLACK WOMEN IN FASHION AND BEAUTY EVOLVED?
There's definitely more work that needs to be done. Black women always have to try extra hard. With us, we always have to go so much harder than anyone else just because of our skin color. There needs to be more than just one or two Black models on the runway. 
It comes from within our own community too and a lot of the criticism we get is from our own people instead of allowing people like us in our community to be uplifted. Just like Jaden and Willow Smith, they felt like they were shunned out of the Black community because they're different and something that people aren't used to. That's relatable for us because we're different and we do what we want to do. You have to let people know that they do deserve these positions and they deserve to be in that space. If our own people are not allowing us to be encouraged in any kind of way, it holds us all back.
WHAT ARE SOME OF YOUR FAVORITE BLACK-OWNED BRANDS AND DESIGNERS TO SUPPORT?
I always say Telfar. With Pyer Moss, every fashion show has been such a moment. He makes everything a moment and how he adds so much influence to our community through his work is so beautifully done. We're never disappointed. With all of these [Black] designers, they always have something different to bring to the table. They're never all the same and a lot of these Black designers are often well more versed and creative than a lot of these brands that get more recognition than them.
HOW DID MONT BOUDOIR COME INTO FRUITION AND WHAT INSPIRED THE COLLABORATION ON SPECIFICALLY EYEWEAR?
We've had Mont Boudoir since 2017 so it's been a long time coming. We never gave up though a lot of people think it's something new that we just started. When Halloween came around, everyone was wearing blonde wigs and big glasses to dress up like us. We didn't realize how much we loved a good shield shade. It's a staple item that everyone needs in their closet and we came up with the shades to come out with because we feel like everyone needs a good pair of sunglasses. We didn't realize that was our true branded look until everyone started dressing up as us for Halloween. Eyewear always completes the look and it's an accessory that is needed whether you're dressing up or down. As long as you have the perfect pair of shades on, you look like money. Even in my gym wear and I have my Mont Boudoir glasses on, I feel good.
WHAT'S IT LIKE WORKING ON A BUSINESS TOGETHER AS SISTERS?
It's most important to have a business with someone who has the same intentions, motivations, and drive as you. As long as when we give our input we can come to a common ground about what we both want, I know it can work out. Even with our next shades that are going to come out in January, we're working on a new color and we're going back and forth on what we want it to be. We always seem to make it work and come to a good compromise.
HOW DO YOU SEE THE CLERMONT TWINS OVER THE NEXT FEW YEARS?
I see us as the next Johnson & Johnson. I want to create an empire and do everything. We have so many different things that we want to do in life and I see ourselves becoming really big businesswomen. We're going to create a brand bigger than ourselves and something that leaves an impact for generations and generations to come.
IN THE SPIRIT OF THE HOLIDAY SEASON, WHAT ARE FAMILY VALUES THAT YOU HOLD CLOSEST TO YOU DURING THE HOLIDAYS?
Respect, love, being kind, and keeping those around you close. Checking up on your family and being appreciative of everything because the holidays are the times to be the most grateful and feeling blessed. Holidays are our favorite because we get to see our family and we make sure to clear out our schedules for that because that's our rock. The holidays are an opportunity to give back. Every year we go to a homeless shelter to feed the homeless and it reminds us to be grateful for your life.
WHAT ARE EACH OF YOU MOST THANKFUL FOR?
Shannon: Being here and just being present. We're alive, but are we living? I just want to be thankful to God for allowing us to be on this Earth, allowing us to just continue what we love to do, and keeping us on the right track. 
Shannade: Me, Shannade, I'm more thankful for just being healthy. Living healthy, being able to do what I'm able to do, having these hands to write these emails, a mouth to speak and feet to walk. It's so important to be thankful for your health. With so much going on in this world, I'm just happy to be alive and healthy.
WHAT'S THE BEST THING YOU TWO HAVE EVER GOTTEN FOR EACH OTHER?
Support. That's the most needed. Through the roughest times and the most difficult times, and even our best times, support is so important. We don't allow each other to not be there for each other. You can spend the most money, you can have the best gifts and presents, but your presence, your support, and showing up when it counts and when it matters is important.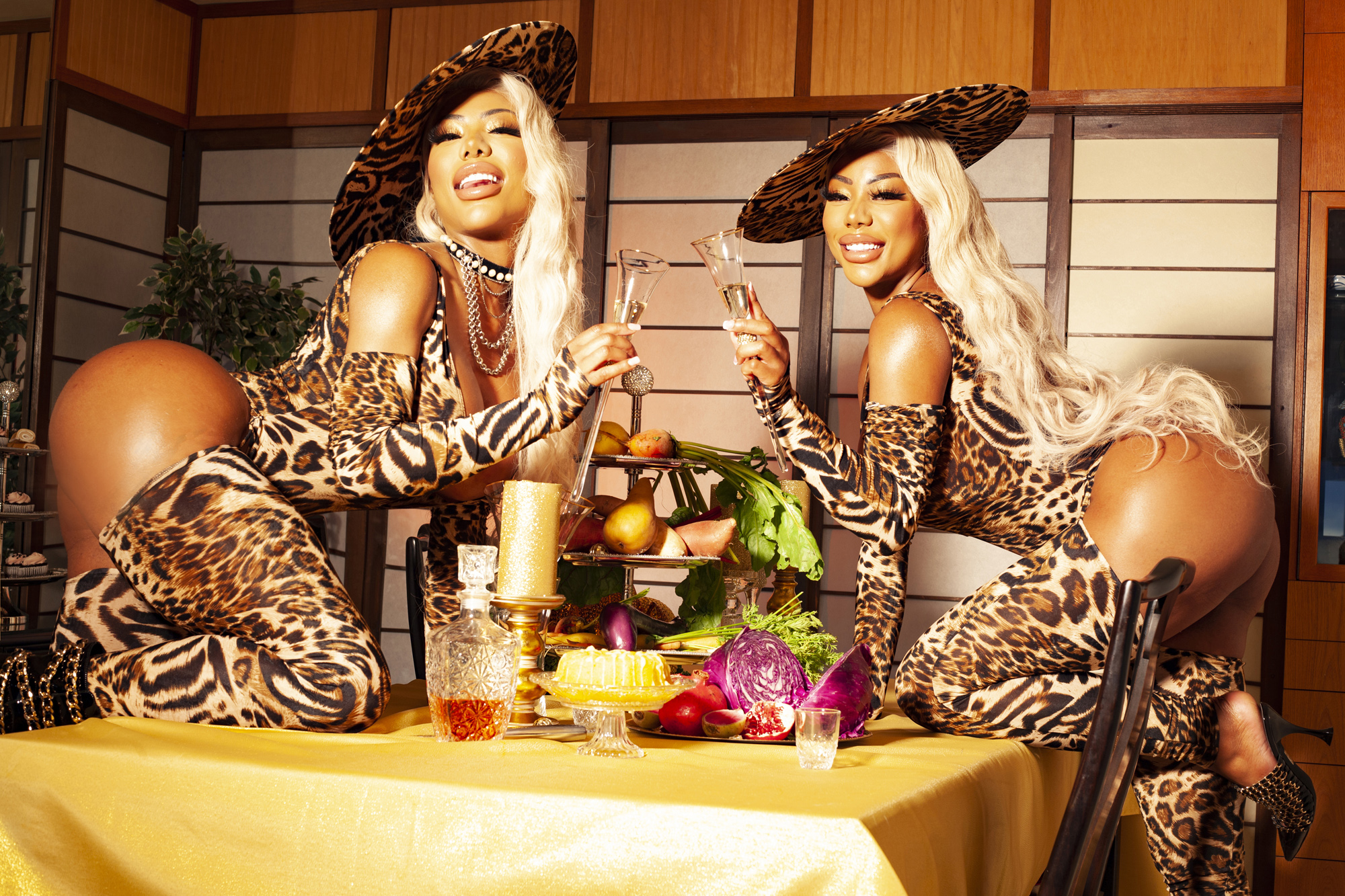 Hat, SARAH SOKOL.

@sarahsokolmillinery. Necklace, ERICKSON BEAMON.

@ericksonbeamon.

Catsuit, ADOLFO SANCHEZ.

@asanchezfashion.

Shoes, JEFFREY CAMPBELL.

@jeffreycampbell.
CONNECT WITH THE CLERMONT TWINS
---
PHOTOS / Munachi Osegbu
STYLING + DIRECTION / Phil Gomez
MAKEUP / Gilbert Solis
HAIR / Preston Wada 
VIDEO / Jacqueline Kulla + 3rd Eye Productions 
STYLING ASSISTANT / Mateo Palacio
PA / Melissa Gomez
STORY / D'Shonda Brown 
EIC / Koko Ntuen