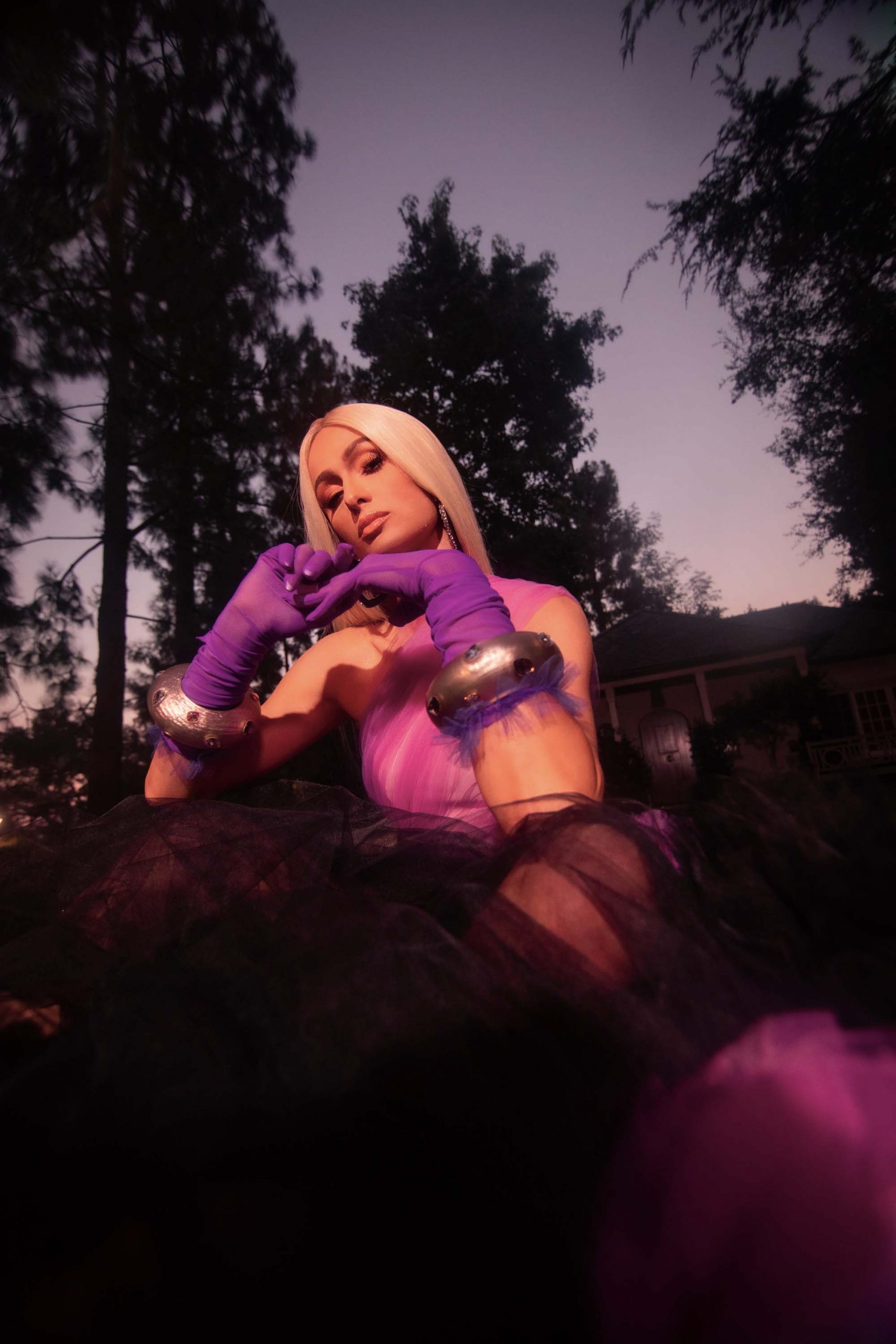 dress, CHRISTIAN SIRIANO. (@csiriano)
jewelry, ALEXIS BITTAR. (@alexisbittar)
gloves, LILITH VIPER. (@lilithviper)
shoes, JEFFREY CAMPBELL. (@jeffreycampbell)
"What is it like to be so famous?"
"Are you naturally skinny or do you…?"
These are questions I find myself asking Paris Hilton in the middle of a global pandemic. I didn't think we would be doing a video interview. I specifically asked, in a fleeting sense of vanity, while setting up our call so that I could wear mascara and perhaps stage a cacti, rose light, and wooden table background. When we are connected by her publicist via Zoom, I'm five minutes out of the shower, wearing underwear and standing in my closet when Paris' image begins to digitally metamorphosize onto the screen. I throw on a silver lamé dress, put my braids in a side ponytail, and sit down when she appears. Her face is as bright as the Pacific Standard Time zone, clad in an effortless baseball cap and blonde tresses falling down her shoulders. Her boyfriend is in another room and a husky puppy, a present from him, is at her feet. Paris is working out of her home office and I'm situated comfortably on the carpet of my walk-in silhouetted by shelves and dress ends. We are both having groundhog day syndrome.  It's hard not to and immediately jump into The Great Quarantine of 2020.
"This is nothing like anything I've ever experienced before. I'm used to traveling every two days. This is the first time I've actually had to force myself to pause and stay at home," she says about really scary times right now. It's just, I feel so terrible for all the people around the world who are losing their jobs and their homes, their lives. It's just, people are scared to leave their house. It's just, it's terrifying. I'm just praying every day that the stumps cause it's just crazy. "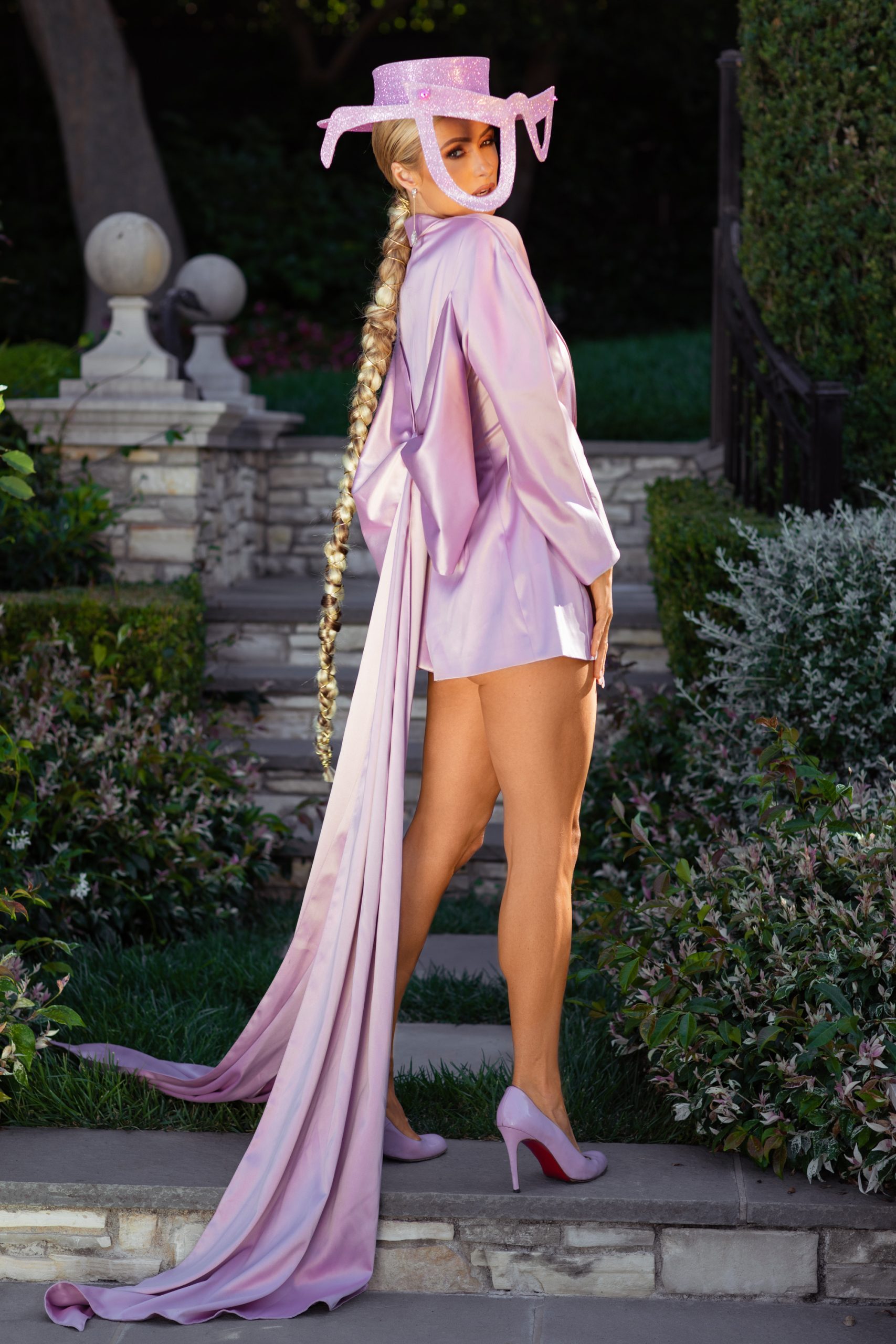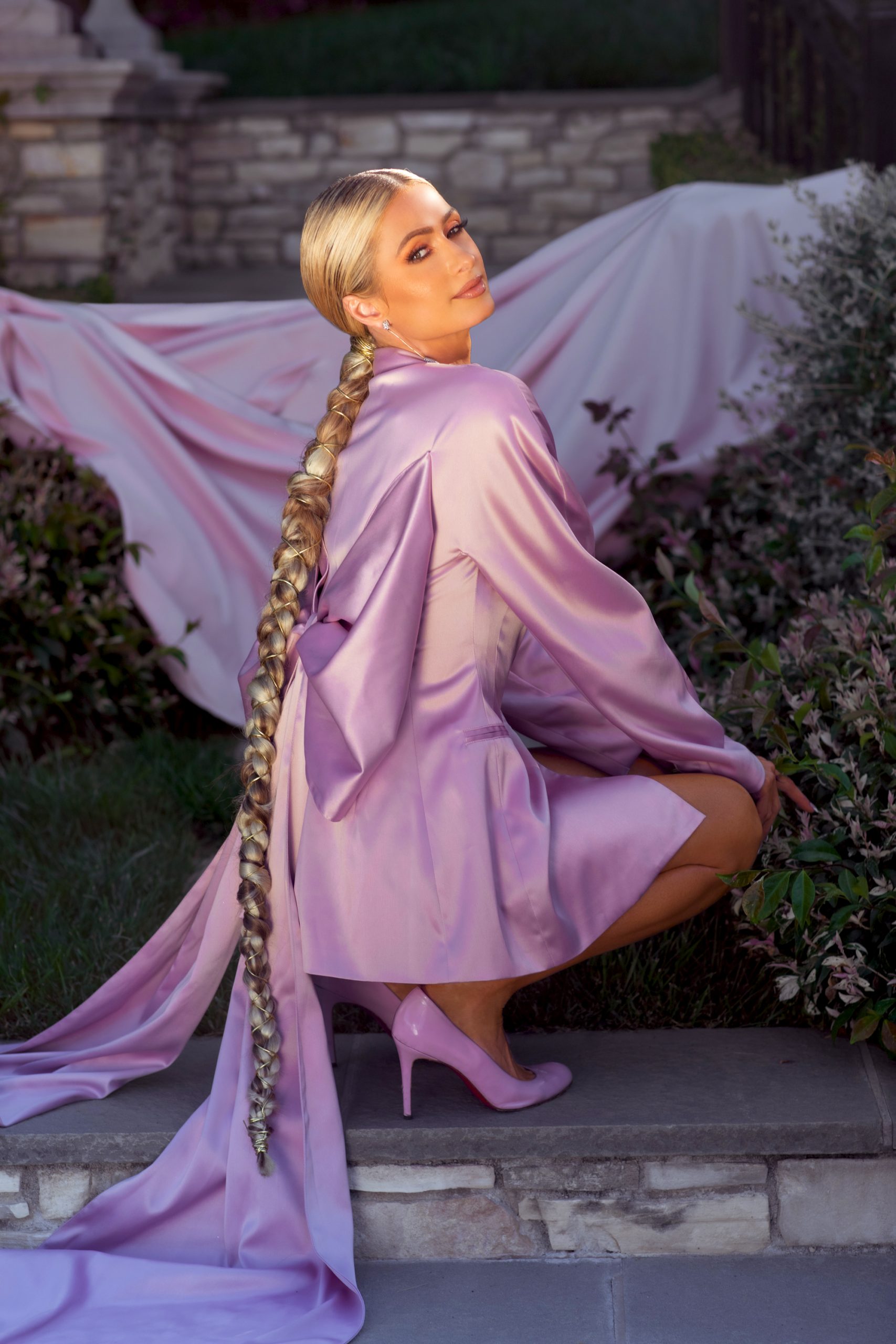 hat, REY ORTIZ. (@fashionbyreyortiz)
dress, NICOLE SHANTE. (@nicoleshanteofficial)
jewelry, ALEXIS BITTAR. (@alexisbittar)
shoes, CHRISTIAN LOUBOUTIN (@christianlouboutin)
It's a relatable position for most which strikes a jarring note on the state of the world. While "Celebrities. They're Just Like Us: They suffer during a plague." is my least favorite edition, there is a mawkish sentiment to be found in the ability for people across all classes and celebrities to be unified by hours at home, washing groceries and using hand sanitizer religiously, all while picking up new ticks and quirks from your loved ones. Why does my husband have to vacuum while I'm on a call? When did he start liking oat milk and why did he finish all of it before I could even pour myself a cup of coffee? 
"The divorce rates are at an all-time high. My husband is driving me crazy," I tell her. 
"I'm so lucky," she laughs. "I have the most incredible boyfriend. I don't know what I would do without him. He's just so sweet and so kind and so brilliant. And just, I just listened to them all day every day. Like, cause we're both doing our business and work, but I'll walk into the office room at our house and just, just listen to him. Cause he's just so smart. And I just think that it's just like such a turn on to hear like a businessman talking." 
Paris is very warm, akin to talking to someone who has a sister or a best friend. She has a grounded approachability that makes me want to talk about boys and girls I can't stand. Most of the "off the records" come in the form of eye contact and giggles. We speak on the eve of the release for This Is Paris, a documentary that lifts a velvet veil into the dysfunction of her youth. Something that she has never spoken about till now.  
"I never put myself out there in such a way and just been so raw and honest and real. So it was an amazing experience, but it was also really hard because I didn't know that was going to happen. The movie was just supposed to be about me as a little girl and my life and then becoming a businesswoman. Basically, that was it. I was traveling in Korea and on such a crazy schedule as usual and I just broke down. I  was so upset. The director, [Alexandra Dean], and I have this sisterly bond where I felt like I could tell her anything. We just started talking about it. And then I started remembering all these things that I had stuffed down. I didn't want to feel them anymore because they were so painful, so I kind of almost forgot about them in a way, because I just had not thought about it since I was a kid. It was a very therapeutic experience for sure."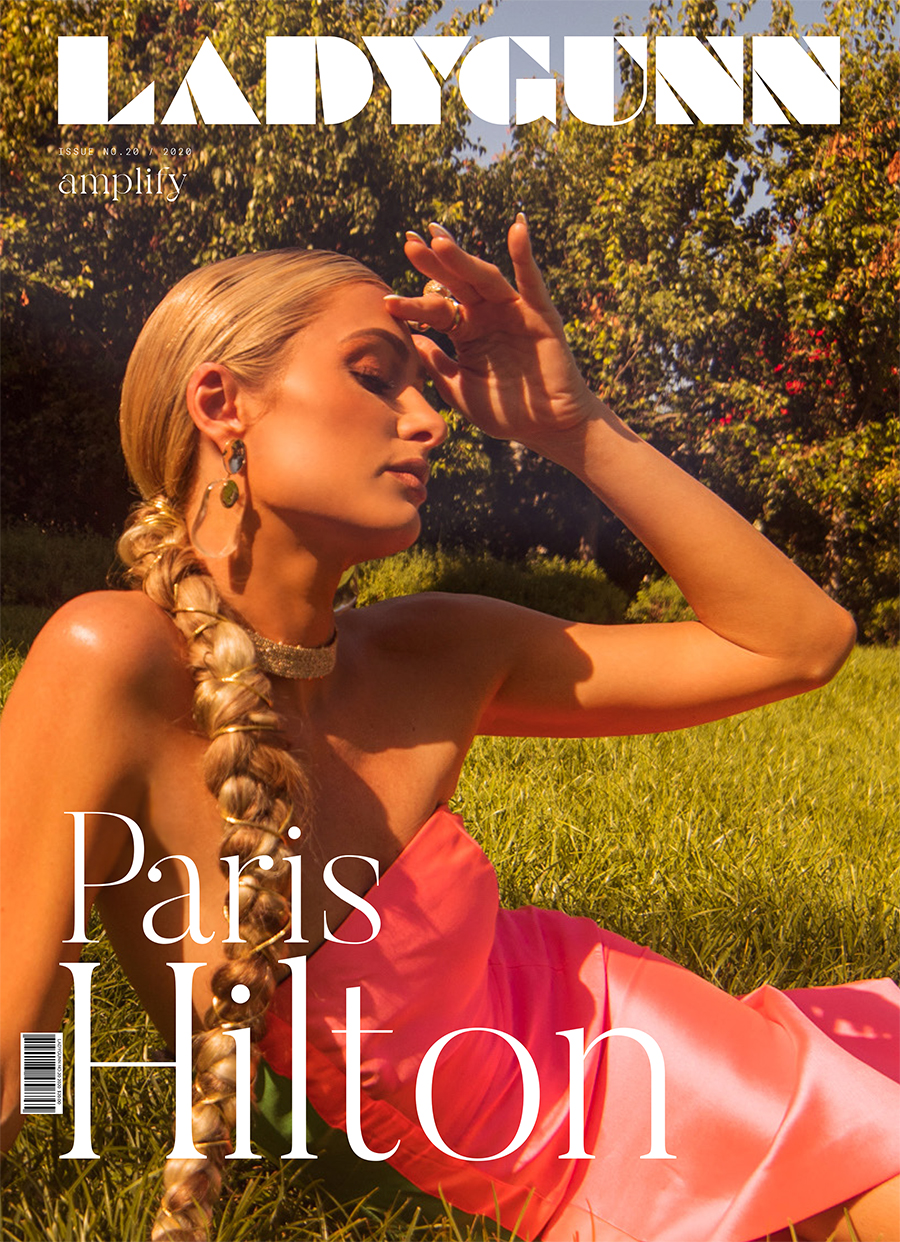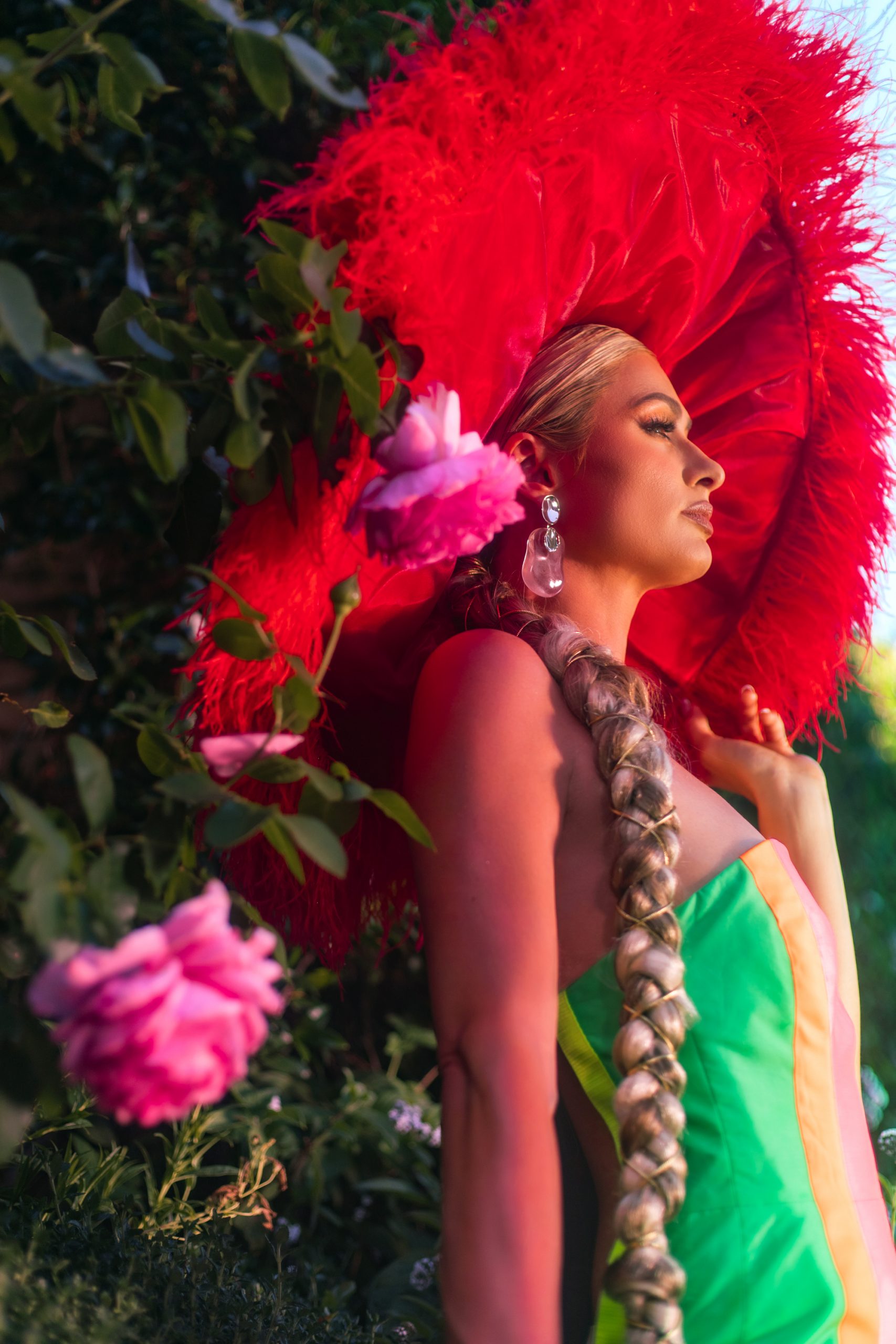 Hat, KOCHÉ. (@koche)
dress, RVDK. (@ronaldvanderkemp)
jewelry, ALEXIS BITTAR.  (@alexisbittar)
It is the abuse she suffered at Provo Canyon boarding school while she was a teenager. The wild child socialite that Paris Hilton was turning into on the streets and in the clubs of NYC during her burgeoning years was a point of contention for her parents. They enacted a covert operation that involved forcibly removing a sleeping Paris from her bed in the middle of the night and flying her with handlers to Utah.
"They say trauma, the mind may forget but the body never forgets. And it's trapped in you and it can come out whenever." Her sister Nicky Hilton Rothschild says in This Is Paris. 
For years the press and social media had skipped over a pinnacle part of her backstory and served her up in provocative David Lachapelle photos and front-page stories..  The documentary unmasks the harrowing Paris Hilton years most assumed were going to debutante balls and shopping. The trauma inched its way up like an earthworm after the rain, uprooting years of "I'm fines", fake smiles, and long nights that Paris was known for. Her armor became her fame.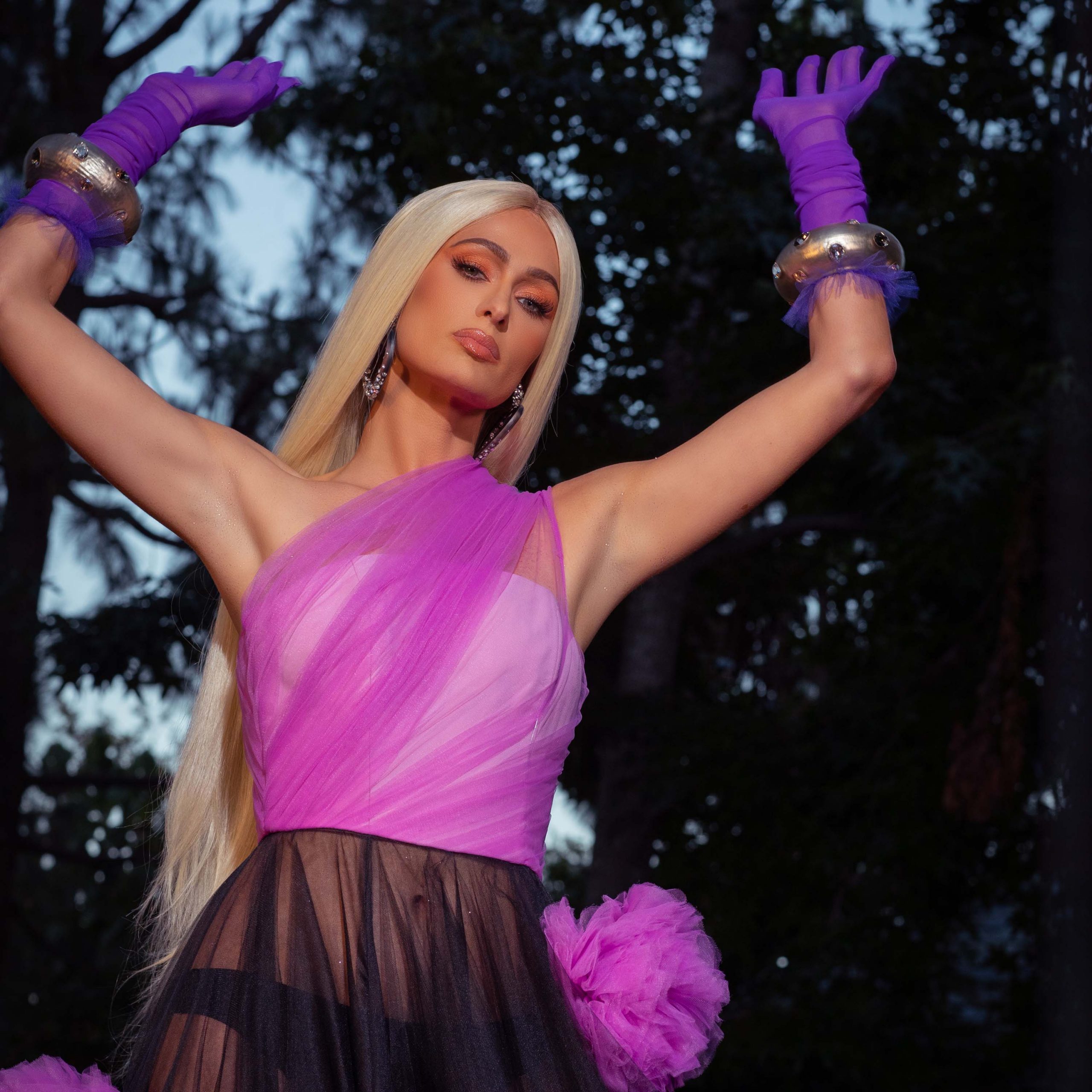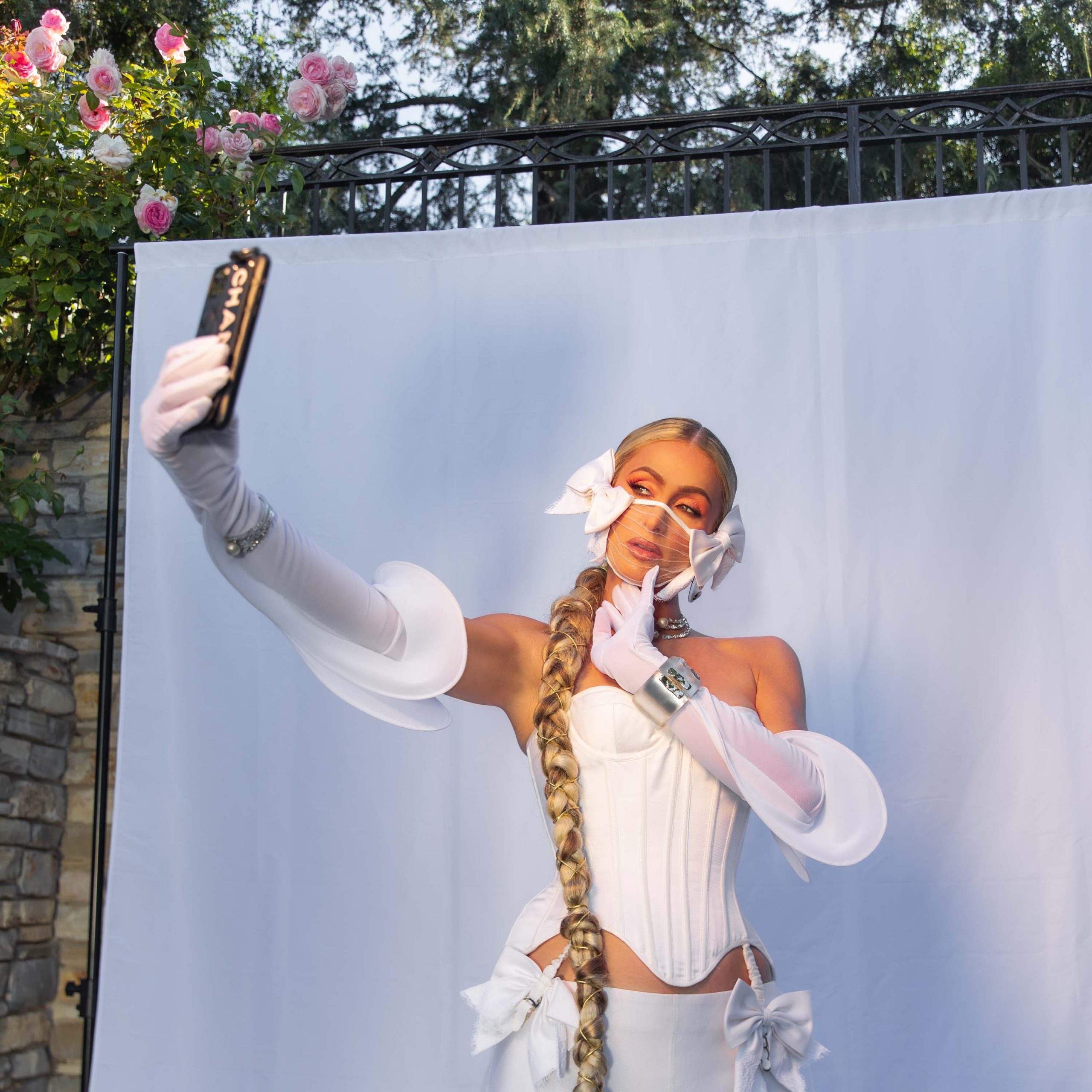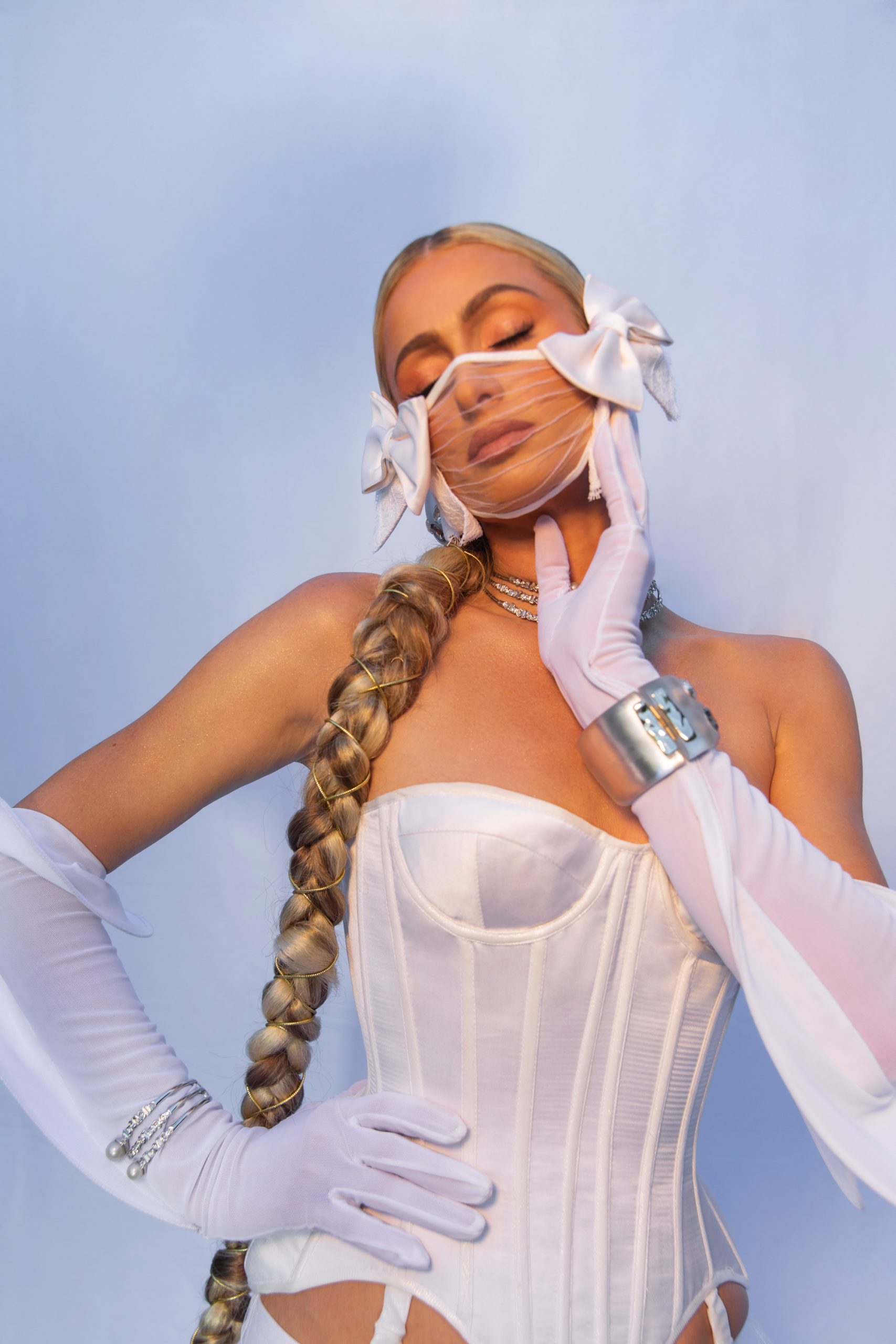 mask, top & bottom, WIEDERHOEFT. (@wiederhoeft_)
 jewelry, ALEXIS BITTAR. (@alexisbittar)
 gloves, LAERKE VALUM. (@laerkevalum)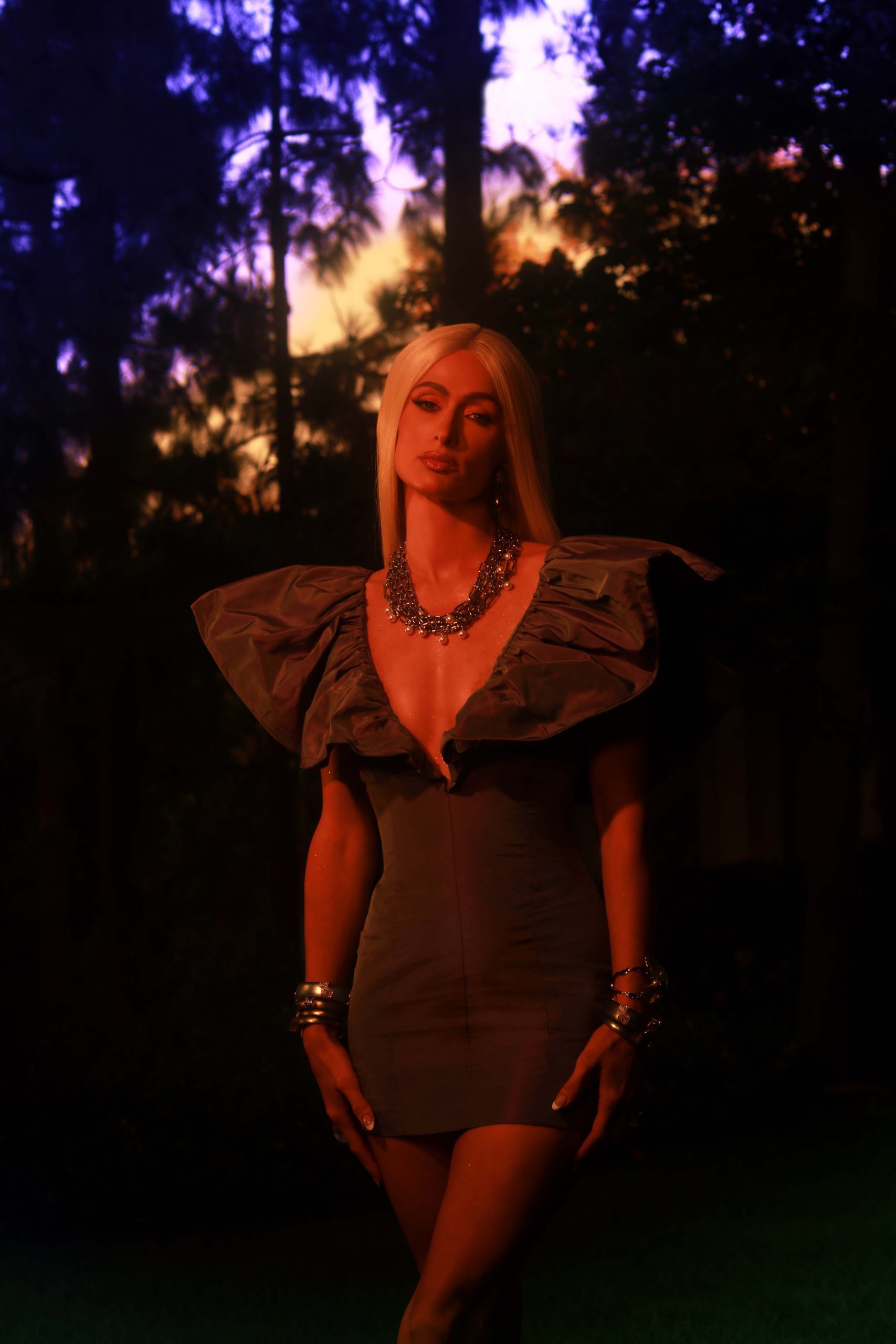 dress, LAQUAN SMITH. (@laquan_smith)
jewelry, ALEXIS BITTAR. (@alexisbittar)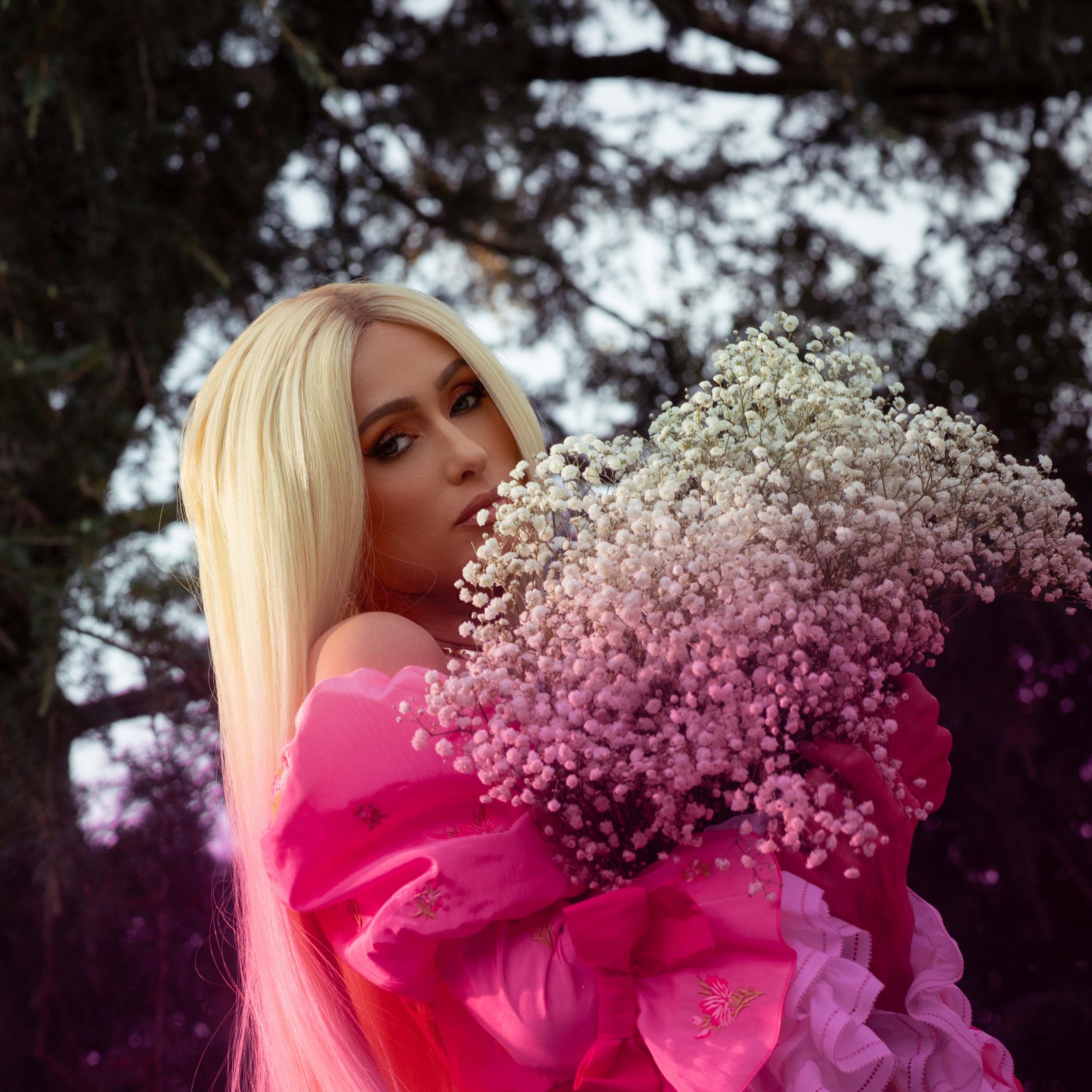 entire look, MOSCHINO. (@moschino)   
 jewelry, ALEXIS BITTAR. (@alexisbittar)
"I developed that character from being at these schools. I think I built a shell around myself to protect myself. I always was a very naturally shy person. I think putting on that mask and being that character, was a way for me to kind of hide. So I wouldn't have to fully expose myself to the world. Because I felt like the world thought they knew me so well and it was taking so much from me already that I wanted to do something for myself. I just kind of got lost in it and almost forgot who I was because I was so used to doing it all the time that I kind of like when you're having to constantly travel and be on and like performing every single day. When I wasn't working I slept so I could get the energy back to go and do it all over again the next day. I didn't really have time to even think about it. I like how I would just be completely used to it."
She stops for a minute, composed and insightful, "I've just gone through so much.  I wanted to be so successful that no one could ever control me again. That gave me the drive to be who I am today."
Paris Hilton's defining role in the early 2000s was the act of a lifetime. That era gave us low rise jeans,  It was a no-holds-barred, boundary-pushing, celebrity, and sex-obsessed, scandal-ridden time. The age of the personality. The bigger the better. Hair, accounts, cars, scandal– Paris Hilton had it all. With a  landmark last name and cheekbones that never found a bad angle, she was a likely star for this era. Thin, blonde, and vocal fried, her tabloid relevance took hold of the publishing world and created an industry of its own. 
She was able to parlay her love of nightlife into a career as a reality star,  a top DJ, and a beauty empire that has amassed billions. The influencer industry was basically created by a woman who refused to let anyone tell her story and well, liked to tell her story.  She created a historic seat at the head of the Hilton dynasty. While her grandfather pioneered hospitality, Paris pioneered news cycles, paparazzi economy, and the golden days of the internet. At the height of her fame, an exclusive photo of Paris could fetch up to one million dollars.
"When I was a teenager it was exciting and so much fun for paparazzi to take my picture. I loved it. I felt like, Oh my God, like this, my Marilyn Monroe moments. I loved it. But then it just became crazy and just, they got too aggressive. Sometimes hundreds of them would chase me in cars, almost causing car accidents, fighting over the photo or each other, and just, it just got so overwhelming. It got scared because I knew what was happening and they just wanted a picture so bad that they would basically go to any length to get it. I would tell them, 'I don't want to be followed today. I don't want everyone finding out where I live.' So I would drive as fast as possible trying to get rid of them. And it was just impossible. Stalkers and psychotic people would show up at my house. It was scary.  I'm very independent. I don't like going out with bodyguards, I get annoyed.  So my family would get so nervous like Paris, you're just too free somebody's going to kidnap you."
It's 2020 and Paris Hilton feels like a grown-up. She's lived a cinematic life traveling the globe, connecting with millions of fans and communities around the world, and helped create the modern-day cult of personality.
"I'm excited because this is definitely the next phase in my life. I finally feel like I know myself, so I'm so excited to start a family and just move on to the next step in my life and just be happy and just know that I've worked so hard and built something. I'm so proud of it. Now I can finally just enjoy my life."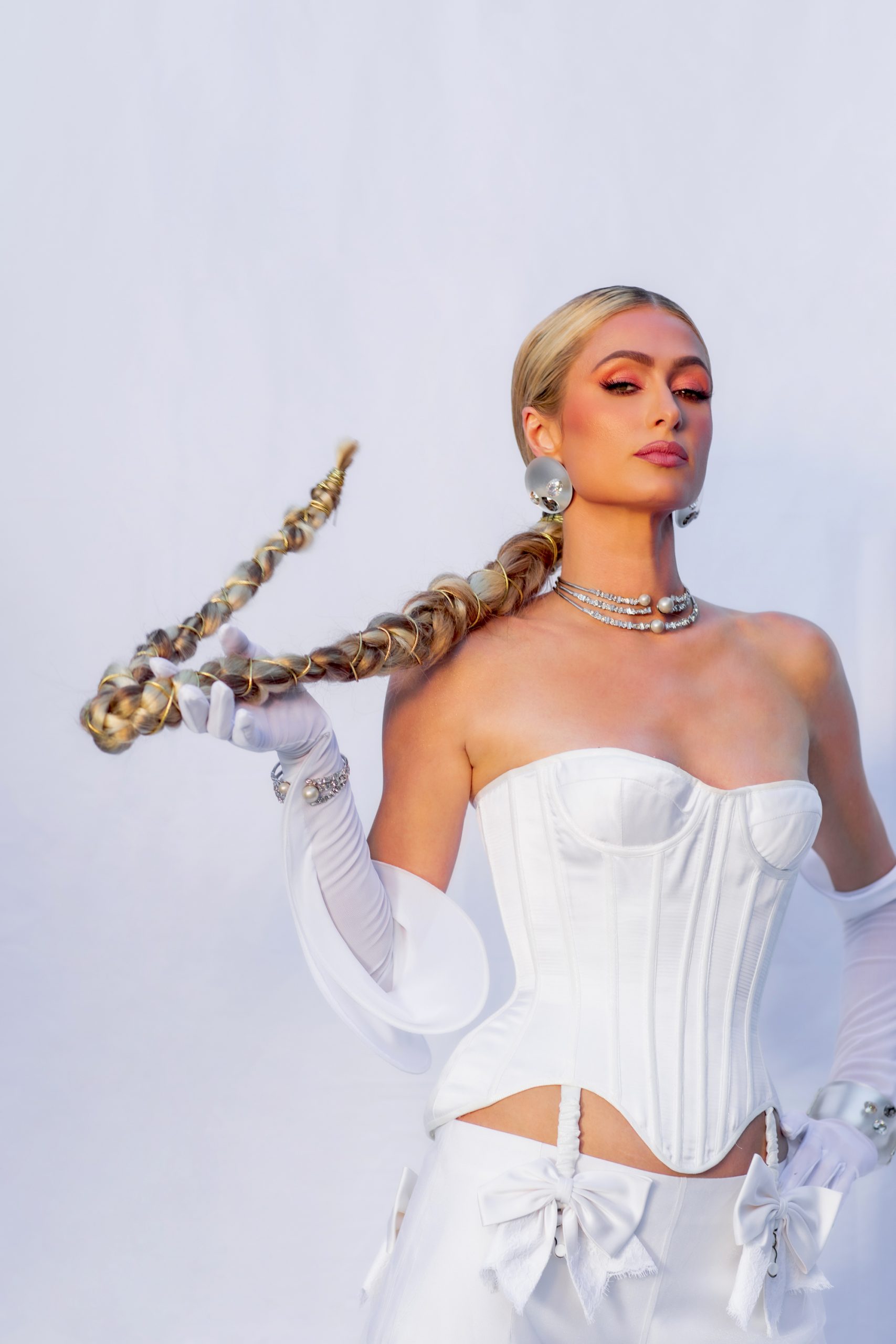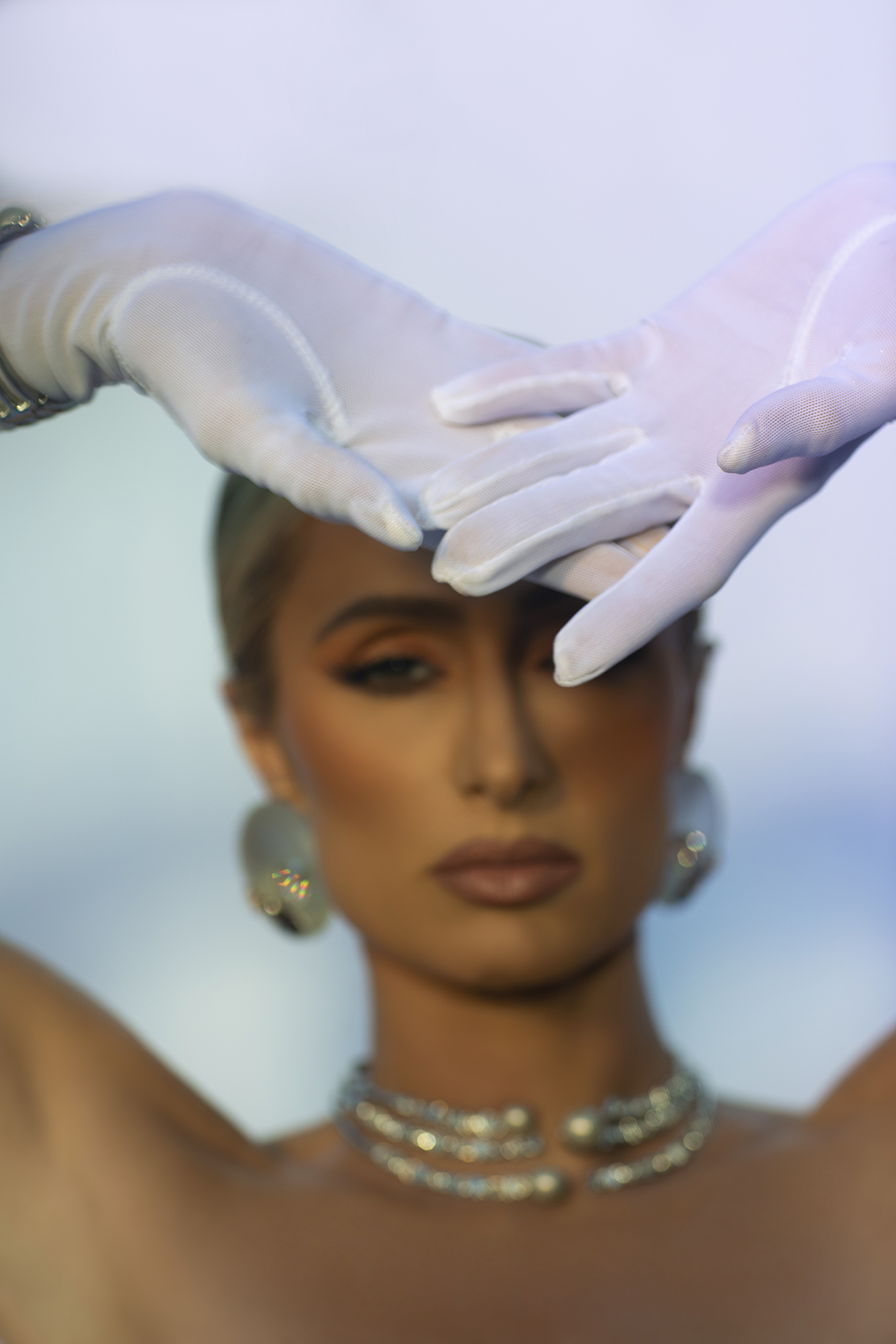 dress, REY ORTIZ. (@fashionbyreyortiz)
jewelry, ALEXIS BITTAR. (@alexisbittar)
boots, JEFFREY CAMPBELL. (@jeffreycampbell)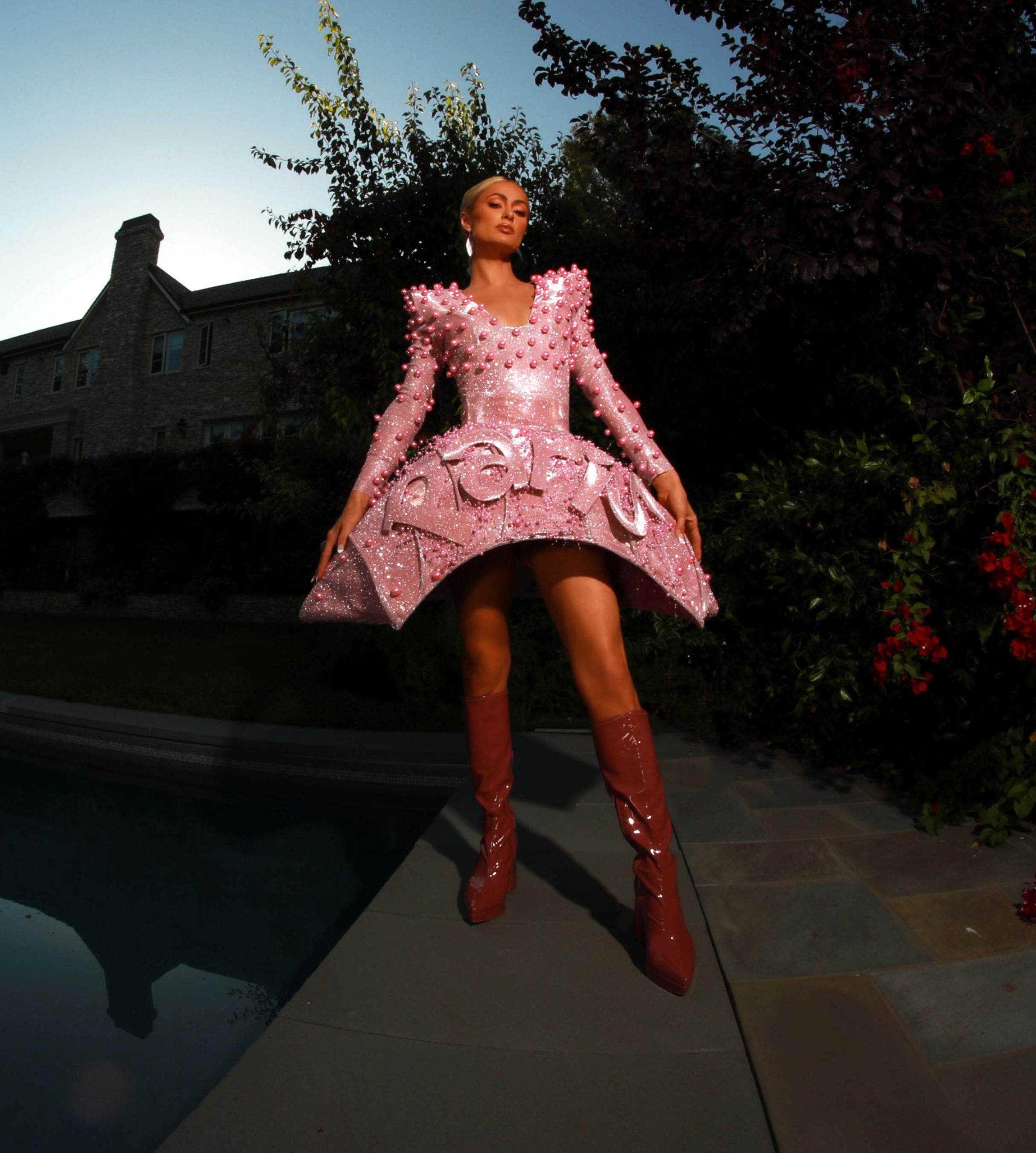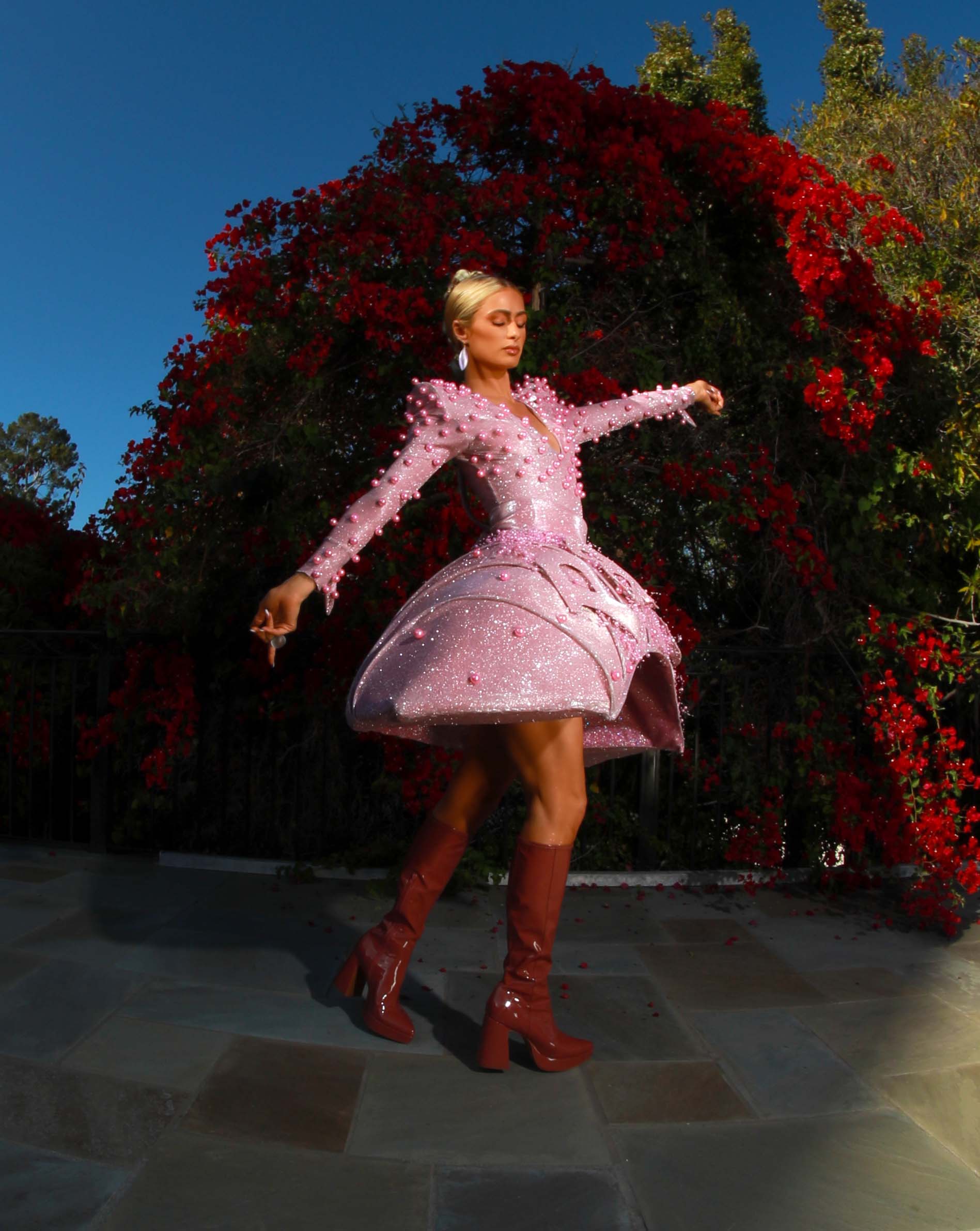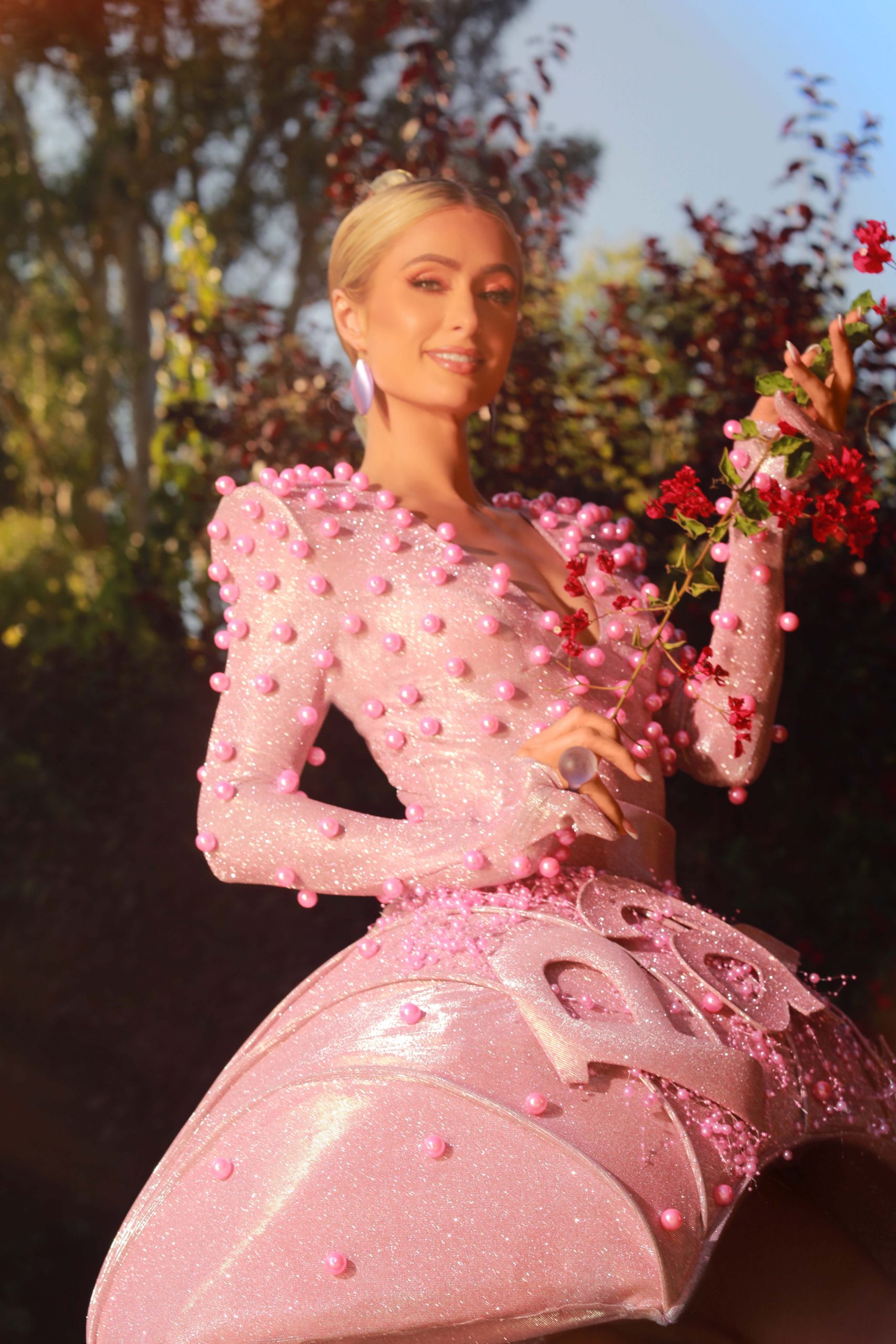 CONNECT WITH PARIS
---
@LADYGUNN NO.20 X @PARISHILTON