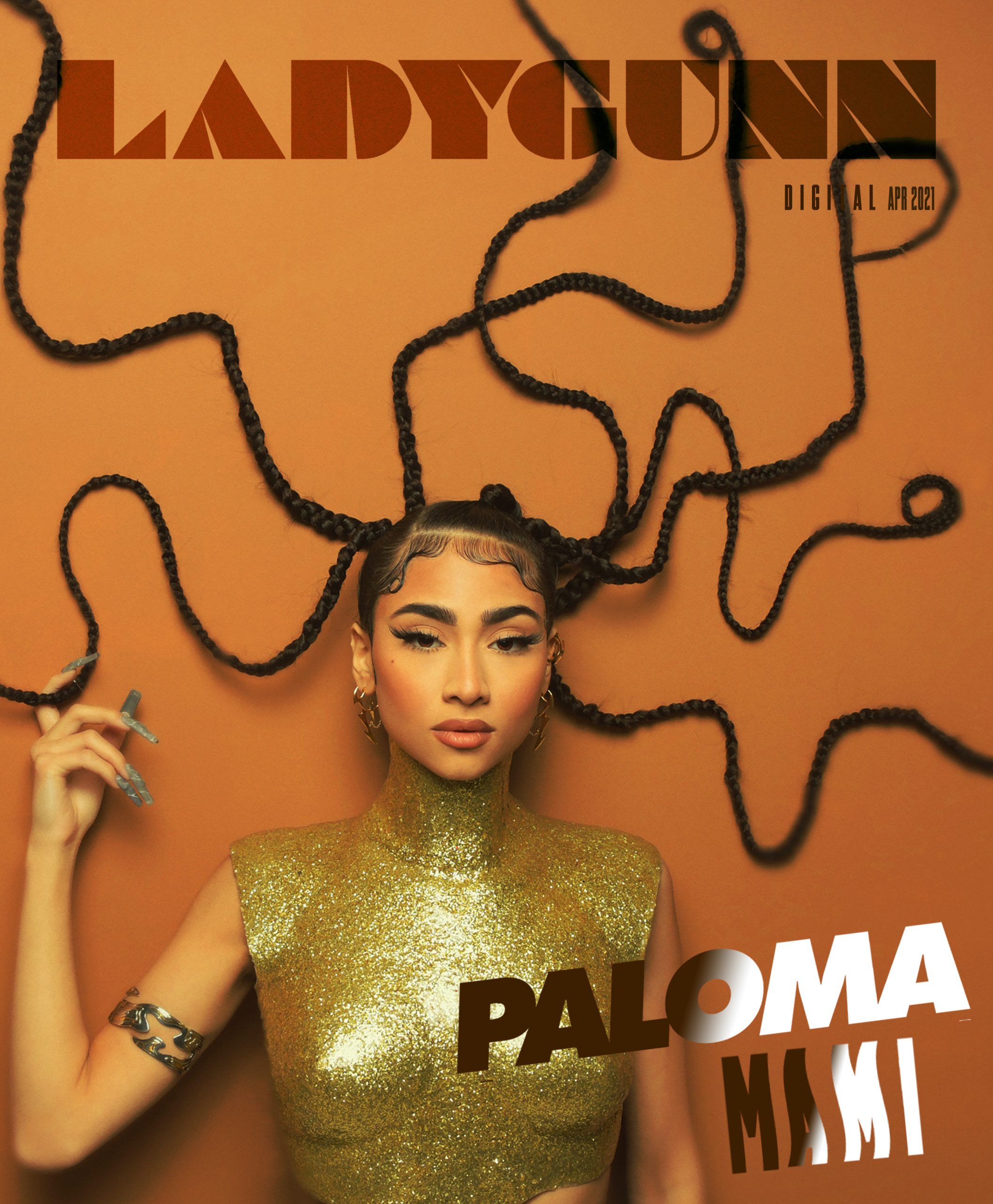 In 2018, an 18-year-old

Paloma Rocío Castillo Astorga found herself

freshly relocated from the bustling city life in New York City to her family's home of origin nestled in Santiago, Chile. Finding solace in the opportunity of a clean slate, Paloma took her chances on a fated encounter that landed her into

a recording booth for the first time. Invited into the studio by Chilean producer Lesz,

Paloma began writing her first song not knowing what awaited her at the song's end. "I started making

'Not Steady'

right there, without thinking about it." Her first single written, mixed, and uploaded soon after her session, along with a music video shot at her grandmother's house, birthed a viral sensation that introduced the world to Paloma Mami.

 
Fast forward only three short years after her first hit caught fire, Paloma sits on accomplishments often strived for yet rarely achieved. With her first aforementioned single alone, she was signed as the first Chilean artist under Sony Music Latin. With a handful more singles to follow, she collaborated with some of the biggest names in music from Major Lazer and Diplo on massive dance hit "QueLoQue" to a sensual duet with C. Tangana on "No Te Debí Besar."  Reminiscing on her rapid stardom before the release of her debut album, she sits on it all as "a major blessing."
While never downplaying the fortune, she also remains open about the limitations that came with accelerated fame at such a young, impressionable age. "Everything happened so quickly that I never had a chance to really acknowledge what was happening," she says. "I didn't really get to experiment in the studio because I was always looking for the next single or focused on doing what I thought people would like." 
Further limitations also came in the form of public scrutiny. Her earlier years saw a questioning of whether the young artist was Chilean or American "enough" to satisfy either identity group of her dual-nationality. While initially difficult to digest, the singer learned to utilize both her prodigious talent and sense of centered self to release a catchy clap back, "Don't Talk About Me," that quickly marked yet another hit record single. Paloma was proving to navigate roadblocks on her way to the top with ease, all while learning to pay mind to the only opinion that truly mattered, her own.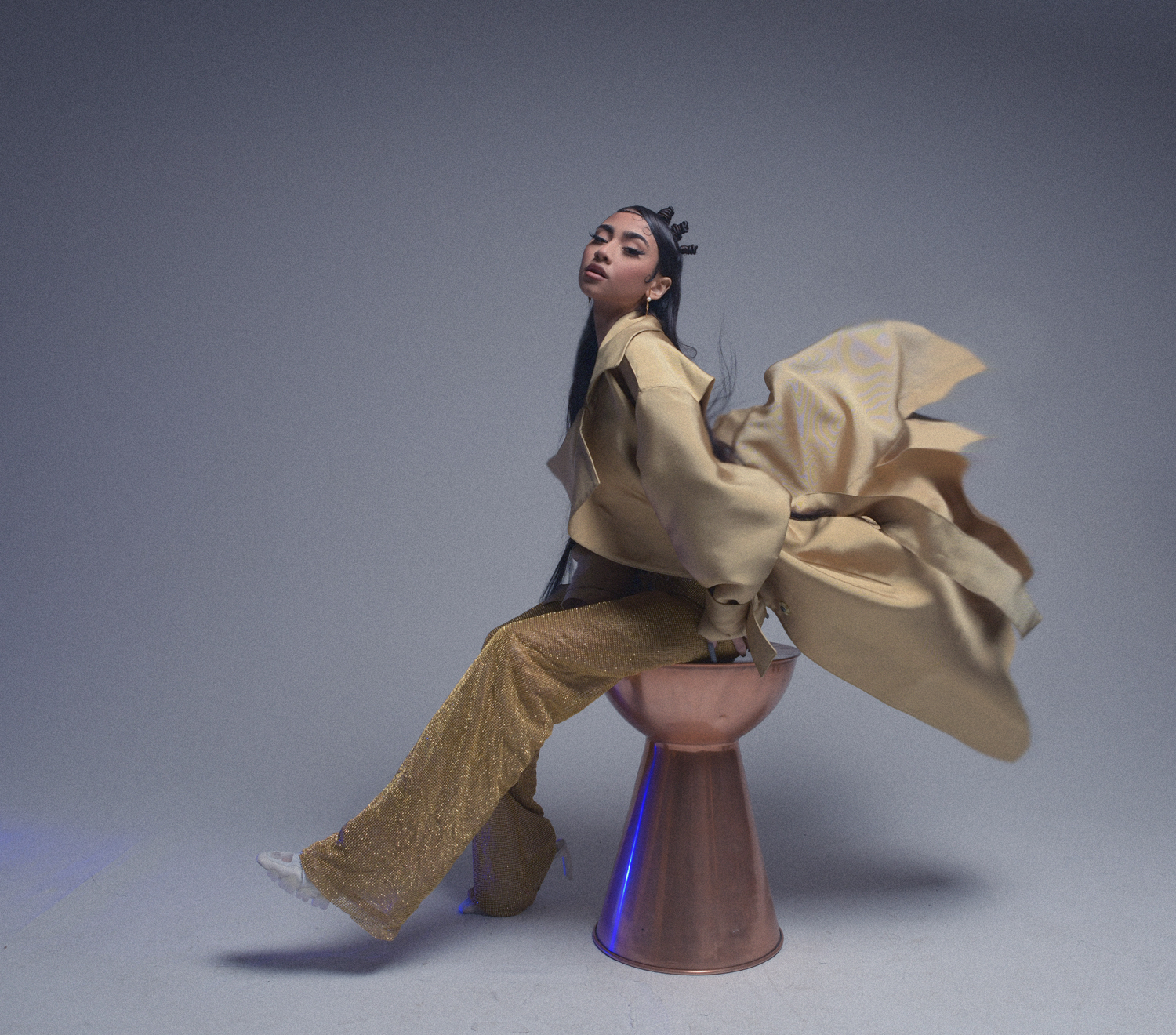 Earrings, AUSTIN JAMES SMITH. Bodysuit, SKIMS. Coat, Pants, JESSICA JADE. Shoes, ANGEL CHEN.
Her ascension was met with the unprecedented blockade that was the global pandemic in 2020. Speaking on even the most fragile of topics that now carries a year's worth of grief and loss, it becomes apparent that Paloma is the type to find the silver lining in every situation.
 "The world is going through a crazy amount of pandemonium and everyone is kind of in a dark place," she says. "A year ago I wouldn't have imagined making my debut at a time like this, but everything happens for a reason and I believe in God's timing. Right now might actually be the best time after all because the thing people need most is love, light, and positive energy; music really has the ability to provide that." 
While the survival of the global community largely depends on the arts during times of distress, creatives are also met with loaded expectations of consistent function. So how is Paloma pouring back into her own cup during all the bleakness? "I've been really focusing on taking care of myself mentally by reading, writing away from songwriting and just taking time for myself to keep me in peace." A charming zen warmly radiates from her, even though a limiting phone call via zoom.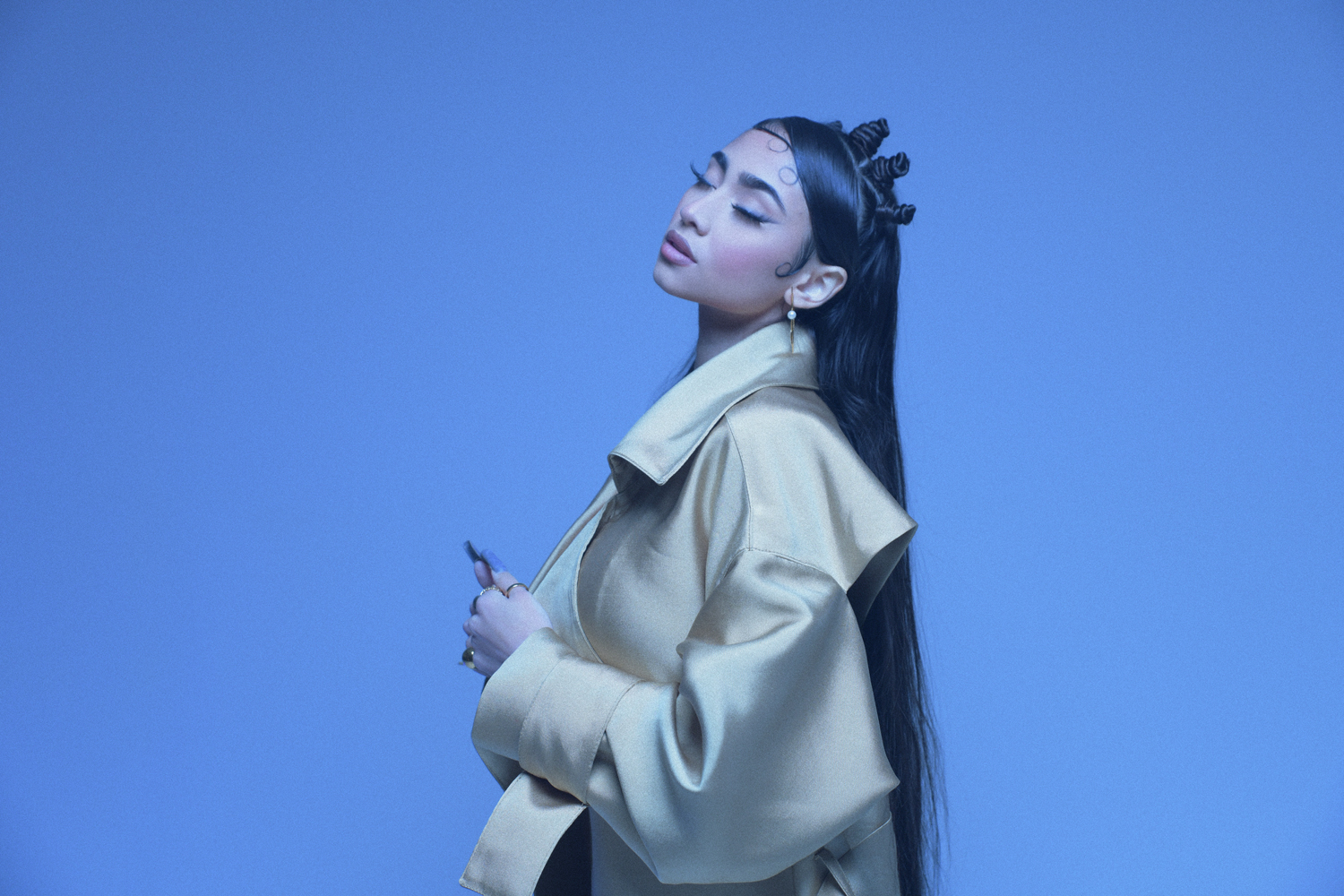 Earrings, AUSTIN JAMES SMITH. Bodysuit, SKIMS. Coat, Pants, JESSICA JADE. Shoes, ANGEL CHEN.
Our conversation takes place just days before the release of her highly anticipated debut album 'Sueños De Dalí,' and like any loving parent, our pivot towards discussing the project she refers to as "her child" brings unparalleled excitement. 
"With [Sueños De Dalí], I was able to really find myself as an artist," she says. The discovery: an attentively crafted body of work deserving to be played all the way through, no-skips needed. In the age of multifaceted celebration, Paloma has proven to find her stride in celebrating the dynamic, and once-questioned, nature of her identity. Linguistically, she creates a world that fluidly dances between bilingualism in such a facile manner that the switch-ups become quite insusceptible to listeners' ears. Sonically, Paloma has taken the baseline of reggaeton and transformed it into a prismatically colorful world with fragmented inserts of diversified genres from jazz to trap to bossa nova. 
To Paloma, the intended digestion of 'Sueños De Dalí' moves beyond just an album. It is meant to exist as a curated work of art like the ones hanging in the galleries she grew up admiring alongside her Father. "I look at the album as a whole artwork. When I go to a museum and I look at a painting, I'm going to look at that painting multiple times," Paloma says. "With every glance, you're going to discover something new and gain a new perspective on it. I want people to get that from this album." Like art, she continues, " I want people to hear the songs multiple times and see them from different perspectives. Hear new lines and feel new things. I want people to take away how important it is to be open to experiencing things in new and different ways."
The passionate conversation surrounding the inspirational role the arts played on her recent project delves deeper as she explores the significance of the title itself. 'Sueños De Dalí,' Paloma confirms, is an homage to the maestro of surrealism Salvador Dalí who is renowned for his visionary pieces created under self-induced, dream-like states. 
"Dalí was one of the first exhibitions I visited with my Dad and has been one of my inspirations growing up. It's his whole mentality for me. The way he was always himself despite people never taking him seriously or being able to fully understand him. I learned through him that you're the only person who will ever understand yourself." Paloma relays a strong kinship with the artist as she spiritedly continues, "he'd never use any drugs. He'd just be days awake trying to hallucinate while he painted. That's when the best images would come to his mind."  She was inspired to follow a similar creative process when it came to her own work. "I felt like I would stay up super late and nearly dream while awake. That's when I felt inspired to create a song or when lyrics would come to me." The lesson on surrealism was an enlightening highpoint in the conversation. "I honestly could talk for hours about this!" By the expressive few minutes spent on the matter, we would happily sign up for a semester of art history with Professor Mami.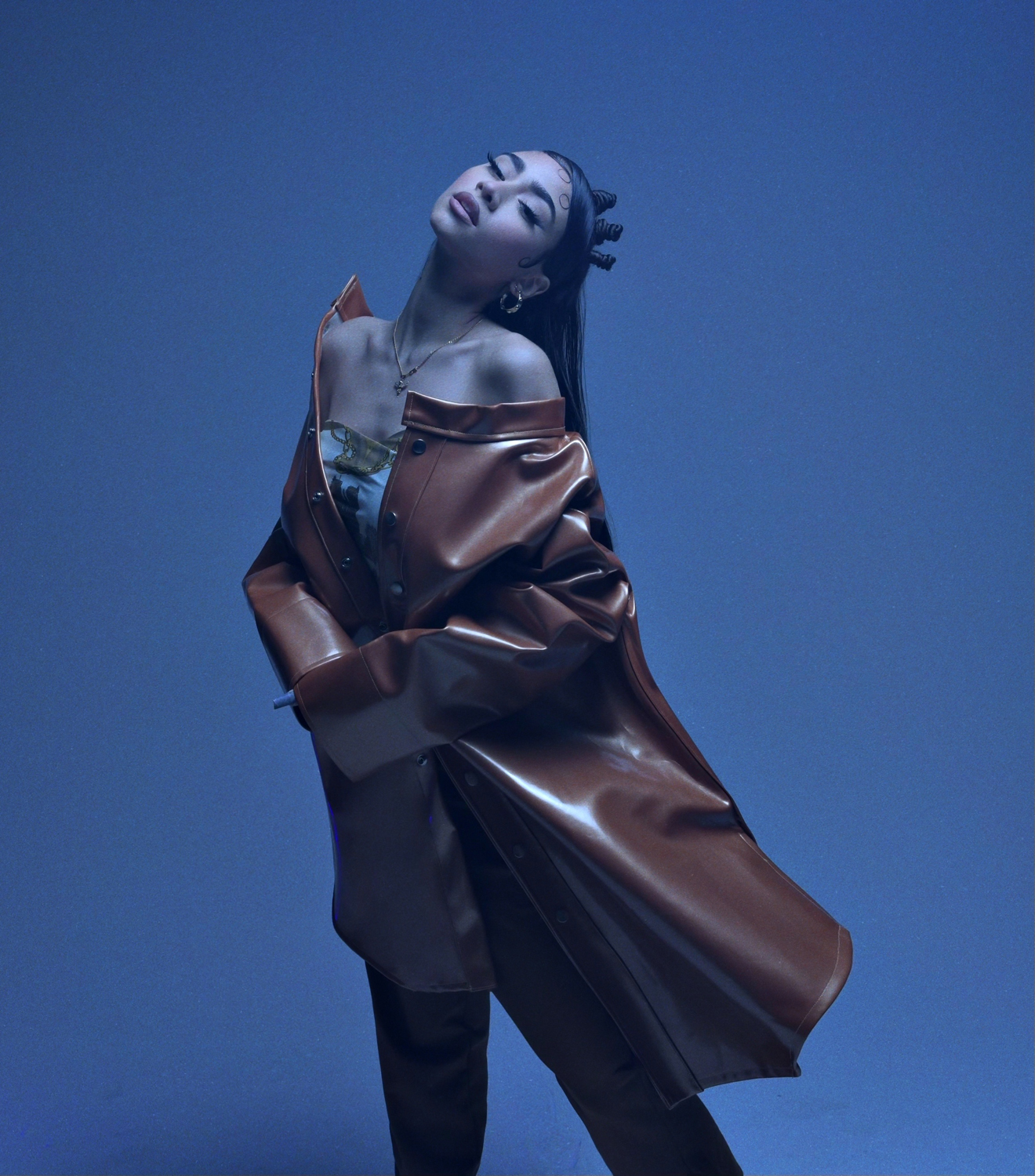 Earrings, ALEXIS BITTAR. Top, Scarf MAISON KITSUNÉ. Bottom, PUMA X MAISON KITSUNÉ. Jacket, DAIMORF.
Aside from an aptitude for the fine arts, she also spends time discussing the role her family played in providing another set of role models for both her independent nature and her creative work. She shares the significance of being born and raised by a family unit composed of matriarchs including her mother, aunts, and grandmother. "I feel like I grew up with 6 different types of mothers, so women for me are my nucleus. They're my home and they've taught me everything I know." She also attributes her maternal figures to her eclectic range in musical influences. When asked who that includes, she responds "so many artists! It's all over the place. Ella Fitzgerald and Billie Holiday are favorites. I listened to a lot of Shakira growing up, and Christina Aguilera was everything to me too. As I got older, Rihanna became a big inspiration." We had to give it up for the all-women-based answer, but find no surprise to have uncovered that a world of strong, female models both personally and artistically helped shape Paloma with the poise and charisma fit to take on a male-dominated industry without compromising herself in the process.
To fully understand the significance of her moment, is to understand the significance of female representation in reggaeton. In the most recent years, the genre has both found itself at the center of a global phenomenon for the music industry, as well as highly criticized when it comes to its lack of diversity when it comes to race and gender as it moves its way to an international mainstream stage. 
Siding on the fresher side of the movement, Paloma Mami is one of the female forces breathing new life into the genre. Yet, as a newcomer with a privileged position of having access to some of the top talent across the music board, we question her bold choice of not including features on her debut project. "It was a promise I made to myself from the beginning. I was trying to prove to myself that I deserved to be here, and wherever I am headed, because of my talent alone. Not because of the way I look, and not because I have a song with another famous [male] artist." Recollecting some rather unfortunate industry encounters, she remembers hearing comments regarding female artists to the likes of "only being there because [women] look [a certain way] or because [a woman] has a song with a certain guy."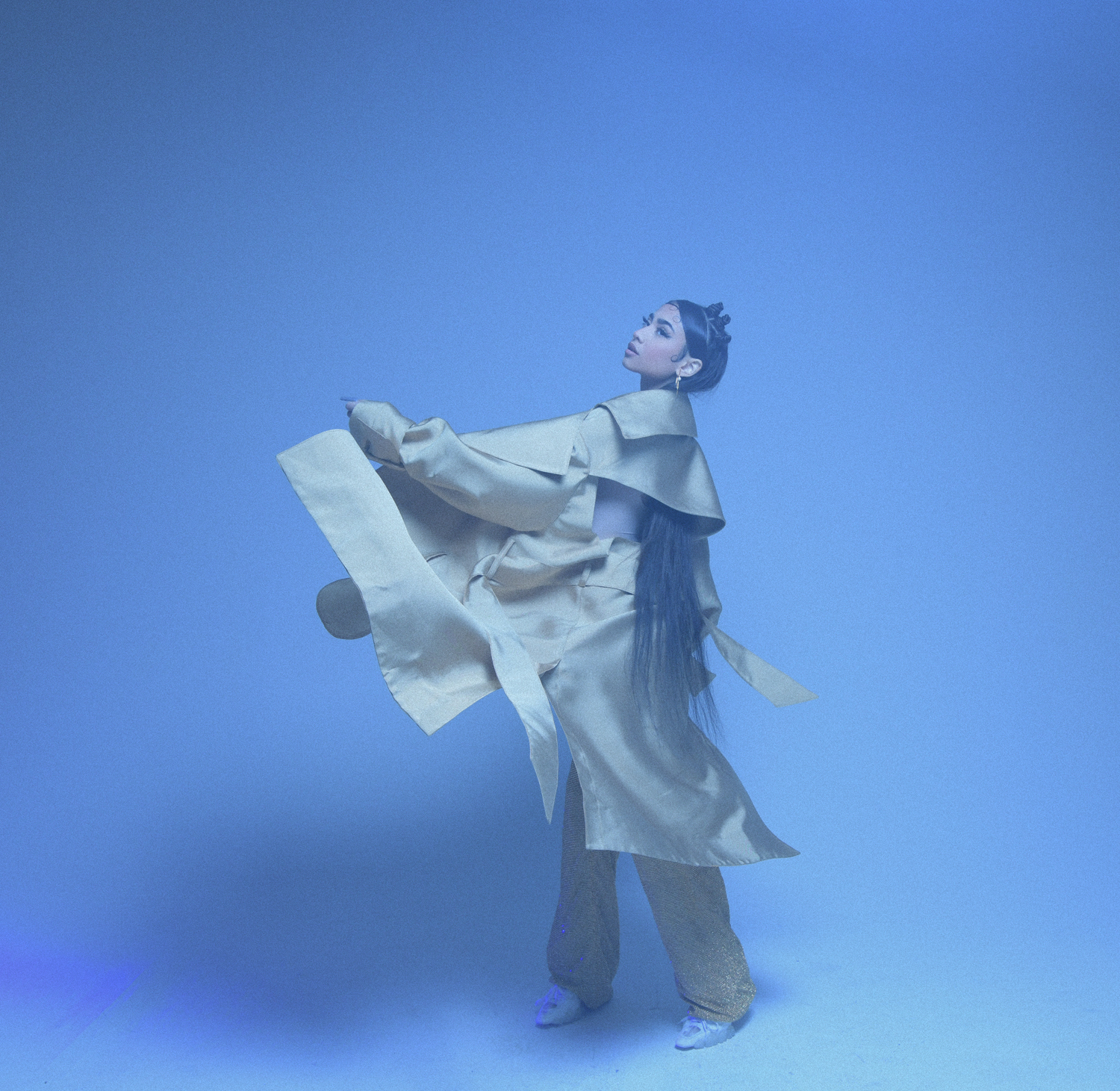 If it wasn't clear before, we stan Paloma's nonconformity. "I just didn't want anybody to be able to say anything about me. And with no features, what are they going to say? They can't say anything!" With a wildly dedicated fanbase, 4 million follower social media presence, and 1 billion stream career that only continues to thrive, we have to say the score currently sits at Paloma – 1, Music Industry – 0. 
However, she clarifies that this doesn't close the door on future collaborative efforts. "I love everything about collaborating. Now that I got my body of work done, I'm trying to work with other artists and learn from them especially with what the Latin world is doing. They made collaborations so poppin! I can't wait to hop on that." When and what can we expect from the next major link-up? "I'm going to listen to my fans and see what songs they would like me to remix."
Wrapping up our conversation, we ask how she would self-describe her moniker. Something she comes to answer while describing her most played song off the record "I Love Her." – "It's so playful, yet carries so much swag and sexiness. That also describes me perfectly." Her confidence exudes as much transfixion as her humbleness, an aura of good energy that's not to be messed with.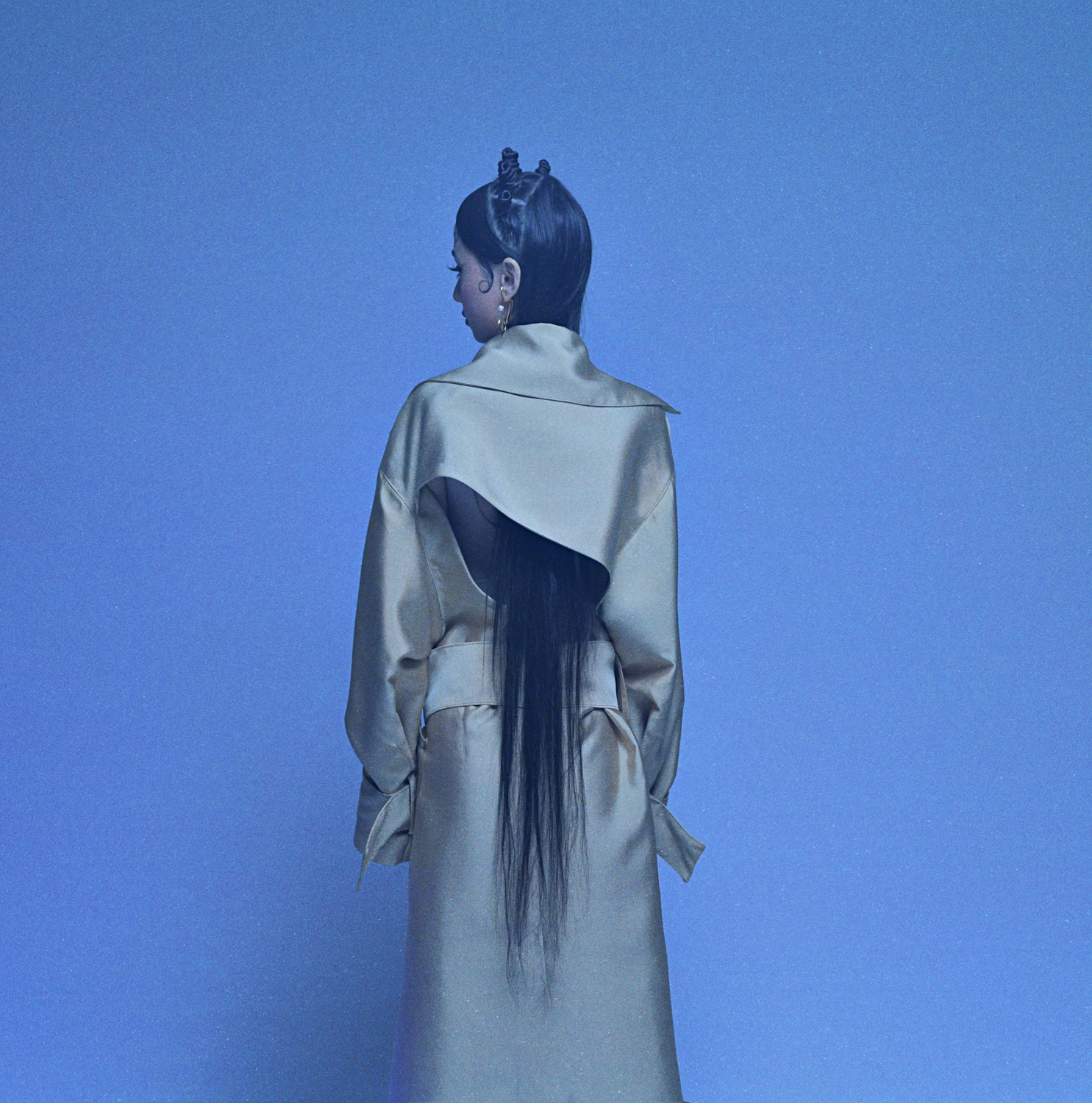 Adding to the self-proclaimed swag –- her affinity for chic, androgynous fashion. Along with her album, she collaborated with Bershka to drop a curated fashion collection the same day of her release. She notes to also expect more from the house of Paloma, as collectible handmade merch pieces will soon become available. "I'm super hyped about it and think my fans are going to really appreciate it. I would go crazy if my favorite artist [Rihanna] made me a phone case or something like that! So I feel blessed that I'm able to give that to my fans." 
Reflecting on our exchange, one key thing stands out. Like the artwork that so inspires her, she too is an intricate composition that invites us to explore the many evident fragments of her being, yet requires revisitation during her evolution to uncover the many complexities and surprises that makeup Paloma Mami. Undefinable by nature – the only claim we can definitively make is that Paloma was always destined for stardom, and boy does she know it. "I really always knew I was going to make it, it was just a matter of how. I feel where Paloma Mami is now, is just the beginning. This is really the start of everything." We couldn't agree more. 

Jewelry, AUSTIN JAMES SMITH. Top, SSIK. Bottom, ELEEN HALVORSEN.
CONNECT WITH PALOMA MAMI
FACEBOOK // TWITTER //  INSTAGRAM // SPOTIFY
Photos /  Shervin Lainez
Styling / Phil Gomez
Hair /  Jenni Iva Wimmerstdt
Story/ Jeanette Diaz