photos /

 

Janell Shirtcliff
styling /

 

Elle Strauss

 

@ The Wall Group
makeup / Jenna Anton @ Forward Artists
hair /

 

Clariss Rubenstein @ The Wall Group
story /

 

Catherine Santino
producer / Koko Ntuen
There's little that Alison Brie can't do. From her side-splitting performance as Annie Edison on NBC's Community to crushing scenes on Mad Men to commanding the ring in Netflix's wrestling hit GLOW, Brie has proven that she's not just a jack of all trades; she's truly a chameleon. "I think I'm always trying to see what new skill I could learn for some new project," she tells me over the phone when I ask her about future endeavors.
But right now, she's basking in the glow of GLOW, the Netflix series about a women's wrestling show in the 1980s. GLOW premiered its third season on August 9, which takes place in Las Vegas and pivots from the fluffier plotlines it was built on to tackle more serious issues. The season, in my eyes, is a triumph. Perhaps some viewers are turned off by the new direction, but the complexities in season three are what make it so captivating. After all, how many zany wrestling montages could one tolerate? So many television shows fall apart because the end goal set up in the first episode inevitably gets reached and there's little to go on after that. The couple gets together, the killer is found out, the secret gets revealed. Now what? But GLOW (which stands for the Gorgeous Ladies of Wrestling – a real TV show in the 1980s) has smartly generated a smattering of complex, thoughtful storylines that propel it through season three and establish a solid future that I, for one, look forward to watching unfold.
Arguably the most significant relationship on GLOW is between Brie's character, Ruth Wilder, and her friend-turned-wrestling partner Debbie Eagen, played by Betty Gilpin. After discovering that Ruth had a brief affair with her husband in season one, Debbie slowly and cautiously lets Ruth back in. By season three, their friendship is at its strongest point yet. "I feel like they are the romantic anchor to the show, even though they're not involved romantically," Brie says. "But their friendship certainly runs very deep and this is the first time we really get to see them enjoy each other and each other's company."
"For some reason these two are intrinsically tied to one another," she continues. "And that's where there's this amazing push and pull of them being in the ring together. Even in the first two seasons, when they couldn't stand to look at each other, they still kind of wanted to be near each other."
For Brie, and for the general population, it's refreshing to see a female friendship explored so truthfully and without being warped by the male gaze. The series is produced and showrun by Carly Mensch and Liz Flahive who, says Brie, create a safe environment where the actors can not only explore their characters, but do so without worrying about how they look.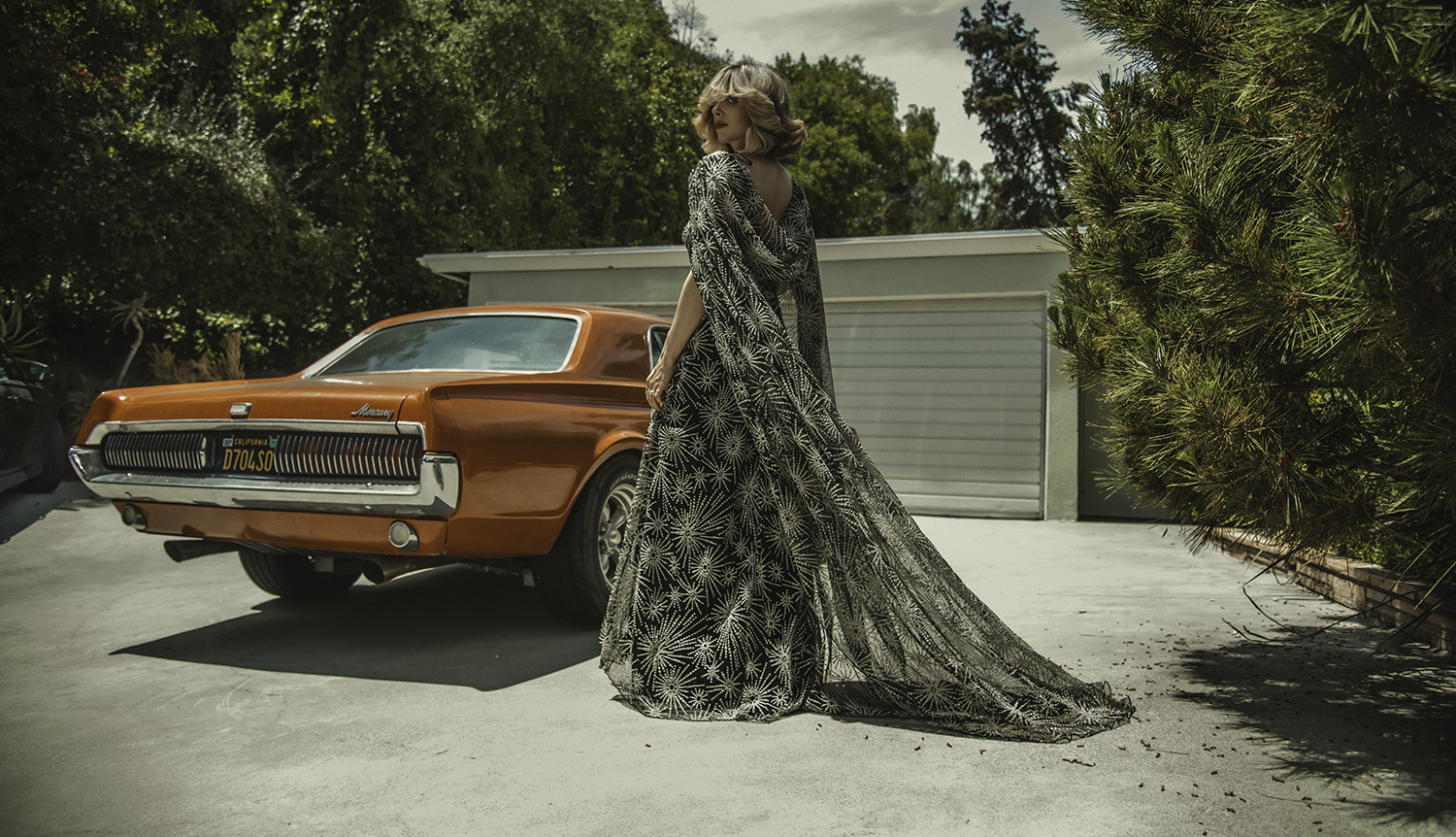 Black dress with cape – Tadashi Shoji. Silver ring with pearl – apm Monaco. Diamante earrings Vintage.
Black strap heels by ASOS.
Sheer dress with sequin spots Monique Lhuillier.
"Liz and Carly have definitely said to us a number of times, 'Don't change your bodies for the show. We cast everyone to be yourselves,'" Brie tells me. A welcome change on a Hollywood set, Brie confirms, as well as an opportunity for her to stretch her muscles as a performer — literally and figuratively. "In terms of my relationship with my body, GLOW changed my life," she says. "Learning how to wrestle and thinking of myself as an athlete and stunt woman…it just really connected me to my body in a way that I haven't felt maybe ever in my life. I was not an athletic child or a teenager. And working in this industry and even just living my life as a woman, I think I've often felt at odds with my body, wanting it to be something that it's not or just feeling disconnected, and this show really gave me a physical purpose beyond looking attractive, which I think was a really important change in my mindset."
GLOW shines in its commitment to celebrating the female body without objectifying it, something that's apparently very difficult for the rest of humanity. "I would say it is a show about bodies, but it's not a show about sexiness," Brie continues. "I don't ever feel like we're being used for our bodies, but I do love the way the show looks at the female form and the female body in all of its glory, and all different ages and shapes and sizes and ethnicities."
At the forefront of the ensemble is Brie as Ruth, a struggling actress who commits wholeheartedly to her Russian wrestling persona, "Zoya the Destroya". As someone who is drawn to hopelessly vulnerable and earnest characters, Ruth strikes a chord with me. I often wish I could be unapologetically myself no matter who is in the room; instead, I tend to take on the energies of those around me, cautious not to step on any toes. Though Ruth is far from a ball-buster, she knows what she wants and goes after it. "I certainly can identify that part of her that is a fighter, someone who feels underestimated, and is constantly trying to prove her worth to others and to herself," says Brie, though playing an actress has proved to be complicated. "It's such an interesting thing playing an actress who on the show is not seen as a good actress," she continues. "I feel like I've had to sort of look inside myself and examine what kind of actor I think that I am and how I relate to Ruth, and then in other ways how I am different."
Brie was able to take a step back from Ruth in episode 7, where she makes her directorial debut on "Hollywood Homecoming". "It was really exciting to work with the cast and crew in a different way," she says. "And it was so engaging. [The cast and crew were] so incredibly supportive of me. I feel like it was a kind of a dream come true."
"Dream come true" is also how Brie describes her work on The Rental, an upcoming thriller directed by her husband, Dave Franco. The film, due out in 2020, is Franco's directorial debut and surrounds a couple who rents a vacation home for a weekend trip. "It doesn't feel like your typical thriller," Brie says. "It's very grounded. It feels more like a relationship drama." Of course, I'm extremely curious about what it's like to be directed by your spouse. "You know, when you're acting in front of the person who knows you the most, you really can't get away with any bullshit," she says. "It was just extremely easy to communicate with him. It was a really special time I think to be able to be there for his first project and witness that and work on it together."
Did they have to establish a boundary between their professional and personal lives? I ask. "Not at all," Brie replies with a laugh. "I do feel like week one in rehearsal we had a moment where I was like 'Honey, do you want me to leave earlier? And I took him aside and I was like, 'Do you want me to call you Dave?' and he was like 'No.'"
2020 is shaping up to be the year of thrillers for Brie, as she's also starring in the forthcoming Promising Young Woman, alongside Carey Mulligan and Bo Burnham. Emerald Fennell, who showran the second season of Killing Eve, wrote and directed the film. "It's sort of a revenge thriller, but done in a really cool, unexpected way," Brie says. "And I'm working with Carey Mulligan was so gratifying. She's such an incredible actress and the whole cast of the film is."
Between GLOW and her meaty film roles, it seems like there's little left that Brie hasn't touched. But, like Ruth, she's continuously aiming for something higher. "I'm always trying to try different things and push myself and take different risks," she says when I ask about what she wants to explore in the future. "I've been really desiring to push the boundaries even further and work in some different genres and work more on the other side of the camera. I would love to do even a wilder horror movie or a crazy action movie."
Clearly, she's capable of an action hero's physical demands. Perhaps the Marvel Universe is the next logical step for Alison Brie? "From your mouth to God's ears," she says when I propose it.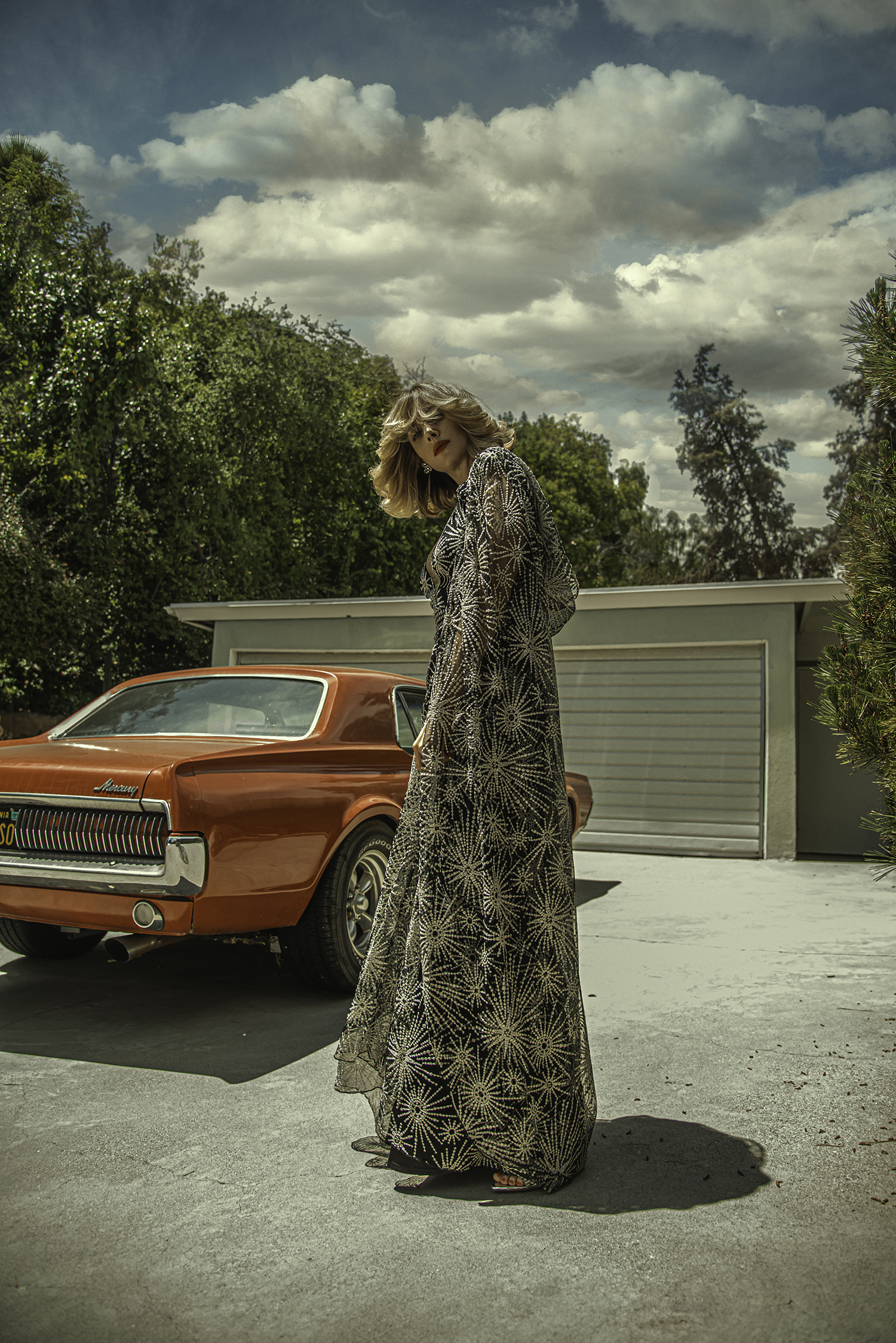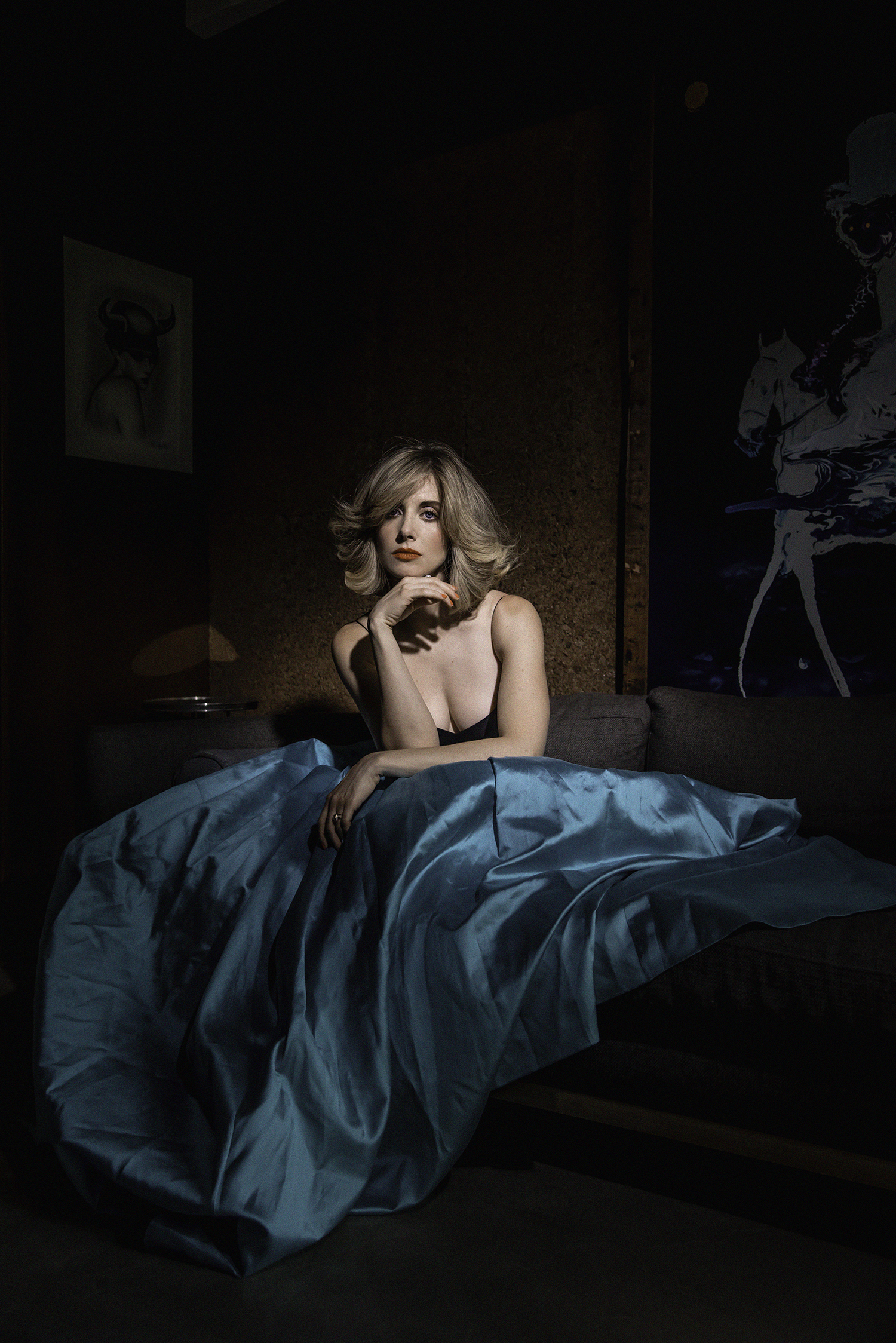 Black and turquoise sating dress Rasario. Ring by apm Monaco.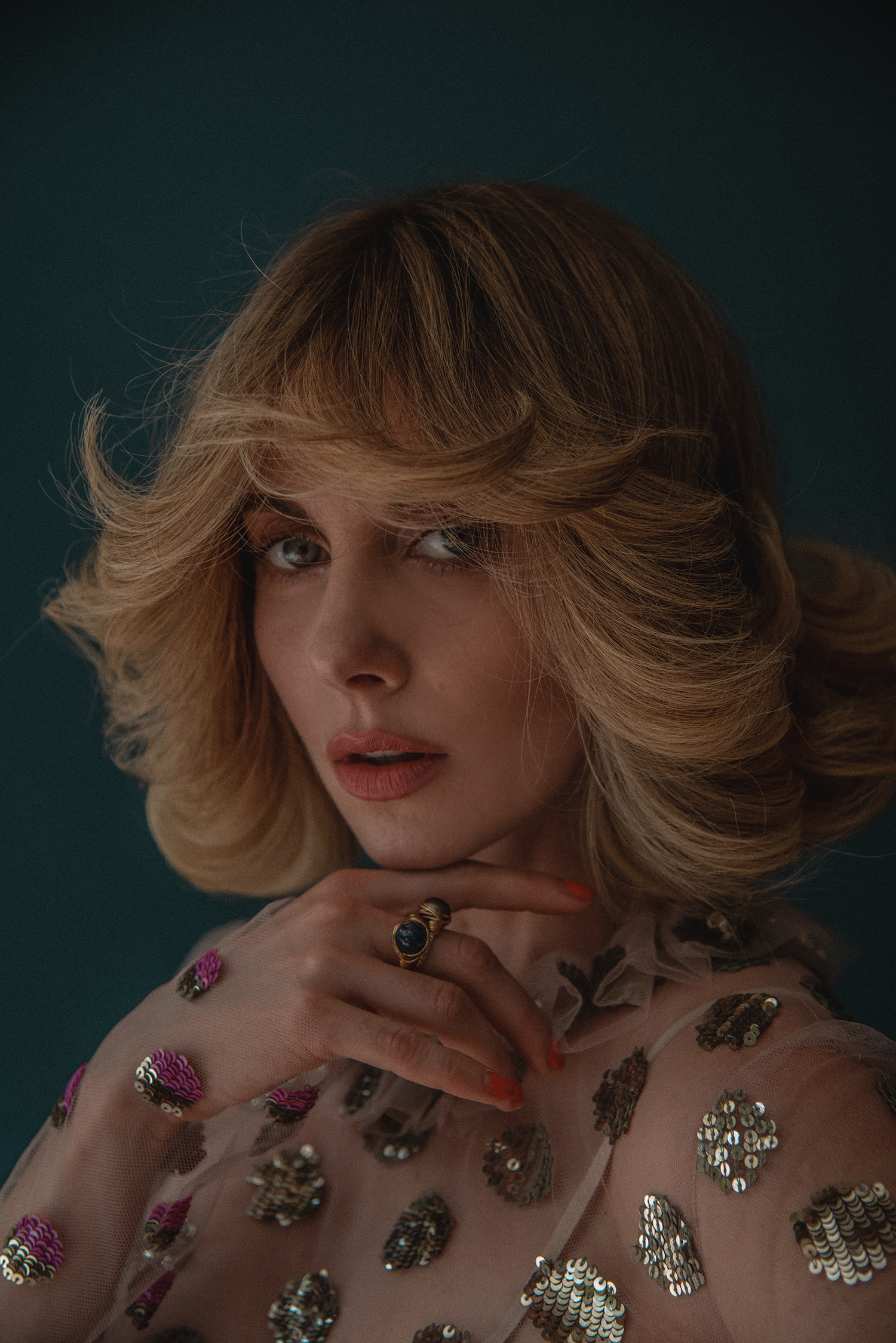 Silver sequin bodysuit and matching skirt Monique Lhuillier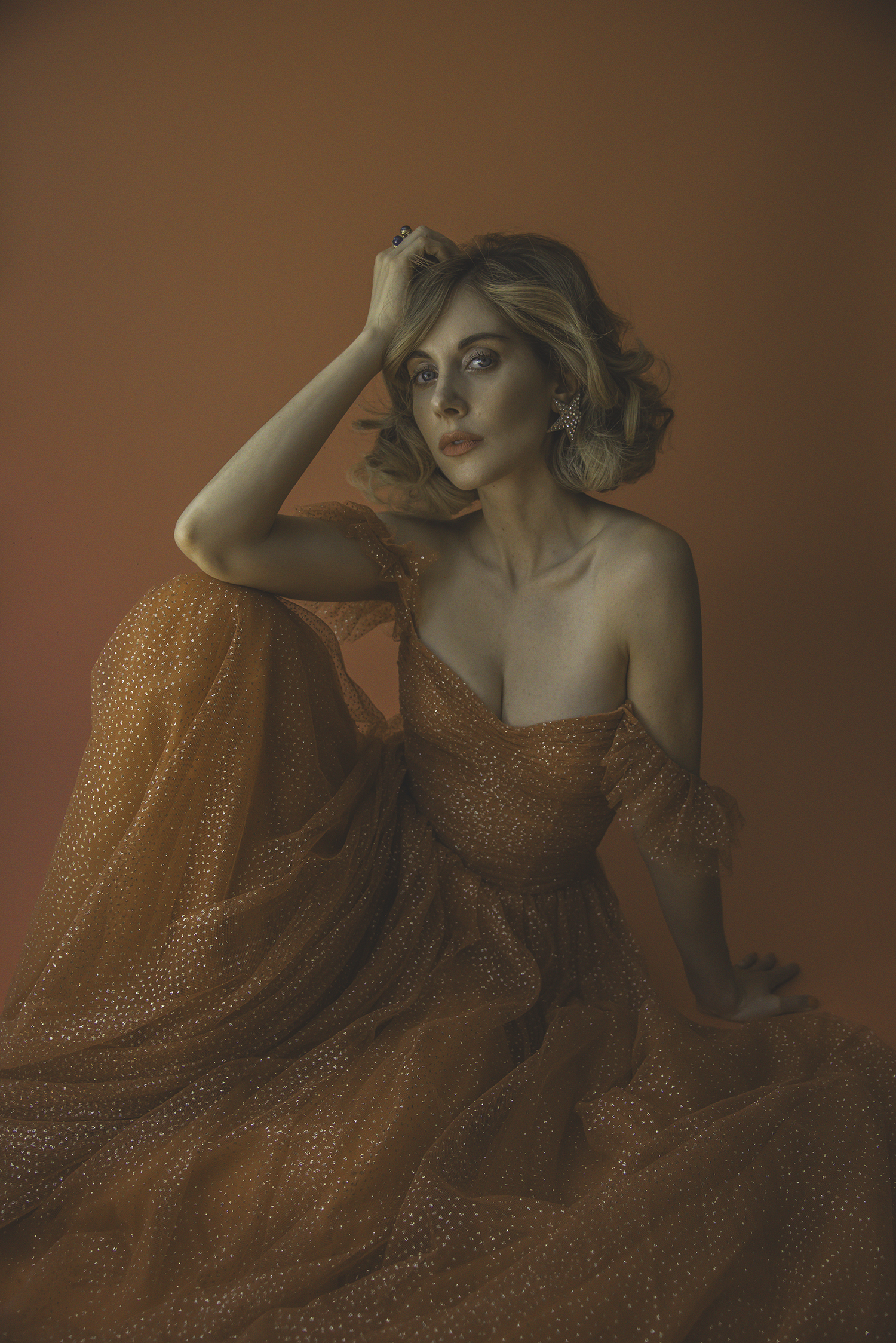 Pink tulle with sparkly polka dot dress by Monique Lhuillier. Gold heels ASOS. Two rings worn on one finger by apm Monaco. Star Earrings  – vintage.