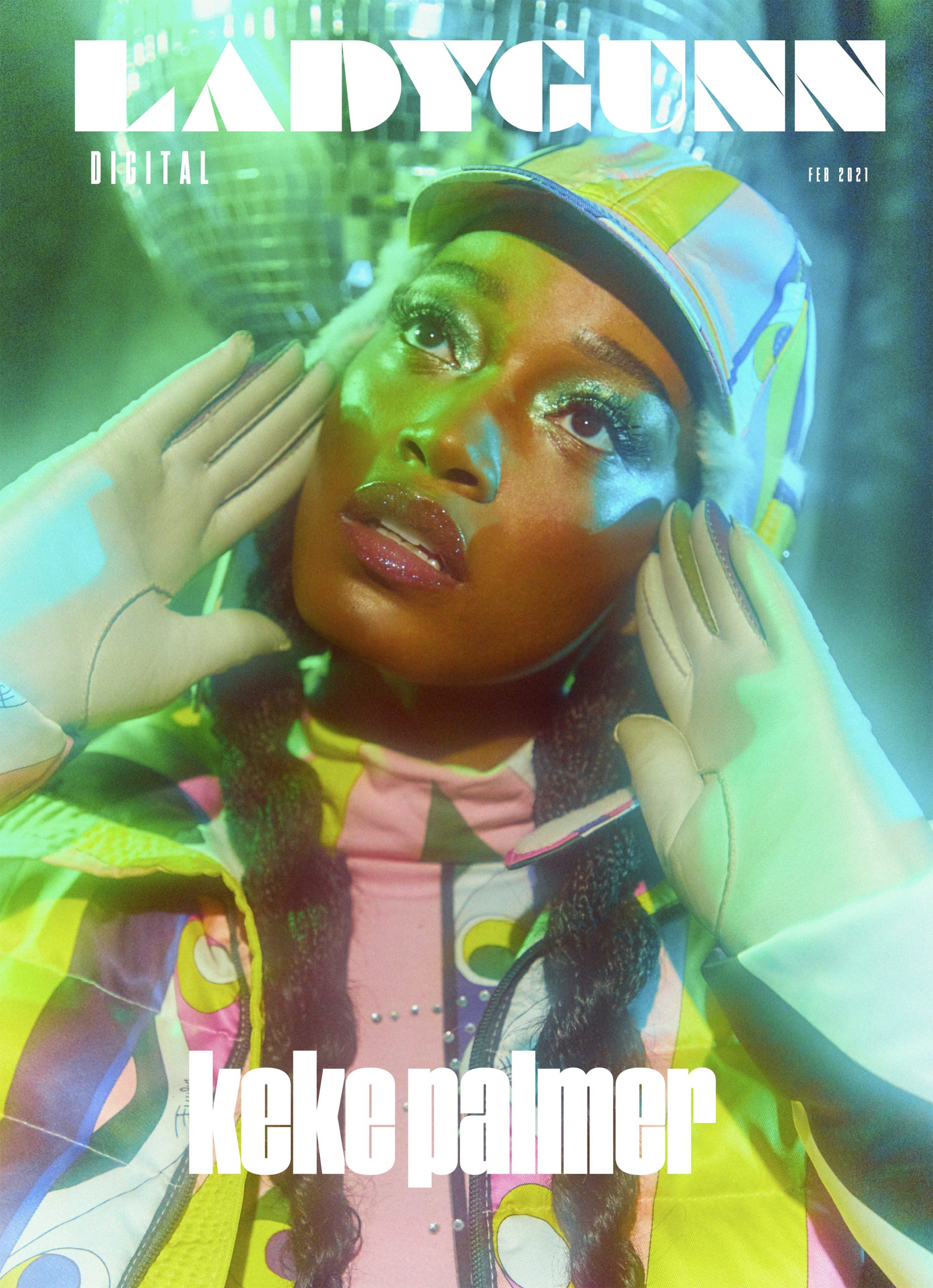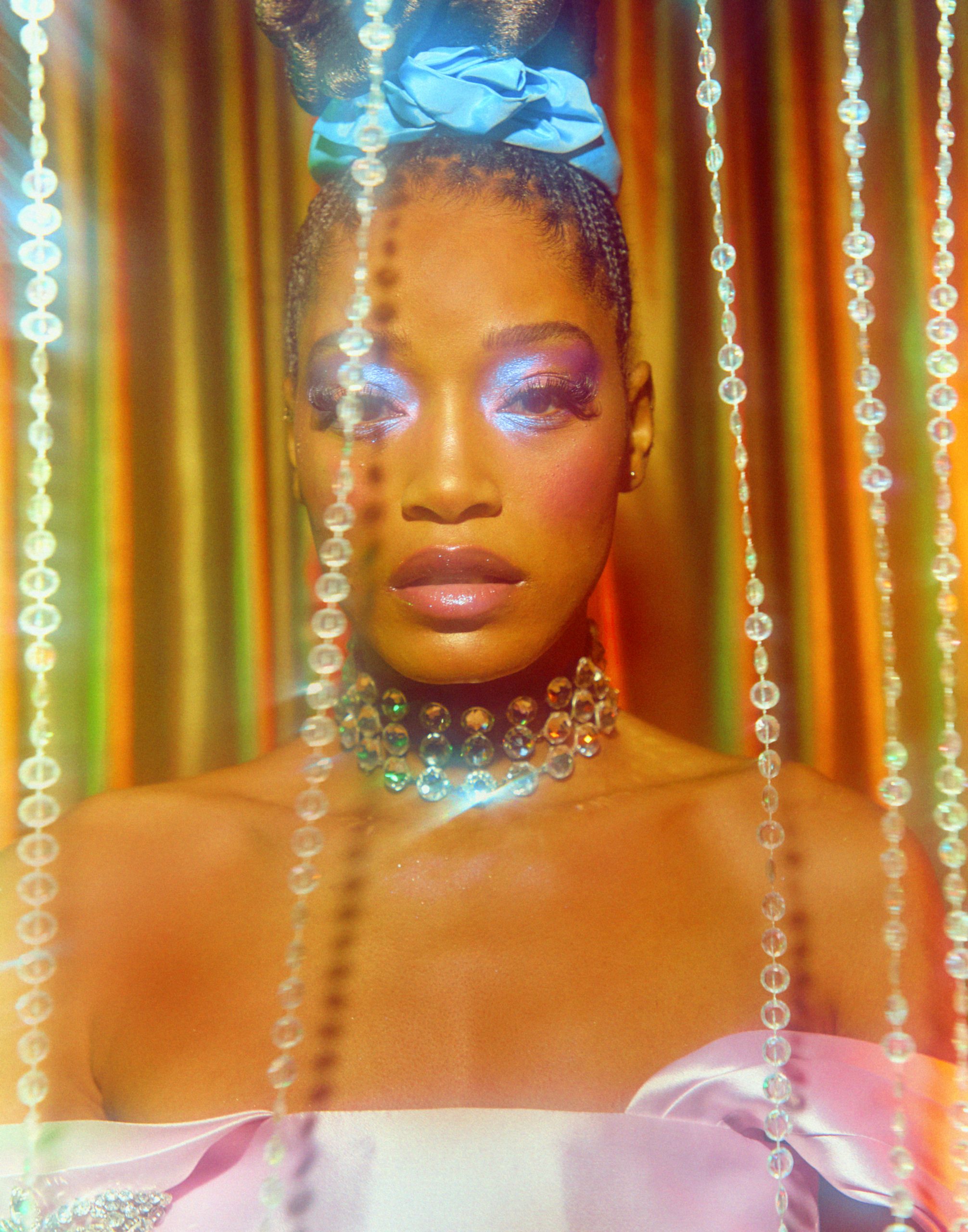 Head piece, gloves, vintage. Dress, khoon hooi @khoonhooi courtesy of INA @inanyc. Necklace, Todd Oldham @toddoldham. Shoes, casadei @casadeiofficial.
Talking to Keke Palmer once was surreal, but getting a chance to talk to her twice in a four-month span was a feeling I never thought I'd experience. At 8:00 pm EST, my Kim Possible ringer sounded off and I knew it was go-time. Keke was coming from a shoot for her new gig for the Disney+ series Foodtastic, and the fact that she made time for me between all the things was an honor in itself. I couldn't wait to catch up with my girl again for her exclusive LADYGUNN cover.
At the beginning of our conversation, I had to ask her about how her mental health has been doing since we last talked. While she admitted to me that the transition into quarantine was a little weird, she's been happy to get back to work even if she has to follow the set rules and regulations to keep everyone around her and herself safe from contraction of the virus. "I've figured out how to work within this world," she says confidently – and boy, has she.
While some have been using the quarantine to level up and get on their grind, Keke told me that she had other plans that centered around her mental and emotional wellbeing. She used the time apart from the physical world to reflect and harness her power of self and solitude. "I really don't think I realized how much I benefited from being alone," she told me. She admittedly enjoys being alone more than she thought she would and gets to be her own best friend while cooking, prancing around her house, doing pilates, and getting lost in a good Netflix binge-worthy series.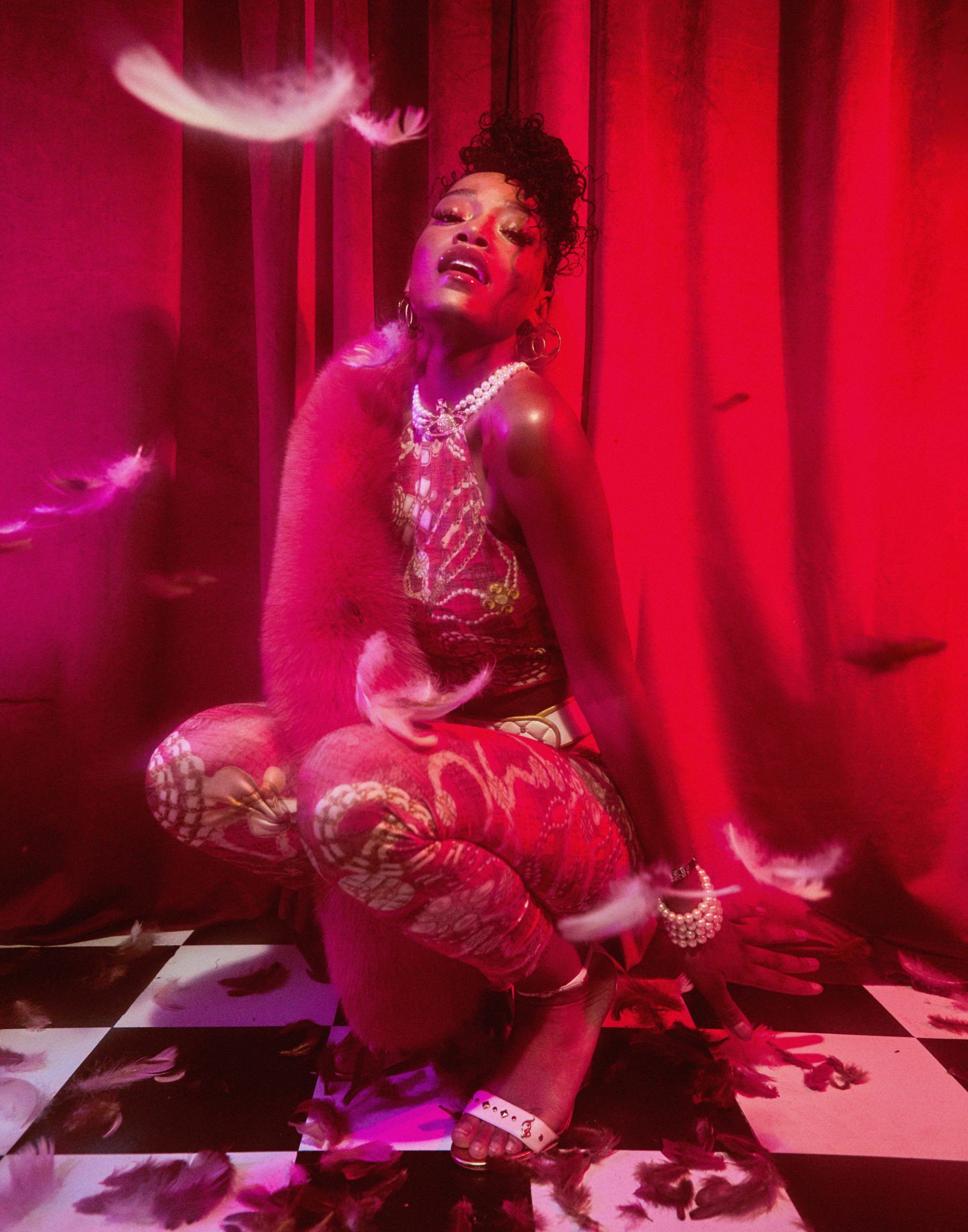 Earrings, Chanel @chanelofficial.  Necklace, Vivienne Westwood @viviennewestwood. Bangles, Cartier @cartier. Bracelets, belt, vintage. Top, pants Gabriel Held for print all over me @gabriel_held_vintage @printalloverme. Shoes, baby phat @babyphat.
As the quarantine began to die down and rules and regulations were lifted, Keke was able to work more regularly, which, for most, would be a good thing. But in doing her introspective homework, the Brotherly Love actress was jolted by the idea of returning to a hectic work schedule. "As much as I love to work, it's crazy to see that I actually fell into other things to enjoy my 'me time,'" so much to the point where she doesn't know how she's going to get back into the swing of things, she said. "Being on my own and all the alone time was something that was really good for me."
I asked her what she learned about herself while being alone, to which she replied, "I like being alone." While she used to believe that she wasn't too fond of the idea, Keke acknowledges that she's able to thrive when she's by herself due to her empathic nature and ability to feed off of surrounding energies. She naturally finds herself worrying about the comfort level and emotional state of others, but in being by herself, the weight is lifted from her shoulders.  "When I'm by myself, I don't have that worry. I'm about to chill and go with my own vibe."
Keke is a colorful, spirited, unapologetic embodiment of the millennial generation and takes no prisoners when it comes to raising the bar as a young Black woman in the industry. It's no wonder she's the "millennial diva" because she owns her space, commands the room, and doesn't take shit from any naysayers, gatekeepers, or door blockers. In her words, a millennial diva is someone who "doesn't take anyone's mess" – I know that's right!
"A millennial diva is someone who represents the new age and the new rules, throwing out the old things and fighting for democracy," she told me confidently. "Someone who's fighting for individuality, freedom, and free spirit. A millennial diva is someone who lets her freak flag fly. He or she – you can be a millennial diva whether you're a guy, girl, they or them. A millennial diva is somebody that stands up for everything that matters." It was evident that the young mogul was describing herself, but her inclusivity of gender, age, and sexuality made her definition more applicable beyond binary borders – which is just the progression we love to hear and see.
Being the voice of a generation was not on Keke's to-do list when she made her acting debut back in 2004 with Barbershop 2: Back In Business, but here she is today doing the damn thing in entertainment, film, music, and pretty much every field she's ever touched. I had to hype her up and give Keke her flowers while I had the chance to let her know that she was out here doing it.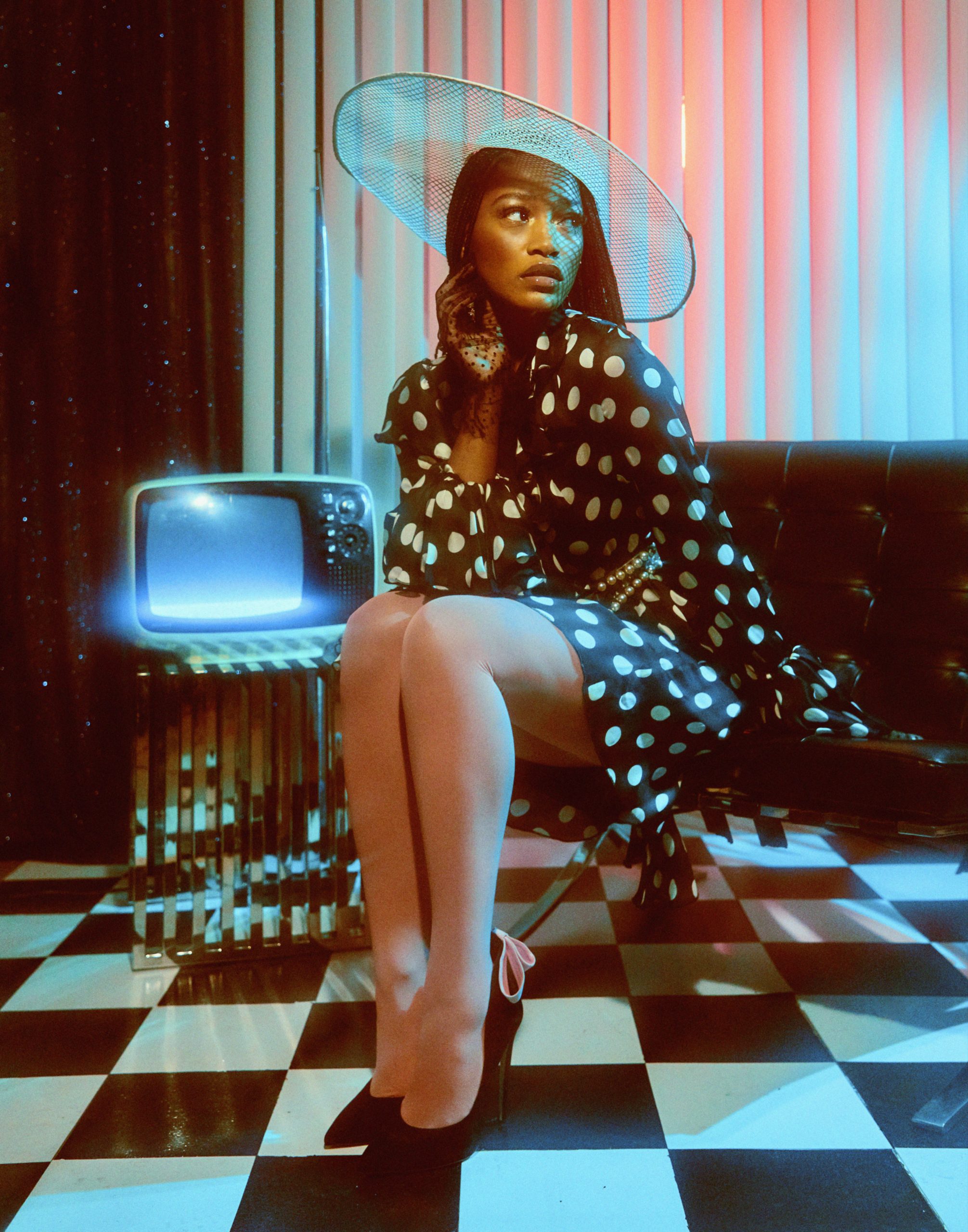 Hat, Norma Kamali @normakamali. Earrings, Gucci @gucci. Dress, Gucci @gucci. Belt, creepy yeha @creepyyeha. Stockings escada @escadaofficial. Gloves, vintage. Shoes, aleksander siradekian @aleksandersirdekian. All courtesy of Gabriel held vintage.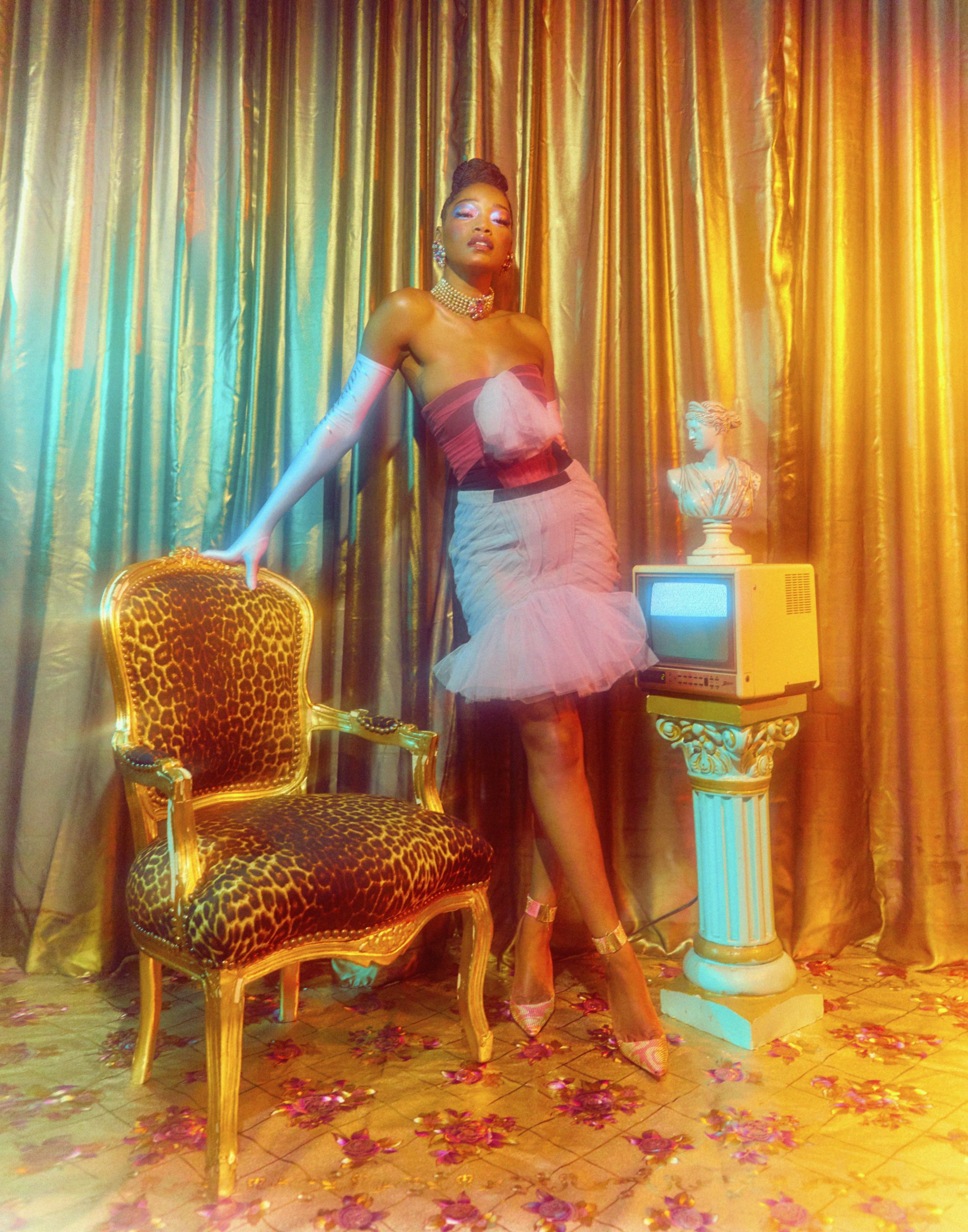 Earrings, necklace, Christian lacroix @lacroixofficiel. Top, skirt, viktor & Rolf @viktorandrolf. Shoes, Roberto cavalli @roberto_cavalli. Gloves, custom baby phat @babyphat. All courtesy of Gabriel held vintage
"I can't even believe that when you're saying it right now. It's just so crazy because I've been doing this since I was a kid but I never knew that it would impact people," she told me humbly. Born in the Chicago suburb of Harvey, IL, Lauren Keyana Palmer was raised in a Christian household by parents Sharon and Larry Palmer, who met in drama school and later pursued professional acting careers. One could say that Keke was born for this, which was confirmed at the age of five when she sweetly serenaded "Jesus Loves Me" in her church choir. After demonstrating immense vocal promise, her talent led to a role in her kindergarten play, and her family knew that Keke would be a starlight that could never be dimmed.
"My parents were really strict on me about making sure that I did handle my representation with responsibility," she acknowledged. Though she always thought of her legacy and impact as a young Black woman, it didn't hit her that her name would carry such weight as a millennial woman until many years later. As we've seen Keke, whose nickname was bestowed upon her by her sister, grow up in the public eye, we've been witness to her growth between performing some of our favorite throwback hits from her first studio album, So Uncool, to becoming the daytime talk show co-host for Strahan, Sara and Keke. "They do rock with me and it feels good because it went from just being a passion and a dream as a kid to meaning something."
And we do rock with Keke, especially her constant rollout of content from the classic meme curation to her acclaimed #SouthernBelleInsults skits. With over 10 million followers and all eyes on you, it's easy for Keke to feel the pressure to stay on it for her fans – especially in the middle of a pandemic. "Consistency is really key for me, but at the end of the day I always resort back to what's authentic and that's what guides me. You want to be able to feed your fans and give them what they want but sometimes life has to happen so you don't have anything to say or you don't have anything to give," she told me.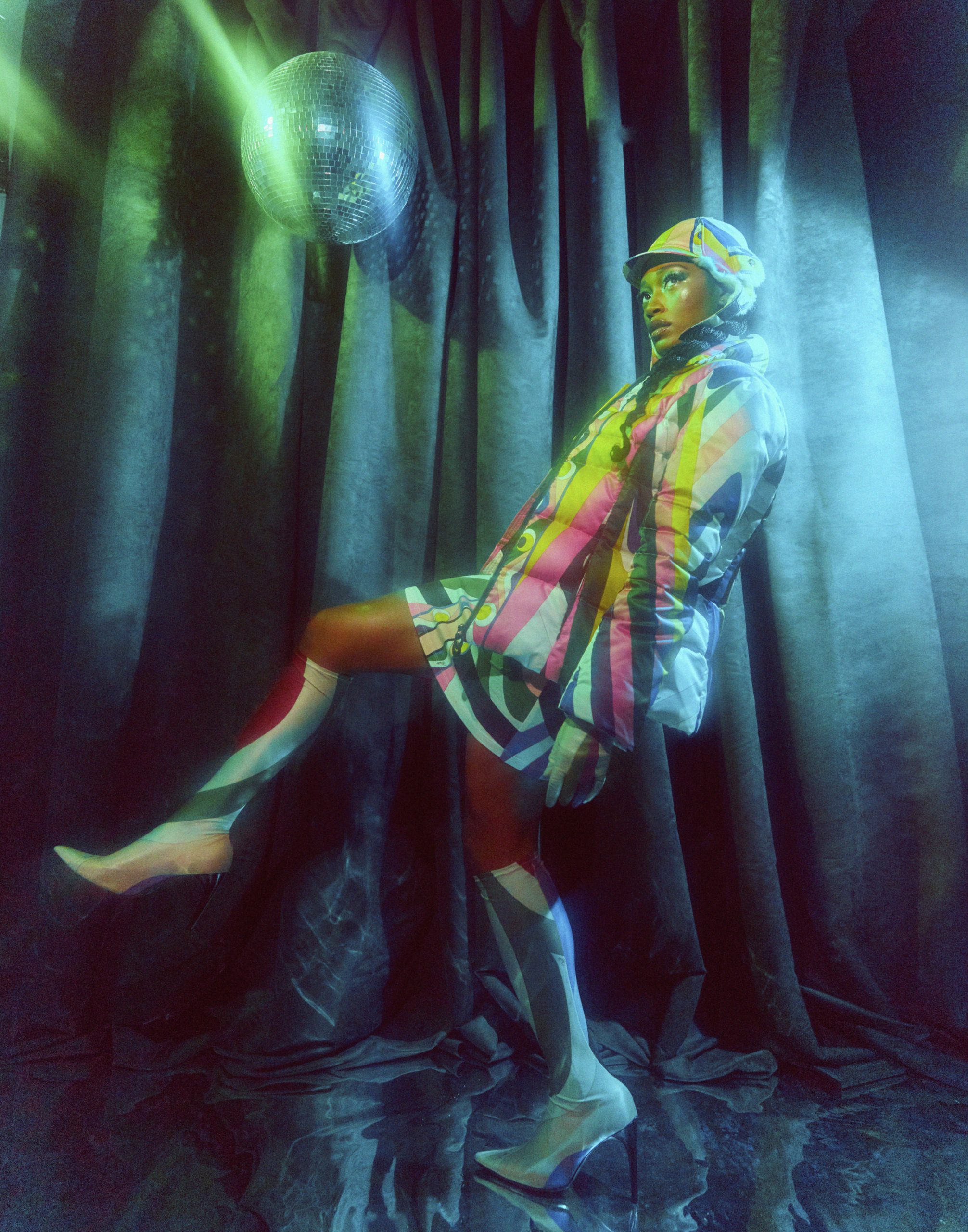 Gloves, vintage. Full look, Emilio Pucci @emiliopucci. All courtesy of Gabriel held vintage.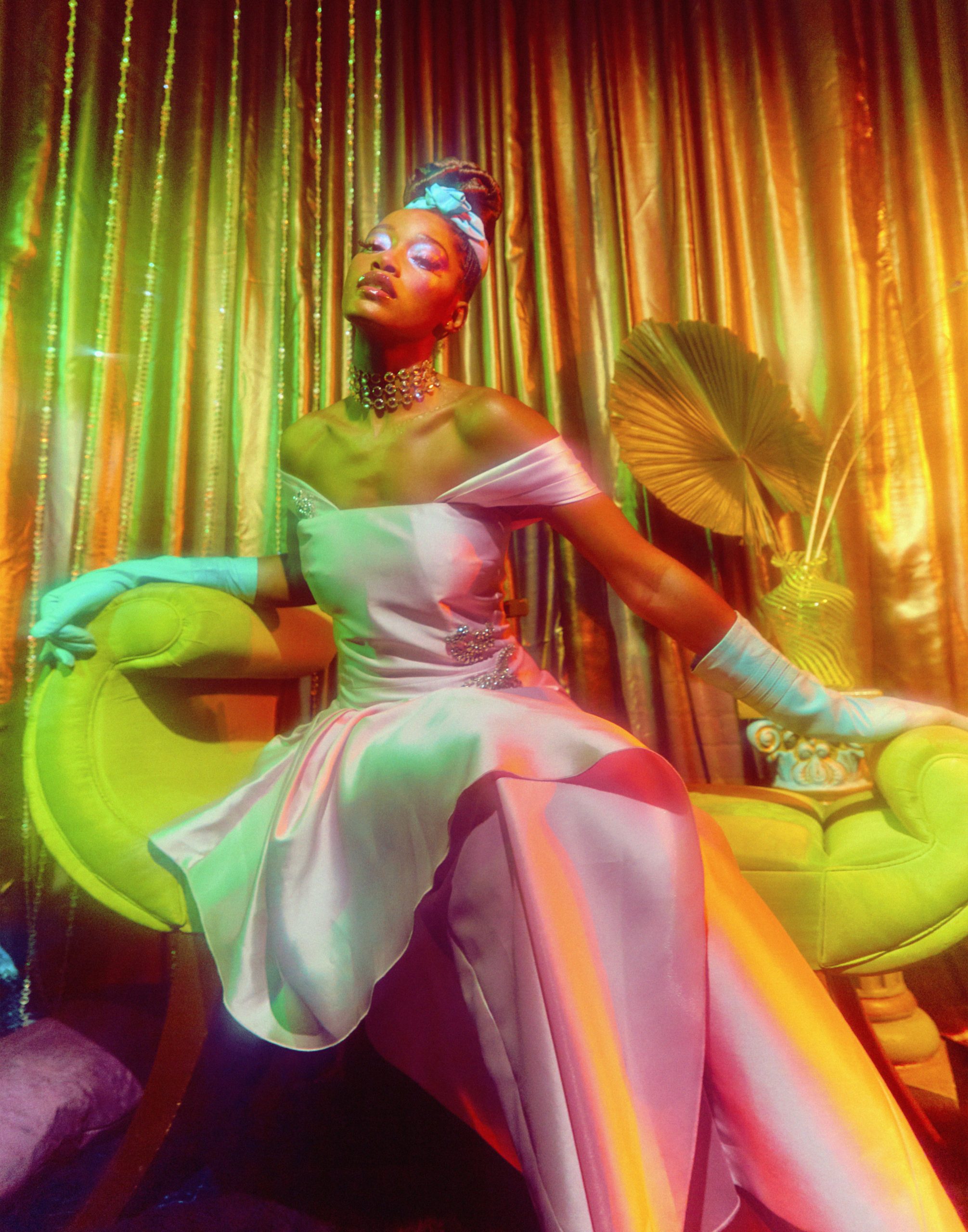 While consistency and being on point have always been Keke's way of staying in hustle mode, she recognizes that patience is a virtue and that she shouldn't apply so much pressure on herself. The I Don't Belong To You author and songstress continues to give herself grace during this time of much needed self-compassion. "There's now a new level of patience that I need to arrive at that allows me to be patient while I wait for these things to come to me," she shared.
Social media platforms have been used to build community during the pandemic, especially with the rise of new platforms such as TikTok and Clubhouse. In a world where physicality is limited and the love language of touch is at an all-time need, social media is allowing Generation Z and millennials to connect with other levels beyond the surface. "We've done it by sharing our emotional experiences," she applauded our generation for the power of connectivity through the apps. One of her favorite things about social media, which we've seen her partake in herself, is memes, and she doesn't think that they get quite the credit they deserve.
"Memes are literally the things that allow us to know that other people are feeling the exact same things we're feeling," she expressed. "It's the one thing that allows people to say, 'Oh my gosh, I thought I was the only one.' When it comes to the TikToks, Instagram, posts, and memes, what we're seeing is that we're not alone. That's what made me fall in love with social media in the first place."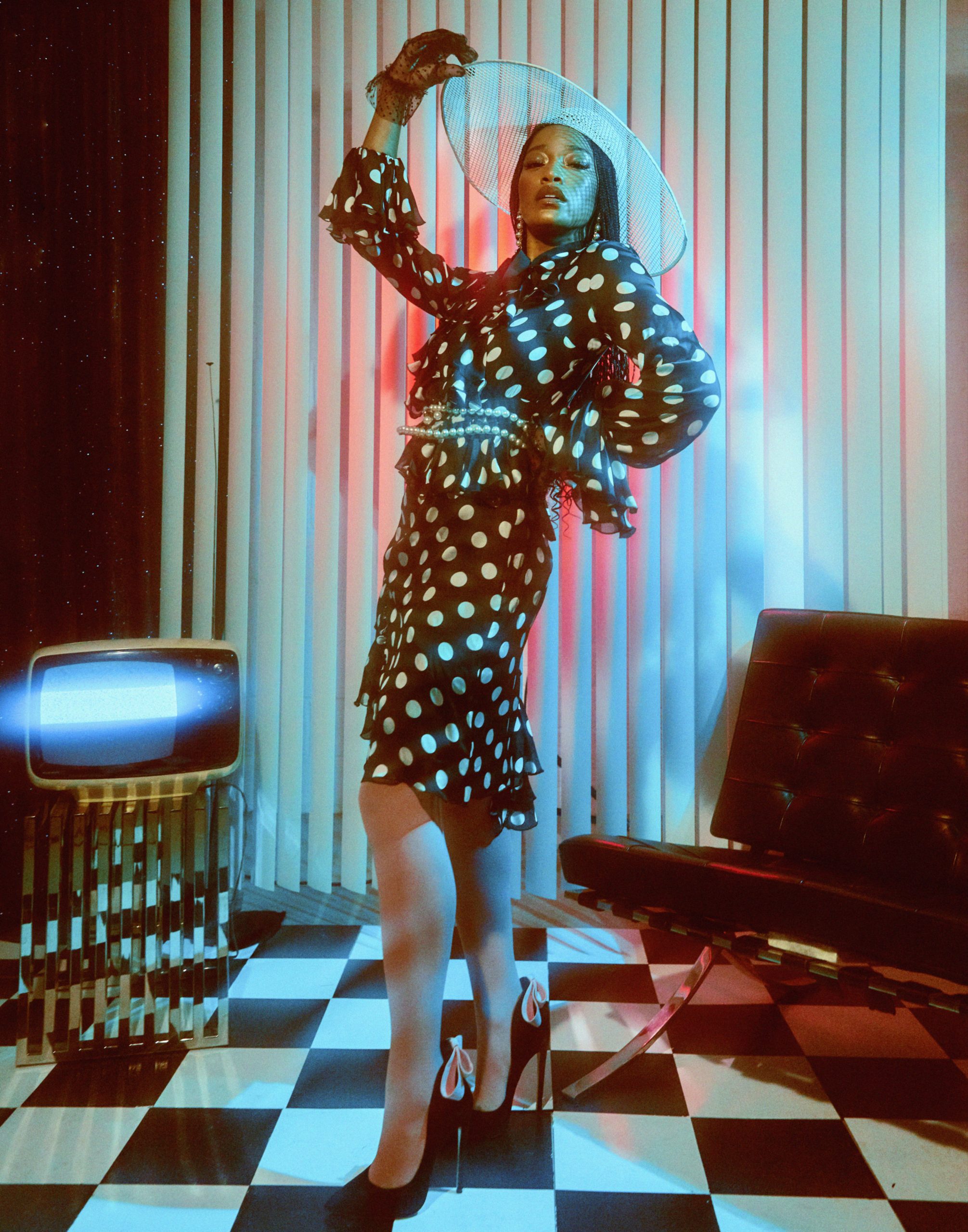 The "Bossy" singer confided in me about her previous feelings of being alone even if she was surrounded by a sea of people. She often felt isolated because she was working in the entertainment industry at such a young age, so she turned to social media to feel seen and be heard by posting quotes on Twitter and Instagram. When people would gravitate towards her content, she knew she wasn't in this thing by herself. "Everybody feels the same things whether you're a celebrity, president, professor or a student, it's reassuring that these emotions and feelings are universal. That's what reminds us that we're all human," she preached.
Not only did KeKe use her voice on social media, but she was seen on the frontlines of protests during the rise of social and racial unrest amidst the wrongful deaths of George Floyd, Breonna Taylor and Ahmaud Arbery. In a viral video caught of Keke asking members of the National Guard to march alongside her and the protestors, and to "be the change" in the fight for justice, it was evident that her passion was much deeper than her followers on Instagram. She wanted to affect and impact change as a Black woman for her Black community and stand up for what's right, as a millennial diva would.
"I can't predict how far I was gonna go with the whole marching thing. That's just me being an emotional person and that's just who I am. I think it just came from my deep desire for things to change. I don't want the same shit going down," she told me. Keke believes in this country and its potential to do better and though she's had her experiences with racism, she is proud to be an American. "Even when America has made me feel as a Black person that I couldn't be one, I always ignored that and knew what the truth was."
Keke was in an emotional state when her passion for the Black Lives Matter movement and actively protesting sparked, which was even demonstrated in her Instagram video sharing her thoughts on systemic racism, but she needed to get the message out that she's not the only person that feels this way as a Black person in America. As a Black woman in America, she knows that America is an ever-evolving melting pot of ethnicities and racial backgrounds from white to Hispanic to Asian descent. "America is diverse," she affirmed. "America was built on immigrants, so it ain't just me the Black girl who cares. It's all of us out here and I want the world to see that. I want us to just cut the bullshit and just stop watching things and saying that because it doesn't affect us, it doesn't matter. No, if one of us wins, we all win. We all have to care about each other for things to really move."
"If we have such a difference between the rich and the poor in America," she continued, "then America is losing because when I go to Europe, no one is scratching for pennies like that. When I started seeing more of the world, I realized there's a huge issue within the government and the trust between my generation and the government because we saw what it did to our parents." Thankfully, times have changed for Black women in positions of power since the era of our parents, with Kamala Harris as the first Black woman vice president and Rosalind Brewer as the CEO of Walgreens and Boots Alliance. Keke's heart was not prepared to see such a beautiful sight at the official inauguration, but she was blessed to be around during such a historic moment in time.
"I didn't know how emotional it was gonna make me to see Kamala standing up there. To see Kamala up there like that was very inspiring because God forbid if anything happens to Joe Biden, she's the president," Keke told me, and during this moment it hit me that this was the truth. "I never knew how much it would impact me to be represented in that way."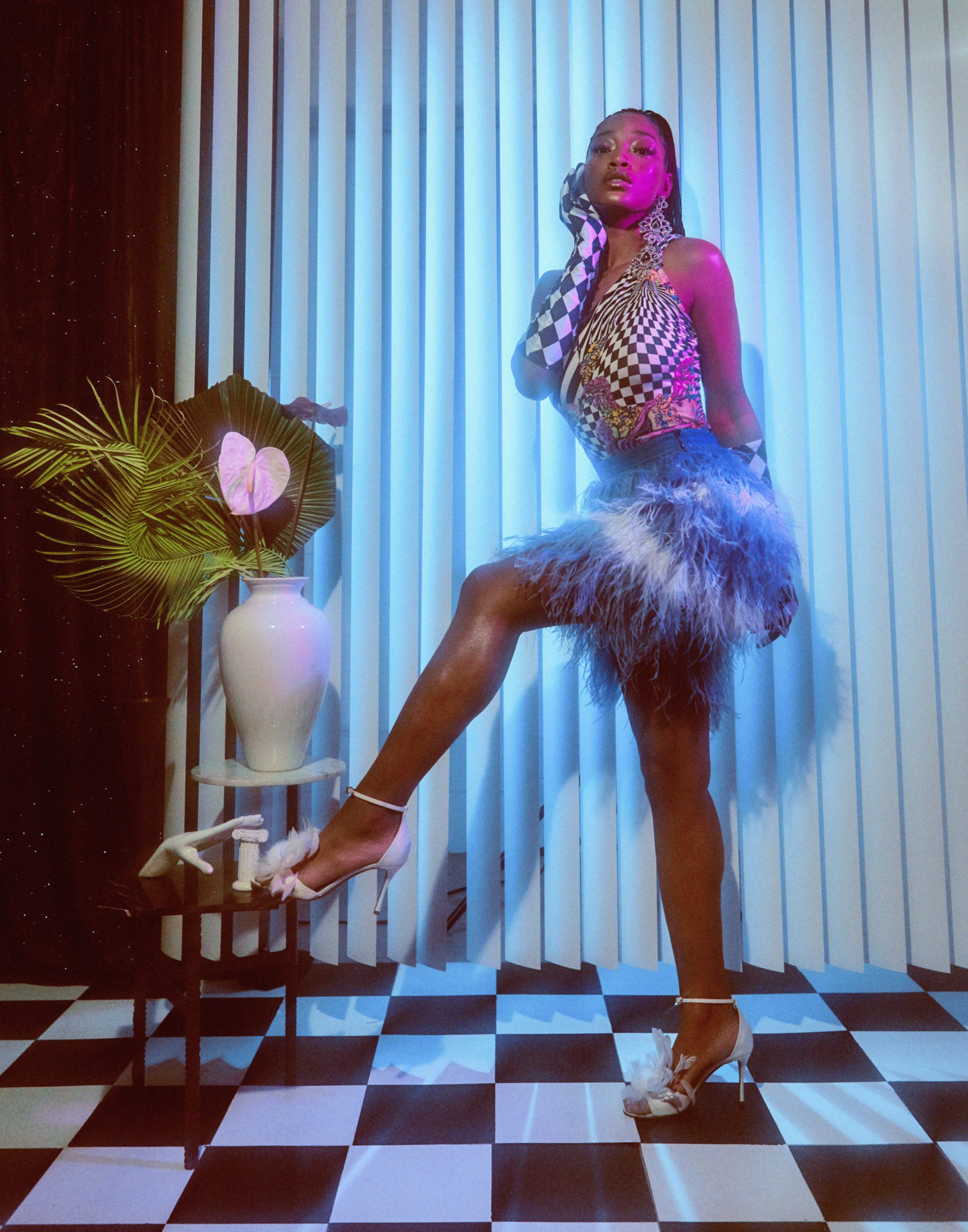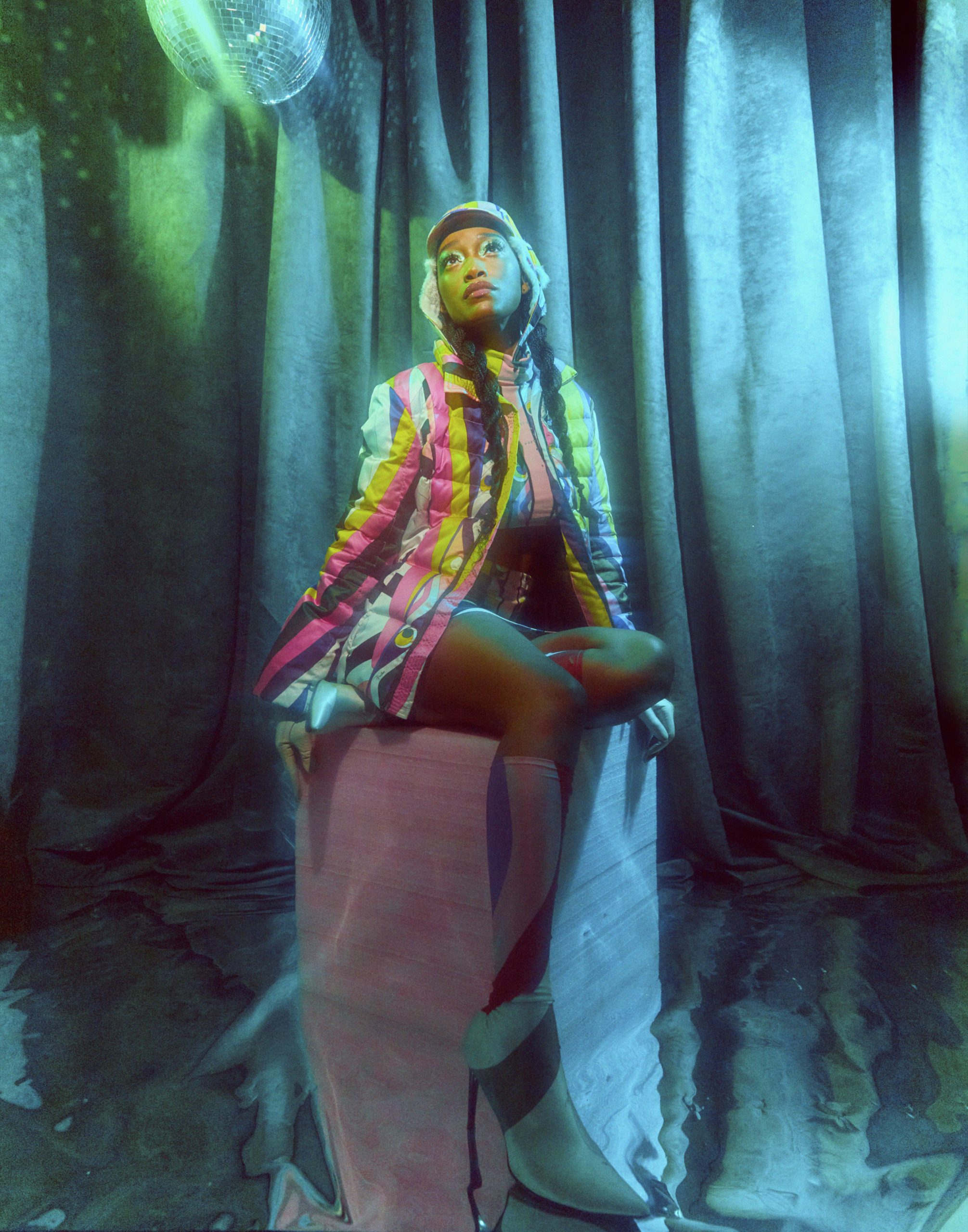 Today, Keke Palmer is representing aspiring Black and brown girls in a new Disney+ series Foodtastic, which she describes as a fun and engaging show about food art. Though she couldn't tell me much without dropping some spoiler alerts, the new host and executive producer expressed her excitement to work with chefs Benny Rivera and Amirah Kassem to create brilliant edible masterpieces inspired by Disney's legendary IP. "You're gonna be excited, because who isn't a fan of Disney?," she asked rhetorically. Coincidentally, this will not be the last we see of Palmer on Disney+, as she will be lending her voice for the revival of The Proud Family as their new character, Maya.
Before she got to where she is today, Keke Palmer has been making strides in the industry from the inspiring lead in Akeelah and the Bee to the first Black Cinderella on Broadway. As I was about to read all of her receipts to her, I stopped myself mid-sentence because I just knew that she knew what she had done for me and women like me. All of her roles have been nothing less than positive representations of multifaceted Black women, and the True Jackson, VP alumna knows this about her work, too. 
"I still keep in mind that this is the first time a brown-skinned woman is seeing herself on film or seeing herself in this way," she added. "No matter what my character is, and I never want to hold myself back creatively from being a sexual character or whatever it is, I welcome everything because everything is beautiful. I always try to make sure there's a level of grace that I have in each character, no matter how contradictory or confusing they might seem to the eye." She constantly aspires to bring light and beauty to her characters to demonstrate the non-monolithic experience of Black women that this world encompasses from all walks of life, geographic locations, and lived experiences. 
Representation is extremely important to Keke and believes that it's all we have as a legacy, as a culture. "It's the reason why we hear about Cicely Tyson passing, we feel like part of our heart cracked. It's the representation that allows us to know that we've been seen," she spoke about the late actress who passed a week after her memoir was released. When the Hoodlum actress' death was announced, Keke took to her personal platforms to give Ms. Tyson her flowers for being like a grandmother figure to her and "healing her heart." Though she ended her caption by noting "sometimes you don't always realize the way people impacted you," we recognize Ms. Tyson's impact on the world of Black representation in Hollywood, and Keke Palmer is bound to leave the same imprint in her own light.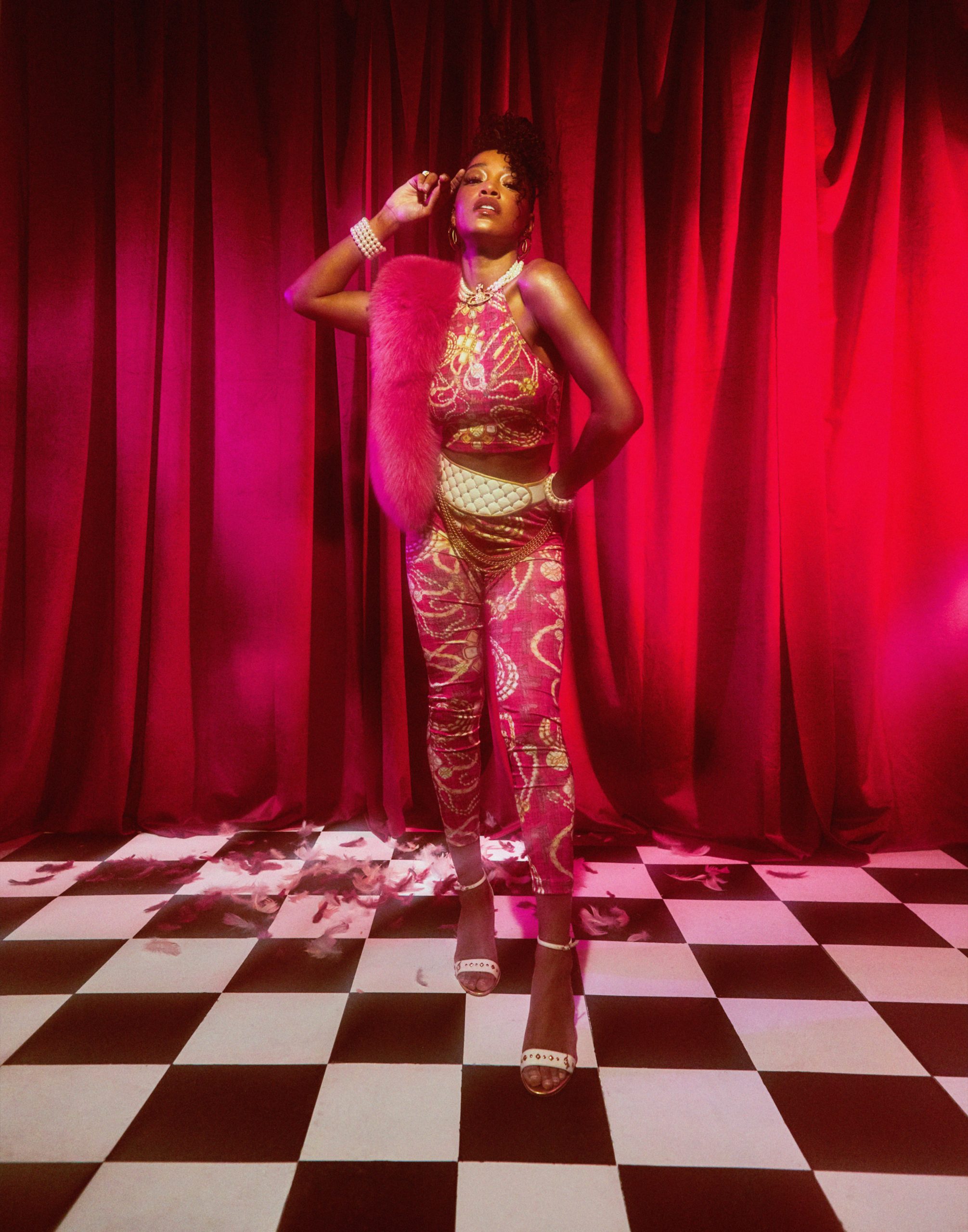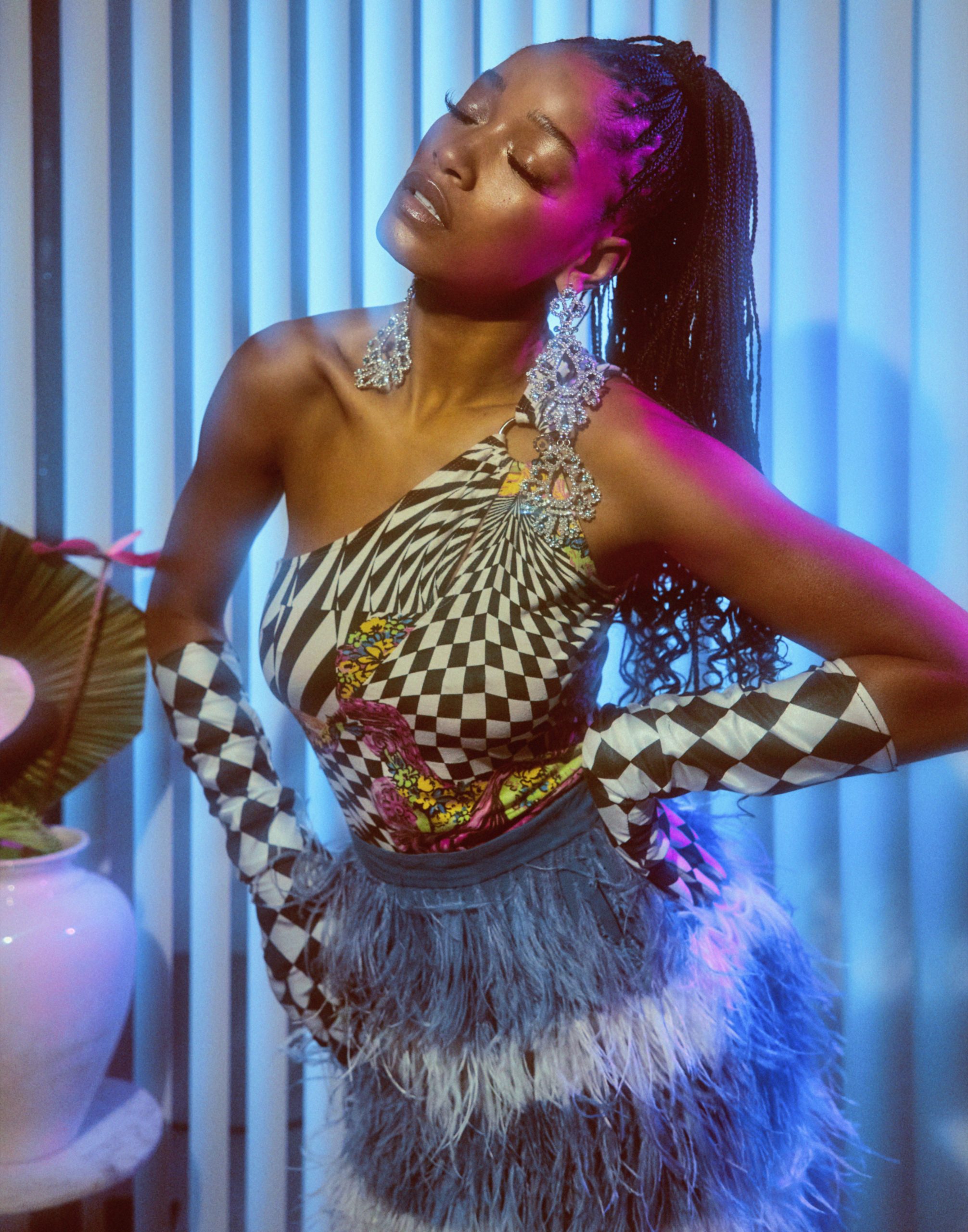 We've watched Keke grow into her own identity, sexuality, and femininity as a woman from her singles "Hands Free" and "Snack"  to her role in Hustlers alongside Jennifer Lopez and Cardi B. And though some may deem it "off-putting," "left field" or "inappropriate," the reality of it is that she is a grown ass woman who can do as she pleases. Embracing her confidence publicly was a personal win for Keke because she felt stifled and pigeonholed due to her early career kickstart and her brand foundation in children-related entertainment. "I never wanted people to try to put me in a box to push me to be the kind of person seeking shock value, but I also didn't want to make people try to hold me to their idea of me and stop me from growing either," she told me about finding her own way as she continued to grow up before our eyes.
"At a certain point," she added, "you're not a child anymore so it's not like you're trying to be anything. You're becoming something and it's out of your control. You're gonna grow, you're gonna want to be sexy or whatever it is. You're gonna end up wanting to try something opposing what people first knew you as." Once she realized her need to identify her brand in her own way and on her own time, she regained power by knowing that this was a natural part of learning herself as she grew into her own being as a young adult.
"Everybody deserves the right to do trial and error," she explained. "A lot of young kid actors are not allotted that choice or that option. They're not able to be 'crazy' because everything's made to be so much more dramatic when really they're just doing the same thing everybody did. There just wasn't a camera watching them do it." We've seen Keke bravely and boldly try new things with fashion, style, beauty, content, and even coming forward about her skin condition, PCOS (Polycystic Ovary Syndrome) – all of which makes her the relatable, lovable icon that we know her as today.
While she doesn't have any regrets, Keke would tell her younger self that everything is going to be just fine and to keep trusting in her instincts. She advised young Lauren, fresh and green in the industry, "Keep that connection and know that it can never leave you; only you can leave it. It's always inside of you. Whenever you feel worried or like you're going astray, quiet yourself, go back into yourself and you will find it again." She had everything she was looking for burning inside of her that would outshine any fear or doubt she would ever have to come.
"Being a human being is a very scary experience because everybody is going to disappoint you. Your mama's gonna disappoint you, your best friend's gonna disappoint you, everybody in your life that you've ever loved is going to disappoint you," she explained while she alluded to the story of Jesus and the betrayal of his disciples."People you love are going to betray you, but it's how you move forward from there. No matter what you go through, do not let this world make you bitter, jaded, and cold because this is just part of the experience."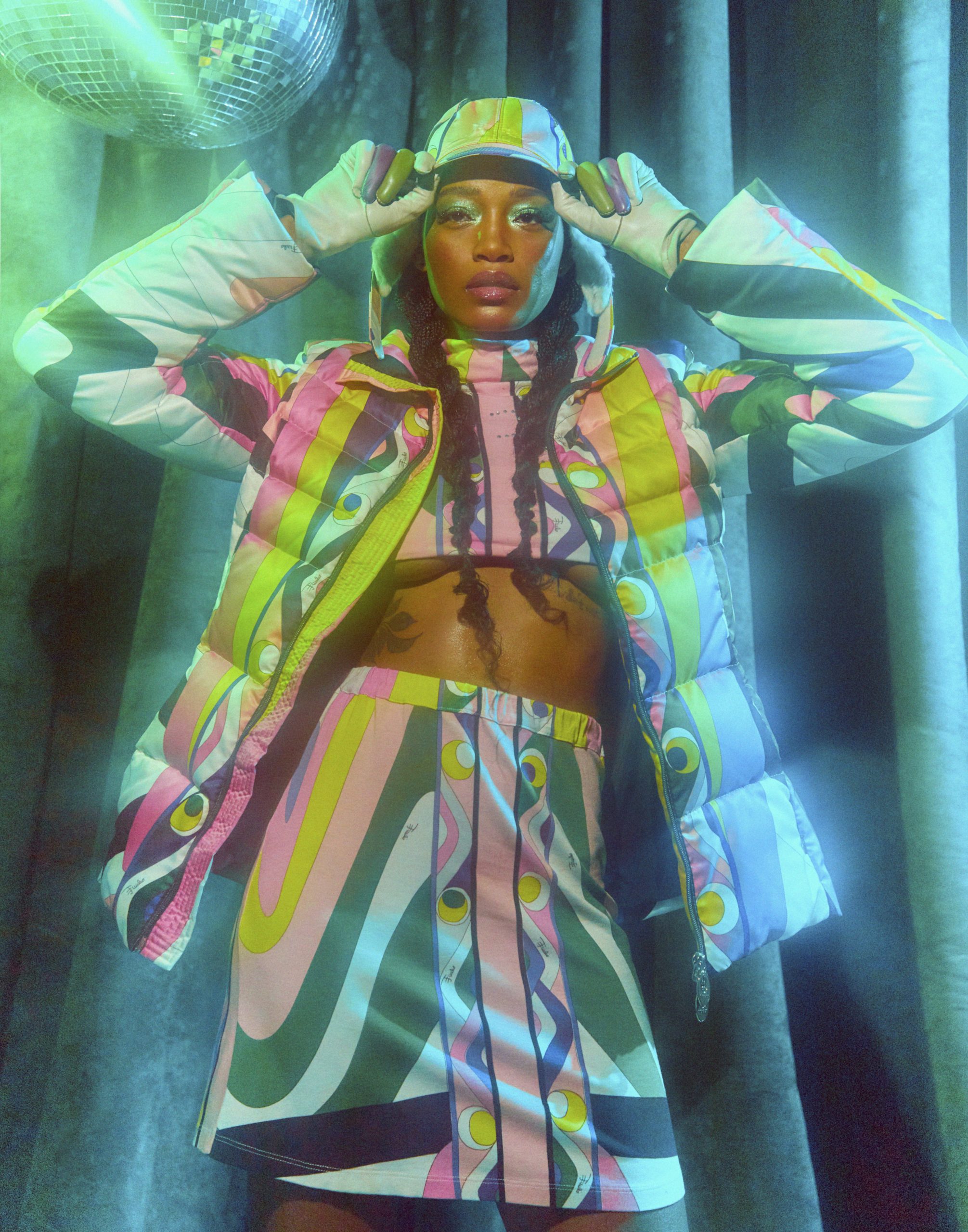 CONNECT WITH KEKE PALMER
INSTAGRAM // WEBSITE // TWITTER // VIRGO TENDENCIES PT II
Story / D'Shonda Brown (@SignedShonda)
Editors / Sam Berlin (@SPBerlin), Jack Hannon (@j_hannon67), Phil Gomez (@styledbyphil)
EIC / Koko Ntuen (@kokontuen)
Photos / Savanna Ruedy (@savannarruedy)
Styling and Creative Direction / Gabriel Held (@gabriel_held_vintage)
Makeup / Dina Drevenak (@dinalorraine)
Hair / Sergio Estrada (@styledbysergio)
Set Design / Natalia Janul (@nataliajanul)
Video / Travis Chantar (@chantar)