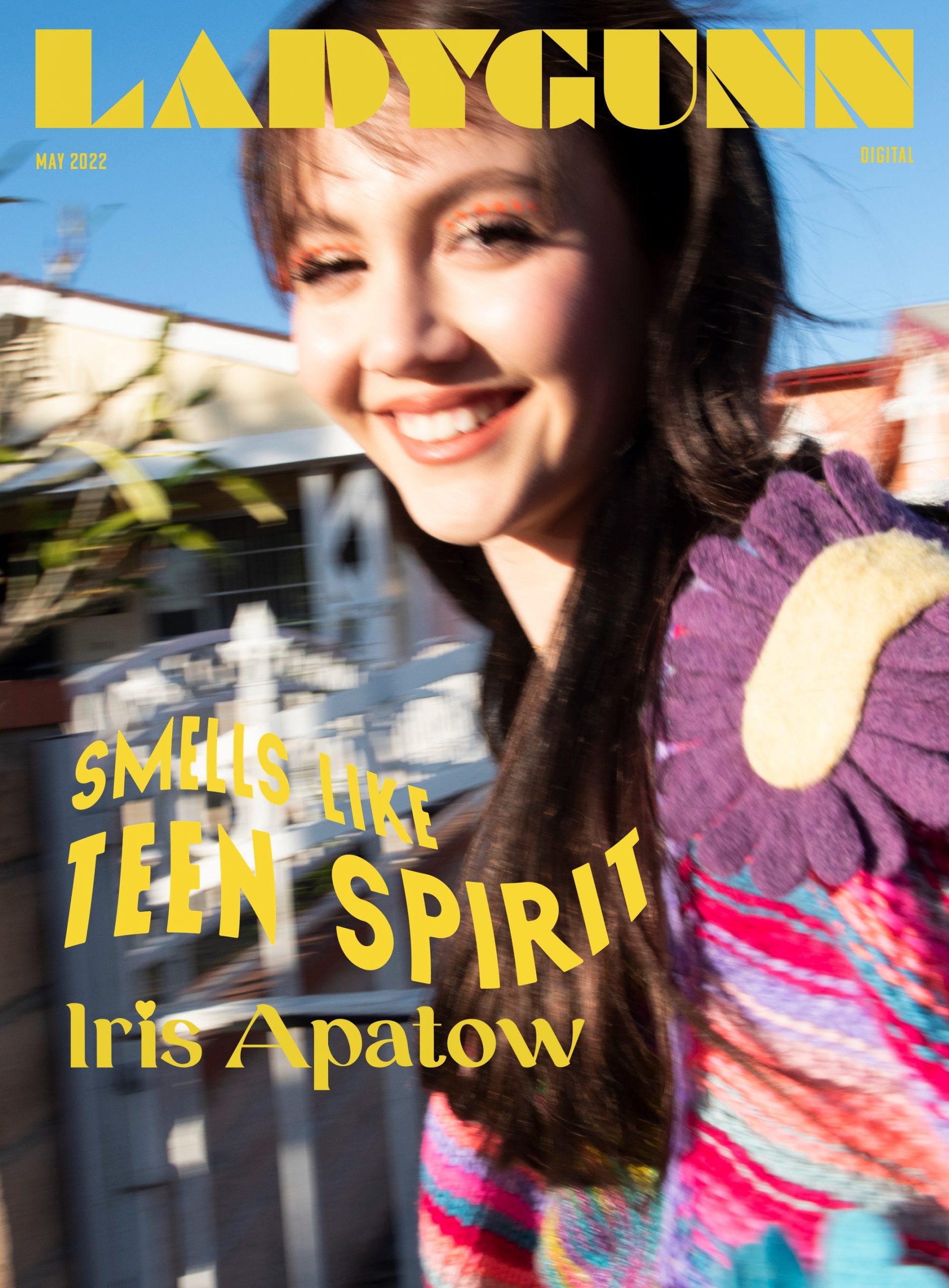 Like many, I first saw Iris Apatow in the beloved romantic comedy,

Knocked Up

, followed by her performance in the sequel,

This Is 40

– where she stole every scene with masterful improvisation and natural wit. Her career has been a string of family affairs, mostly acting alongside her mother, Leslie Mann, and sister, Maude Apatow, while her father, Judd Apatow, directed or produced each project. Having several roles under her belt while only being 19, Iris continues to make an impression with her latest film,

The Bubble

, a comedy centered around a film production during the heights of Covid-19, forcing the cast and crew to work in isolation. Chaos and hilarity overcame the Netflix movie, blending the comedic genius of seasoned actors, including Keegan-Michael Key, Fred Armisen, David Duchovny, Leslie Mann, and many more.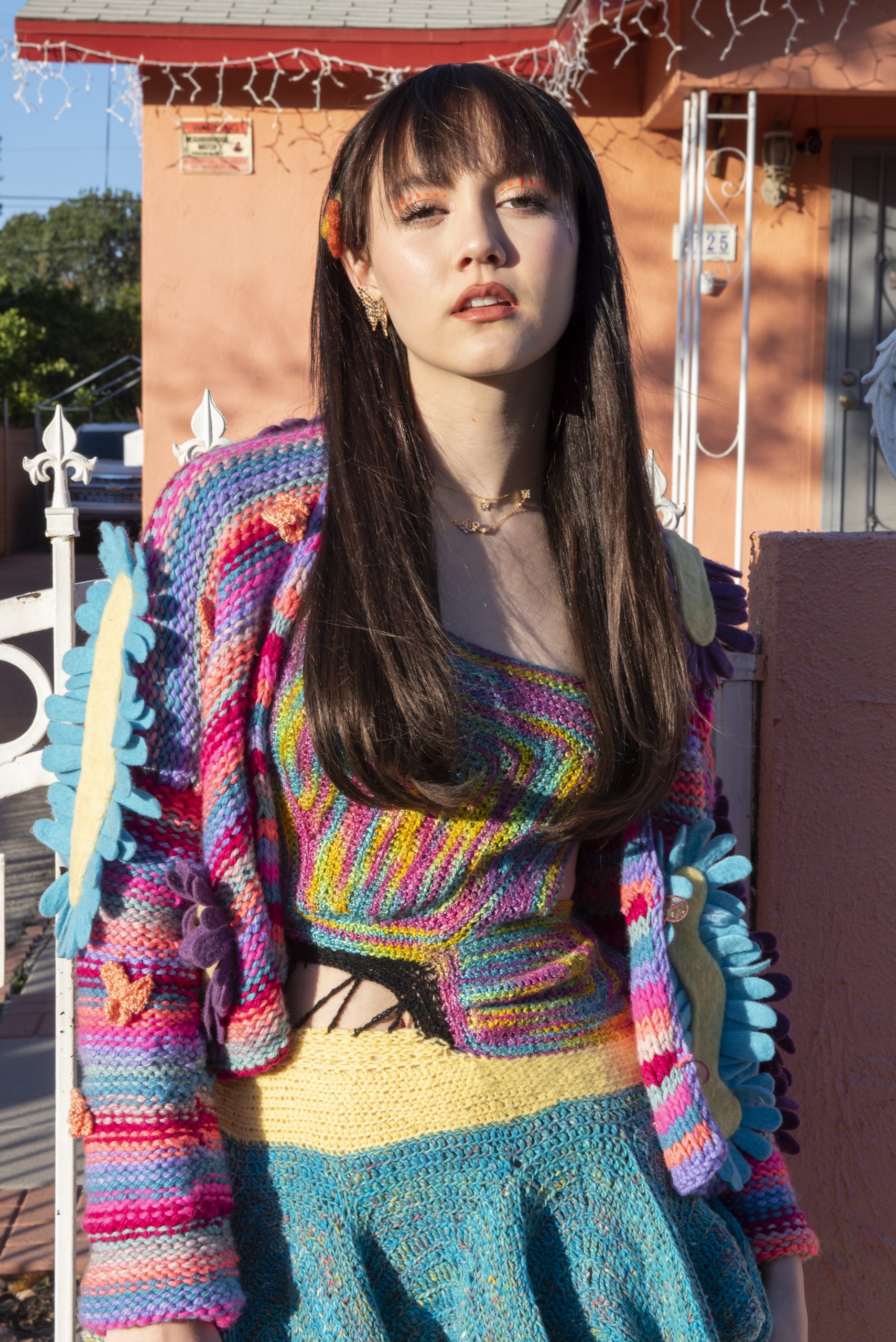 Dress + Cardigan, FARRADAS KNITS. Earrings, TARINA TARANTINO. Necklace, RHYS KELLY.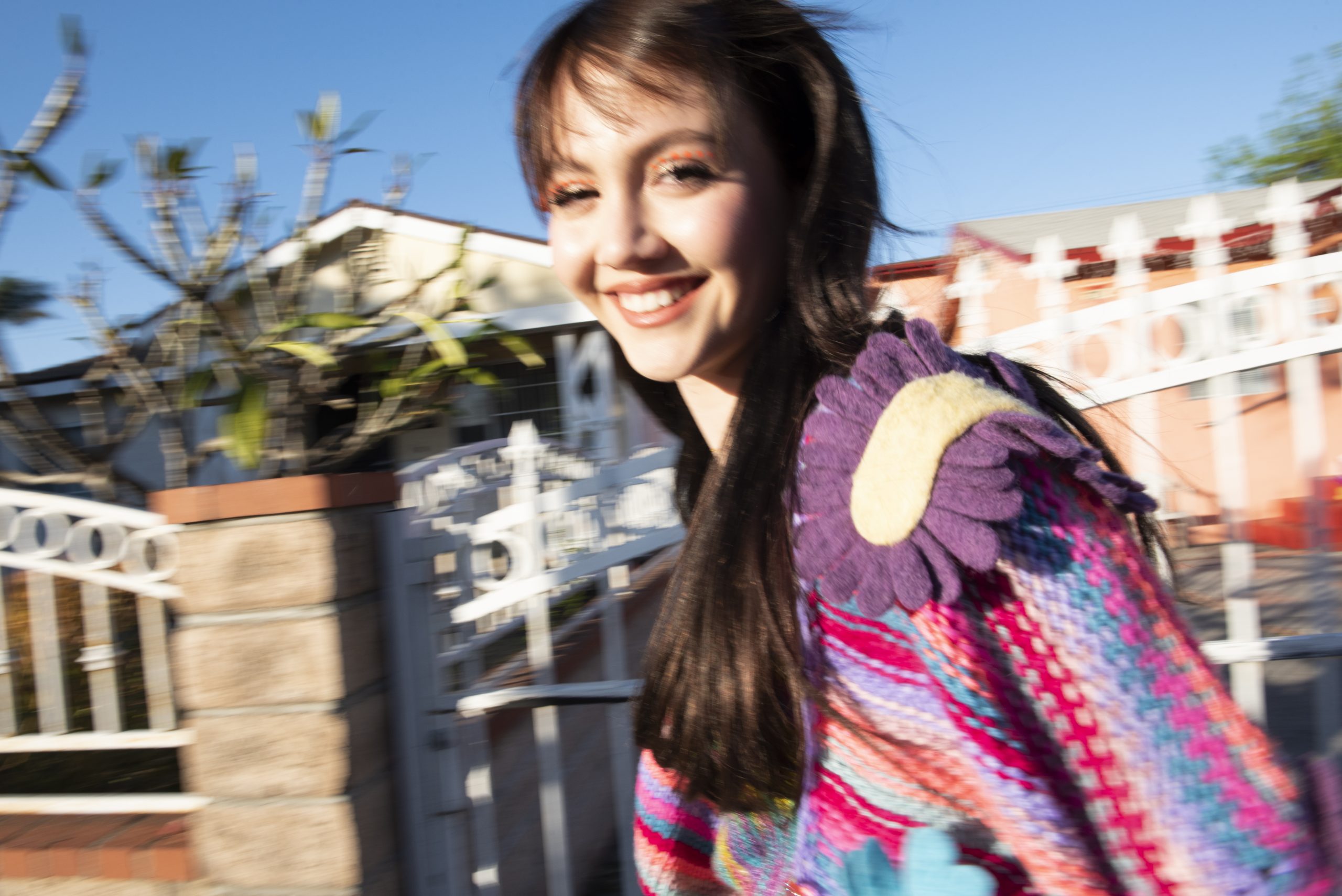 Sitting down with Iris, I can hear the passion surrounding her craft and the curiosity she holds, may it be exploring behind-the-scenes work or visioning her writing come to life. Currently enrolled in college, the exceptionally funny actress is not one to settle. While many rely on the opportunities handed to them, Iris craves challenges, building herself up through hard work and discipline. Not many can say they've made millions laugh at the age of five, but Iris wields humor that comes across so organically, evolving with every project she undertakes.
The Bubble
provides escape from the realities of today, and Iris holds that dear to her, blocking out any critique that undermines that. Opening up about her character Krystal Kris, a Tik Tok celebrity providing revelation for her own online presence, Iris Apatow speaks about her journey, the advice that guides her, and dreams of being a part of the Marvel universe.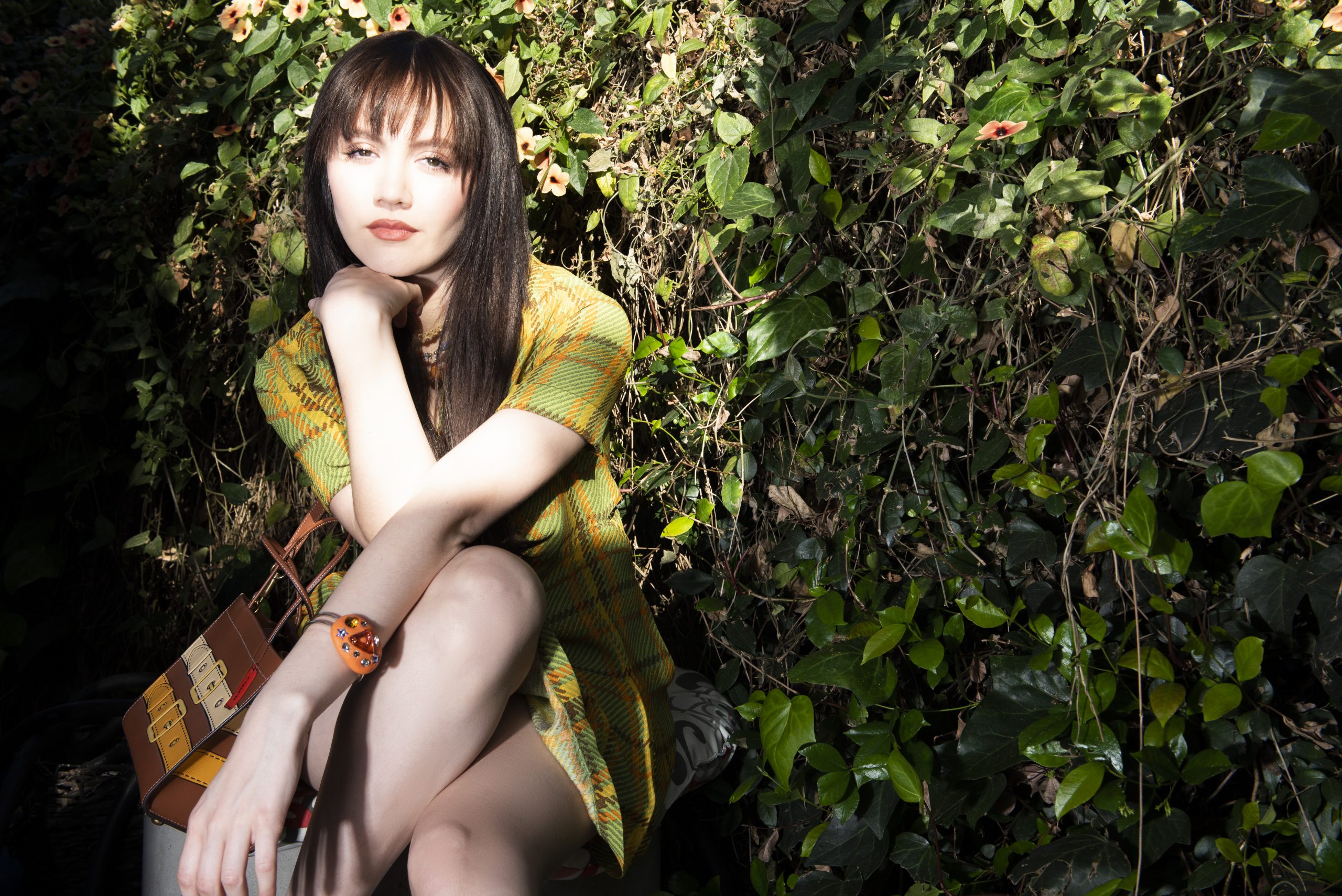 Dress + Bag, COACH. Jewelry, TARINA TARANTINO.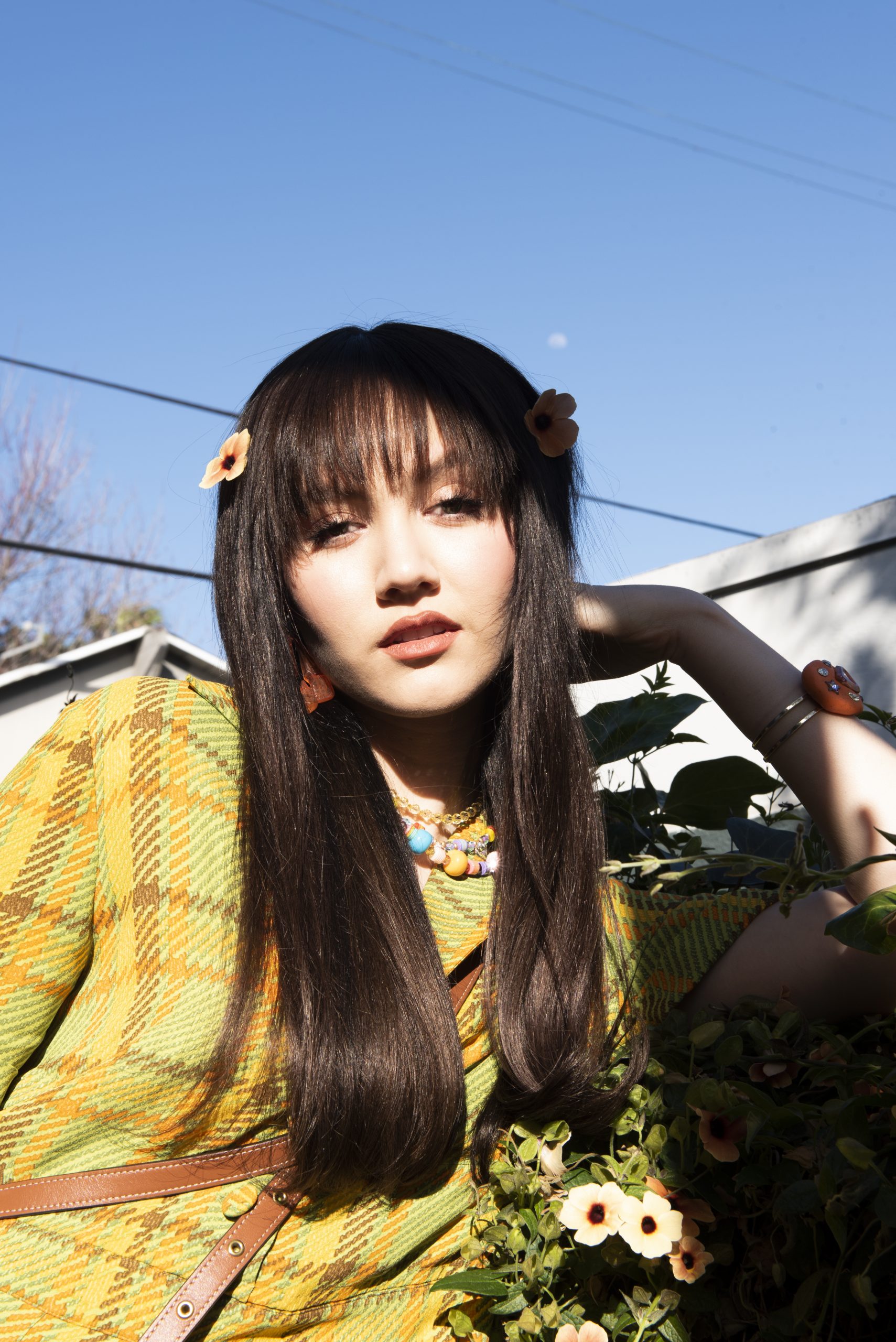 How are you? What has the last week looked like for you? 
Ever since the press has slowed down, I've just been finishing my spring semester at college. I've been, you know, just hanging out with my friends and getting to do some of the stuff I didn't get to do for the last month. I've picked back up knitting. So I've been knitting a lot and doing self-care and fun stuff before the summer comes, and I'm going to be doing some new projects. 
I want to talk about your Tik Tok presence, just because that's been a big escape for a lot of people during this time, the last couple of years. And now you're playing someone who's a Tik Tok actor. What were the parallels like? 
I think TikTok has been a safety blanket for people in isolation because it entertains you, and I think it definitely served that purpose for me. I think it's been something that's really served me well and has been great, but at the same time, as this movie has come out, I've decided to take a step back from TikTok. It's very scary to me, and there are a lot of voices and noise; it's a lot for my mental health. That's why I really respect creators on that platform because of how gracefully they handle that. Playing this part, I was doing research and looking at all the girls on the app; they're very strong people, which I respect. It was so fun to play a part like that and get into that mindset. 
Congratulations on your recent project. "The Bubble," directed by your dad, Judd Apatow, starring comedian giants, including your mom, Leslie Mann, just recently dropped on Netflix. Aside from working with your parents, how was the experience acting alongside comics like Keegan-Michael Key, Maria Bakalova, and Fred Armisen?  
Getting to work with people like Keegan and Fred, Maria, and all those people, they were all so good. You've never seen anything like that in your life. And it really makes you want to be the best you can be. I think, especially Fred, I could not keep a straight face. Anytime I was around him and Harry and Danielle and Maria, It's hard to act like what they're saying isn't the funniest thing I've ever heard. You feel very lucky to be in the presence of people like that. And I think it was really cool to see Harry Trevaldwyn, who's just the funniest and such a great friend to me, on set. Working with people like that, you expect them to be scary and unapproachable, but they were all the kindest people you could meet, and I felt very excited every day to get to go to work with people like that for sure.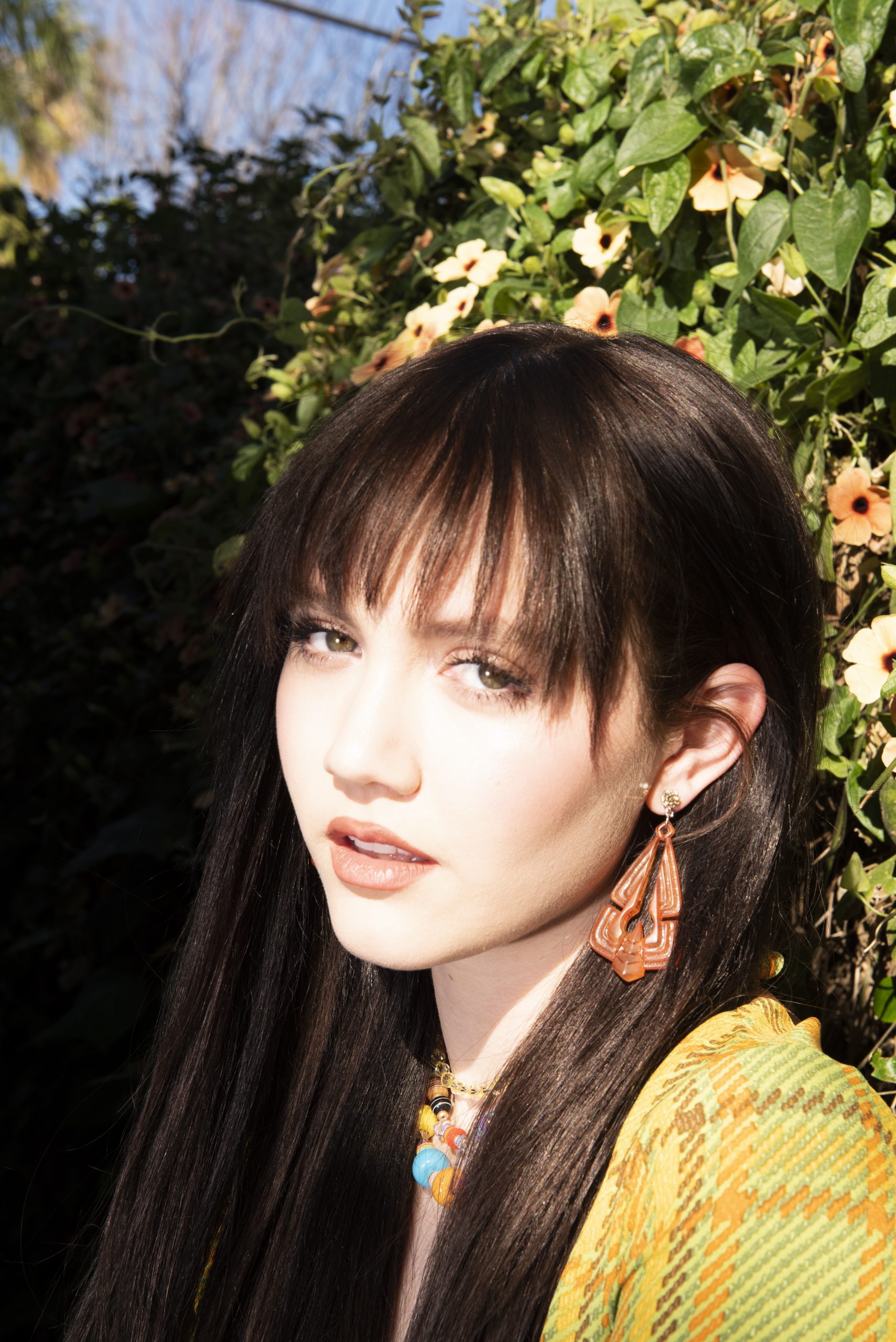 What was the process like working on the set of a film about strict Covid isolation while still experiencing elements of the pandemic? 
All the protocols were very safe, and we were lucky enough not to have any positive tests throughout production. But I think I was lucky enough to live with my friend who was also in the movie, Galen Hopper, who plays Carla. And we would just kind of watch Real Housewives all day. And, you know, when we have days off, how we would escape is walking around London, we would walk through parks, and relax and have movie nights. And I wouldn't be desperate to get out. Having the comfort of someone I love so much is what I was very lucky to have. I just felt very privileged not to be alone and get to be working during a time like that. It was nice, and I definitely found ways to keep myself busy when I was not working.
I recently saw that Maude detailed how you're a glam queen, giving her tricks and how-tos, when did you get into makeup, and do you influence your glam on set?  
It depends. But usually, on The Bubble, I was lucky enough to have a really great makeup artist Sara Osborne. She was just the nicest and always open to finding looks we could do together; we would make Pinterest boards, and I definitely was lucky enough to collaborate with my makeup artists. And get to play with some of the looks, depending on the outfits, like, what would a Tik Toker wear on their eyes with this outfit? So I would creatively help out with that.
You're naturally funny and improvise so well; I remember watching behind-the-scenes clips of your work on "This is 40". What was the process like during this project? 
Throughout my life, growing up in these environments, I've been thrown in rather scary situations where I had to improvise with people who I shouldn't be improvising with. But I have been lucky enough to experience that. As an actor who's still learning, it's such a privilege to get to work with people who are such seasoned experts. It's funny because the movie is very, at times, out of the left field. But I think that's what's fun about it. I think that was our whole goal when making this movie, to make a couple of people laugh. Because when it came out, everybody was confused, and there were a lot of opinions. I had a conversation with my dad about it. He was like, 'Iris, can you really look me in the eyes and say, I did a Tik Tok with a dinosaur and expected to get a good review?' It was just supposed to be an experiment, to take stories that we had heard throughout the pandemic of people in the film industry during the beginning of isolation and how they handled production. It was just supposed to be silly. And I think it, in the end, it's the most fun thing that I've done, and I'm very lucky to have been able to be a part of it.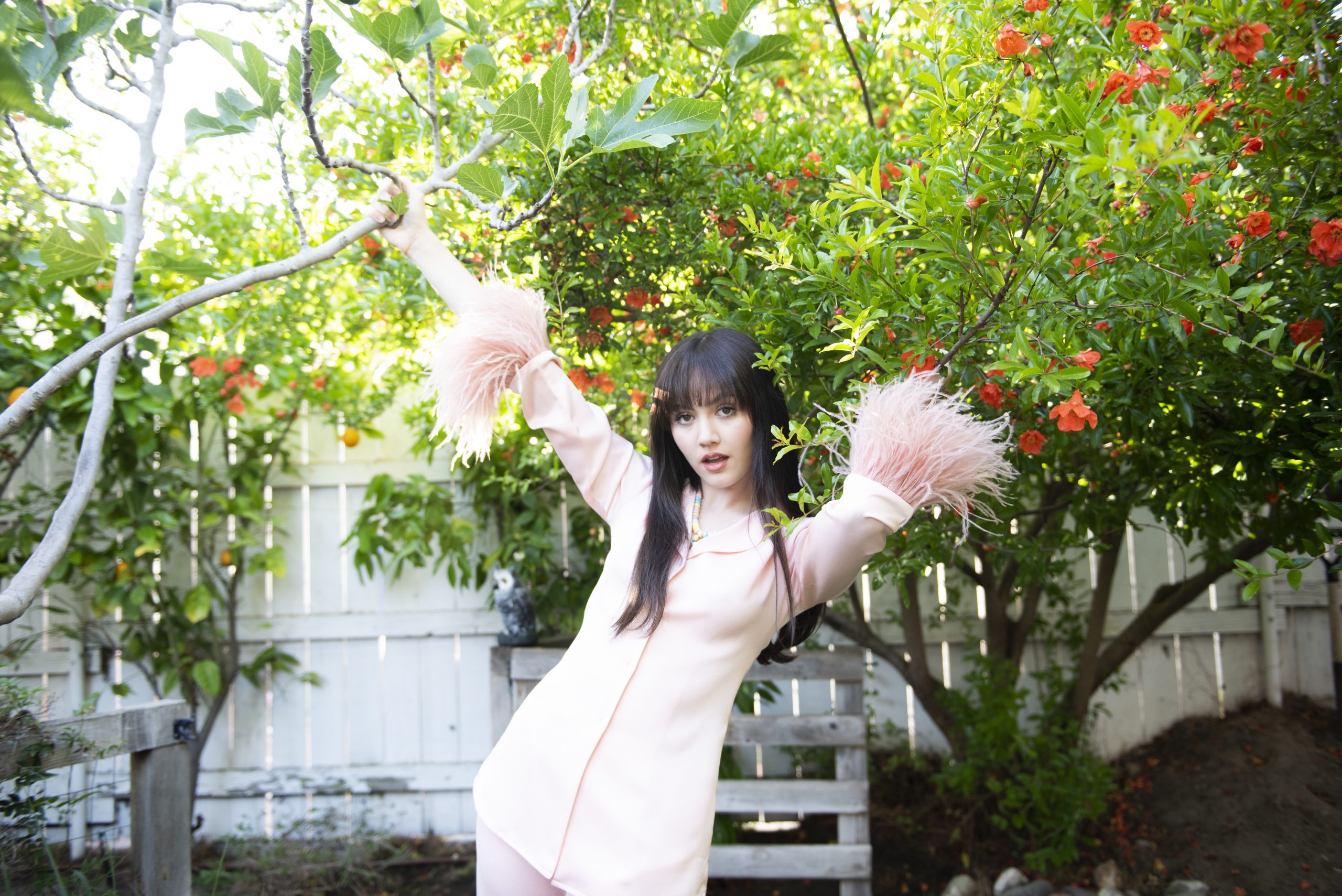 Top + bottom, ALINA ANWAR. Necklace, HEAVN by MARC JACOBS.
What's the best advice your parents have given you? 
They've been a great motivation for me to continue to work towards my goals and continue to better myself as a writer or an actor and stay in school— take care of myself. They've always said, "Commit as hard as you can," they have given me more advice in my life, but that's the big one. Live your dreams to the fullest because nobody's gonna be able to force you to do that, you have to want to, and I think they've been a great inspiration for me.
You've been in this industry since you were five. Your work speaks for itself, especially since you were a child, giving seasoned performances. Are there any other expressive outlets you have or want to nurture, maybe just for personal purposes and not work? 
I'm in film school for film production, and I've learned a lot about that. And I think it's kind of one of those passions I have that I don't feel like I need anyone to see for me to love it still. It's just something I want to do for the rest of my life. And I don't know what I would do without that kind of creative outlet. So I hope one day, I can see my writing on the big screen, but I think I have a lot of work to do. And I think it's something that I hope gets out there one day, but I mean, it doesn't need to; it's just something I really enjoy doing. There's all the behind-the-scenes stuff I do, like special effects, and makeup courses, that I'm interested in. It's just something that I really enjoy doing.
What are some other genres you would want to explore?
I've always wanted to do action or horror; that's been a dream my whole life. I think it's the most fun, and I'm a really big Marvel fan. I always look at people like Scarlet Johansson or Elizabeth Olsen, and Karen Gillan, who's in The Bubble. I envy their jobs so much. I think it looks like the most fun thing to do.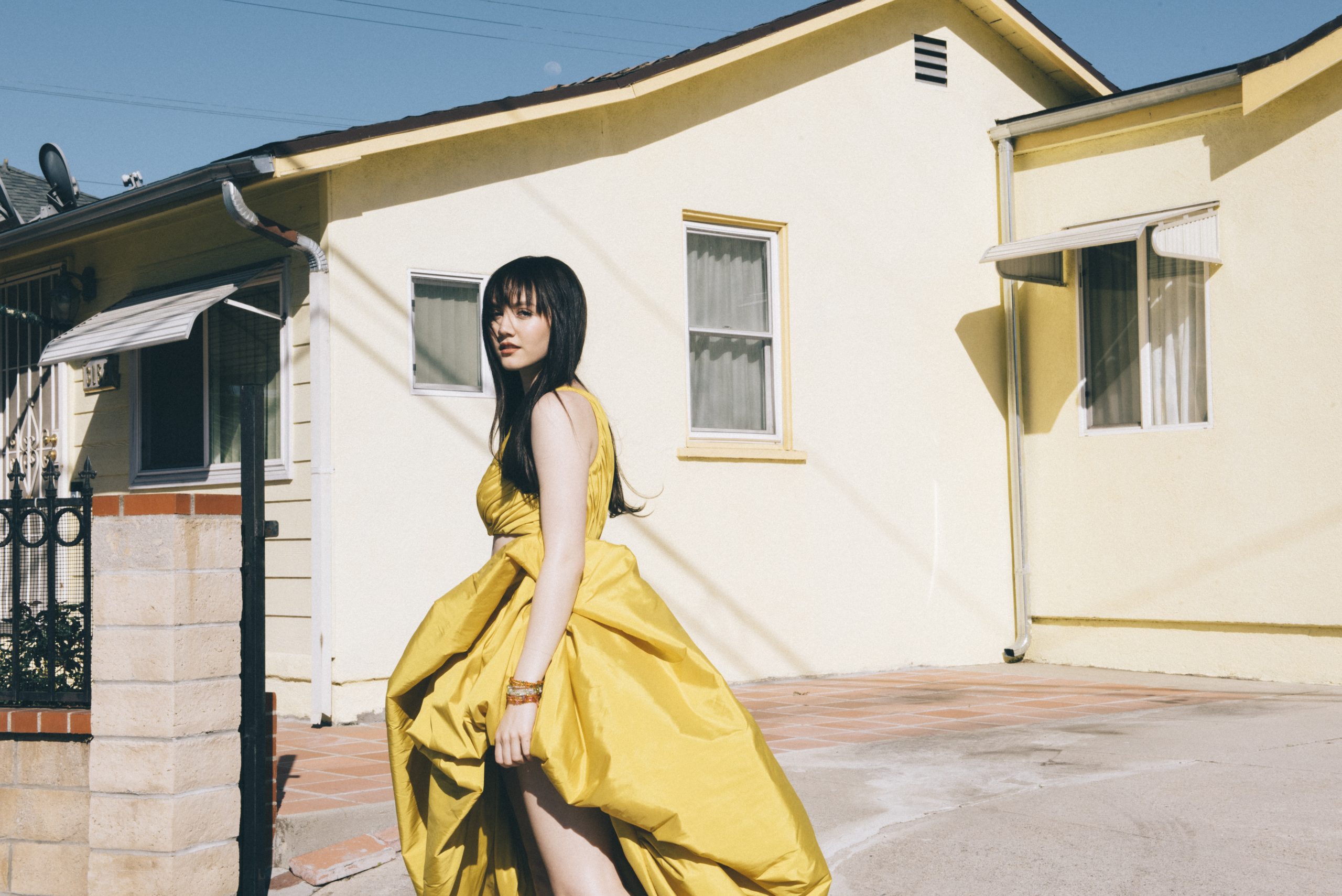 Dress, MONSOORIE. Shoes, COACH. Rings, Bracelets, TARINA TARANTINO. Necklace, RHYS KELLY.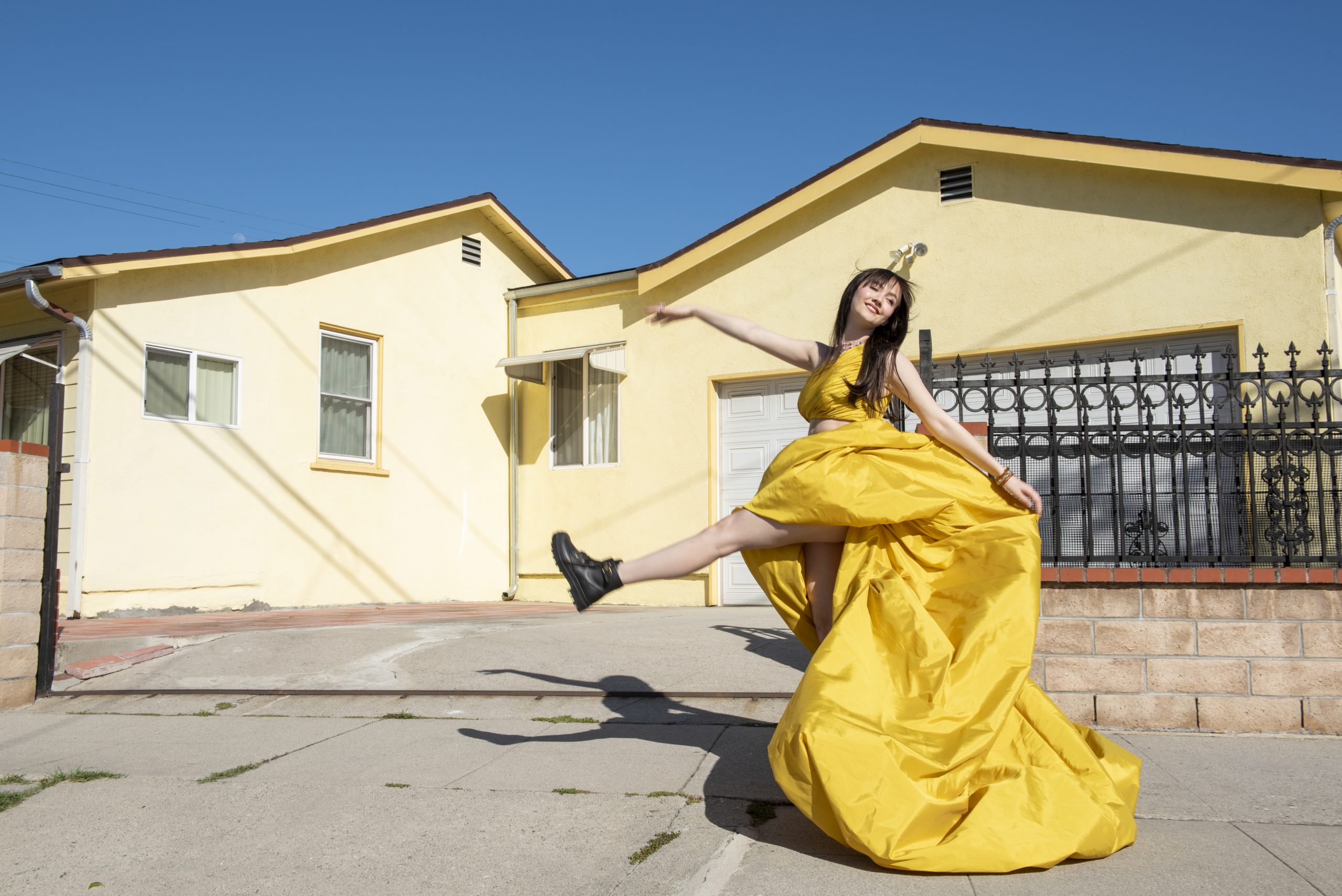 Well, thank you for taking the time to talk to me. Do you have any plans for the near future? It's starting to get hot in LA. 
I'm just gonna be excited not to have to do homework and just spend some time with my friends who are in out-of-state colleges. It will be nice to have things slow down a little bit and hopefully go on vacation, nothing crazy. Actually, I don't have anything coming up in the summer. Also, just doing my job as an actress and auditioning, trying to learn more about it, and having fun while doing it. That's good enough for me. I'm very happy. 

CONNECT WITH
IRIS APATOW