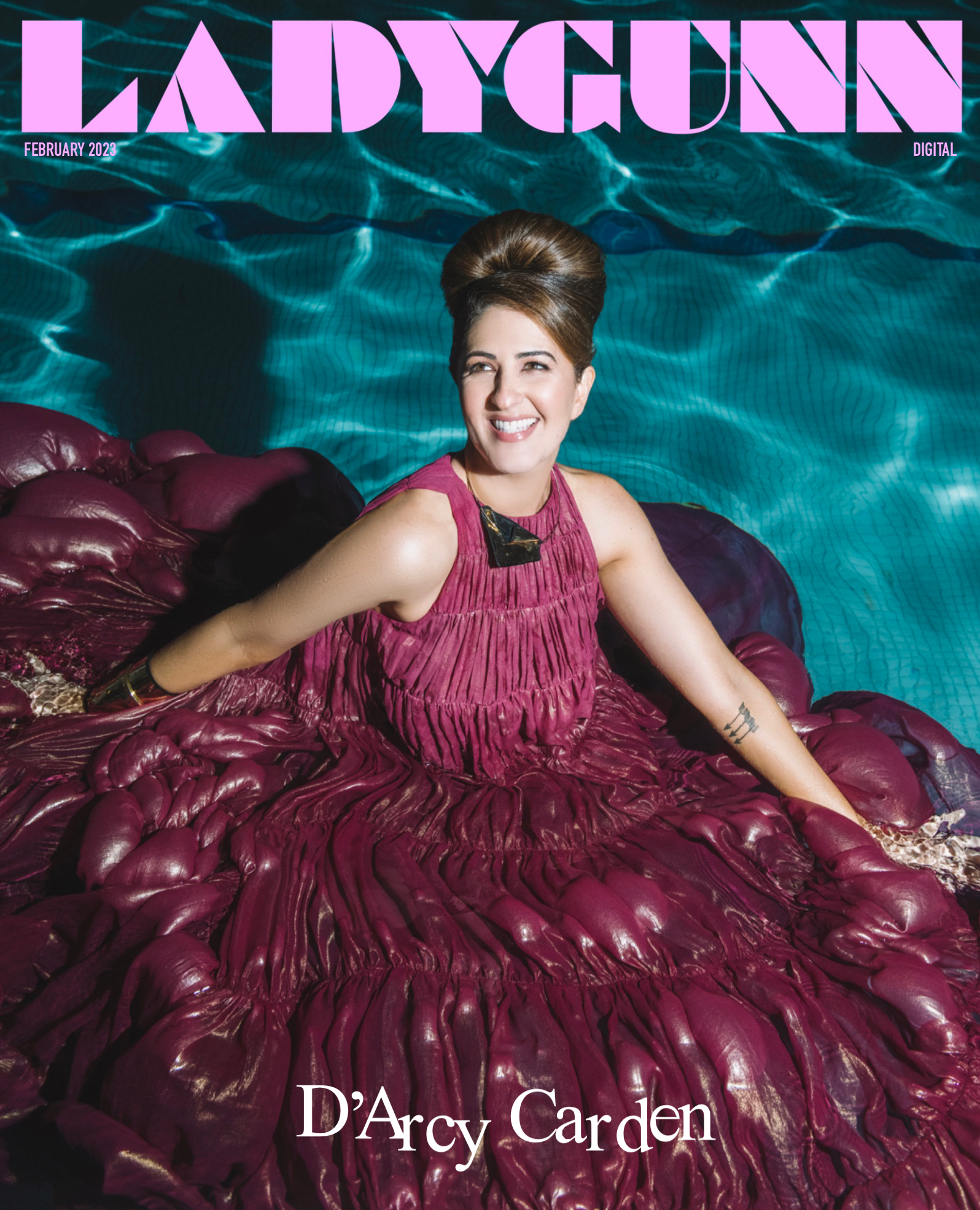 D'Arcy Carden has a deep love for organic communication, and not taking things too seriously. With dry humor and razor-sharp attentiveness, Carden is a calming and kind presence who enjoys sharing facts about her craft. The thespian has just finished wrapping up her NYC press tour for her new star-studded movie, Shotgun Wedding, streaming on Amazon, and came to LADYGUNN for her first fashion magazine cover shoot.
Dress, LE THANH HAO. Necklace and Cuff, GRAHAM CRUZ.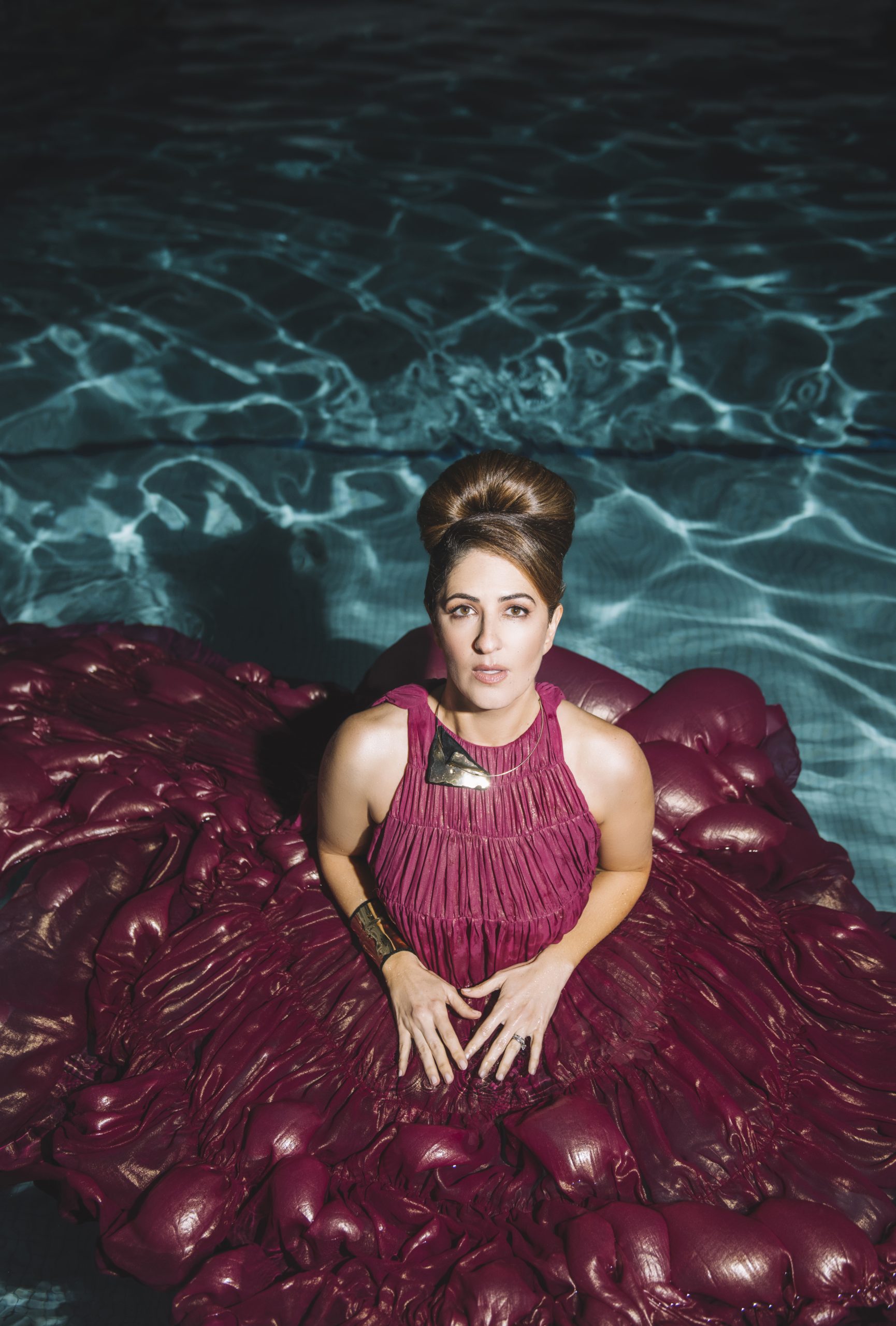 Carden is certainly not a stranger to a strong red carpet moment, but with LADYGUNN, she found an opportunity to express herself with more conceptual clothing on set and most importantly, have fun. To Carden, style is something so deeply personal, but it is also an incredible mode of self expression not too dissimilar to her own methods. 
She expressed the relaxation she felt letting the magazine people do their thing and share their own passions with her while getting pampered inside one of The Sunset Marquis' stunning villas. "It's kind of fun when you don't have to be in charge of what your body's going to look like," she explains. "Maybe I wouldn't have normally chosen to do this, but I'm just going to let go. Let go and let fashion!" She laughs as she shows BTS photos of her dress made entirely of flowers, and stills of her standing waist-high in one of the Sunset Marquis pools for a chic aquatic moment.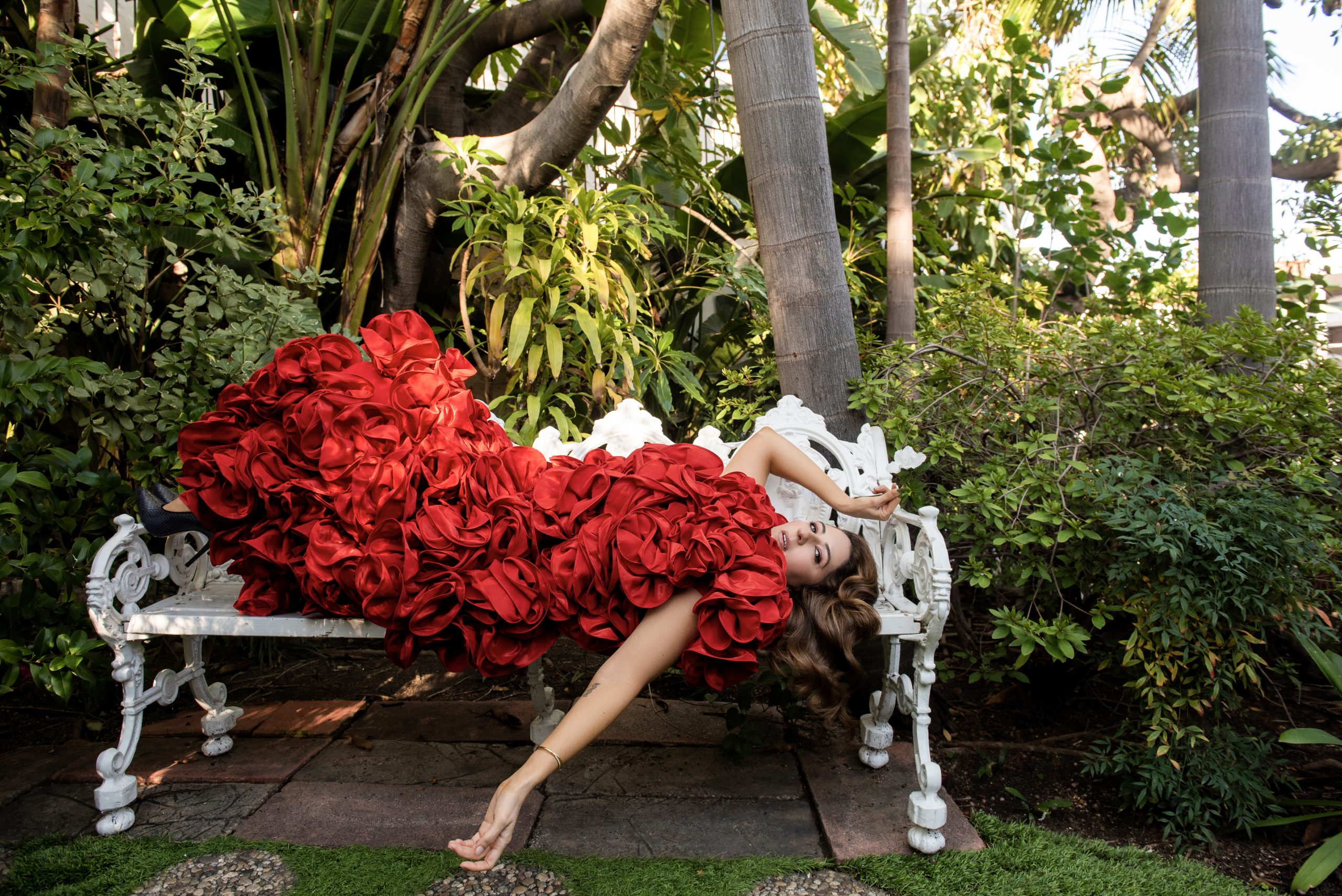 Dress, ANNAKIKI. Ring, GABRIEL NEW YORK. Bracelet, ZANY & SHY. Shoes, REY REY.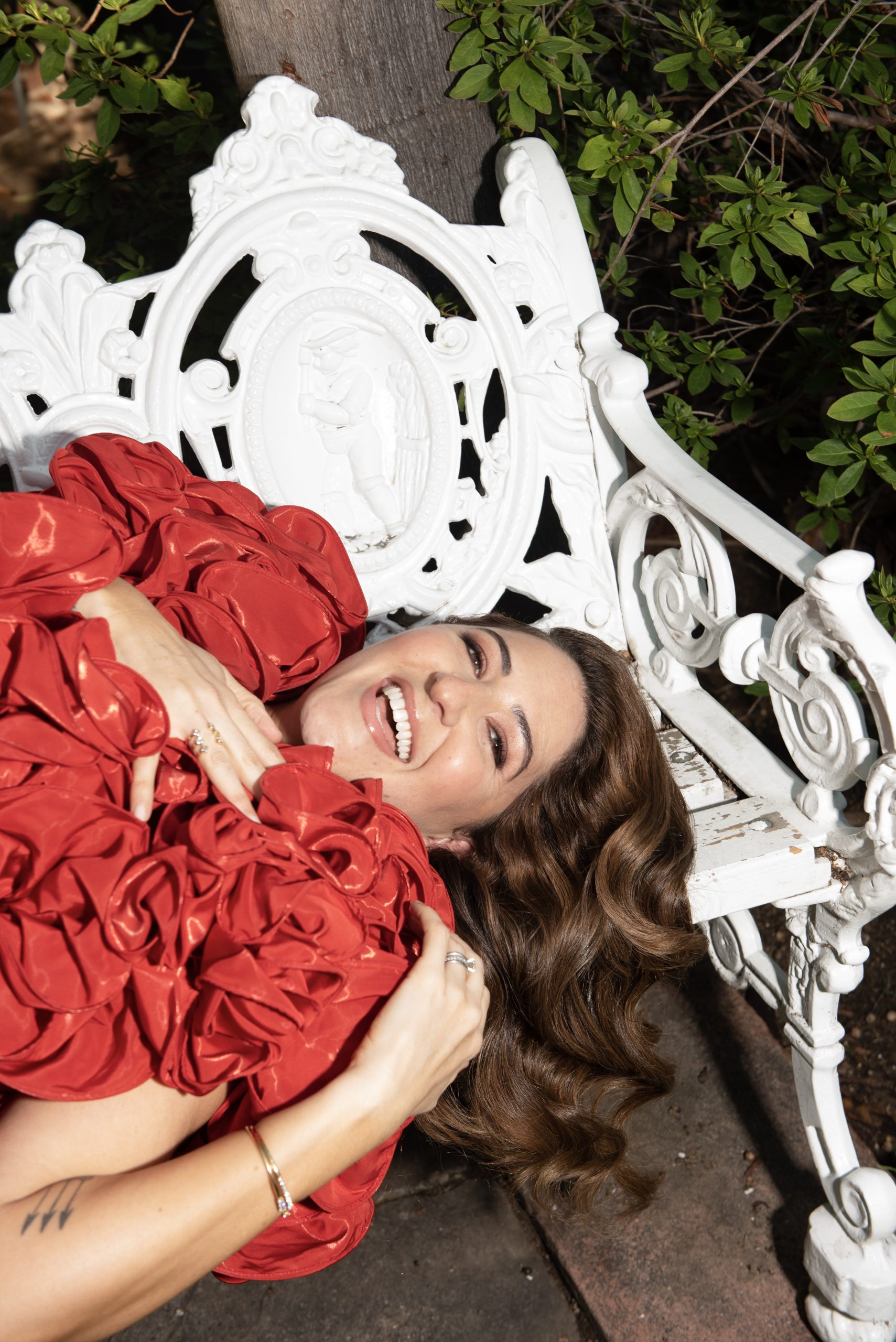 But putting herself out there has come naturally to the actress since she was a young girl, and the transformative aspect of on and off screen personas is what initially drew her to theater and acting. She grew up in California's Bay Area with parents in the music industry who exposed her to the arts at a young age. "Seeing theater all the time and going to children's theater or like a musical or a little ballet, it just felt like I could touch it." That exposure was extremely influential, and the primary reason that she is such a strong advocate for arts in schools. For a lot of young children, a career in the arts feels like a moonshot dream. But for Carden growing up attending concerts and plays she began to realize that pursuing one's passion is not something so out of reach. 
Not everyone has a lightbulb moment when they work in the arts, but Carden certainly did. She recalls a specific children's Christmas play she attended with her sister and her parents. The experience of witnessing world-building on stage transported her to another planet.
"I saw a play last night, and this still happens to me, I still get like this, I feel like I lose myself in another dimension." One of the most unique aspects for her was seeing the actors transform on an off stage meeting them at the stage door after the performance. She jokes that the duality was mind blowing, "little kid talk, but it was such a moment of like, oh shit!" seeing them out of character. And from there, the rest is history!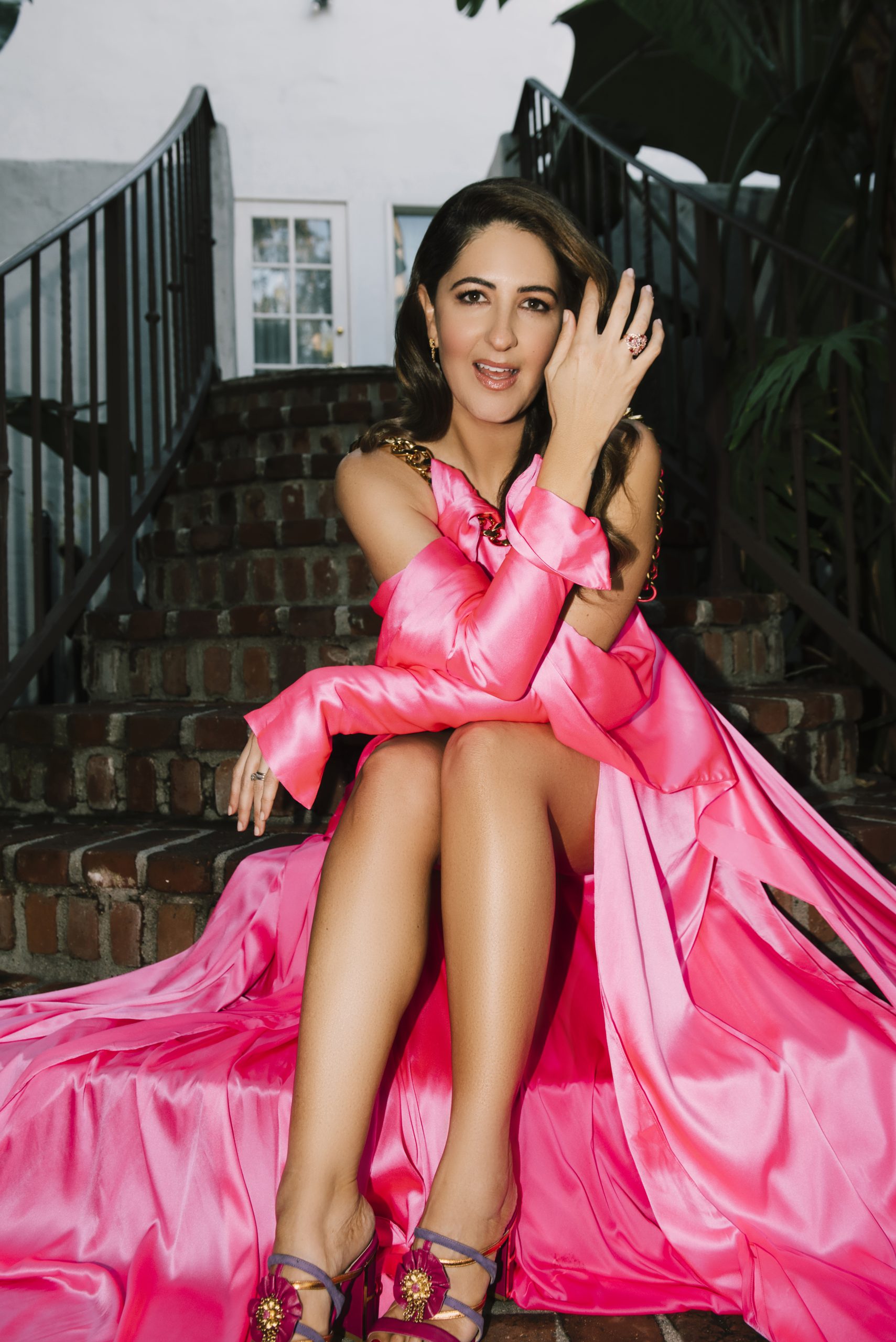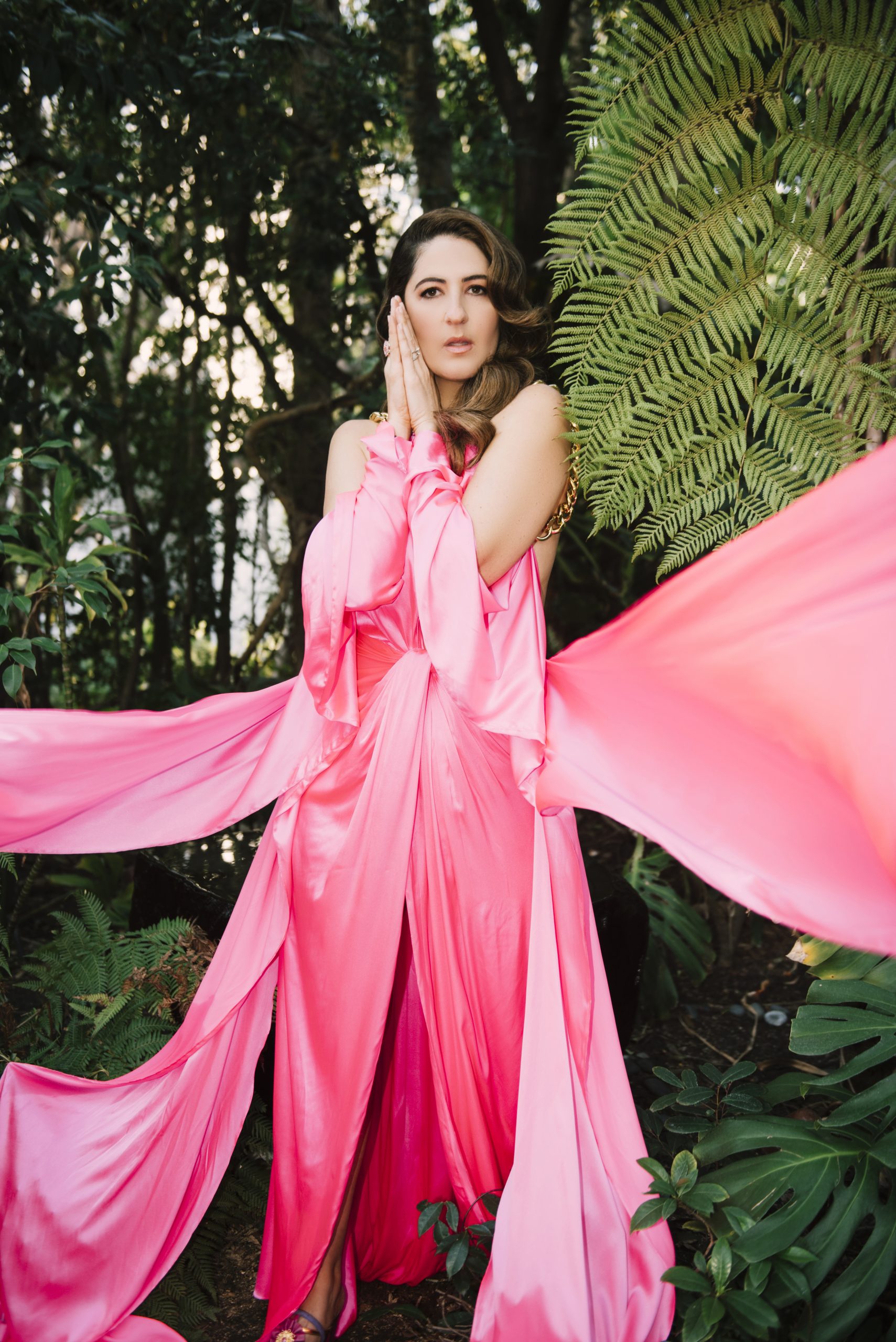 Dress, YOUSEF AKBAR. Earrings and Ring, DANGELO. Shoes, DANIELA URIBE.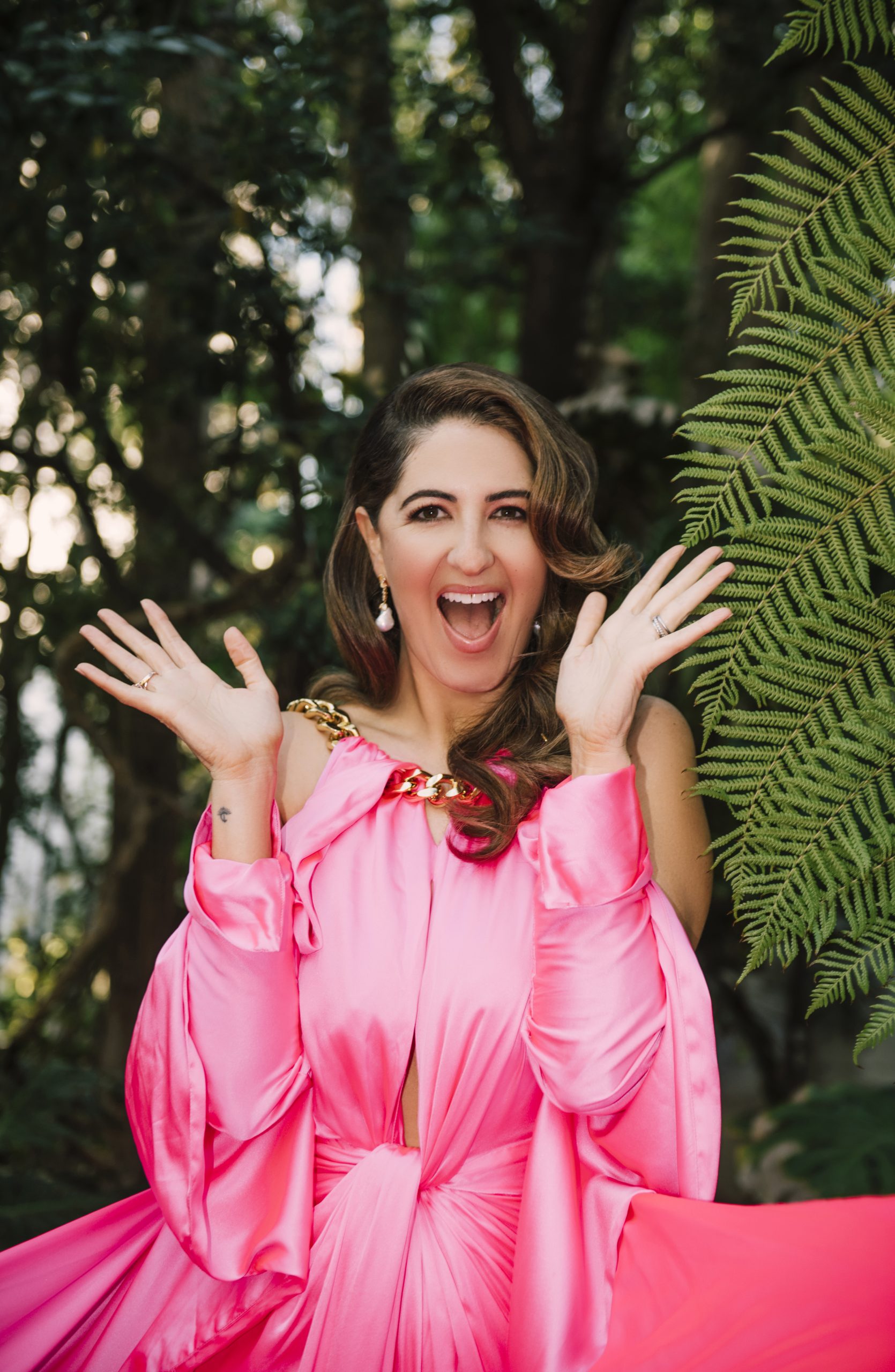 Carden's role as Janet in The Good Place is a savagely witty icon who brings a dose of satirical reality to the dystopian Hell-scape-turned-Heaven-scape. Though possessing a similar sense of humor in real life, Carden's acting is not limited to the stand-up sketch scene, though the "yes, and" mentality does help inform how she communicates, and most importantly listens, with her co-stars. She has demonstrated her wide breadth of acting skills in recent endeavors such as Amazon's knock-out revival show of A League of Their Own alongside long-time friend and comedian Abbi Jacobson. Like other artforms, there are times where you're unsure if you've got the shot or you feel like your preserving yourself for larger scenes and building up tension, but on set, with Jacobson, Carden felt like they had an unspoken bond that allowed one another to have each other's backs and to give it their all. Something that undoubtedly made the show such a success in portraying a female driven performance saturated in real-life issues and raw emotion.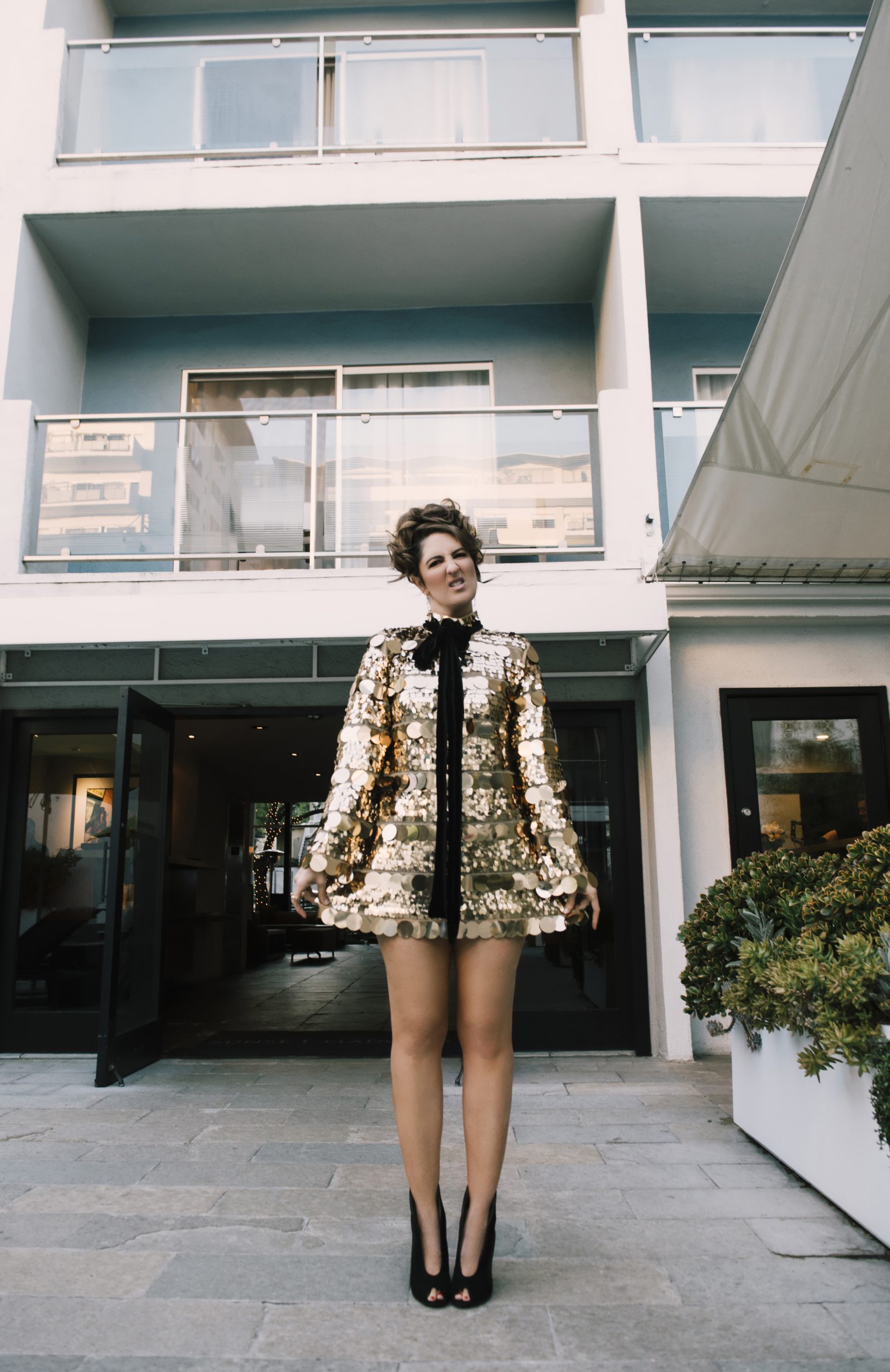 Dress, xxx. Earrings, ZANY & SHY. Rings, EMMA ISRAELSSON. Shoes, REY REY.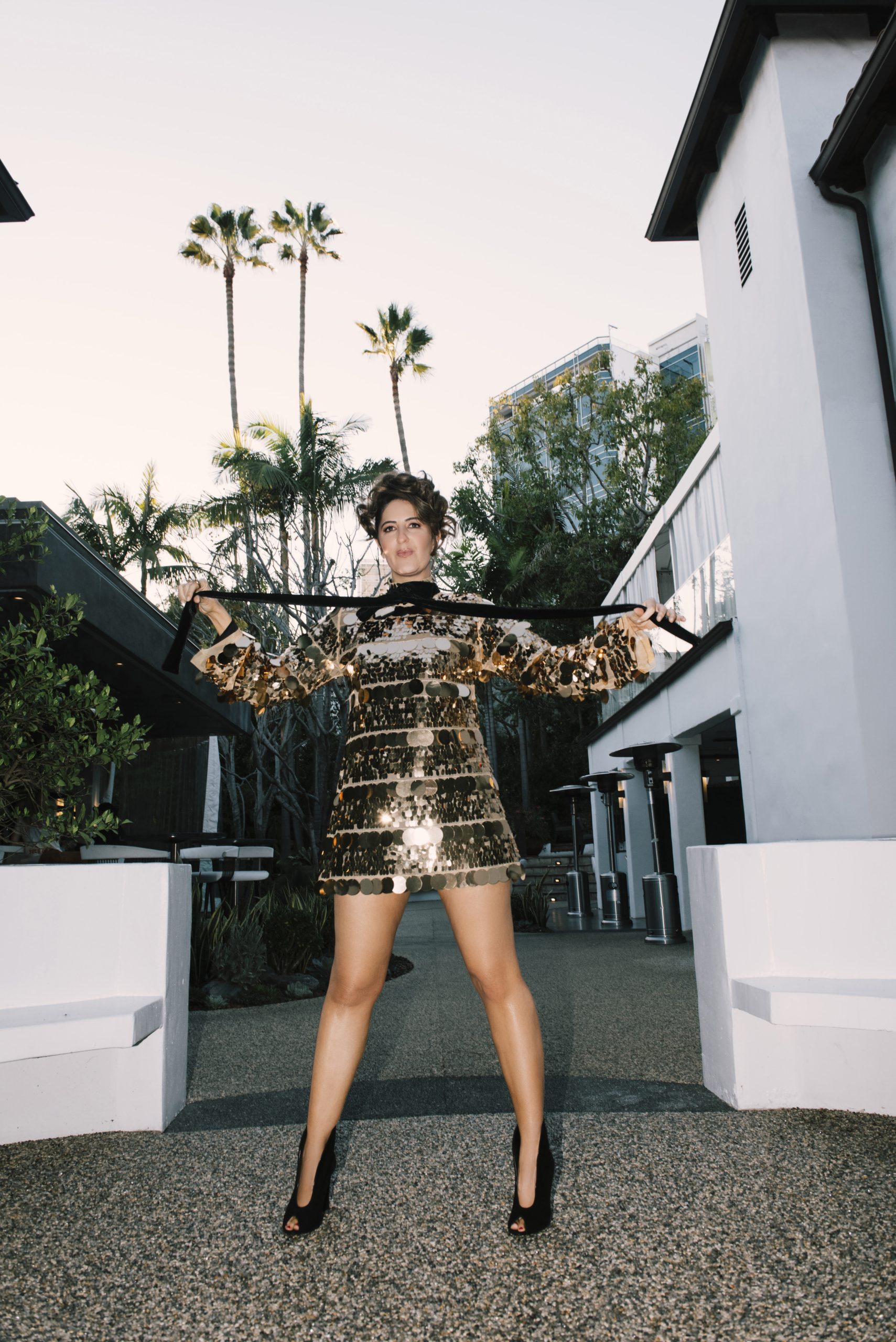 With a tenured career, Carden's newest movie, A Shotgun Wedding, filmed a year Covid, required the cast and crew to quarantine for the length of production in a beautiful house in the Dominican Republic. Not too bad of a deal, right? "You know, We're on the beach. It's so beautiful. I was walking around with some of the cast members and Steve Colter who plays Jennifer Coolidge's husband, he was sort of like 30 years of you know tough acting jobs makes this feel like I don't feel bad about this." Any time Carden may have felt slightly too chilly or waterlogged reshooting scenes wearing dresses in the resort pool or getting a little bit of a rash from being in the sun for too long, she would laugh to herself and remember "we could literally be filming The Revenant!" But there were no bear skins in sight on this beach. 
Due to restrictions, the cast was given an ability to bond unlike any film experience that Carden has had before. After full days of working together, they would come home and eat and drink and swap stories. When they all could have retired to their individual rooms, she notes, they really chose to become a family. She reminisces about how the cast's nightly ritual consisted of finishing off bottles of wine and indulging. Though no one had any crazy request on their riders, she jokes that at one point, Lenny Kravitz had said he had seen how viral espresso martinis had become online and next thing you know, an espresso martini tasting for all! And now, since wrap, coming on the press tour again has felt like an actually fun version of your high school reunion.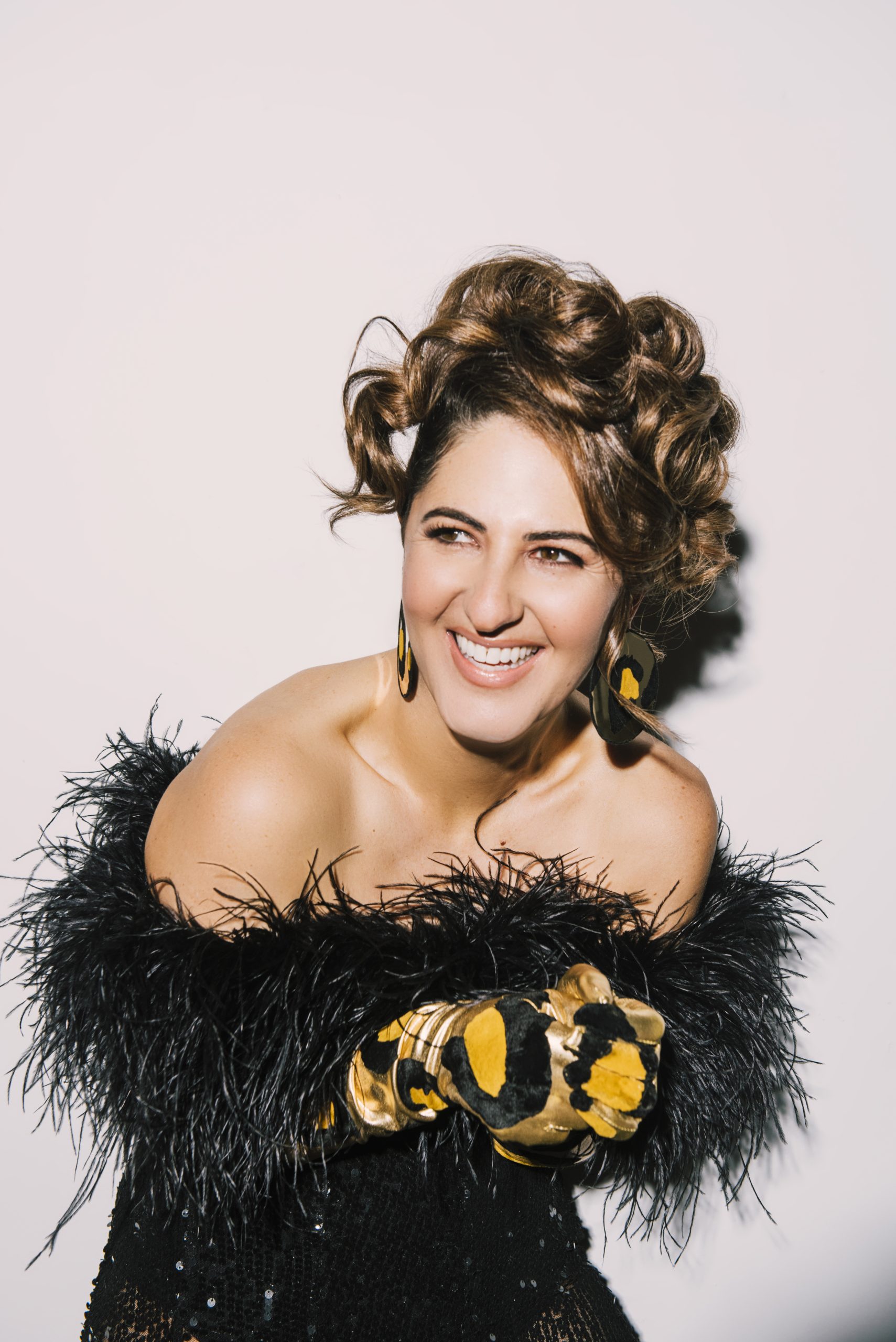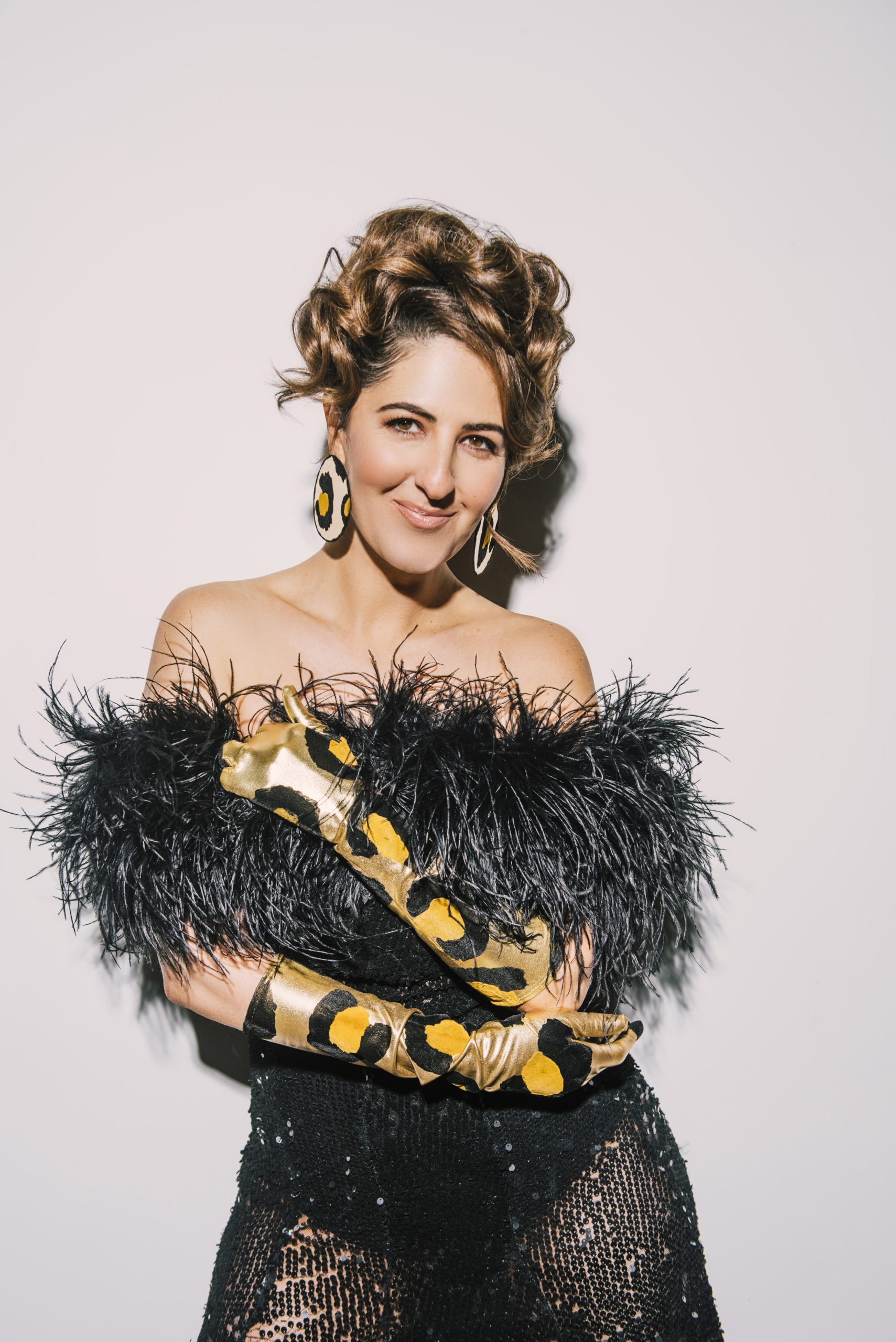 Dress, VASEGHIA. Earrings and Gloves, GRAHAM CRUZ.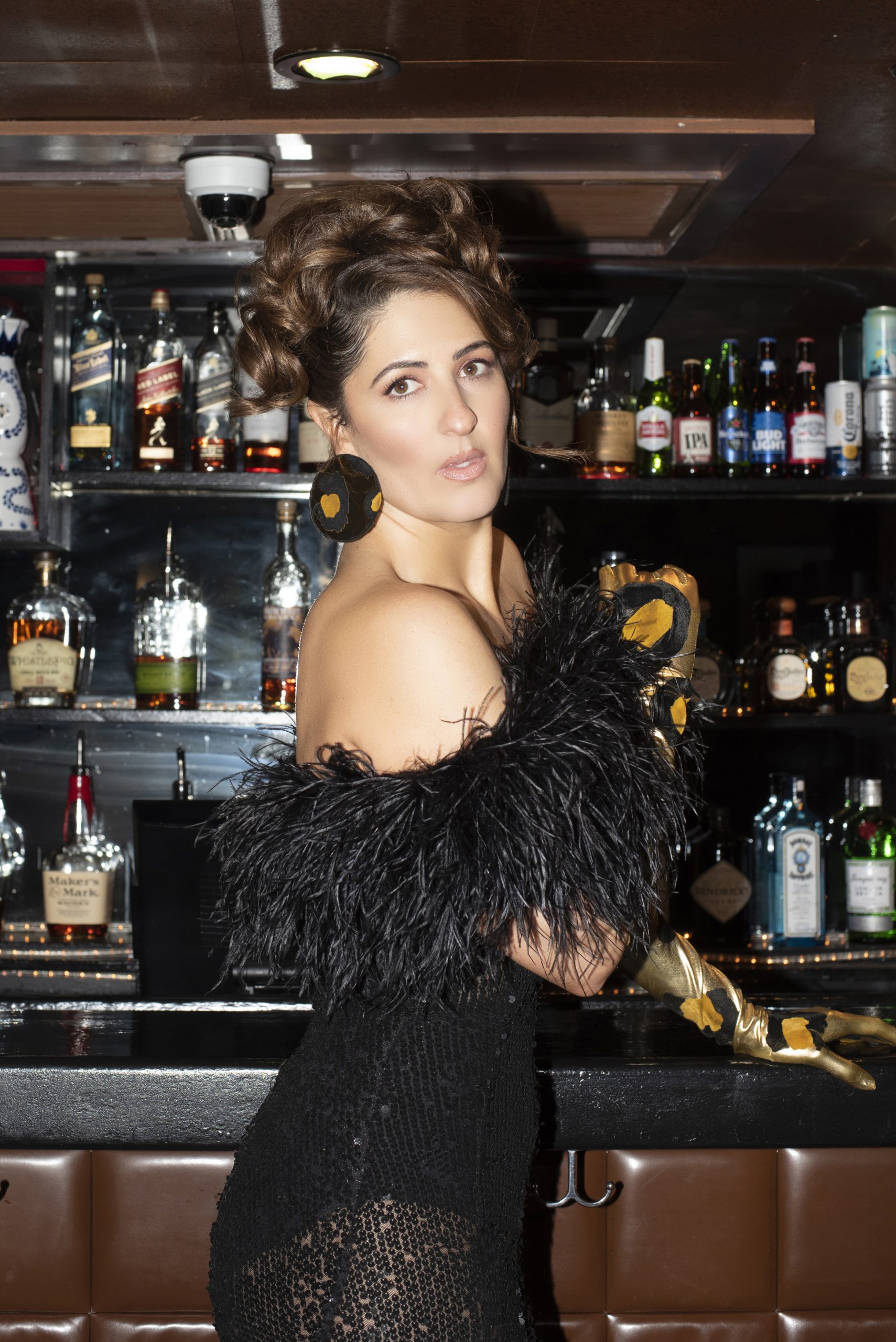 D'Arcy Carden's hot streak shows no sign of cooling, and she has much more planned for the rest of the year. She's wrapped filming on a few new projects that she can't wait to share with her fans and community soon. When asked what she looks forward to most about the future of the film industry, without hesitation, she said, "Women. I just want to watch funny, dynamic, talented, devastating women on screen, all the time. That's all I want."
Story // Alexandra Hildreth
Photos // Lindsey Byrnes
Styling // Phil Gomez
Makeup // Robert Rumsey
Hair // Tony Medina
Cover Design // Pearl Zhang
Editorial Director // Alex Blynn
Location // Sunset Marquis West Hollywood, CA