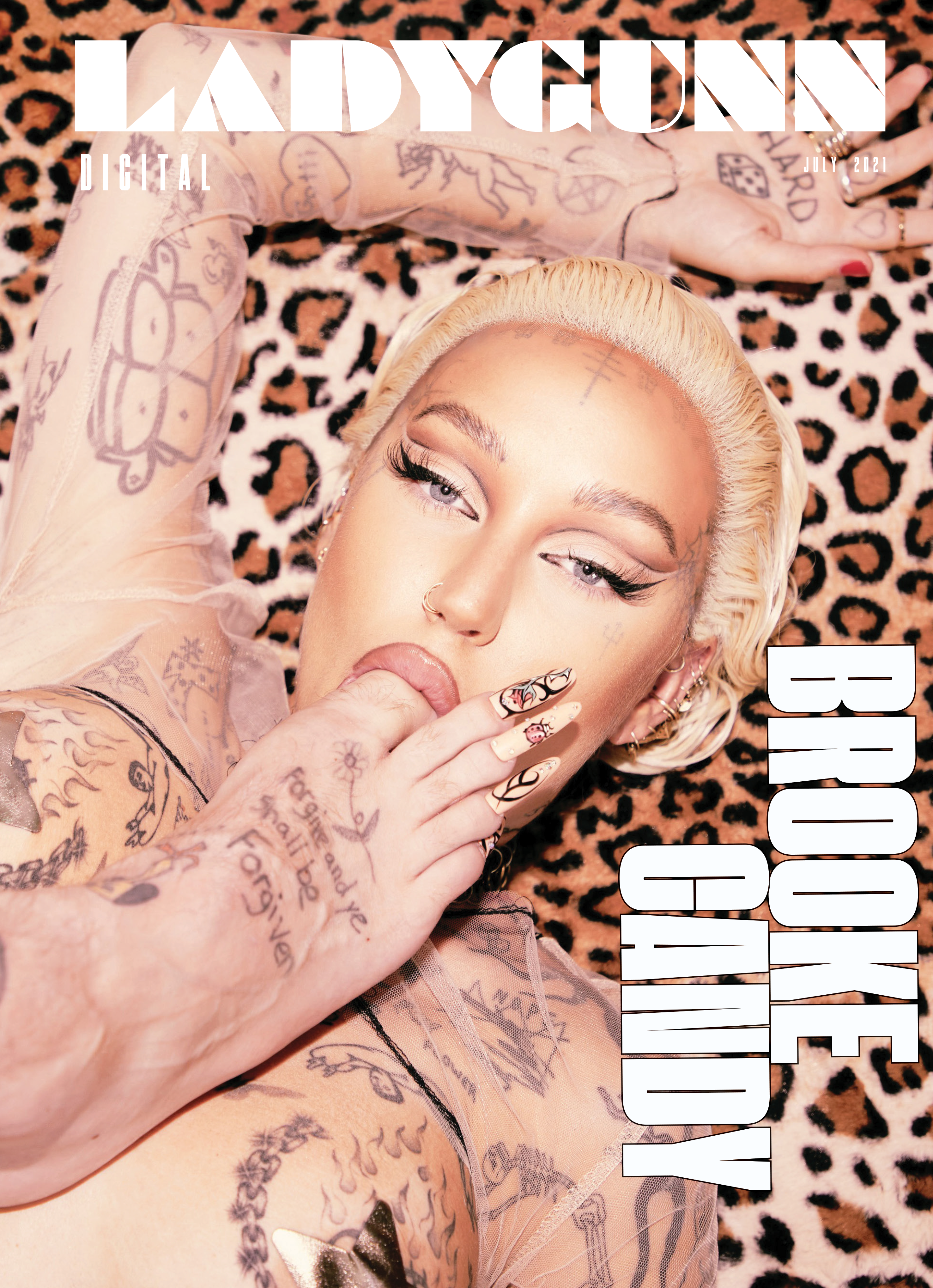 Maybe it's because her style feels so seamless in its fluidity. She rapped her way through the early 2010s, making a splash with several anti-status-quo bangers, before coming out full bloom in 2019's recklessly horny and bold debut album Sexorcism. No genre label quite captures Brooke's vibe, and that's a good thing. Whether she's floating through an iconic Grimes music video, collaborating with Charli XCX or drawing attention from the likes of Sia to SOPHIE, her art has felt unwavering in the impression it makes, regardless what form it takes.
Which is why I was particularly interested in how the pandemic affected Brooke, because her live shows are dynamic and so is her music. A lot of artists turned to livestreams or Twitch; Brooke turned to tattoos. While many of us were binging through our fifth Netflix show of the week, or learning how to make sourdough starter, Brooke spent her time turning into an entirely different type of artist. See what she had to say when we caught up with her.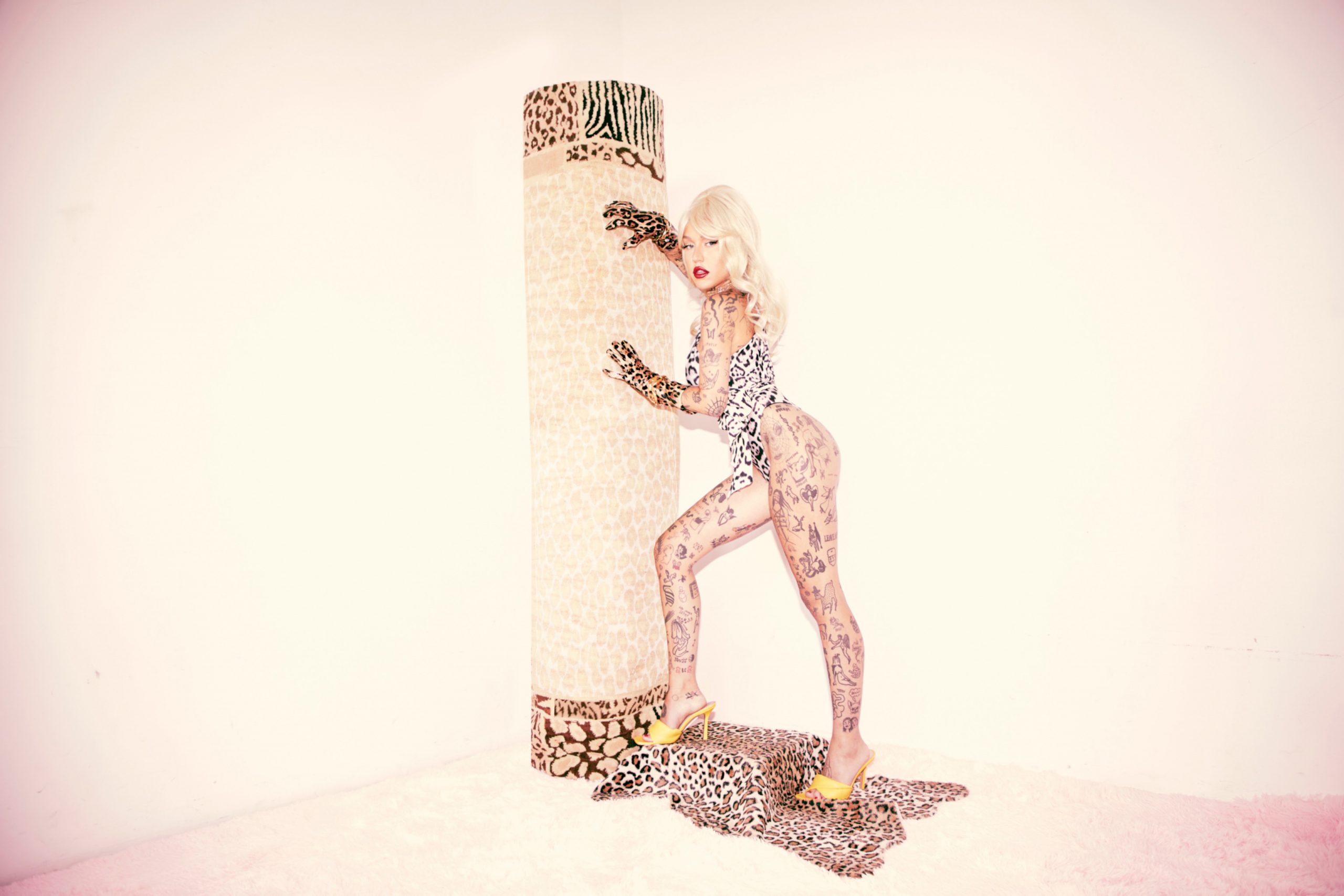 Bodysuit, BAJA EAST. Necklace, DSQUARED2. Shoes, 8 by YOOX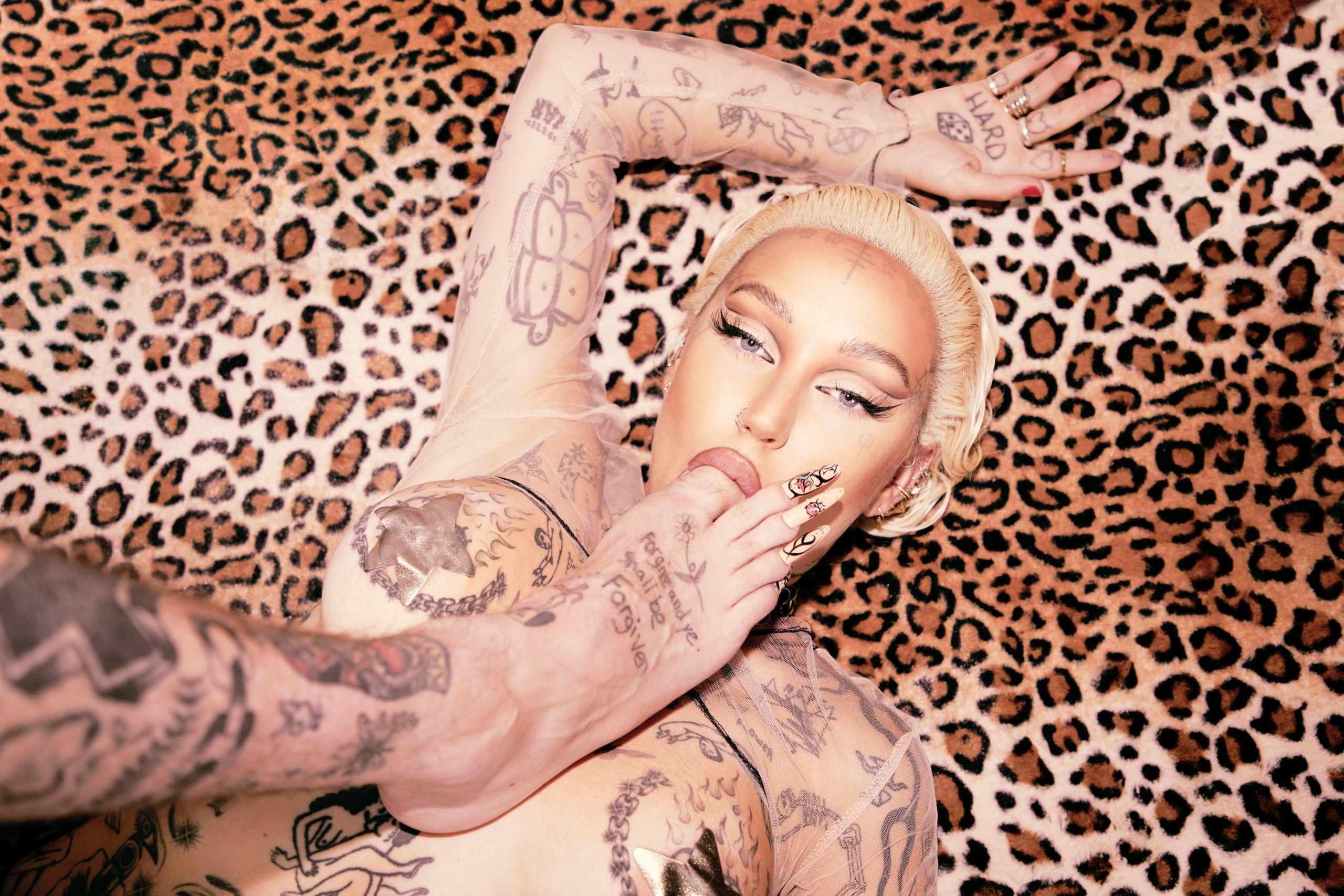 Top, HANA QUIST. Rings, ALEXIS BITTAR.
First of all, how *are* you? Catch us up to speed on what you've been up to! 
Hi! I'm doing really well thanks for asking! I'm in a space now where I'm just taking things day by day…trying to live as softly as I can with as much gratitude as possible.
During the pandemic it was pretty impossible to escape from reality, because the simple joys of being able to go out to a live show or eat at a restaurant, for example, ceased to exist. Was it difficult for you to stay creative during that time? 
Yes It was definitely difficult for me. I've been a musician and performer for over a decade so having that outlet ripped away definitely spun me into a bit of an identity crisis. It was tough but after a few months I channeled my pent up creative juices into a new medium and taught myself how to tattoo. What felt like the end of my life at one point ended up becoming the start to a new life that has brought me so much joy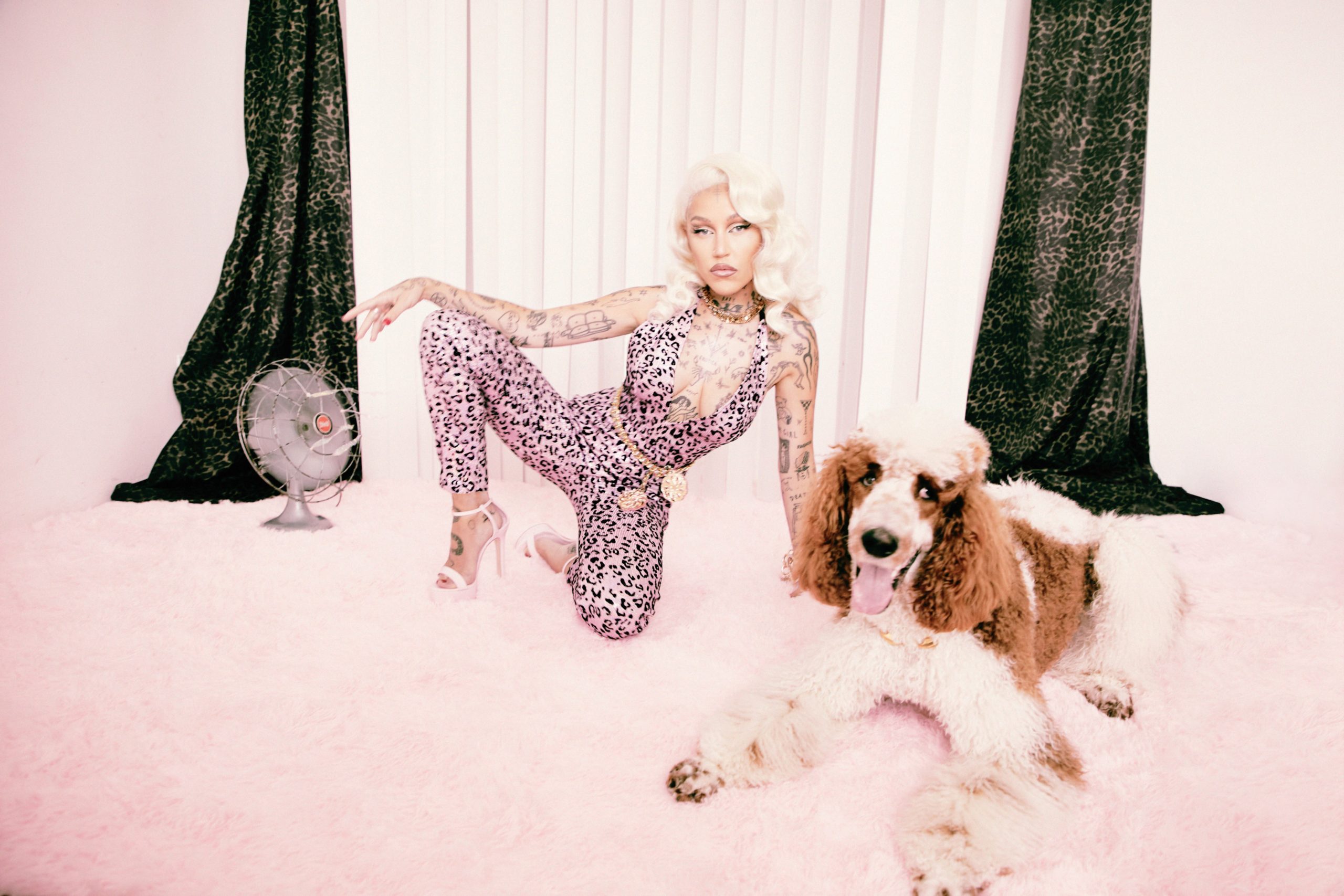 Catsuit, CHENG. Belt, ISLYNYC. Necklace, DSQUARED2. Shoes, RUTHIE DAVIS.
On Roux: Gold collar, RORY ROCKMORE.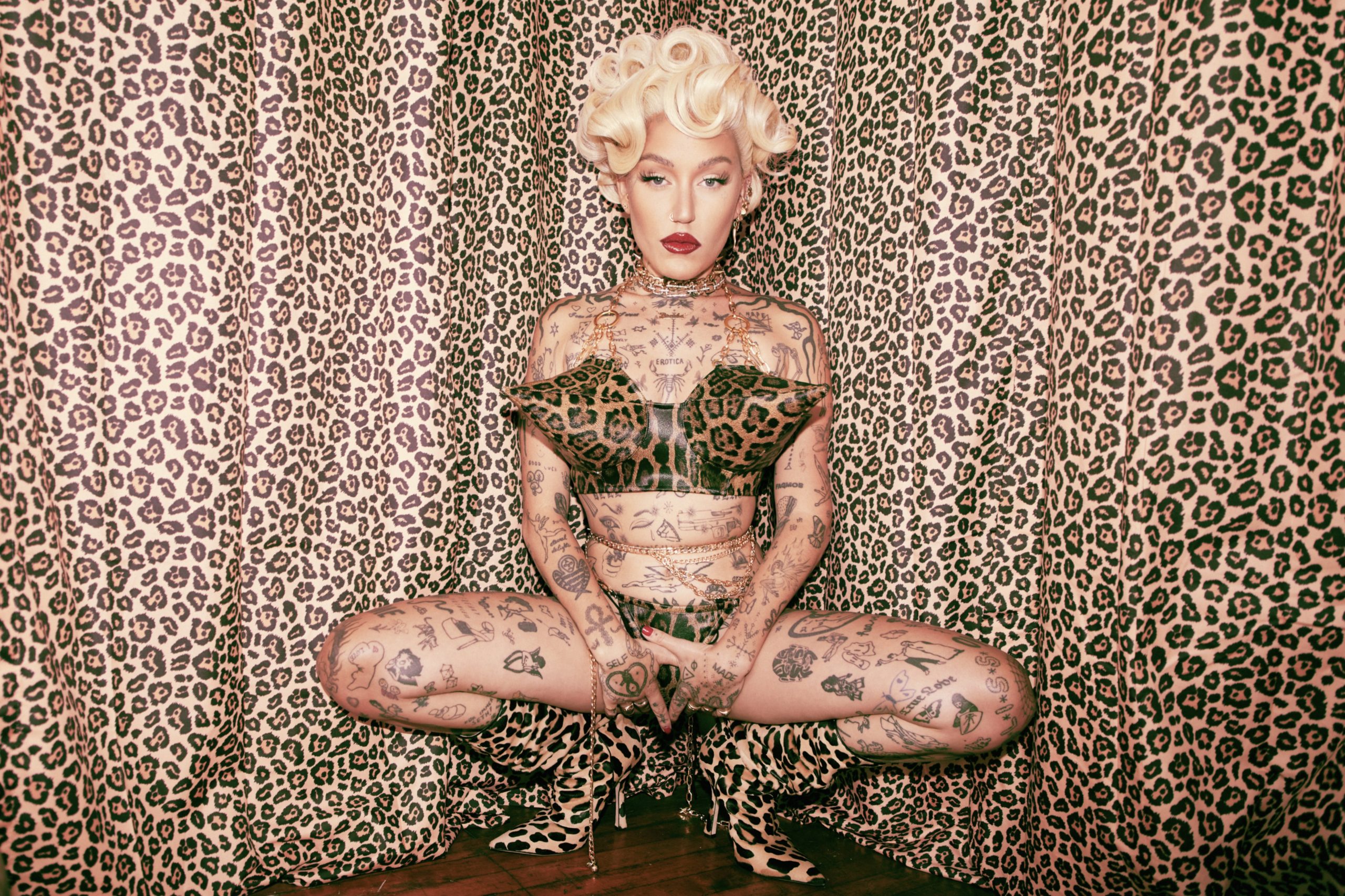 Top and bottom, PHALLIC CUNT. Choker, ALEXIS BITTAR. Spike choker, VITALY. Boots, DSQUARED2.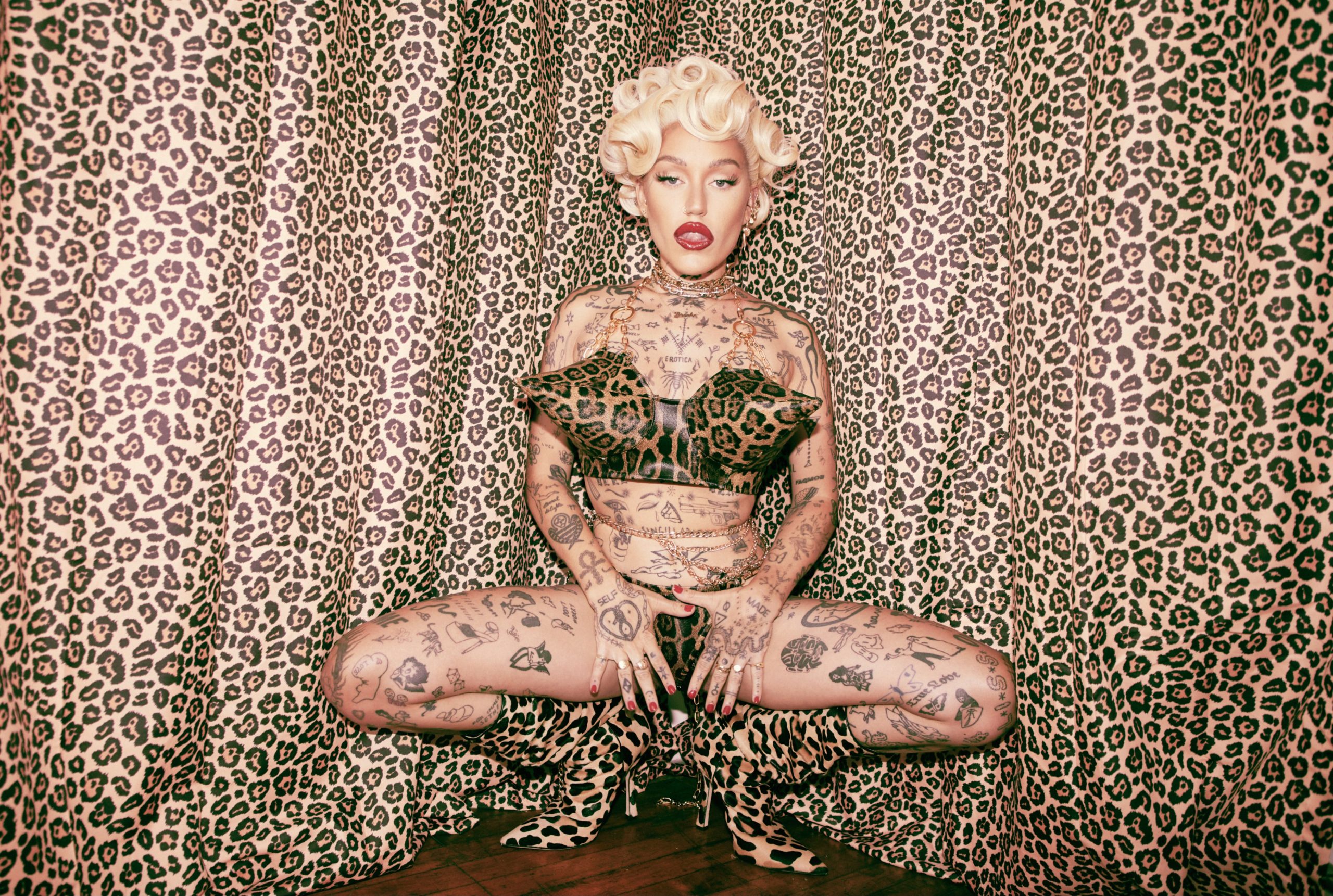 Was there anything you thought you'd do at the beginning of the pandemic that, now looking back, seems like a totally ludicrous idea, or actually worked out really well? This could be a goal, a project, a new hobby, etc. 
Teaching myself to tattoo and transitioning into being a working tattoo artist has felt utterly ridiculous and extremely satisfying. It's kicked my ass, killed my ego, and made me so much stronger. It's also given me this amazing opportunity to connect with my fans on an honest and intimate level
As an artist, you've covered so much ground in the evolution of your music. Where do you see your sound and art headed next?
Well thank you!:) I'm actually just now beginning to feel inspired to make another EP or album and I've been trying to reimagine what that could mean for my sound and my art. To be honest I'd love my next release to feel like a total reinvention. I think I'd like to ease up on the rapping and try my hand at something more melodic and pop.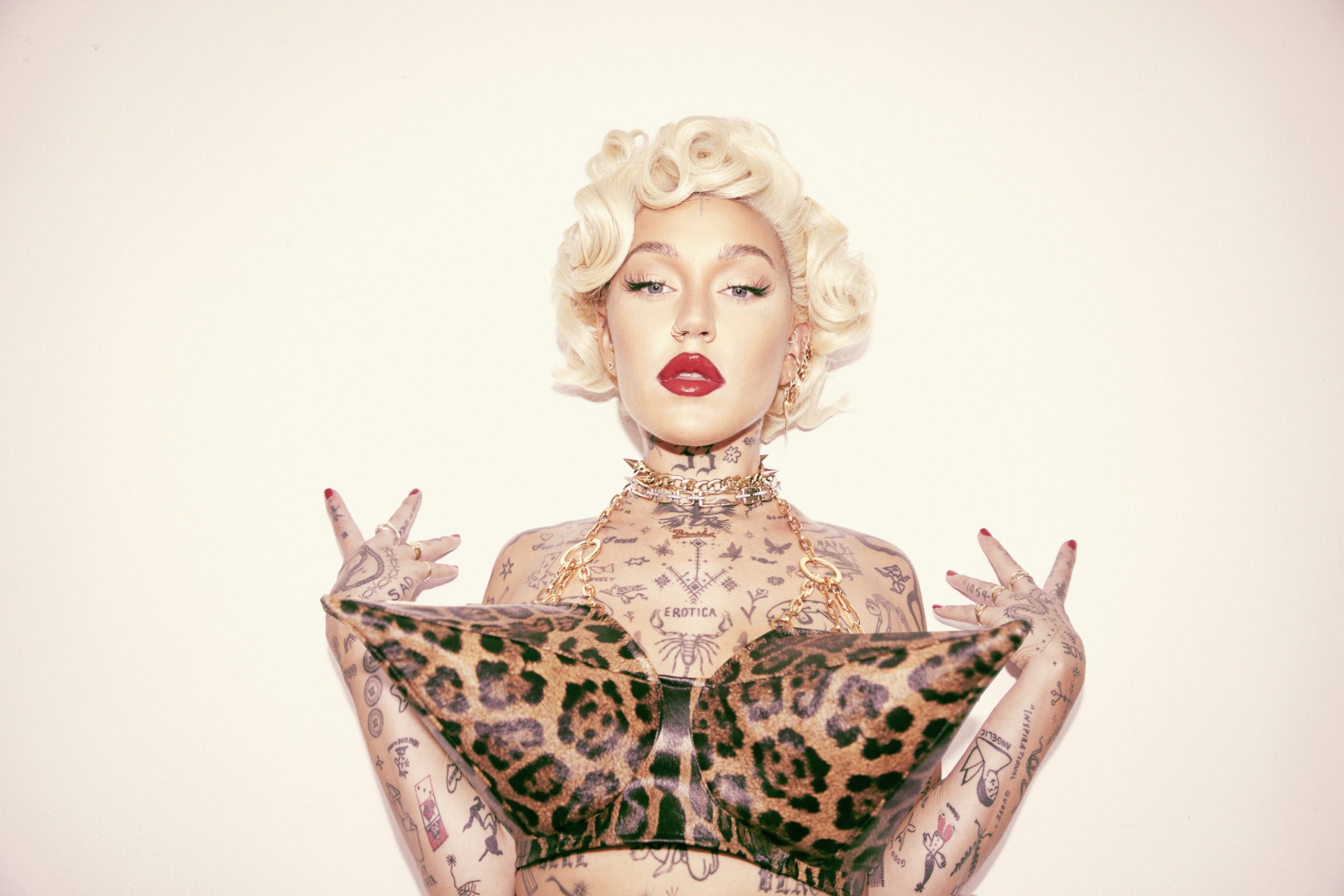 I don't know about you, but after missing a whole year of live shows and club nights and being able to go back to these things this summer, the feeling is incredible. Does it feel strange to be going out and being at live events again? What are some things that you're most looking forward to this year? 
Omg no way it feels incredible!!! Before the pandemic I was becoming a full blown anxious agoraphobic but now all I want to do is be around people and dance and celebrate life. Some things I'm looking forward to this year are tattooing and traveling, more glamorous photoshoots, taking a stab at more creative direction jobs, digital art projects, new music, the list goes on! 🙂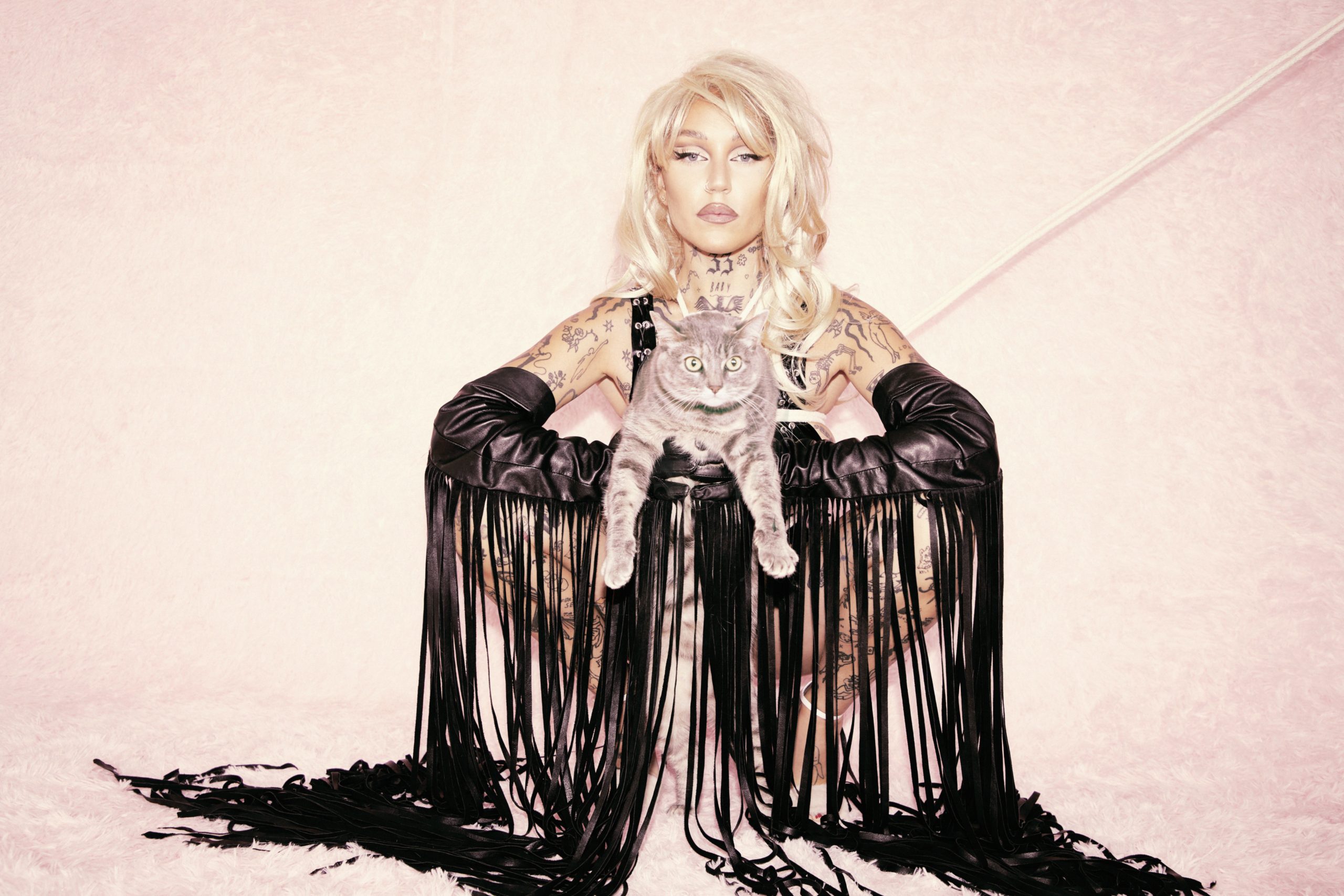 Full look, ALABAMA BLONDE. Shoes, RUTHIE DAVIS.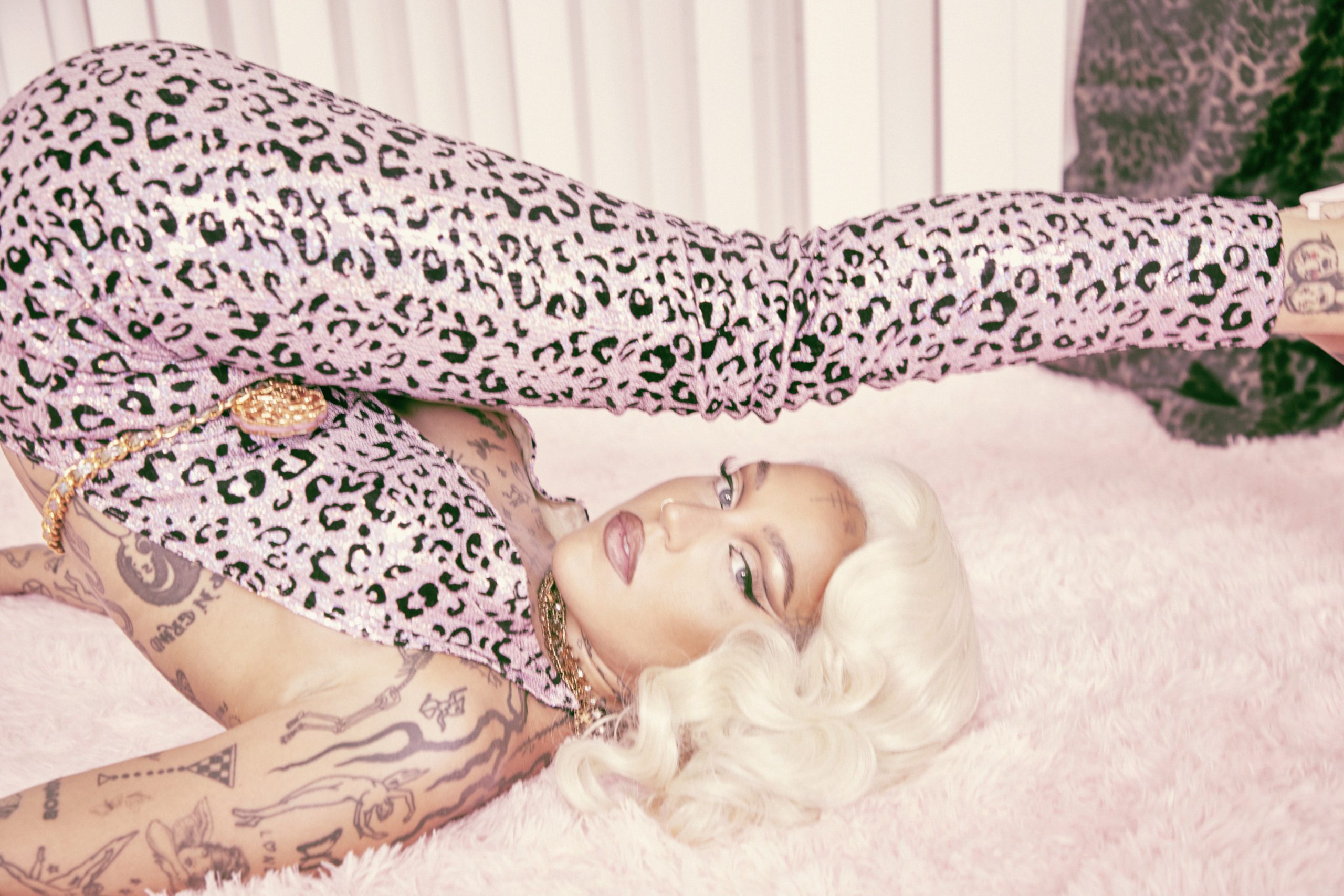 And finally— it goes without saying that 2020 moving into 2021 has been chaotic on so many different levels. George Floyd, the elections, the fires in California that turned the sky red for days, the ocean was literally on fire…It's been a lot, for a lot of people. What has helped you stay grounded? What are you most thankful for? 
Yeah it's been an intense year. I stay sane and grounded by tattooing and drawing everyday, going for walks, playing with my dog, taking baths, spending time with my mom and dad, eating healthy and staying away from drugs. Through all of this madness I've found that I have a newfound respect and deep appreciation for the friends I have in my life and for my family. I think I took my time with the people I love for granted in the past and now I just feel so grateful for every second I have to spend with someone I love.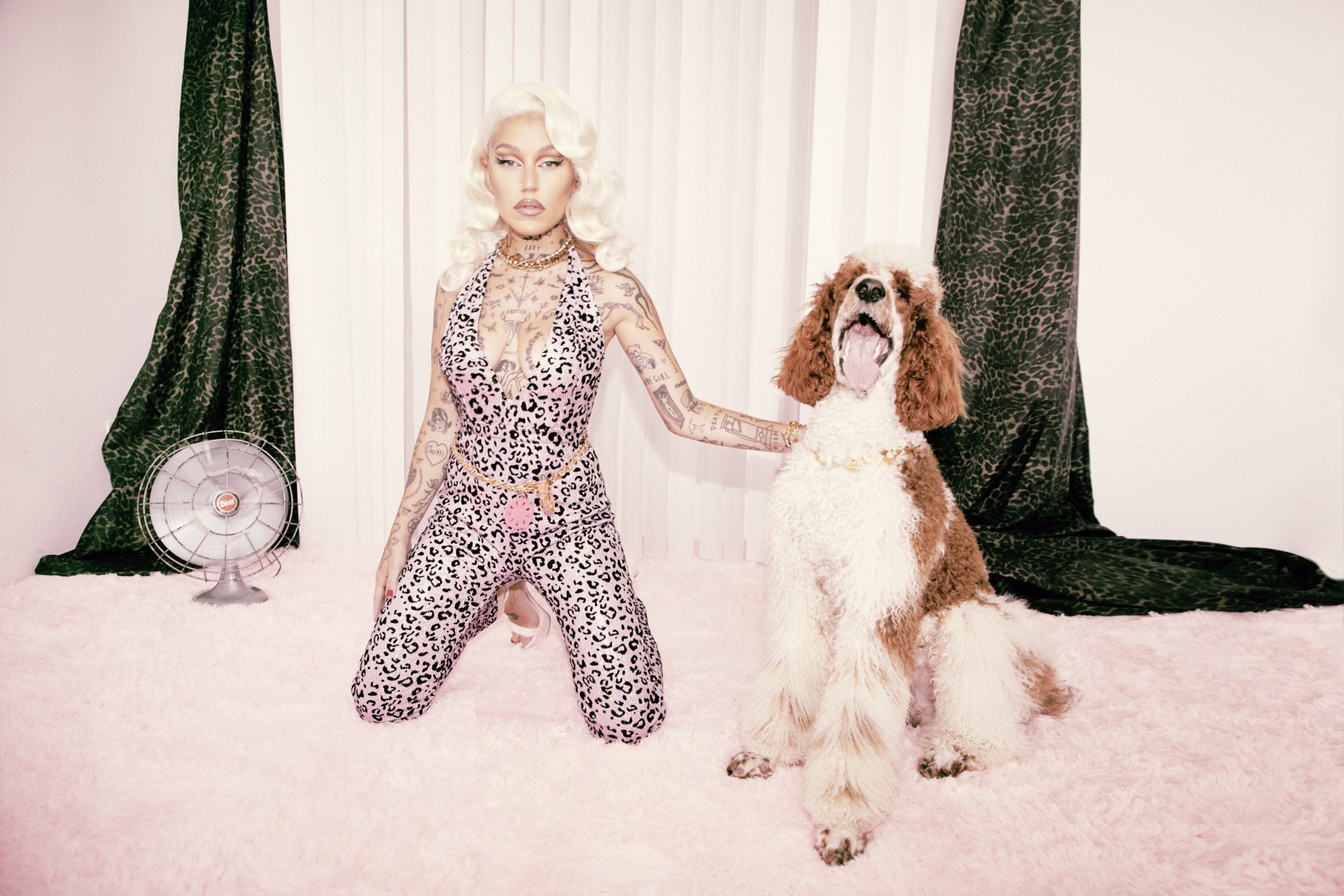 CONNECT WITH BROOKE CANDY:
Story / @25percentcrisis 
Creative / @brookecandy
Photos / @savannarruedy
Styling / @styledbyphil
Makeup / @deney_adam
Hair / @blaqfrancishair
Nails / @byjuanalvear
motion / @elizajouin
Set / @milena
Photo assistant / @p_castroman