Few conversations generate as much enthusiasm as this one. And it is because Berit Gilma is a media artist, art/creative director, and writer, working in the nexus of contemporary art, politics, and new technology. She holds a BA degree from the University of the Arts Berlin, where she studied New Media Arts under the celebrated Chinese dissident artist Ai Weiwei.
Gilma was born and raised in Austria. At age 21, she moved to Berlin and quickly fell with the underground scene of the city, exploring the German capital's pulsating music and arts. In that process she befriended hacktivists and artists working on the bleeding edge of tech, criticizing pervasive global surveillance systems. 
In 2016, she met the world-famous Hollywood composer and musician Danny Elfman and there was a quick artistic connection between them and she ended up becoming Elfman's creative director in preparation for his acclaimed return to the stages after a long hiatus.
Therefore, it is not surprising that for his return to the music scene after a long hiatus, Elfman turned to Gilma as a collaborator. In this way, she gave the creative and artistic direction to Elfman's "Big Mess" album, while introducing him to the world of contemporary digital artists and new technologies such as 3D scanning and artificial intelligence to produce cutting-edge images that were used on the album art, music videos and more.
For Elfman's latest project, -an album of remixes called 'Bigger. Messier.'-, Berit participated in the selection of collaborators, among whom are Iggy Pop, Trent Reznor, Blixa Bargeld, and exciting young talents such as Ghostemane, HEALTH, Boy Harsher, and many others.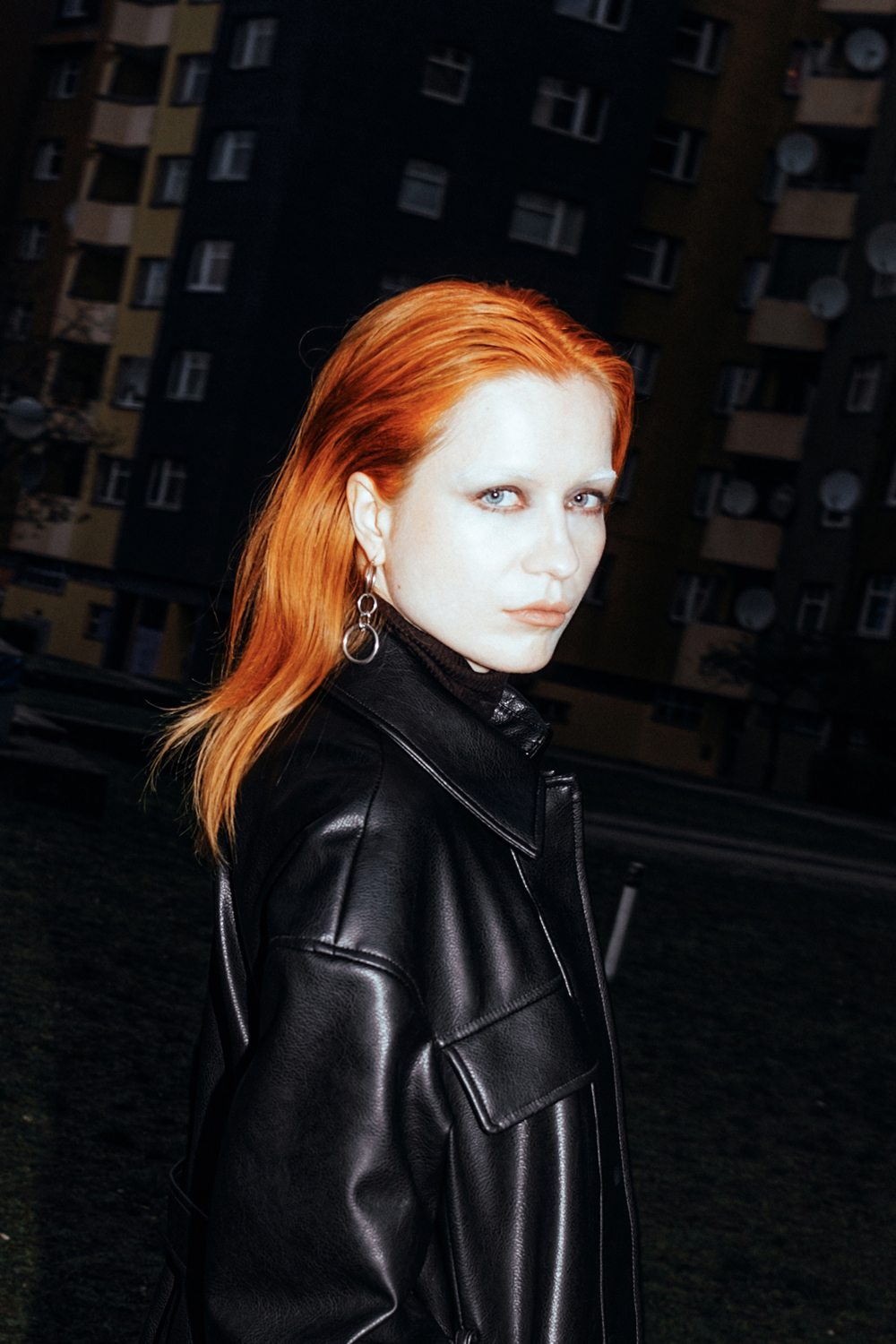 In this interview she allows us to delve a little into his search for art, the intersection of art and science, and the projects he is preparing right now. Do not miss it.
How do you define yourself right now in artistic terms?
I'm working as a creative and art director in the music industry and I have a background in fine digital arts. I produce my own art; I'm writing and I'm curating – they're different approaches to the same topics, and this helps me to engage perhaps more holistically and in-depth with my interests…which are in new technologies, their usage in art, but also their sociopolitical impact. I've always had one foot in the music industry, so right now it feels like I managed to carve out this weird little niche for myself where all my interests meet!
You've had a long-standing work/artistic relationship with Mr. Danny Elfman. How could you conceptualize the work you've been doing with him?
Yes, Danny and I have been friends since 2016. We are friends who work together and inspire each other. He is a true artist, thus I have complete faith in his taste. It's great as we collaborate on everything and he genuinely cares. Although my official title is "creative director," I actually wear numerous hats. I approached the "Big Mess" project and its outgrowths (deluxe box set, remix album) as a conceptual piece where music and visual art go hand in hand with the difficulty that the music industry is currently experiencing, the role of the digital world, and the pandemic. 
You have explored the intersection of art, and science in your works. Do you think electronic/industrial music is the genre that best represents this particular blend of elements? 
That's a great question. Historically, I would disagree because music is already a blend of art and science, but today, I would say yes just because electronic music is so pervasive. But that is mainly due to the nature of electronics, which can be easily translated into music. For instance, one area of computer science is artificial intelligence, and using an AI system to make electronic music is not far-fetched.
You were involved in the process of choosing the collaborators on Mr. Elfman's record. What was the starting point when choosing them? 
The outreaches were chosen by Stu Brooks, Danny's bassist, and me. Stu had the idea of the remix record and, as I already had thought about collaborators early on, Danny placed all trust in our hands. My goal was to put together a group of talented musicians who would create an album that would defy categorization. Danny had to like them, of course, and as you might expect, he has a profound understanding of music. From legends, I admire, like Einstürzende Neubauten's Blixa Bargeld, to younger musicians like Ghostemane and HEALTH, Boy Harsher, and international artists like 33EMYBW (a producer from the Shanghai label SVBKVLT). I made sure to include the female artists I value. So, yes, you may discover experimental electronic club music there as well as industrial, noise, dark wave, and other genres. I definitely brought in the Berlin link, having lived there for 7 years.
Being in charge of giving form to the lineup of artists for this album was something you had already thought about before embarking on the project?
Yes. Back in 2018, I had previously intended to introduce Danny to Blixa Bargeld. I wanted Blixa and Danny to work with Stephen O'Malley from Sunn O)) since I was putting together a show for my favorite festival, Dark Mofo, in Tasmania, Australia. Unfortunately, the show didn't happen, but it inspired Danny to write new music and work with other musicians.
You had teamed up with some of the best visual artists in the scene. Do you feel the pressure of working with them or you're the one putting the pressure on them? is there any pressure in the environment at all?
The visual artists I brought on board are all artists I have been following for a long time and I admire. I attempted my best to allow them as much imaginative flexibility as they required. There is definitely a lot of pressure, but it's more due to the nature of the music industry's environment. Especially as we had a monthly music video release marathon.
In this fast and ever-changing world, how do you keep up with the latest technological advances or tools that you need to work?
A big part is the academic community I am part of and the community of artists I have across the world. Thanks to the Internet, it's easy to stay updated. I read the news, science papers, and go to art exhibitions and conferences.
What can you tell us about your upcoming release?
The upcoming release is actually the "Blixa Bargeld In Time". Is a video that was directed by the Italian AV artist LOREM. We have worked together before, and I absolutely admire his art and way of thinking. He is also an academic. The video was done with artificial intelligence that interpreted the lyrics and a synchronized stream with a dreamscape glance.
What are we going to find if we check your music playlist right now?
I actually just did a mix for an Austrian radio show called "House of Pain", so I had to go through some of my favorite artists, more on the harder side… in the mix, you can find some bands that really formed my music taste, like Nine Inch Nails, Einstürzende Neubauten, and Coil, but also younger bands like Amnesia Scanner and HEALTH. I love female vocals, especially if the music contrasts them. For example, Lingua Ignota, Eartheater, and my godband, Portishead. I tend to listen to a lot of industrial and dark wave music, sometimes black metal. But you will definitely also find some good glam rock in there, like Roxy Music and some non-western tonal music (I'm an Indian Sitar fan).
What kind of project would you like to be part of in the near future?
I would like to continue working in the music industry, but it's important that I have other artistic work that challenges me in a different way. I'm actually preparing an application right now to do an art residency at NASA. Let's see if they want me!
Let´s pretend you have the opportunity to choose a social cause to work with. What would it be? And how would you represent it?
I actually have an activist background. I used to do a lot of art-based critique of surveillance technologies and their impact on sociopolitics. I think the conversation around technologies like blockchain and environmentalism is crucial to have at the moment, so perhaps that would be my choice.
What do you enjoy outside of work?
Honestly, because everything is merged together in my life, I feel like everything outside of eating, sleeping, and sports is somehow related to work and my interests. I'm very immersed in this world and I enjoy it. A few other activities that 100% take me over and are not connected to work are a walk in my mom's garden (she has a floating leaves nursery that I grew up in with a lot of waterlilies ) or a night at Berghain.
What would a perfect day be like for you?
A perfect day is full of good vegan food and arts and followed by a full moon night.
CONNECT WITH BERIT GILMA