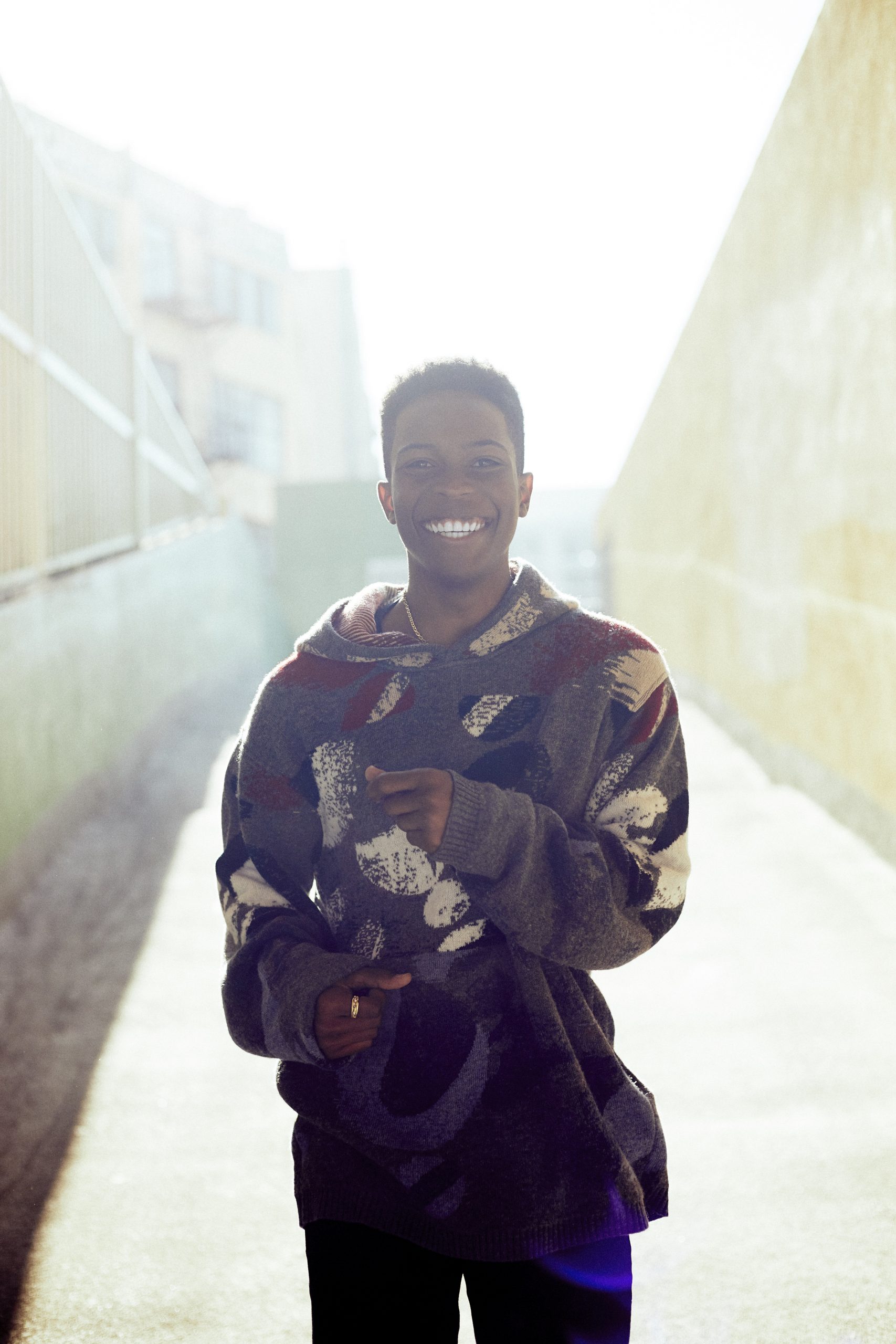 Chicago native and now LA transplant Dante Brown started his career in acting quite young. Making his debut at only 10 years old in the Lifetime feature film, "America". From there he would land roles on  TV shows like "Southland", "Shameless", "Law & Order: SUV" and  "Lethal Weapon". Just last year he had the chance to star alongside Academy Award winning actress Octavia Spencer for the horror-thriller "Ma" and even had one his original song "You Hear a Sound?" appear on the films soundtrack.  Previous to that he had  the opportunity to work with multi-award-winning actress Viola Davis in the movie, "I Won't Back Down". 
Although he is steadily making his rise to top he always wants to make sure his career is showcasing a positive influence to Chicago's inner city youth.
 "Understanding where I've came from and how far I've made it, makes me want to push even more, to also show younger kids and teens, especially in Chicago, that they can do way more than what they see and believe," Dante expressed to LADYGUNN .
As 2020 comes near a close Dante has secured yet another role on the new original Netflix series " Dash & Lily", where he plays a supporting main character Boomer on the show.  Alongside this he is a talented musician that goes by the name DanteThePoet and is working on his debut EP, "A Caved Man Forever Alone" , which he wrote, produced and audio engineered.  Dante is ambition, level-head and has that special Gen Z  je ne sais quoi, which will help him go far in a sometimes overwhelming industry such as entertainment.
Recently, LADYGUNN got the chance to catch up with the 21-year-old star to talk about his new Netflix show "Dash & Lily", the upcoming release of his debut EP and some of his career milestones so far. 
You have a new TV show premiering this month, Dash & Lily. How was it working on the set?
It was actually amazing working on the set, because Dash & Lily was just before, leading up to Christmas in New York! Being on location out and about in that super cool city, was phenomenal to be a part of, as well as shooting in historic places like Two Boots Pizza, where most of my scenes take place. But the Strand Bookstore and just everything about shooting in a major metropolis like NYC was dope! Working alongside Austin Abrams and Midori Francis was amazing and a lot of fun, they're really cool peeps. I didn't have any scenes with Troy Iwata but I bonded a bit with him on breaks, in passing and for sure during the virtual press junkets. he is a riot! Being directed by Brad Silberling and Fred Savage was a learning experience in and of itself, so I worked to take in as much as possible to present my best performance.
You're originally from Chicago. How was it making the leap all the way to LA to pursue your career?
 This all started after attending our very first acting workshop. Some Hollywood Momagers had told my Mom that some managers from Los Angeles were coming to Chicago looking for talent and holding an acting workshop. We had never attended one, so my Mom thought it would be a great idea to introduce us to something new and expose us to something different. "Us" meaning my little brother, Dusan, who's also in a coming soon Netflix project, Ma Rainey's Black Bottom movie. But we went, got a chance to perform and  we used to rap and open up for various Chicago talent and stars before their concerts in Chicago. We rocked our performance at this workshop and did an awesome enough job with our raw acting talent , so much so that we were the only ones offered representation at the end of the weekend of workshops. We had been booking a ton of commercials and a few other voiceovers and movies in Chicago, so when we came to LA, for us at ages 10 (myself) and 8 (my brother) it was an easy transition. It was just a different location and unbeknownst to us, an extremely larger pool of talent. At first it was a little slow getting into the groove of things, being in a new city and being  the new kids on the block perse. All the while our Dad, back in the Chi, held the fort down. But this huge sacrifice seem to be paying off, as my brother and I have been blessed to somewhat stay booked and busy over the past 10 years of relocating. And each project and role seems to get bigger and better or meatier and more complex, I should say.  Enough to challenge us and continue our growth as young actors, as well as aspiring writers and directors. We're steadily enjoying the journey.
You're releasing an EP soon as well. What type sound can people expect and what are some themes present in it?
From what I've always been told by peeps that listen to my music and have watched my growth over the years, in my EP, "A Caved Man Forever Alone", they can expect the sounds and flow similar to a young Kanye or maybe a young Tyler the Creator and a hint of maybe a young Childish Gambino. As I mature and in hindsight to this project, I feel that this EP is an expression of a typical Millennial or Gen Z. The vibe is really a result of me experimenting with my sound and honing my skills as a young producer – I made five out of eight of the beats. Not only is it a flex like, that I can be an artist, but I also wanna bring back the genuine soul of music. I feel like we've  lost the soul touch in music, so I want to bring in a new wave and just  wanna show something new. The themes present in the EP, shows the day in the life, of like an extra introvert. I feel like there comes a time were almost everybody in this generation has become an extra introvert to certain an extent, because of the internet, quarantine, so like your house becomes your cave or your room is your cave and I'm expressing how to navigate through some of the motions and emotions. All of the feelings that a person might go through in this time. So isolation, love, and growth – those are the themes present in "A Caved Man Forever Alone," showing the fall, then the rebuild based on personal growth.
Do you have a background in music production or did you learn how to do audio mixing for your music
?
 When I was younger, maybe about seven or eight or so, I think it first started when I used to beatbox, like alot , even sometimes unknowingly. I was that kid that always seemed to be playing music in my head. That then turned into my brother and I making our first album back in Chicago as kids and my Dad investing in me some equipment, and I started making beats using different beat making software. It's a lot that went into it as far as like, various mentors that helped me with certain things as I progressed and grew over the years, but as far as like learning how to mix and actually structure my beats and song lyrics, that came as a combination from attending Grammy Camp when I was in high school and my mentor, Haskel Jackson of Genesoul Music – he helped me out a lot. And at the suggestion of my Dad, one of our songs, "You Hear A Sound," received placement in the Blumhouse movie, "MA", that I play in (on the acting side) alongside Octavia Spencer. Hopefully there will be many more. But this was so cool hearing our song play for the ending credits at the premiere, on the big screen.But Grammy Camp and doing a summer internship with a couple of producers (Vincent and Black) that were instrumental in contributing to Beyonce's "Lemonade" album, boosted my creativity and helped me discover what I can do on my own. After that I started making and releasing music on my SoundCloud. Oh yeah, I'd be remised without mentioning my other mentor, Andrew Lane, for giving me so much freedom as a young artist and the studio time to just play and create, as well as helping me to become a better writer by challenging me to write for some of the artists that he works with in his studio.
What's been a milestone you've met so far in regards to your acting and your music career? 
Regarding my acting career, as kids my brother and I loved The Wayans Brothers, so having an opportunity to work on FOX's "Lethal Weapon" series as Damon Wayans' son, was a dream come true. Before that working with the Chicago homie, Craig Robinson, in NBC's Mr. Robinson alongside Amandla Steinberg was a big deal for me, as well as playing the iconic, dramatic role on the Law & Order: SUV episode, which forced me to dig really deep for that character, as well as playing Viola Davis' son in the movie, "Won't Back Down", then working with Auntie Octavia Spencer in the Blumhouse movie, "MA". All of these roles I'd say have been various milestones reached, but although I've been at acting all of my life, I'm really just getting started, if that makes sense. Working on this hit Netflix show, "Dash & Lily", has been one for the books, because I've always wanted to be on a popular Netflix show and we're sitting at the #2 spot after premiering just three days ago. This is all super exciting and forces me to keep setting next level goals. I want to carry a lead in a limited Netflix drama series and really show my potential and range as a dramatic actor. Something heavy and complex that's never been seen before from an African-American lead, especially a young one, and continue to keep pushing the boundaries. I got a taste of it last summer when I was invited to the 2019 Sundance Directors Lab to play lead in the talented super star, writer-director, A.V. Rockwell's "A Thousand and One Nights". That was just a phenomenal experience on a whole other level!
 On the music side, I feel like although I've been making music for quite some time. As an independent artist, there's still many, many milestones to reach and I look forward to that hopping off for me. But I'm actually putting together a documentary that's releasing after my EP drops. It shows, like my first goals and objectives with the EP, and then the second set of goals to come. I met my first goals of having certain artists featured on my EP, but you gotta stay connected to find out who when the names drop, as we get closer to the EP released.  I just want to thank all the artists, engineers that helped, who are a part of this project.
How do you keep a level head while working in the film industry?
 God and family. I go home to Chicago, as much as I can, especially over Christmas and summer breaks, if I'm not working a project. So I'm always in touch with my family, whether it be through our Cousins' Chat or on the phone with any of my uncles and aunts, just catching up. My God Mom, mentors (big bros) and parents help keep my mental straight.  I put in the work to stay in touch with who I am, whose I am, and from where I come. I never lose sight of that nor do I claim LA. I just don't consider myself an Angeleno, but definitely a Chicagoan. I think that mentality buys into keeping focused and ground, as well and like I said, just staying connected with God and knowing that He's from which all blessings flow, as long as I continue honoring Him and staying the course. I think all of that helps me a lot.
Where do you see yourself over the next couple of years?
 I see myself hungry and continuously striving to be great. I would love to transition from supporting to booking a couple of lead roles in a few movies, creating and producing my own animated series, having a few singles or even a couple of albums out.  Maybe even earning a Grammy or an Oscar. Oh wait, you said a couple of years, those are a part of a bit longer career trajectory, but hey, anything is possible with hard work and the right project, but ultimately I just want to continue putting in steady work and being a consistently great talent. And I have to put it out there because I know there's power in words, I hope to one day, on the acting side, work with legends like Denzel Washington, Jake Gyllenhaal, Ava Duvernay and the dynamic Donald Glover, Lakeith Stanfield, Spike Lee, Antoine Fuqua as well as Lupita, Yara and Zendaya… something about those powerful solo-named, female entertainers, right? (lol) And on the music side work with greats like Kanye, Kendrick, Andre 3000, Drake and ChloexHalle, H.E.R and Meg The Stallion.
What's something you would be interested in pursuing if you weren't into acting and music production ?
I know it's a hard industry especially for African American men but Kanye and Virgil Abloh have opened it up a bit, so probably fashion design. Over the years I've taken a class here and there to hone my designing skills and learned to sew a little.  So probably that or audio engineering. But you said no music , so fashion or creating animation shows, which I also do as well and hope to present to a network in the near future. So that's probably what I would be doing if I wasn't acting and making music.
CONNECT WITH DANTE BROWN
 INSTAGRAM  // TWITTER  //SPOTIFY
photos / Leigh Keily
story / Jada Jackson