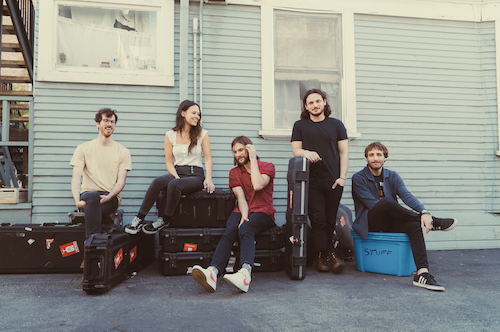 Words/Robert Frezza
Photos/Andrew Keyser and Matt Everitt
Alt rock folk band Mt. Joy (Matt Quinn, Sam Cooper, Sotiris Eliopoulos, Jackie Miclau, and Michael Byrnes) have seen much success in the past few years coming off the heels of SXSW and with their single "Silver Lining". The band's first album was an eclectic array of songs. Now the band is gearing up for their sophomore album next year with the single "Rearrange Us", which carries an earthy R&B vibe and can be heard exclusively below. "Rearrange Us" is a song that really represents how the band has evolved over the past couple of years. I had written the chords and lyrics just on acoustic guitar," says singer Matt Quinn."Ultimately life is short and maybe we are changing at the expense of real human connection. It's a scary and exciting life and I think the song reflects that."
The band brought its presence and energy to a sold out Webster Hall show early on this October, where we talked to Matt Quinn of the group on the band's niche sound, rock and roll relevancy in 2019, and what the future holds for Mt. Joy.
You saw success with SXSW. Does the band credit its success to that festival?
SX has been good, but I think the totality of touring as hard as we have has brought us success.
Many rock bands don't see major success anymore. It's here today, gone today. What are Mt. Joy's plans to stay relevant in 2019?
Yikes, I mean, making the best music we can and being a great live band!
"Silver Lining" is a great song and it's such a staple for the band. Agree/disagree?
Thanks and yeah I suppose, but we're only one album in so we will see. More to come.
Love the new song "Rearrange Us". It feels like you are incorporating in a bit of R&B sounds in there. Will there be a new album to follow?
Thanks! I think we take a major step towards a more eclectic sound in general on this record. Not in anyway abandoning the original, but adding depth to our sounds this time around was a goal for sure.
Where does the band get the inspiration to write and arrange music?
I think for this record, just traveling the world and having our lives change so much, it was easy to write about change and focus on what it was doing to us. Hence, rearrange us.
Do you think there's been a rise in folk rock music in the past few years with the Head and the Heart, Lumineers, and other bands? Do you think it's tough to fill that niche as a rock act in 2019?
We really don't think about filling any sort of void that bands have left. I get the question, but I think it's easier to just focus on what you feel is special about your project and writing and make something honest. We love The Head and the Heart, and respect the bands we get lumped together with, but I think the songs matter far more than the genre in the end.
Are you excited to be on tour?
Very excited! We are off to a really great start, feels pretty special.
Connect with Mt. Joy