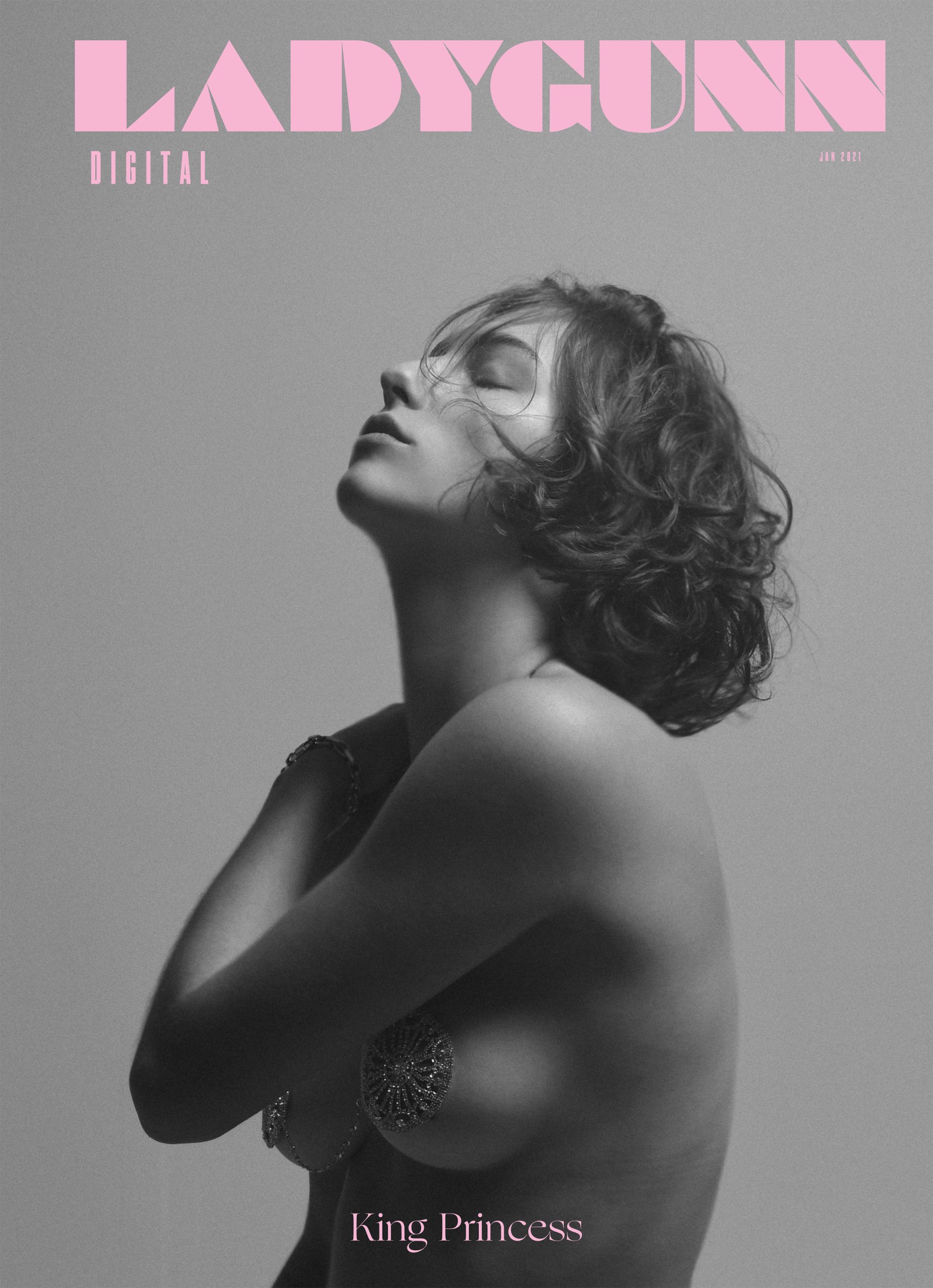 The first thing you need to know about King Princess is that her puppy has a silver monogrammed tooth. 
"It was not a glam choice!" Mikaela Straus, better known as King Princess, says as if we were judging. "She broke her canine tooth. [The dentists] were like 'Okay, so you get it extracted or we can put a cap on it.' They said, 'Here's the thing about the cap: it's silver.'" She laughs as she recalls this encounter for us. "Like, what's the problem? They came out and they were like, 'So listen, you seem like the type of girls…I don't usually do this, but we can engrave it.' We seem like the types of girls? But he was right, whatever he meant." 
"We" is Straus and her partner Quinn Wilson, the badass creative director behind our queen Lizzo. The two are a modern-day power couple, a personification of the type of queer love that could be marked in history books. We get a glimpse of their domesticated Brooklyn bliss through the confines of a zoom call, Straus settled comfortably in her childhood home, clad in a t-shirt and layered silver chains, casually beautiful as if she just walked a Gucci show and is taking a cigarette break. There is a perfect ambiguity to her beauty. She is universally hot, like a perfect shoe that fits all. Any attempt to objectify and gawk at bone structure and a smile for the gods is immediately suppressed by her goofy laugh and eye rolls; you just want to be best friends with her.
Finding solace in her childhood home during part three of the never-ending pandemic, Strauss is taking a break from work. Having been forced to take a few months off from a relentless touring schedule, she has slowed down and taken the opportunity to make sense of the world unraveling around us without hyper-focusing on her craft. 
"I think the biggest thing right now," she shares, "is the stillness of sitting at your house and watching really horrible things go down and watching some amazing things go down, like winning Georgia. Being able to watch that, not while I'm on tour – just sitting at my house, watching that go down, that was historic. And I'm very proud of it, of the Black women who made that possible. But watching the insurrection of the Capitol is pretty insane, you know?"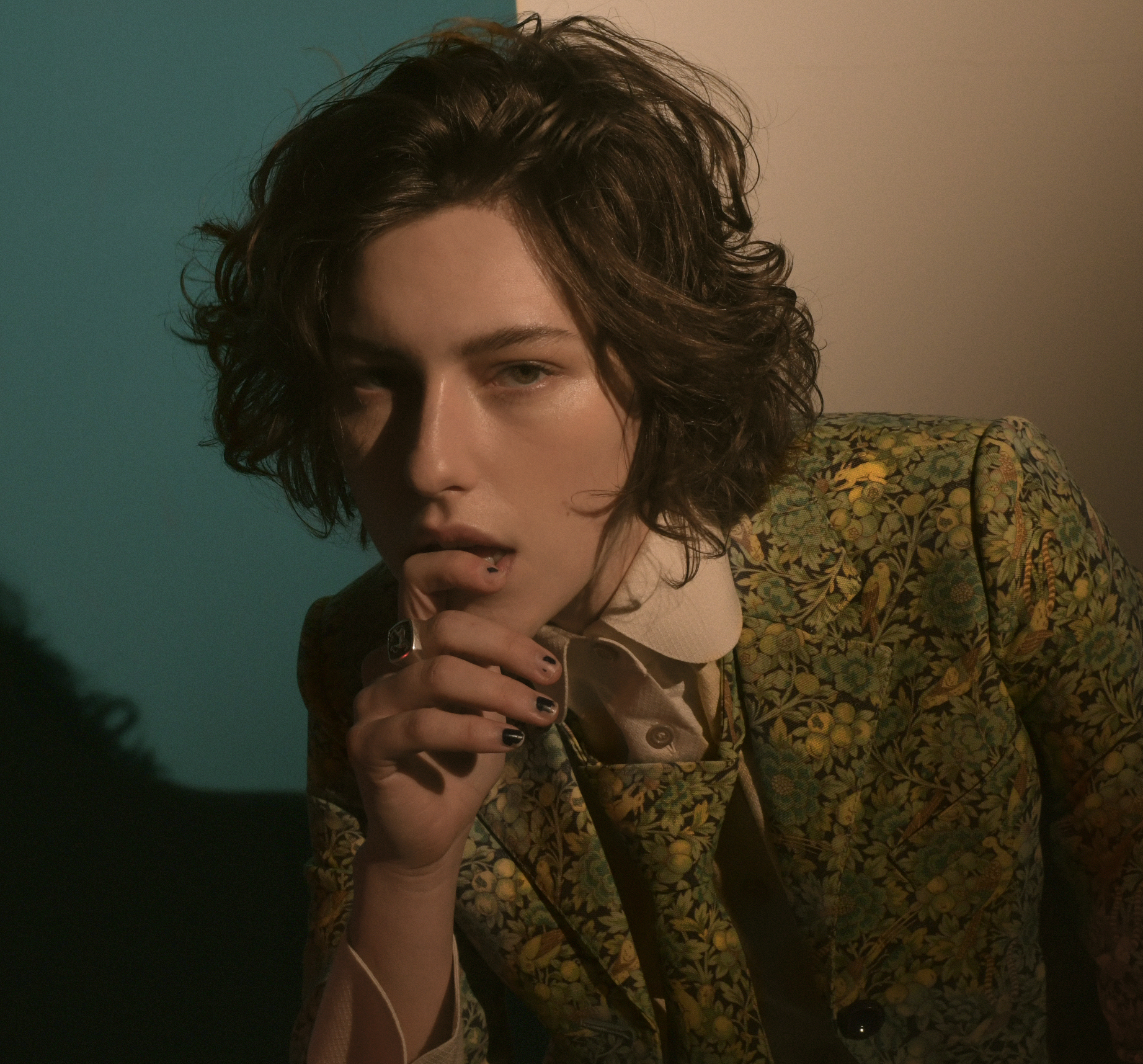 "It doesn't matter who you surround yourself with. It's 'Do they respect you?'"

entire look, Gucci.
"I'm lucky that I have a lot of time to watch what's going down in our country and kind of center myself around that and learning about that and about politics, honestly." Both Straus and Wilson are vocal in the activism space. A feature in Vogue this past summer highlighted the duo's preparations to travel from a family home in Hawaii to California in an effort to join the Black Lives Matter protests in Los Angeles. 
Now back in Brooklyn, the artist feels a bit more grounded, spending days playing Cyberpunk and hanging out with high school friends. She grins when talking about her new PS5 that was extorted from her manager. "I gave him an ultimatum. I was like, basically, here's the deal. Like either I get this or we're done," she laughs mischievously. 
For Straus, music is in the blood. Growing up, her dad owned and ran a recording studio in Brooklyn down the street from her home. There, her afternoons were spent watching switchboards and the behind the scenes of music production. "When I was 13," she recalls, "you could not keep me out of that studio. I would just sit there all day. I would get home and bring my homework in there and just do it. For me, it was just so interesting and so cool." Brooklyn feels like home to her.
But while growing up in New York, Straus realized moving to LA would be her best bet at starting a music career.  "Especially in 2016, when I moved, everybody that I worked with growing up, every producer, writer, and all the studios were closing in New York. The music really moved to LA and I knew it was where I needed to be." Quickly after the move, however, she recognized that studio culture isn't what it used to be when watching her dad growing up.
"I understand that at this point in history, yes, I'm probably going to be the only non-male presenting person in the room most of the time," she says. "But, are those people good people and are they respecting me and am I respecting them? Are we collaborating or is this an oppressive circumstance? And I think that as far as right now, I've had the fortune of navigating that to a point where I don't care if I'm working with men, I care about the men I'm working with. I know my worth in a room. That's a big part of it is that I really do love the people I work with."
She was signed to Mark Ronson's label in 2018 and just a few months later with the release of her single "1950," was a major player in the indie music world, revered by the likes of Fiona Apple for her theater-like performances, atmospheric videos, and sophisticated compositions. There's a science to her music, almost like it can be studied wearing scrubs in a pop laboratory. 
"I'm a pop girl," she claims, "I'm a pop culture hoe. I'm a whore for it. So I'm definitely listening to anything new that comes out. I want to be informed. But as far as listening to music referentially, when I'm making music, my process is more like I'm looking for this sound…I have a very OCD brain thing with stuff like that so I can't stop and enjoy it unless it's  a completely different type of music than what I make or unless it's in a setting where we're like listening to music and talking about it. To me it's like looking at math equations."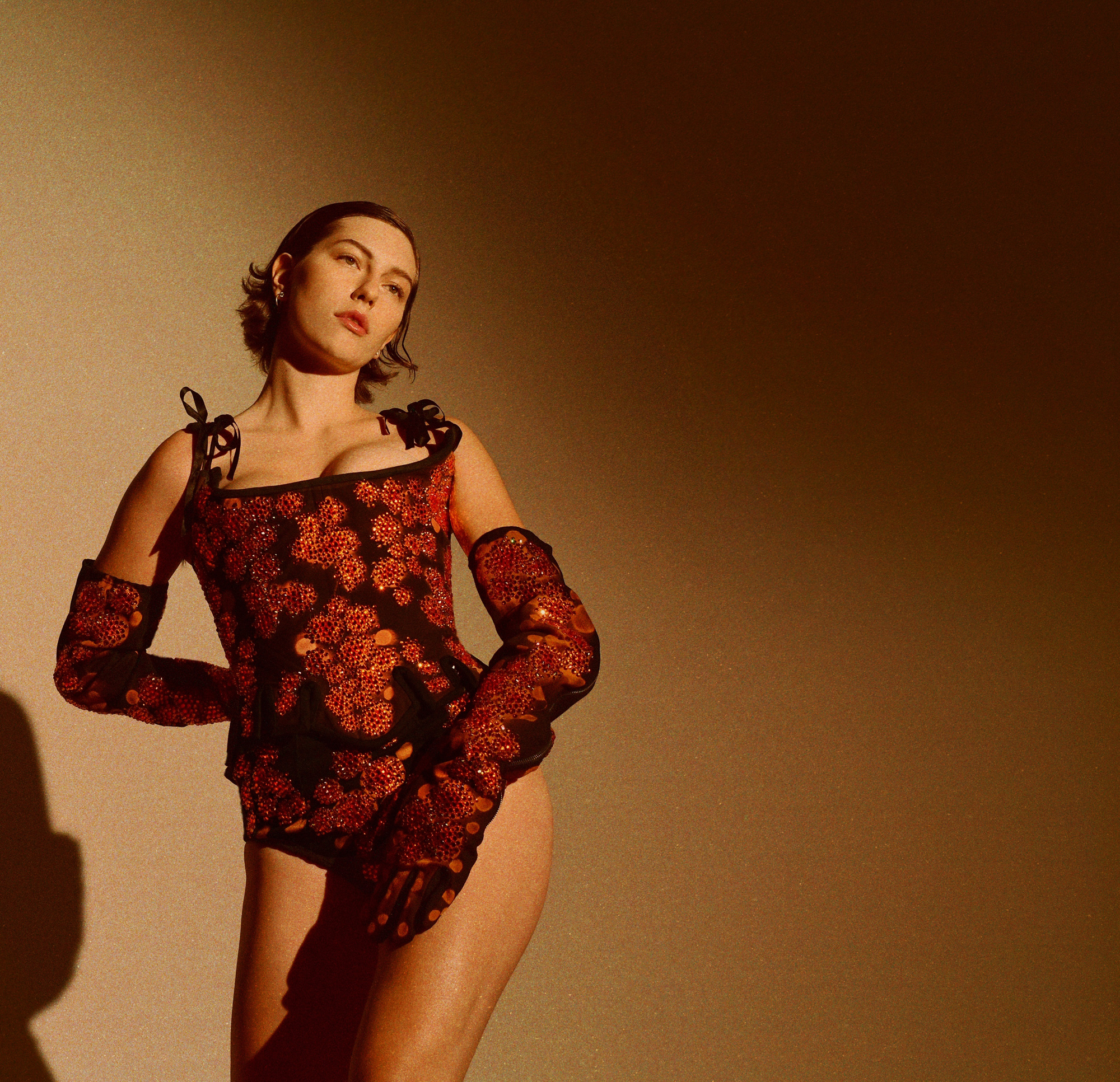 entire look, PHALLIC CUNT.

While taking a break from music, Straus has been reflecting on the simplicities of youth that hold interesting relevance to her current state as an artist. "I grew up playing team sports. I'm the worst team member. I was always benched, I was always fouling, but I loved team sports. There was this part of that, as a kid, putting on a uniform, a gender-neutral uniform, was the most freeing part of my day. It was the time of day where I could just completely detach from my body in a gendered state and just be an entity who is athletic. I miss that." This idea of gender nonconformity formed early in Straus' mind. From a young age, she knew she didn't want to fit into a heteronormative box, and with that came a need to reflect through music. 
"Being like in the middle of the two genders is a very interesting place to be," she expresses, "because you start to have these mechanisms of figuring out ways to deal with it day to day in a positive way and seeing it as a positive. Something about being in this house and thinking about being a kid and wearing my little sports scarf and just feeling free, it's been on my mind a lot also because I'm doing all the things I did as a kid. I'm playing video games and, you know, busted out my knife collection. Like, I'm in it!"
Her music has become a place where this queer sensibility can be explored without restraint, taking you on a gender-bending ride that relishes in the world of pop and queer sexual awakening. Best known for her synth-heavy, atmospheric, pop ballads, she has taken her fans on intimate journeys of self-love and attempts to find your most authentic self.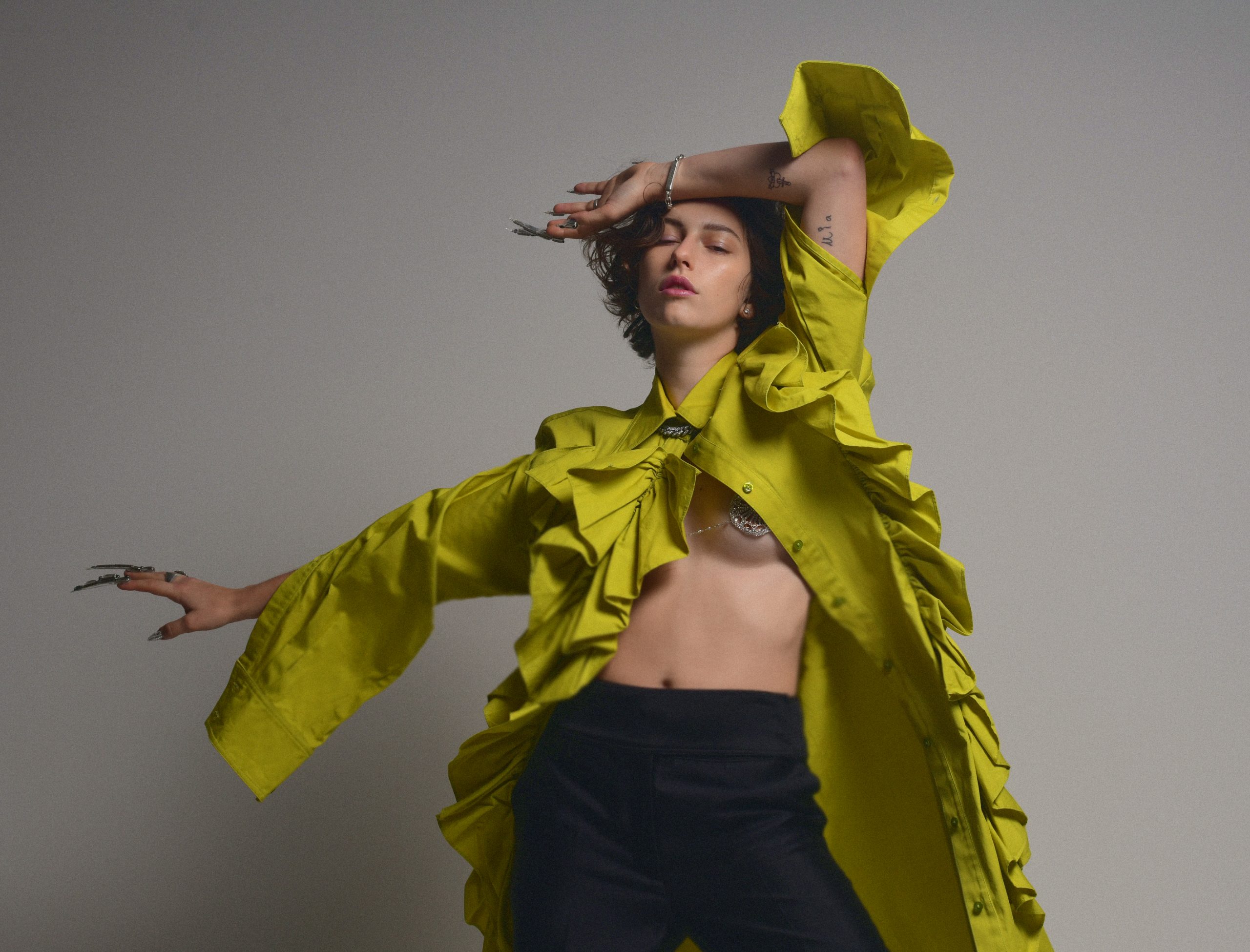 top and bottom, Christopher John Rogers. Nails, CHRMDBYSARAH for SEKS 5th AVENUE. 


entire look, Gucci.  shoes, T.U.K. 
This authentic self might be discovered in songs like "Your Pussy Is God," an ode to the glory of loving a woman, and "Talia," which recounts a painstaking new crush. "I remember," she shares, "when I started to feel disliked or not popular or [that I had] crushes that weren't heteronormative, or maybe some of them were heteronormative, but when I started feeling anxious – which was young – I started writing. It was right there and I needed something and I had a voice. I had a good voice, I could hold a tune and stuff." 
Straus knows her worth in a room and it is inspiring to see. Yet, she is quick to admit that she had a privileged upbringing and is passionate about making art more accessible to all people. "There are systems put in place that make it challenging for people to break into an industry or be in a room with a bunch of men and feel that their voice is heard," she laments. "There's fundamental issues, obviously, with diversity in the music industry and putting people into boxes based on their race or gender identity. I think that [once you're] able to have enough understanding of yourself and what you need to like you, it doesn't matter who you surround yourself with. It's 'Do they respect you?'"

bra top, UNDERPIN. nails, CHRMDBYSARAH for SEKS 5th AVENUE.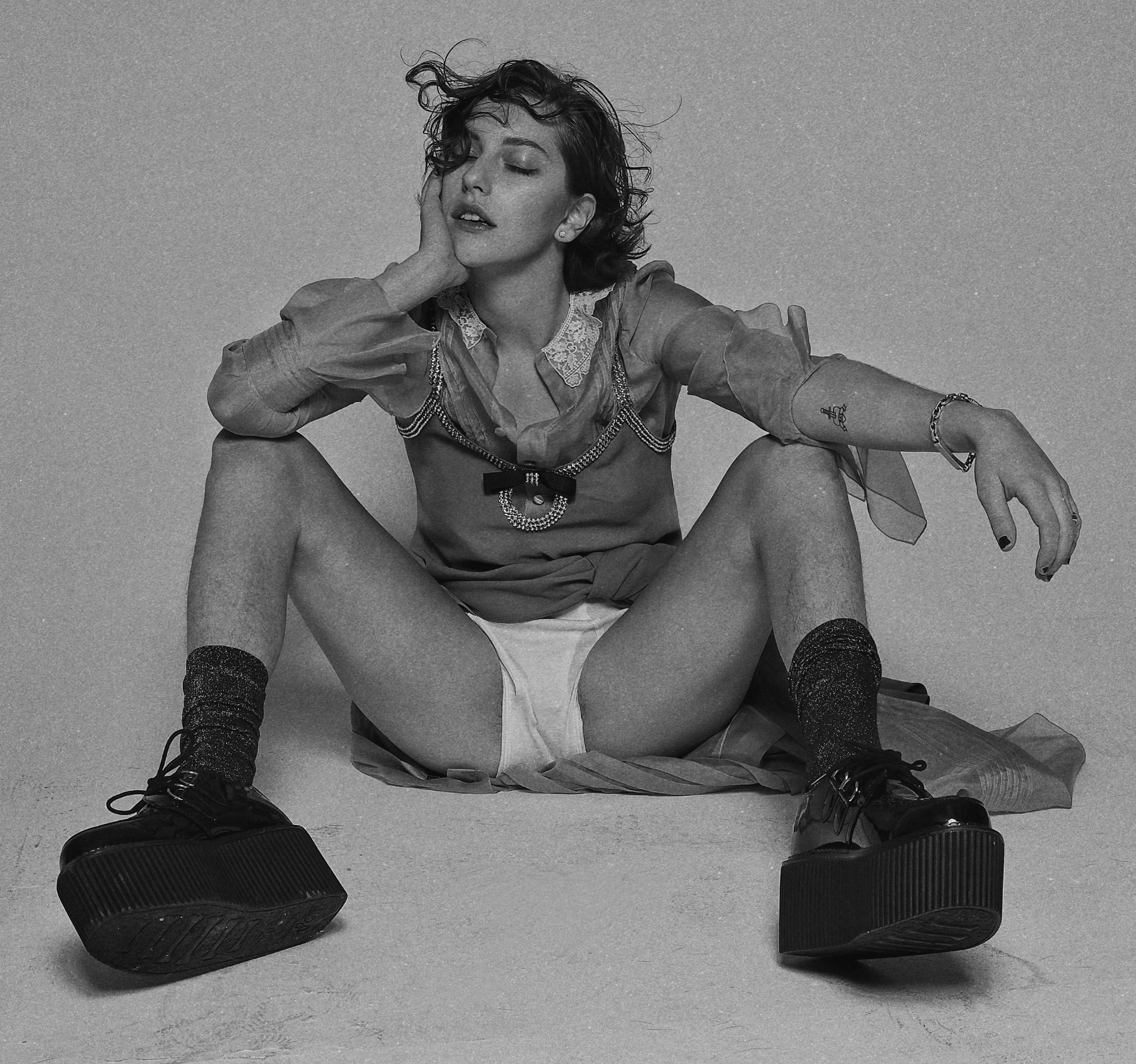 CONNECT WITH KING PRINCESS
INSTAGRAM // SPOTIFY // TWITTER
photos / Shervin Lainez @shervinfoto
styling / Phil Gomez @styledbyphil
glam / Ahbi Nishman @ahbinishman
story / Koko Ntuen & @kokontuen  +  Sam Berlin @spberlin
editing / Jack Hannon @j_hannon67
EIC / Koko Ntuen @kokontuen