For me, the best thing about Soko is that she feels like a feeling. "This feels very Soko," I've said more times than I want to admit trying on faux Gucci and something sparkly in a high-end consignment store.
Listening to her music

conjures up a

mixed bag of emotions that exercise the soul and mind. It's this cool girl for cool girls thing that wraps you in love and female empowerment and makes you feel happy to be in whatever club she is in. It's an intelligent quirk that's both aware and flawed but still trying. It's a high-end meets dive bar, famous meets the cute barista next door that you hope is working when you get your morning coffee.  What can I say, she has a  je ne sais quoi, apt since she is French which just makes the whole thing even more apt. 
I am wrapped up in a white down comforter on my sofa and she is sitting in bed, strands of brown hair falling unto her face eating pancakes whilst we talk. Her third studio album Feel Feelings is set to release the next day and she is both nervous and excited like any artist wearing their heart on their sleeve. 
The album is a time capsule of sorts. She recorded Feel Feelings in 2016 and 2017 collaborating with a commune of a top-tier indie elite that she also calls friends: Sean Lennon, Dustin Payseur of Beach Fossils, Meg Duffy of Hand Habits, and James Richardson from MGM,  just to name a few. The album was a therapeutic journey set between what Soko describes as dreams and consciousness, "in-between purpose and letting go." It's an album that documents her growth in real-time. All the songs were written during her self-imposed celibacy and dedication to making art in a mindful way. "I wanted to make sure it captured perfectly every aspect of all my thoughts to be the most truthful memory of a moment." She says in the notes.
She was set to release in March. But then the quarantine, George Floyd, Breonna Taylor, and countless other black lives lost at the hands of police saw the U.S come to a standstill in one of the great civil rights movements of our times. She withdrew her from the attention economy and sat back watching, listening, learning. 
We are both a little raw. I can hear it in our voices. She recently recovered from a bad bout of  COVID and by that point, I'd been consumed with news cycles and race fatigue. 
"How are you doing?" I ask her. 
"It was horrible, man. I don't wish that for anyone. My girlfriend had it, my baby had it…but how are YOU doing?" She asks me. 
How am I doing? I can't remember the last time anyone asked me that so earnestly. Her brown eyes peer inquisitive and compassionately into mine. I'm so used to saying "I'm fine" that the muscle memory on my tongue starts to pull my mouth apart. I pause for a moment while a flood of thoughts circles my brain like Buzzcocks. How am I? I feel angry. I feel oppressed. I feel like I don't know enough about Black history in America and the more I read the more the cycle of oppression spins. I've spent the last few nights reading James Baldwin's books cover to cover and waking up feeling nauseous.
I don't hesitate to let her know everything swimming in my mind, "This is part of my experience. It's very interesting. It can be very depressing sometimes too," I say. "But it's part of an experience that I've got to live. I have love, I have my family, I have my friends, but it's still heartbreaking. Especially when people are so rooted and affected by it.  DNA is said to carry trauma. So generations are holding this oppression, this fear, this anger, and having people telling you you're never going to be anything. We're all connected in some way, America as a whole is especially so mixed yet so divided. There were so many bloodlines being shared during slavery. So everyone has this trauma in them. And then trying to deny that bond while fighting for positions of power. It's very, I don't think it should be this complicated, it's barbaric to me."
She nods her head, "Half of my family died in concentration camps. I definitely feel the Jewish trauma. I wasn't even raised Jewish because they all denied their religion and whatnot. I was raised Catholic. I definitely still feel that Jewish trauma in me.  I feel persecuted sometimes and I have to tell myself 'It's not you.'. I have not been persecuted. It's something that my family tree went through.
There is a comfortable silence as we sit with our respective traumas and state of the world. 
"It took a fucking pandemic for people to have nothing to do, so they could finally focus on what's important in the world."
She blurts out.
We both laugh at the absurdity of our pain. 
Soko moved from Southern France to the international spotlight when she was just a teenager, pursuing the arts and achieving fame along the way.  She has done it all: acting, singing, writing, and queer momming. She's even reached a sort of enlightenment that we hope all of our readers can soon find. She's fully aware of her ego and that is what drives her passion for music that much further. In 2020 alone, Soko starred in two movies (set to drop in 2021), a 12-track EP, 4 music videos, and countless other artistic enterprises. 
"I've been working like a dog since I'm 16, I've done and overdone. I've accomplished all of my childhood dreams. I'm much further in life than I ever thought I would ever go. I think I needed that validation.  I needed to feel relevant, like, you know, I was good at something.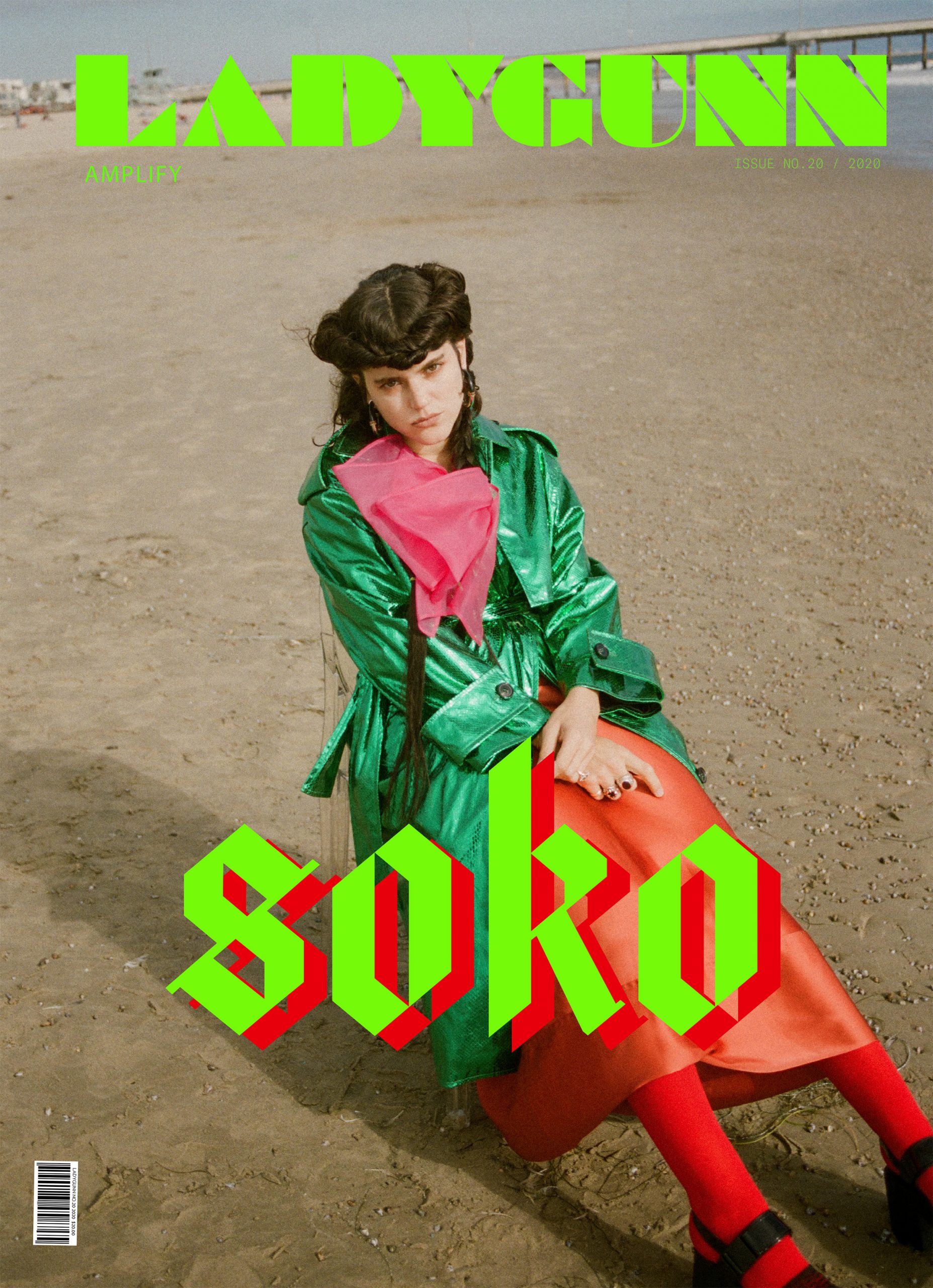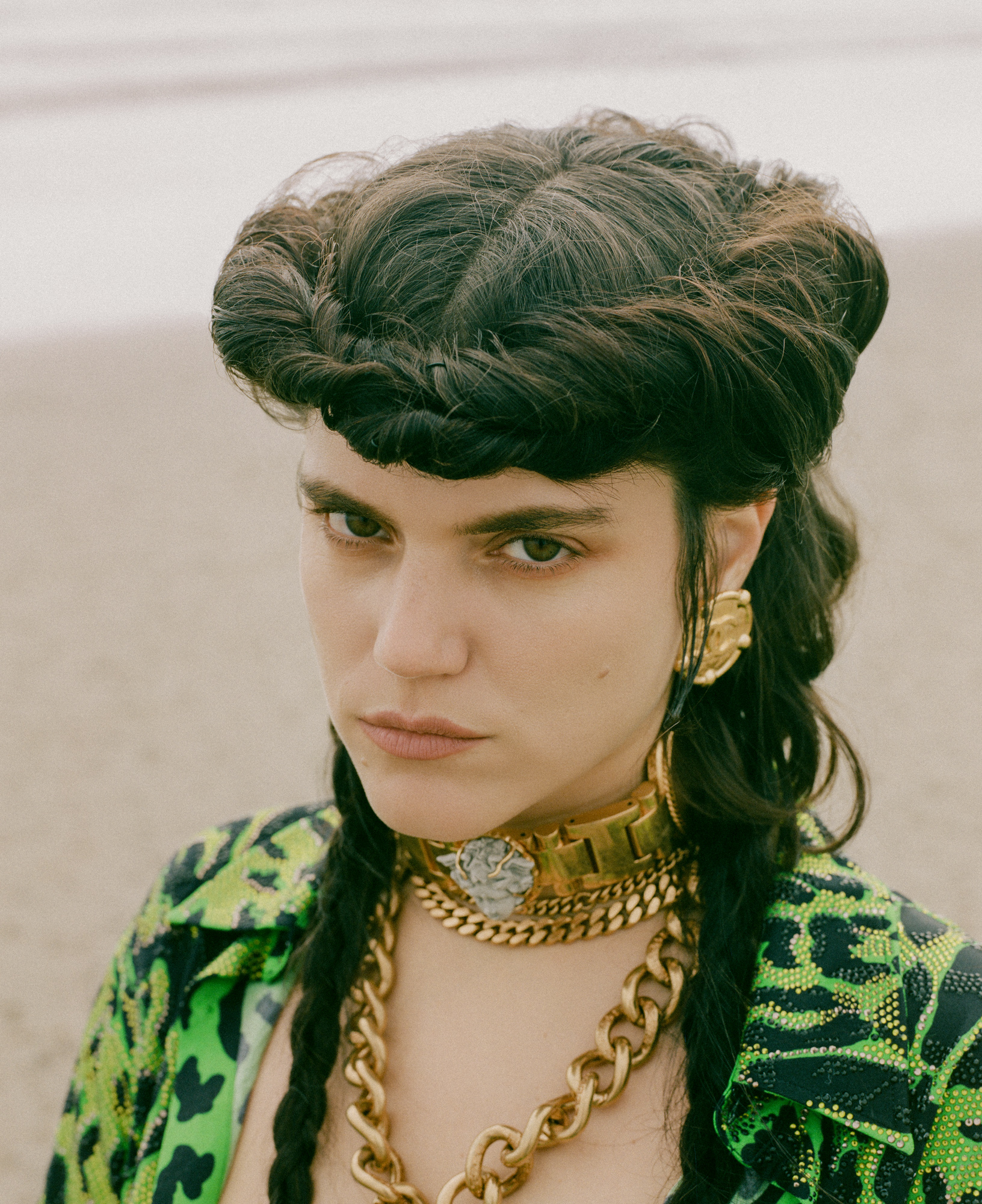 Top/necklaces, @versace. Earrings, @chanel. @brokenenglishjewelry. Skirt, @gucci.  
When I play Feel Feelings I play it straight through. This is not how I usually play a record but this album feels like a conversation, excerpts of an old secret diary you have to decode from her multifaceted life. When she started the record she was wrapping up a movie and in the transition back to herself.
"When I do a movie, I'm just so deep in it that I just get lost. I've had people tell me that told me I need to protect myself. But then it takes me a while to shake that skin off that doesn't belong to me and to get back to my life. I knew I was going to start my record and I knew that I needed to take some time off. I decided to go to the Hoffman Institute, and literally, I kid you, not the minute I booked it, everything in my life was trying to tempt me. I got offered a huge gig in China and I was just thought, fuck the money. Money comes and goes. This is a time that I've allotted to myself to take care of myself. And if I'm happy from within, no amount of money is going to make me happier. If I don't do the work."
Feel Feelings was the byproduct of Soko's intensive work on herself and her soul.  Multiple facets of pain, love, sadness, and insecurities are threaded through the songs in soft juxtaposing dimensions that make it both easy to sit with and sometimes hard to swallow. It's pop-noir that tells the story of broken hearts being set free.
"Everyone's working on their physical appearance, you know like people go running and get addicted to sports and beauty products. Everyone has a health routine and a beauty routine, but who has a fucking mental health routine. It's so important to start talking about that.  I'm doing that with my record. I'm taking care of my mental health. I was celibate during Hoffman. I was really focusing on my triggers, my patterns, my trauma, and working on becoming the 2.0 version of myself.  I'm new and improved, constantly and forever changing, forever eager to learn and to better myself…"
Soko 2.0 is a happier, more aware human that is able to love and be loved. We end our conversation in what feels like a smile.
"If I'm talking to my little Soko self coming from a small town in the south of France. I would say. 'It's okay.' I've done everything I thought was impossible. So now that I've already done the impossible what am I missing? You know, having a stable relationship, a home, and a baby. That's really what I want to focus on right now. And so I did it. Right, when I was done with the record I made a fucking awesome baby. I'm in a super healthy relationship… I have a house and a girlfriend and a baby, and it's awesome."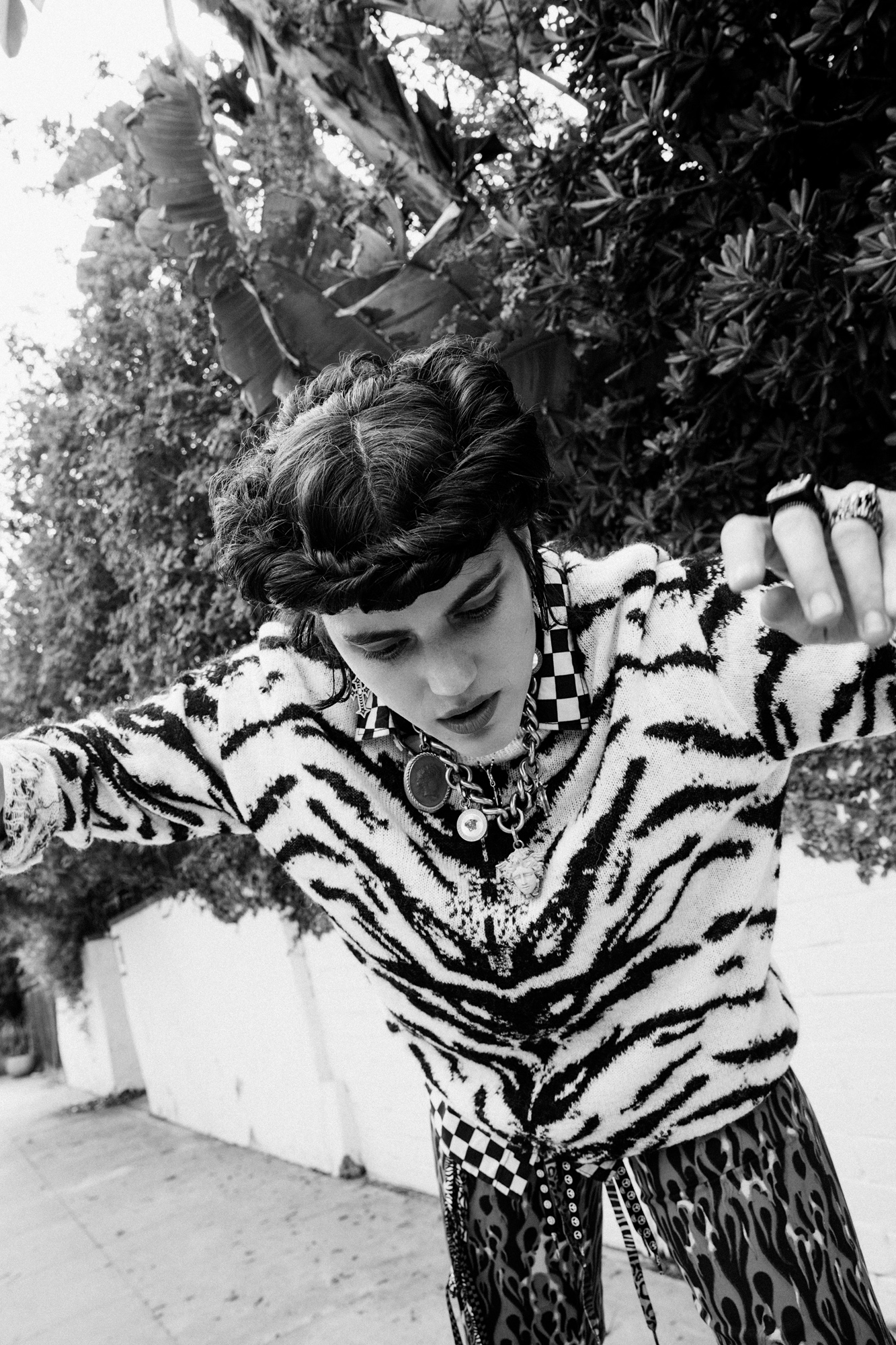 Sweater @laneus Shirt @vans Pants @r13Necklace @versace  Rings @gucci Earring @emanuelebicocchi
 
                 JACKET+TOP @MSGM DRESS @PARIS__GEORGIA EARRINGS @ALEXANDERMCQUEEN RINGS @LANGANTIQUES @THEGREATFROGLDN TIGHTS @WELOVECOLORS SHOES @ASOS SUNGLASSES @GUCCI

Jacket, @nousetudions. Shoes,@alexandermcqueen.Dress, @rowenrose. Necklace/earrings, @susan_alexandra. Socks, @welovecolors.
  
Jacket, @takomekvabidze. Hoodie, @brokenpromisesco. Large cross necklace, @gucci.Thin necklace/earring @emanuelebicocchi.Rings, @langantiques @emanuelebicocchi.

CONNECT WITH SOKO:
---
HAIR + MAKEUP / Leticia Llesmin @leticiallesmin