Words By/Robert Frezza
Photos By/Richie Davis and Mike Savoia
Los Angeles American rock act Dirty Honey is ready to place the passion back into rock and roll. The band consists of singer Marc Labelle, guitarist John Notto, bassist Justin Smolian, and drummer Corey Coverstone. The band, who is opening up for Guns N' Roses final dates for their Not In This Lifetime Residency in Las Vegas, is following the band's footsteps as they are also formed in Los Angeles. "We all met more or less gigging around LA in various projects but that all started the night I met John when he sat in for the guitar player on my gig in Santa Monica," says Labelle.
The band is not affiliated with any record label right now, but Labelle states that they teamed up with a manager that will help them gain more exposure. "We have a manager with tons of label experience and has worked with literally the biggest bands of all time."
The band has received much exposure in such a short period of time."Very few people understand the struggle it is to even get to this point and we're still pretty unknown. So to finally get some recognition is great, but it's definitely not earned without ALOT of hard work both from the band, management, booking etcetera." the singer says.
"We toured with Slash briefly in 2018 and made a pretty good impression I suppose which led tour more dates this year. Our name got thrown into the hat to support guns on this tour and I'm sure he was a huge help in us getting that. He's said nothing but nice things about us and I couldn't be more proud of the opportunity," Labelle says about getting noticed by the GNR camp.
Dirty Honey's sound not only compares to the Gunner's bluesy rock sound along with 90s rock band Black Crowes and Labelle can't get enough of that comparison. Their screechy vocals and early 90s rock influences might make one think that they are a band from that decade. The singer admits, "Without a doubt and I personally LOVE that comparison. They definitely aren't the only influences. Anything Chris Cornell was involved with comes to mind along with the classics (Led Zeppelin, Aerosmith, ACDC, The Stones, The Who, etc)."
Now that it is 2019, Dirty Honey don't want to copy the blueprint, but offer the emotion that is missing in today's rock and music scene. "I think certainly with 70s and 90s music there was soul and meaning behind the music which is the foundation of everything I love really. I like to hear singers emoting in someway and guitarists too. Guys like Slash, SRV, Hendrix, Angus, and all the blues cats had a way of playing the guitar that was expressive in a way that's far more interesting to me than just shredding. But more than anything we want to inject some soul, sex, and emotion back into the rock genre," the singer admits.
The band's current single "When I'm Gone" is currently number one on Active Rock Radio. "After speaking with a lot of people about the song it's definitely grown to have different meanings to different people. To me it has a very specific meaning, but I don't want to ruin everyone else's fun," the singer says.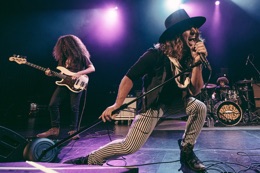 Connect with Dirty Honey: