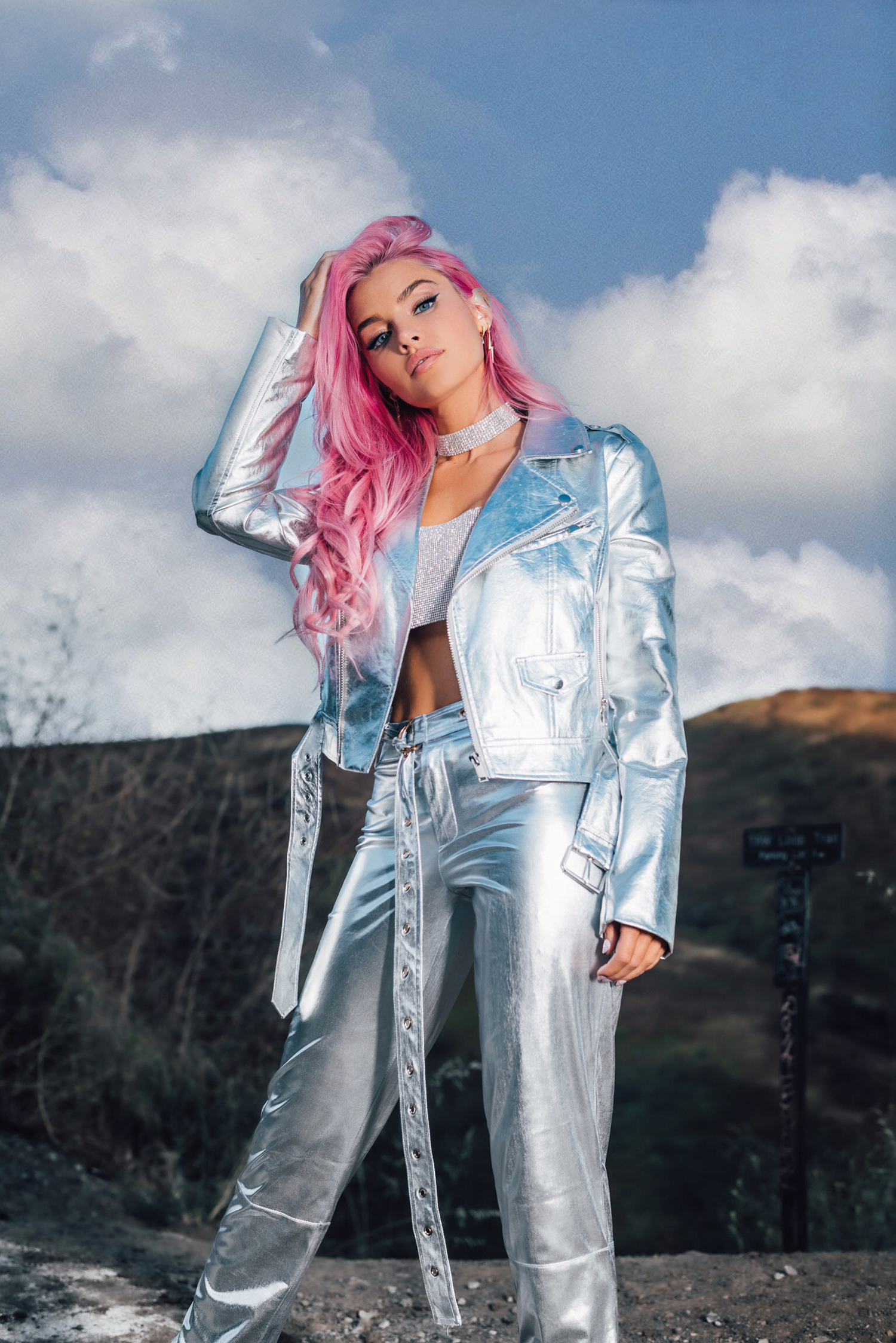 story /  Chad Schubert
photos / Malike Sidibe
With over 700,000 followers on Instagram, Chicago native Jean Watts—who became known on social media for her impeccable glam skills and sultry bombshell persona—has built a following most dream of reaching in today's influencer obsessed culture. And while she certainly succeeded in the perfectly-curated-content game, Watts admits she would much rather be entertaining through music, than "influencing" through the Gram.
"Honestly, music has always been everything to me," says Watts, who debuted her first two singles, "Feel the Same" and "Evicted," this summer. "For as long as I can remember, I've always been singing, writing and playing piano, or dancing in my bedroom, performing for classmates and singing in the choir," she explains. "High school is when I really started to make my own music though. I would write lyrics to songs I wrote on the piano, and I started taking music professionally at 18." 
Before picking up a mic to record her own music, Watts first picked up a makeup brush—to pay for music. "I was always very good with makeup," she recalls, "and I used to do glam for fashion shows in order to pay for studio time." Watts also began doing professional-level glam on herself and would post the results to Instagram—drawing hundreds of thousands of followers from around the world. Thanks to social media, the songstress was able to utilize one talent to build a platform for another, an unexpected result Jean says she's "very grateful" for. "It's much easier and quicker to become known for beauty looks on social media, as opposed to music," Watts points out. "So when people believe I just woke up one day and decided to sing, that couldn't be further from the truth. I've always done music—and more is on the way!" 
Watts's new single "Evicted"—the perfect moody relationship ballad to comfort a conflicted heart—expresses a deeper, more relatable side of the blue-eyed siren. "'Evicted' is about being very vulnerable and expressing to your partner that, 'I know things are messed up and I know we can fix it,' but he's already emotionally moved out of the relationship." The track is off of Watts's upcoming EP, which is due out later this year. 
For Jean Watts, the most important part of her evolution, as an artist and a human being, is staying consistent with a self care routine. "I had a pretty rough childhood and it was affecting my life," she says. "When I started taking my mental health to a serious level, it changed my life." For Watts, this means prioritizing time to get quiet and still with herself—through yoga, meditation, walks, baths, and tuning in to books like "The Untethered Soul" for spiritual guidance. Long breaks from social media are sometimes necessary too. "I try to make sure that whatever I do, it helps me to feel centered and myself," she says.
"When life is non-stop, I get caught up in exterior things and it affects my inspiration with work and begins a small little hell in my head. Taking time for myself, being still, and getting centered helps my third eye. I sound so corny, I know," she says laughing, "but it's true! It helps me see things clearer and as they are. I don't sweat the small things," she continues, "and I can be more open with my music and inspiration, and let everything flow easily and honestly. As a creative, or anyone really, it's important to make mental health a priority in life." 
Now looking at the road ahead (and with a healthy head on her shoulders), Watts says, "I can't wait to really show the world who Jean Watts the artist truly is! After this EP comes out, we will start performing and hopefully go on tour!" Until then, Ladygunn has the first listen to a powerful acoustic version of Watts's new single, "Evicted." Check it out! 

CONNECT WITH JEAN:
Instagram: @Jean_Watts