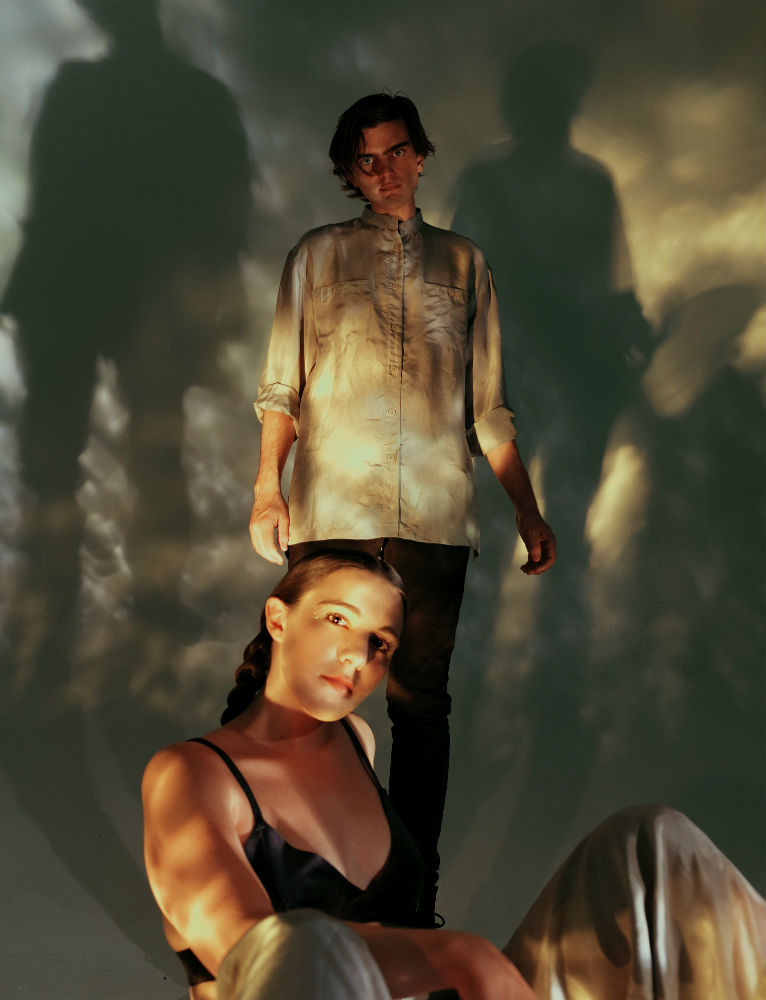 Story / Catherine Santino
Photos / Kelsey Talton
Morissa Trunzo of indie-pop duo Misty Mtn tells me that the nickname for her hometown state of Montana is "the last best place." This phrase could mean a few different things, but on a surface level, it emulates pride; the humble notion that this place maintains virtues that others have forgotten. I smile because it reminds me a lot of my own rural hometown, one that I ricochet between adoration and contempt for. Nonetheless, my childhood home inevitably influences me as an adult, as does Trunzo's. She grew up singing at the rodeo and went on to create Misty Mtn along with Lucas Segall, the name itself functioning as an homage to her roots (Misty was the name of her first horse who wandered into her yard on a "misty" morning, she tells me).
The foundation of Misty Mtn's songs (they released their debut EP, Missed Your Call, back in May) are the soul-stirring percussion and sweeping melodies that have become a staple of folk-pop. Topped with subtle electronic elements and Trunzo's gliding vocals, the band becomes a force to be reckoned with. Segall, who hails from Los Angeles, says that he tapped into Trunzo's Midwestern upbringing to help develop their sound. 
Now, the pair expands to new heights with their new single "Running Out Of Patience" which premieres on LADYGUNN today. The song is the first in a trio of tracks centered around reflection, a follow-up to their EP, which Trunzo says was inspired by themes of acceptance. "The whole concept behind [the EP] was moving on and the acceptance that comes with moving on," she says. "And as we started writing new songs, we started realizing that all of them were sort of that moment that comes after acceptance. I think we've all been there when we've accepted what we're doing or what we've chosen to do, but there always comes a moment where you reflect on it; whether that's a negative or positive reflection. And we wanted to highlight that."
"Running Out Of Patience" kicks off with staccato guitar plucking and Trunzo's biting words, "You tell so many stories / you'd think you were a poet / just because it rhymes doesn't it make it right, make it okay." A catchy chorus of "ooh, ooh"s follows, which Trunzo says was the building blocks for the song. "We came up with that idea a year ago and kept building ideas around it that just weren't sticking, so we'd come back to it from time to time," she explains. "And then suddenly, both of us were going through a similar struggle in our personal lives and the song finally came to life."
You can certainly expect a lot more from Misty Mtn, and not just because they have two accompanying tracks down the pipeline. The duo also just made the move from Brooklyn to Los Angeles, a transition that will surely be reflected in upcoming music. LA has been great so far, but do they have one complaint: "WE NEED RAIN! It's part of our process," Trunzo says. "We keep laughing about the fact that you wake up in a bad mood and then open the curtains and you're like, 'yay! The sun is shining again.' So there's no weather to match your bad mood…maybe we should write a song about this?"
Yes, I think so.
CONNECT WITH MISTY MTN 
INSTAGRAM / TWITTER / FACEBOOK