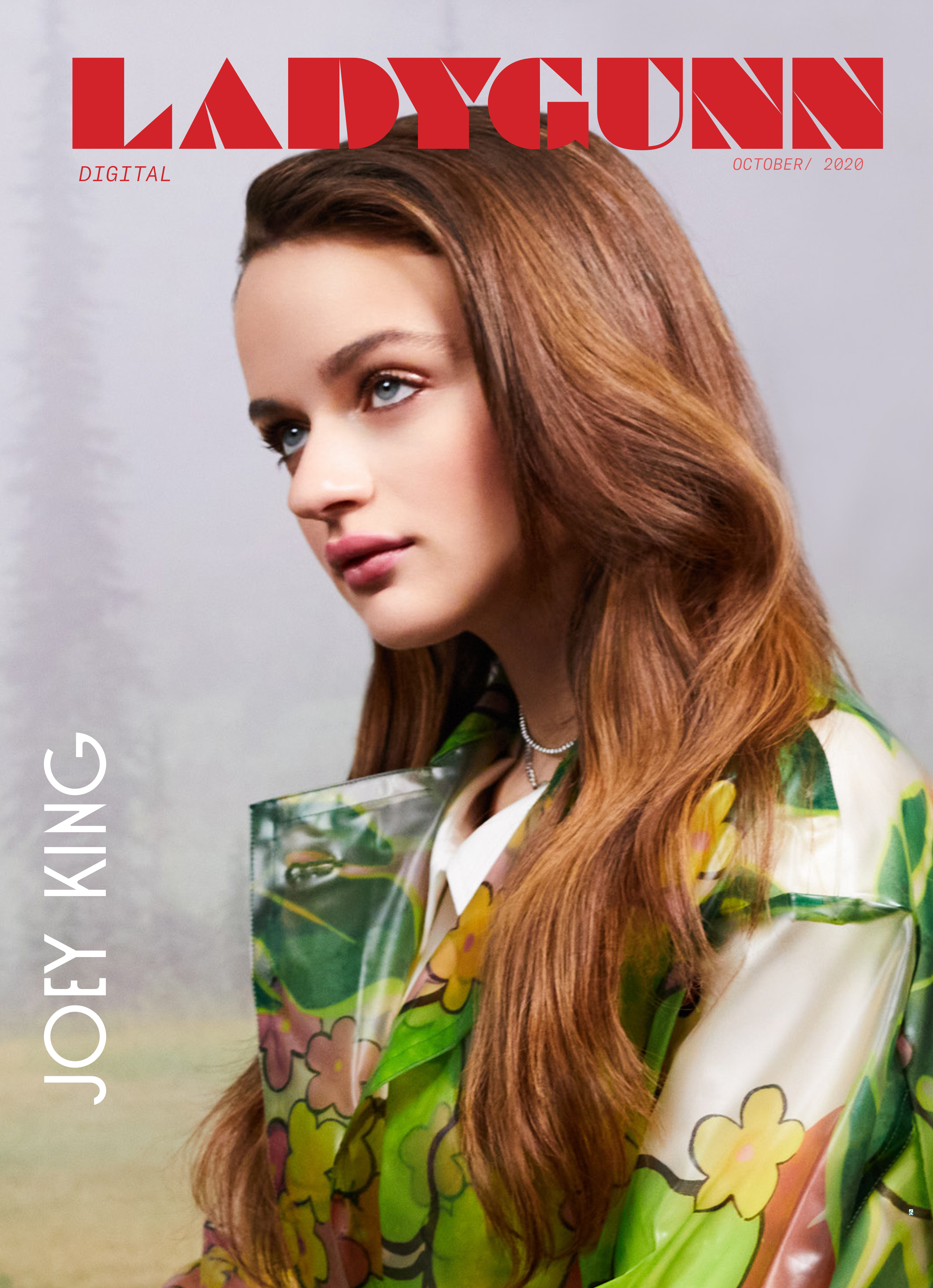 It's that time of the year: fall weather, matching sweatsuit sets, and the impending election that has left many Americans on the edge of their seats. Joey King is ready for it all with a new Blumhouse horror film ready to promote, the LA sunsets to keep her golden, and her first election to prepare for. At just 21, Joey's career is full speed ahead, appearing in countless projects and rightfully having the internet crown her the newest queen of Netflix. But if there's anything the star wants you to know, it's that she is just like you and me.
Joey is warm and natural like that friend from college that was always cooler than you but made you feel like you were an equal nonetheless. Our Zoom call vibe was girlie chat meets messy buns, tank tops, and our dogs. Mine: three loud ass hounds, Joey's: a modelesque yorkie named Angel. And even though Joey and I have never met, it felt like we were catching up on old times. I forgot I was talking to an Emmy nominee, the girl who was my summer envy as she kissed all those boys in that booth. I was just talking to Joey. 


Pink Suit, Iceberg. Printed shirt, MSGM. Sunglasses, MCM. Heels, Le Silla. Earrings, stylists own.
Joey is the type of actress to never fall into a typecast. At just 11, the star made a name for herself alongside Selena Gomez in "Ramona and Beezus." From there she's bounced between music video appearances, quintessential rom-coms, horror, animated comedy, drama, and of course, The Kissing Booth (which deserves its own genre as a Netflix, young adult comedy filled with beautiful men.) And while it seems that no matter what Joey does it is impossible to hit new ground, she just proved us wrong: She will try her hand at executive producing her newest project of Netflix's adaptation for "The Uglies" book series. Pre-COVID, Joey took her idea of a movie adaptation to network and they loved it.
"Ever since I was young, this was my favorite book series ever. I was always obsessed with the idea of playing Tally Youngblood and was always just hoping and praying that one day they made a movie of it so that I could," she says. "I just have a desire to create things that make me happy and just work on things that ignite a fire in my heart. So I was like you know what? I'm just gonna do it myself," she says smiling into the camera. She credits Scott Westerfeld, the author of the series, for allowing her to star and produce this project.  I noticed her body shift closer to the camera as I felt her passion. "It's been a dream of mine for a very long time," she says. 
She cites the series' relatability as the fuel to her fire. "I got told when I was younger that I wasn't pretty enough for a few roles," she says. "People's perception of you really changes your own perception of yourself and so this book was always something that was so near and dear to my heart. That these 'uglies' were finding ways to really embrace their own actual beauty."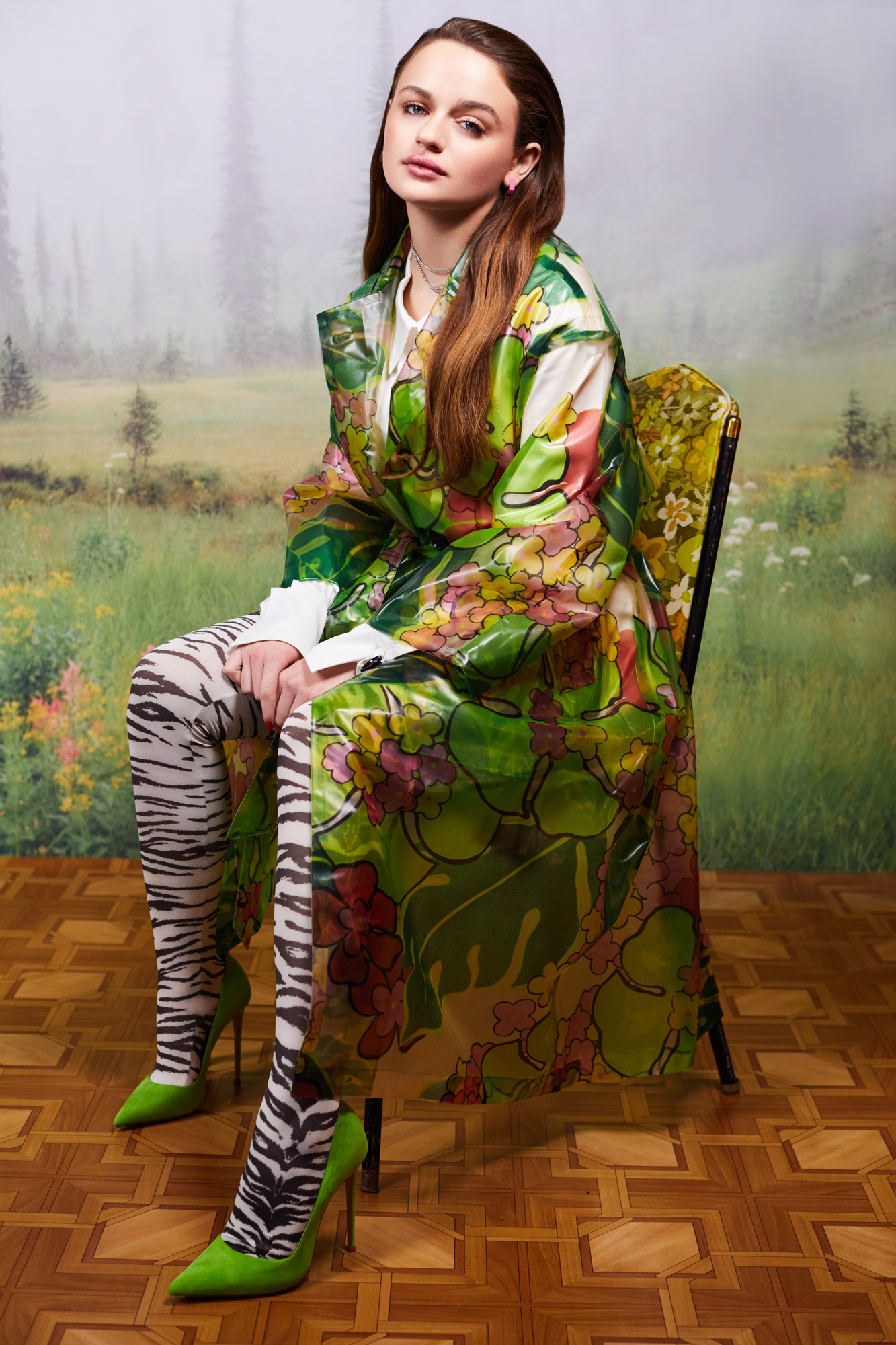 Necklaces, Dalmata.

Earrings, COS.

Coat, Dries Van Noten.

Shirt, ADEAM.

Leggings, Laneus.

Heels, Le Silla.
One thing about Joey that is quick to note is how confidently she carries herself. She knows she's a badass – in the least Hollywood asshole way possible – and reminds people that it doesn't matter what people think. "It's really hard with the amount of people that say really creative mean things," she says. "It's important to remember that for every person who says something like that, there's so many more that feel a different way about you. There's also your family and friends who love you. So who actually cares about what these people who don't know anything about you besides what they think they know? Who gives a shit!" 
Besides serving as a role model to young people, she is also feeling the pressure to do something to ensure that 2021 doesn't end up like the shit storm this year was–is.  "My hope for 2021 is just overall betterness. But the thing is like, I think what's kind of scary is that a lot of people are like, 'oh, I'm so over 2020, I can't wait for 2021' as if New Year's Eve is just gonna magically cure the world. Cause it's not–it's going to be a long road ahead of us." But Joey says her hope for 2021 is a Biden and Harris administration and that, "the whole world stops burning," she says with a giggle, but I know she's not joking. This place is a mess. 

Luckily though, Joey is 21 and can actually vote in this year's election. "I voted yesterday and it feels so good," she says smiling and dancing into the camera. "It's the most exciting thing that you can do as an adult. You literally get a say in your future and others' futures and the state of the world. It's just the coolest thing you can do!"
Her personal tip is to do your research before trying to fill out the ballot and listening to each other regardless of party. "People are just listening to respond and no one is listening to listen. I think if you are a Democrat, if you are a Republican, or any other party, I think the most important thing is to not sit on your high horse about what party you're in." For Joey, the values are more important than elephant or donkey, red or blue, conservative or liberal.  
While the election is definitely spooky, Blumhouse Productions decided to add to the scares by dropping eight new horror films on Amazon, including Joey's new film, "The Lie." "What initially attracted me to that role was that I liked that it was a Blumhouse movie but it wasn't straight-up horror. It was a mental game," she told me. Having watched the film the night prior, I would agree. The plot twist at the end left my jaw dropped and slightly uncomfortable with all that went down–in the best way. "Performance-wise I was excited to try and figure out how to make someone worth having empathy but also be the villain." 
As for keeping sane, Joey is settling down with her intuitions, not caring what people think, and listening to good music. "I am very eclectic with my taste. Right now I'm listening to the new Sufjan Stevens album, and this album called Lagoons by Tigers in the Sky, a lot of Sigur Rós. And then I sort of take it back, I've been listening to Steeler's wheel a lot, a lil Frankie Valley in there, throw in some Billy Joel, I am all over the place." 
So are we Joey, so are we.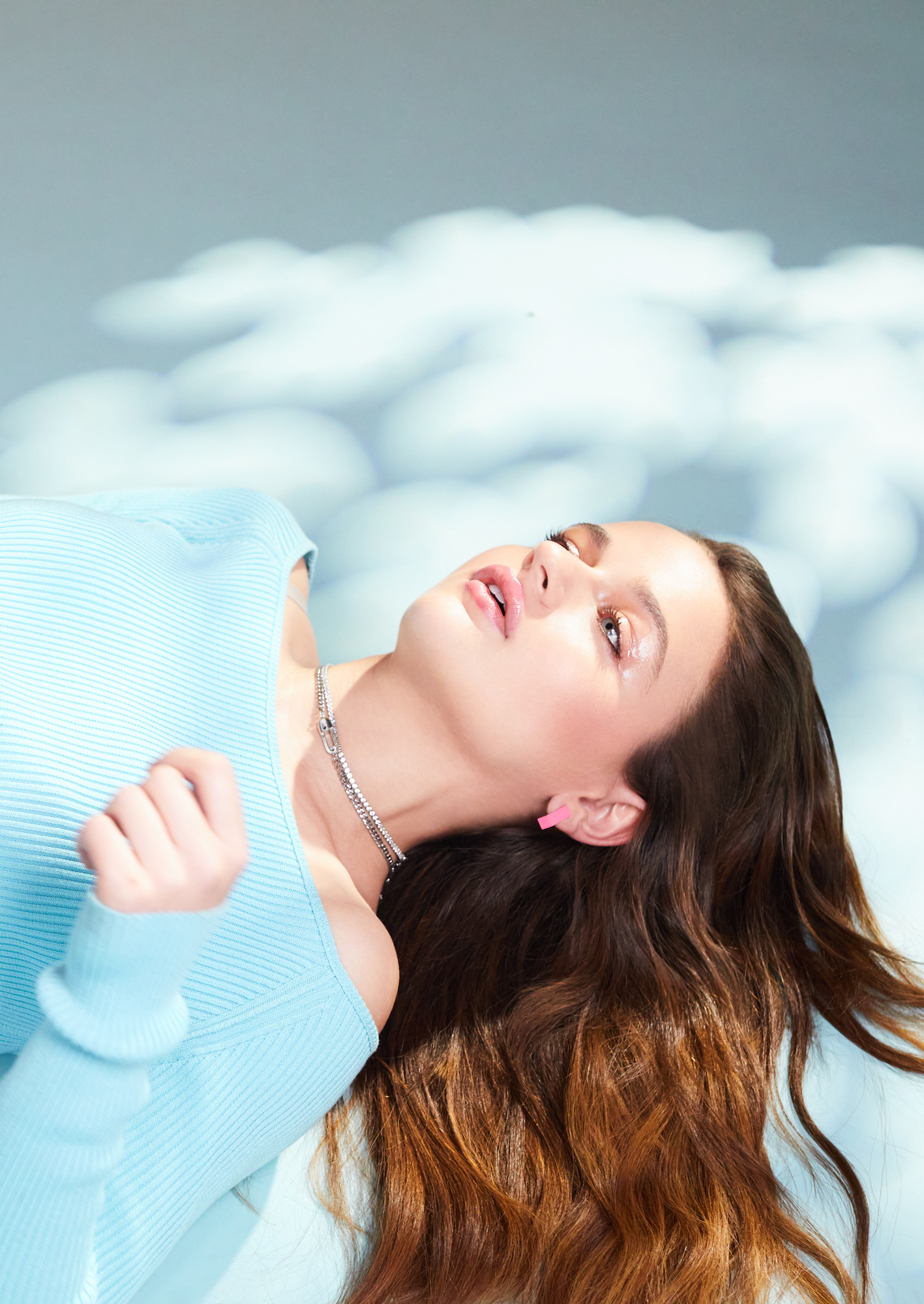 Blue sweater matching leggings, Baja East. Necklaces, Dalmata. Earrings, COS.
 
Printed pajama short set, Olivia Von Halle. Earrings, COS. Necklaces, Dalmata.

CONNECT WITH JOEY KING
photos /  Leila Fakouri @leila.art.design
styling /  Jessica Loria @jloriastylist
makeup / Allan Avendano @allanface
hair /  Dimitris Giannetos @dimitrishair
lighting /  Mike P. Pederson @amikiep
art assist /  Jonathan Colin @jonath.n
art assist / Kati Rediger @katirosered
styling assist / Camille Rousseau  @camgrams
production assist / Annie Ferguson @_fabricationss_